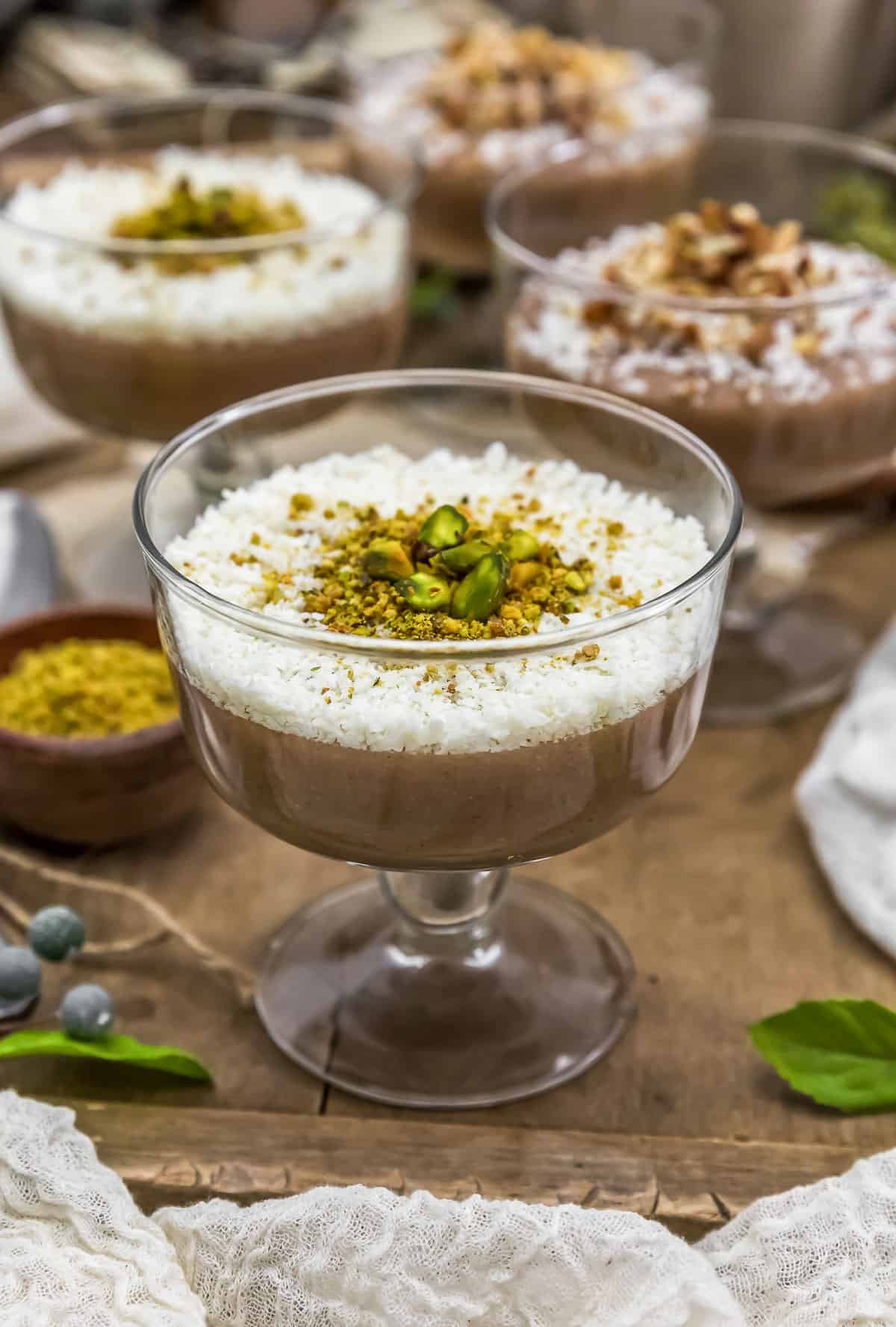 Spiced Rice Pudding (Lebanese Meghli)! A fragrant blend of sweet, spice perfumes this simple sweet dessert.
Easy, wholesome, and aromatic, this Spiced Rice Pudding (Lebanese Meghli) is a delightful Lebanese celebratory dessert. Made with brown rice flour, maple syrup, and warming spices then topped with chopped nuts and flaky coconut; a delicious make-ahead pudding that's perfect for serving during the holidays, at celebrations, or after the birth of a new baby. Bonus, it also makes for a quick breakfast treat too!
Whole Food Plant Based, Vegan, plant based, oil free, refined sugar free, no highly processed ingredients and gluten free.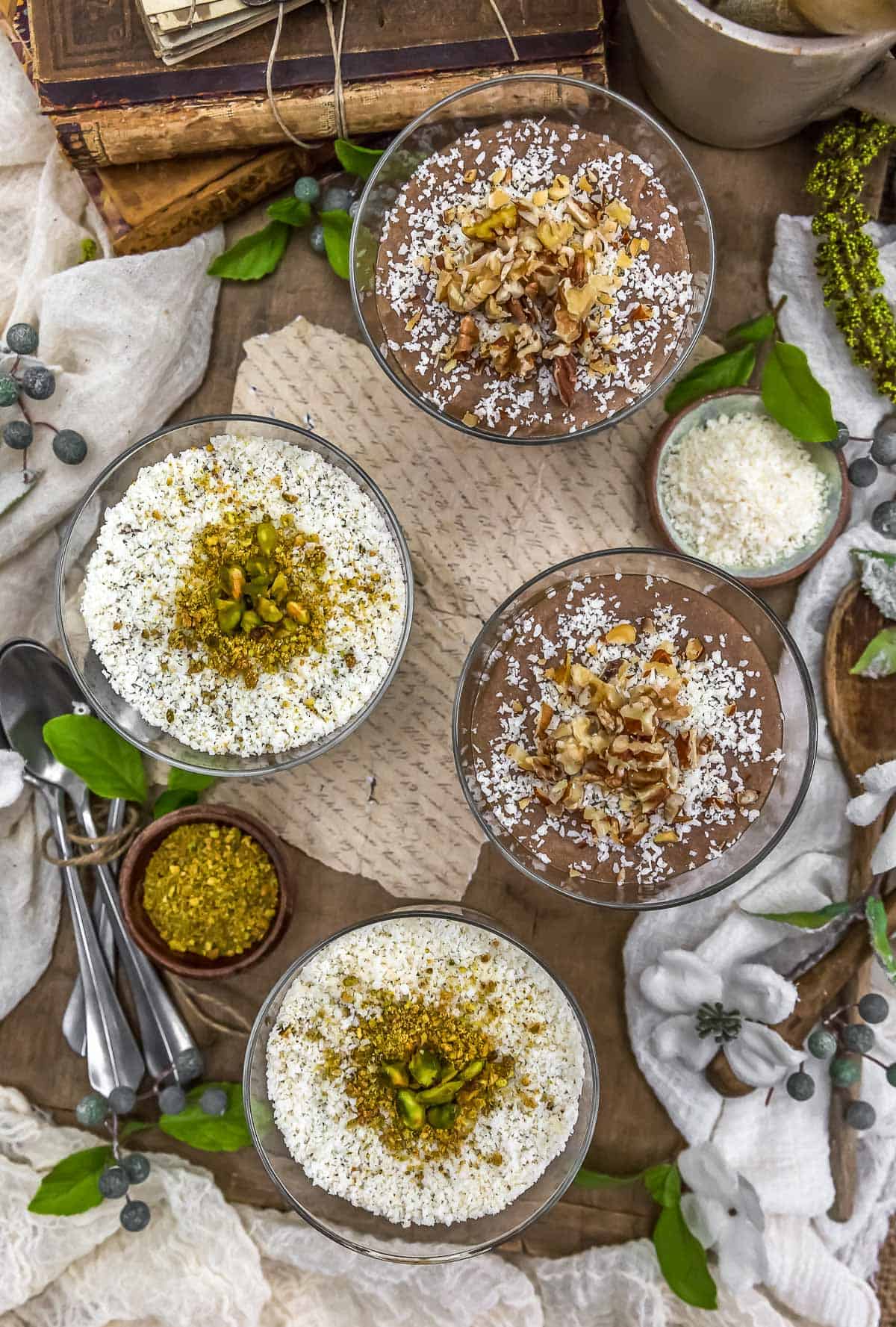 Hi there, Ameera here!
This dish is one that my Lebanese father-in-law would make in celebration of each of his grandchildren.
Meghli is a Lebanese celebratory dessert.  If is often served after the birth of a baby or during the Christmas holiday season. It is also symbolic of fertile soil which is brown like Meghli.  It is typically made with rice flour, sugar, and spices, and traditionally topped with chopped nuts that have been soaked in water for several hours to remove the crunch, finely shredded coconut or chopped raisins or dates.  It's completely delicious.
I readily admit, it took me a few bites to wrap my brain around it as it is not your typical "pudding" that Americans are used to.  I've come to absolutely love it.  Mom had the same first reaction as well.  It's just so unusual and not your typical American dessert.
If you are adventurous, love to experience different cuisines, and love anise flavor, then this yummy pudding is especially for you.
You gotta give this one a try!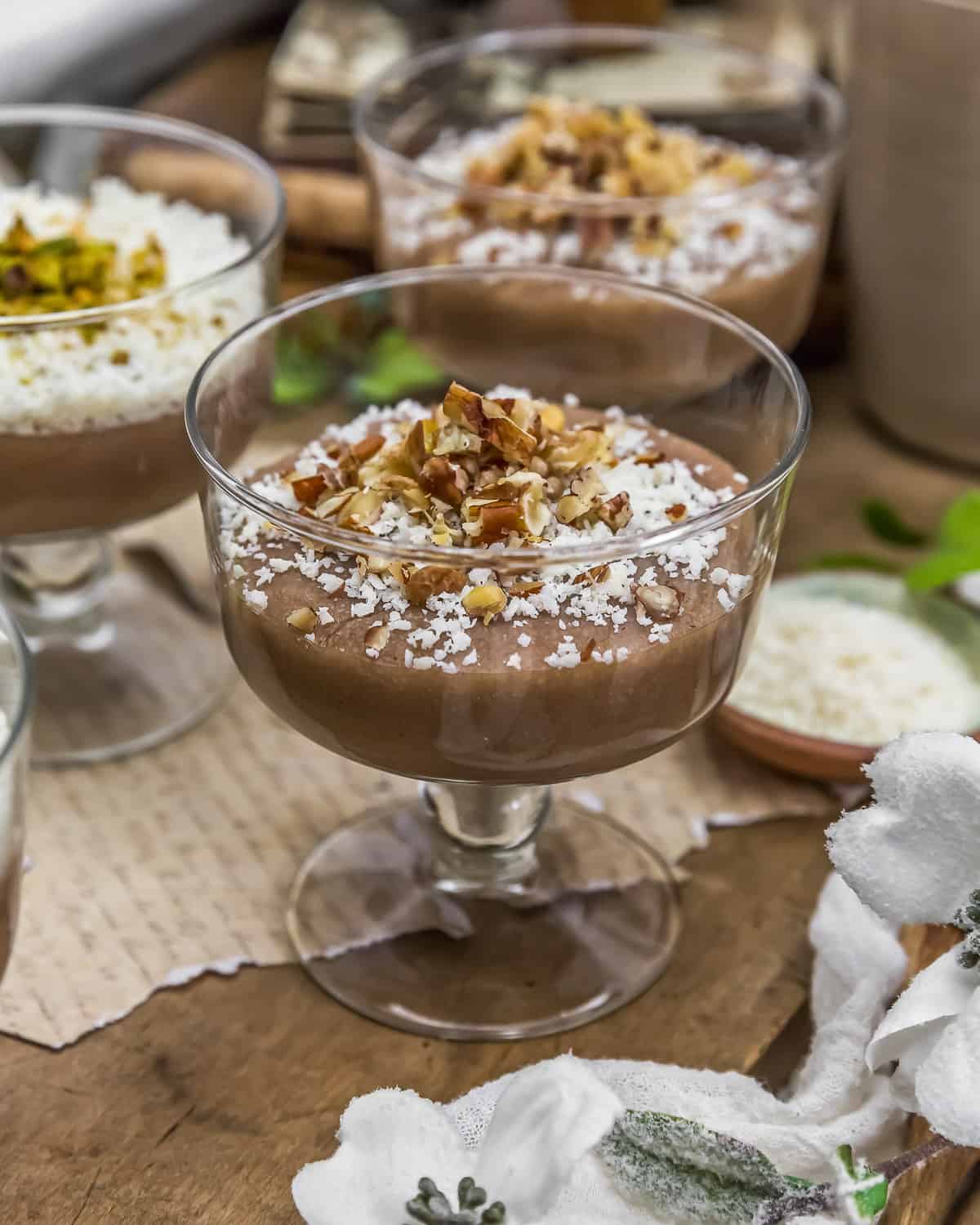 Tips for Success:
Flavor Profile: This is a Whole Food Plant Based version where we used brown rice flour instead of the traditional rice flour that is used in Lebanese cooking and maple syrup instead of white sugar. The flavor is lightly sweet and lightly spiced.  Anise and cinnamon are the prominent flavors.  If you are not a fan of anise (licorice flavor), then perhaps skip on this recipe.
Level of Difficulty: This dish is actually very easy to make.  We offer a lot of advice so you can make an informed decision on whether you want to take the time to make this dessert, as well as provide background information to ensure that you have the full Lebanese culinary experience.
Texture: The pudding has a very slight texture. In other words, it is not a perfectly smooth pudding.  It is similar to a cream-of-wheat texture after you initially make it.  It uses rice flour and not cooked rice like we typically see in a Western-style (USA) pudding. If serving cold, the pudding tends to becomes more smooth.
Toppings: All of the toppings are optional; however, this Lebanese dessert is traditionally topped with desiccated coconut and finely chopped pistachios or soaked and chopped nuts.
Toppings – Soaking the Nuts: Place the nuts, typically walnuts, pecans, and almonds, in a small bowl of water, cover with cold tap water and soak for several hours in the refrigerator, then thoroughly drain, and chop.  The reason the nuts are soaked is to remove the crunch.
Toppings – Finely Ground Pistachios: Lebanese love to use finely ground pistachios to decorate and flavor desserts.  You will note the slight "greenish" color in the photos on some of the desserts.  Do not soak the pistachios, place in a food processor and chop very finely to an almost powder-like consistency.
Toppings – Coconut: You can use unsweetened desiccated coconut or unsweetened shredded coconut.  Lebanese love to use unsweetened desiccated coconut.  Desiccated coconut is simply very finely ground unsweetened coconut.  It is somewhat drier than shredded coconut.  You can use either if you wish.  In our humble opinion, the coconut totally takes this pudding to the next level.  We absolutely loved it.
Toppings – Raisins/Dates: Chop the raisins and dates into very small pieces.
Sweetness: This dish is lightly sweet.  If you wish more sweetness, add more after taste testing in Step 3.  In one kitchen testing, we used 1 cup of maple syrup and we had some family members who loved the 1 cup of maple syrup.  The sweetness of this dessert is totally within your control.  Feel free to use more or less to suit your personal preferences.
Sweeteners:  We loved using maple syrup; however, you can easily use your favorite sweetener (liquid or dry) with this recipe. We do suggest starting out with less than the recipe calls for and building from there. If using Medjool dates, we suggest soaking the dates with hot liquid and blending in a high-speed blender or food processor for easier blending into the pudding. The flavor of the pudding will changing according to the sweetener selected.
Anise: If you love anise flavor, then this Middle Eastern rice pudding might be right up your alley.  Anise flavor tastes like licorice.
Cinnamon: Not all cinnamon is created equal.  Some brands of cinnamon are light and passively flavored while others are strong, sharp, and astringent.  Use judgement and start on the low end.  We used Ceylon cinnamon which has a very light flavor.  You can use your favorite cinnamon in this recipe; however, we strongly suggest starting on the low end until you have a good understanding of how the cinnamon that you are using in this recipe impacts the flavor.
Spices: Our family was completed divided over the spice amounts (as well as sweetness). In kitchen testing, some family members preferred the amounts listed below for a more spiced and sweeter version.  We recommend using the amounts listed in the recipe card and building from there.

2 ½ teaspoons ground Ceylon cinnamon
1 teaspoon ground anise seeds
¼ + 1/8 teaspoon ground caraway seeds
1 cup pure maple syrup

Taste Testing: It is important not to taste test until the pudding has nearly reached the desired consistency as the liquids evaporate as they cook.  This evaporation creates stronger flavors as the liquids reduce.  If you taste test and find you want more flavor in the terms of spices or sweetness, add them in and continue to cook to allow those spices to permeate the pudding.  If adding more spices, make sure you sprinkle them all over the rice pudding in the pot and not add them as a clump as the spices will clump together and it will become difficult to whisk them in.
Serving Temperature: This pudding can be eaten warm, room temperature, or cold.  In Lebanon, it is typically served cold.  In Syria and Jordan, it is commonly called "karawiya," the Arabic word for caraway and is commonly served warm.  Leftovers should be refrigerated.
When is it Done?  The pudding will really start to thicken to a gravy-like consistency around 7 to 10 minutes. After about 15 to 20 minutes, take a teaspoon of the pudding and place it on a plate, allow to slightly cool, then tilt the plate vertically at an angle.  The pudding should stay on the plate without running, that's when you know it is done. It will thicken up in the refrigerator.
Breakfast Treat or Dessert: We also enjoyed this Spiced Rice Pudding for breakfast. It's light, flavorful, and delicious with the toppings.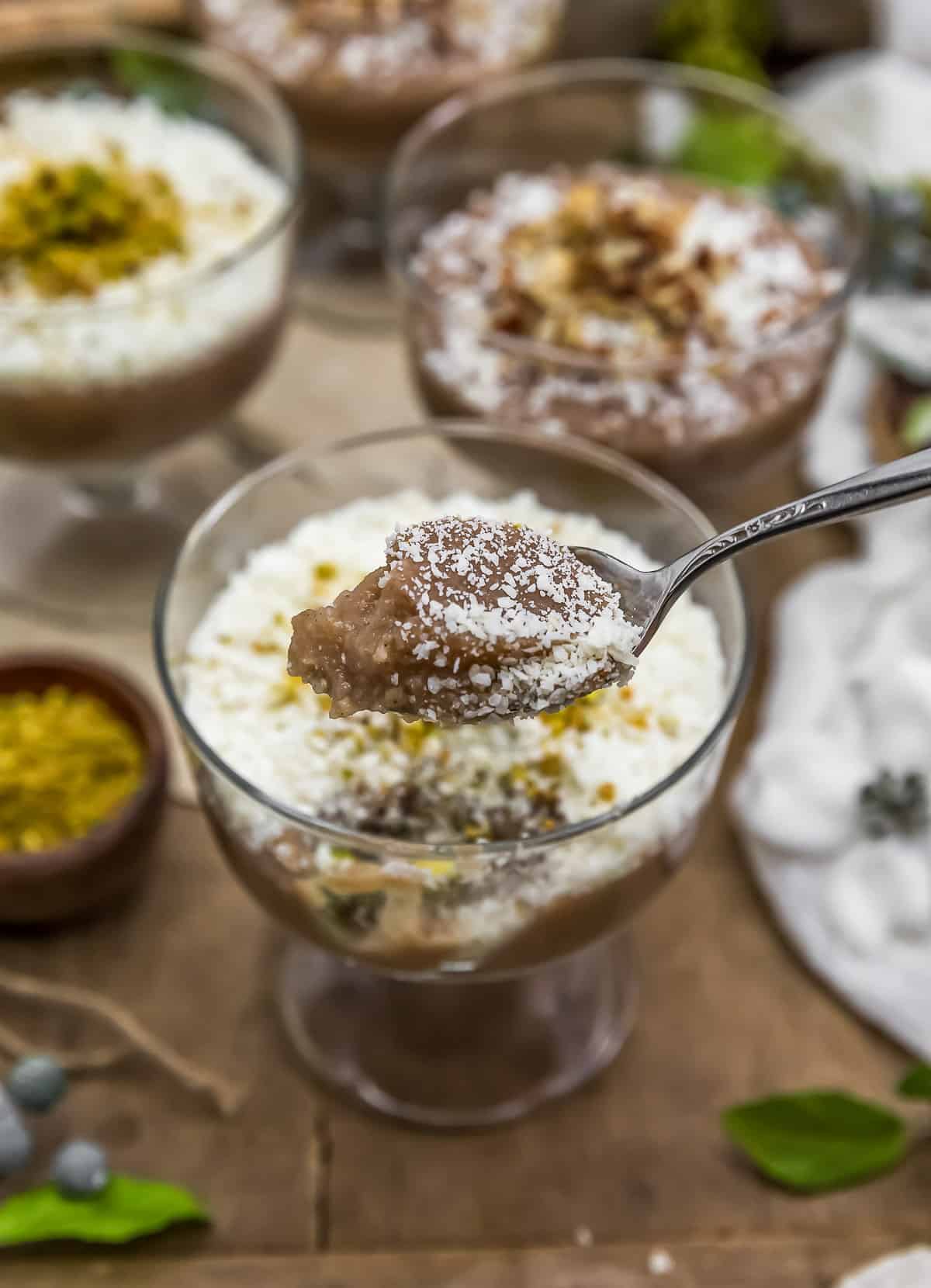 Leftovers and Freezing:
Leftovers will generally keep for 5 days in the refrigerator.  Store in covered (plastic wrap, etc.) individual dessert cups or a covered container.
This pudding does not freeze well.
Pantry Products:
Brown Rice Flour:  We used Arrowhead Organic Brown Rice Flour.  Feel free to use your favorite brown rice flour.
Kitchen Products:
Large stock pot
Servings: This recipe makes 8 servings.  Feel free to cut the recipe in half for 4 servings. Each serving is ¾ cup.
If you try this tasty treat, we would love to know if you enjoy it as much as we do! Please leave us a review! Post a picture on Facebook or Instagram and tag us! We would love to hear from you.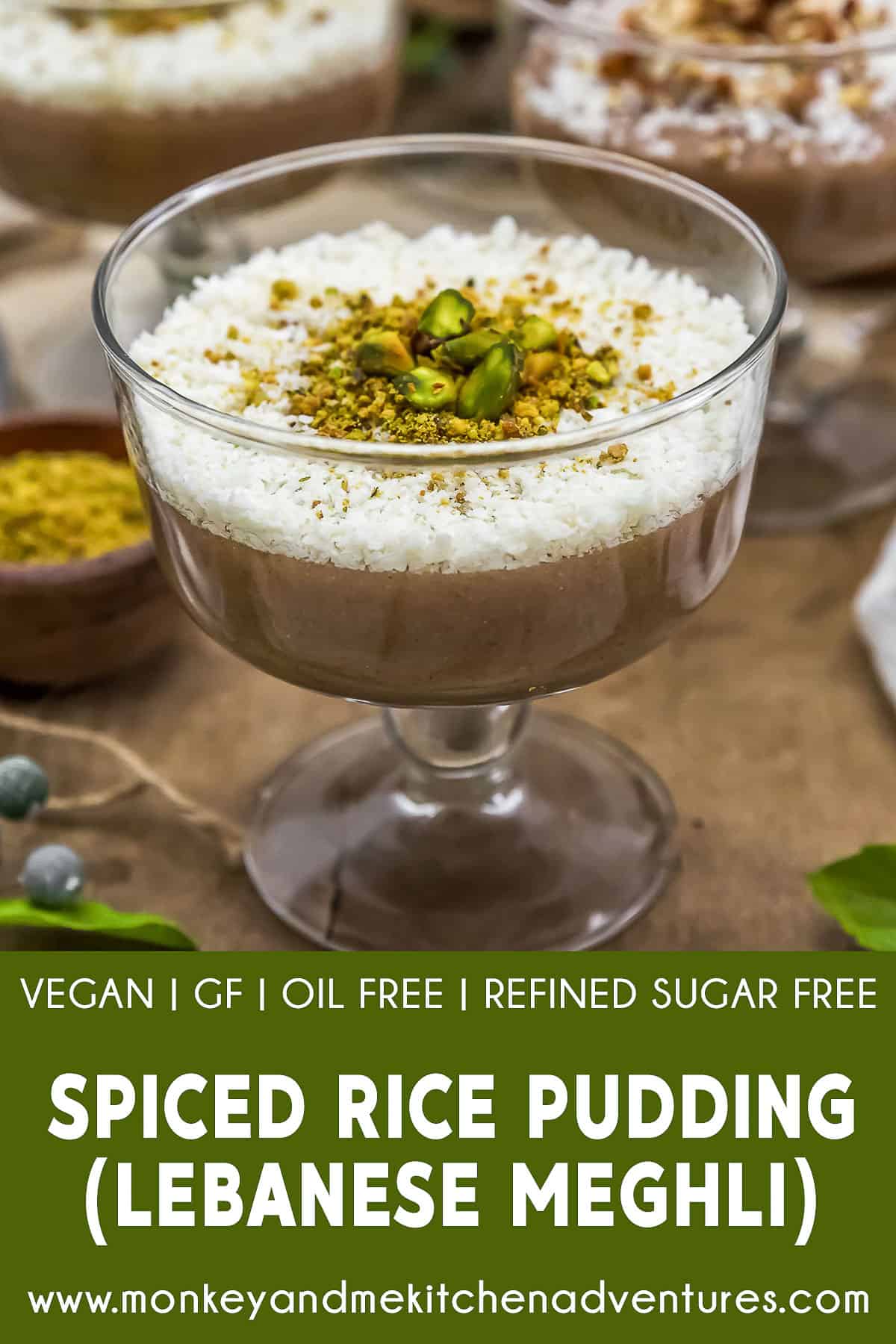 Print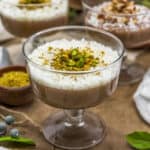 Spiced Rice Pudding (Lebanese Meghli)
Author:

Prep Time:

5 Minutes

Cook Time:

20-30 Minutes

Total Time:

25 Minutes (+Rest Time)

Yield:

8

Servings

1

x

Category:

Dessert

Method:

Stovetop

Cuisine:

Lebanese

Diet:

Vegan
---
Description
Easy, wholesome, and aromatic, this Spiced Rice Pudding (Lebanese Meghli) is a delightful Lebanese celebratory dessert.
---
Ingredients:
1 cup

brown rice flour

7 cups

cold water

¾ cup

pure maple syrup (+/-) *

2 teaspoons

ground cinnamon (+/-) *

½ teaspoon

ground anise seeds (+/-) *

¼ teaspoon

ground caraway seeds (+/-) *
Topping Options:
Soaked almonds, walnuts, pecans, chopped
Finely ground pistachios
Finely shredded unsweetened coconut
Chopped raisins or dates
---
Instructions
Place all the Ingredients into a large stock pot, whisk vigorously to ensure all the ingredients are well combined. The spices tend to want to float on the surface, so whisking vigorously allows them to mix in. Once everything is well combined, place onto the stove over medium heat.
Increase the heat until boiling, stirring constantly, then immediately lower to a simmer. Cook at a low simmering boil for 20 minutes to thicken, stirring constantly to avoid burning.
After 20 minutes, remove about a teaspoon of the pudding and place it on a plate to check the consistency. (See blog notes for additional information). The pudding should thicken up as it starts to cool. If the teaspoon of pudding thickens to a pudding-like consistency on the plate, it is done.  Taste test for flavor.  If you need more spices, add them.  If you want it sweeter, add more maple syrup. Cook and stir a few extra minutes or so to ensure the additional ingredients are cooked and check the consistency again if liquid sweetener is added.
Remove from the stove, allow to slightly cool, spoon into small individual dessert cups or into a large serving dish and allow it to cool or serve it warm.
Once cooled, refrigerate, or serve warm with chopped nuts and/or shredded coconut. Or refrigerate and serve later.  The Lebanese traditionally serve this pudding cold (refrigerated).
---
Notes
*Please reference the blog post for Tips for Success, Pantry Items Used, Storage and Freezing, and Kitchen Products Used.
*Servings:  8  (Makes 6 cups:  8 – ¾ cup servings)

This post contains affiliate links, and we may receive a very small commission if you purchase through those links at no additional cost to you. Thank you for supporting Monkey and Me Kitchen Adventures! For more information, see our disclosures here.