Southwestern flavors shine in this refreshingly bright, flavorful, and Southwestern Quinoa Potato Stew. It is as healthy as it is delicious. Perfectly seasoned veggies, potatoes, and quinoa working in harmony! It is sure to knock your socks off, and become a new family favorite! Whole Food Plant Based recipe, vegan, no oil, no sugar, no highly processed ingredients and gluten free.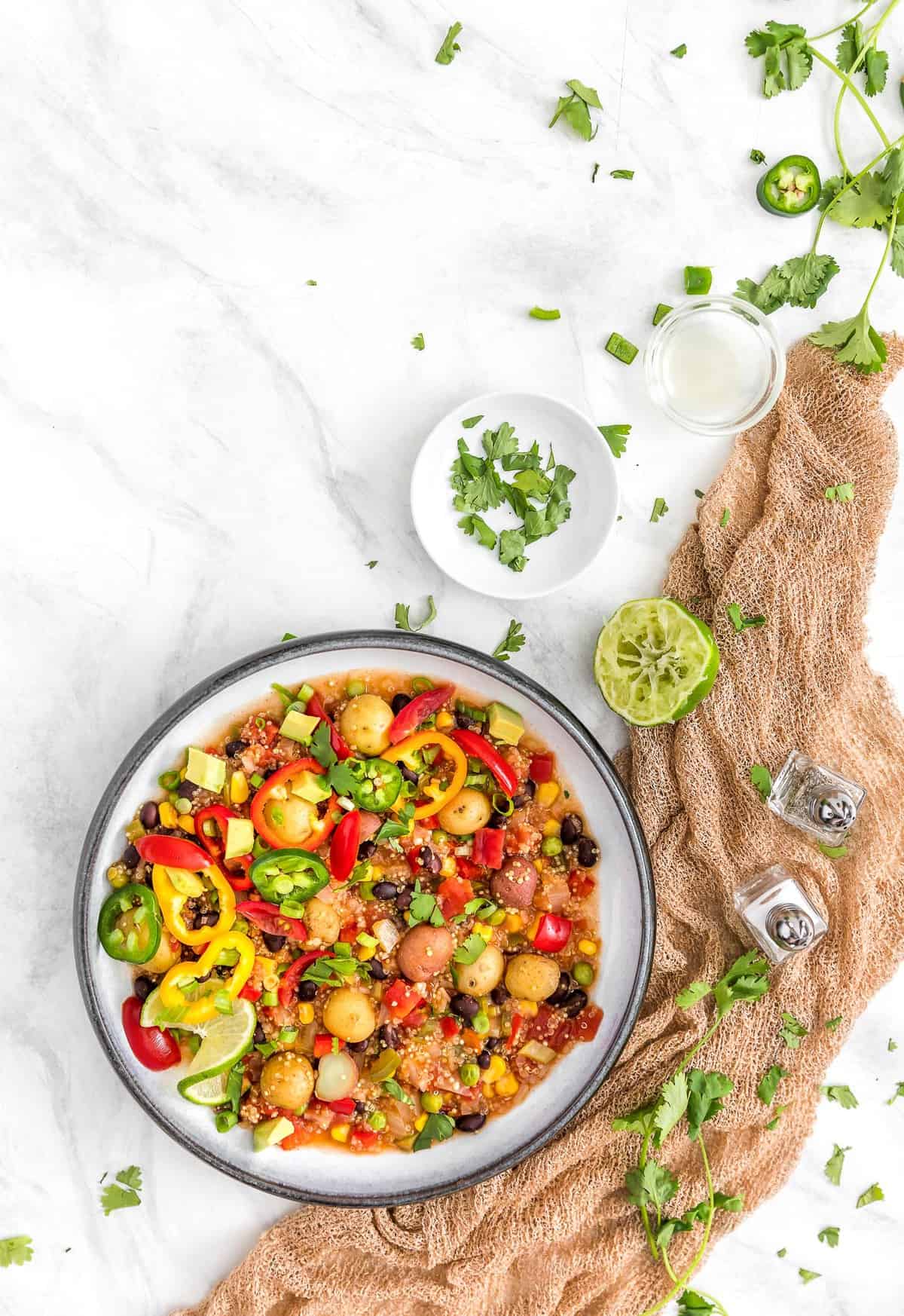 Hi!  Robin here.
We created this dish in the middle of April. It snowed every day that week.  I was desperate for Spring and really wanted to see green instead of white, snow-covered everything!  I needed something "Springy".  I love Ohio, and all the changing seasons, but when winter drags its feet on the way out the door, I get a little antsy for warmer weather.  Thank goodness, Spring is finally here in O-HI-O.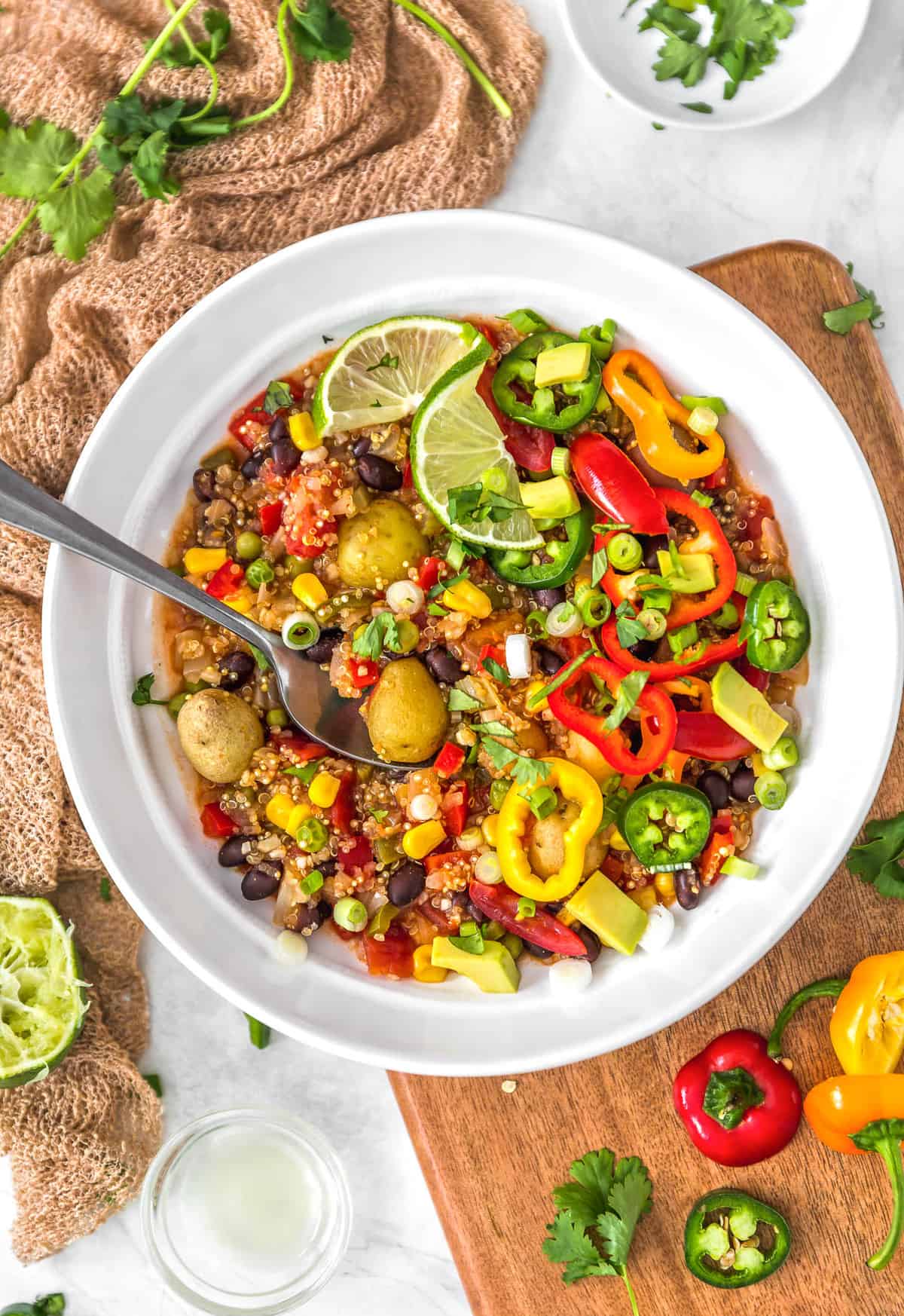 Stew Pot
As most of you already know from reading my previous blog posts, when it snows, I drag out all my stew pots and start a stew.  It is totally a conditioned response for me.  I crave stews when it snows.  I just can't help myself.  Snow = Stew!
So in order to compromise, Monkey and I created this 'Spring/Summer' vibe stew with all its bright flavors, colors, and texture.  It is so darn delicious!  We absolutely loved it.  It made all that crazy snow in April a little more palatable when we made this dish.  We are loving the May warmer weather.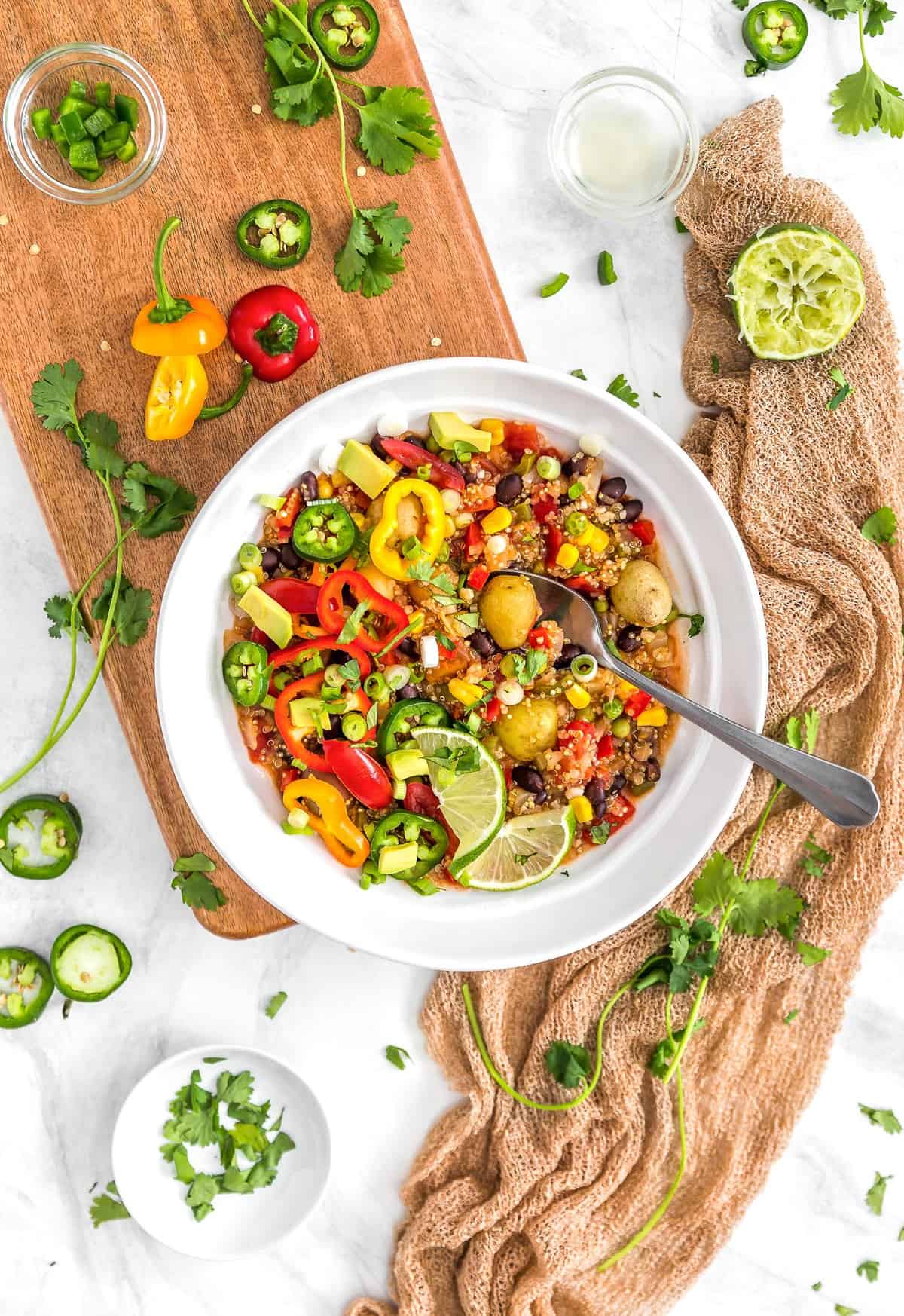 Snow, snow, and wait for it…. more snow!
I honestly don't mind the snow all that much during the appropriate designated "Snow Months" (December through March), but once April gets here, I am totally done with it.  I remember when the kids were little, I used to really stress out over big snow storms, because as a working mom, when school was cancelled due to snow, I had to scramble to figure out who was going to watch the kids.  Maybe some of you can relate to that.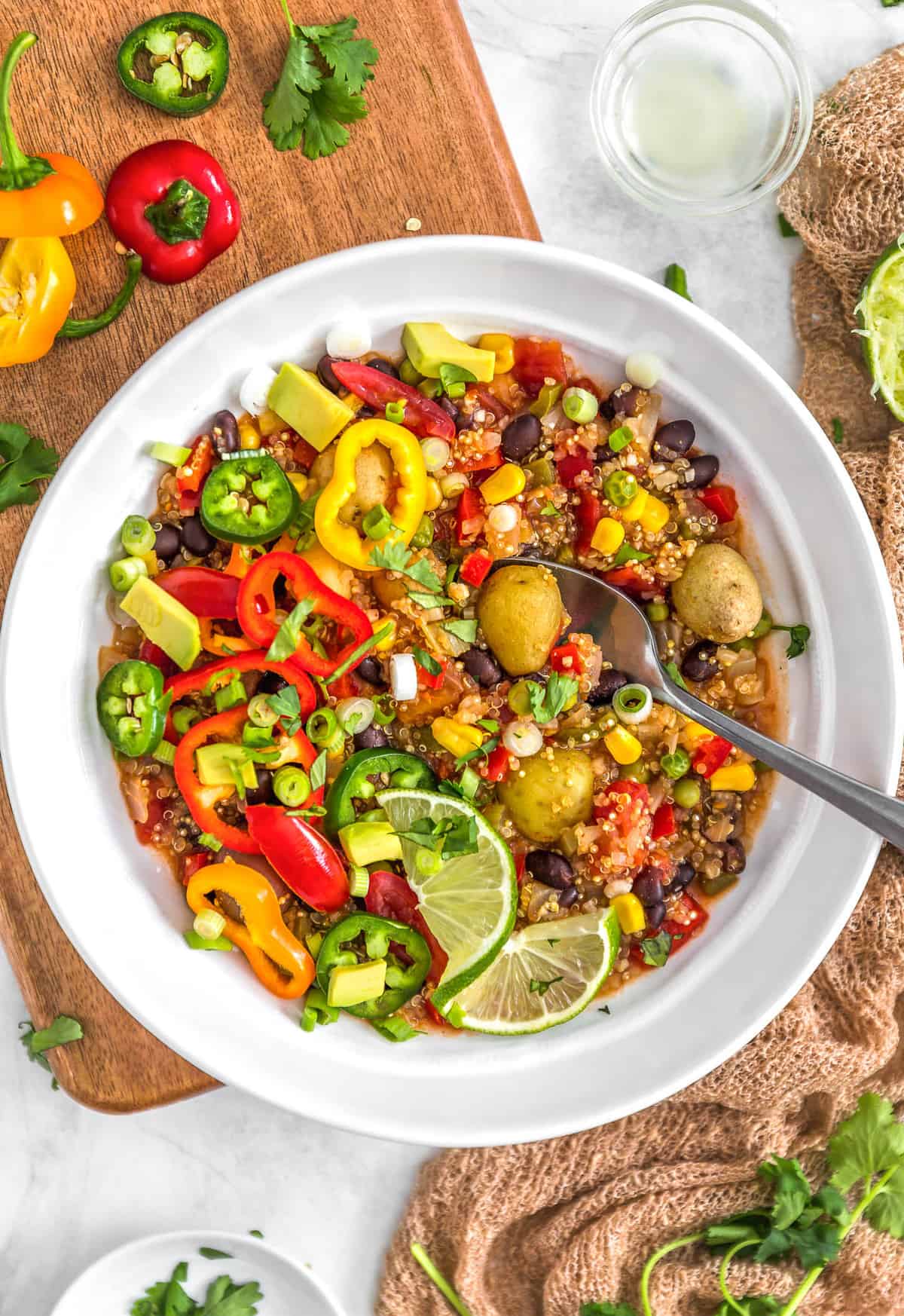 Snowday!
Of course, the kids absolutely loved it when school was cancelled due to big snowstorms.  The neighbor boys, Jason and Chris, they were close to my Christopher's age, nearly every big snowstorm, those boys would make igloos.  Not just your normal kid's type of make-shift igloo, I am talking the full nine-yards type of igloo, structurally sound and usable.  If we had enough snow fall, those boy would make huge, impressive igloos.  They were so big, the smaller kids could stand in the center of it. It's no wonder that one of those boys grew up to be an engineer.
I remember one snow day, their older brother, Eric, decided to build a line of huge snowmen across our street, pretty much blocking all traffic.  We live on a cul-de-sac that doesn't get much traffic so it really wasn't a big deal. I had just picked up the kids from school only to encounter a "snowman army blockade." It was quite a scene. The neighborhood kids were standing off the side of the road, watching and waiting to see what I would do as I was the first car to encounter the newly formed blockade.  Chris and Monkey were excitedly asking "Mom, what are you going to do?  How are you going to get through?"
I really didn't have too many options.  I could either get out of the car and try to physically move the snowman army out of the way or I could try to go through them.  So, I rolled down my window and told the kids to step away, I was coming through!  I then backed up the car, revved the engine (for drama purposes, of course), then hit the gas pedal and plowed through the army of snowmen!  All I saw was a huge burst of white as the snowmen hit the windshield and the kids screaming from the back seat!  "YAAAAAYYYYYY".   LOL
I rolled down the window and all the kids were cheering and smiling!  HAH!  I'll never forget how happy the kids were that I plowed down those snowmen!  I guess all their hard work building them across the street gave them exactly what they wanted . . . someone to dramatically plow through them!   It's the little things, dontcha know? HAHA!
I guess some "snow" memories are good memories!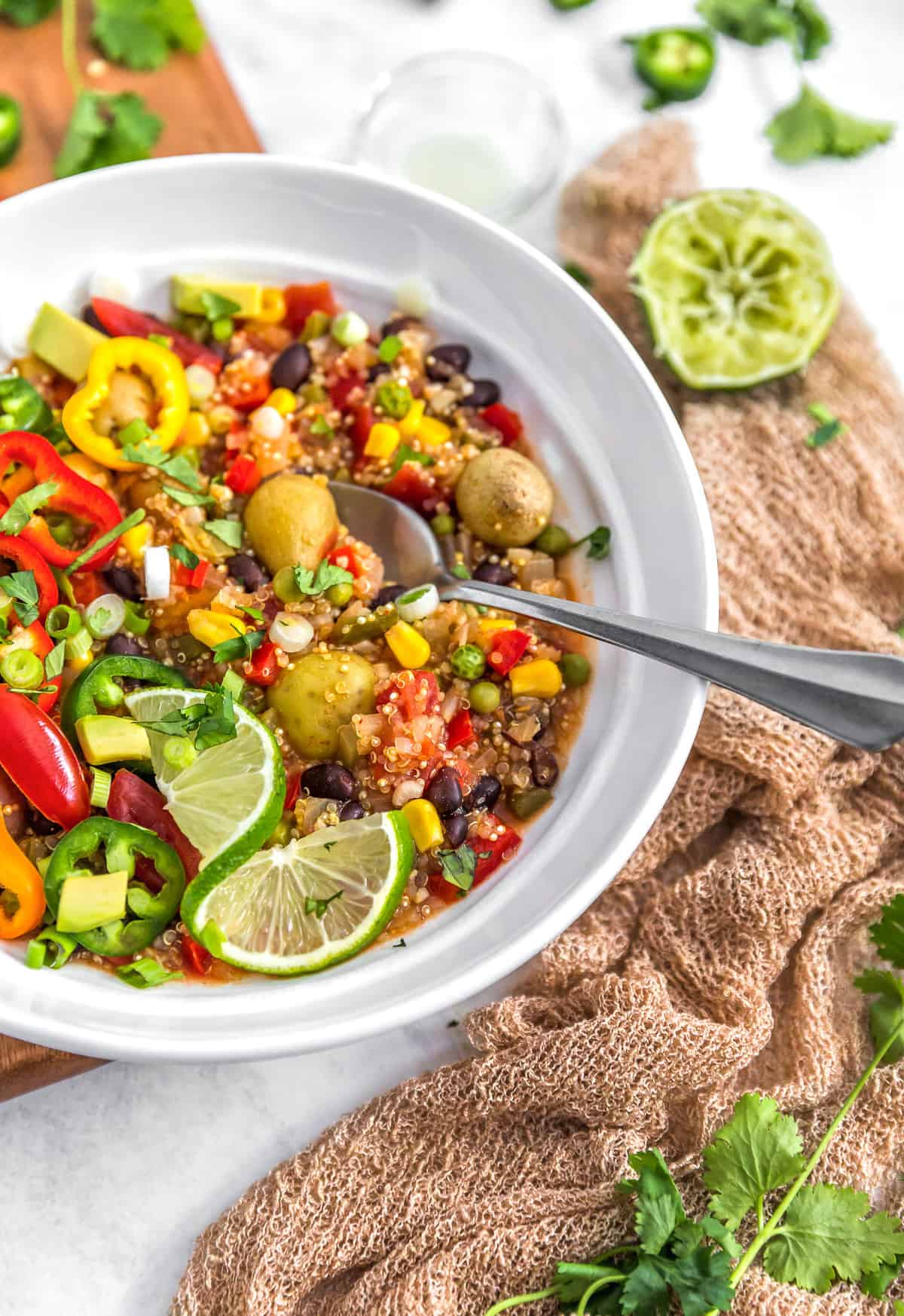 This post contains affiliate links, and I may receive a very small commission if you purchase through those links at no additional cost to you. Thank you for supporting Monkey and Me Kitchen Adventures! For more information, see our disclosures here
Ameera here!
Oh my goodness, I will never forget that day when Mom plowed through all those snowmen like Rambo.  It was too funny!  Me and Chris were cheering from the back seat of the car!  Good times!  Fun times!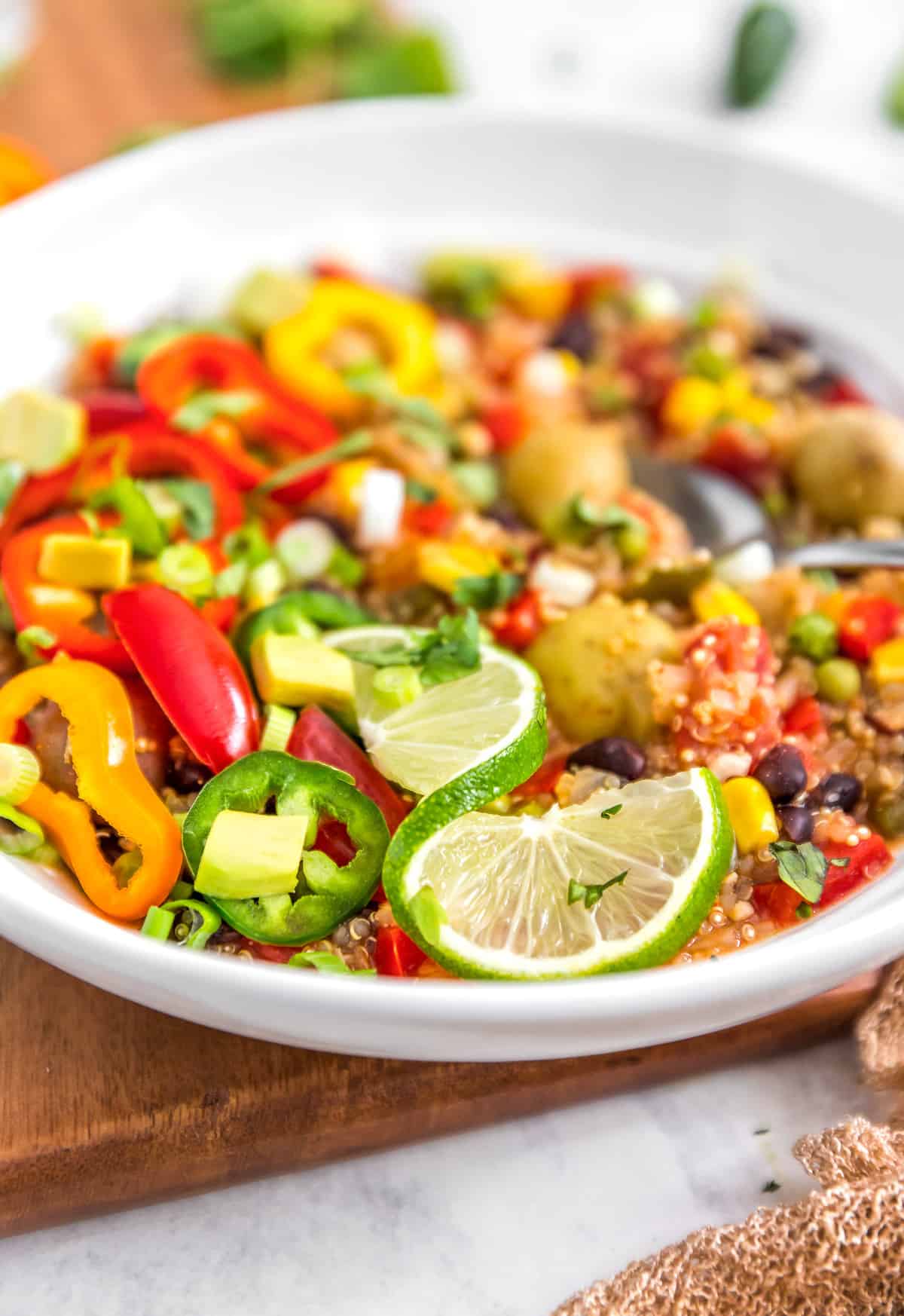 Southwestern Stew
I absolutely love this stew! It is super tasty and so good for you. I love that while it is a hearty stew, it feels light and summery.  It just has this beautiful note to it that reminds me of sunshine and warmth!  We recently made it for Chris, Katie, and Charlotte when we visited them last week in Connecticut.  They loved it.
We hope you give it a try! It will put a little "Spring" in your step!
Products Used:
Print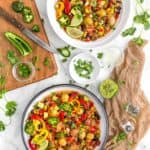 Southwestern Quinoa Potato Stew
Author:

Prep Time:

10 minutes

Cook Time:

30 minutes

Total Time:

40 minutes

Yield:

4

-

6

Servings

1

x

Category:

Stew

Method:

Stovetop

Cuisine:

Southwestern
---
Description
Southwestern flavors shine in this refreshingly bright, flavorful, and Southwestern Quinoa Potato Stew. It is as healthy as it is delicious. Perfectly seasoned veggies, potatoes, and quinoa working in harmony! It is sure to knock your socks off, and become a new family favorite! Whole Food Plant Based recipe, vegan, no oil, no sugar, no highly processed ingredients and gluten free.
---
1

medium yellow onion, fine dice

1

celery rib, fine dice

1

red bell pepper, small dice

2

jalapeno peppers, fine dice (see notes *)

1

heaping Tablespoon minced garlic

2 cups

vegetable broth *

1 ½ cups

water (or broth)

1

– [ 14 oz. can ] petite diced tomatoes

¼ cup

lime juice

10

baby potatoes, quartered (or halved, depending on size, about

3 cups

– see notes *)

2/3

to

¾

cup quinoa (uncooked – rinsed – see notes *)

1

– [ 15 oz. can ] black beans, drained and rinsed

¾ cup

frozen corn

¾ cup

frozen peas
Spice/Herb Ingredients: 
1 ½ teaspoons

cumin

½ teaspoon

chipotle powder

½ teaspoon

garlic powder

½ teaspoon

onion powder

2 Tablespoons

dried minced onions

3 teaspoons

sea salt (+/-)
Optional Toppings:
Tomatoes, seeded and diced
Cilantro, rough chop
Jalapeno peppers, sliced into thin rings
Mini sweet peppers, sliced into thin rings
Green onions, sliced
Avocados, sliced or chunked
---
Instructions
Over medium heat, add the onions, celery, and bell pepper into an enamel/ceramic lined Dutch oven.  Sauté for 5-7 minutes to soften the veggies.  Then add the garlic and sauté for an additional minute.
Add the vegetable broth, water, petite diced tomatoes, lime juice, and the Spice/Herb Ingredients, do not add the quinoa, beans, corn, or peas.  Stir to mix well. Bring up to a boil, then immediately lower to a simmer.
Add the potatoes and simmer for 10 – 15 minutes uncovered.  The cooking time is largely dependent upon the size of the potatoes. The key here is to factor in the timing of when you add the quinoa; in other words, you are trying to time the tenderness of the potatoes with the cooking completion time of the quinoa.  If unsure, cook the potatoes 15 minutes, then add the quinoa.
Then add the quinoa and black beans, stir well, cover the pot, and cook for 15 minutes.
After 15 minutes, check the quinoa.  Once the quinoa is done and the potatoes are tender, check the flavors, add more seasoning, if needed.  The flavors will continue to marry even after cooking stops.
Add the frozen corn and peas and cook until just heated through.
Serve individual bowls with optional toppings.
---
Notes
*Jalapeño Peppers:  Jalapeno peppers can vary in degrees of heat.  If you have an especially hot one, then only use one jalapeno pepper.  If you have mild ones, use two.
*Vegetable Stock:  We use Pacific Organic Vegetable Stock. We love this brand because it is Whole Food Plant Based compliant, as it does not contain MSG, has no oil, and does not contain any highly-processed ingredients; however, this brand of vegetable stock does have a strong flavor so less broth is required when compared to the water ratio. We use a higher water to broth ratio because of this. If you use another brand of vegetable broth, then adjust the water/vegetable broth ratio accordingly. For example, if your vegetable broth brand is mellow and light, then omit the water and use 3 ½ cups of vegetable broth.
*Sea Salt: Please adjust the sea salt based upon your family's sea salt preferences and/or based upon dietary restrictions.
*Baby Potatoes: Baby potatoes come in varying sizes. We used the really tiny bite-sized baby potatoes for this recipe.  Cut down potatoes to bite-sized pieces.
*Quinoa Amount: The amount of quinoa used in this recipe can vary based upon desired outcome.  If you are looking for a stew, use 2/3 cup of quinoa.  If you are looking for a bowl style option (no juice), then use 1 cup of quinoa. We enjoy it both ways.  The blog photos of this dish represent the bowl/dinner option.
Storage:  Refrigerate, use within one week.

This post contains affiliate links, and I may receive a very small commission if you purchase through those links at no additional cost to you. Thank you for supporting Monkey and Me Kitchen Adventures! For more information, see our disclosures here