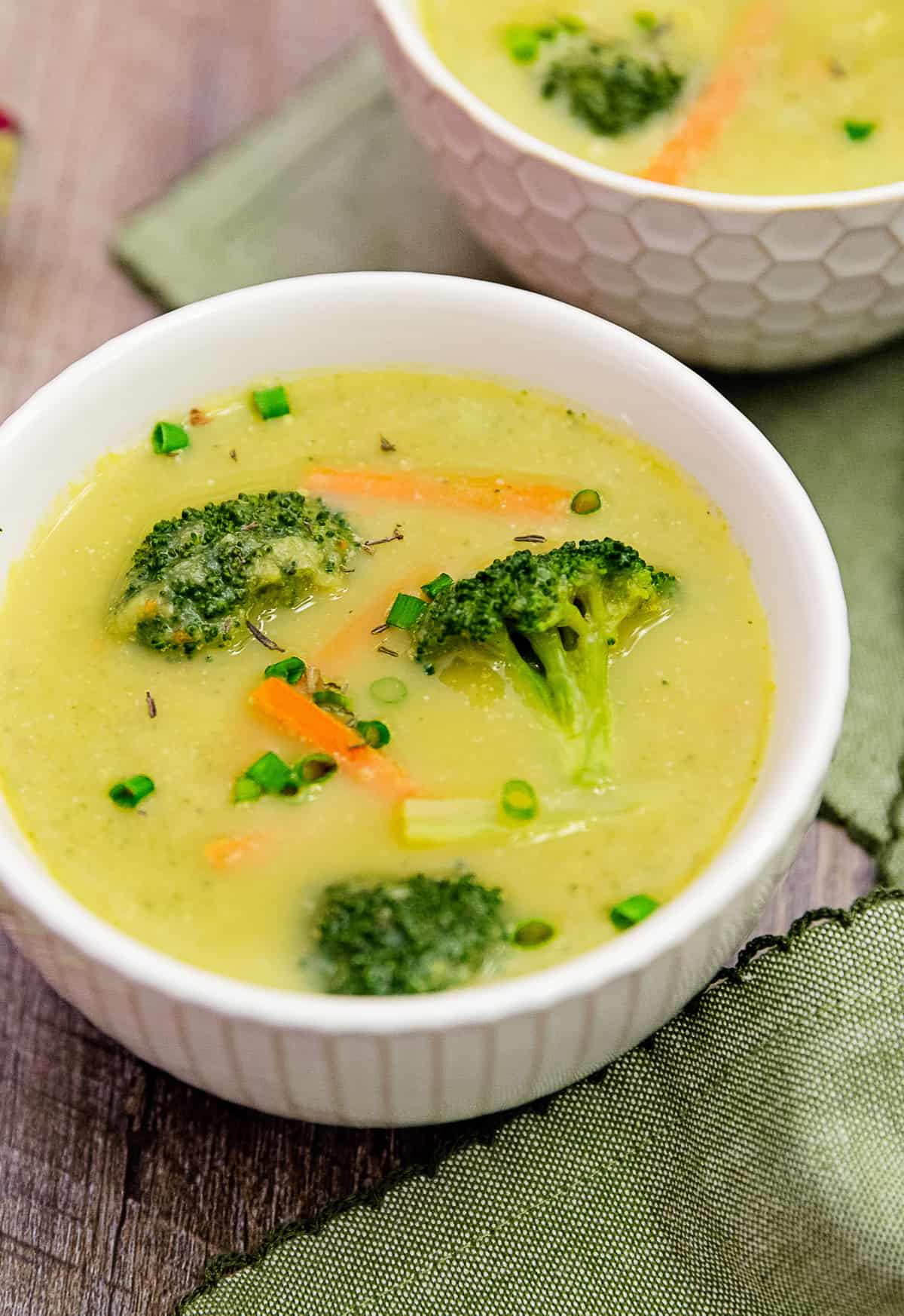 Looking for that special Whole Food Plant Based goodness in a soup?  If so, then this Creamy Broccoli Cauliflower Soup is just for you.  It is as creamy and full of deliciousness. Enjoy this healthy and wholesome Whole Food Plant Based soup.  It's perfect comfort food, so good!
Hi there!  Robin here!
Our Creamy Broccoli Cauliflower Soup is perfectly perfect!  We ate it all up!   We used the broccoli stalks as an accent element of the soup.  No waste here!
TP109 loves broccoli. I am pretty sure it is his favorite vegetable.  He is always begging for broccoli dishes. No matter what I put on the shopping list, he always brings home broccoli.  I think broccoli reminds him of the dishes his mom would make as a child.  God rest her soul.  She was only 50 when she passed.  She had a heart condition.  He cherishes every tiny memory of his mother.
TP shared with me that he loved it when his mom would to take the time to remove the tough stalky exterior on broccoli stems and then cut them into strips for him to eat when he was little.  He is always reminding me to save the broccoli stems for him.  We surprised him by including them inside the soup. He went crazy.  It's the simple things, dontcha know!
The best part of this soup is that the flavor deepens on the second day . . . well that is, if you are lucky enough to have leftovers.  TP ate 3 huge bowls and there was only a tiny bit leftover for the next day.  This soup immediately soared to the top of the TP109 list of favorites.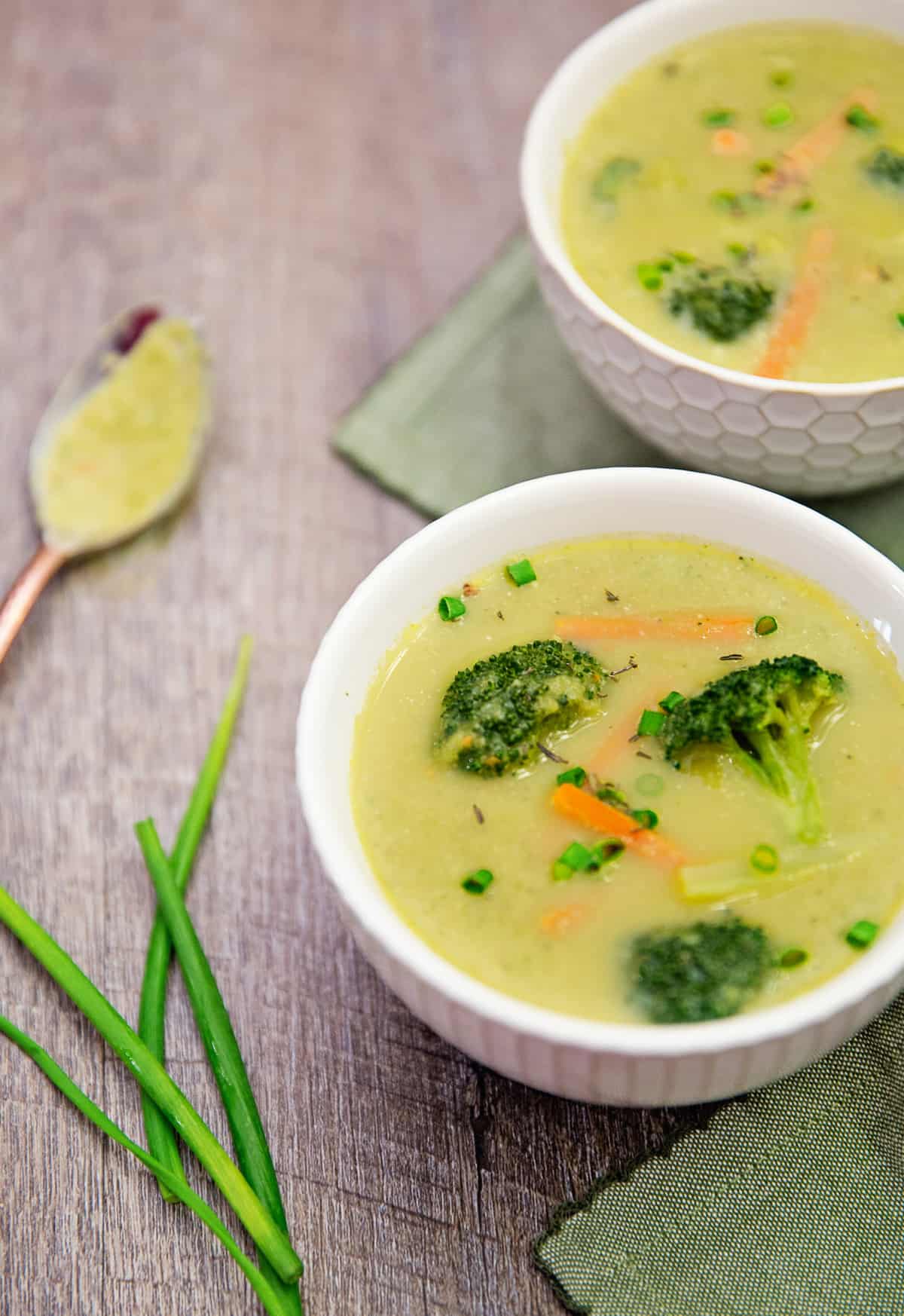 Broccoli and cauliflower are perfectly paired together
Our recommendation is to use fresh broccoli and cauliflower rather than frozen.  You can use frozen veggies, but then you are missing out on the luscious broccoli stems. LOL  Seriously, they taste so nice floating in the soup giving it sustenance and extra texture.
The soup flavors are perfectly balanced, the minute you taste it, you will understand what I mean.  All the components of the soup stand on their own, yet when combined they are divine.  The best part is that unlike most cream soups, this Whole Food Plant Based soup is full of healthy goodness that you can eat and eat, and if you are like TP109, eat some more! HAH!
What's better than snuggling up on a cold winter day with a hot bowl of soup to warm your hands and delight your tummy?  If I could feed the world, I would feed everyone bowls upon bowls filled with luscious soups, all kinds of lovely soups.  Think of me as the Willy Wonka of soups, just call me "Souper" Robin.  HAH!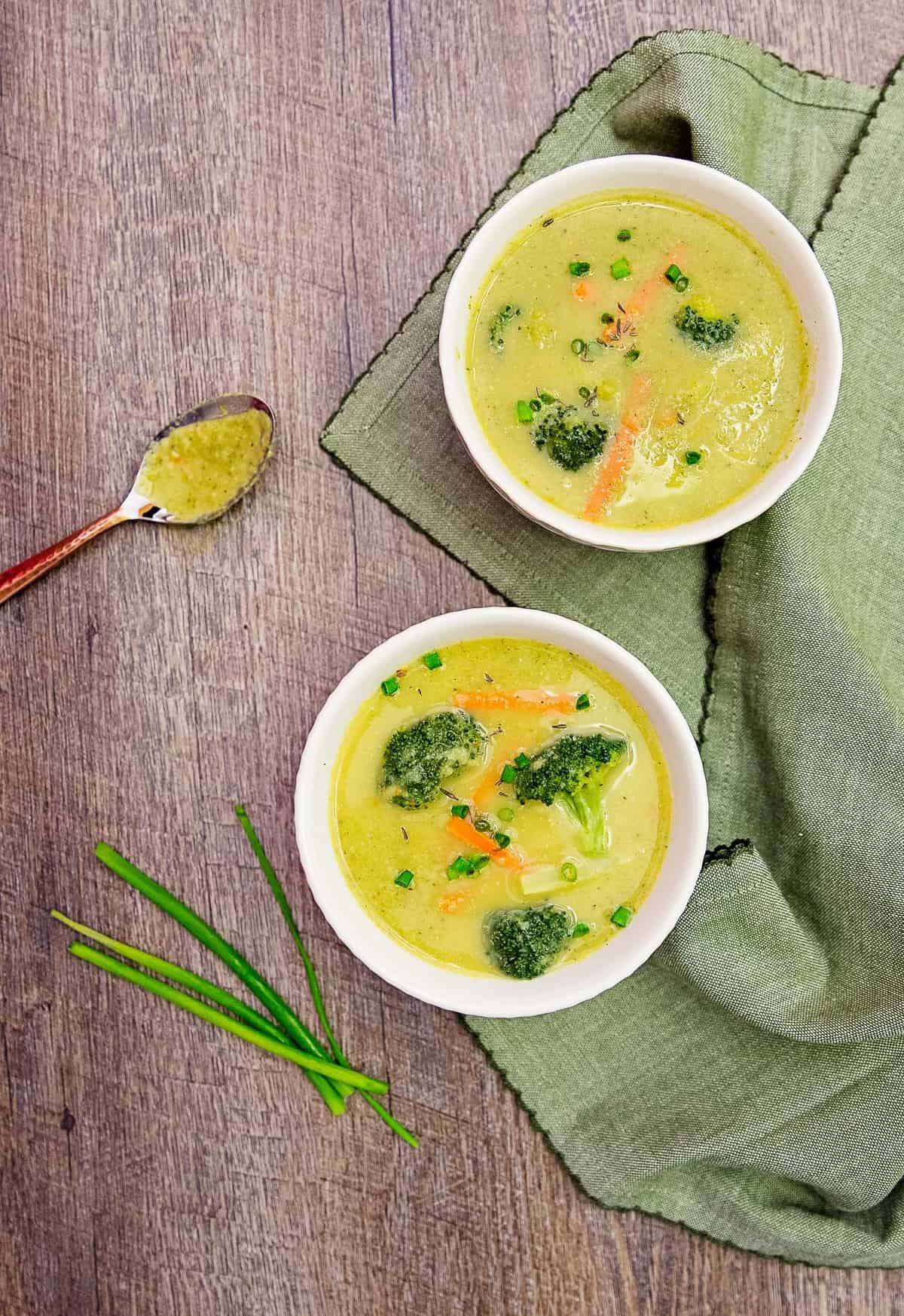 Ameera here! 
"Souper Robin!"  HAHAHAH, wow, that's a good one Mom!  You totally crack me up 😀
You are indeed the queen of soups.  I know how much you love to make soup, probably where I get my love of soup making too!  Our Creamy Broccoli Cauliflower Soup is so silky and smooth.  I love that it has a lot of depth, and it is so easy to make.
But what I loved most was Dad's reaction when he first tried it.  He totally flipped out!  He loved it so much; he kept coming back for more and more, and yet more.   I mean, where does he put it all; he is so skinny!  Life can be unfair like that.  I wish I could eat and eat and never gain any weight!  Who doesn't, am I right?


Products used:
8-Quart ceramic/enamel lined Dutch oven or large kitchen soup stock pot
Immersion blender
Optional Storage: Half-gallon glass mason jars
Print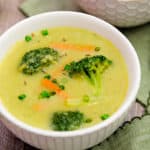 Creamy Broccoli Cauliflower Soup
Author:

Prep Time:

10 minutes

Cook Time:

45 minutes

Total Time:

55 minutes

Yield:

4

-

6

Servings

1

x

Category:

Soup

Cuisine:

American
---
Description
Looking for that special Whole Food Plant Based goodness in a soup?  If so, then this Creamy Broccoli Cauliflower Soup is just for you.  It is as creamy and full of deliciousness. Enjoy this healthy and wholesome Whole Food Plant Based soup.  It's perfect comfort food, so good!
---
1

small to medium yellow onion, finely diced

2

celery stalks, finely diced

2

carrots, finely diced

1

carrot, cut in matchsticks (reserve until later)

1

large head cauliflower, cut into small pieces

3

broccoli branches, cut the heads into small florets (reserve a few florets *)

3

broccoli stems from the broccoli heads listed above, remove the tough exterior and cut the stem into matchsticks * (reserve until later)

5 cups

water (or broth)

1 ½ cups

Pacific organic vegetable broth

2 cups

unsweetened almond milk (or other plant milk)

2 teaspoons

sea salt (+/- to taste)

¼ cup

nutritional yeast

1 Tablespoon

freeze dried shallots (optional)

1 teaspoon

garlic powder

½ teaspoon

onion powder
Pinch of thyme
---
Instructions
In a large ceramic/enamel lined Dutch oven, add the diced onions, diced carrots, and diced celery, and sauté until translucent, about 5 minutes or until the veggies are tender. (If needed to prevent sticking, add 1- 2 Tablespoons of vegetable broth or water).
Add the cut-up cauliflower and the cut-up broccoli to the pot. Reserve a few broccoli florets for later, decorative use.
Add the water, vegetable broth, and sea salt, and bring to a boil, reduce heat and simmer for 20 minutes to ensure the cauliflower and broccoli are very tender.
Remove the pot from the heat and puree the soup with an immersion blender until smooth. This make take about 3-5 minutes.
Place the pot back on the burner, add the freeze-dried shallots, garlic powder, onion powder, thyme, nutritional yeast and unsweetened almond milk, and bring to a boil, then immediately reduce heat to a simmer. Simmer for 5 minutes.
Add the matchstick carrots, matchstick broccoli stems, and the reserved broccoli florets; simmer for 10 minutes.
Taste the seasonings. Add more if needed.
Serve: Top individual servings with snipped chives.
---
Notes
*Broccoli Stems:  Typically, most people will discard the stems of the broccoli as they tend to be tough and fibrous.  If you remove the tough exterior, the inside of the broccoli stem resembles the texture of a carrot and is equally delicious.  Cutting them into matchsticks and placing in the soup near the end, adds some decorative texture to the soup.  Adding the broccoli stems is optional.
*Freeze dried shallots:  We LOVE freeze dried shallots, they are so good and always add a nice element to a lot of Vegan WFPB recipes.  They can be found reasonably priced on Amazon if your local grocery store does not carry them.
*Vegetable Broth:  We used Pacific Organic Vegetable Broth because it does not have MSG, and has no highly processed ingredients; however, Pacific has a very strong flavor so our water to broth ratio is heavy on the water and low on the vegetable broth.  If you are using a vegetable broth other than Pacific, please adjust the water to broth ratio accordingly.
Storage:  Cool to room temperature.  Store in glass or plastic container.  Freezes well.