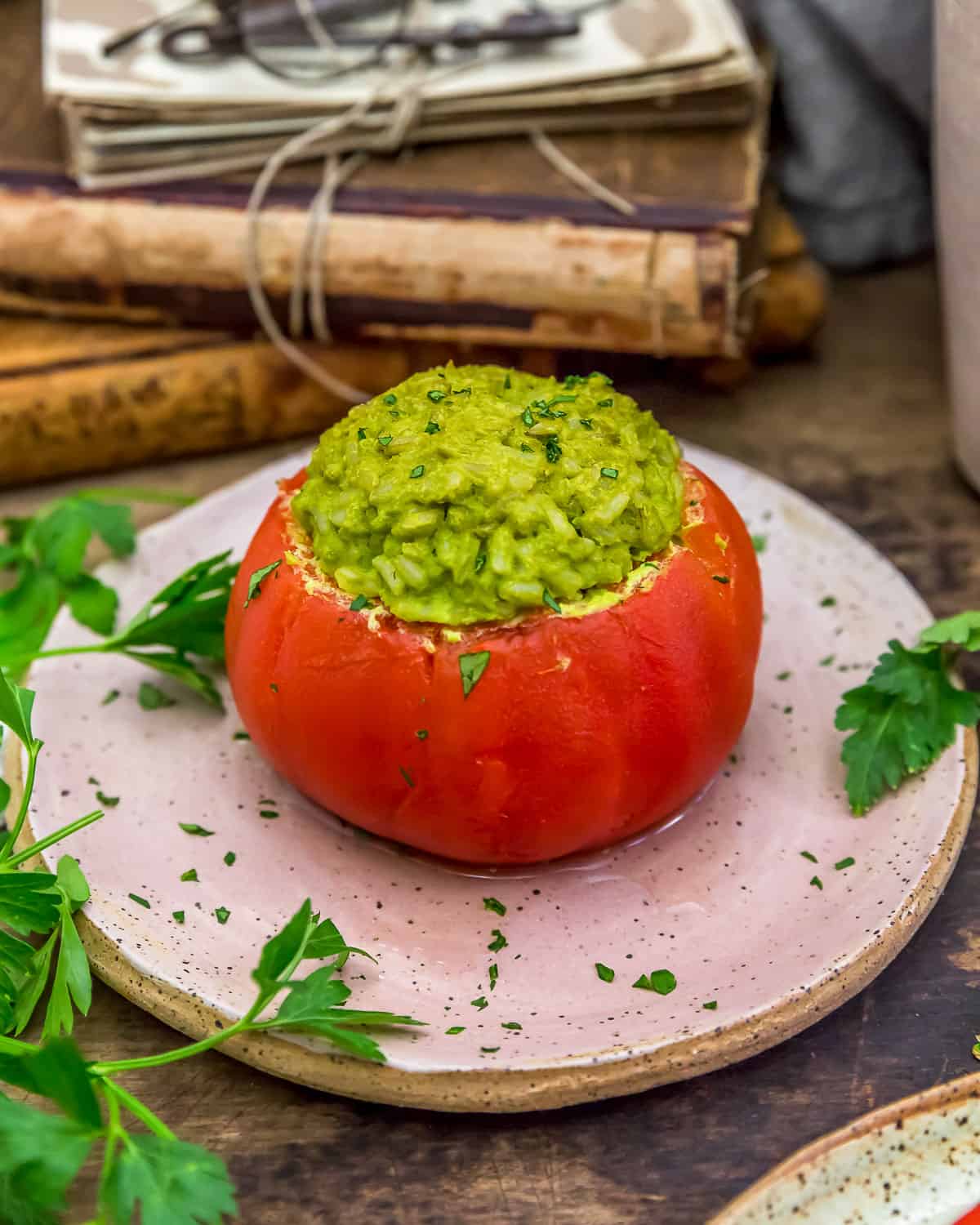 Oil Free Vegan Pesto Rice Stuffed Tomatoes! Brimming with sunshine-vibes, these vibrant and flavorful stuffed tomatoes are a summer must-make.
Hearty, comforting, and wholesome, these Oil Free Vegan Pesto Rice Stuffed Tomatoes are one of the best ways to enjoy fresh basil and home-grown (farmers market) tomatoes. Tender-baked tomatoes filled with pesto flavored rice is totally a guest worthy meal.
Whole Food Plant Based, Vegan, plant based, oil free, refined sugar free, no highly processed ingredients and gluten free.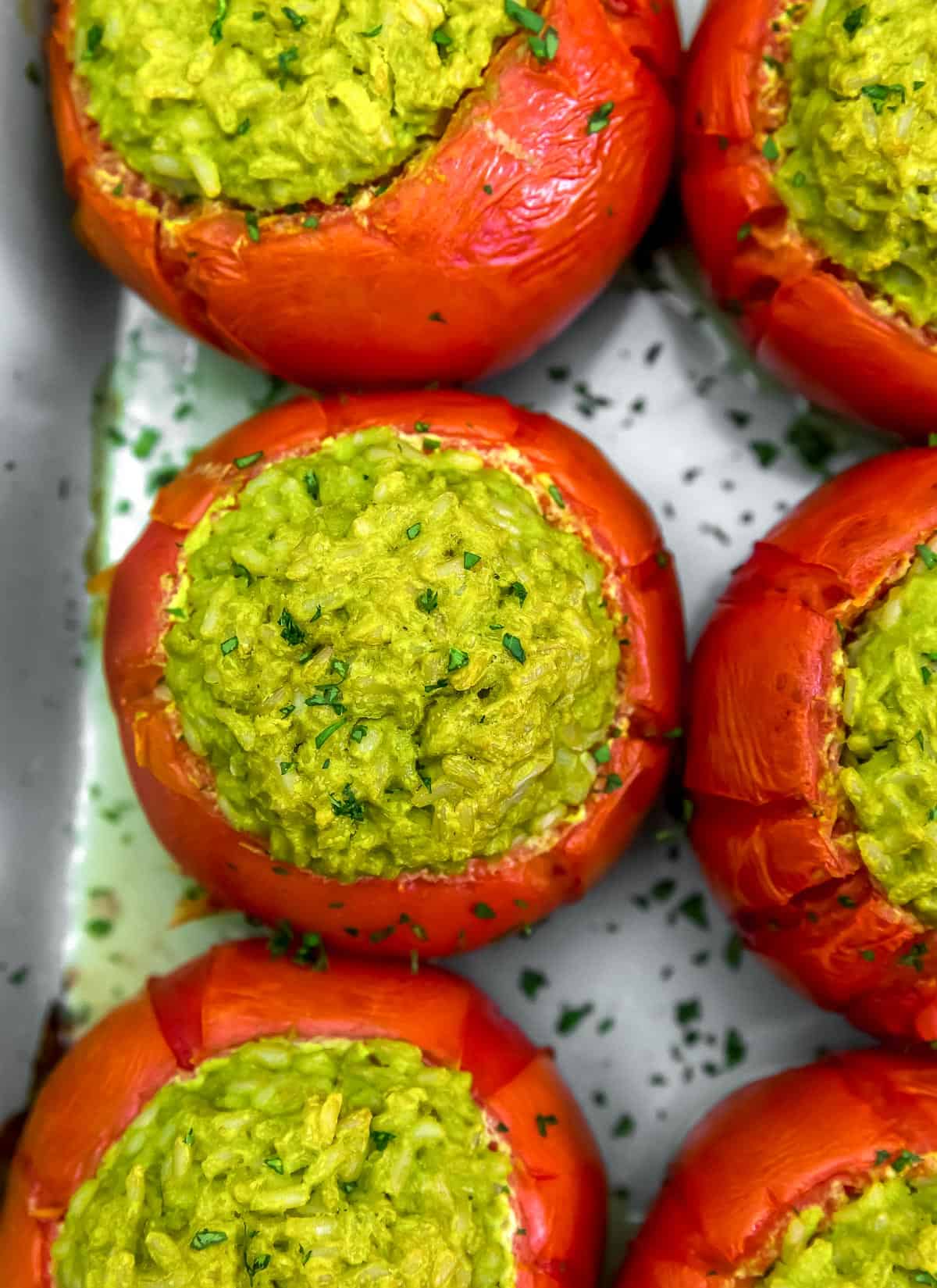 Hi there, Ameera here!
We absolutely LOVE, LOVE, LOVE this recipe. We created in September 2022, but Mom and I agreed that we had missed our "pesto" opportunity as the basil and tomato season was coming to a close.
Plus, everyones is ready for fall-style dishes. It's funny how September hits and pumpkin spice everything is flooding the scene. So we decided to wait until Summer 2023 to release it. We have been making it over and over, and over again ever since, even in the winter when we can get big ripe tomatoes.
This dish just feels like summer. You gotta give this one a try!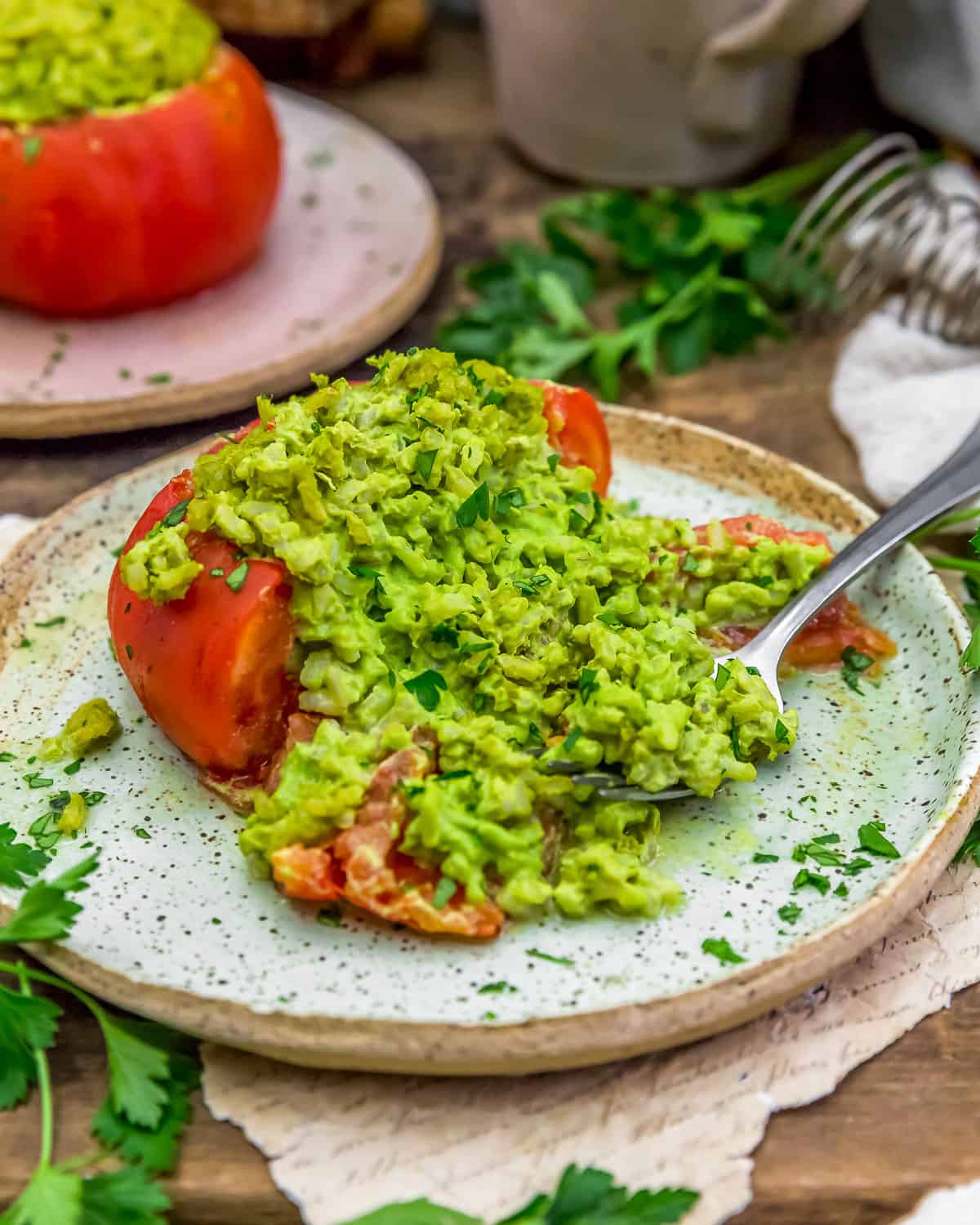 Tips for Success:
Flavor Profile: Tender, roasted-sweet tomatoes are stuffed with a zesty and flavorful Vegan Pesto Rice creating a delicious combination of bold pesto and sweet tomatoes.  Worthy enough for company.
Tomatoes: You want to select firm, ripe tomatoes. When you hollow them out, they should be able to stand up on their own. Try to get all the juices and seeds out of the tomatoes. You may need to use a sharp knife or grapefruit spoon to get at it.  It's OK if some of the tomato ribs are left. After we hollowed them out, we ran our fingers all along the insides of the tomatoes and between the ribs to release any trapped juices which is important to prevent the rice from getting watered down from the tomato juices.
Sprinkle of Sea Salt: It is important to sprinkle the insides of the tomato cups with sea salt (or your favorite seasoning) to draw out any excess moisture. This helps avoid a really juice tomato when served. Give the insides of the hollowed out tomatoes a generous sprinkle to nicely season the insides of the tomatoes, otherwise, you will have this amazing pesto rice flavor explosion coupled with a bland unseasoned tomato. Keep in mind that when you sprinkle the insides with sea salt, and invert the tomato, you will lose some of the seasonings, so don't be afraid to give it a nice little sprinkle again.
Cooked and Refrigerated Rice: Cooked and refrigerated rice works best when making this dish. If you use recently cooked rice, it will be too gummy and sticky. Using cooked and refrigerated rice (preferably made the day before or earlier in the day) allows the rice to dry out enough to showcase distinct individual grains of rice making a better textured dish.
Fresh Basil: Our Oil Free Vegan Pesto works great with this recipe. We double the recipe which makes 1 1/3 cups of pesto which requires 4 cups of fresh basil.  We have made this recipe using 3 cups of fresh basil simply because we ran out of fresh basil, and it still tastes amazing. Feel free to use your favorite pesto recipe, keeping in mind that you need 1 1/3 cups of pesto for this recipe.
Foil Tent or Parchment Paper: Watch the tomato cups around the 20 minute-mark in the oven.  If the tops of the tomato cups appear to be over-browning, then create a foil tent or use a sheet of parchment paper to lay over the top to prevent over-browning.  Please note, you may not even need to tend this dish.
Casserole Pan Selection: Test out your casserole pan before you commit to it simply by placing the tomatoes in it to see if they fit.
Peeled Tomatoes: You do not need to peel the tomatoes; however, when you baked the stuffed tomatoes in the oven for 30 minutes, the thin skins of the tomatoes will start to crack.  Once you remove the casserole pan out of the oven and allow them to sit for 5 minutes, if you wish, you can easily peel the skins off the tomatoes.  The skins will easily come right off.  Note:  We do not recommend peeling the tomatoes before going into the oven.  The skin of the tomato gives the tomatoes integrity in the oven allowing them to hold their shape.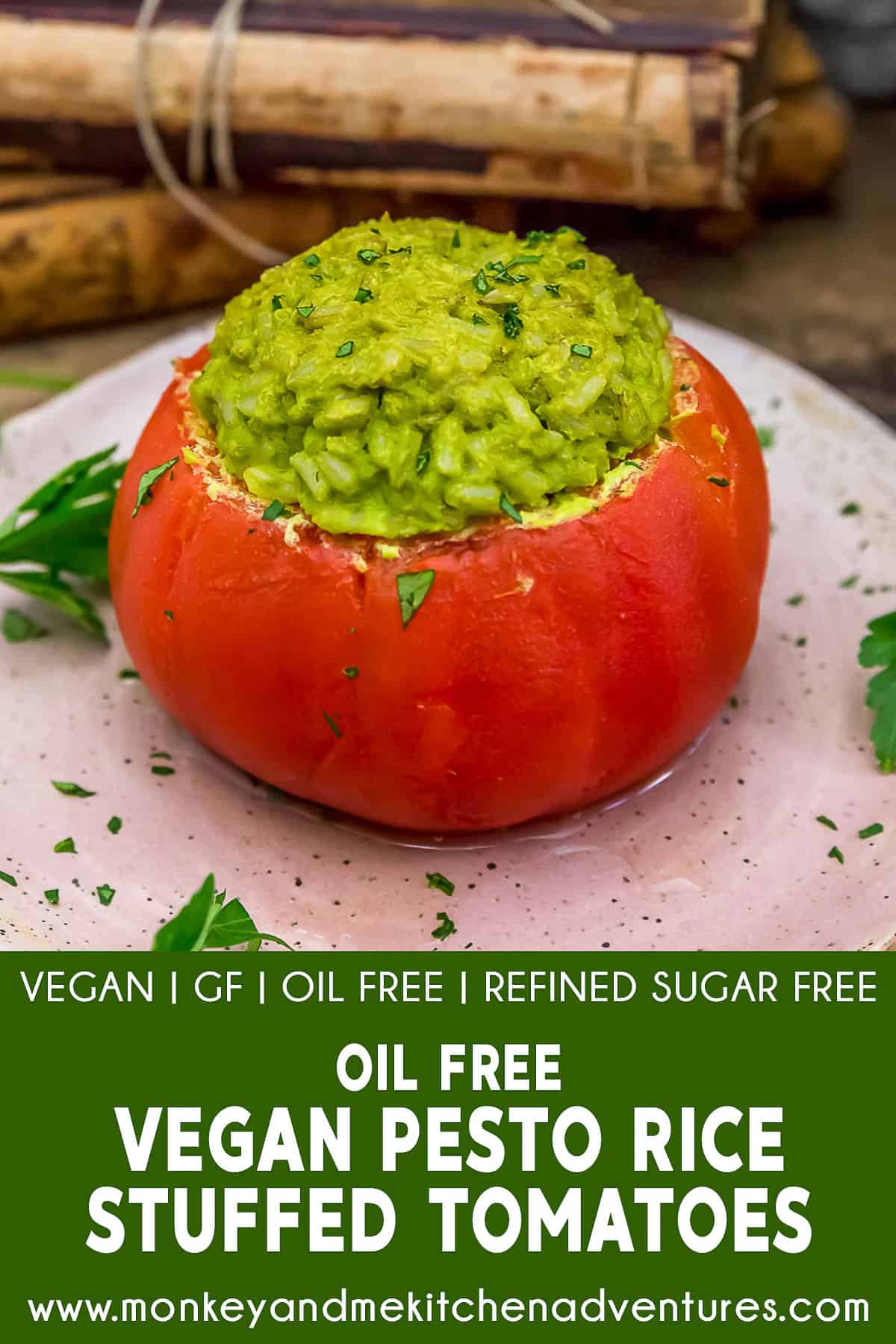 Leftovers and Freezing:
Leftovers will generally keep 4 days in the refrigerator.  Store in a covered container.
This dish can be frozen; however, the tomatoes will lose their integrity and become weepy.
Pantry Products:
Brown Rice:  We used Uncle Ben's Whole Grain Brown Rice for this dish.  Feel free to use your favorite rice.
Kitchen Products:
High-speed blender (to make the pesto)
Casserole dish (to hold 6 large tomatoes)
We certainly hope you give this flavorful dish a try! If you try it, please leave us a review! Post a picture on Facebook or Instagram and tag us! We would love to hear from you.
Print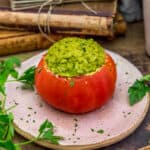 Oil Free Vegan Pesto Rice Stuffed Tomatoes
Author:

Cook Time:

30 Minutes

Total Time:

30 minutes

Yield:

6

Large Stuffed Tomatoes

1

x

Category:

Dinner

Method:

Oven

Diet:

Vegan
---
Description
Hearty, comforting, and wholesome, these Oil Free Vegan Pesto Rice Stuffed Tomatoes are one of the best ways to enjoy fresh basil and home-grown (farmers market) tomatoes.
---
3 cups

cooked and refrigerated rice (of choice) *

6

large tomatoes

1 1/3 cups

Vegan Pesto (Double our Oil Free Vegan Pesto)
Sprinkle sea salt (+/-) *
---
Instructions
Preheat the oven to 425 F.   Use center rack.
Select firm, ripe tomatoes. Take each tomato and slice the top off with a knife. Then using a knife core the tomato. Then carefully remove all the insides (seeds, pulp, and juice), only leaving a tomato shell.  You want to create a tomato cup to hold the rice stuffing inside. When all the tomatoes are hollowed out, sprinkle some sea salt inside each tomato cup and invert them onto a paper towel lined baking sheet until you are ready to stuff them.  This will draw out any excess moisture and season the insides of the tomatoes.
Make the Oil Free Vegan Pesto recipe (doubled recipe).
Place 3 cups of cooked and refrigerated rice into a bowl, pour the pesto sauce over top and mix thoroughly until all the rice is coated with the pesto sauce.
Place the tomatoes into a casserole pan. Fill each of the tomato cups with the pesto rice mixture. Lift and wipe up any rice/pesto that has fallen along the sides of the tomatoes or on the bottom of the baking pan (see notes).
Place in a preheated 425 F oven, place in the oven uncovered for 30 minutes until the tomatoes are tender. Cover with a foil tent (or parchment paper), if needed, to prevent over-browning.
Allow to sit for 5 minutes before serving.
---
Notes
Please reference the blog post for Tips for Success, Pantry Items Used, Storage and Freezing, and Kitchen Products Used. 
Sea Salt:  Please adjust the sea salt based upon your family's sea salt preferences and/or based upon dietary needs.
 Servings:  Makes 6 large stuffed tomatoes (6 servings)

This post contains affiliate links, and we may receive a very small commission if you purchase through those links at no additional cost to you. Thank you for supporting Monkey and Me Kitchen Adventures! For more information, see our disclosures here.