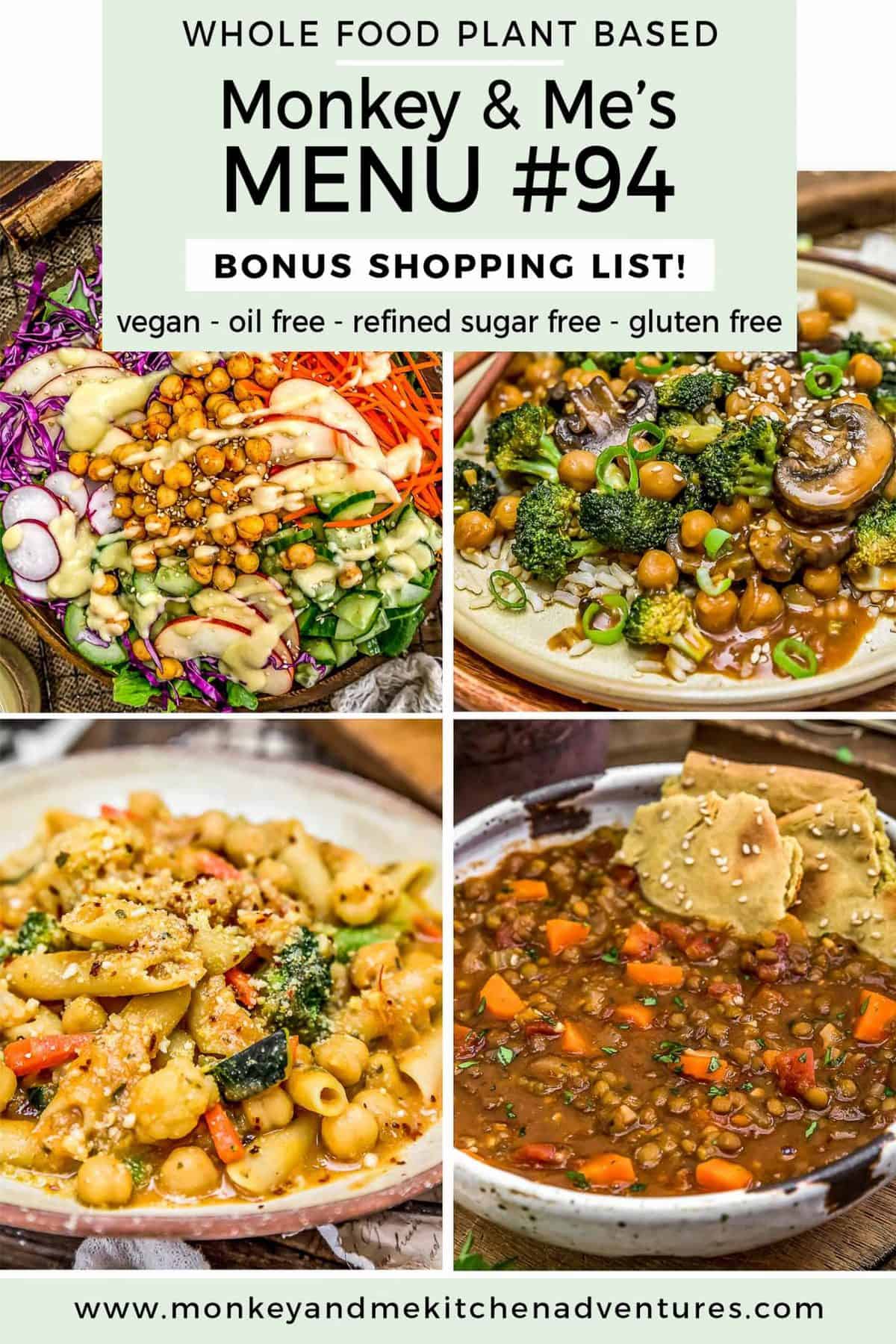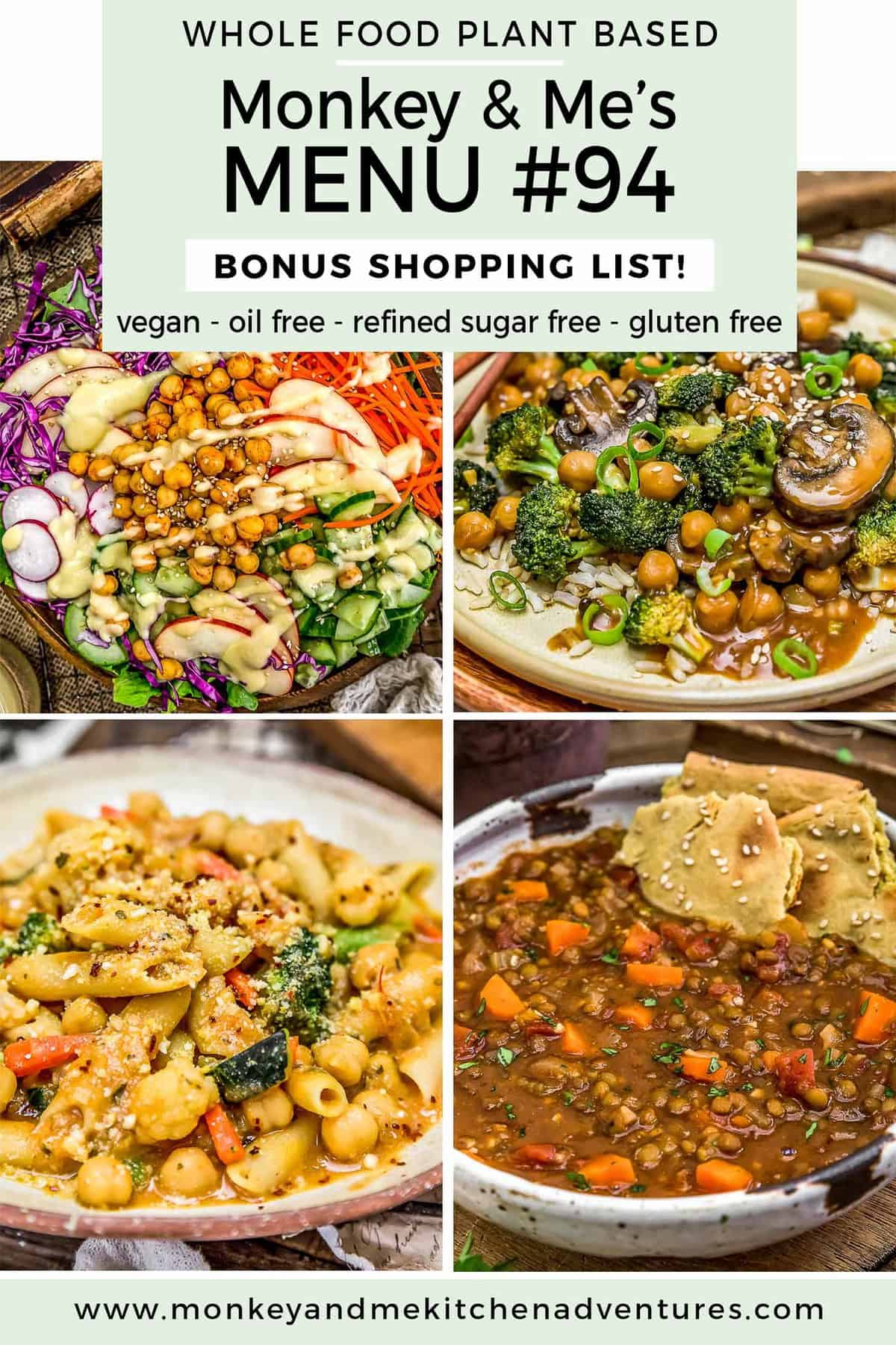 This week's Monkey and Me's Menu features some tasty recipes.  Menu #94 includes a FREE bonus shopping list.  All recipes are Whole Food Plant Based, vegan, plant based, oil free, refined sugar free, no highly processed ingredients, and gluten free.

Downloadable Menu which offers the following:

2 Breakfast ideas
2 Lunch ideas
2 Snack Ideas
5 Dinner Ideas, including a FREE downloaded shopping list (PDF – Below)

A comprehensive (downloadable) shopping list for the 5 Dinners

The shopping list is segmented into the common grocery store sections like "produce, spices, etc." making it easy to pick up these items from your local grocery store.
It also includes product suggestions that are Whole Food Plant Based compliant* for easy reference.  Note: These products are suggestions, please feel free to select your own favorite products.
Includes helpful codes so you can easily subtract items that you choose not to make.

Downloadable Instructions on how the meal plan work.
Note:  The term "Whole Food Plant Based compliant" is from a general standpoint.  There are Whole Food Plant Based diet branches that restrict certain food items.  Our recipes are all Whole Food Plant Based compliant based upon a high-level compliance standpoint. i.e. vegan, plant based, oil free, refined sugar free, minimally processed foods.
Some breakfast, lunch, and snack ideas are simple concepts that require no recipe.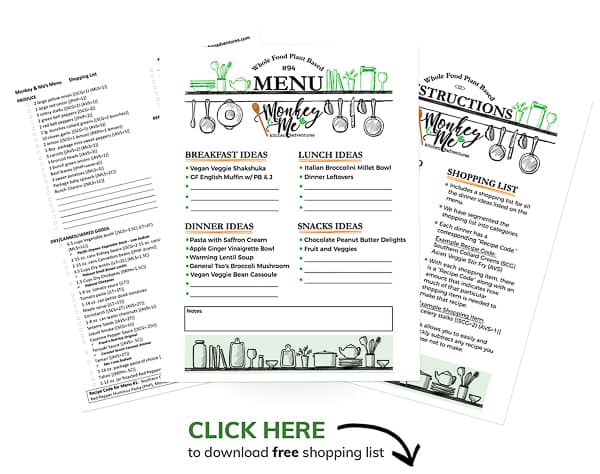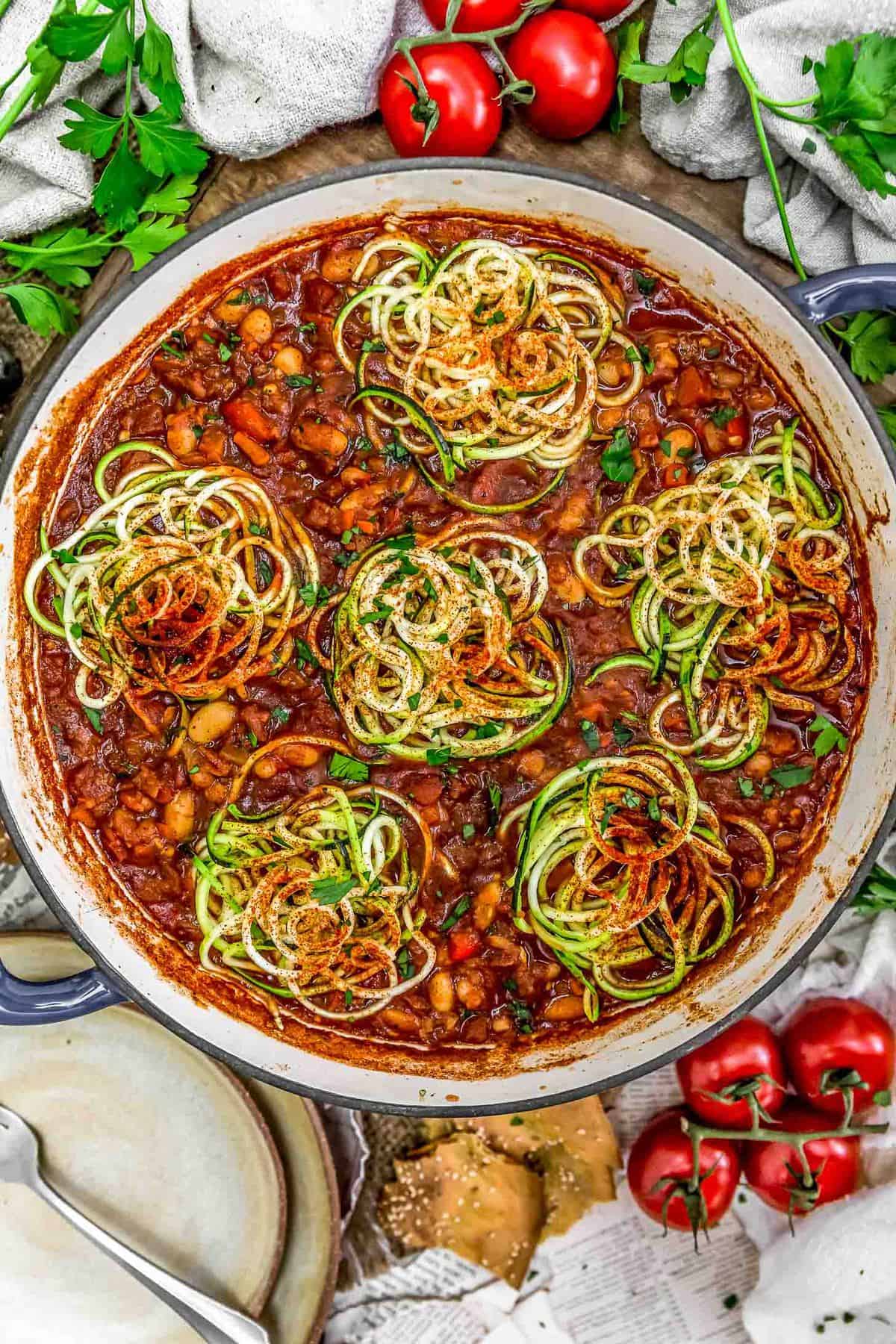 This beautifully spiced Vegan Veggie Shakshuka is bursting with flavor and boasting a fun veggie twist. Features nutrient-rich veggies including zesty onions, fresh red bell peppers, sweet carrots, earthy garlic, and hearty cannellini beans all bathed in vibrant aromatic tomato sauce and topped with zucchini zoodles. This tasty soul warming dish is full of feel good ingredients, herbs, and spices. Perfect for a savory breakfast or dinner and is sure to leave you satisfied and happy!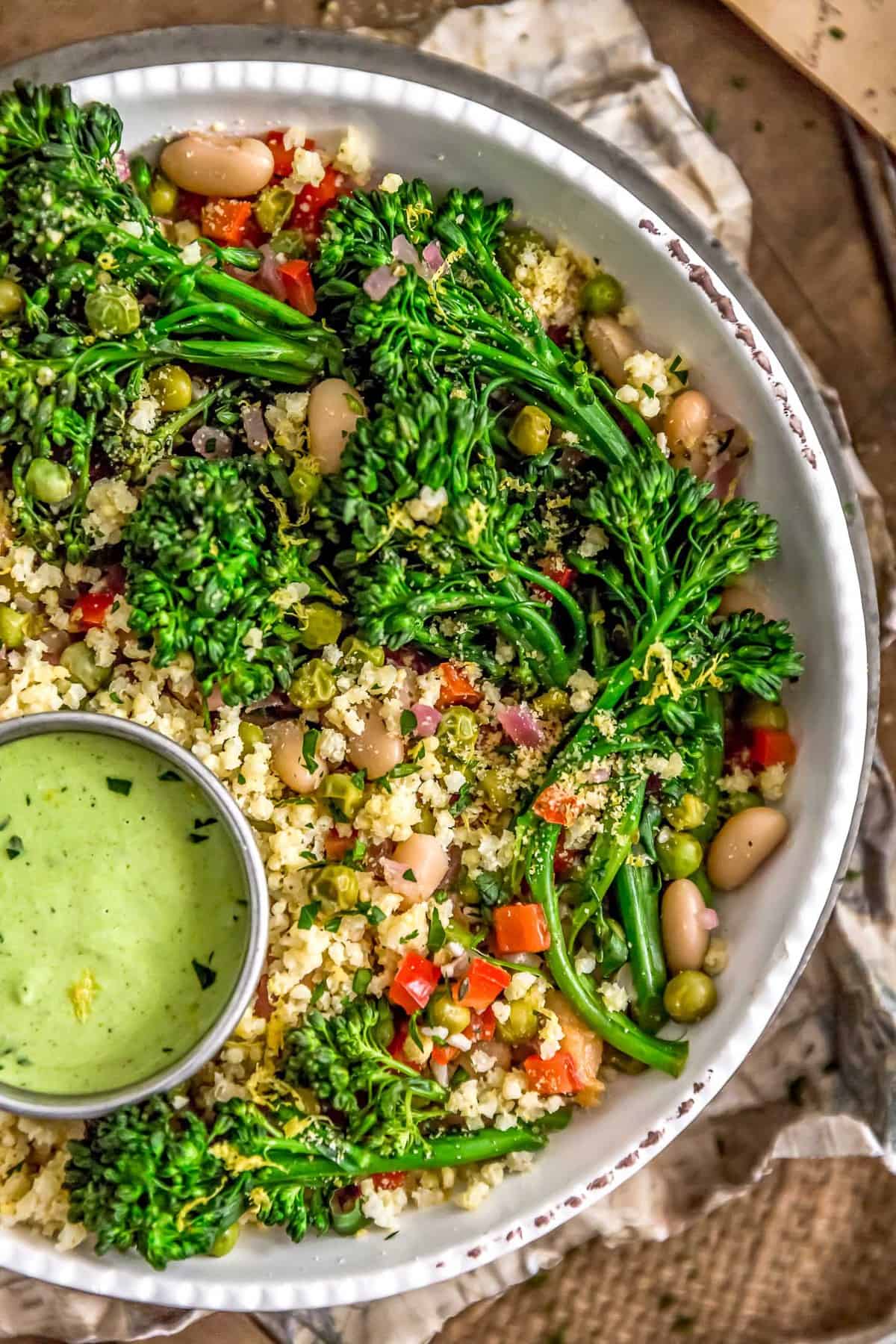 Bursting with spring, sunshiney flavors and feels, this easy and nutrient-packed Italian Broccolini Millet Bowl with Lemony Parsley Sauce is full of beautiful flavor, satisfying goodness, and superfood nourishment.  Perfectly seasoned broccolini, peas, and cannelloni beans with chewy, nutty millet; drizzled with a Lemony Parsley Sauce (aka dream sauce); and sprinkled with vegan parm and lemon zest takes this bountiful bowl to the next level of fresh, wholesome goodness – total veggie paradise!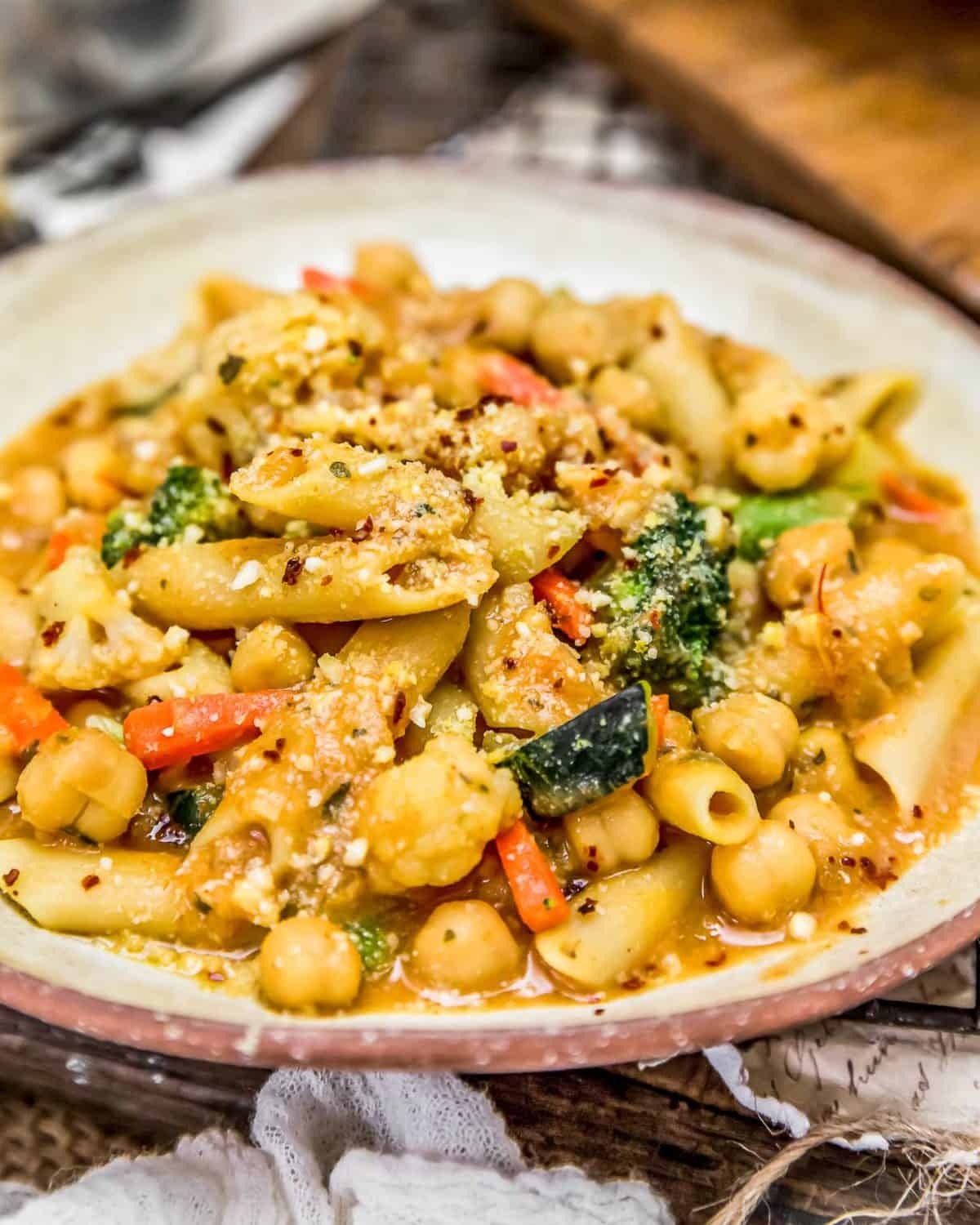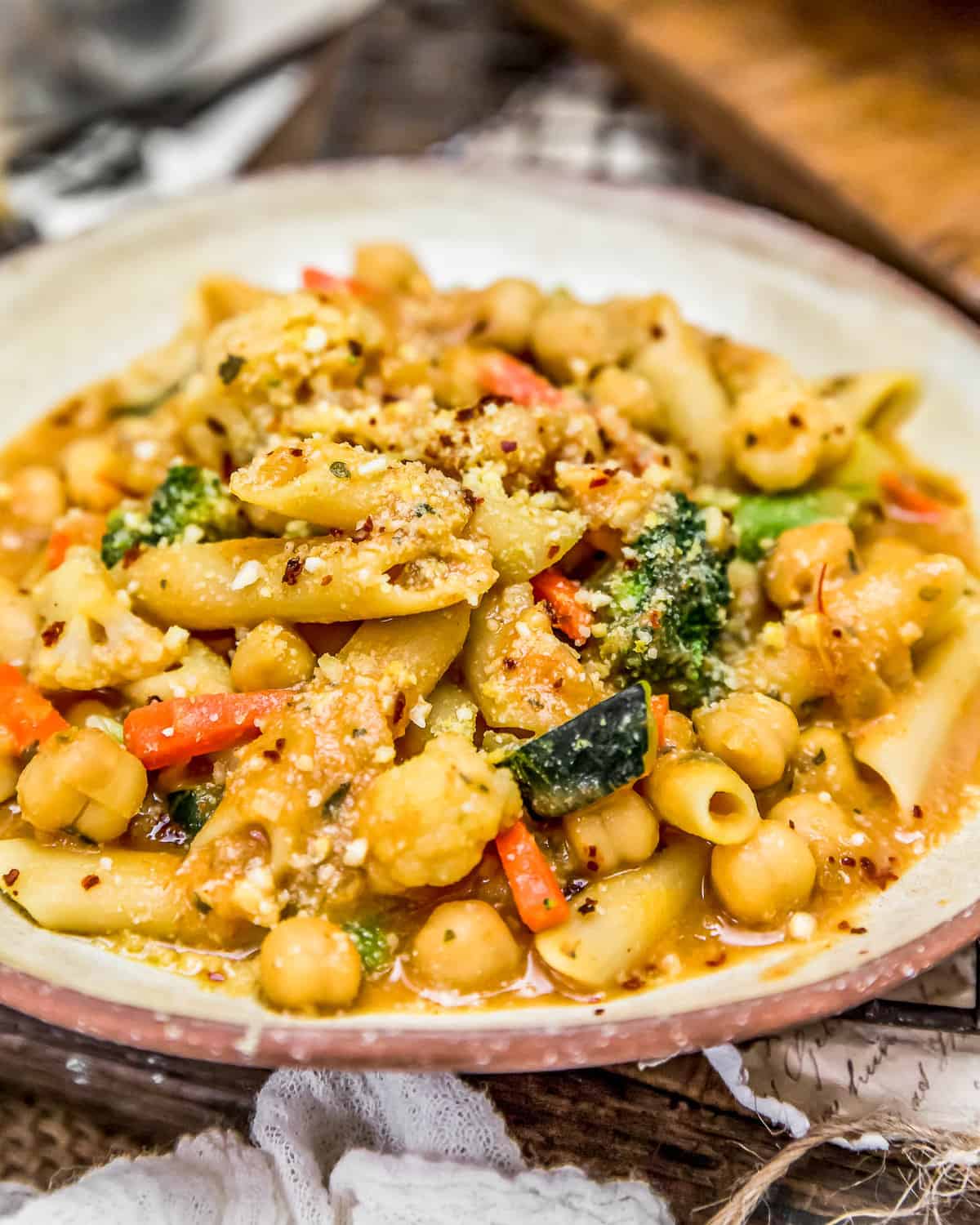 Pasta makes the world go round and this Pasta with Saffron Cream is filled with nourishing plant goodness like rich tomatoes, hearty broccoli and cauliflower, sweet carrots, protein-packed chickpeas, and tender pasta all bathed in a beautiful aromatic saffron cream sauce. It's creamy, dreamy, easy to make, and so delicious! A perfect dish for pasta lovers and quick weeknight meals!
Text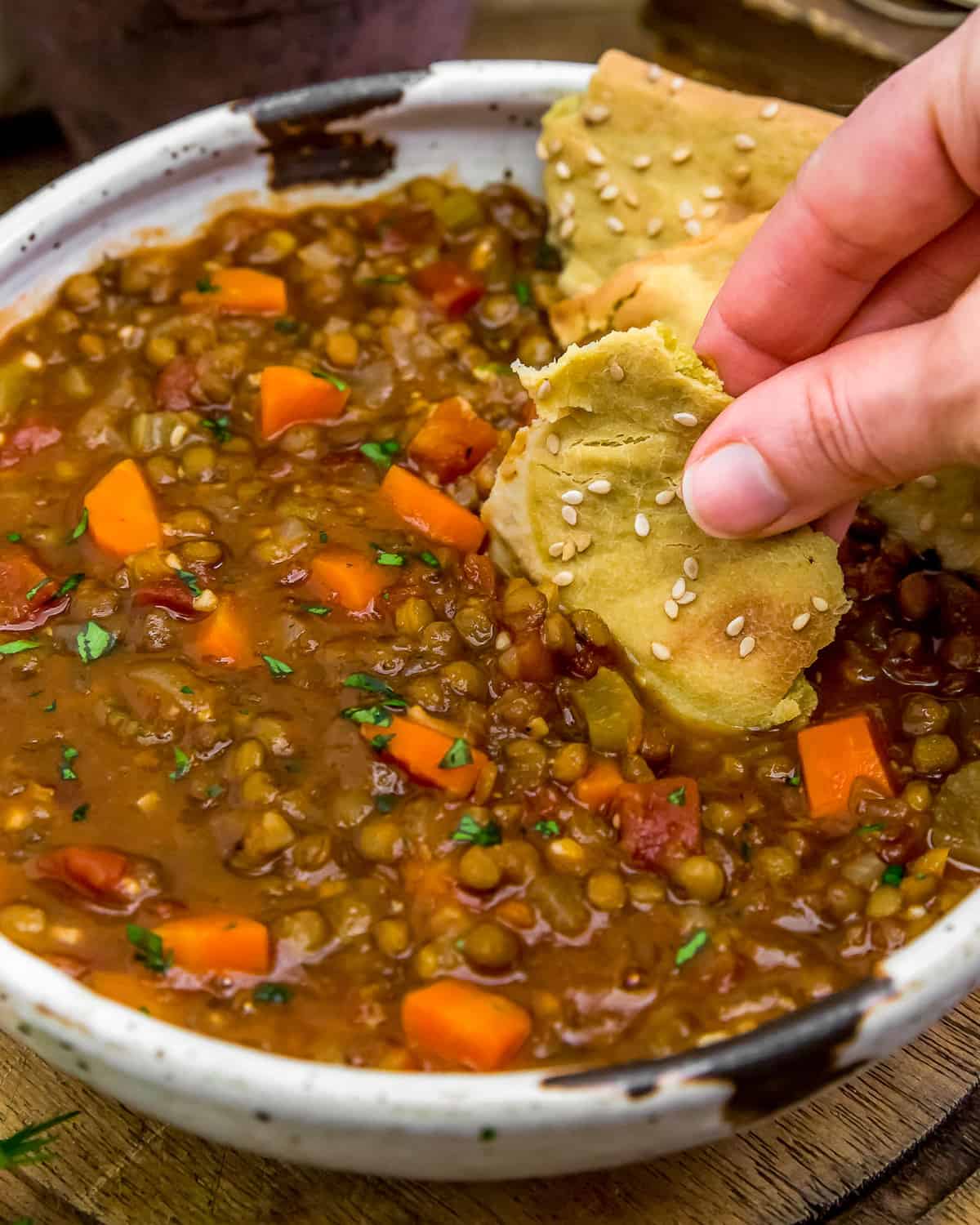 We are in total soup mode over here and drooling over this healthy, delicious, and comforting Warming Lentil Soup. Perfectly seasoned, it never fails to please, this tasty soup is all you'll need on a chilly day to warm you up inside. You can be assured that every spoonful will be flavorful, packed with deliciousness, and stick-to-your-ribs good.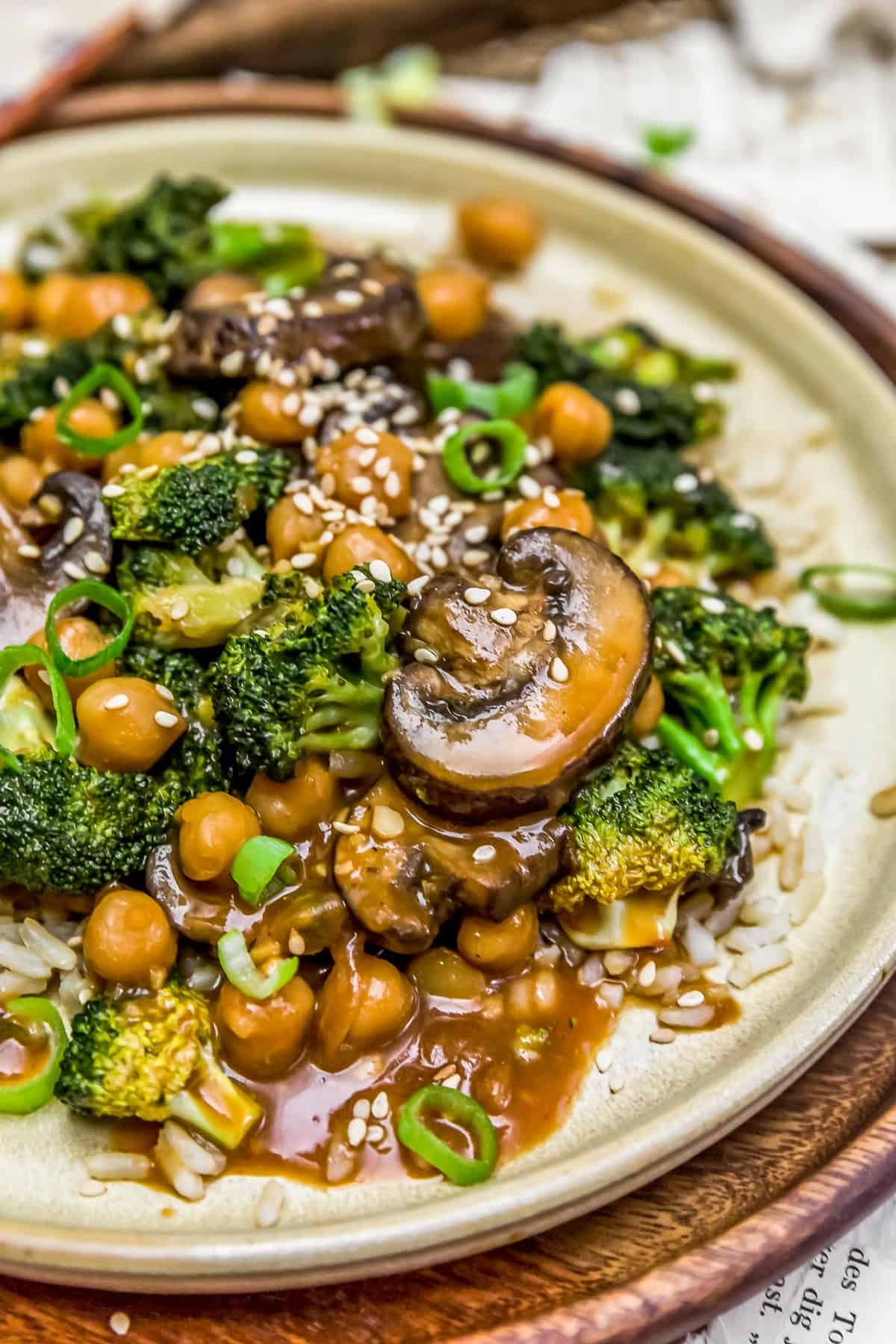 When those takeout cravings call, we've got an amazingly delicious stir fry that is sure to satisfy with a wholesome, flavorful twist.  This saucy and delicious General Tso's Broccoli Mushroom Stir Fry is so easy to prepare and makes for a perfectly healthy, quick weeknight dinner; the whole family will be singing your praises. Earthy mushrooms, crisp broccoli and hearty chickpeas combined with an amazing umami sauce that is super tasty and hits all those takeout needs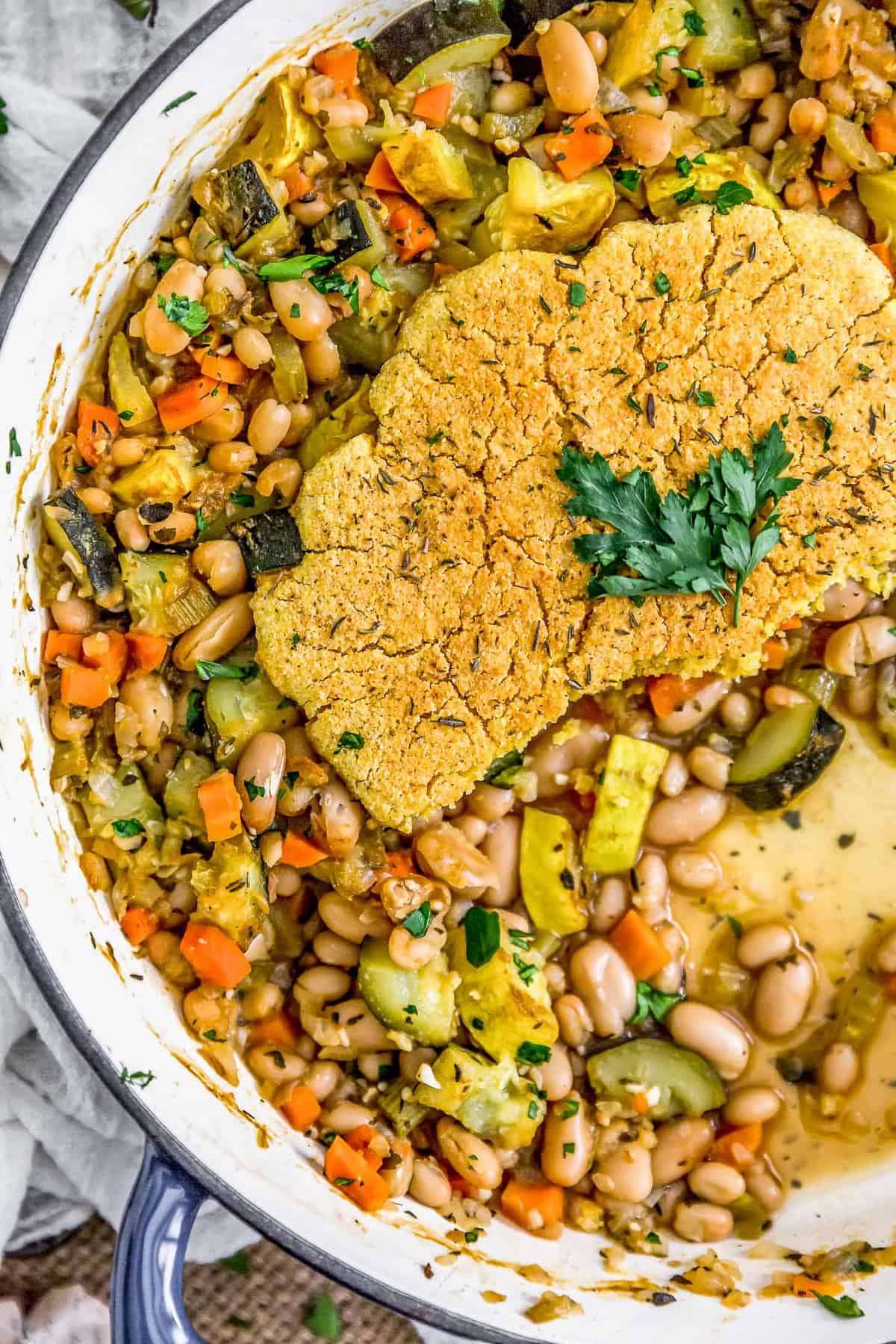 Beautifully rustic and comforting, this flavorful skillet meal is a dish of dreams. This healthy and utterly delicious Vegan Veggie Bean Cassoulet is coming in hot with a beautiful blend of savory spices, nourishing veggies, hearty beans with a tasty cornmeal topper!  Earthy flavors with a hint of smoky goodness, this wholesome dish is sure to have everyone running back for seconds.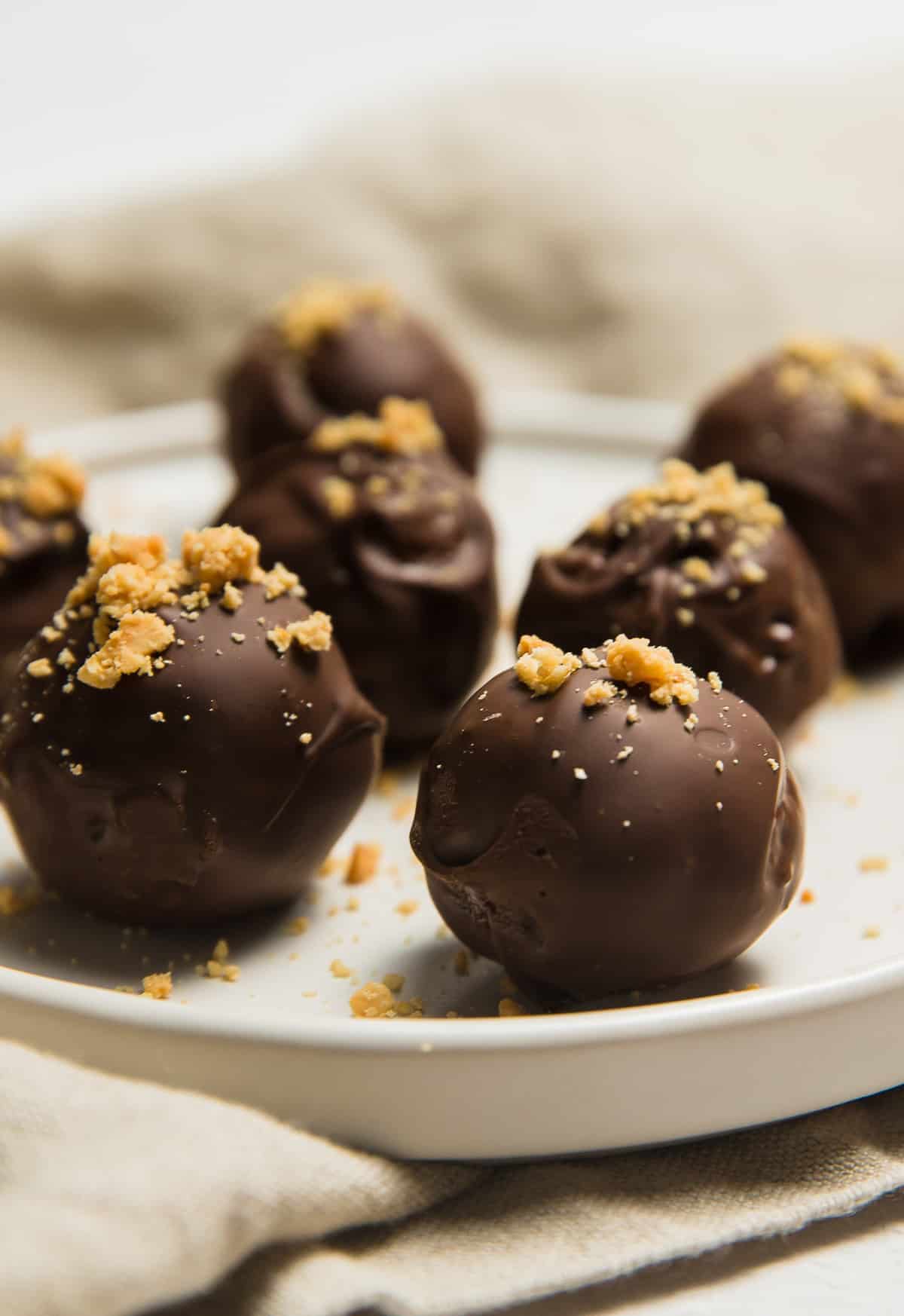 What better combination on earth than peanut butter and chocolate, right? Healthy and delicious, these amazingly creamy Chocolate Peanut Butter Delights are the perfect after-school treat or pick-me-up after a long day at work. A fantastic way to curb that sweet tooth that is super easy to put together – YAY!