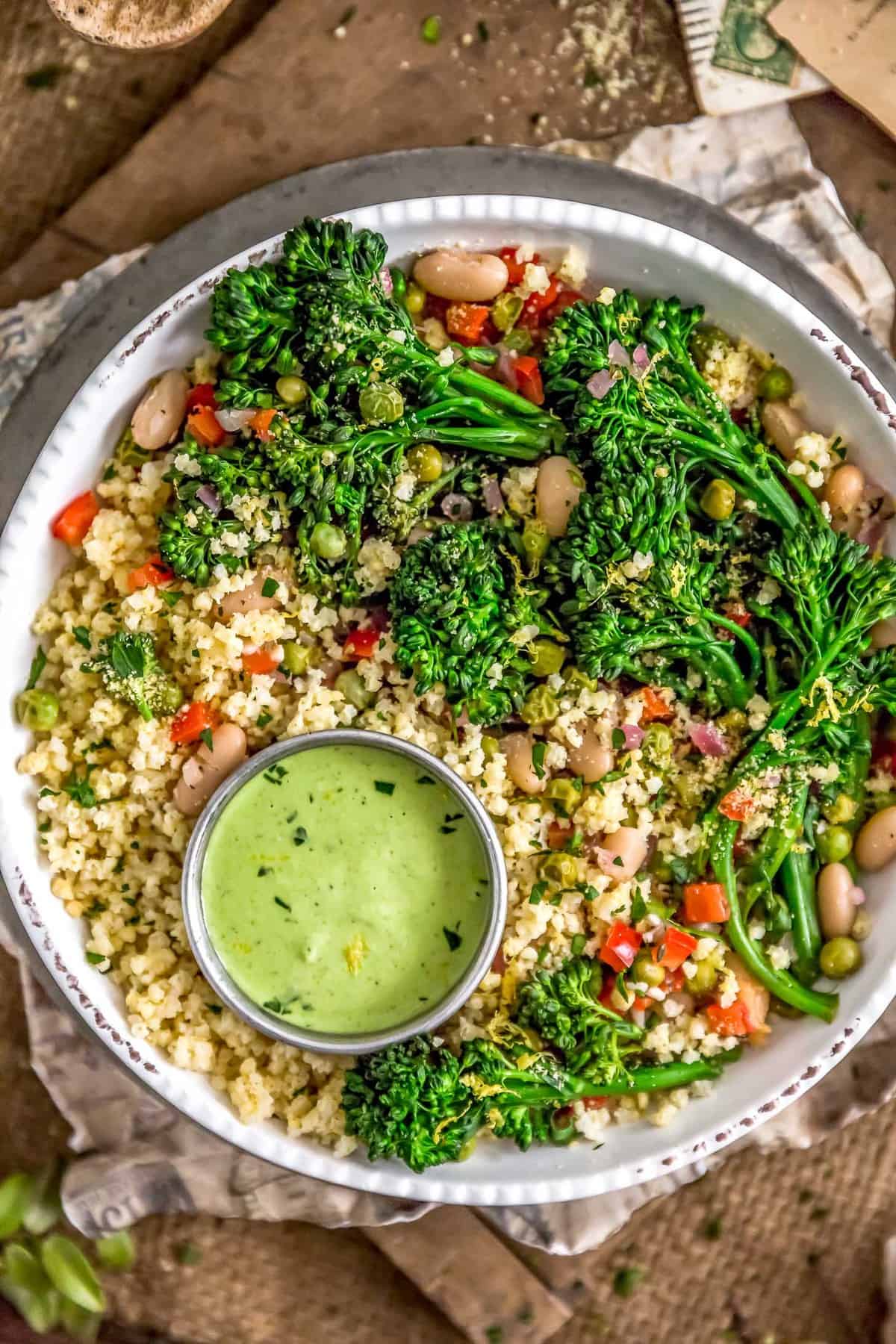 Bursting with spring, sunshiney flavors and feels, this easy and nutrient-packed Italian Broccolini Millet Bowl with Lemony Parsley Sauce is full of beautiful flavor, satisfying goodness, and superfood nourishment.  Perfectly seasoned broccolini, peas, and cannelloni beans with chewy, nutty millet; drizzled with a Lemony Parsley Sauce (aka dream sauce); and sprinkled with vegan parm and lemon zest takes this bountiful bowl to the next level of fresh, wholesome goodness – total veggie paradise!
Whole Food Plant Based, vegan, plant based, oil free, refined sugar free, no highly processed ingredients, and gluten free.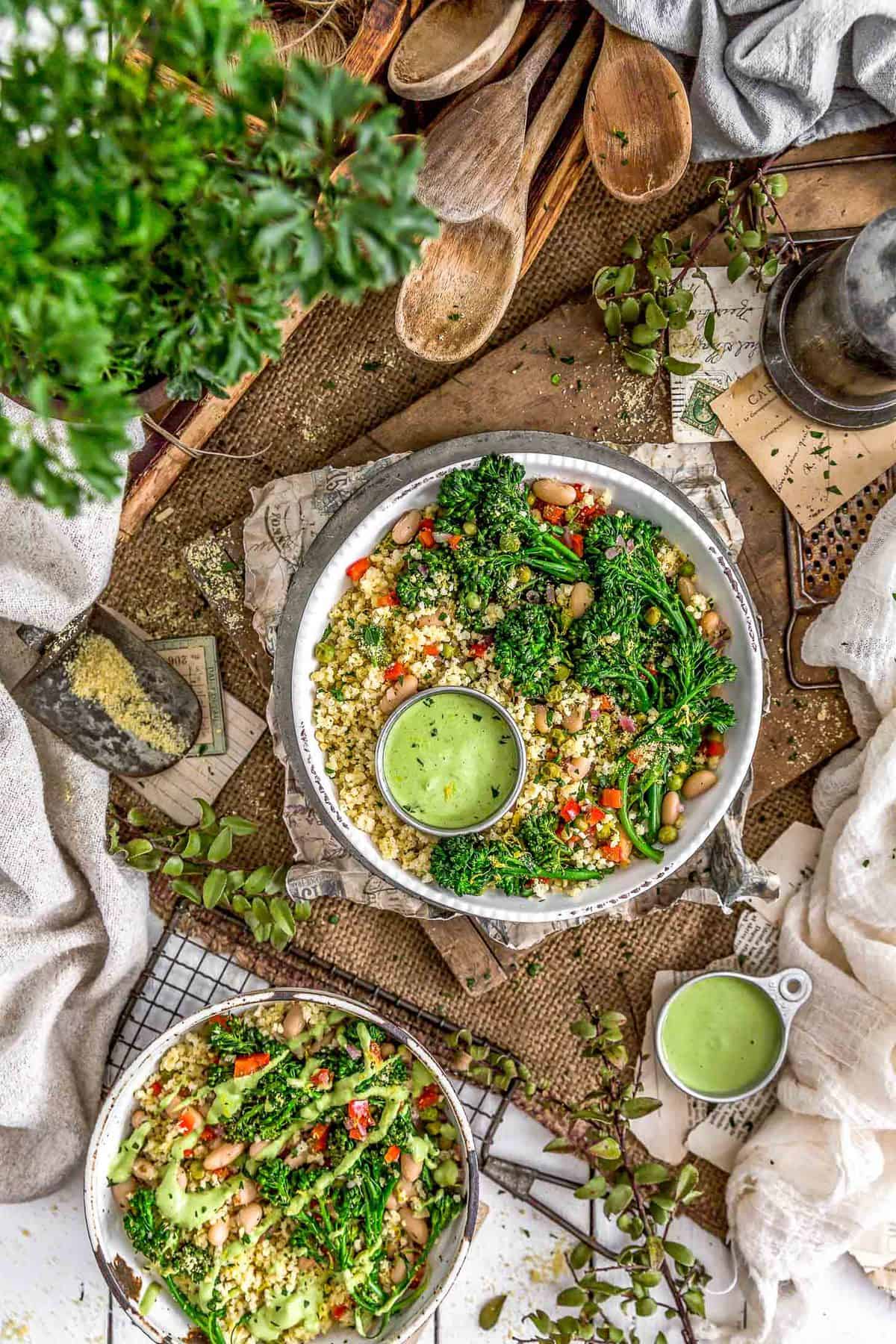 Hi there, Ameera here!
Spring is almost here! Can't you believe it? I know, it's so cliche to say how "fast time flies," but seriously, where did January and February go? Even though I'm not a winter person and I really want to feel the warm sunshine on my face, I don't want time to fly…
Buuuuut, I'm super excited that we are getting closer to summer – YAY! To celebrate the upcoming first day of spring, we are busting out this beautiful, refreshing, and simple dish that packs a POW of yum. Can't wait to share it with you!
Broccolini/Broccoli
Isn't broccolini so pretty with its petite florets and slender stocks?  AND it tastes great too!  It's one of my favorite cruciferous veggies, and my dad loves it too.  He always says,"Got to get in my crustaceans on my McGreger's dozen!"   Uhhh Dad, it's cruciferous and it's Dr. Greger's Daily Dozen! Now I know where I get mixing up words and phrases from – LOL  😀  Ever since Dad read "How Not to Die", he is all about eating cruciferous veggies. Woo hoo!!!
We all should be all about cruciferous veggies, right? They are so good for you, and here's a fantastic cruciferous packed dish.
If you can't fine broccolini or you simply prefer to use broccoli, that works perfectly fine as well for this dish.  Just make sure you cut the broccoli into very small broccoli florets, so they cook faster.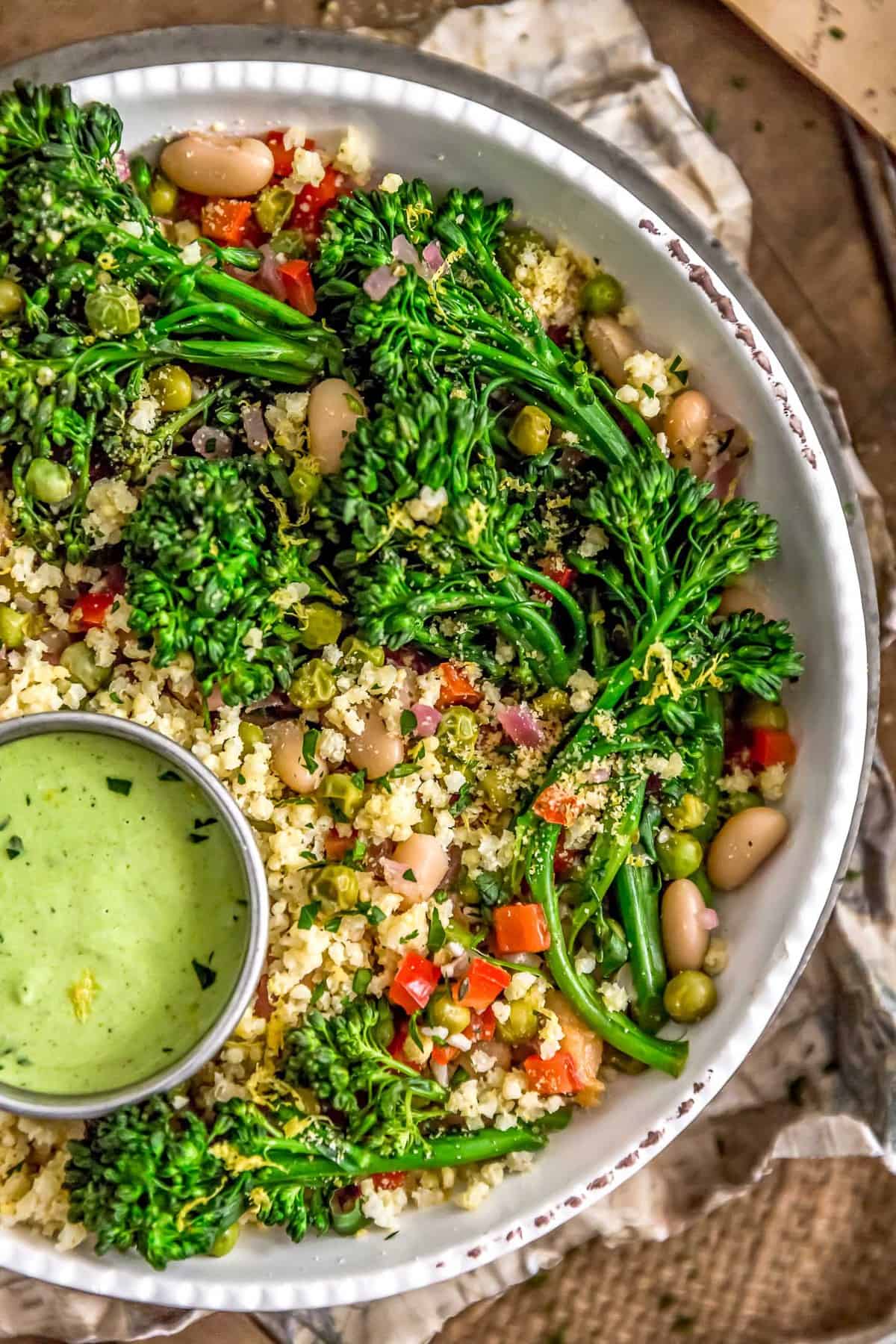 Glorious Grains
You can also swap out the millet for your favorite grain. There are so many delicious options to choose from; here are some great alternatives: barley, couscous, farro, or quinoa.  All work really well in this dish! But keep in mind, not all listed above are gluten free. If you need to be GF, choose an appropriate grain.
We love millet.  It has this beautiful kind of "nutty" flavor to it.  It's an ancient grain, and it's loaded with nutritional value. A 3.5 oz. serving has excellent fiber and packed with nutrients: 24% Riboflavin, 31% Niacin, 29% B6, 21% Folate, 23% Iron, 32% Magnesium, 76% Manganese and 41% Phosphorus of the Daily Recommended Values, not to mention a ton of other goodness including: zinc, copper, potassium, etc.
Now add all the vitamins and nutrients from all the other ingredients in this dish, and you have a true powerhouse bowl of healthiness, right?  Yup!!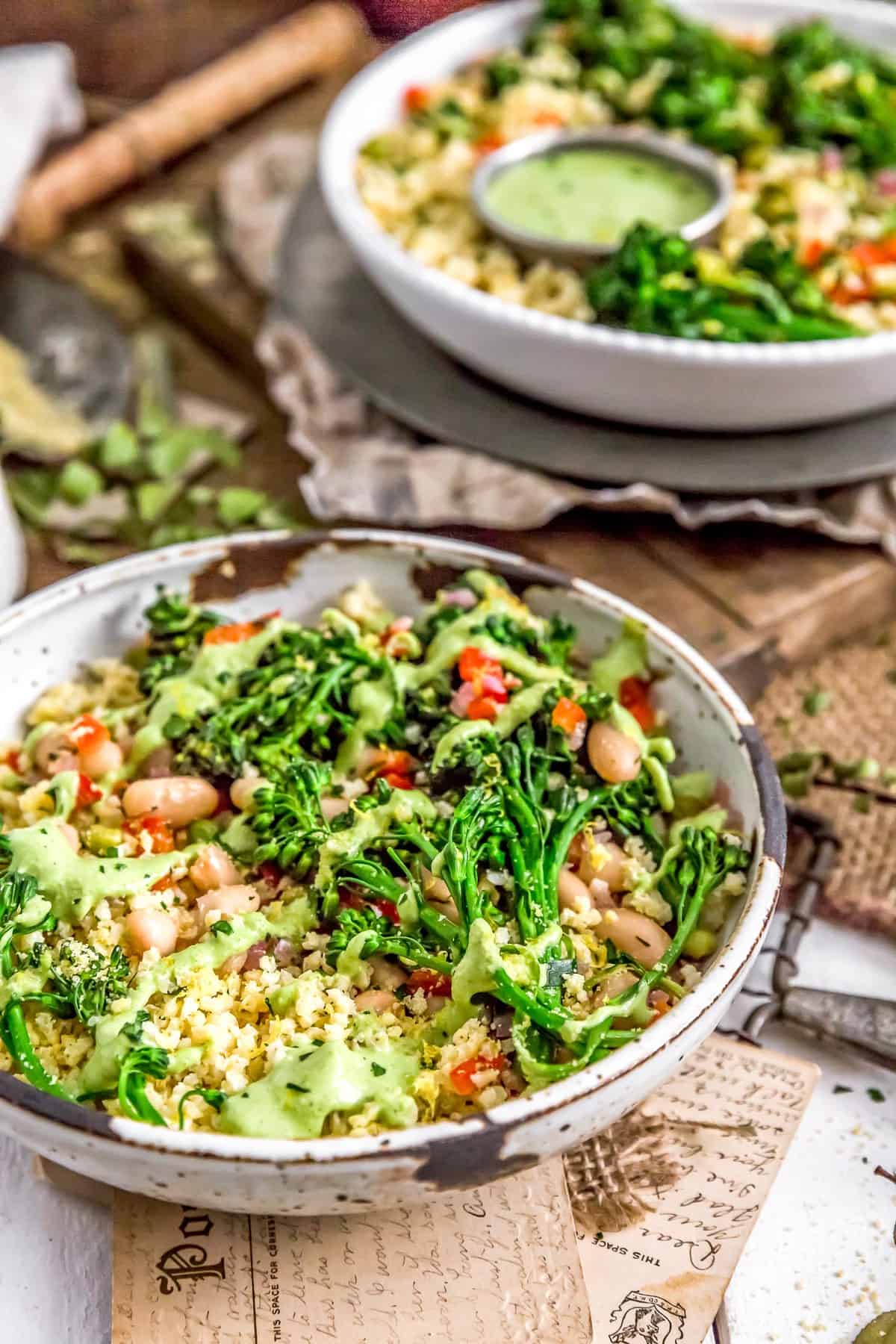 Bountiful Bowls
This Italian bowl of yumminess is so much fun with its vibrant colors, tantalizing textures, and saucy yumminess. This bowl comes together so beautifully with the real start of the show… Lemony Parsley Sauce! That's right, this creamy, sauce really add the perfect touch. Drizzle it all over and dig in – a total MUST! It perfectly accentuates the broccolini, peas, cannelloni beans and millet with its light, refreshing, and utterly delicious flavors! Plus, it's a perfect meal prep dish – win, win, win! I'll let Mom tell you more!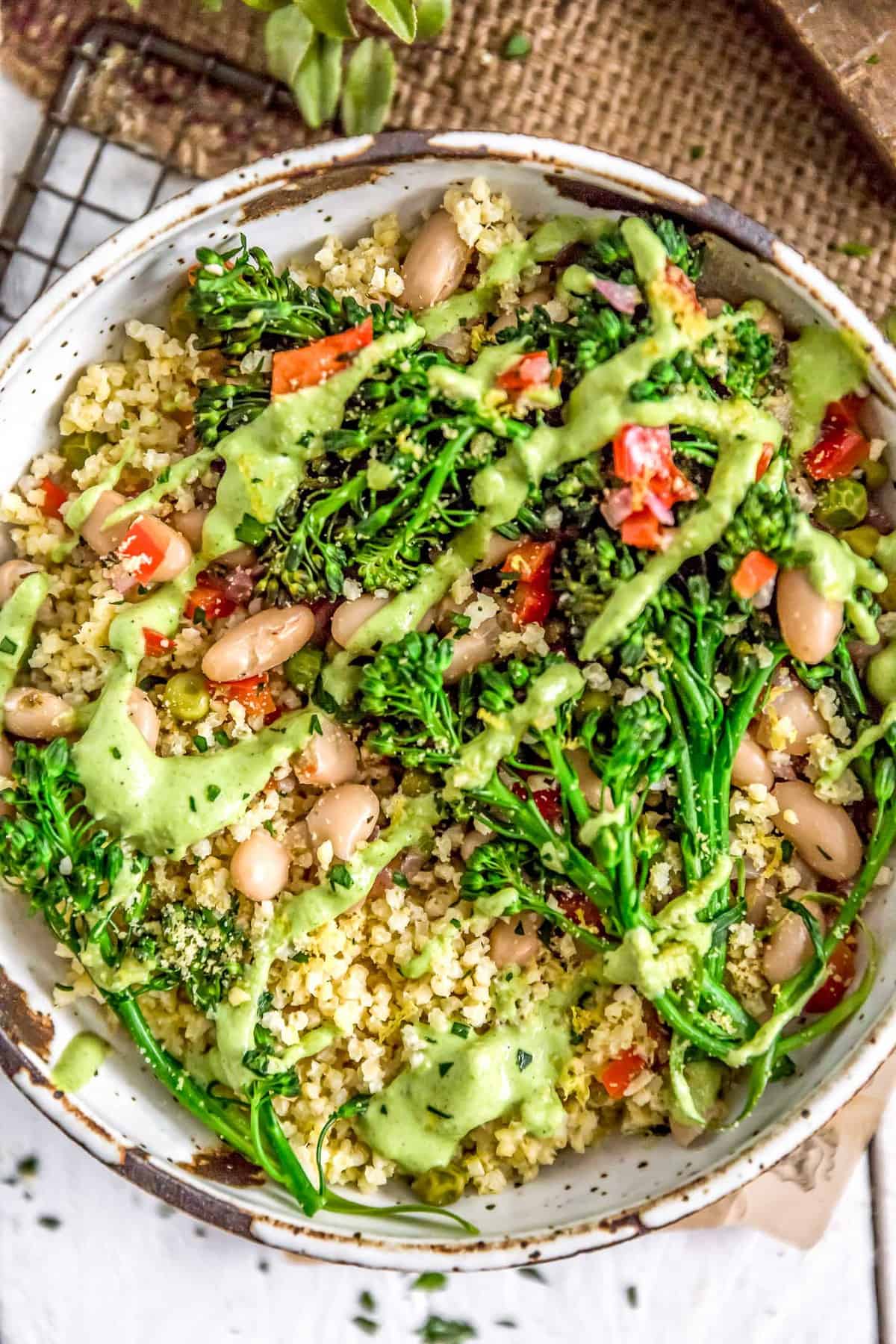 Hi! Robin here.
When Monkey made this dish for me, I couldn't get over how pretty is was! It looks like spring-time in a bowl!  The sauce, oh wow, don't get me started on the sauce! Anytime parsley is involved, I am all about it!
Parsley, really?  Yup parsley!  The fresh parsley in the lemony sauce just boosts the freshness of the dish!  Monkey had originally tried cilantro, but parsley actually was a better choice. Added just the right amount of vibrancy without overwhelming the other tasty flavors.
We would love for you to give this recipe a try!  If you try it, we would love to know if you enjoy it as much as we do! Please leave us a review! Post a picture on Facebook or Instagram and tag us!  We would love to hear from you.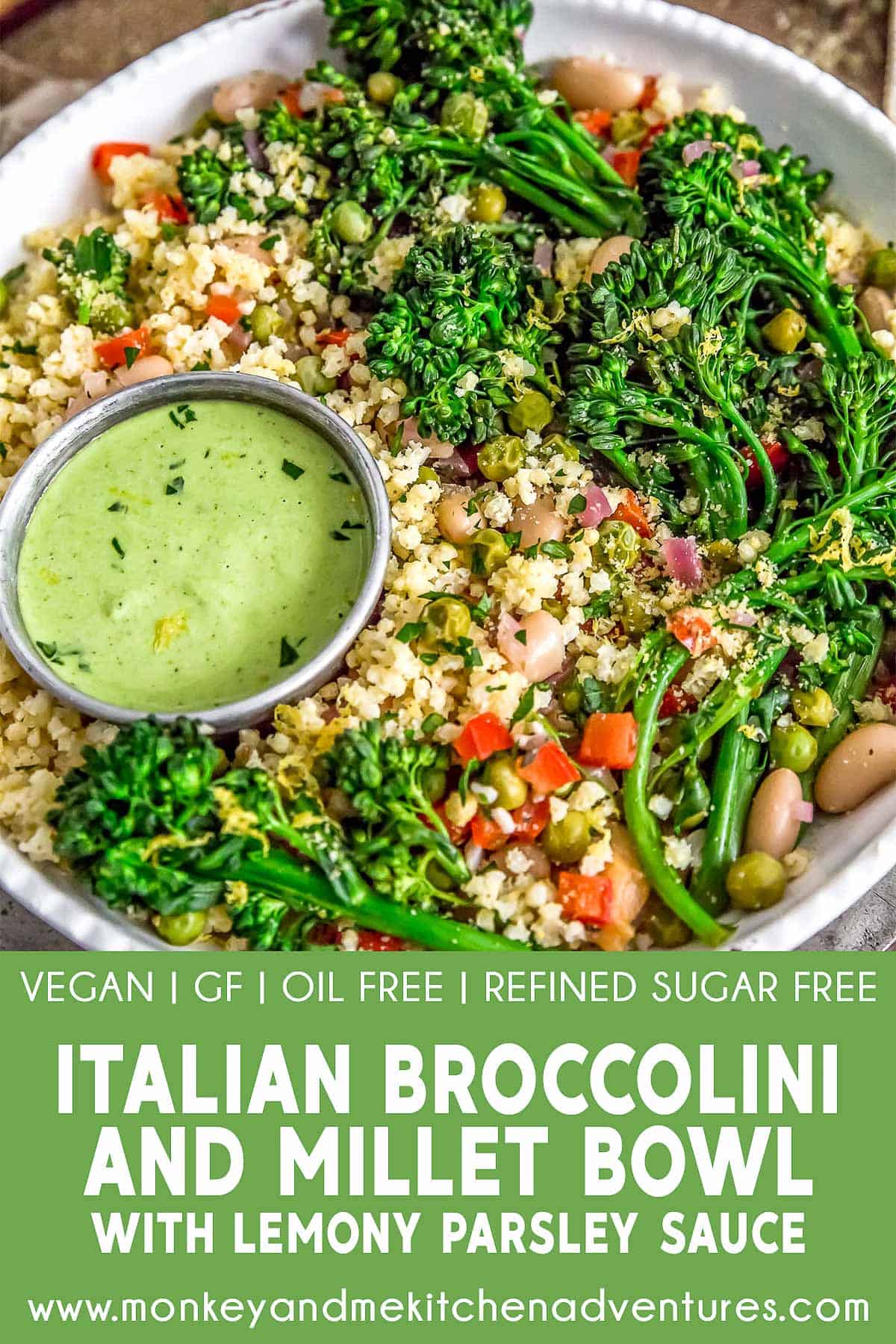 Products Used:
Ceramic/enamel lined Dutch oven, nonstick deep skillet, or similar large stock pot/skillet with a tight-fitting lid
Small/Medium stock pot to cook the millet (or barley, couscous, quinoa, etc.)
Print
Annnnnd don't forget the make the special sauce! It's definitely must 😀
Print

This post contains affiliate links, and we may receive a very small commission if you purchase through those links at no additional cost to you. Thank you for supporting Monkey and Me Kitchen Adventures! For more information, see our disclosures here.