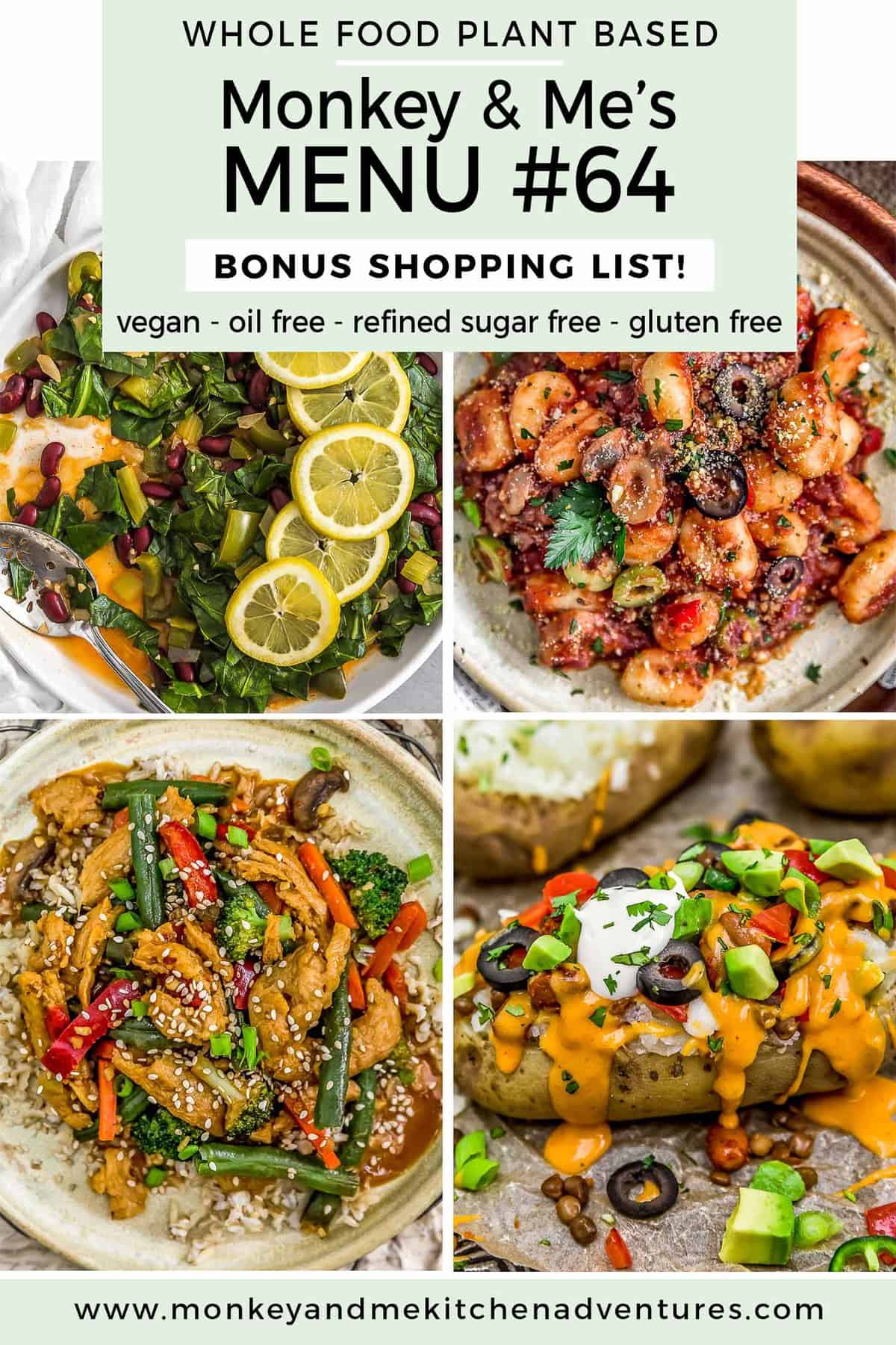 This week's Monkey and Me's Menu features some tasty recipes.  Menu #64 includes a FREE bonus shopping list.  All recipes are Whole Food Plant Based, vegan, plant based, oil free, refined sugar free, no highly processed ingredients, and gluten free.

Downloadable Menu which offers the following:

2 Breakfast ideas
2 Lunch ideas
2 Snack Ideas
5 Dinner Ideas, including a FREE downloaded shopping list (PDF – Below)

A comprehensive (downloadable) shopping list for the 5 Dinners

The shopping list is segmented into the common grocery store sections like "produce, spices, etc." making it easy to pick up these items from your local grocery store.
It also includes product suggestions that are Whole Food Plant Based compliant* for easy reference.  Note: These products are suggestions, please feel free to select your own favorite products.
Includes helpful codes so you can easily subtract items that you choose not to make.

Downloadable Instructions on how the meal plan work.
Note:  The term "Whole Food Plant Based compliant" is from a general standpoint.  There are Whole Food Plant Based diet branches that restrict certain food items.  Our recipes are all Whole Food Plant Based compliant based upon a high-level compliance standpoint. i.e. vegan, plant based, oil free, refined sugar free, minimally processed foods.
Some breakfast, lunch, and snack ideas are simple concepts that require no recipe.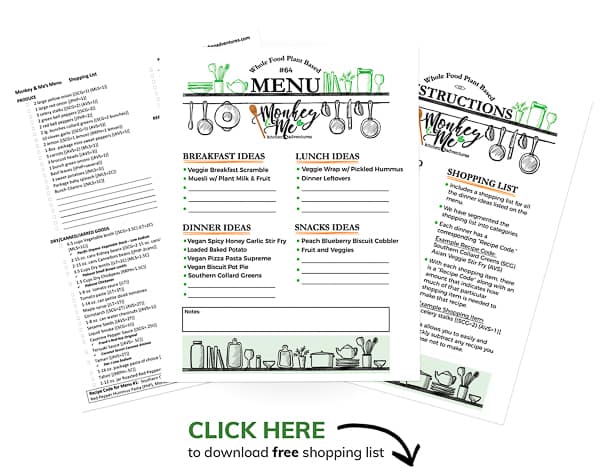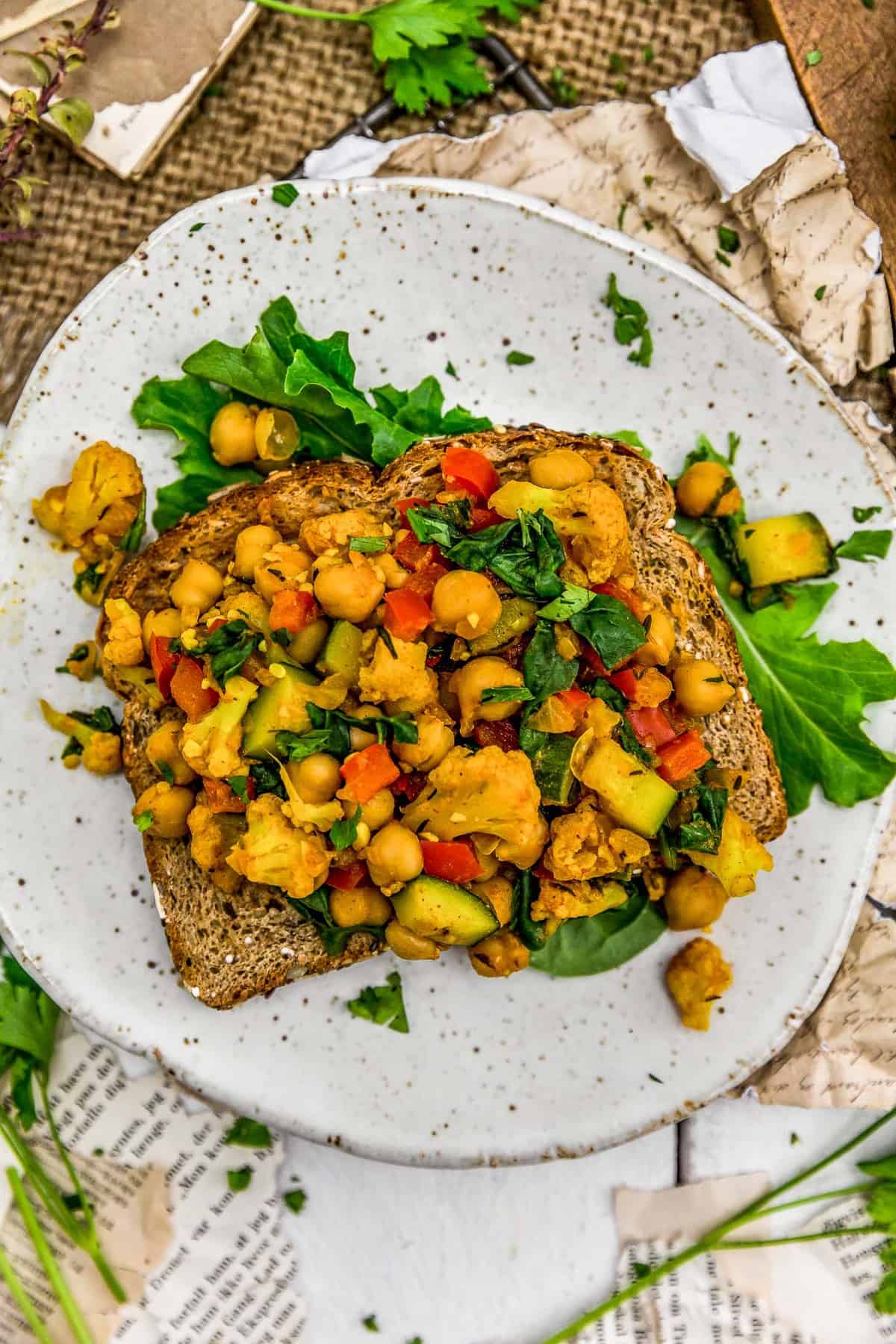 Start your day/afternoon/evening off right with this ultra-satisfying veggie packed sunshine in a bowl. Brimming with rainbow veggies, this savory Veggie Breakfast Scramble is flavorful, nourishing, and sure to put a smile on your face. Wholesome ingredients like sweet bell peppers, tasty zucchini, hearty cauliflower, zesty onions, aromatic garlic, protein-packed chickpeas, and earthy spinach come together in the most delightful way. Serve this healthy vegan scramble over toast, rice, potatoes or in a wrap for an amazing meal.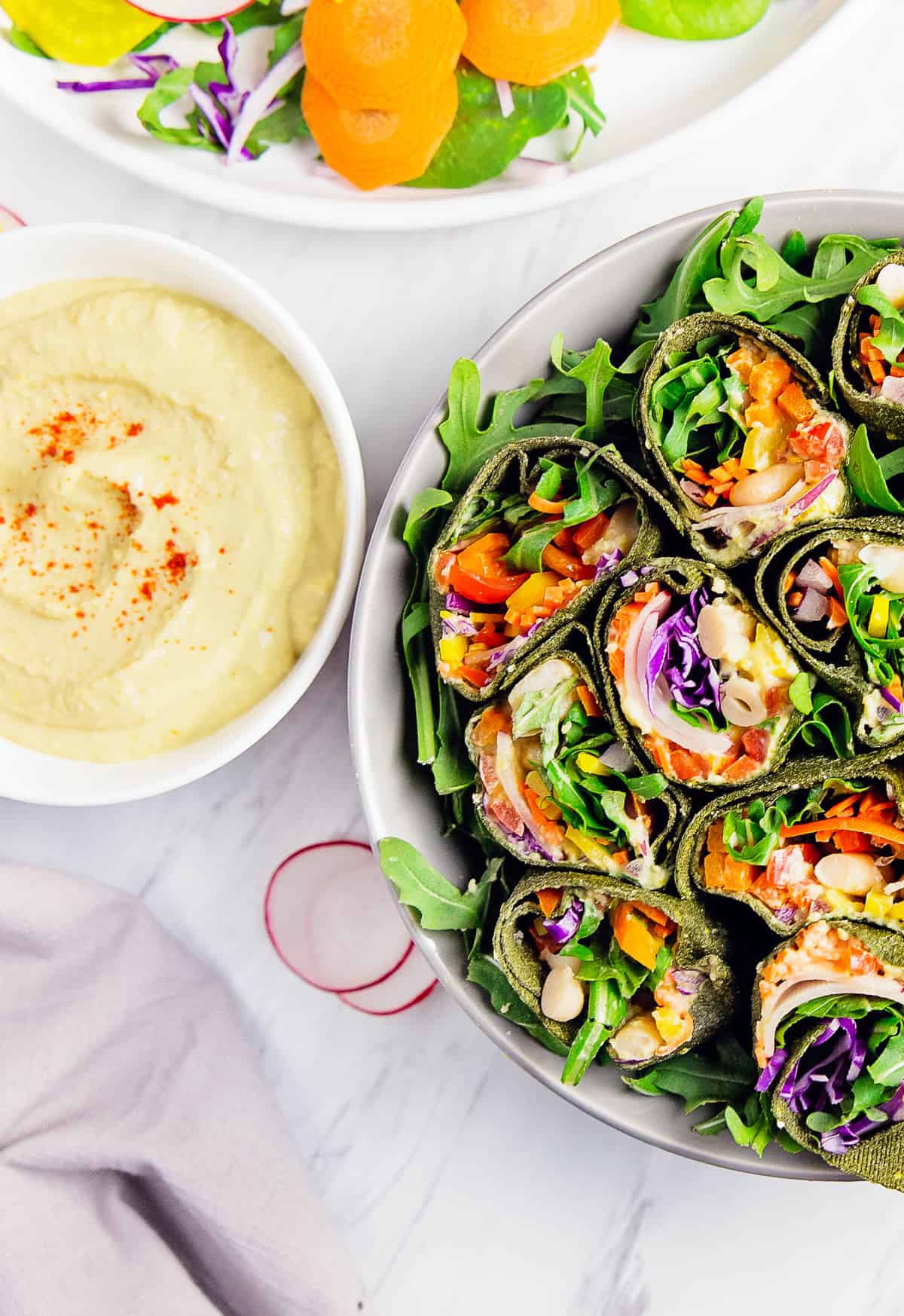 This creamy and smooth pickled hummus is so yummy, perfect for dipping veggies or as a spread on wraps and sandwiches. The pickled flavor is out of this world tasty!  If you love pickled foods, then you will fall in love with our Pickled Hummus.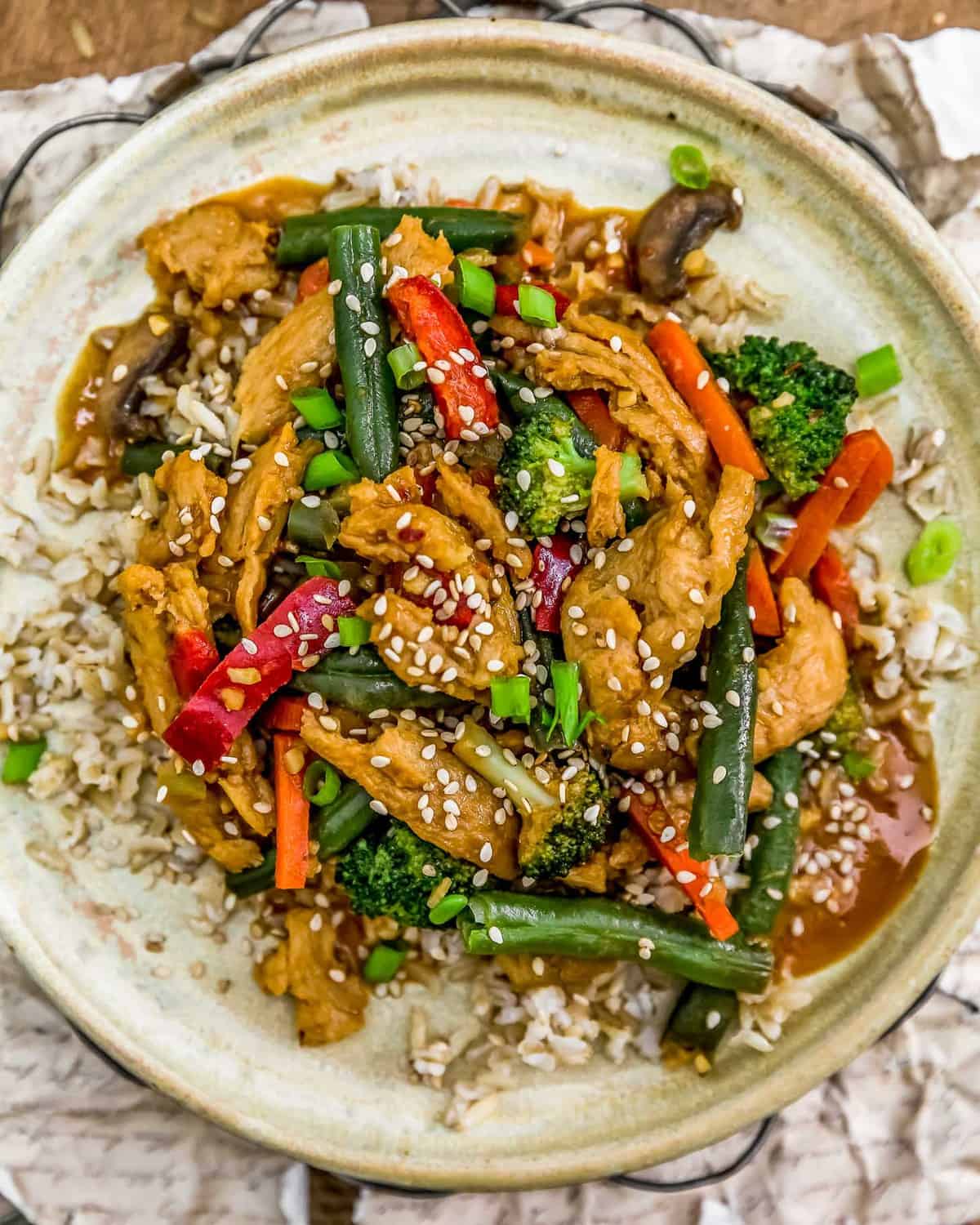 We could eat stir fry all day – every day, and this crazy delicious Vegan Spicy Honey Garlic Stir Fry is so flavorful with a perfect combo of sweet, spicy, and savory. You can't go wrong with amazing stir fry goodness. It's unbelievably easy to whip up, bursting with nutritious veggies and protein, and drenched in an irresistible sauce. Total weeknight meal paradise that is sure to become a new to-go. This veggie stir fry features two fantastic variations that are totally adaptable to fit your personal taste.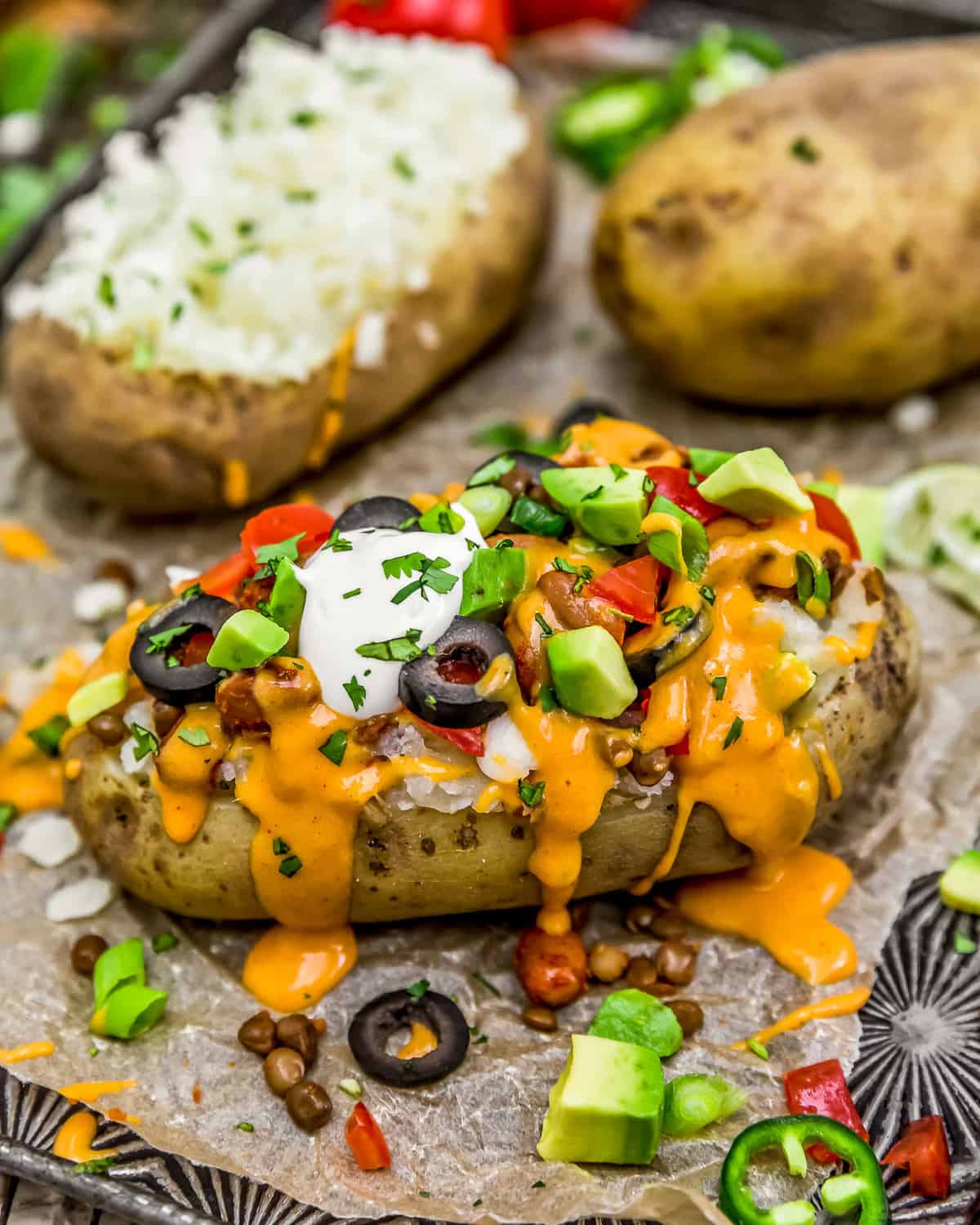 Totally drooling over this satisfying, comforting cheese sauce with a wholesome vegan twist! Velvety and ultra-creamy, this rich and tangy Nut Free Vegan Nacho Cheese Sauce is perfect for tortilla chip dipping, baked potato topping, French fry drenching, veggie drizzling, loaded nachos making, and so much more.  It's totally addictive! Healthy deliciousness never tasted so good.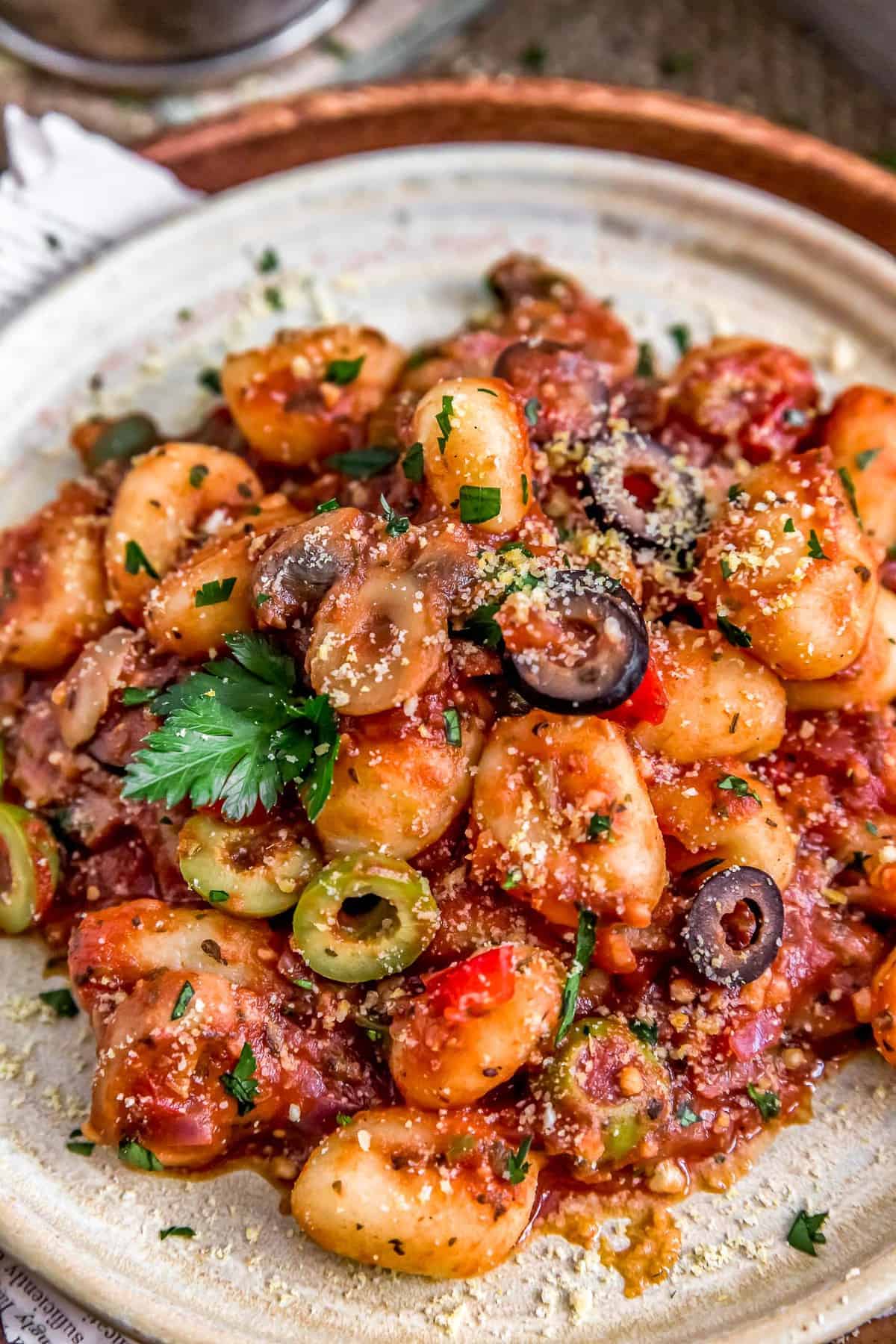 When pasta meets pizza fixings, you just know it's gonna be good! This Vegan Pizza Pasta Supreme is like heaven in a skillet. Think of a vegan supreme pizza with all the fixings only in a pasta form rather than on a crust.  Tasty red onions, sweet red and green bell peppers, aromatic garlic, briny olives, and earthy mushrooms all bathed in a bold flavorful pizza sauce with chewy, pillow pasta, it's utter perfection.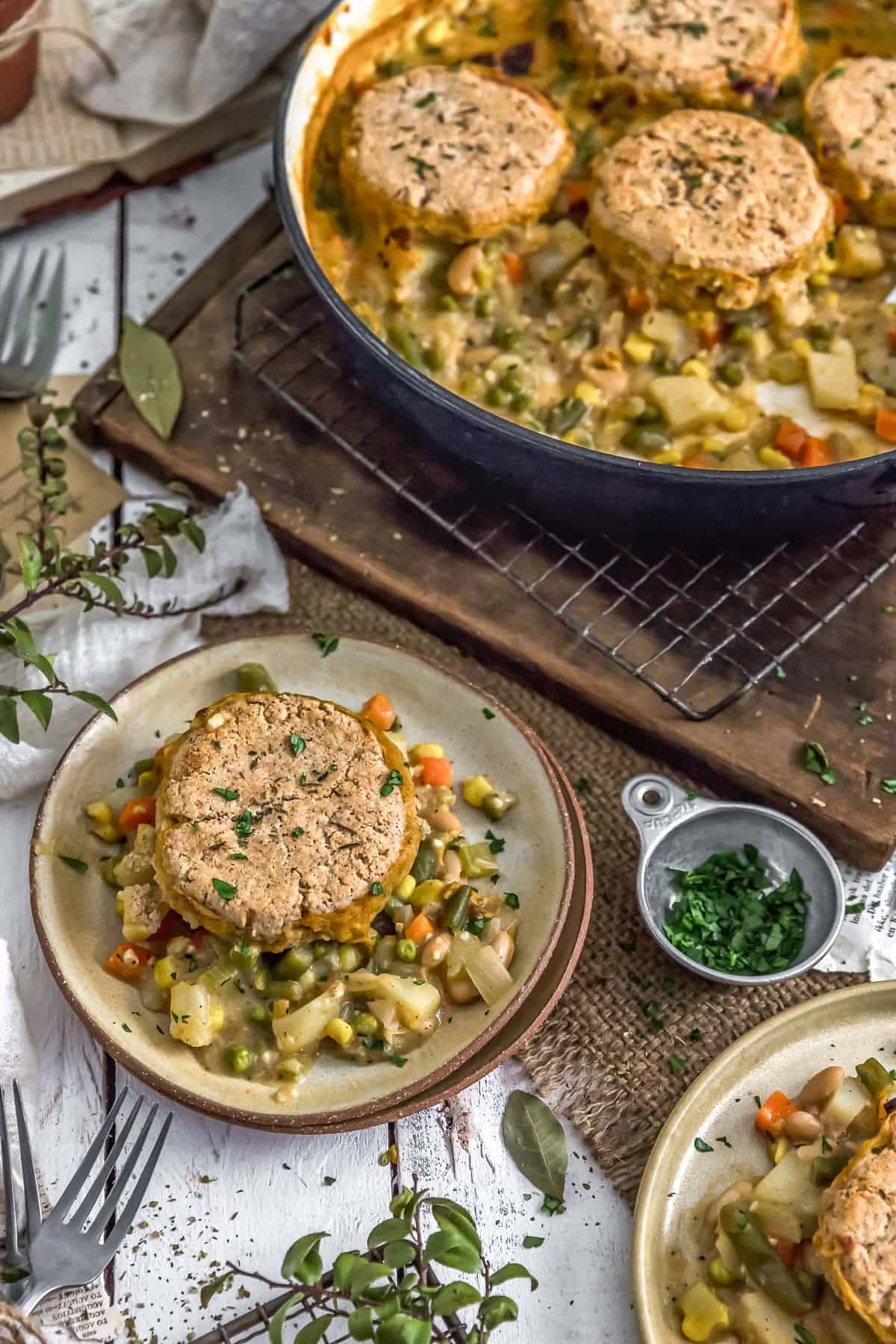 Our rich, creamy, and brimming with flavor Vegan Biscuit Pot Pie is loaded with wholesome and filling veggies like: peas, carrots, potatoes, green beans, cannellini beans, and corn and bathed in a delicious seasoned gravy for full warming-goodness effect. Then topped with hearty rustic biscuits that are tender and fantastic for soaking up delicious gravy. This hearty dish is sure to  keep you full and satisfied for hours.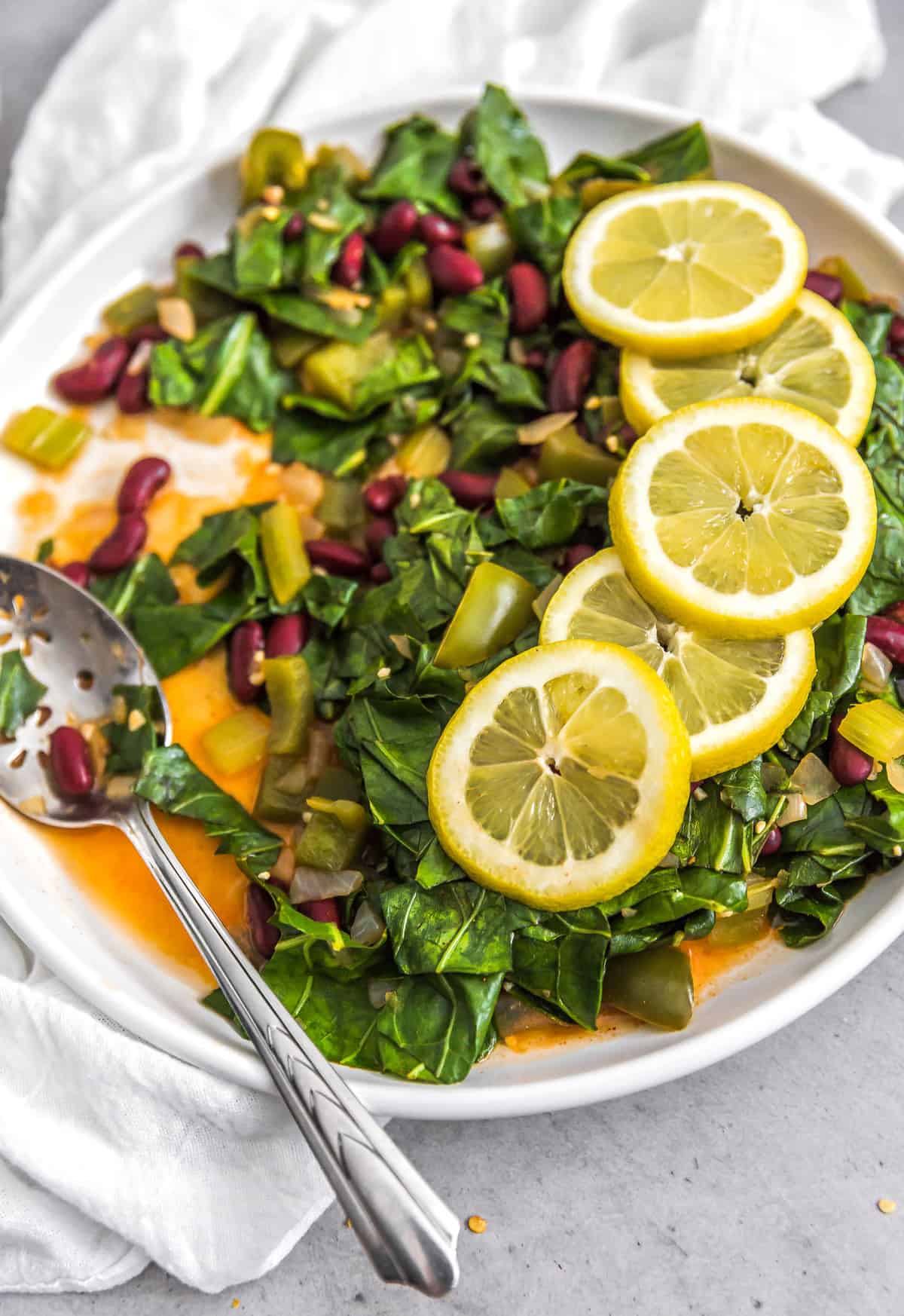 When you want to treat your taste buds to a totally rocking flavorful packed meal, this Southern Collard Greens recipe is just the ticket! Packed with veggies and healthy ingredients, this nod to Southern Collard Greens dish breaks the away from traditional Southern recipes with a *vegan high five* plus, it's so good for you!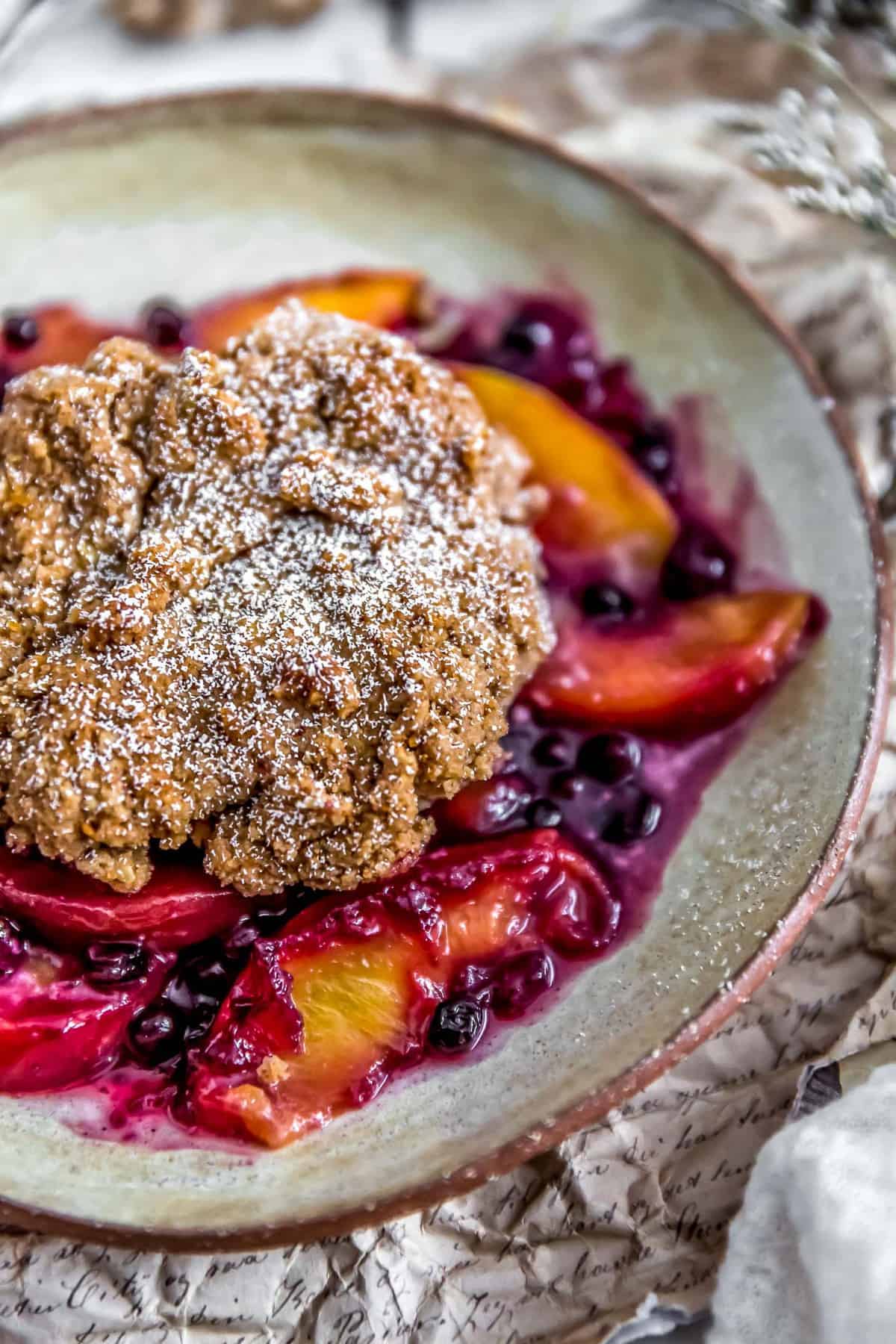 This comforting Peach Blueberry Biscuit Cobbler is made of delicious dreams. Loaded with juicy sweet peaches and blueberries, and topped with a perfect tender biscuit that sends this fantastic treat all the way to flavor town.  You will be doing a happy dance with the first bite of this warm dish of fruit paradise. A wonderful and healthy dish for holidays and family gatherings alike.