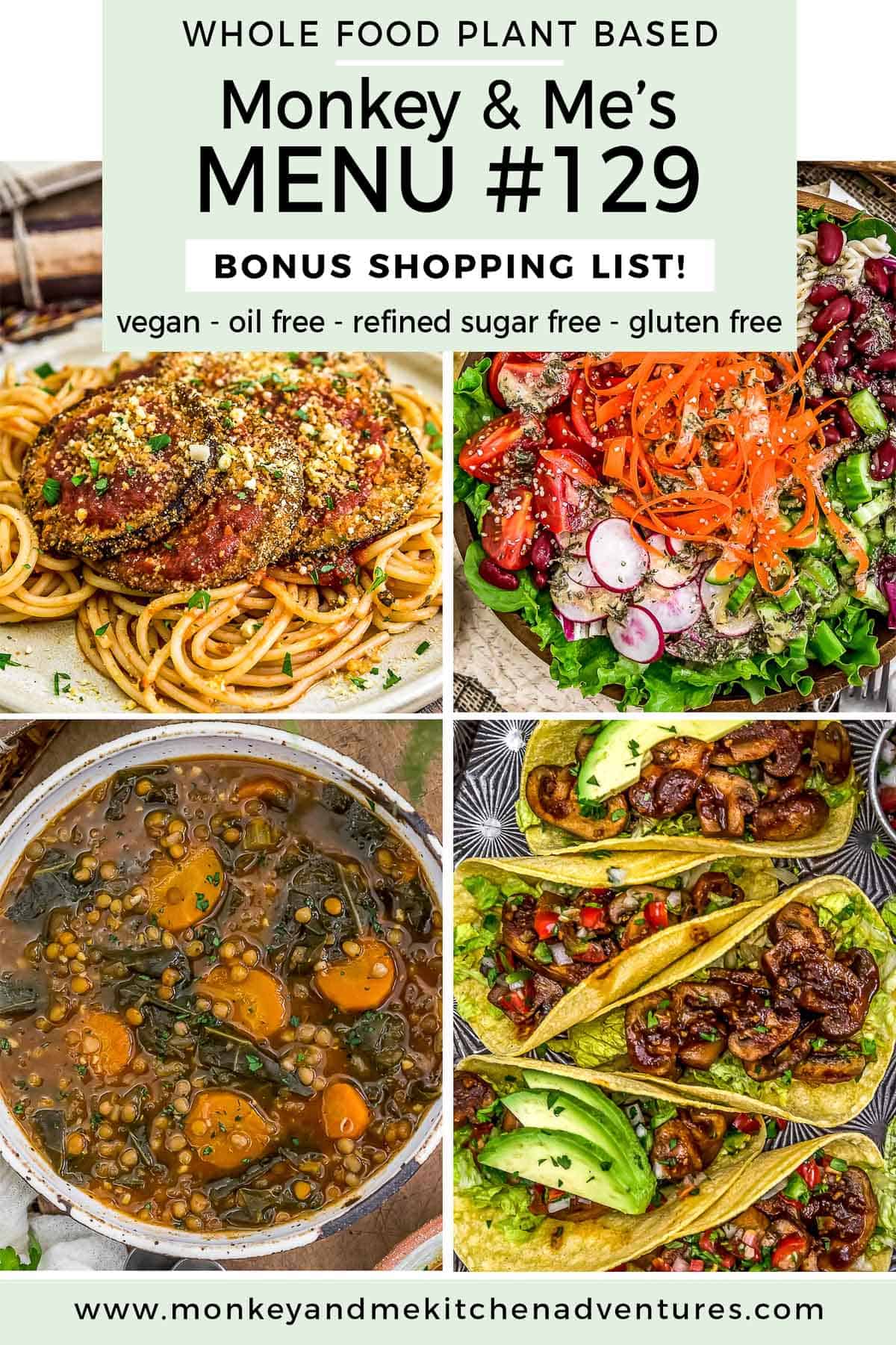 This week's Monkey and Me's Menu features some tasty recipes.  Menu #129 includes a FREE bonus shopping list.  All recipes are Whole Food Plant Based, vegan, plant based, oil free, refined sugar free, no highly processed ingredients, and gluten free.

Downloadable Menu which offers the following:

2 Breakfast ideas
2 Lunch ideas
2 Snack Ideas
5 Dinner Ideas, including a FREE downloaded shopping list (PDF – Below)

A comprehensive (downloadable) shopping list for the 5 Dinners

The shopping list is segmented into the common grocery store sections like "produce, spices, etc." making it easy to pick up these items from your local grocery store.
It also includes product suggestions that are Whole Food Plant Based compliant* for easy reference.  Note: These products are suggestions, please feel free to select your own favorite products.
Includes helpful codes so you can easily subtract items that you choose not to make.

Downloadable Instructions on how the meal plan work.
Note:  The term "Whole Food Plant Based compliant" is from a general standpoint.  There are Whole Food Plant Based diet branches that restrict certain food items.  Our recipes are all Whole Food Plant Based compliant based upon a high-level compliance standpoint. i.e. vegan, plant based, oil free, refined sugar free, minimally processed foods.
Some breakfast, lunch, and snack ideas are simple concepts that require no recipe.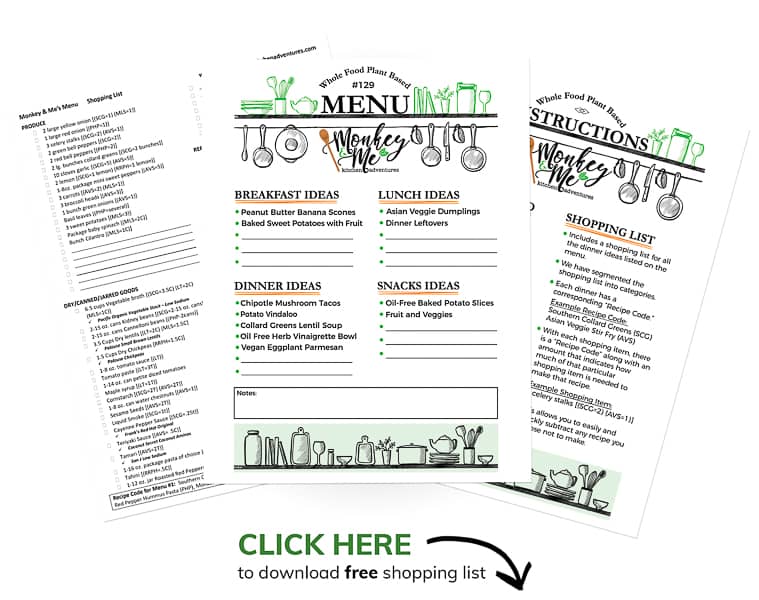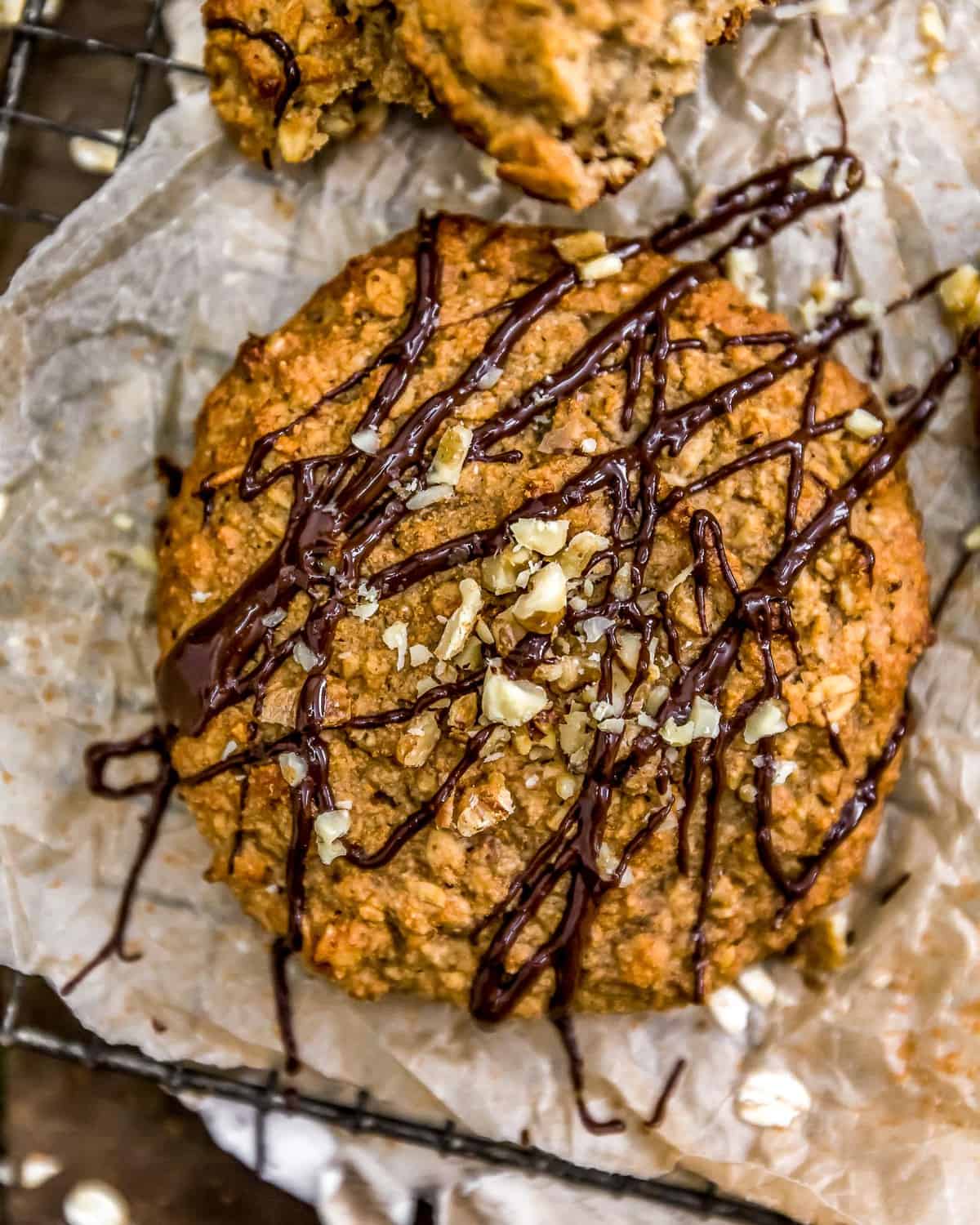 These soft and crumbly Peanut Butter Banana Cookie Scones are truly dream worthy. Sweet bananas, creamy peanut butter, and tasty walnuts are baked into delicious cookie-scones that are sure to have the whole family staring at the oven door waiting for these tender, soft, crumbly goodness to be done baking. They are the perfectly wholesome sweet breakfast treat or comforting dessert. Anytime you can have dessert for breakfast, count us in!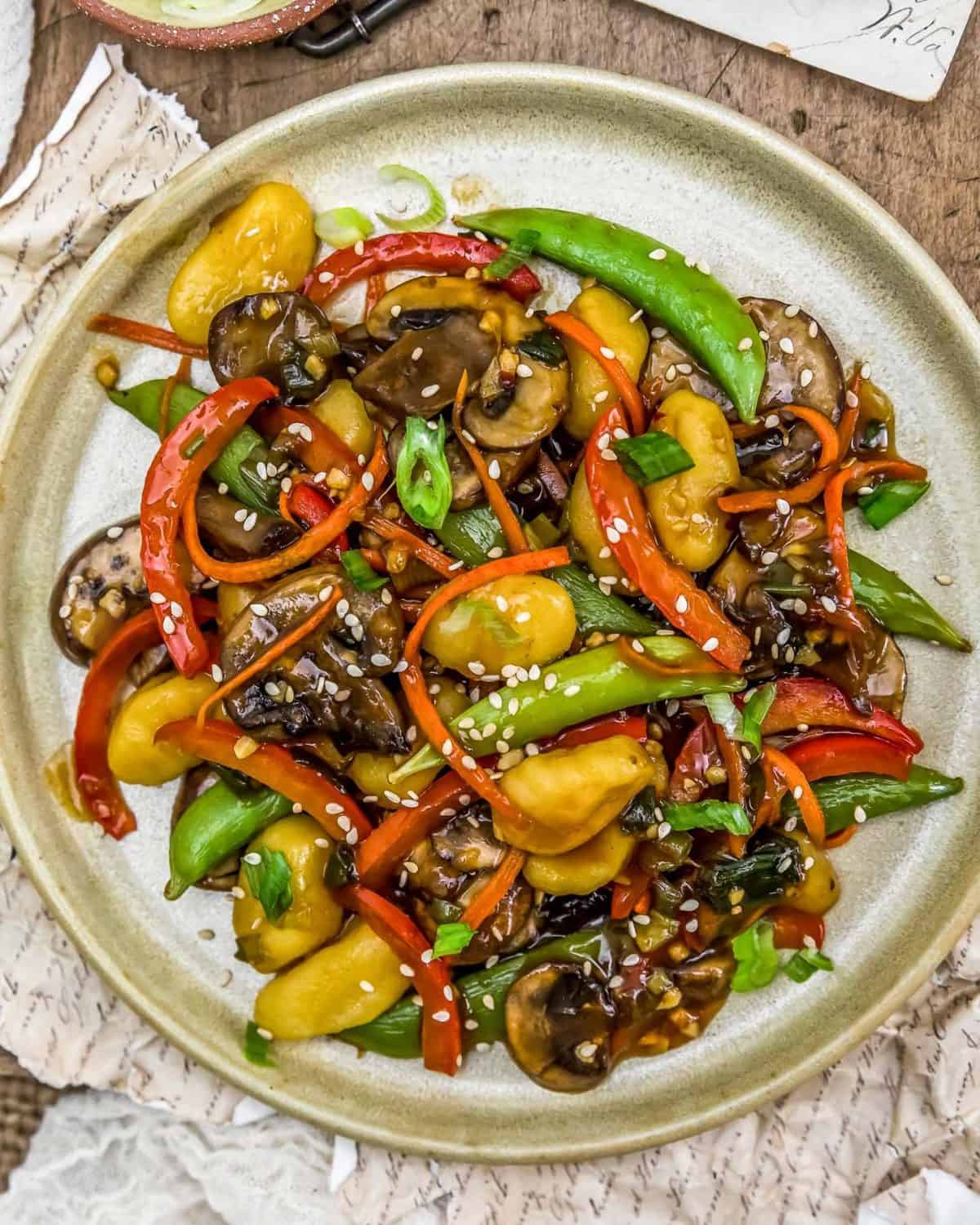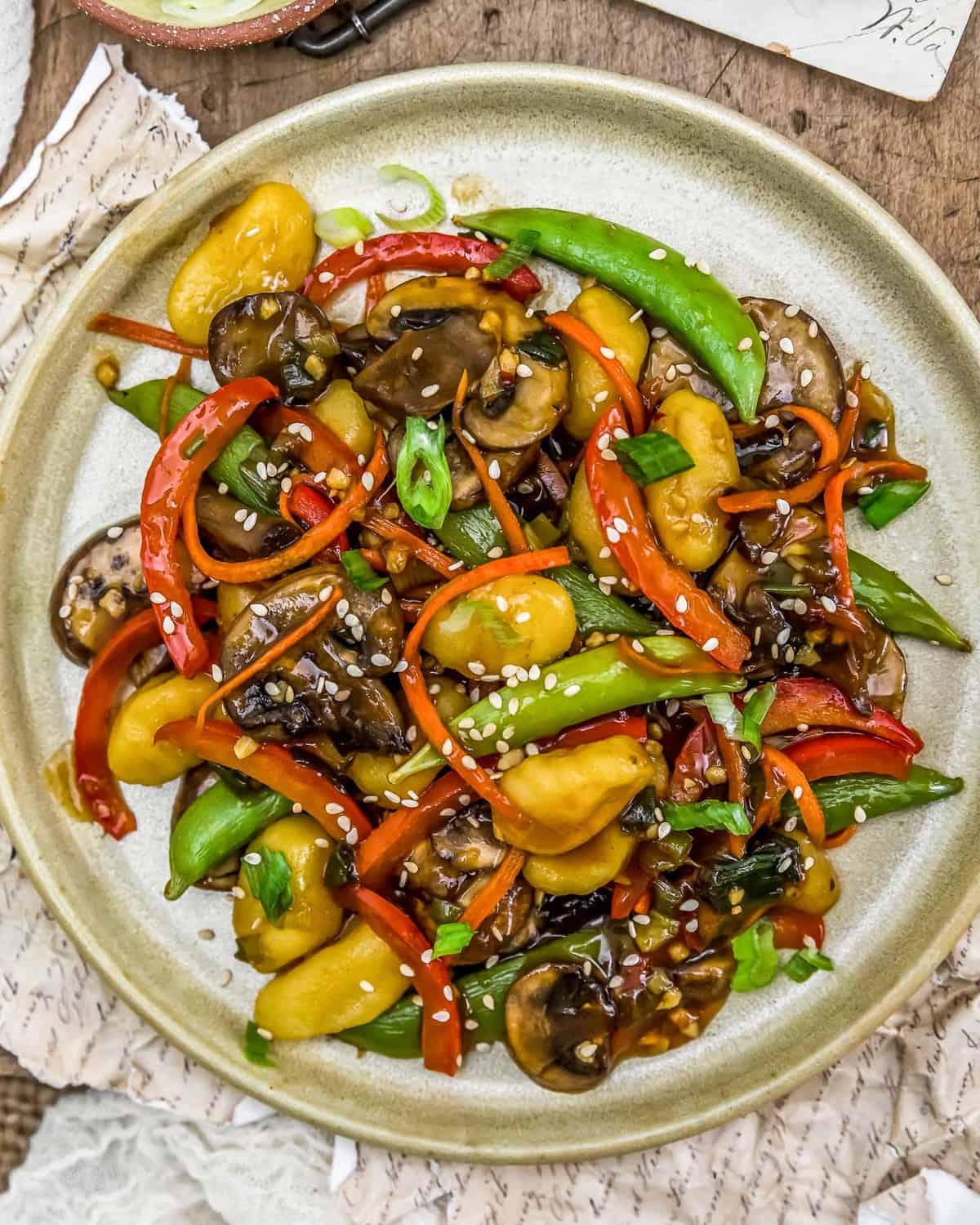 Mouth-watering, rainbow goodness just got a fun new twist with this amazing Deconstructed Asian Veggie Dumplings dish. Say "goodbye" to takeout and "hello" to a perfectly healthy and quick weeknight dinner that the whole family will love. Tender-crisp veggies, earthy mushrooms, and chewy gnocchi are coated in an amazing umami sauce that is crazy delicious and satisfying.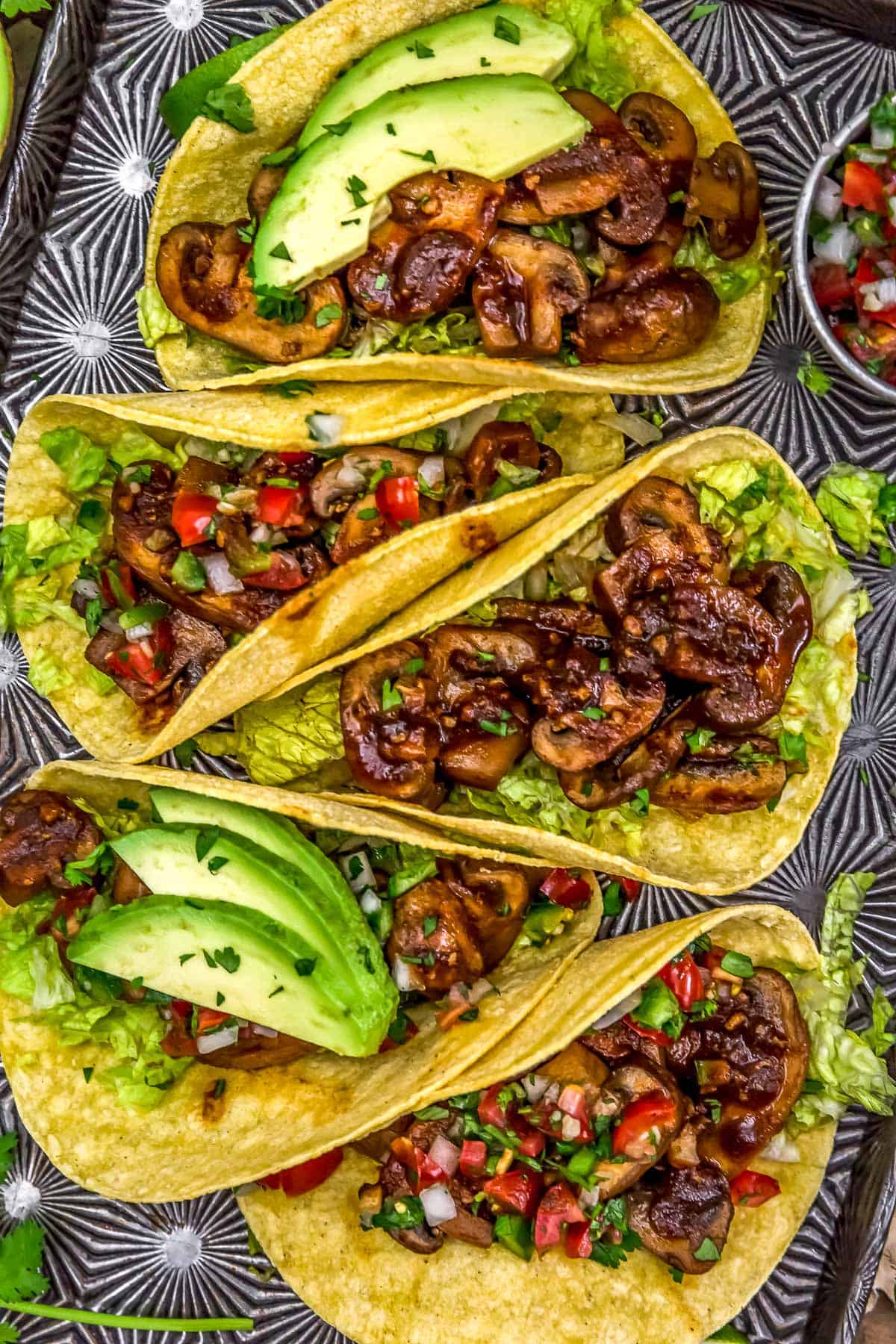 Simple and healthy, these crazy delicious Chipotle Mushroom Tacos are all that with their smoky, aromatic seasoning and hearty, "meaty" texture.  Serve on a warm corn or flour tortilla and top with refreshing Pico de gallo, zesty cilantro, and creamy avocado. An easy dinner that the whole family will love.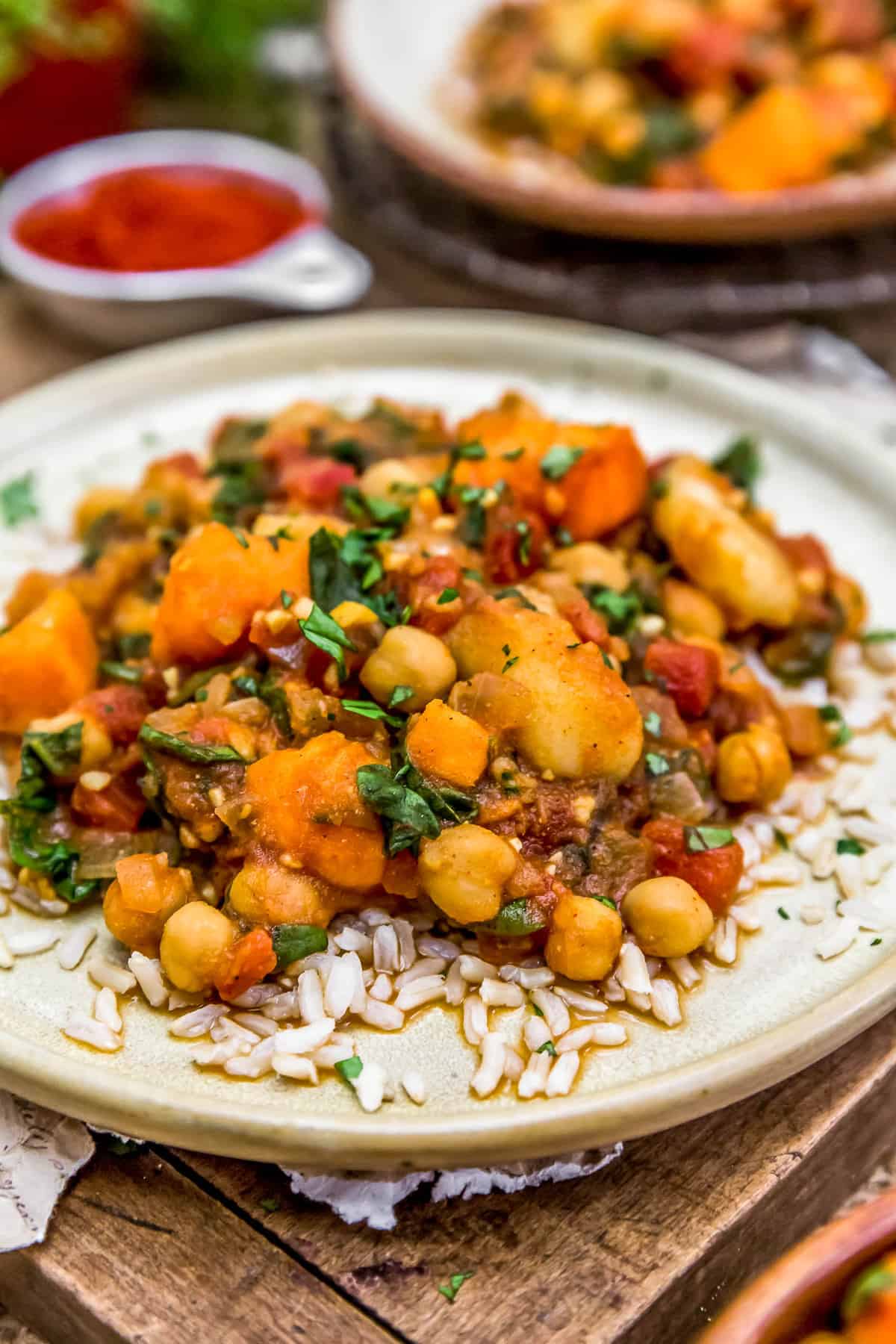 Bringing all those cozy, comforting feels. This Whole Food Plant Based nod to the classic Indian Potato Vindaloo dish is brimming full of aromatic spices, hearty potatoes, protein-packed chickpeas, and nourishing veggies making all your potato dreams come true.  Fragrant, spicy, and delicious, our oil free Potato Vindaloo is totally potato worthy with both red skinned potatoes and sweet potatoes for extra potatoey fun!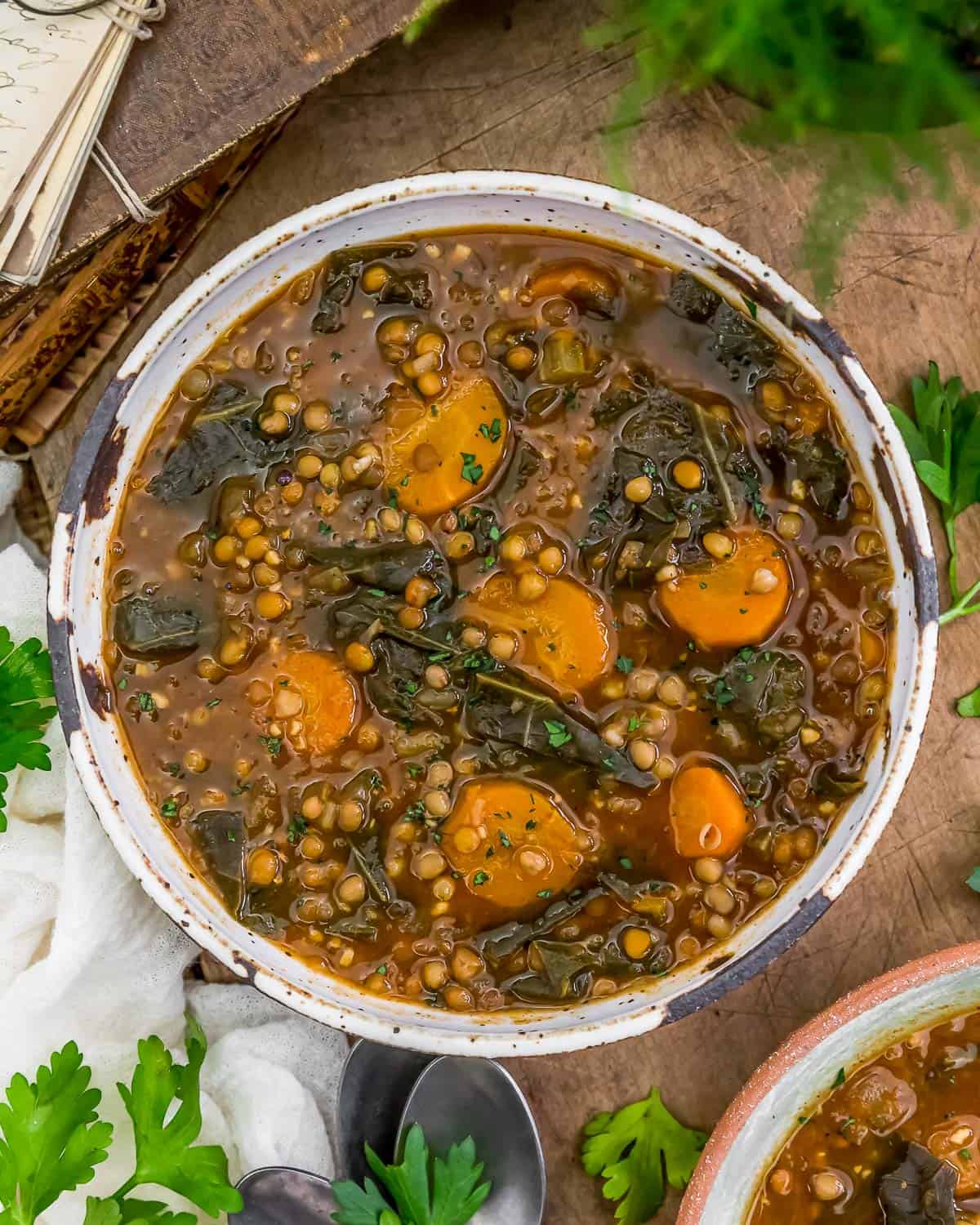 Easy and delicious, this recipe for Collard Greens Lentil Soup is brimming with plant-based ingredients all bathed in a bold, smoky broth.  Tender collard greens, garden veggies, and hearty, protein-packed lentils shine in this cozy soup. There's nothing more "homey" than a perfectly seasoned, savory bowl of soup and this one really delivers!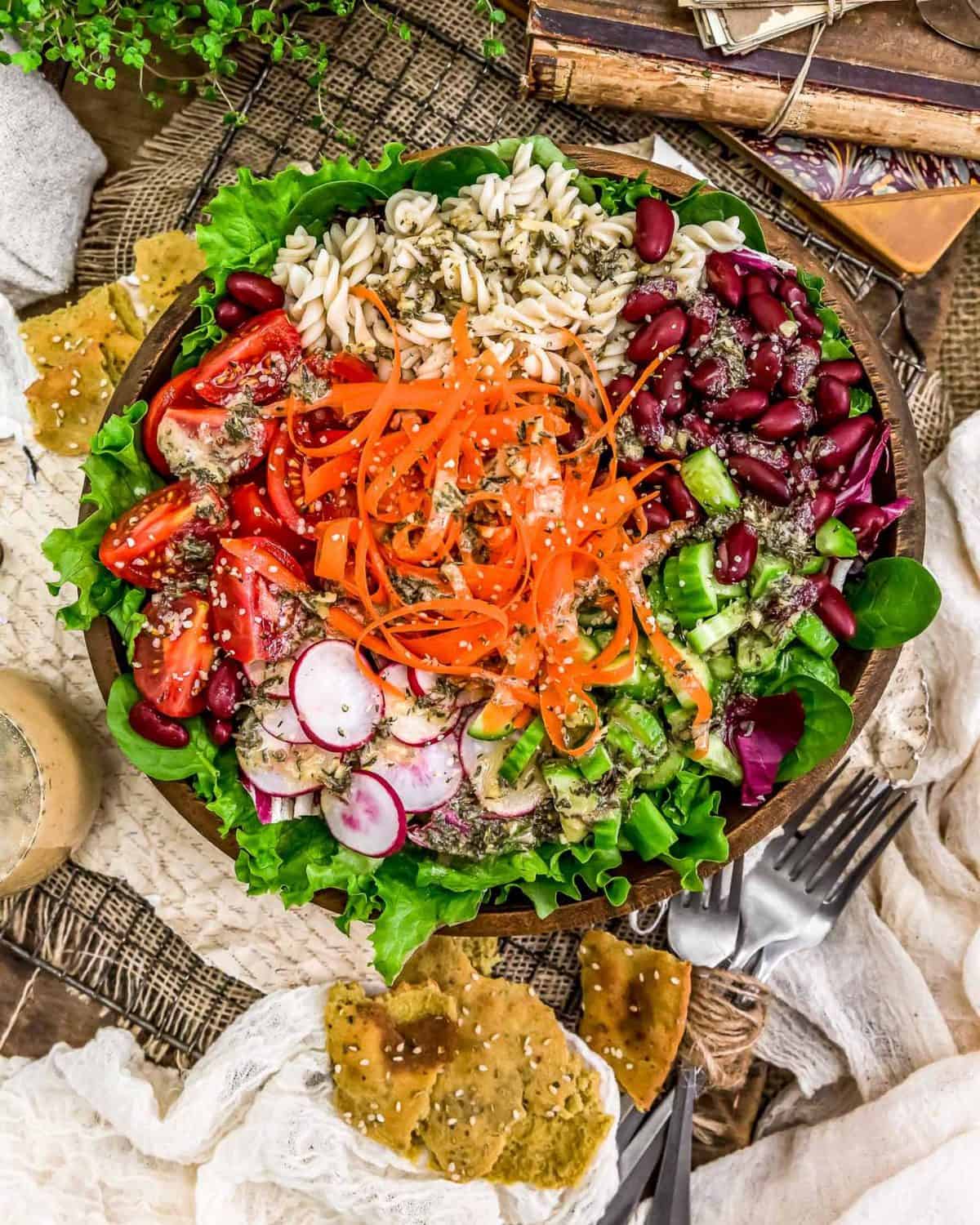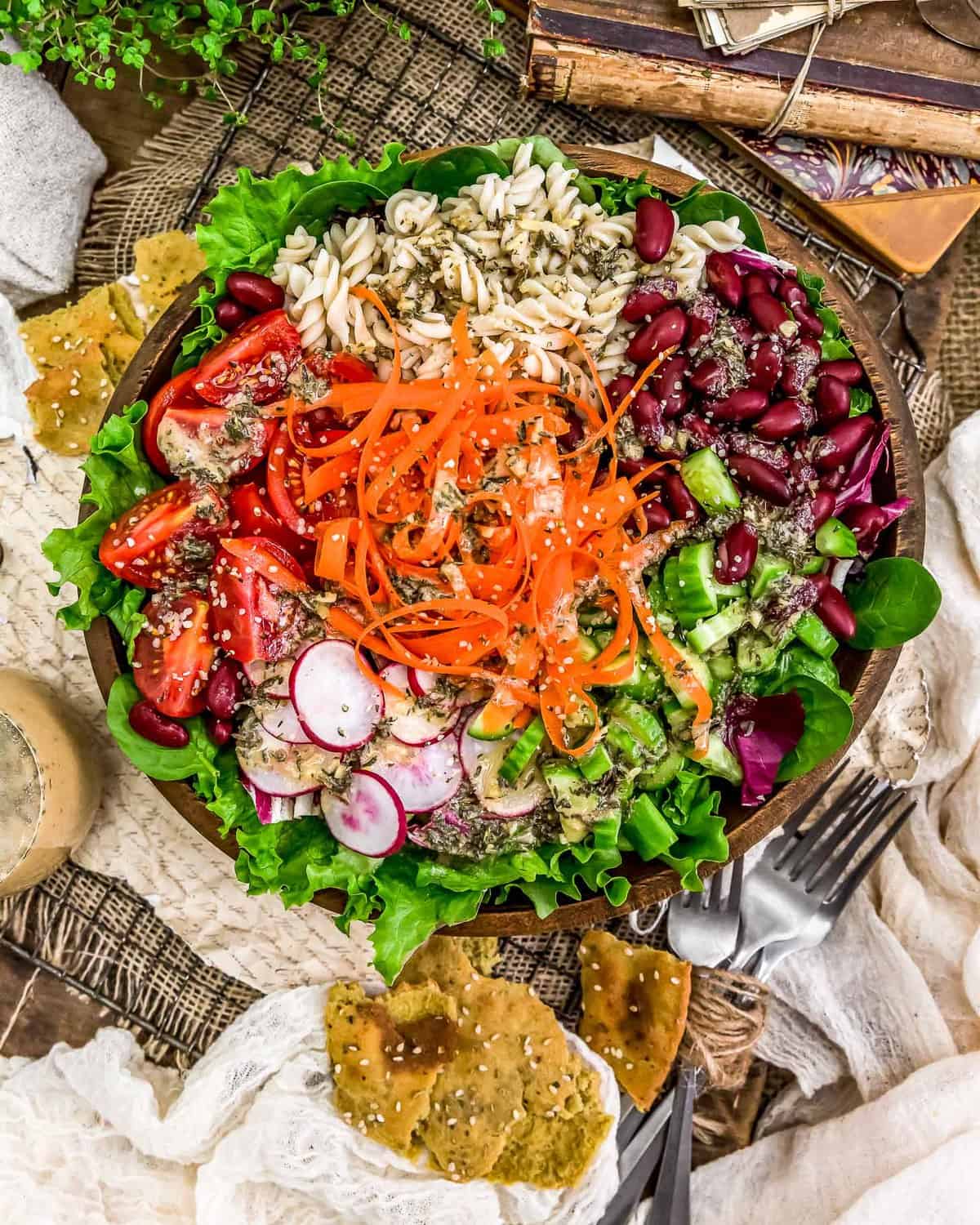 We are all about switching up our salad fun with this healthy, flavorful Oil Free Herb Vinaigrette that is bursting with tangy goodness and aromatic herbs and spices. Drizzled on rainbow veggie wholesomeness, this simple and easy dressing is sure to absolutely delight your taste buds.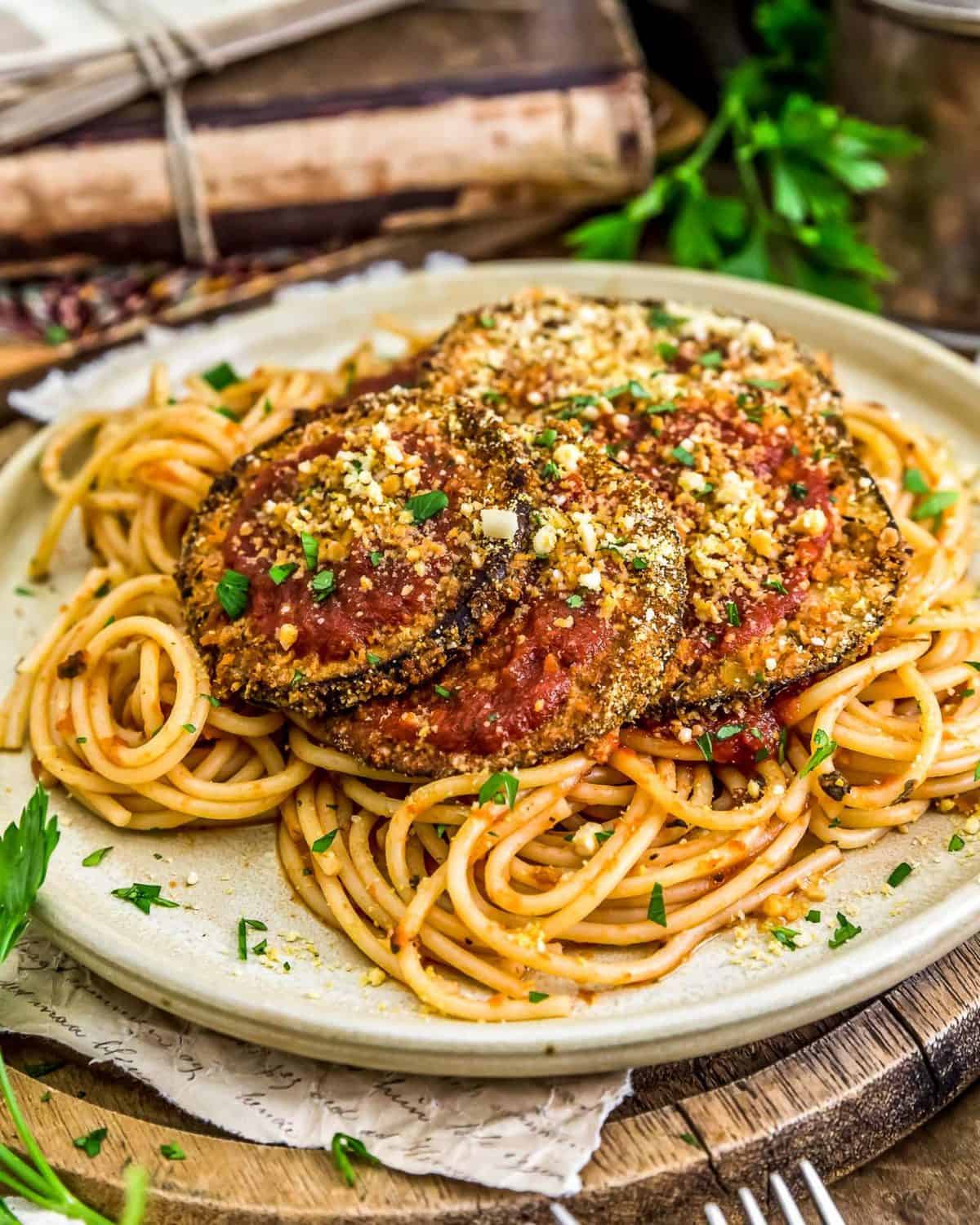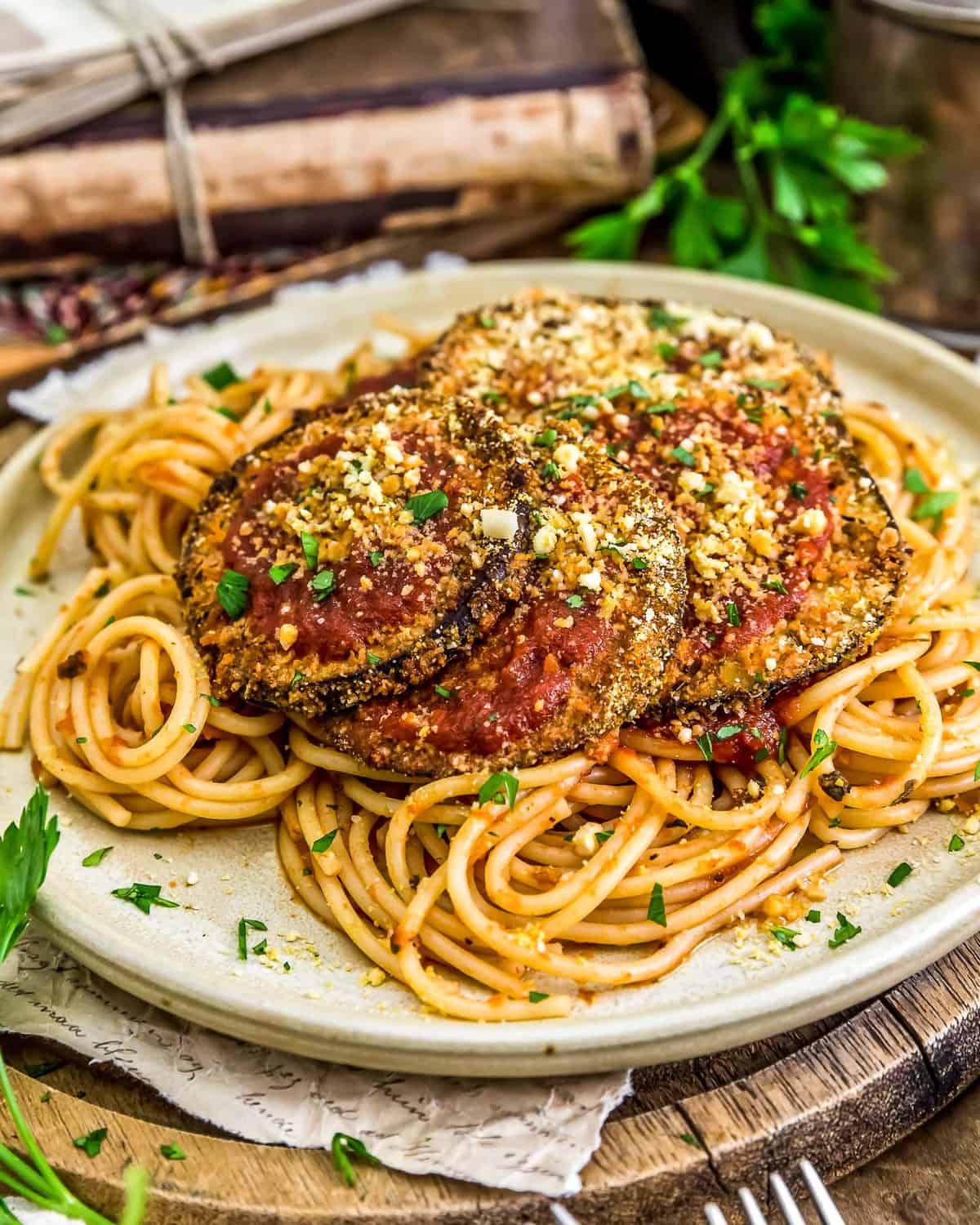 Oven baked to perfection, this oil-free Vegan Eggplant Parmesan is brimming with flavor. Seasoned with a delicious blend of Italian spices and baked with a crispy coating that is sure to remind you of all that traditional goodness, but with a healthy twist. Couple with marinara sauce and a sprinkle of Vegan Parmesan Cheese, this Italian classic is sure to please; the whole family will gobble them down!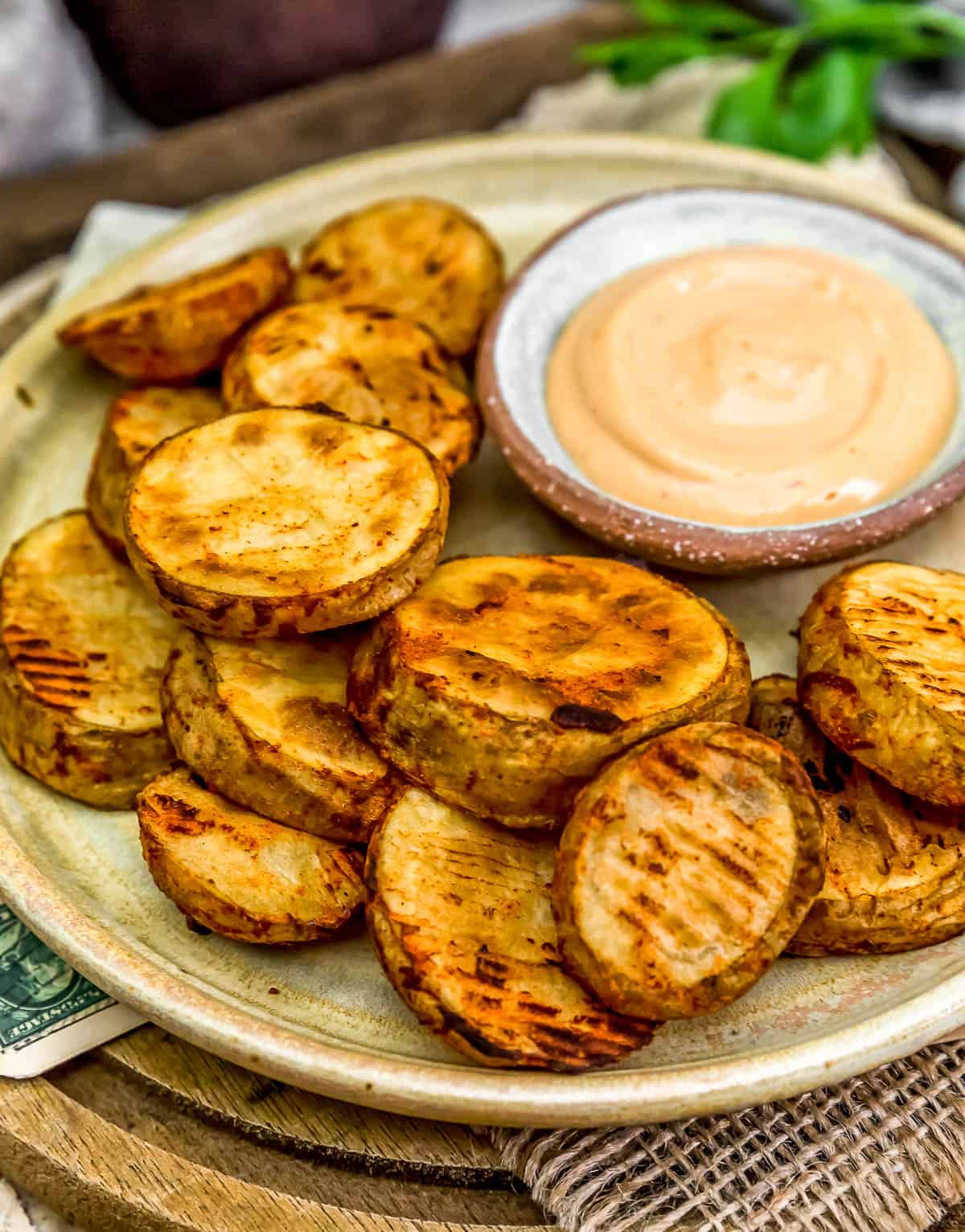 These healthy and addictive Oil-Free Baked Potato Slices are spud heaven.  An easy method that i sure to get you perfect fries every single time. Your family will delight in these delicious potato slices, couple them with some bold Vegan Fry Sauce and you are on your winning way!