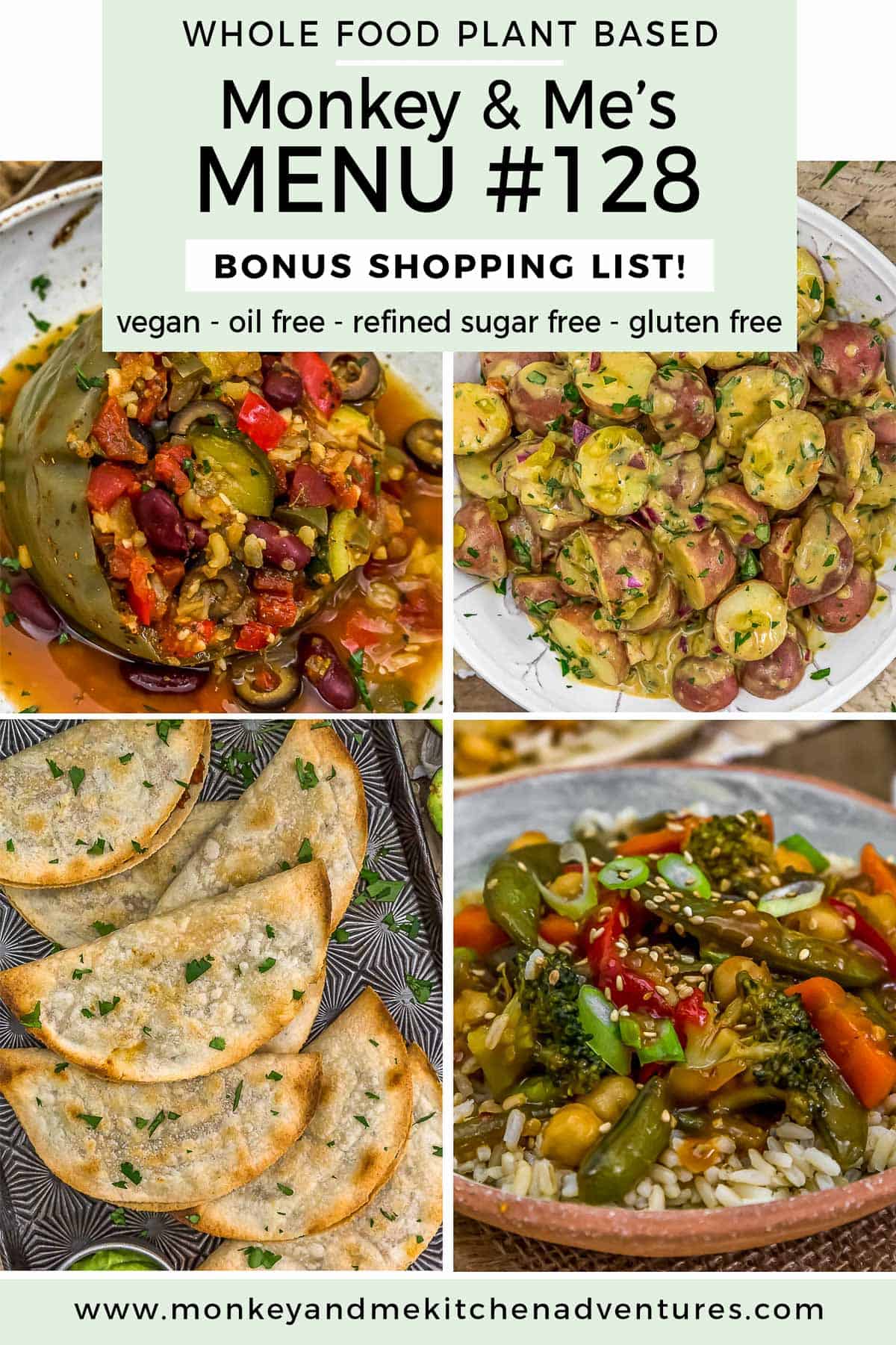 This week's Monkey and Me's Menu features some tasty recipes.  Menu #128 includes a FREE bonus shopping list.  All recipes are Whole Food Plant Based, vegan, plant based, oil free, refined sugar free, no highly processed ingredients, and gluten free.

Downloadable Menu which offers the following:

2 Breakfast ideas
2 Lunch ideas
2 Snack Ideas
5 Dinner Ideas, including a FREE downloaded shopping list (PDF – Below)

A comprehensive (downloadable) shopping list for the 5 Dinners

The shopping list is segmented into the common grocery store sections like "produce, spices, etc." making it easy to pick up these items from your local grocery store.
It also includes product suggestions that are Whole Food Plant Based compliant* for easy reference.  Note: These products are suggestions, please feel free to select your own favorite products.
Includes helpful codes so you can easily subtract items that you choose not to make.

Downloadable Instructions on how the meal plan work.
Note:  The term "Whole Food Plant Based compliant" is from a general standpoint.  There are Whole Food Plant Based diet branches that restrict certain food items.  Our recipes are all Whole Food Plant Based compliant based upon a high-level compliance standpoint. i.e. vegan, plant based, oil free, refined sugar free, minimally processed foods.
Some breakfast, lunch, and snack ideas are simple concepts that require no recipe.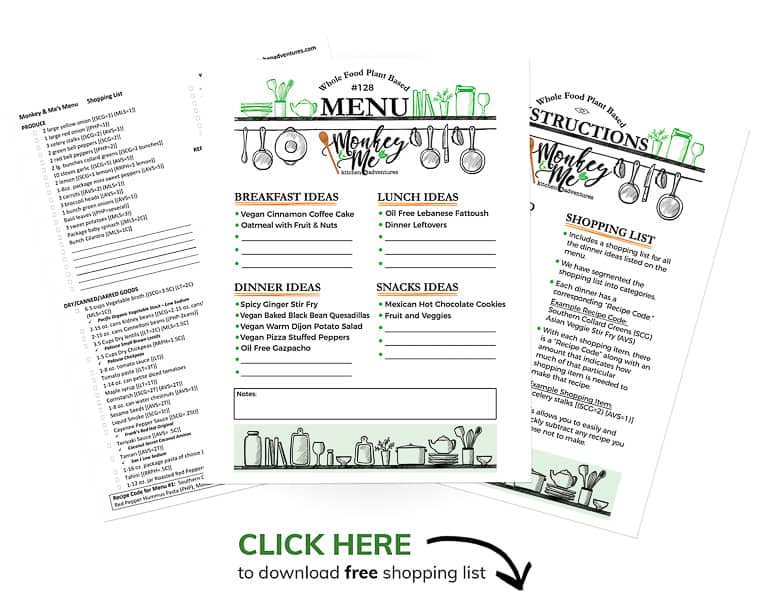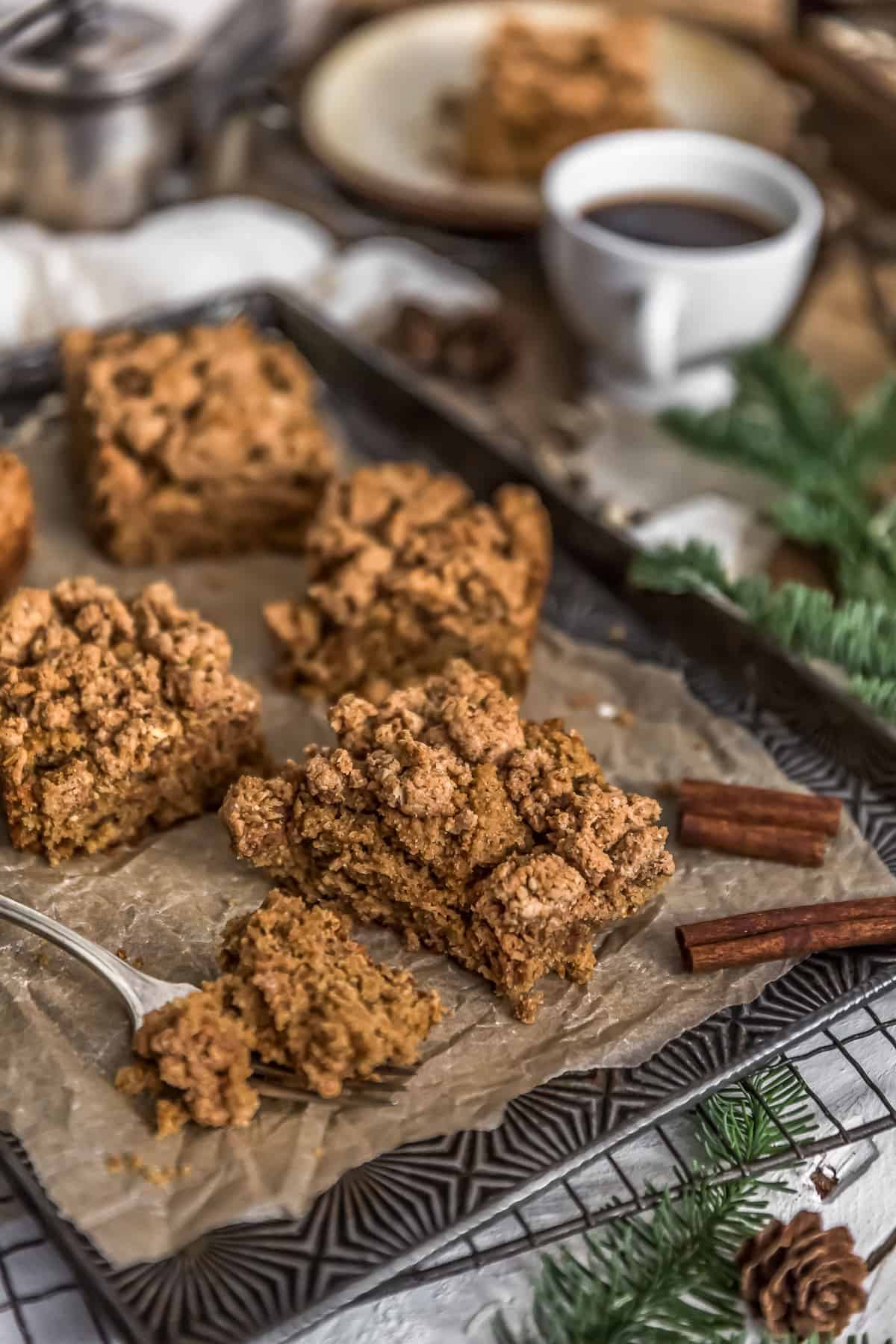 We are all about a sweet breakfast treat, and this healthy old-fashioned Vegan Cinnamon Crumble Coffee Cake is just the perfect way to celebrate Christmas morning or a fun brunch gathering. This tender, lightly sweet, filled with cinnamon goodness and a tasty crumble topping that tastes decadent, but is healthy and wholesome, is a fantastic addition to your breakfast or dessert.  It is sure to make guests and family think you labored in the kitchen over this deliciousness.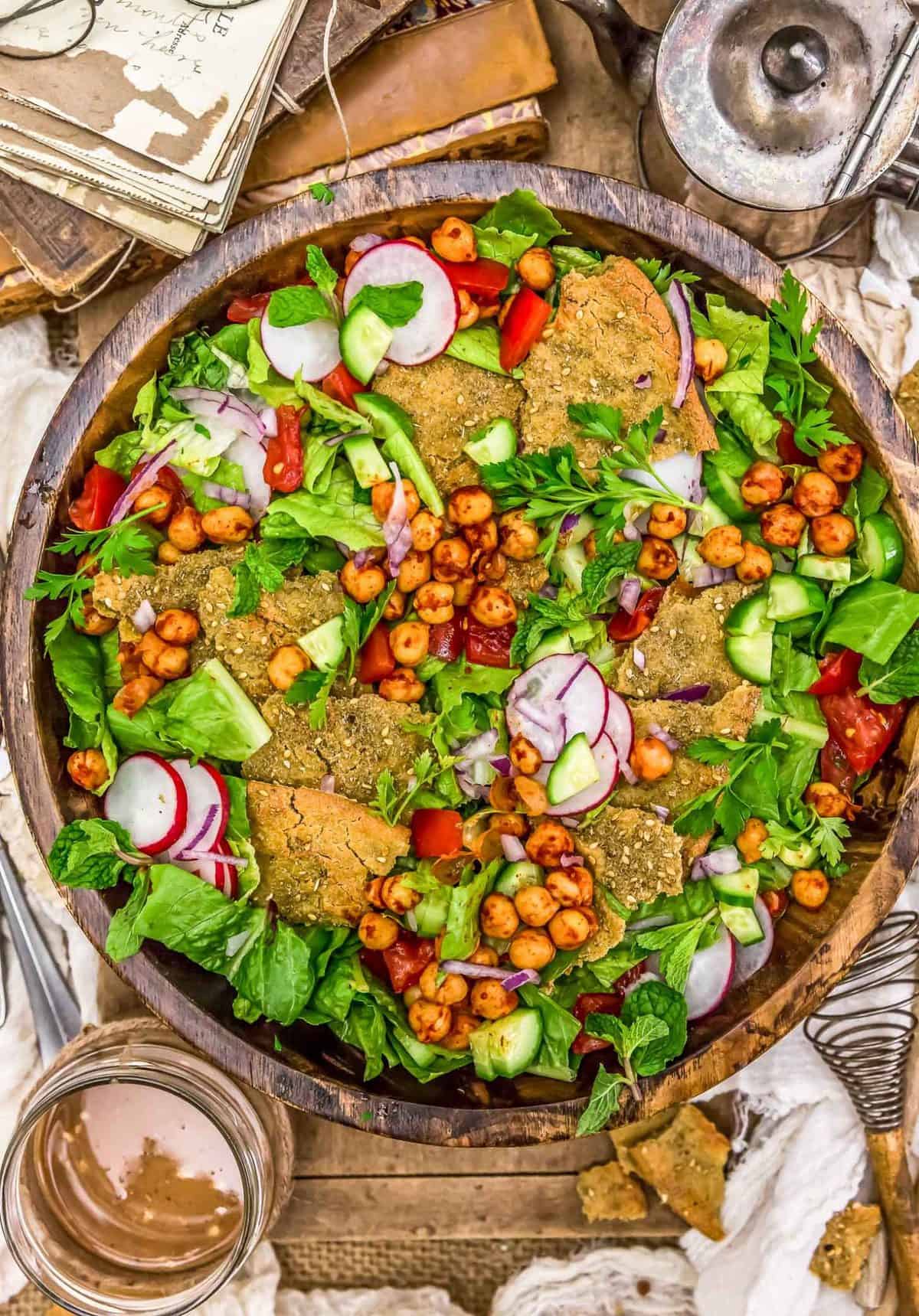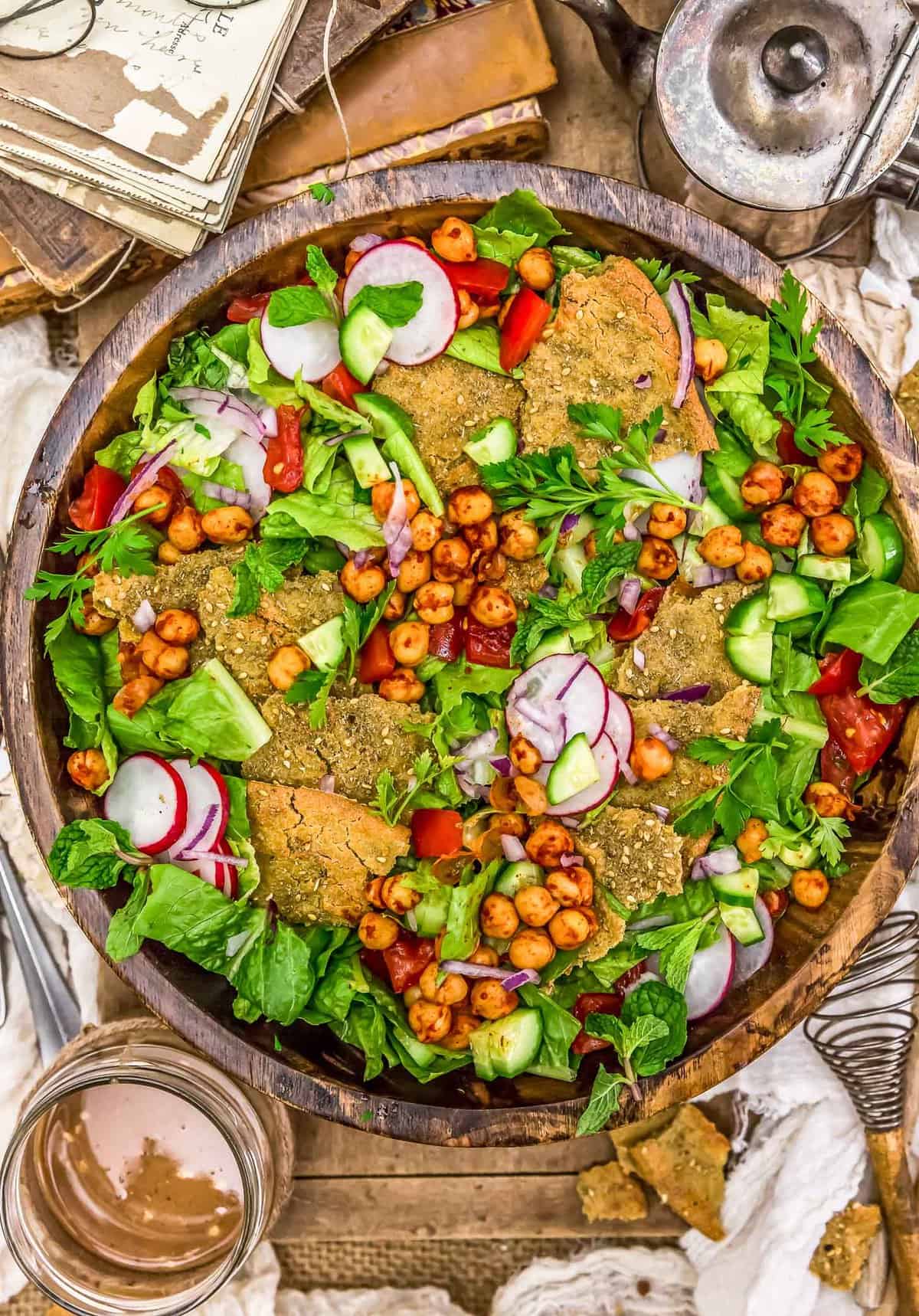 Kick up your salad game with this vibrant, wholesome, and delicious Oil Free Lebanese Fattoush salad. This oil-free, gluten-free nod to the classic Lebanese Fattoush is a delicious, healthy twist that is sure to get those taste buds tingling. Refreshing romaine, parsley, mint, cucumbers, radishes, tomatoes, red onions, chickpeas, and crisp torn quinoa flatbread are tossed with a zippy lemon vinaigrette dressing.  It's unique combination of herbaceous flavors with a fun twist that is sure to be the talk of the town.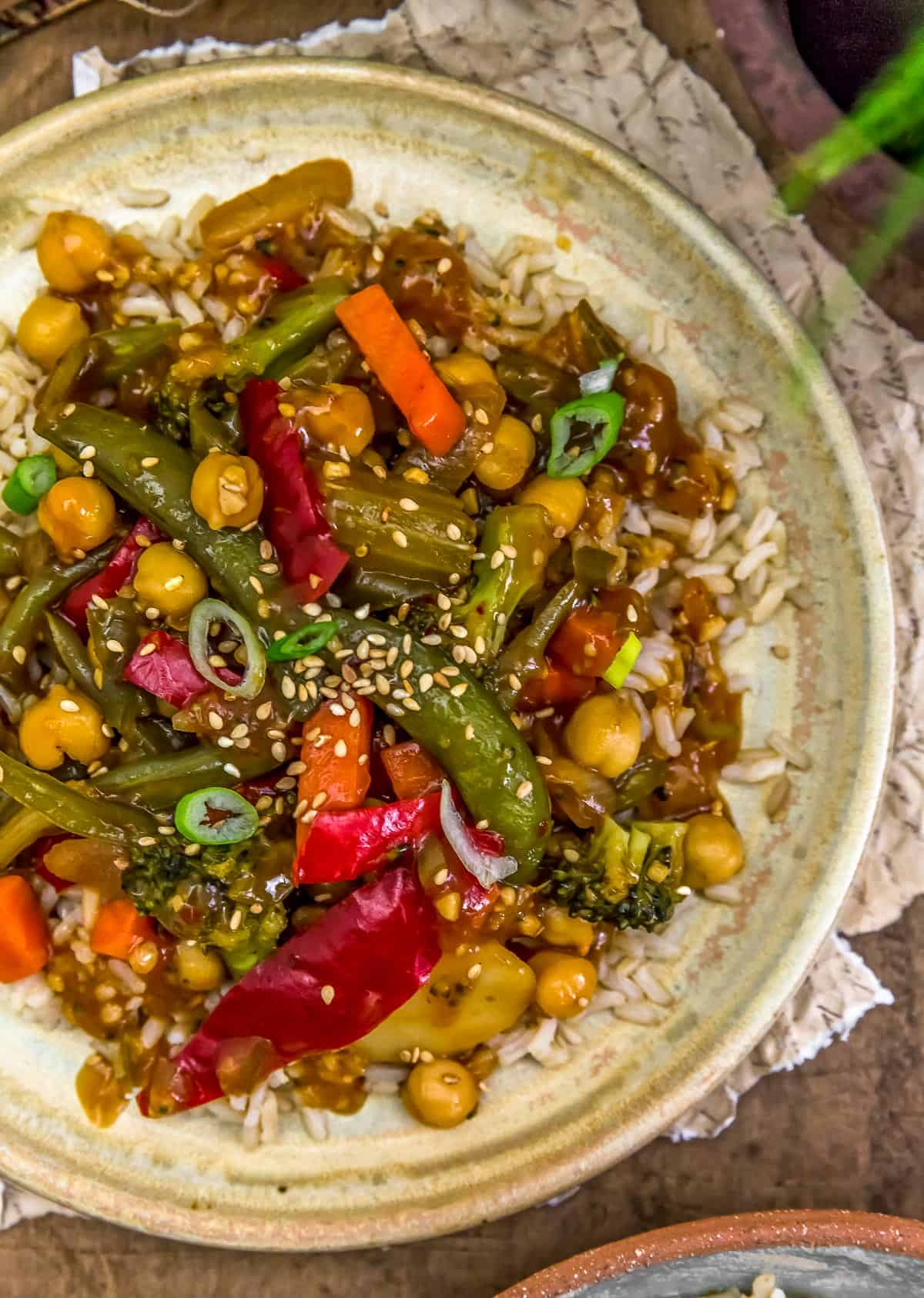 Bold, saucy, and healthy, this easy, oil-free Spicy Ginger Stir Fry recipe is loaded with plant-based goodness. It is better than takeout! The spicy ginger garlic sauce is packed with umami flavor.  Frozen stir fry veggies make it fast and easy making for a simple weeknight meal! Ready in less than 30 minutes!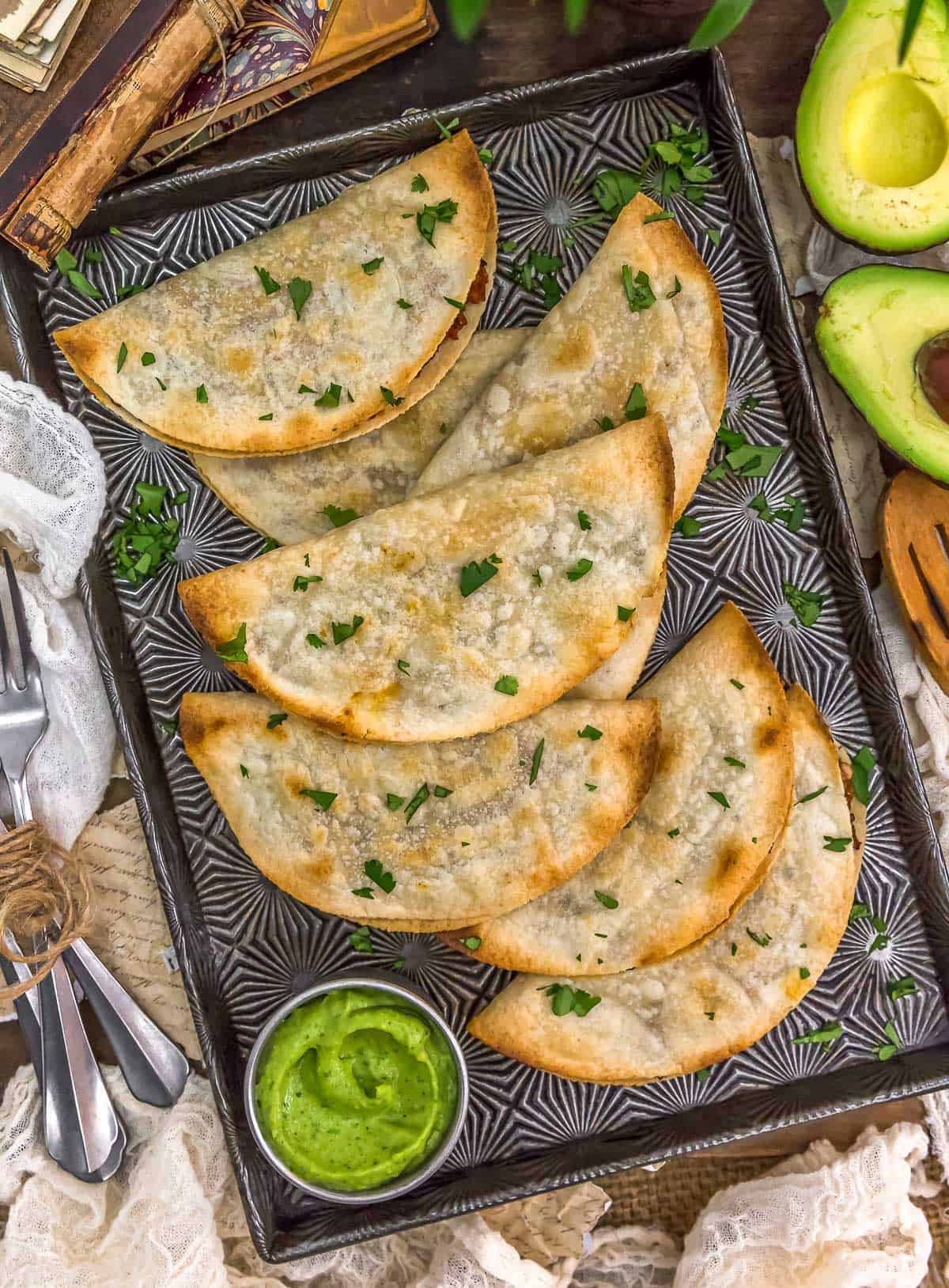 Easy and delicious, this recipe for Vegan Baked Black Bean Quesadillas is a perfect quick meal for busy weekdays. Pair with your favorite dip, these incredibly flavorful quesadillas are healthy, filling, and use minimal ingredients without sacrificing flavor. They are freezer friendly too, so whip up a batch and freeze them for later!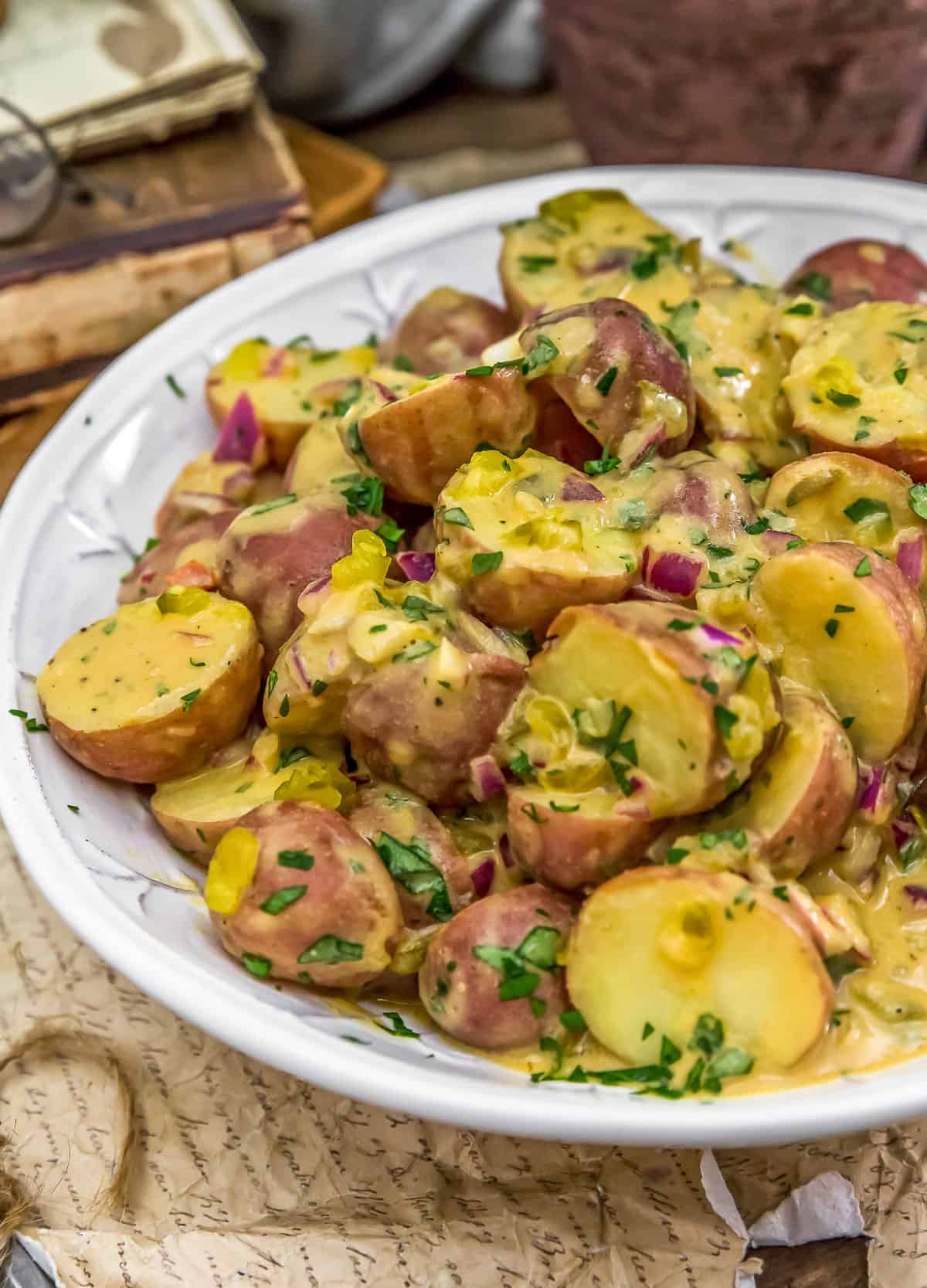 Simplicity at its best, this healthy, oil-free Vegan Warm Dijon Potato Salad is a real crowd pleaser boasting bold, tangy flavors. Warm and tender baby red skinned potatoes are bathed in a creamy Dijon mustard sauce that is perfectly complimented with briny dill pickle relish and zesty red onions. Serve it warm or at room temperature; it is sure to become a new family picnic favorite.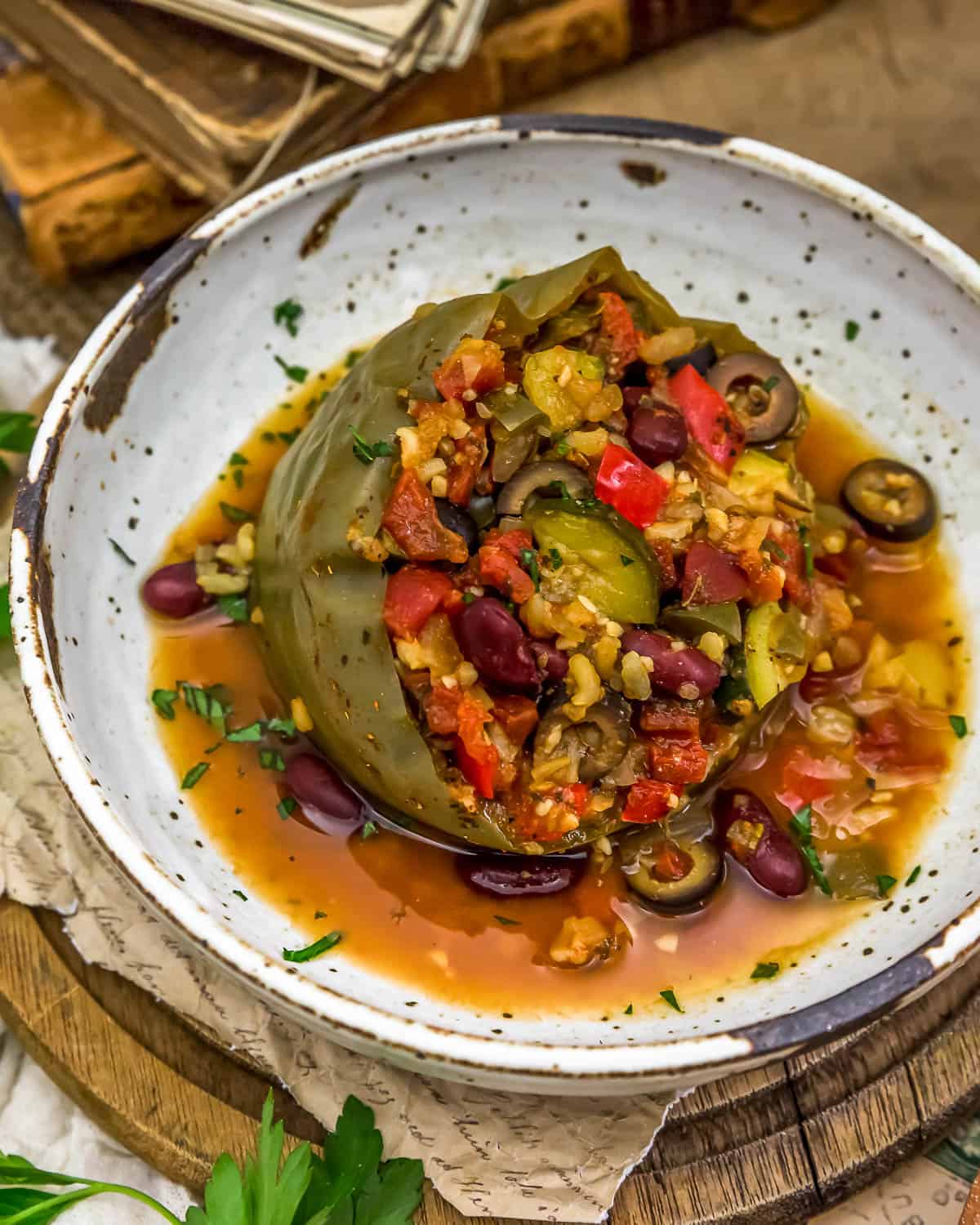 Wholesome, hearty, and delicious, this Instant Pot Vegan Pizza Stuffed Peppers recipe is a great oil-free, low-fat dinner that is packed with delicious pizza flavor and healthy plant-based ingredients. Nutrient-dense red and green bell peppers are brimming with garlic, onions, zucchini, kidney beans, brown rice, and black olives all bathed in an aromatic Italian tomato broth that is sure to knock your socks off.  This Instant Pot or oven dish is perfect for a meal prep and reheats too!
Summer's calling and we are answering with a refreshing, cooling, and utterly delicious soup! This beautifully fresh and vibrant Oil Free Gazpacho features a cold tomatoey soup filled with garden veggie nourishing goodness. Fresh red bell peppers, sweet Campari tomatoes, cooling cucumbers, crisp corn, zesty green onions, and topped with roasted chickpea croutons making it perfect for a tasty summertime soup or appetizer. It is totally delicious and satisfying.

These decadent, chewy chocolatey Mexican Hot Chocolate Cookies are pure cookie heaven with warming cinnamon spice and a little kick of cayenne pepper. These fudgy cookies really deliver with a slightly crispy exterior and a deliciously dense, chewy interior like a brownie in cookie form – what's not to love?  These easy to make cookies will quickly become your new favorite!  Perfect for any holiday, bake sales, or any day of the week.  Guaranteed to get rave reviews!