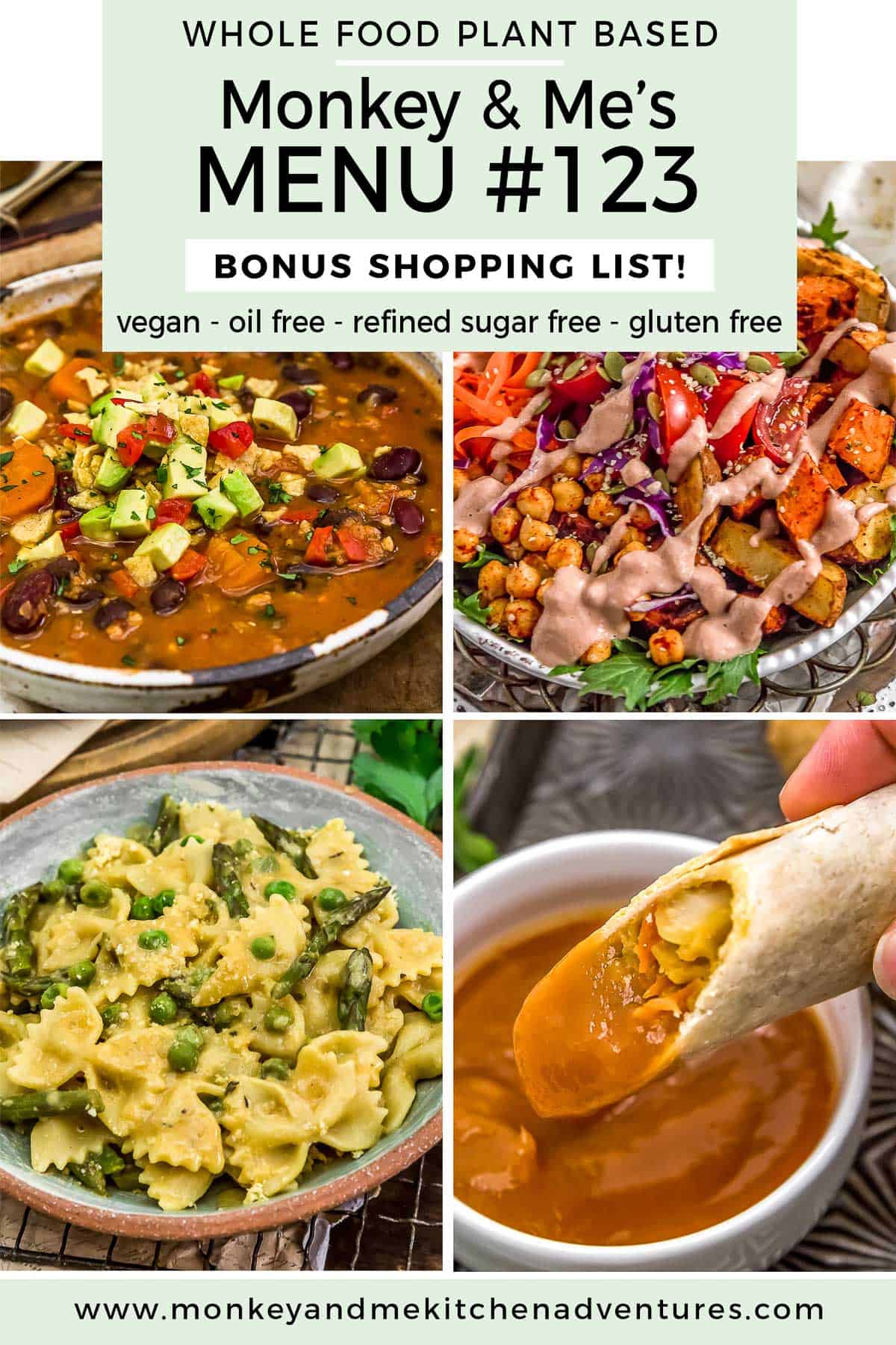 This week's Monkey and Me's Menu features some tasty recipes.  Menu #123 includes a FREE bonus shopping list.  All recipes are Whole Food Plant Based, vegan, plant based, oil free, refined sugar free, no highly processed ingredients, and gluten free.

Downloadable Menu which offers the following:

2 Breakfast ideas
2 Lunch ideas
2 Snack Ideas
5 Dinner Ideas, including a FREE downloaded shopping list (PDF – Below)

A comprehensive (downloadable) shopping list for the 5 Dinners

The shopping list is segmented into the common grocery store sections like "produce, spices, etc." making it easy to pick up these items from your local grocery store.
It also includes product suggestions that are Whole Food Plant Based compliant* for easy reference.  Note: These products are suggestions, please feel free to select your own favorite products.
Includes helpful codes so you can easily subtract items that you choose not to make.

Downloadable Instructions on how the meal plan work.
Note:  The term "Whole Food Plant Based compliant" is from a general standpoint.  There are Whole Food Plant Based diet branches that restrict certain food items.  Our recipes are all Whole Food Plant Based compliant based upon a high-level compliance standpoint. i.e. vegan, plant based, oil free, refined sugar free, minimally processed foods.
Some breakfast, lunch, and snack ideas are simple concepts that require no recipe.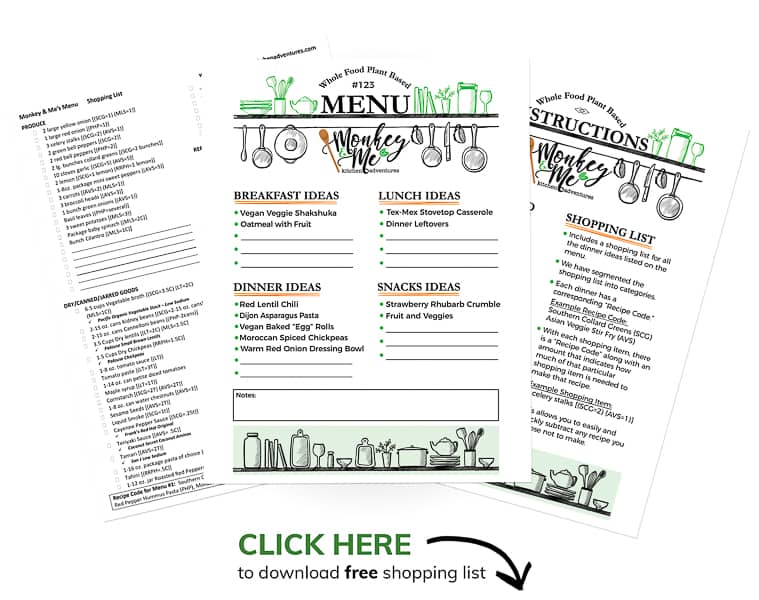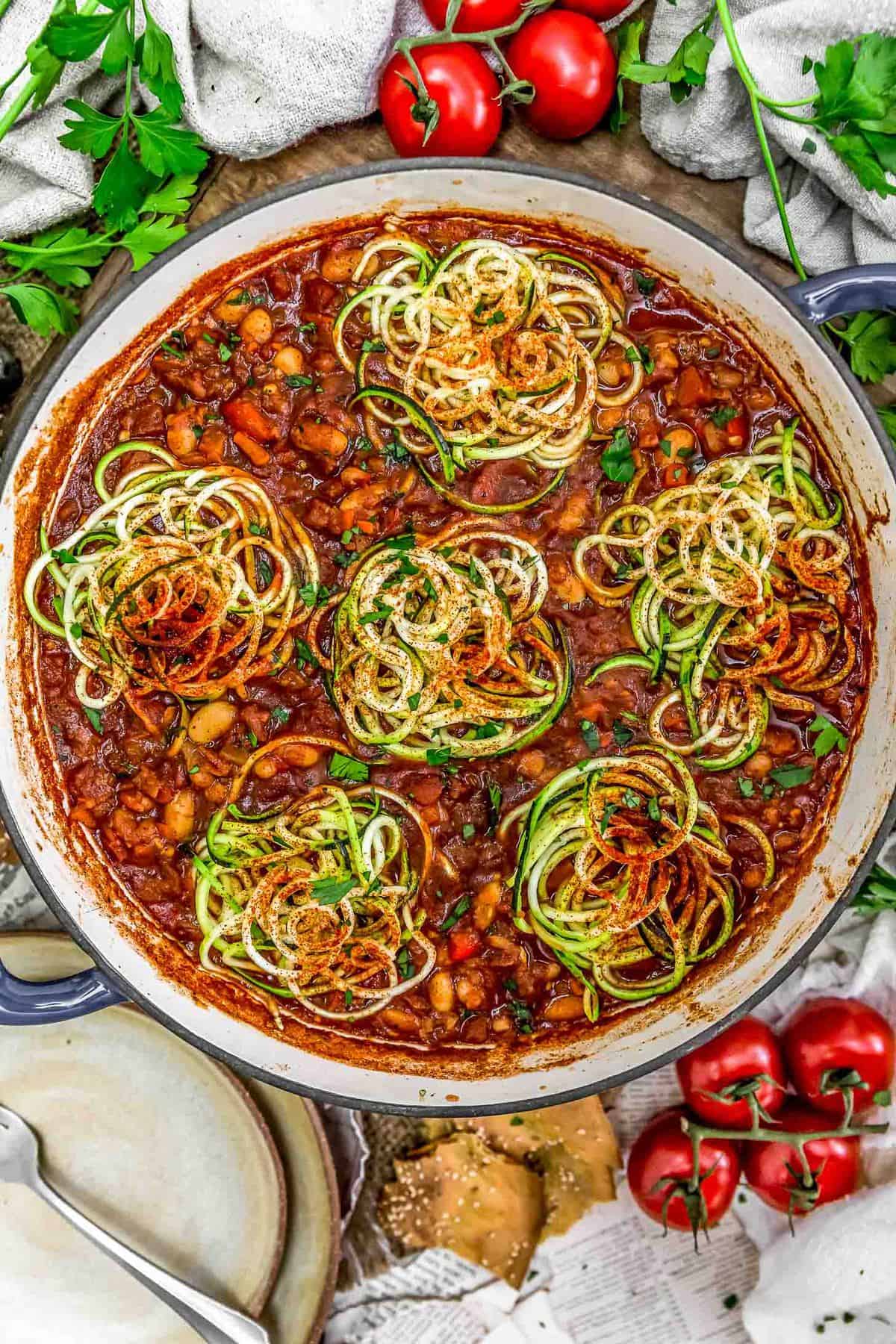 We are all about packin' in as many veggies as possible, and this dish definitely delivers. This beautifully spiced Vegan Veggie Shakshuka is bursting with flavor and boasting a fun veggie twist. Features nutrient-rich veggies including zesty onions, fresh red bell peppers, sweet carrots, earthy garlic, and hearty cannellini beans all bathed in vibrant aromatic tomato sauce and topped with zucchini zoodles. This tasty soul warming dish is full of feel good ingredients, herbs, and spices. Perfect for a savory breakfast or dinner and is sure to leave you satisfied and happy!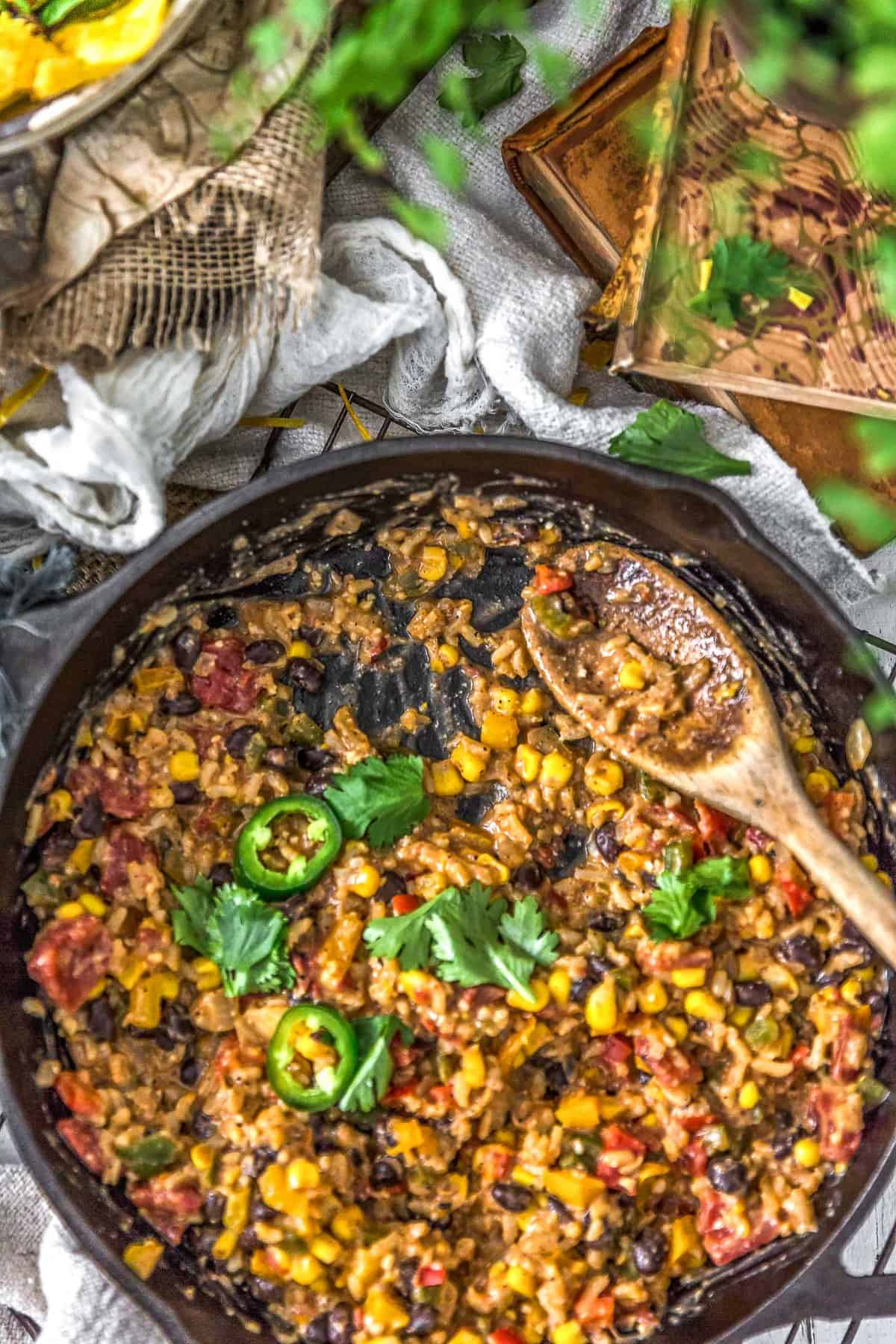 The words "stovetop casserole" is like music to our ears. You just know it's ultra-comforting food that's perfect for keeping you warm and satisfied, and our delicious Creamy Tex-Mex Stovetop Casserole delivers!  This rich and flavorful one-pot wonder is bursting with wholesome goodness. Packed with tons of nutritious ingredients like sweet corn, protein-packed black beans and hearty rice makes it a fabulous dish the whole family will love.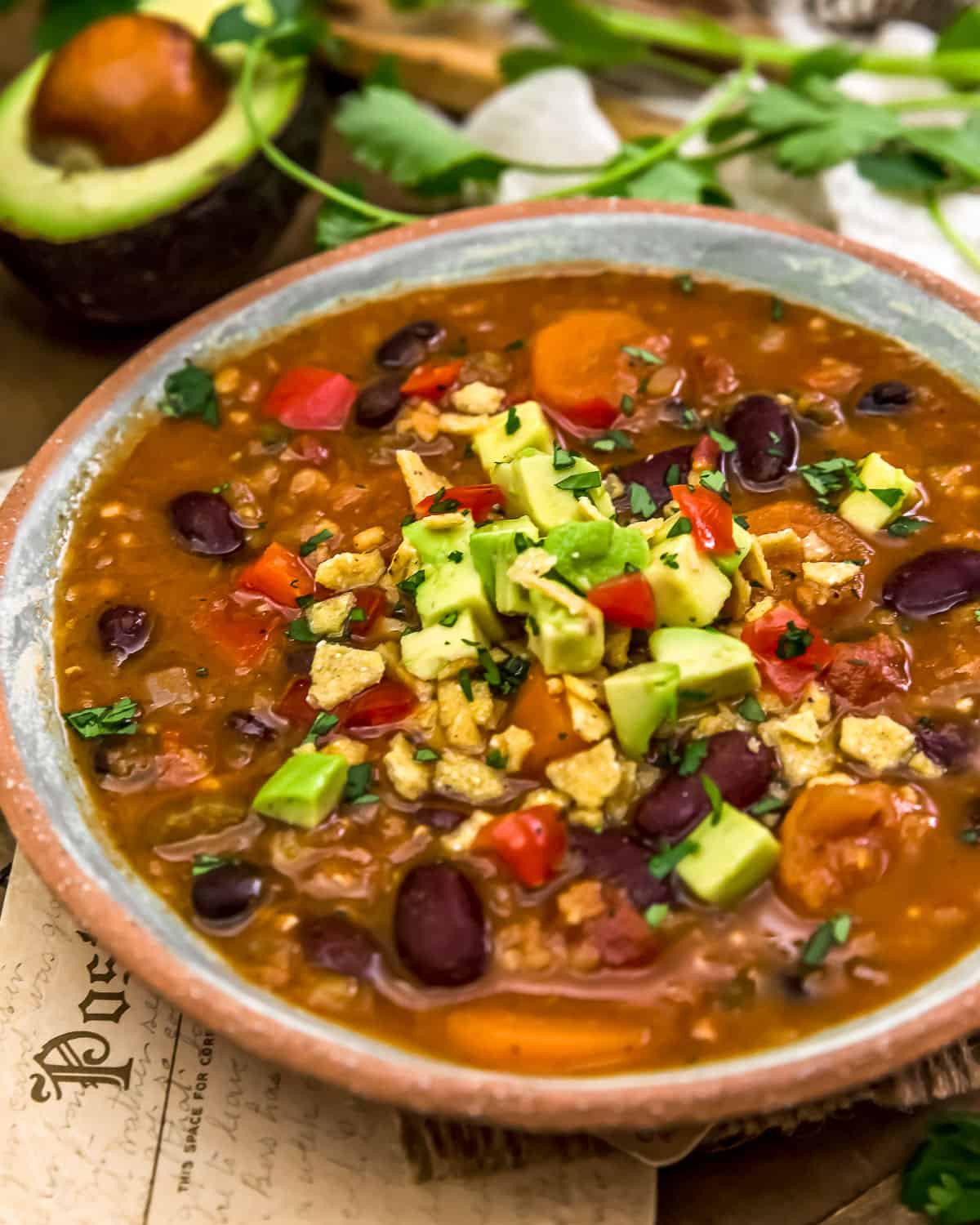 Loaded with flavor, protein, and nutrients, this oil-free, low-fat Red Lentil Chili is easy to make and sure to be a fun and simple twist on a traditional chili.  It's everything a great chili should be and so much more.  You won't believe how hearty and delicious it tastes.  The whole family will thank you!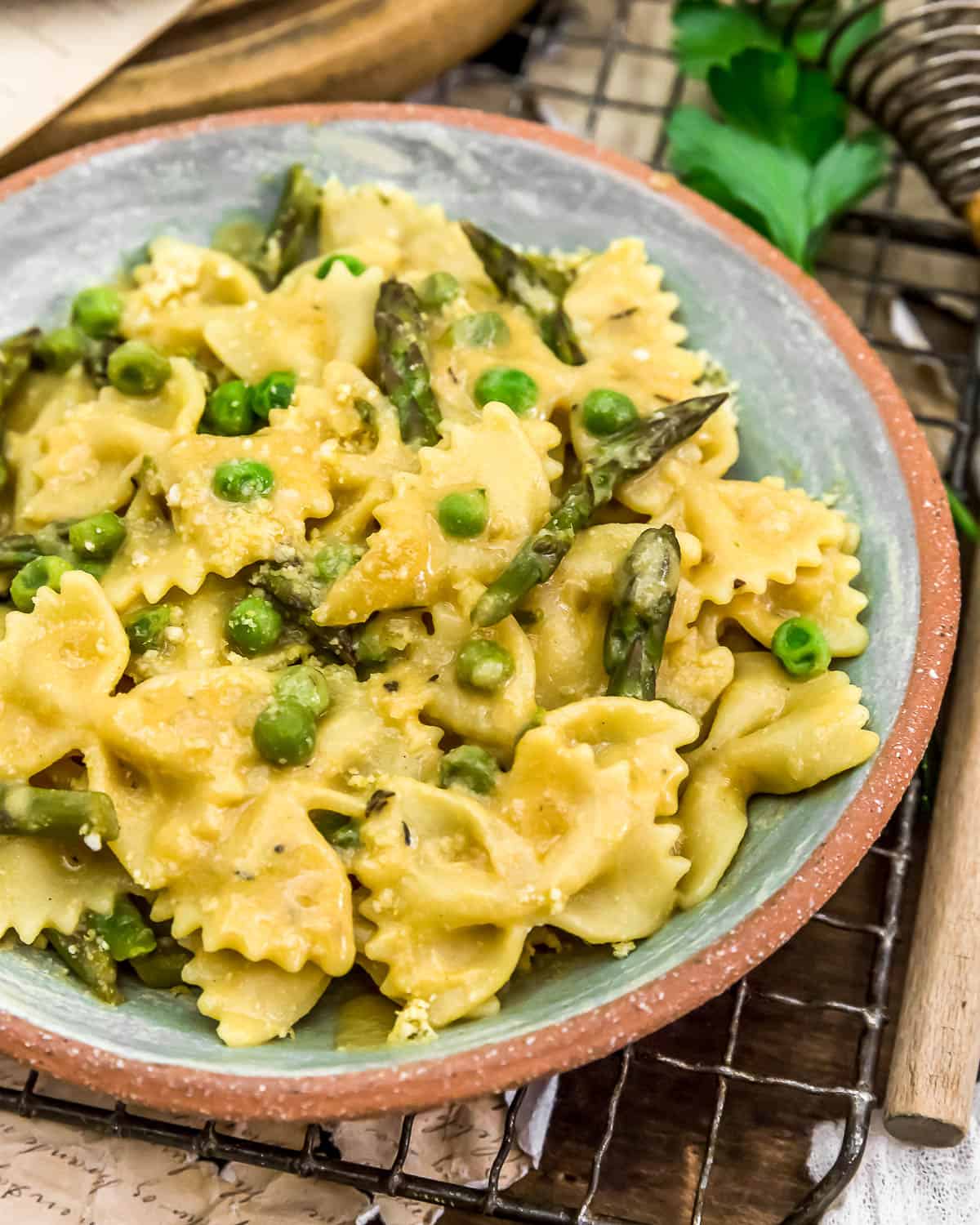 Fast, easy, and oh-so-scrumptious, this creamy Dijon Asparagus Pasta is bursting with springtime flavor.  Tender pasta coated in a zippy Dijon sauce nestled with tasty asparagus and peas makes for a fantastic week night meal that the whole family will enjoy!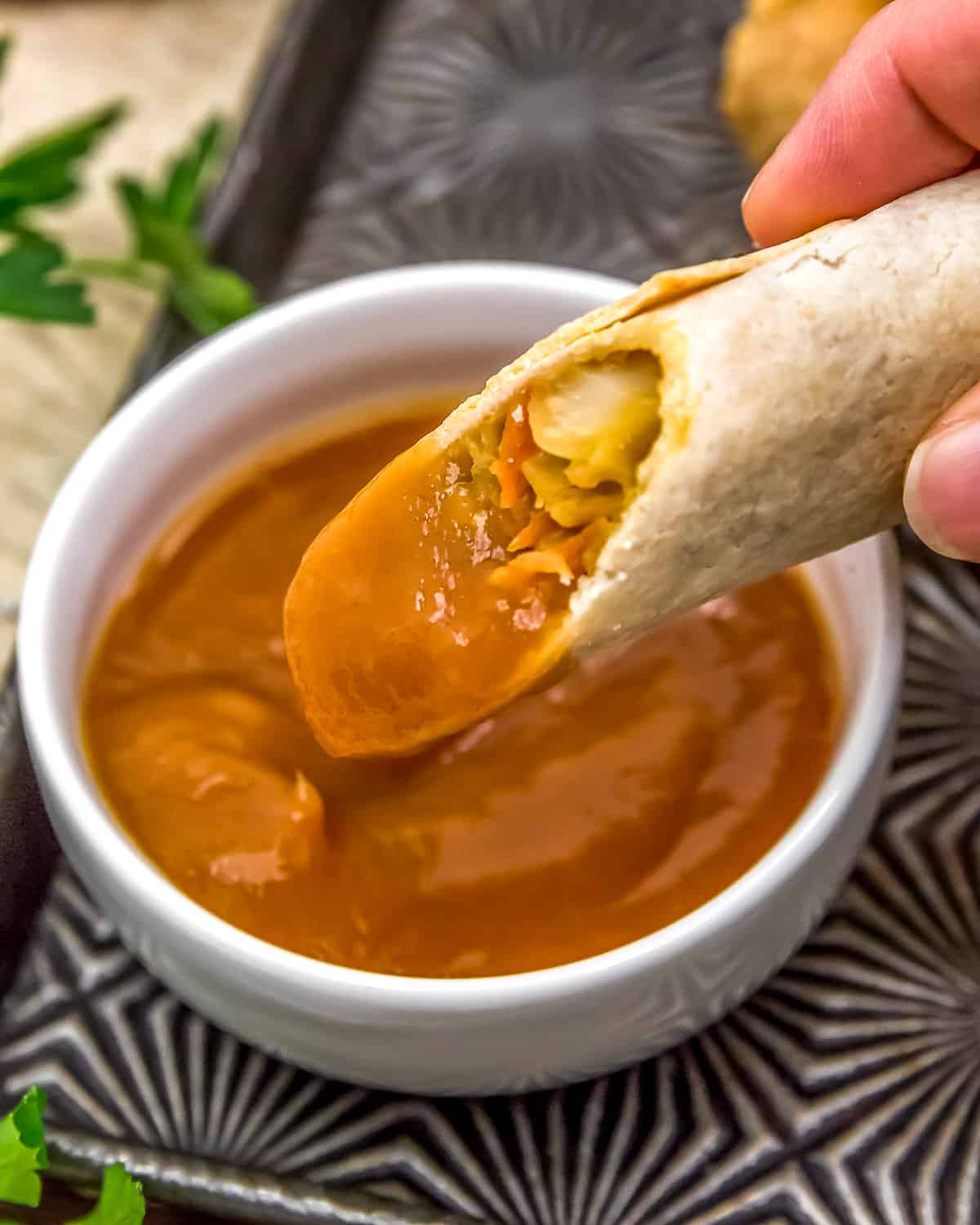 These Vegan Baked "Egg" Rolls are perfectly crispy and filled with nutritious plant goodness like cabbage, carrots, garlic and ginger. You won't believe how healthy and delicious, these oil-free baked vegan egg rolls are. Great for appetizers, snacks, or dinner, these tasty bundles of yumminess are sure to knock your socks off. The filling is so gosh darn amazing that if you aren't feeling up to rolling, just grab a fork and eat it right out of a bowl – YUM!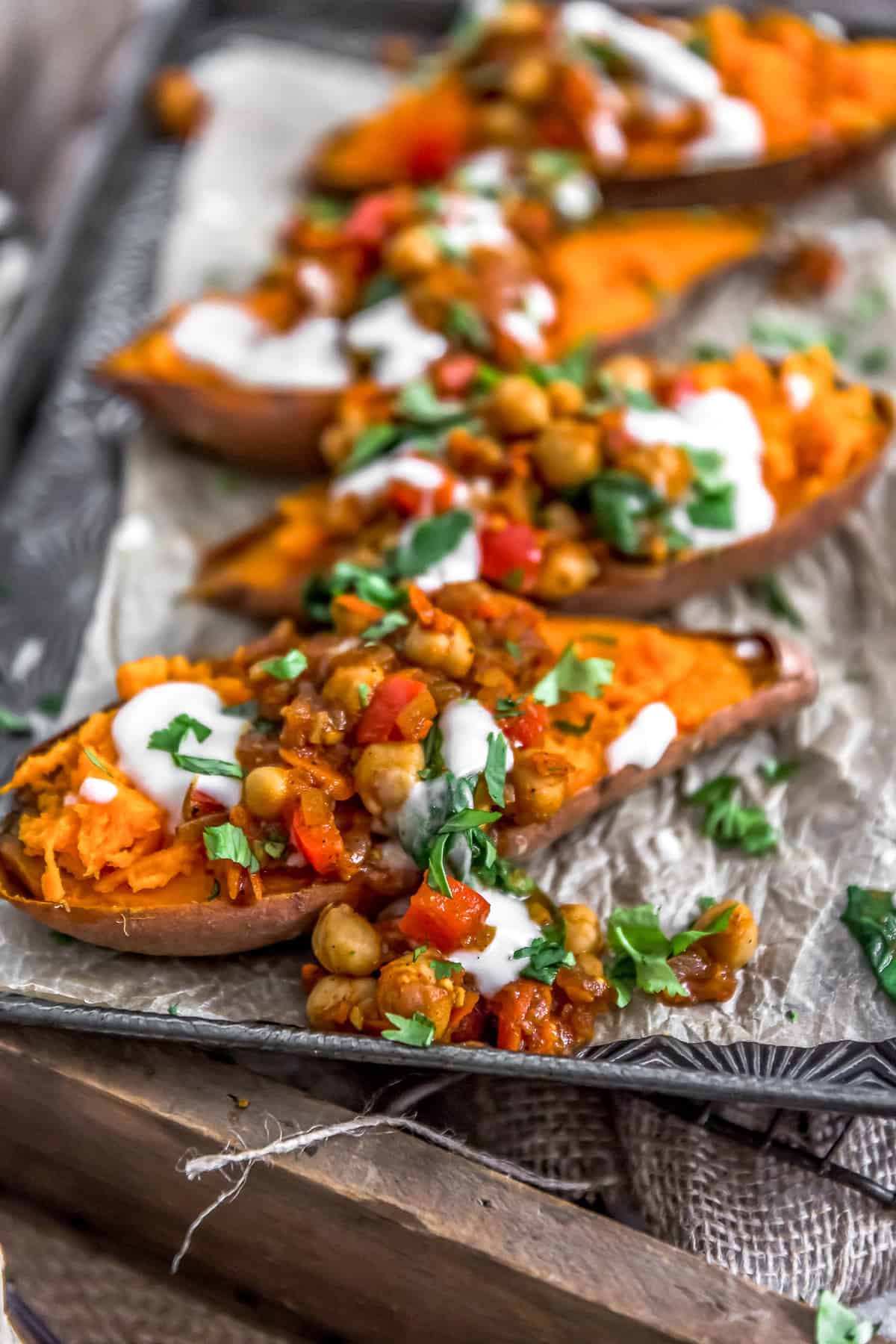 Thirty minutes is all that stands between you and this yummy Moroccan Spiced Chickpeas and Garlic Sauce! We just can't get enough of this one-pot, fast, and easy dish that is packed with feel-good ingredients. Hearty chickpeas coated in spicy Moroccan flavors ladled over nutritious baked sweet potatoes, and covered in a creamy garlic sauce is a delicious comfort food the whole family will love. A perfect dish for using up leftovers too; switch up baked sweet potatoes for roasted veggies, rice, or boiled potatoes for a scrumptious way to use up leftovers.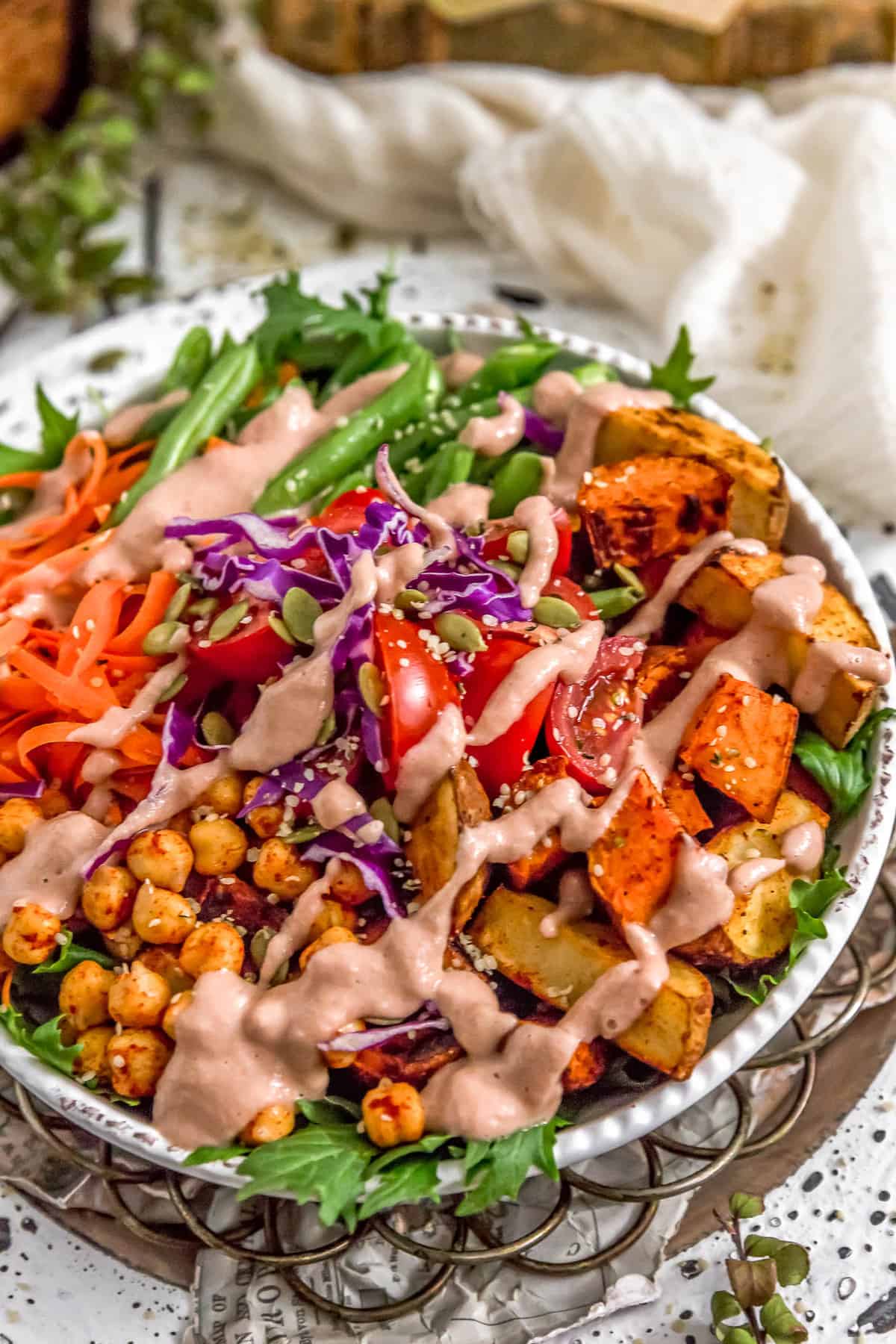 We are all about salads, of every kind, and mixing warm elements with cool crispy veggies just takes salads to the next level. We've got a brand spanking new dressing that is sure to get your tastebuds tingling. Our oil free Warm Red Onion Dressing is tangy, sweet, and full of flavor! Not only is it healthy, fast, and easy, but it's the perfect addition for salad lovers who want to switch up their dressing game. Sweet red onions, zesty red wine vinegar, rich almonds all come together for a deliciously creamy dressing that will hook you with the first bite.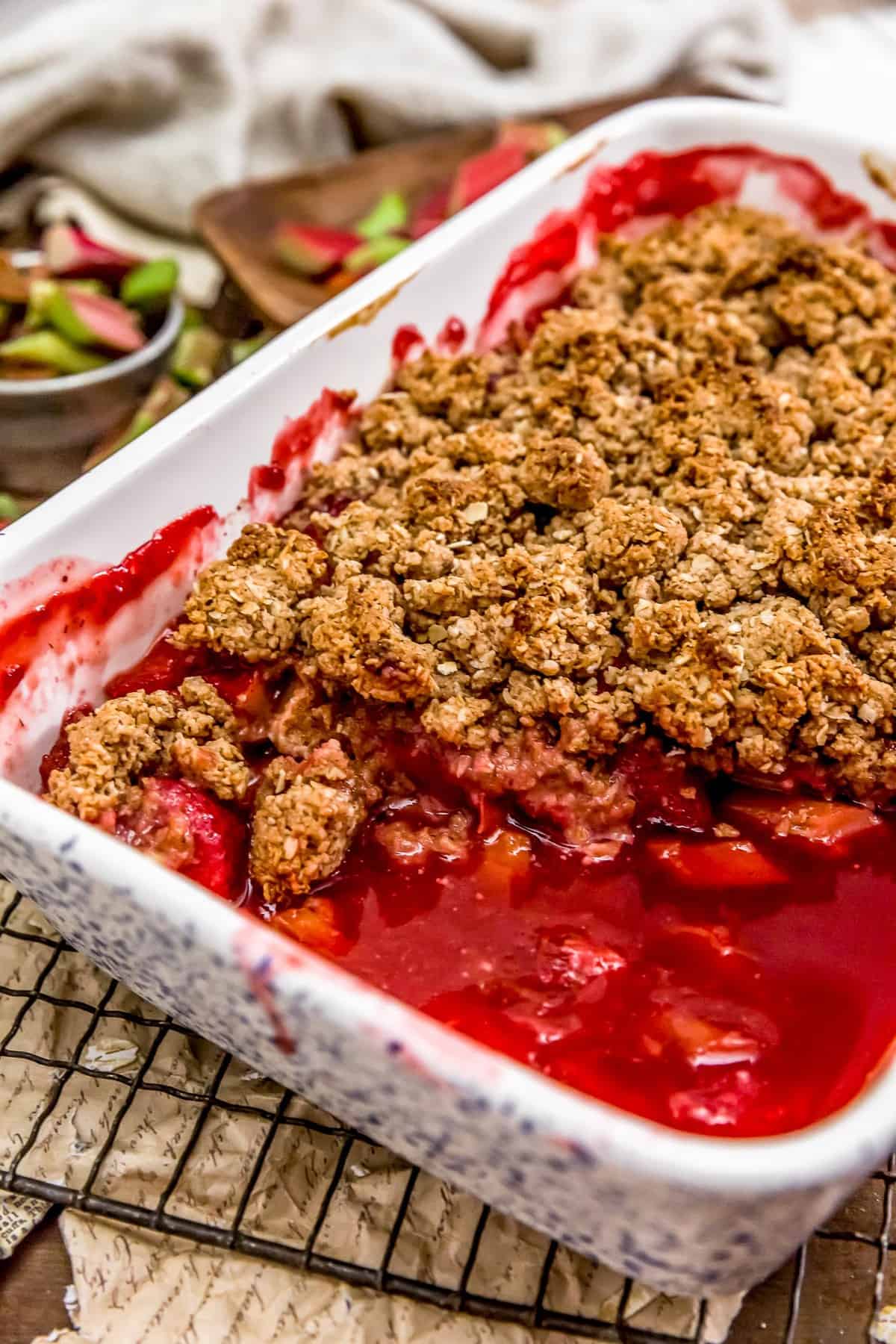 Wishing everyone knew the delicious potential of the humble rhubarb, and it is shining bright in this comforting dessert. Juicy, sweet, and divine, this old-fashioned Strawberry Rhubarb Crumble is made with healthy goodness and packed with delicious flavors. Loaded with tangy rhubarb, sweet strawberries, and  topped with an irresistible oat and cinnamon crumble, this heavenly dessert makes for an easy, spring dish to share with family and friends.