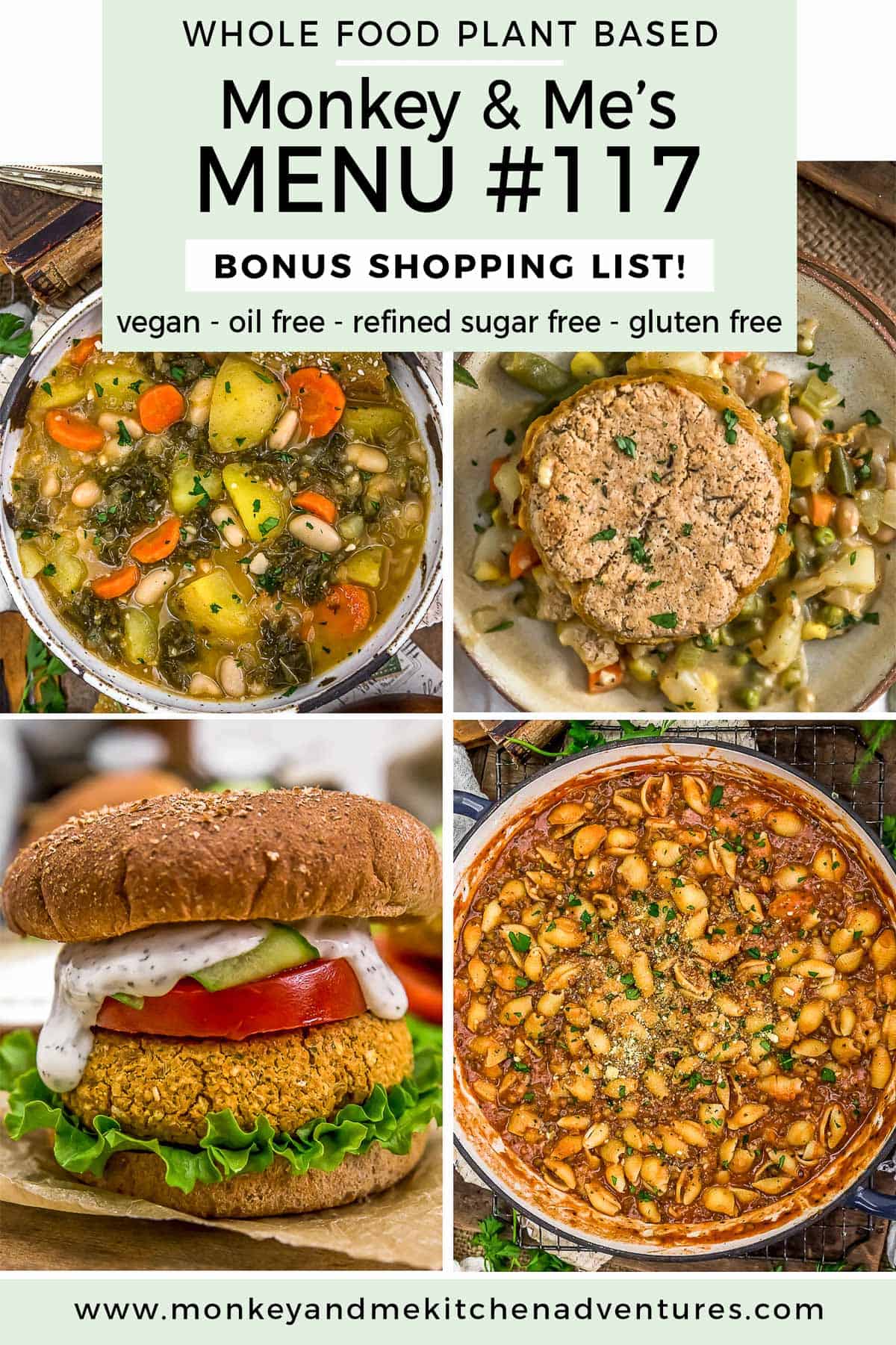 This week's Monkey and Me's Menu features some tasty recipes.  Menu #117 includes a FREE bonus shopping list.  All recipes are Whole Food Plant Based, vegan, plant based, oil free, refined sugar free, no highly processed ingredients, and gluten free.

Downloadable Menu which offers the following:

2 Breakfast ideas
2 Lunch ideas
2 Snack Ideas
5 Dinner Ideas, including a FREE downloaded shopping list (PDF – Below)

A comprehensive (downloadable) shopping list for the 5 Dinners

The shopping list is segmented into the common grocery store sections like "produce, spices, etc." making it easy to pick up these items from your local grocery store.
It also includes product suggestions that are Whole Food Plant Based compliant* for easy reference.  Note: These products are suggestions, please feel free to select your own favorite products.
Includes helpful codes so you can easily subtract items that you choose not to make.

Downloadable Instructions on how the meal plan work.
Note:  The term "Whole Food Plant Based compliant" is from a general standpoint.  There are Whole Food Plant Based diet branches that restrict certain food items.  Our recipes are all Whole Food Plant Based compliant based upon a high-level compliance standpoint. i.e. vegan, plant based, oil free, refined sugar free, minimally processed foods.
Some breakfast, lunch, and snack ideas are simple concepts that require no recipe.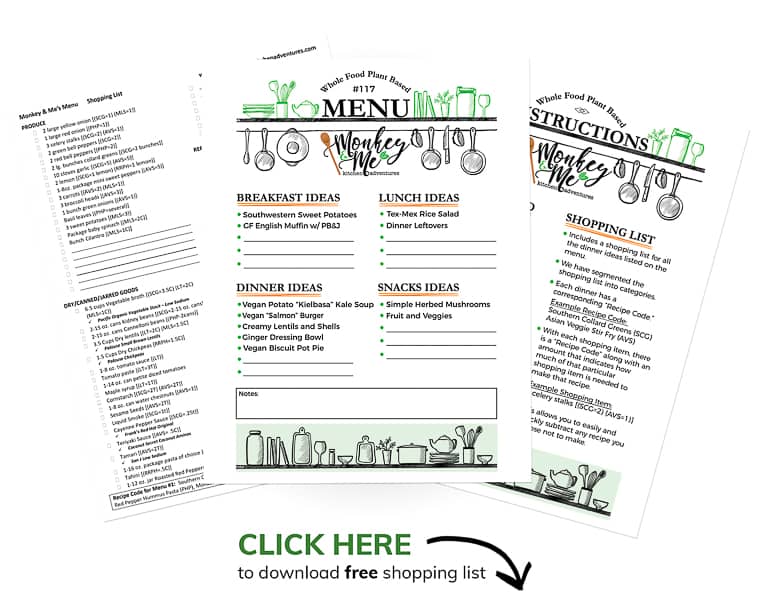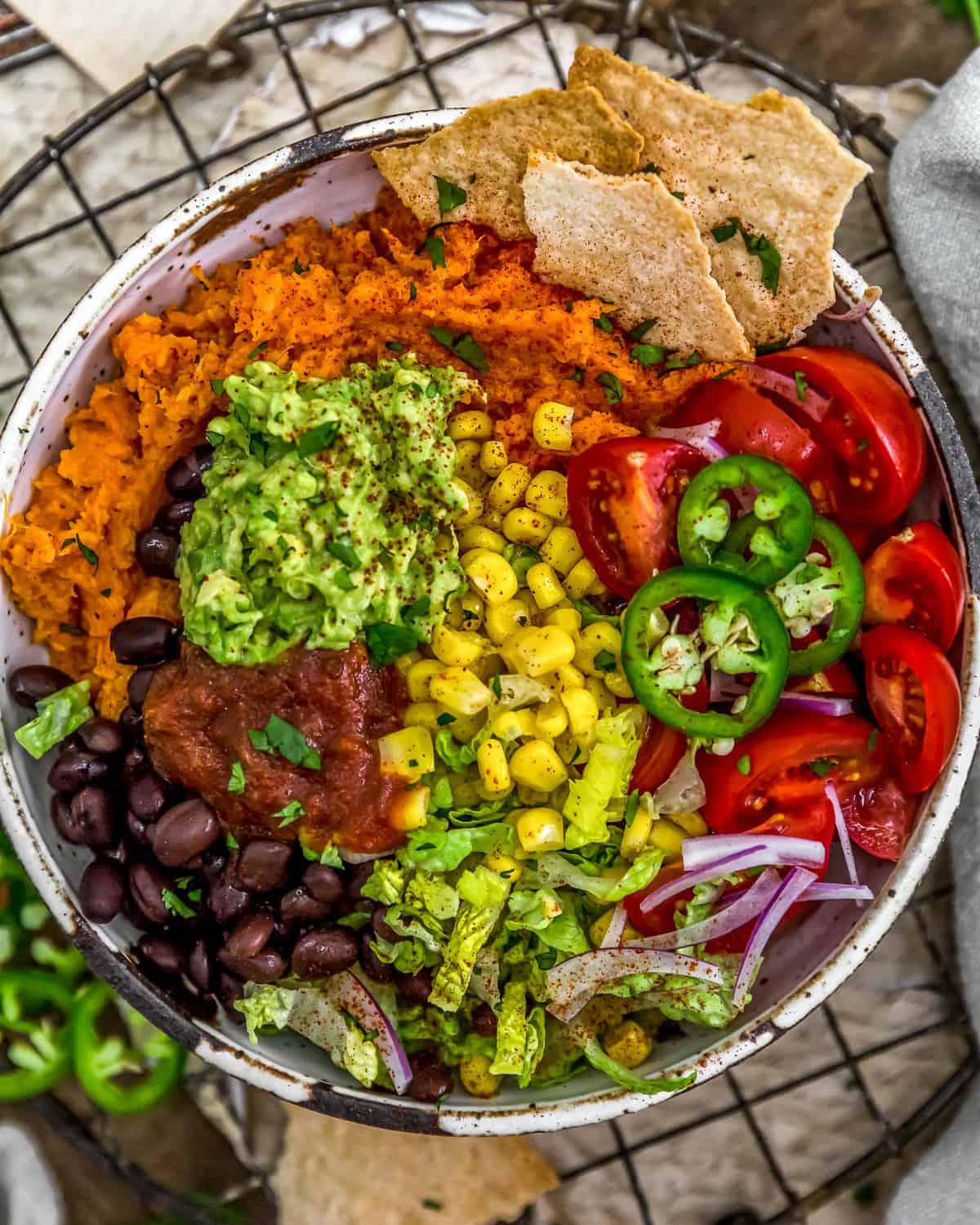 Healthy, hearty, and oh-so-delicious, these fun and versatile Sweet Potato Breakfast Bowls are a wholesome way to enjoy a quick and easy breakfast.  We've provided three tasty ways to use left-over roasted sweet potatoes that are sure to put a smile on your face. Warm, caramelized sweet potatoes topped off with some of our favorite variations like Cinnamon Blueberry Pecan Bowl, Peanut Butter and Berries Bowl, and Southwestern Bowl are all a great way to start your morning.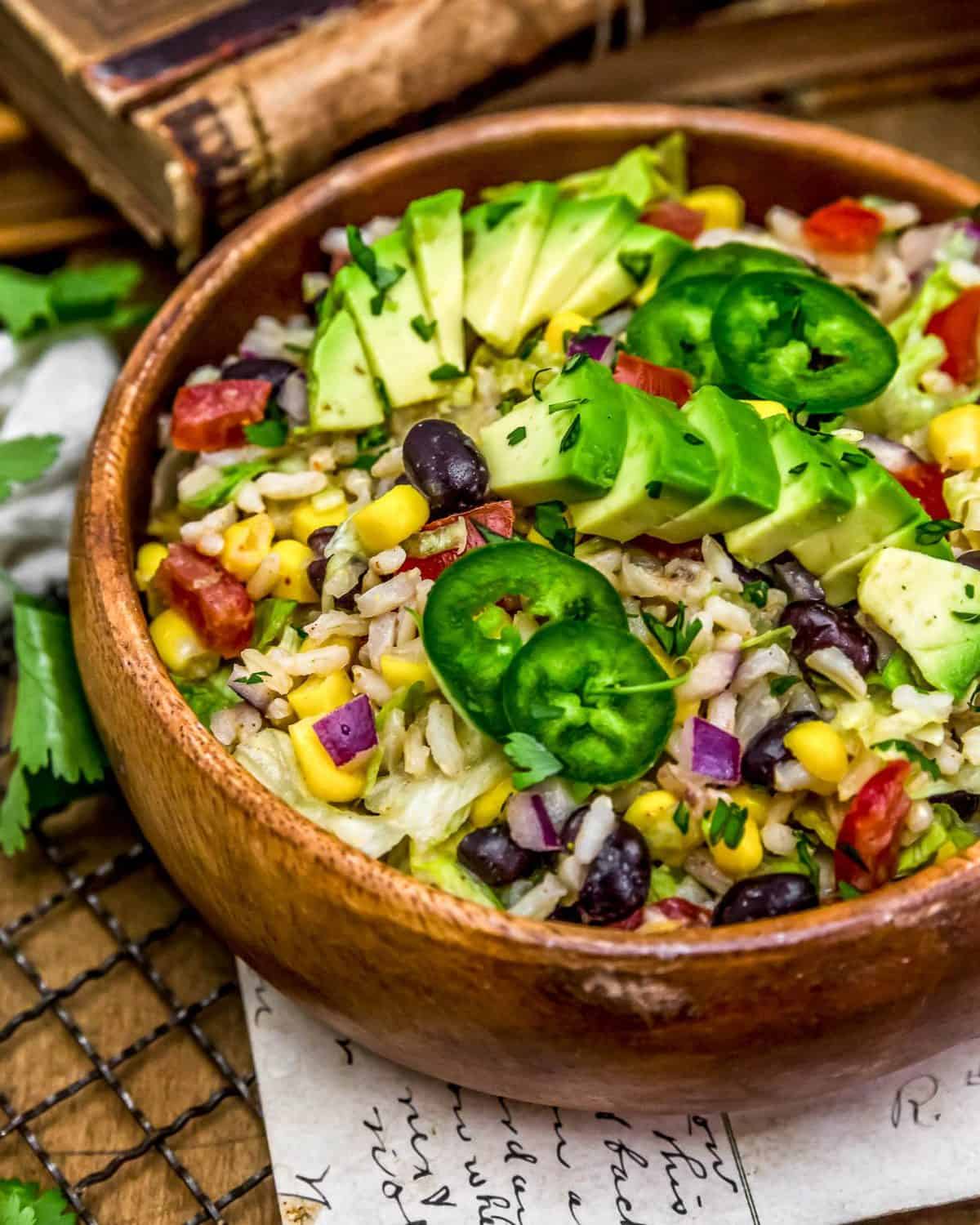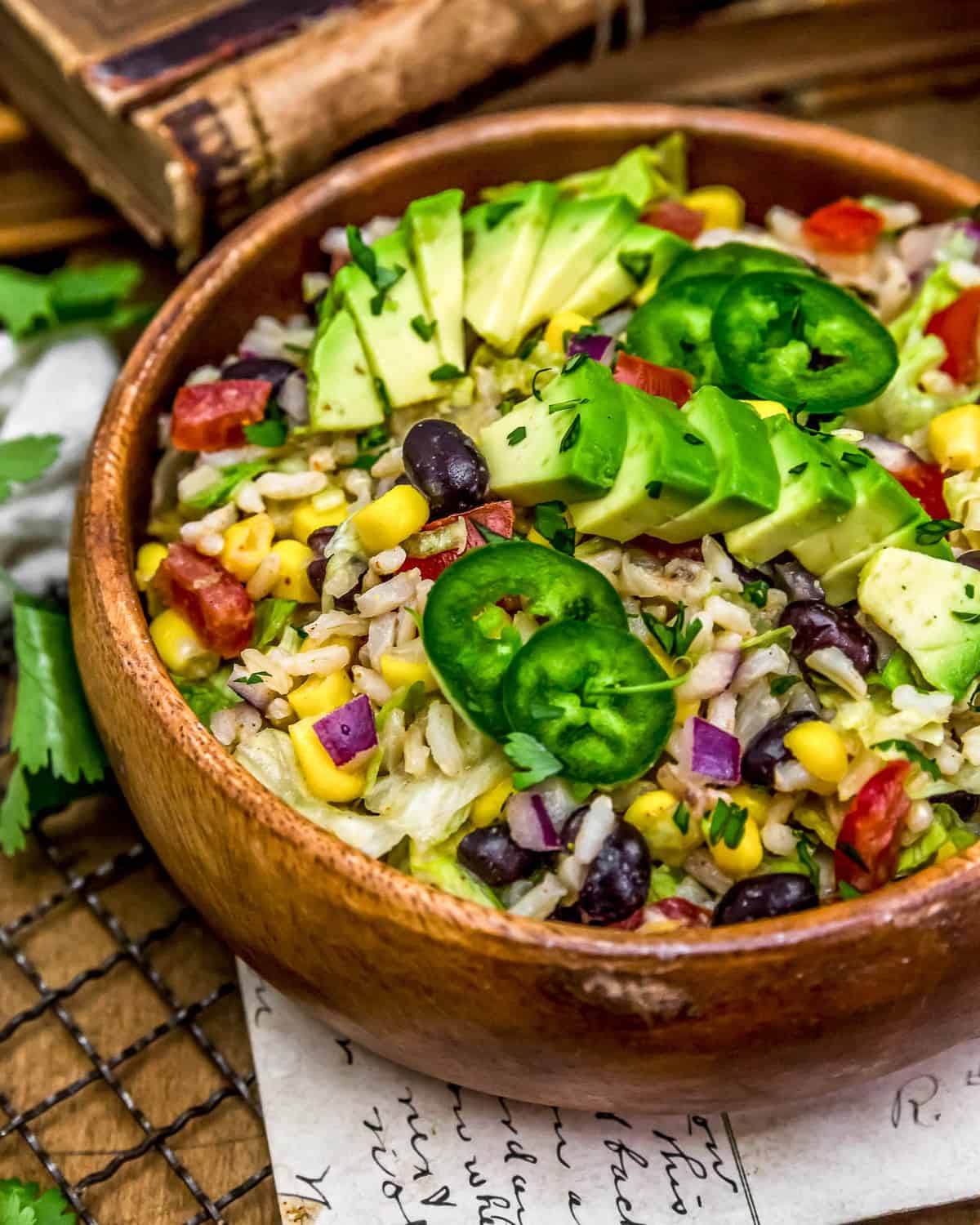 Super easy to make, this flavorful, healthy, and delicious Tex-Mex Rice Salad is a wholesome twist and packed with nourishing plant powerhouse goodness.  Protein-packed black beans, sweet corn, rich tomatoes, hearty rice, refreshing lettuce, and zesty red onions all mixed with a deliciously spicy Chipotle Lime Dressing that is absolutely perfect for busy weeknight dinners, lunches, and potlucks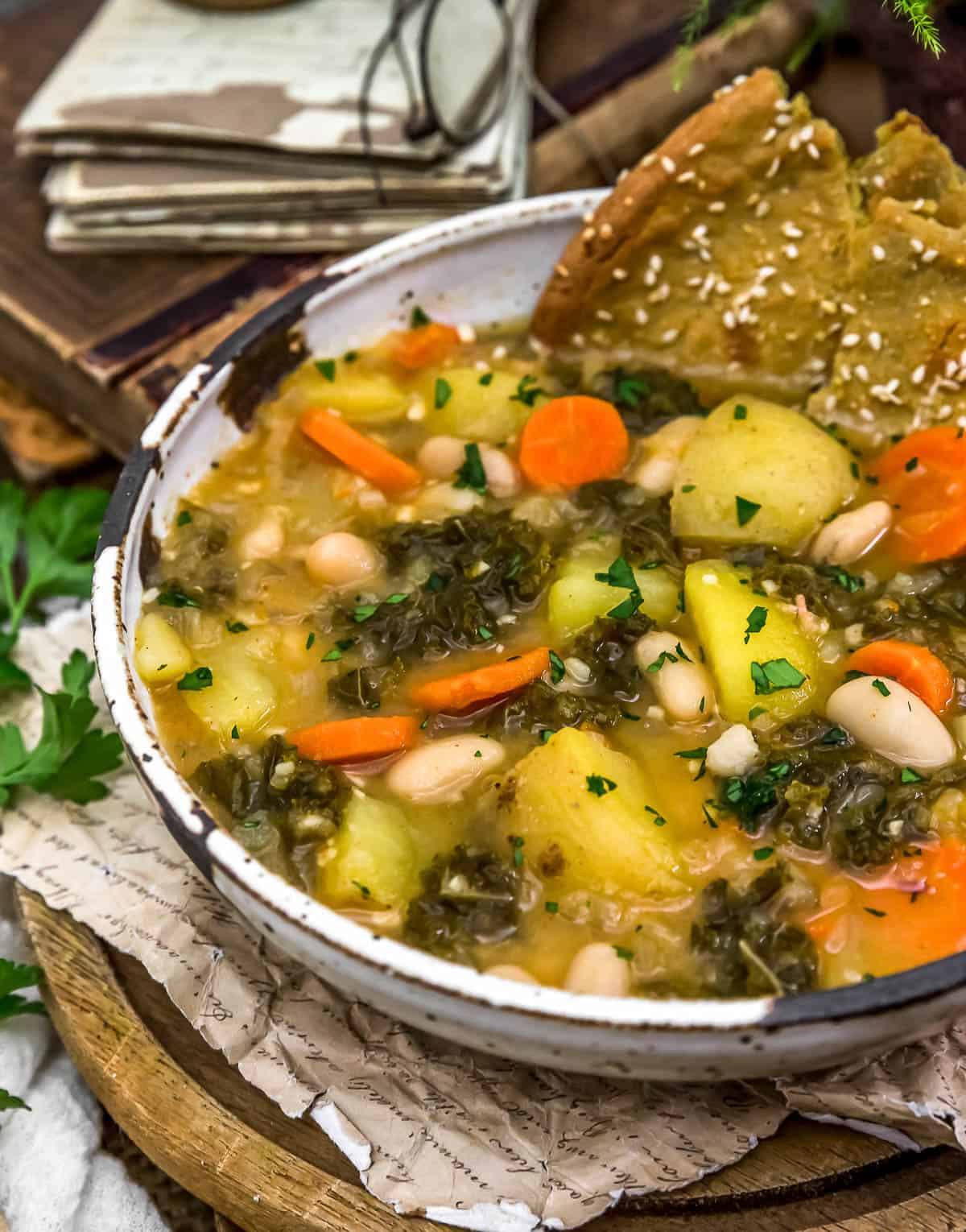 Layers of flavor like: smoky, tangy, and earthy is the key to this comforting soup. This Vegan Potato "Kielbasa" Kale Soup is deliciously savory, hearty and easy to make.  It includes potatoes, onions, carrots, celery, garlic, kale, beans, herbs and spices, bringing all those amazing flavors together to create next level yumminess.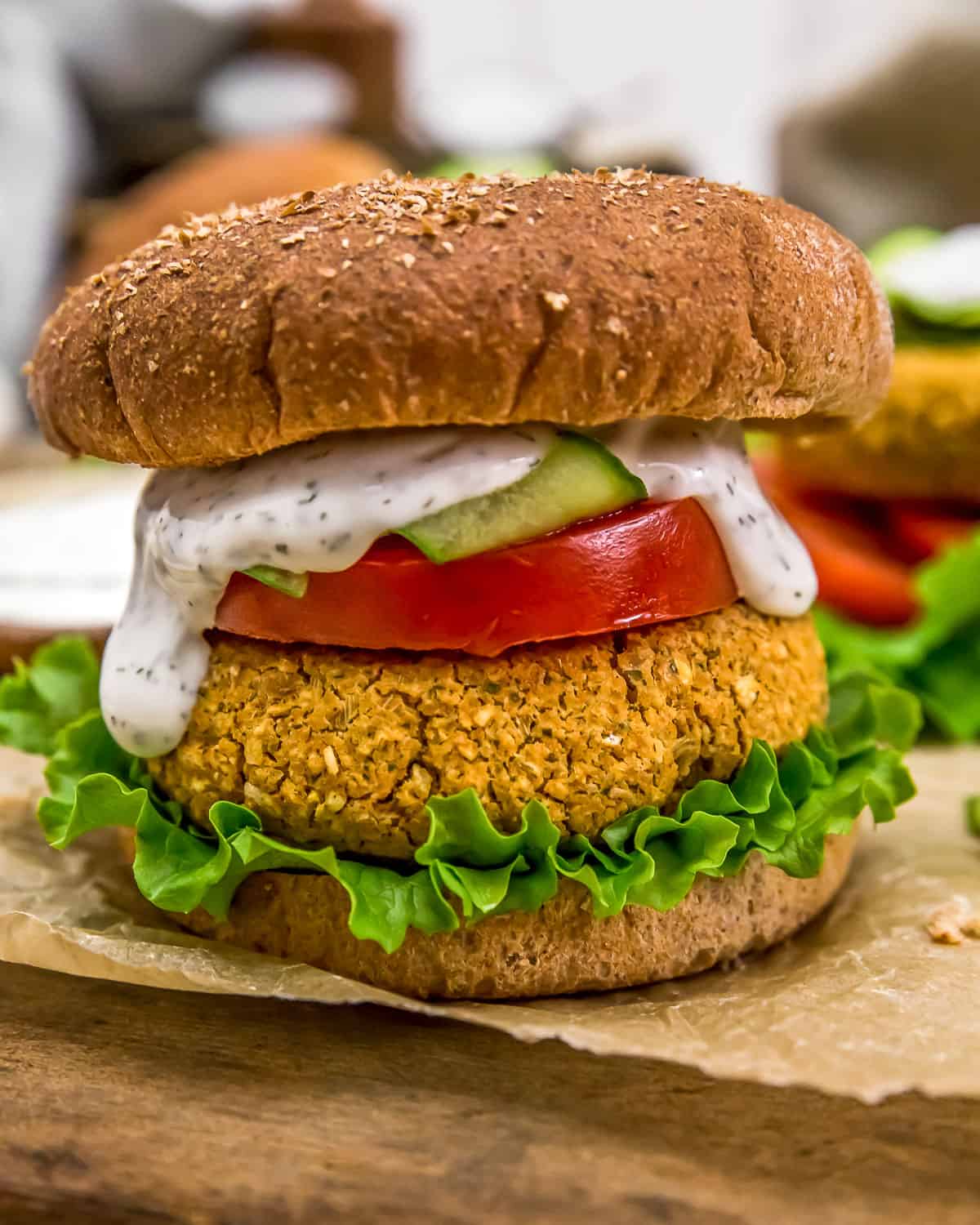 Easy to make and oh-so-flavorful, this oil-free Vegan "Salmon" Burger has got it going on: crispy, tender, bold, zesty, and all around crazy delicious.  Made from hearty brown rice, tender oats, protein-packed chickpeas and flakey hearts of palm, this plant-powered burger comes together quickly and totally delivers wholesome goodness.  Perfectly seasoned and oven baked, these Vegan "Salmon" Burgers are topped with zesty Dill Sauce, refreshing tomatoes, and cooling cucumbers creating the perfect combination of textures and flavors.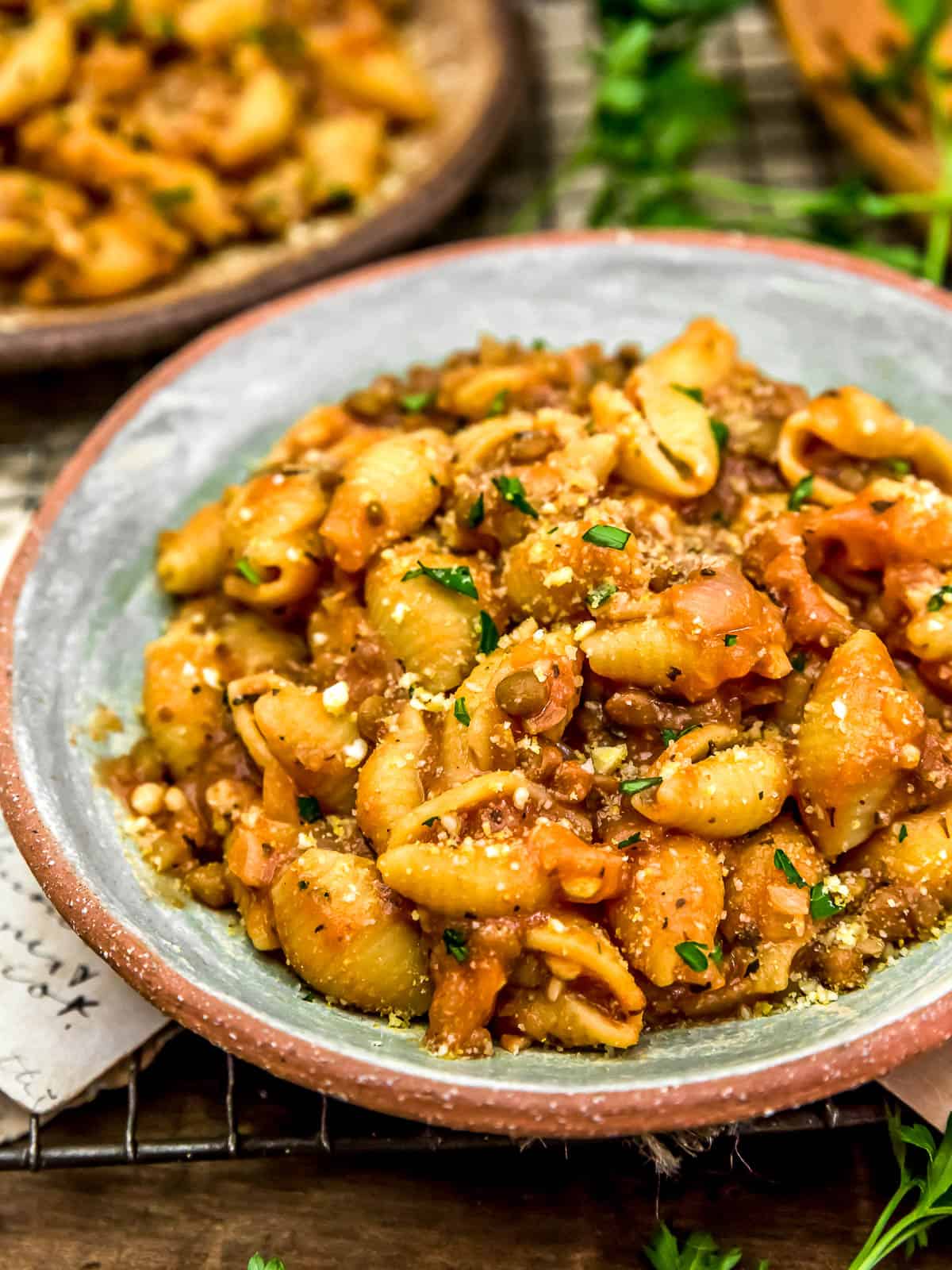 Bringing all those amazing Italian herbs and spices together with this delicious, hearty, and oil-free Creamy Lentils and Shells dish, your week night meals just got a whole new flavor boost. Garlic, onions, hearty lentils and tender pasta shells are swimming in a delightfully delicious tomato-based sauce. The whole family will be singing your culinary praises all week.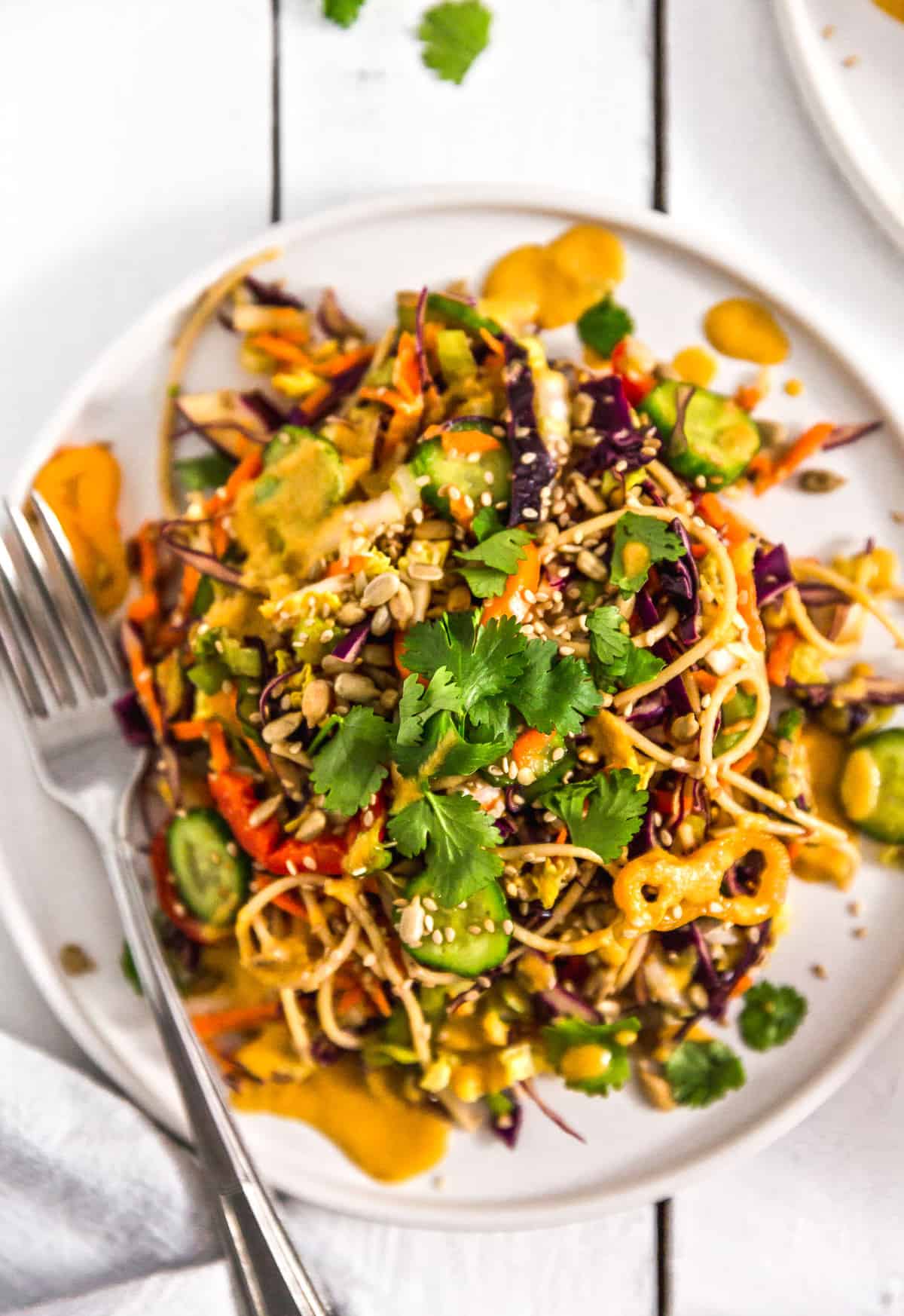 Incredibly easy to make, this Ginger Dressing is bursting with flavor and tastes fresh, light and creamy.  The flavors are bright, colorful, and a perfect complement to many dishes. This tasty ginger dressing boasts no oil making this refreshing salad dressing an ultimate Whole Food Plant Based recipe!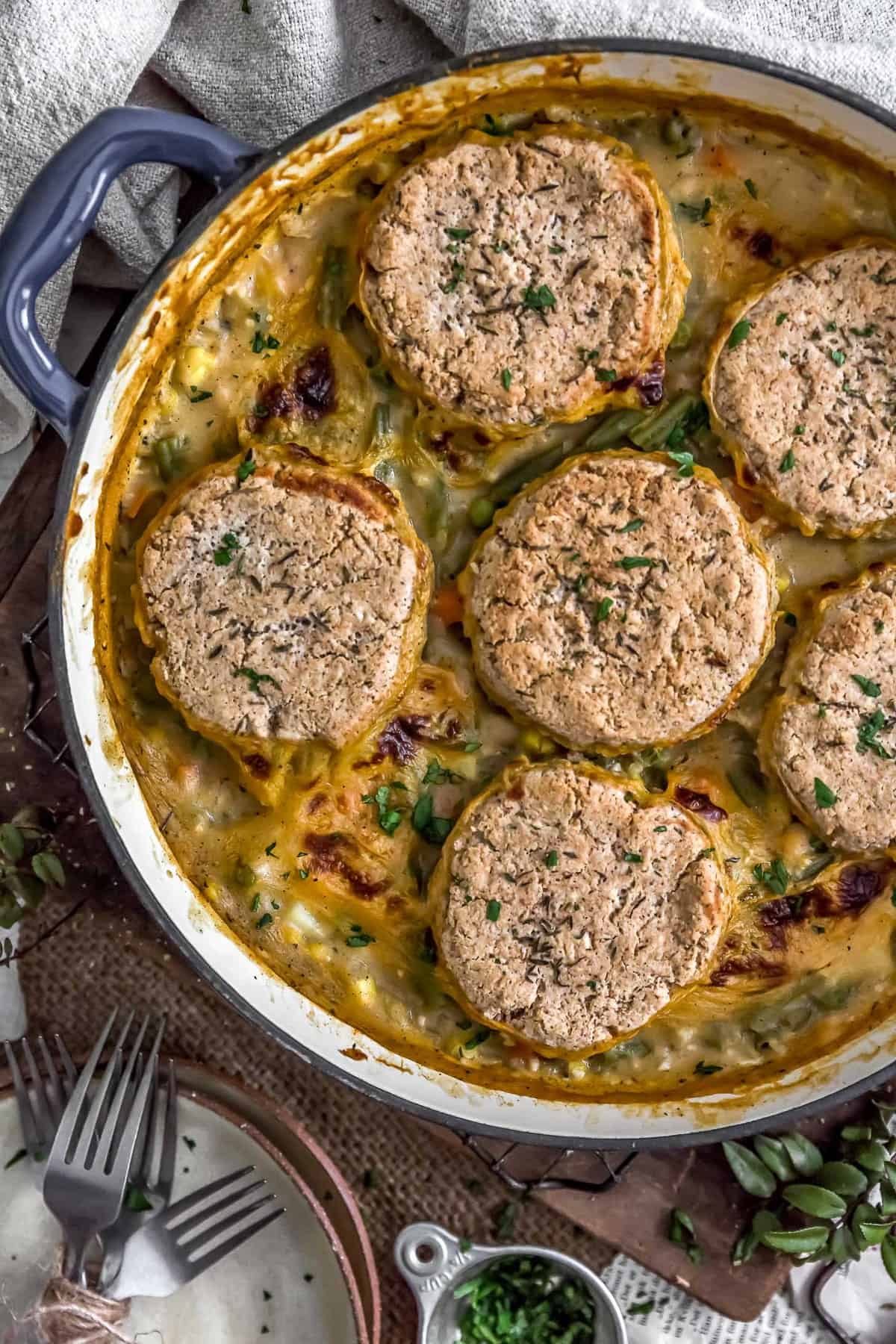 We are going totally cozy overload with this ultimate comforting dish! Our rich, creamy, and brimming with flavor Vegan Biscuit Pot Pie is loaded with wholesome and filling veggies like: peas, carrots, potatoes, green beans, cannellini beans, and corn and bathed in a delicious seasoned gravy for full warming-goodness effect. Then topped with hearty rustic biscuits that are tender and fantastic for soaking up delicious gravy. This hearty dish is sure to  keep you full and satisfied for hours.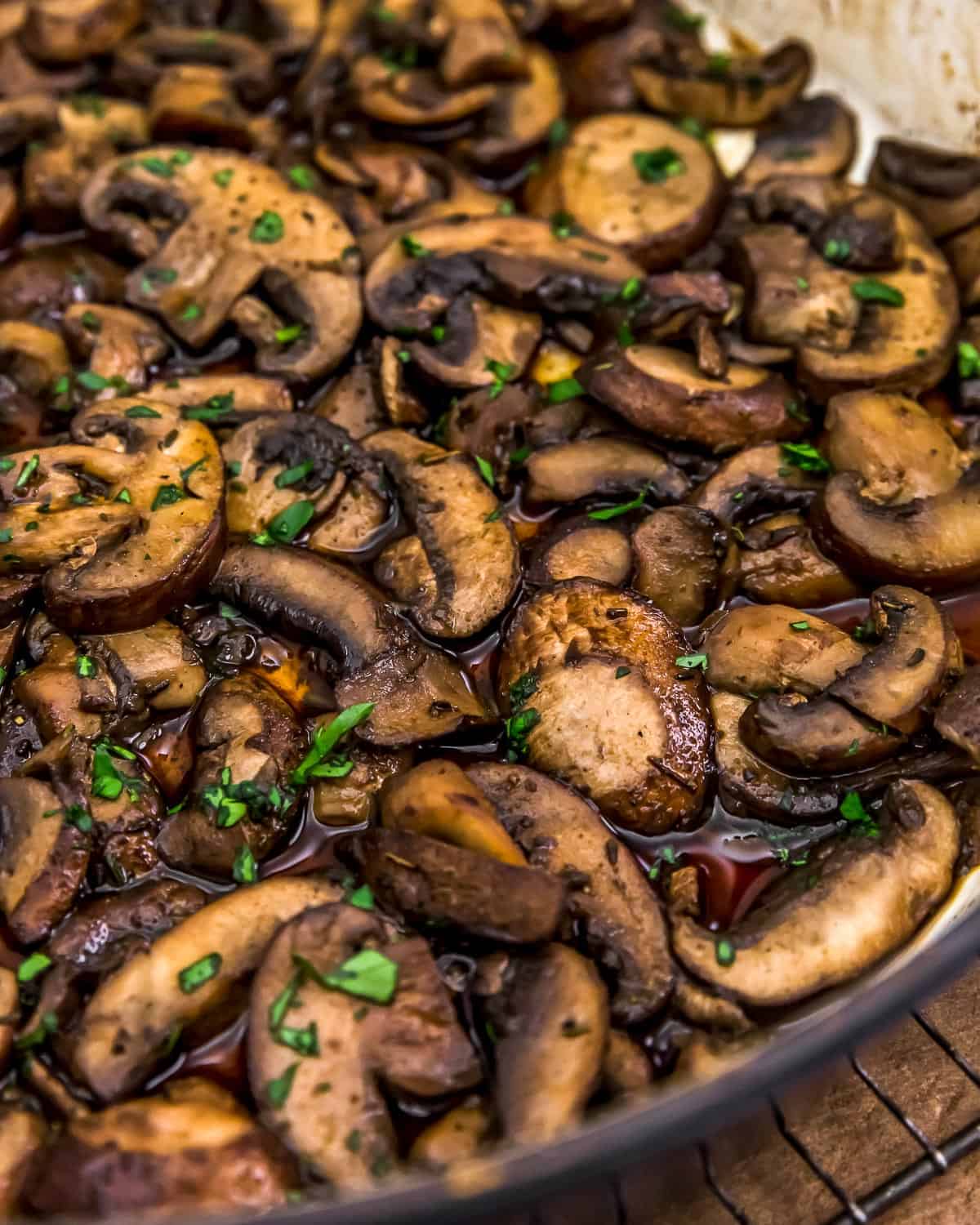 A perfect side dish for dinner or piled high in a veggie bowl, this flavorful, oil-free Simple Herbed Mushrooms dish is sure to get those taste buds tingling.  Earthy mushrooms infused with harvest herbs and sautéed to perfection is just what you need.  Bonus it only has minimal ingredients and is low-fat.  You simply won't believe how easy it is to make and how crazy good it tastes!