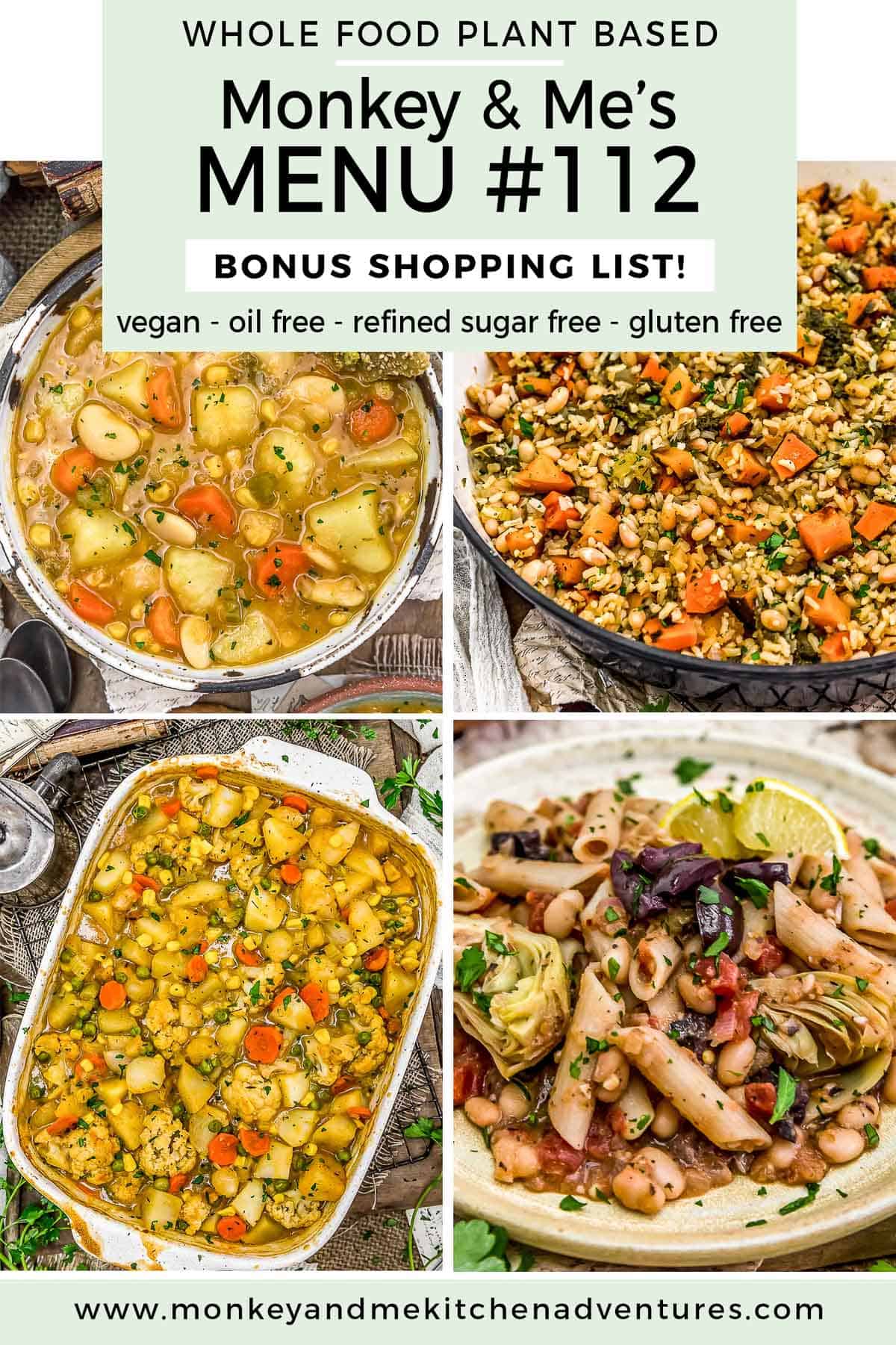 This week's Monkey and Me's Menu features some tasty recipes.  Menu #112 includes a FREE bonus shopping list.  All recipes are Whole Food Plant Based, vegan, plant based, oil free, refined sugar free, no highly processed ingredients, and gluten free.

Downloadable Menu which offers the following:

2 Breakfast ideas
2 Lunch ideas
2 Snack Ideas
5 Dinner Ideas, including a FREE downloaded shopping list (PDF – Below)

A comprehensive (downloadable) shopping list for the 5 Dinners

The shopping list is segmented into the common grocery store sections like "produce, spices, etc." making it easy to pick up these items from your local grocery store.
It also includes product suggestions that are Whole Food Plant Based compliant* for easy reference.  Note: These products are suggestions, please feel free to select your own favorite products.
Includes helpful codes so you can easily subtract items that you choose not to make.

Downloadable Instructions on how the meal plan work.
Note:  The term "Whole Food Plant Based compliant" is from a general standpoint.  There are Whole Food Plant Based diet branches that restrict certain food items.  Our recipes are all Whole Food Plant Based compliant based upon a high-level compliance standpoint. i.e. vegan, plant based, oil free, refined sugar free, minimally processed foods.
Some breakfast, lunch, and snack ideas are simple concepts that require no recipe.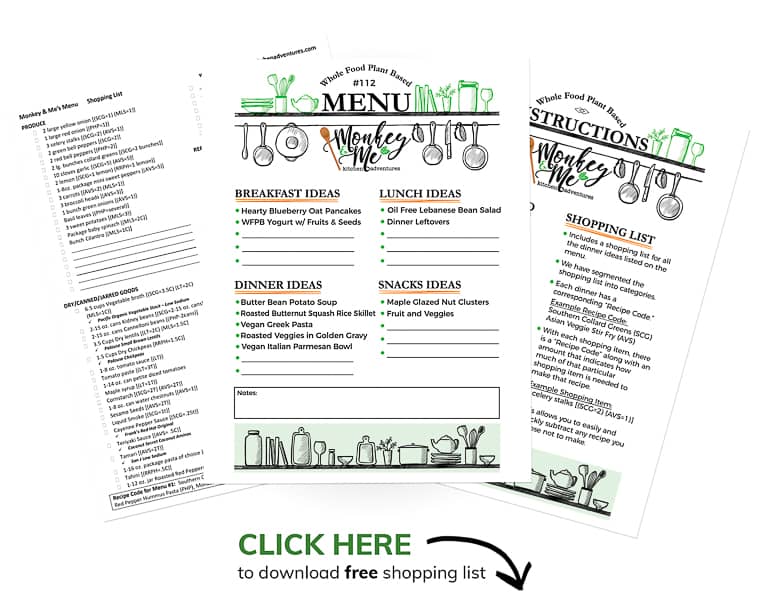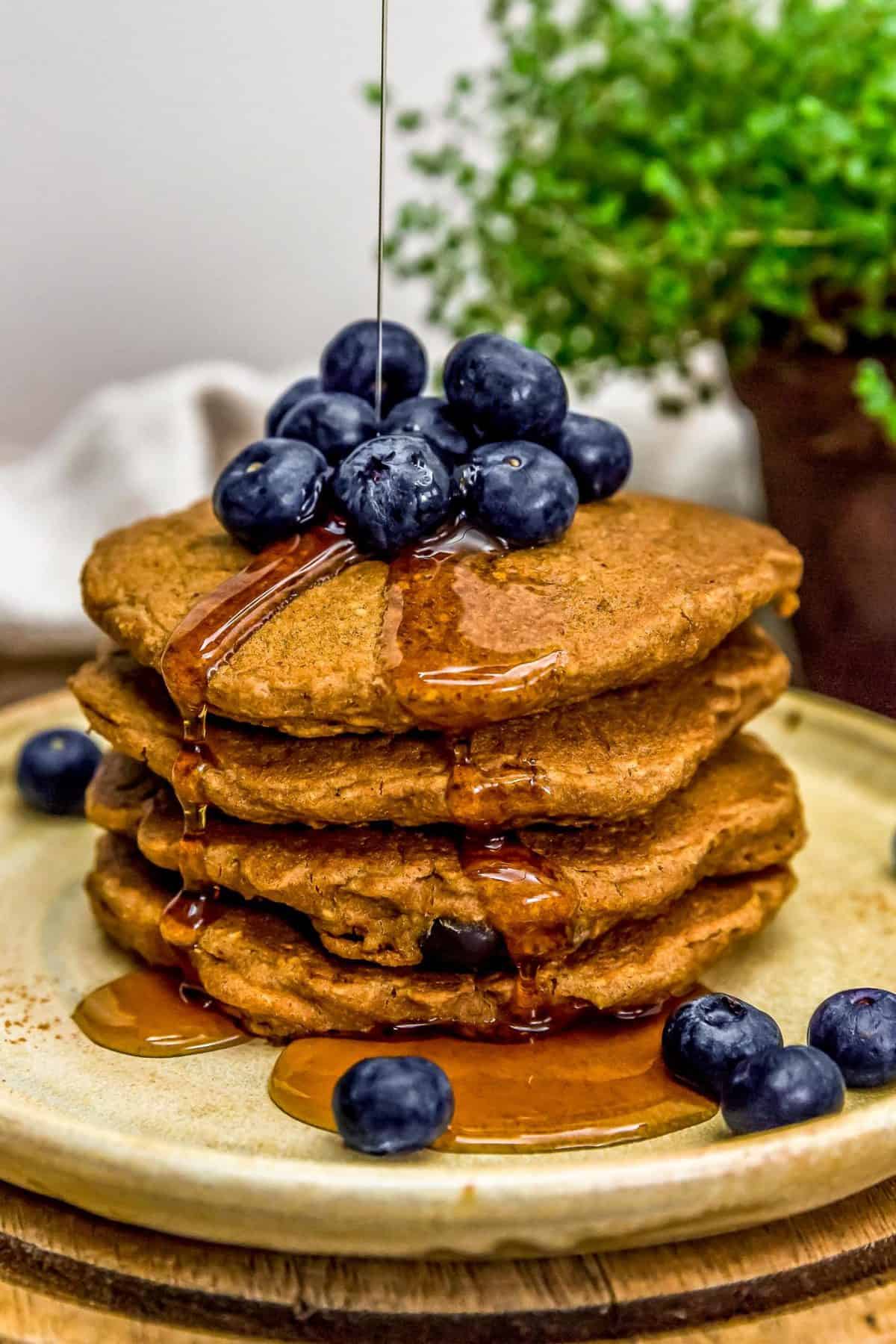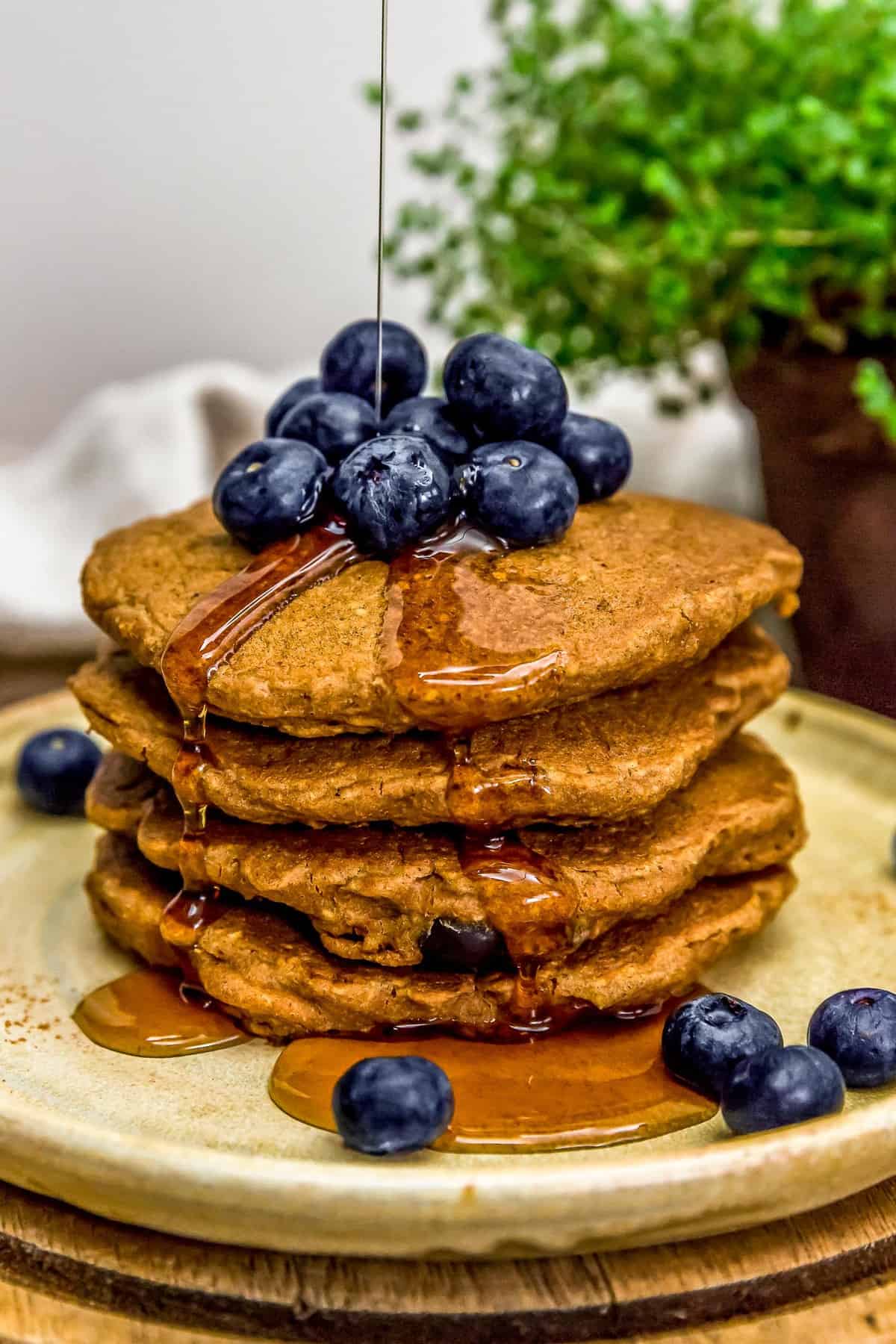 These stick-to-your-ribs Hearty Blueberry Oat Pancakes are healthy, filling, and oh-so-delicious.  Juicy, sweet blueberries are the star of this pancake show coupled with hearty and dense oats; it's a breakfast that is sure to please. These tasty treasures are made with a base of rolled oats, wholesome ingredients, and sprinkled with flavorful bursts of refreshing sweet blueberries. The whole family will be seated at the breakfast or brunch table in a flash!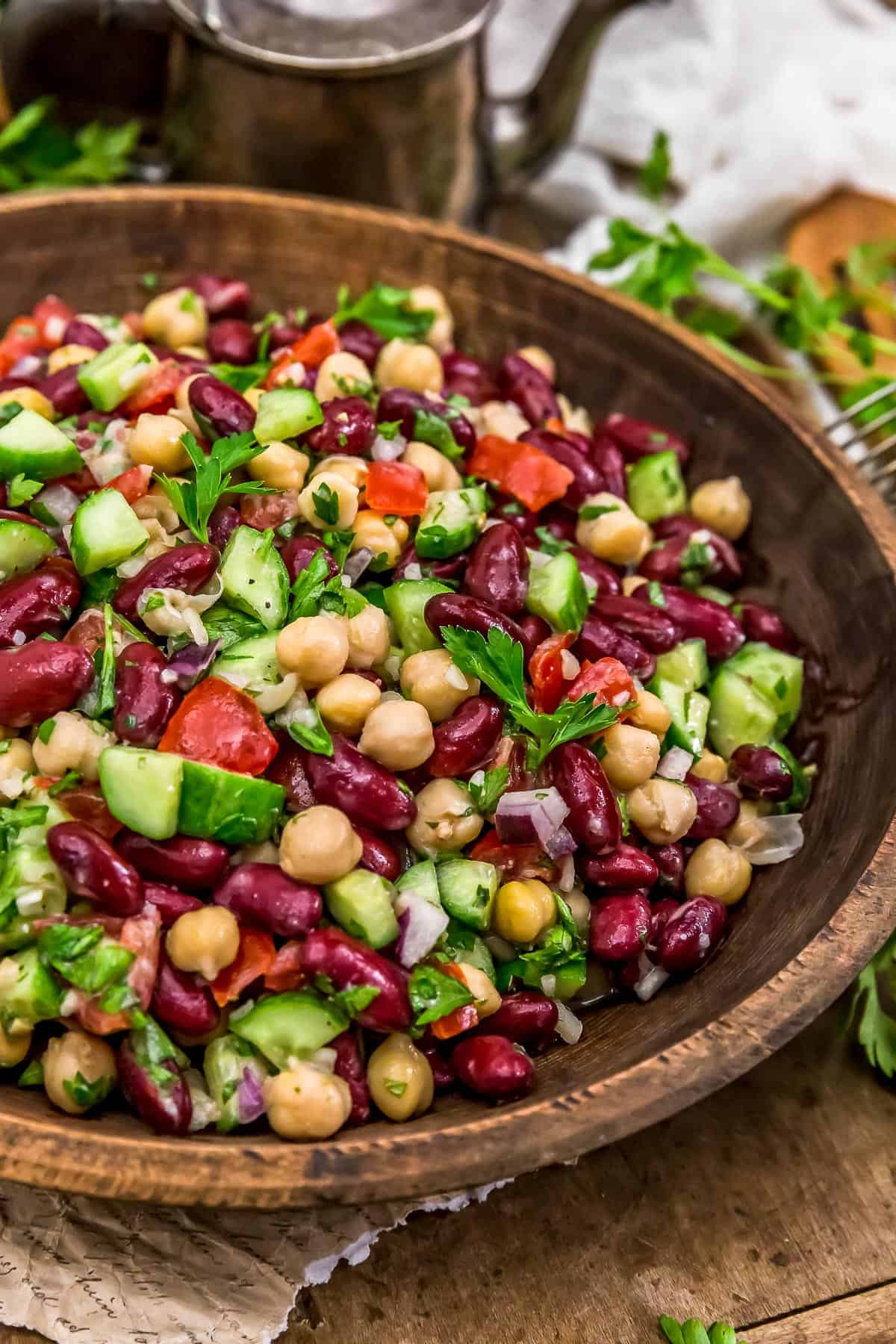 Vibrant, flavorful, and healthy, this Oil Free Lebanese Bean Salad is a burst of fresh deliciousness. Plant goodness like: fresh parsley and mint leaves, crisp cucumbers, rich tomatoes, zingy red onions, and creamy chickpeas and kidney beans are all coated in an oil-free zippy lemony dressing that is sure to get those taste buds dancing. This wholesome salad makes for a perfect lunch, appetizer, or snack.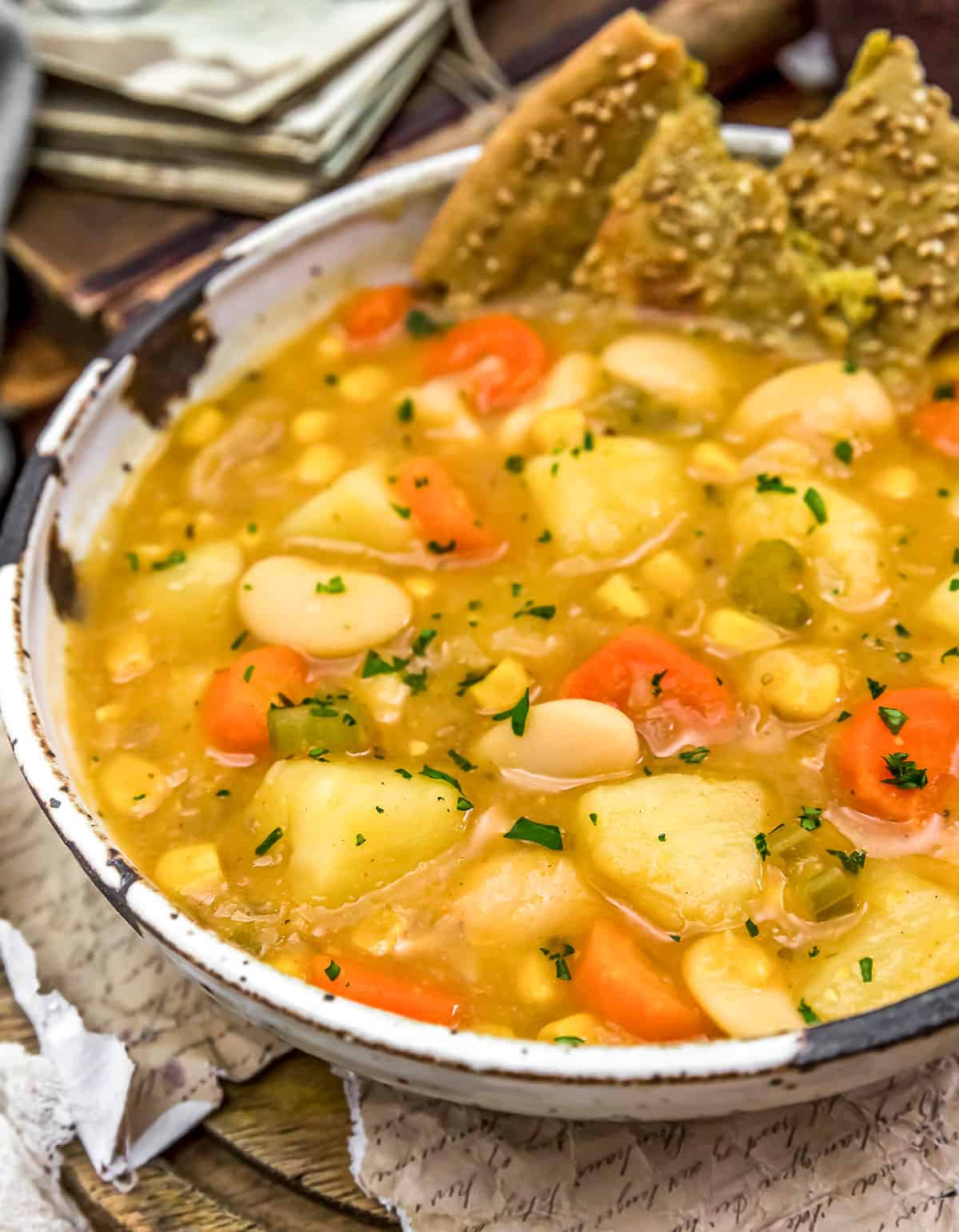 Creamy, wholesome, and delicious, this oil-free, low-fat Butter Bean Potato Soup is easy to make and brimming with plant-rich goodness. You won't miss a thing with this guilt-free, homestyle soup that's loaded with chunks of hearty potatoes and tender butter beans. This hearty and satisfying soup is sure to please! We've provide both Instant Pot and stovetop instructions for ease.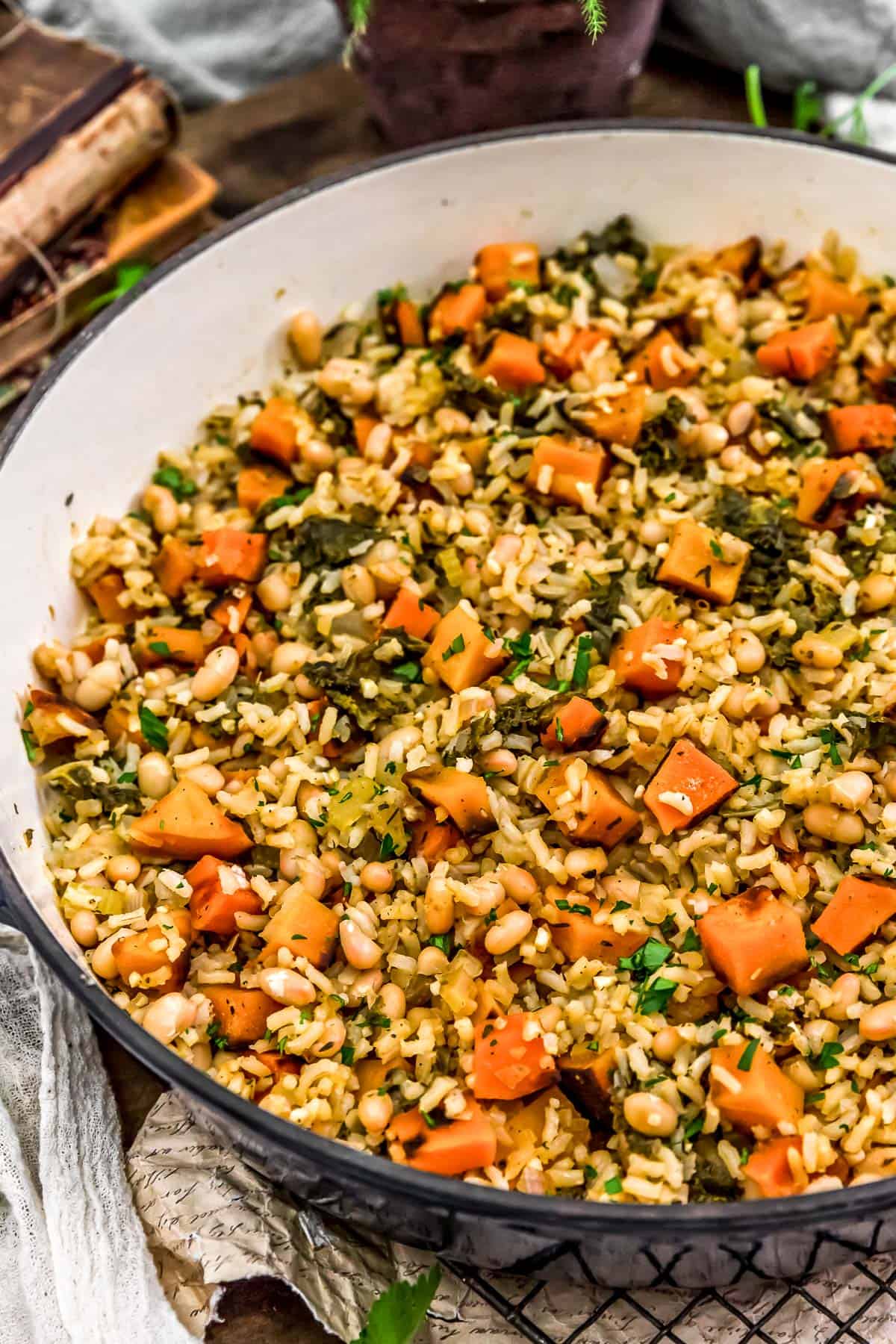 Bringing all those amazing fall herbs and spices together with this delicious, hearty, and oil-free Roasted Butternut Squash Rice Skillet. Wholesome and low-fat, plant powerhouse goodness like: butternut squash, celery, garlic, onions, kale, rice, and navy beans come together in an amazingly delicious skillet dinner that the whole family is sure to love.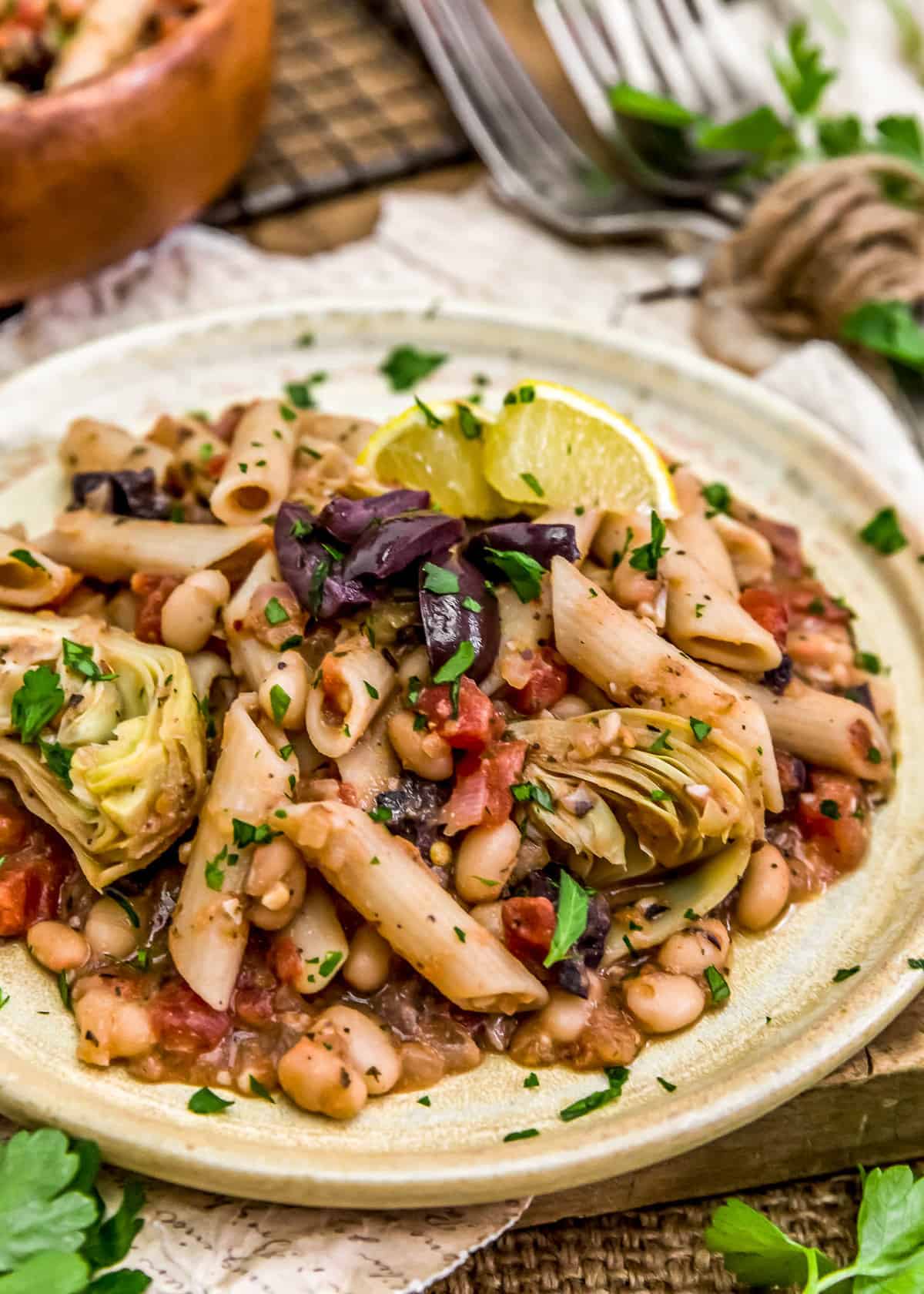 Bringing all those amazing Greek flavors together with this delicious and hearty Vegan Greek Pasta dish. Tender pasta, protein-packed navy beans, marinated artichokes, and briny kalamata olives are coated in delicious lemony flavors and Greek spices that are sure to make your belly happy.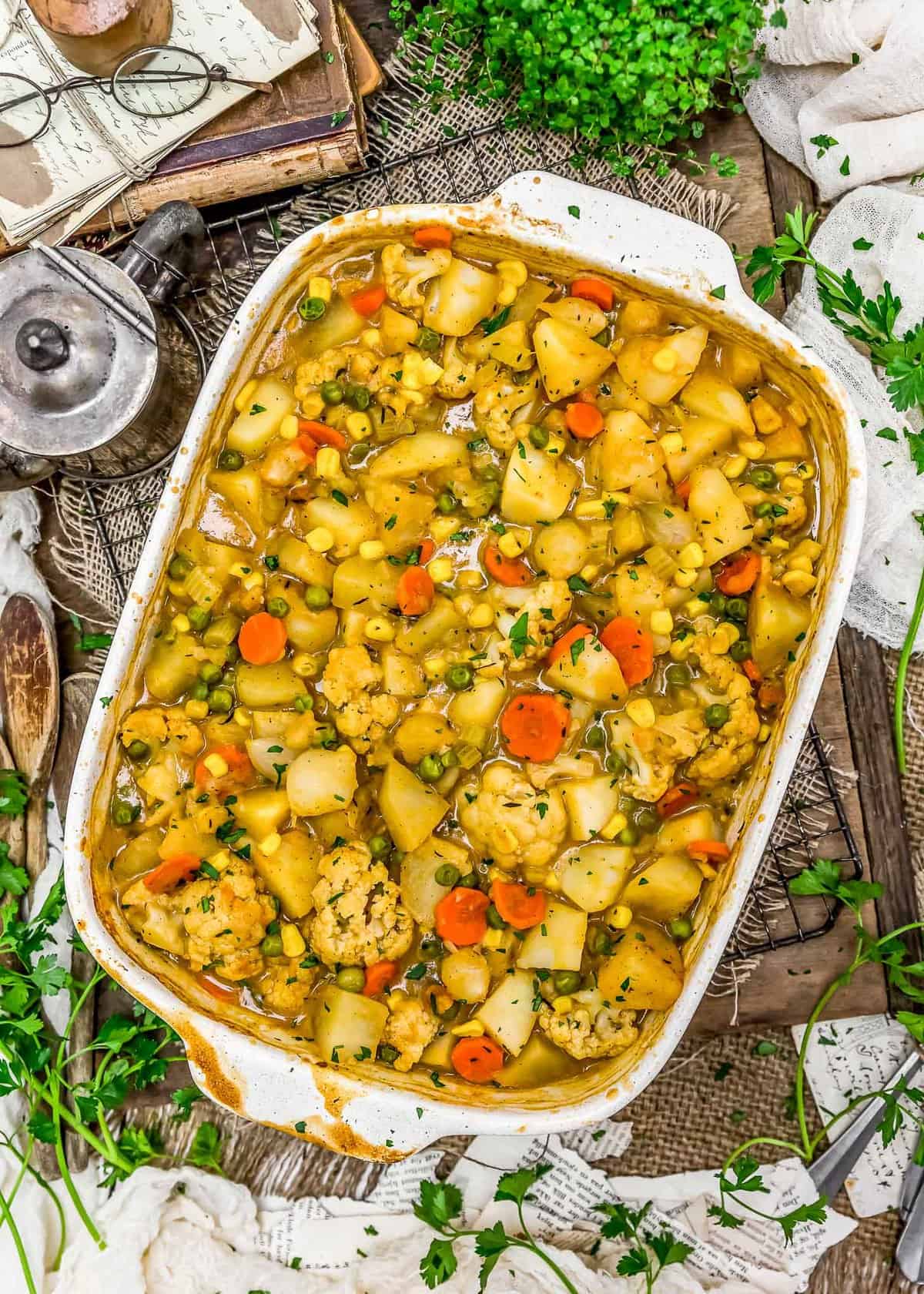 Grab a bowl and get ready for an ultimate comfort food paradise. Rich, flavorful, and cozy, this Roasted Veggies in Golden Gravy boasts hearty potatoes, sweet pearl onions, wholesome carrots, earthy celery, and nourishing cauliflower all bathed in an aromatic golden gravy. This perfectly seasoned gravy is full of soul warming goodness that is sure to have the entire family seated at the table in a flash to down all these tasty veggies. It's hearty, delicious, and sure to make your belly happy.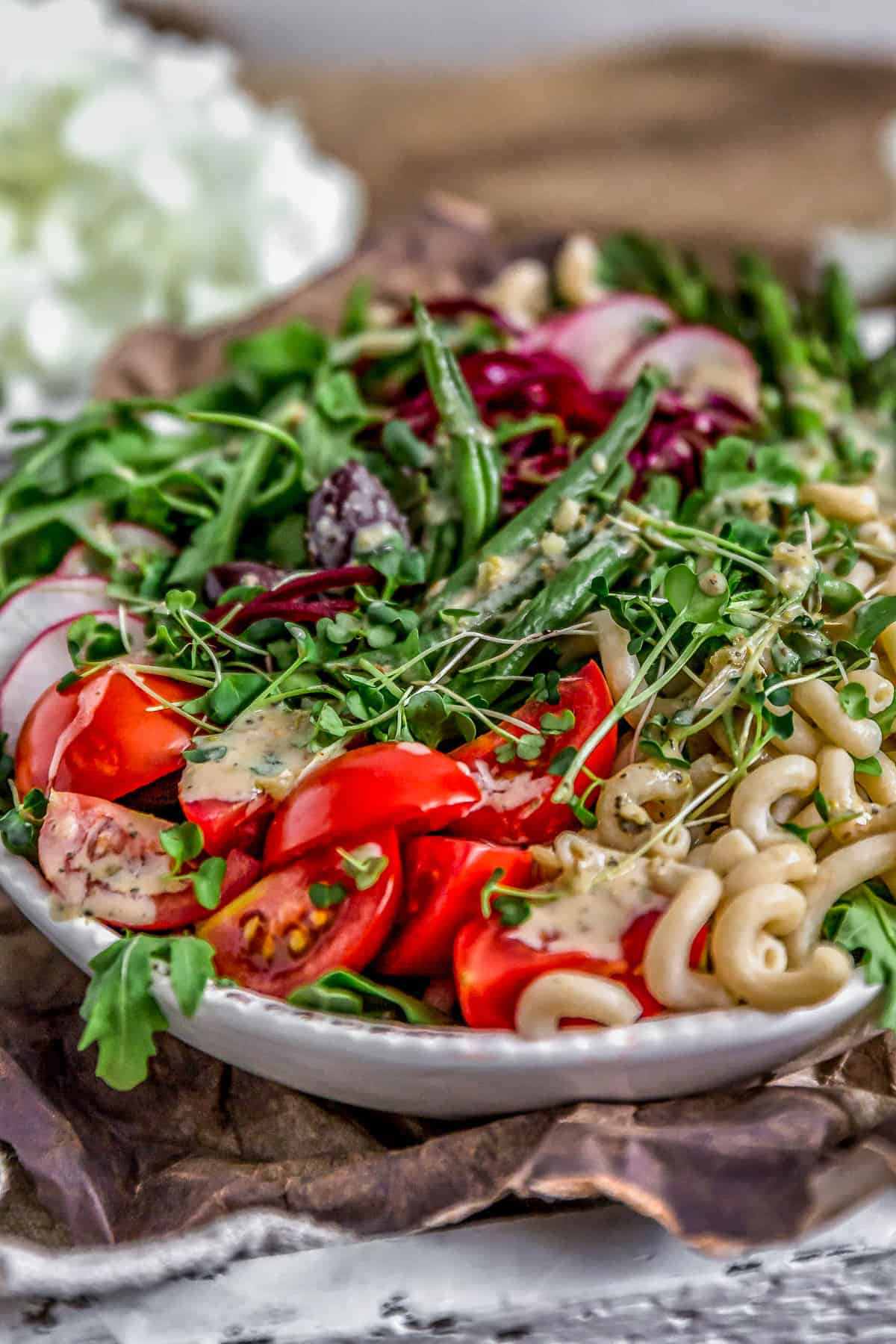 We don't know about you, but we seriously crave salad ev-ery-day and the KEY is a healthy, delicious, and satisfying dressing. This creamy, tangy, rich, and cheesy Oil Free Vegan Italian Parmesan Dressing will have you dreaming of salads. It's a perfect blend of tangy red and white wine vinegars,  velvety tahini, tart lemon juice, aromatic Italian seasonings, carmely maple syrup, nutty nutritional yeast all combined together to delight your taste buds.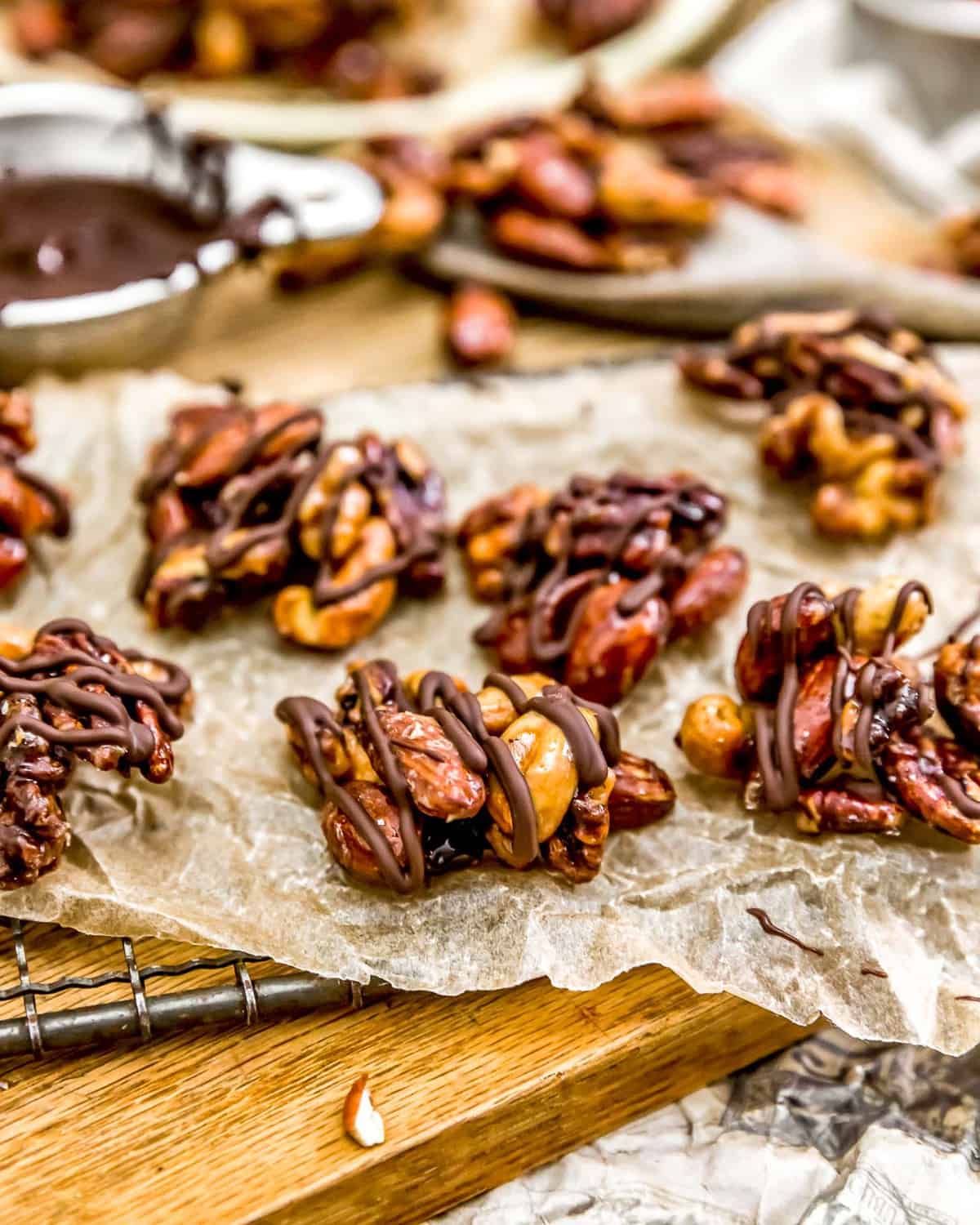 Sticky, crunchy, and chocolatey, these Maple Glazed Nut Clusters are a simple and easy option for a delicious, healthy snack. Pecans, cashews, almonds, and walnuts are lightly toasted, then coated in a tasty maple syrup for a sweet treat that is sure to please.  Take it to the next level with a drizzle of vegan chocolate and large flake sea salt for complete deliciousness.