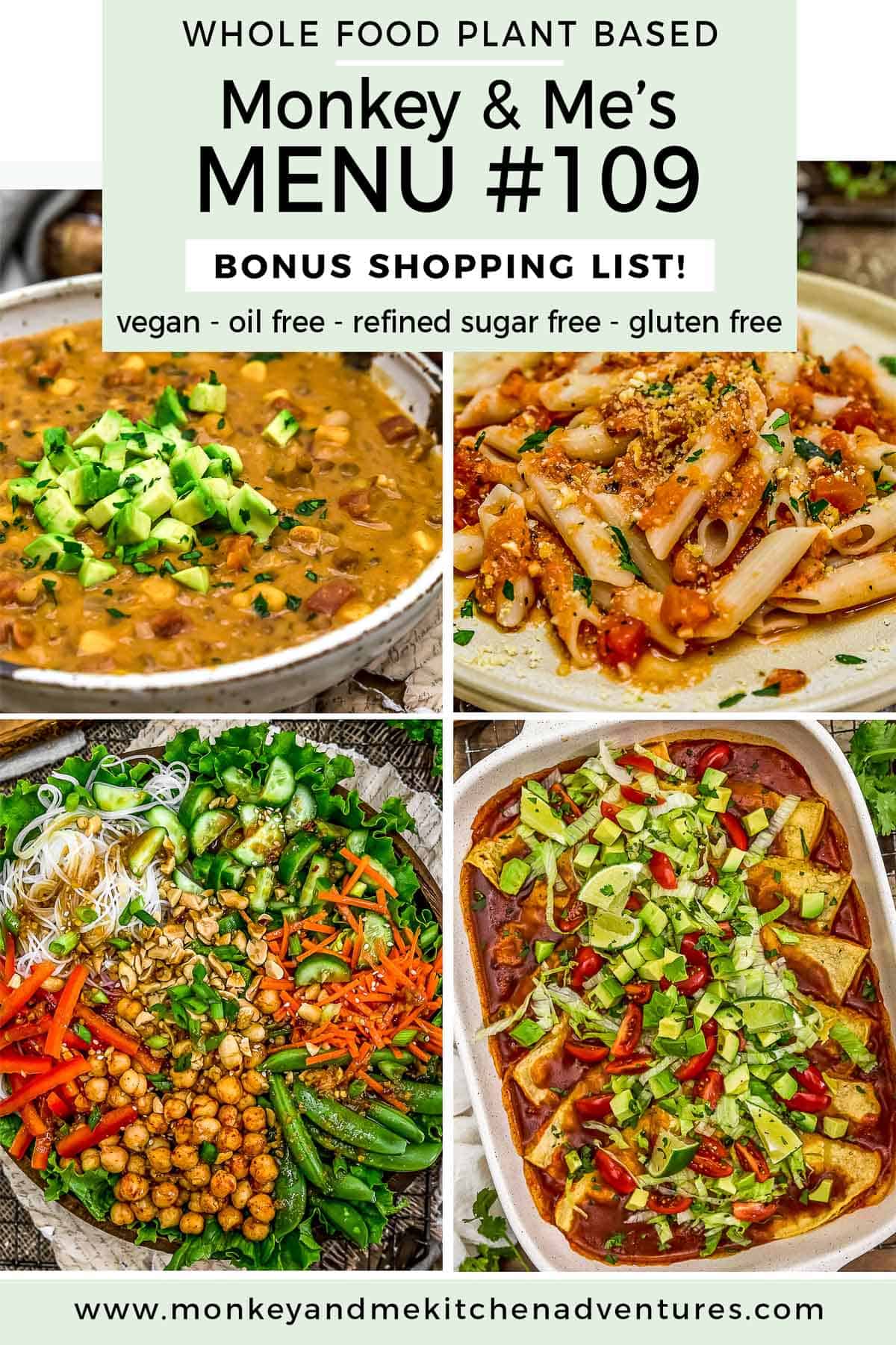 This week's Monkey and Me's Menu features some tasty recipes.  Menu #109 includes a FREE bonus shopping list.  All recipes are Whole Food Plant Based, vegan, plant based, oil free, refined sugar free, no highly processed ingredients, and gluten free.

Downloadable Menu which offers the following:

2 Breakfast ideas
2 Lunch ideas
2 Snack Ideas
5 Dinner Ideas, including a FREE downloaded shopping list (PDF – Below)

A comprehensive (downloadable) shopping list for the 5 Dinners

The shopping list is segmented into the common grocery store sections like "produce, spices, etc." making it easy to pick up these items from your local grocery store.
It also includes product suggestions that are Whole Food Plant Based compliant* for easy reference.  Note: These products are suggestions, please feel free to select your own favorite products.
Includes helpful codes so you can easily subtract items that you choose not to make.

Downloadable Instructions on how the meal plan work.
Note:  The term "Whole Food Plant Based compliant" is from a general standpoint.  There are Whole Food Plant Based diet branches that restrict certain food items.  Our recipes are all Whole Food Plant Based compliant based upon a high-level compliance standpoint. i.e. vegan, plant based, oil free, refined sugar free, minimally processed foods.
Some breakfast, lunch, and snack ideas are simple concepts that require no recipe.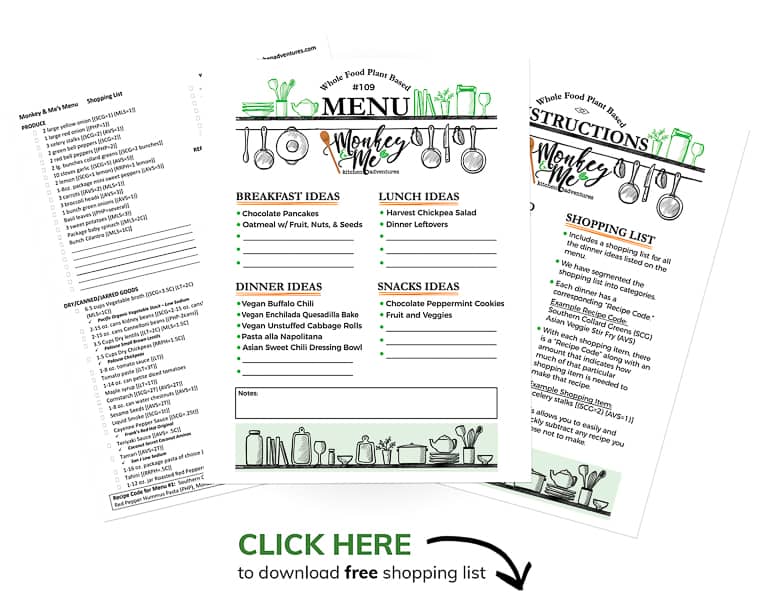 Enjoy these delicious and healthy Chocolate Pancakes that the whole family will love.  They are perfect for the holidays or any breakfast day of the week. These fluffy, chocolatey stacks of goodness are sure to be a big hit for your breakfast table.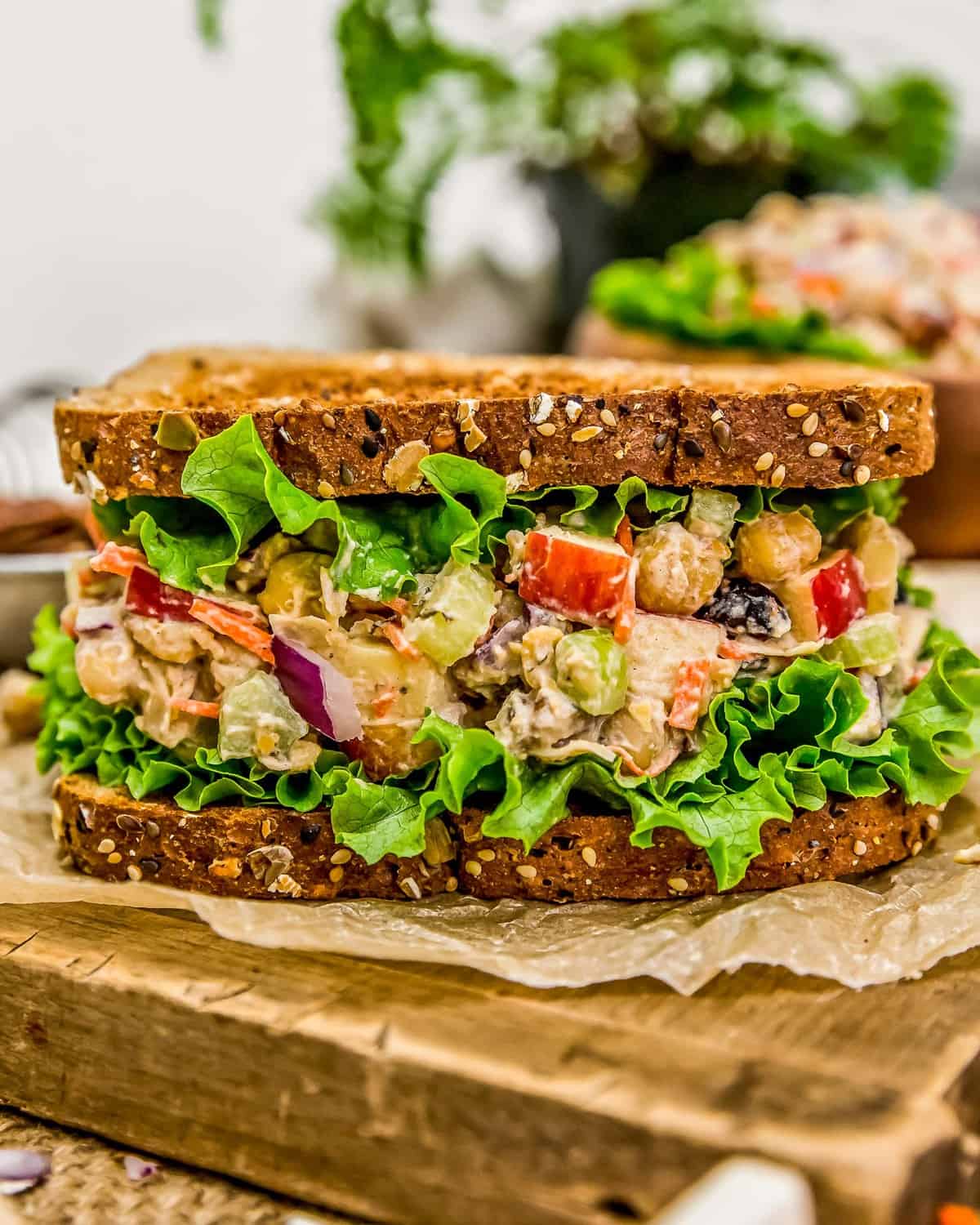 When you need an easy, flavorful, and healthy recipe that is easy to prepare and requires no cooking, look no further than our tasty Harvest Chickpea Salad; it's the perfect dish to put a smile on your face and make your belly happy. Hearty chickpeas, crisp celery, zesty red onions, sweet carrots, tart apples, chewy dried cranberries, and toasty pecans mixed with a creamy dressing bursting with harvest-flavored spices and herbs, really delivers a mouthful of flavor! Serve this hearty salad in sandwiches, wraps, lettuce cups, or as a salad topper – YUM!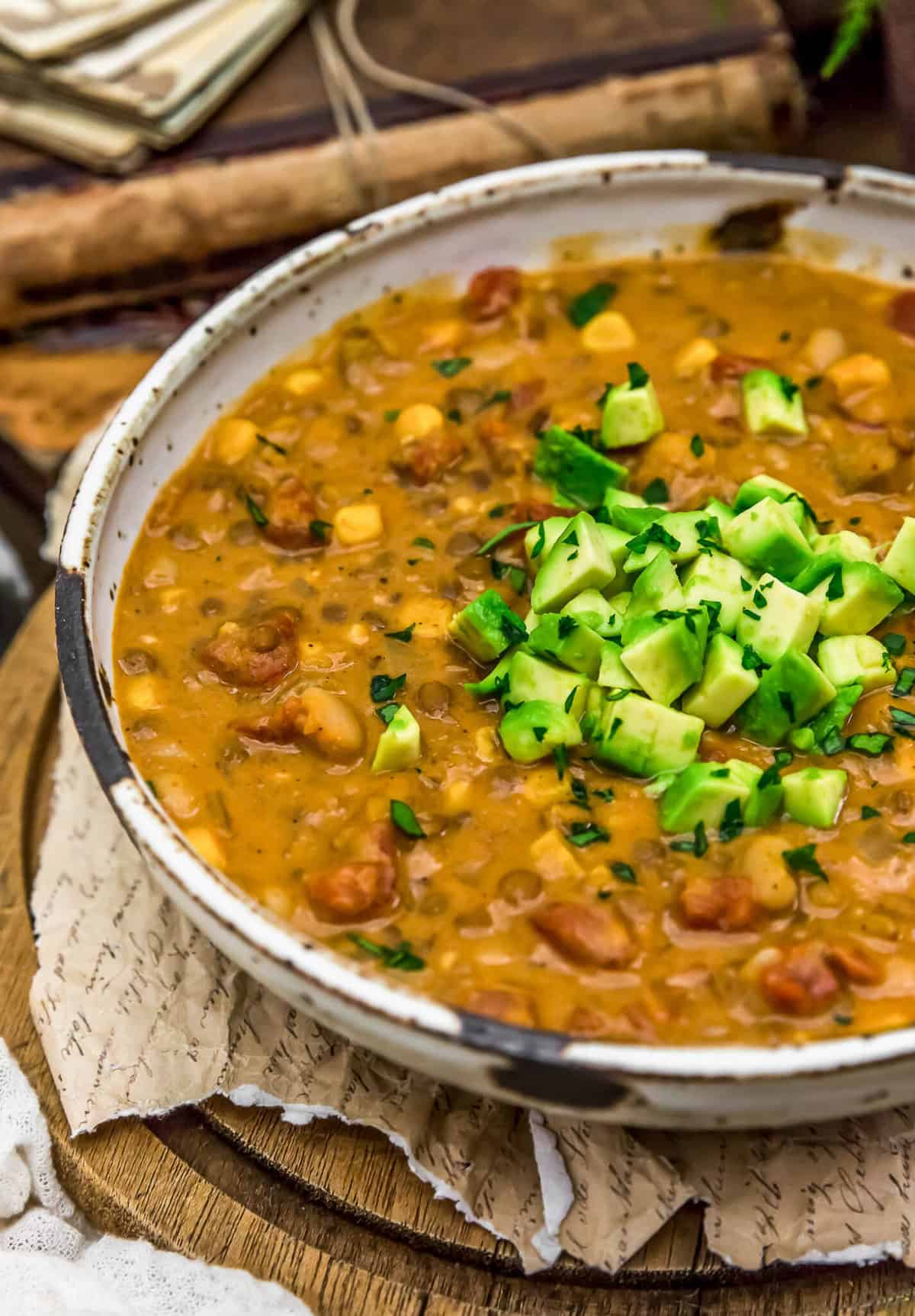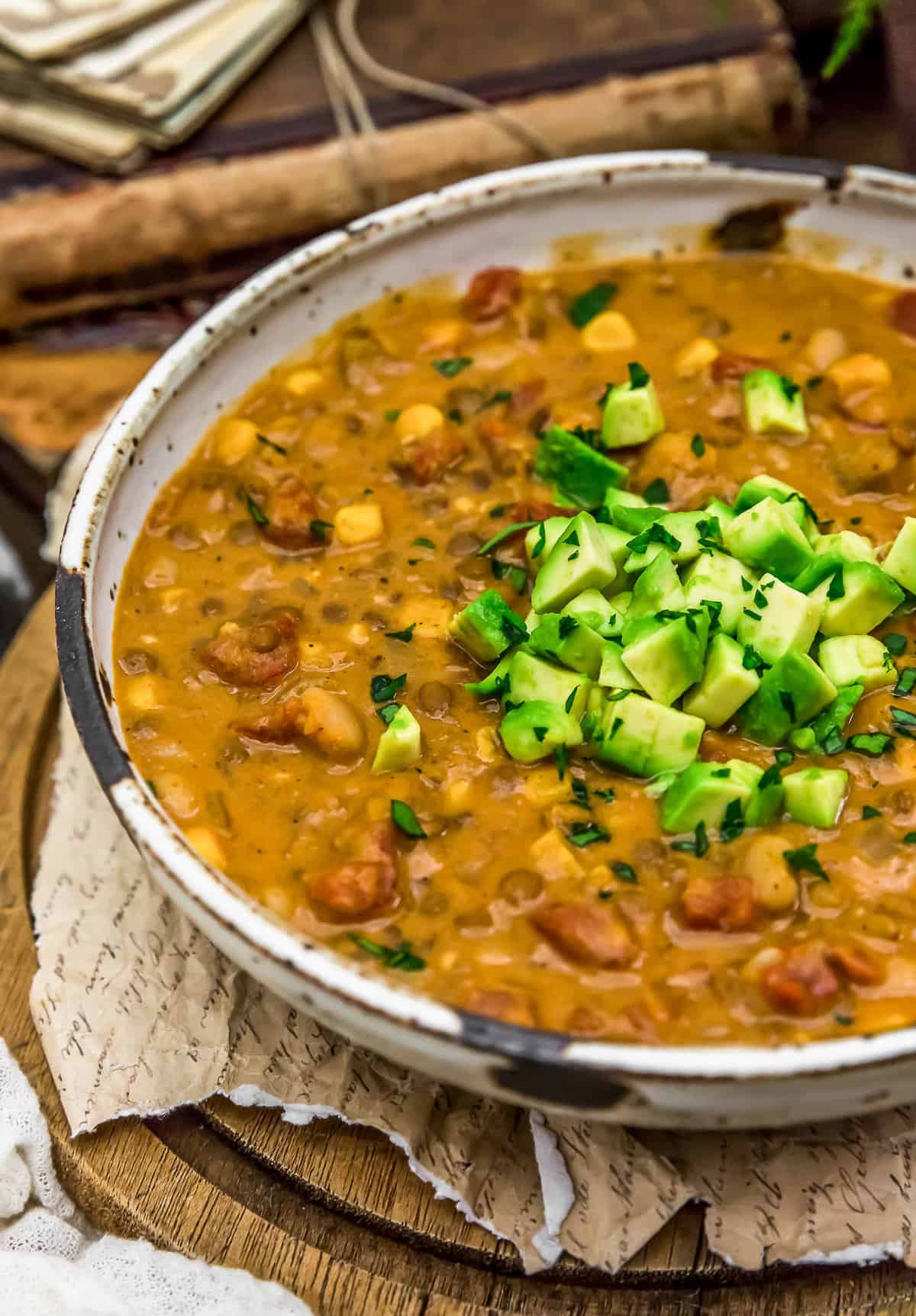 Cold nights call for cozy chili, and this ultra-satisfying, oil-free Vegan Buffalo Chili is all that and more. Hearty lentils, creamy navy beans, crisp sweet corn, rich tomatoes, and a velvety buffalo cashew cream all come together in the most delicious way. This comforting dish is sure to be the talk of the town. Perfect for potlucks, tailgates, and so much more, everyone will be wanting seconds of this tastiness!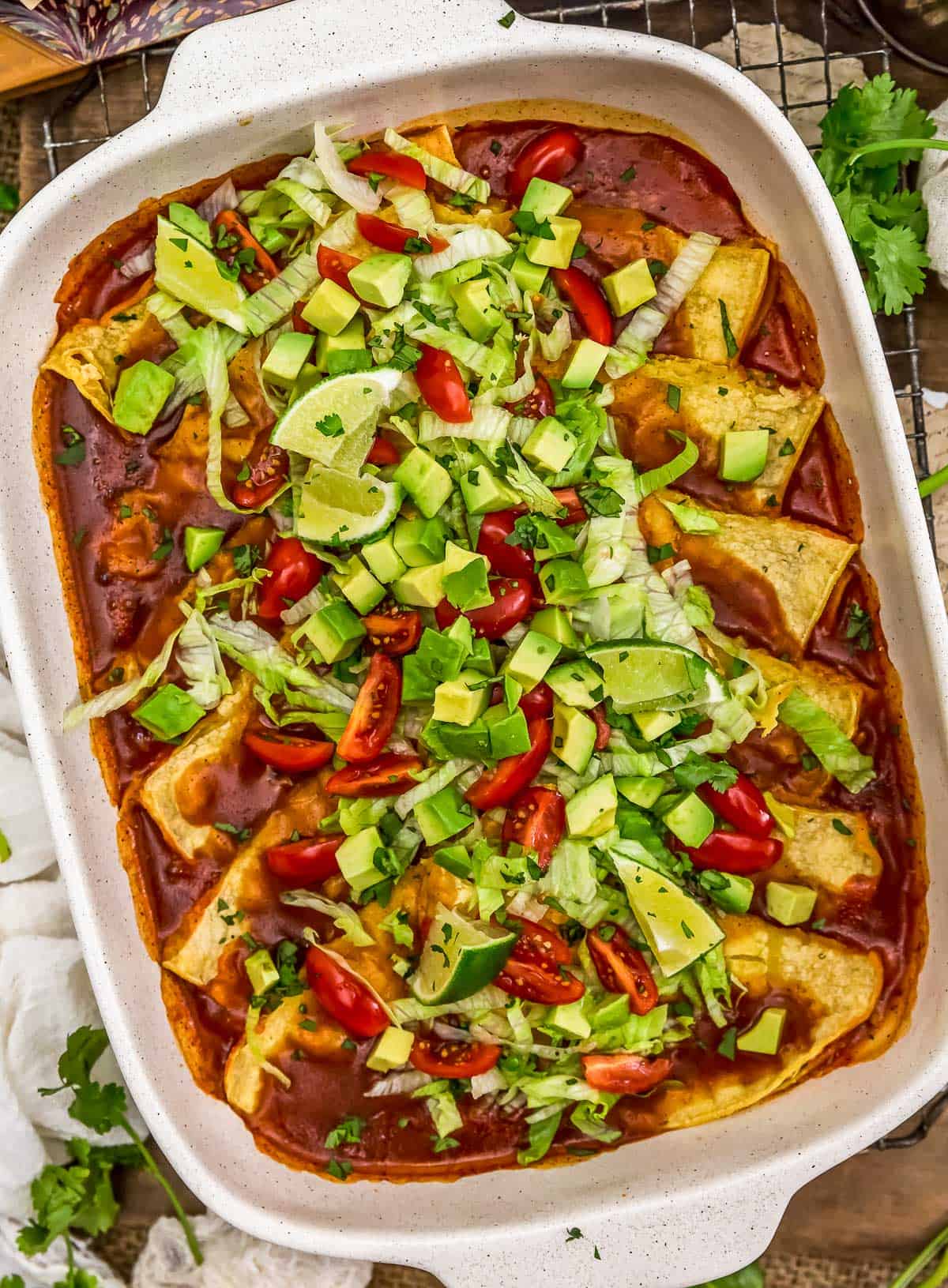 Bringing all those amazing Southwestern flavors together with this delicious and hearty Vegan Enchilada Quesadilla Bake. This dish boasts a pickled jalapeño, cheesy white bean-based spread stuffed in corn tortillas, layered together, and baked in a flavorful enchilada sauce. Serve it with some chopped avocados, fresh cilantro, shredded lettuce, tomatoes, and green onions for a meal you won't be able to resist.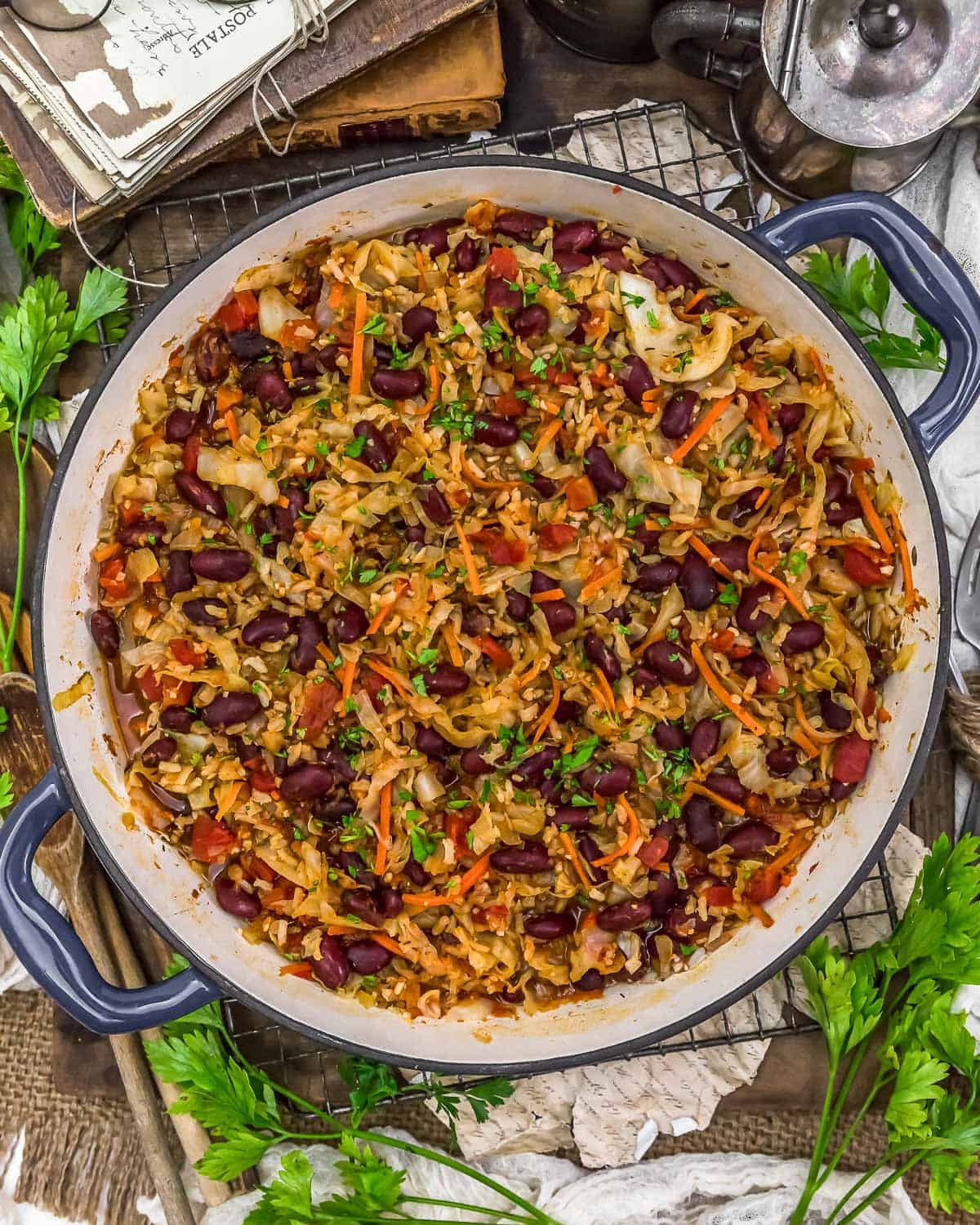 Fragrant, satisfying, and healthy, this low-fat, oil-free Vegan Unstuffed Cabbage Rolls dish is a perfect skillet meal that that whole family with love. It's so much easier to pull together than the traditional rolling method. Tender cabbage, zesty onions, earthy garlic, sweet carrots, rich tomatoes, protein-packed beans, and hearty rice make for an incredible belly-filling meal!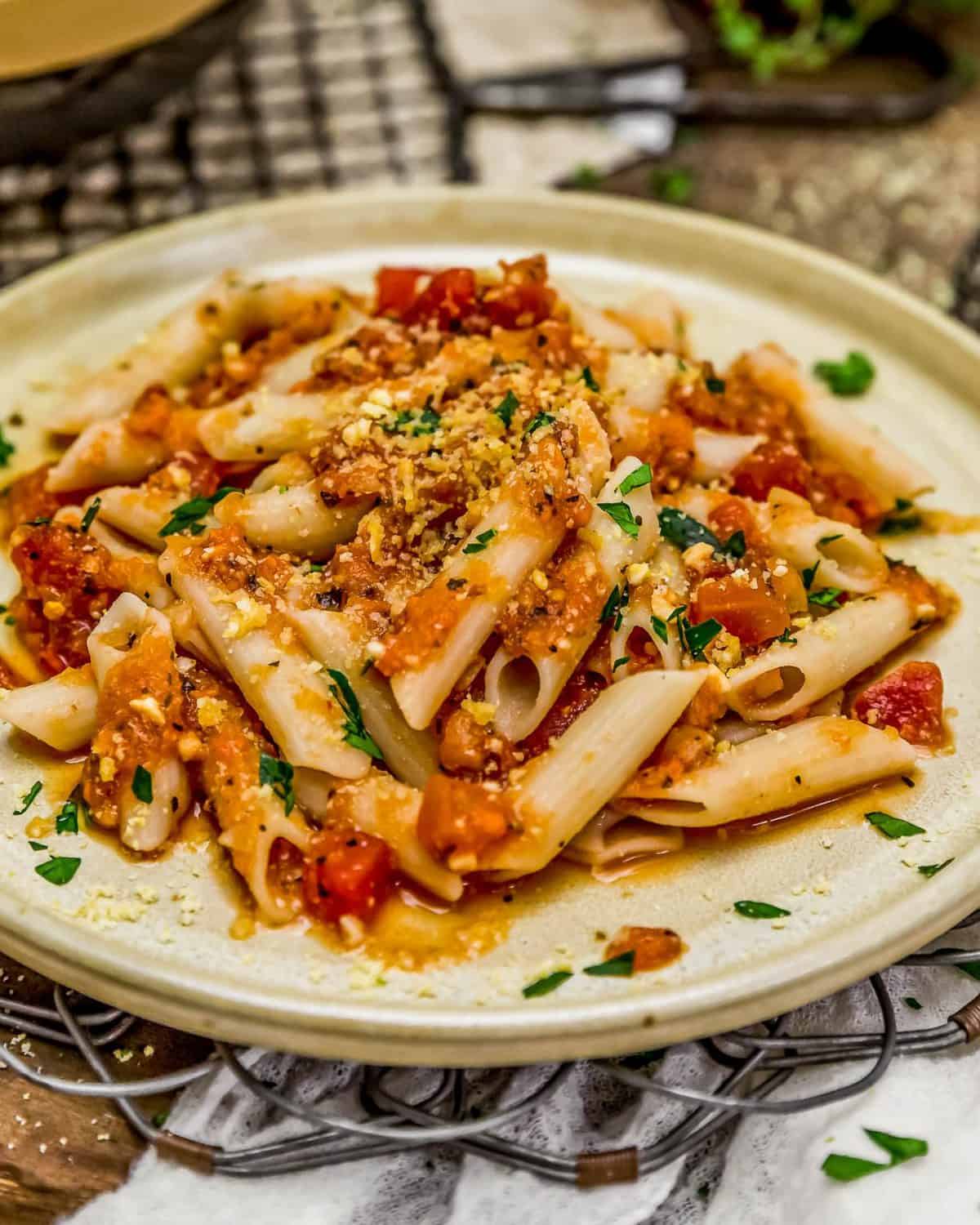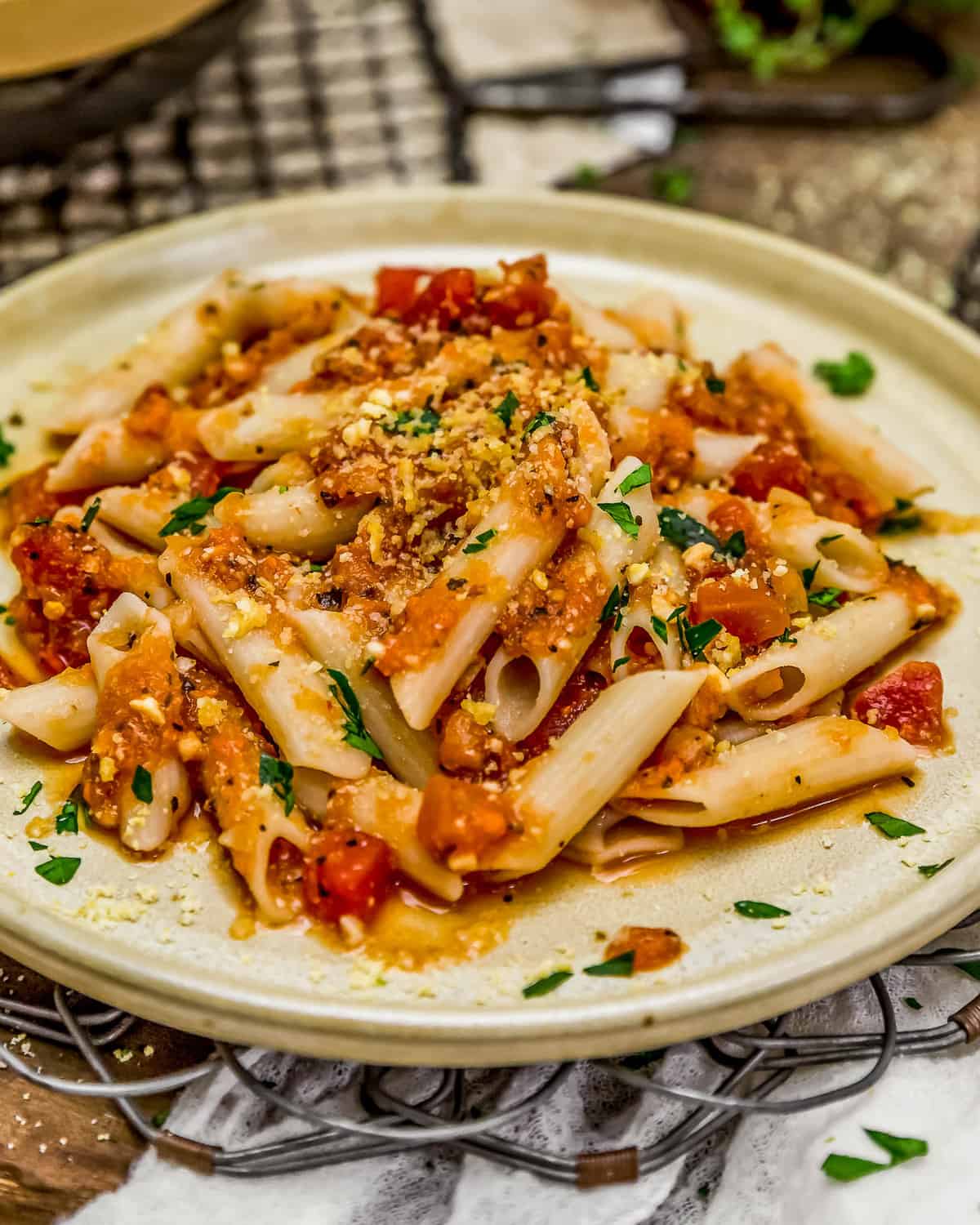 We are taking fast and fresh to a whole new lever with this delicious and satisfying Pasta alla Napolitana.  A flavorful base of onions, carrots, and celery sautéed with zesty garlic, sweet tomatoes, and aromatic Italian herbs and spices makes for an amazing Italian pasta dish that is sure to have the entire family seated eager to eat. It can be whipped up in just about 20 minutes and sure to make your belly happy.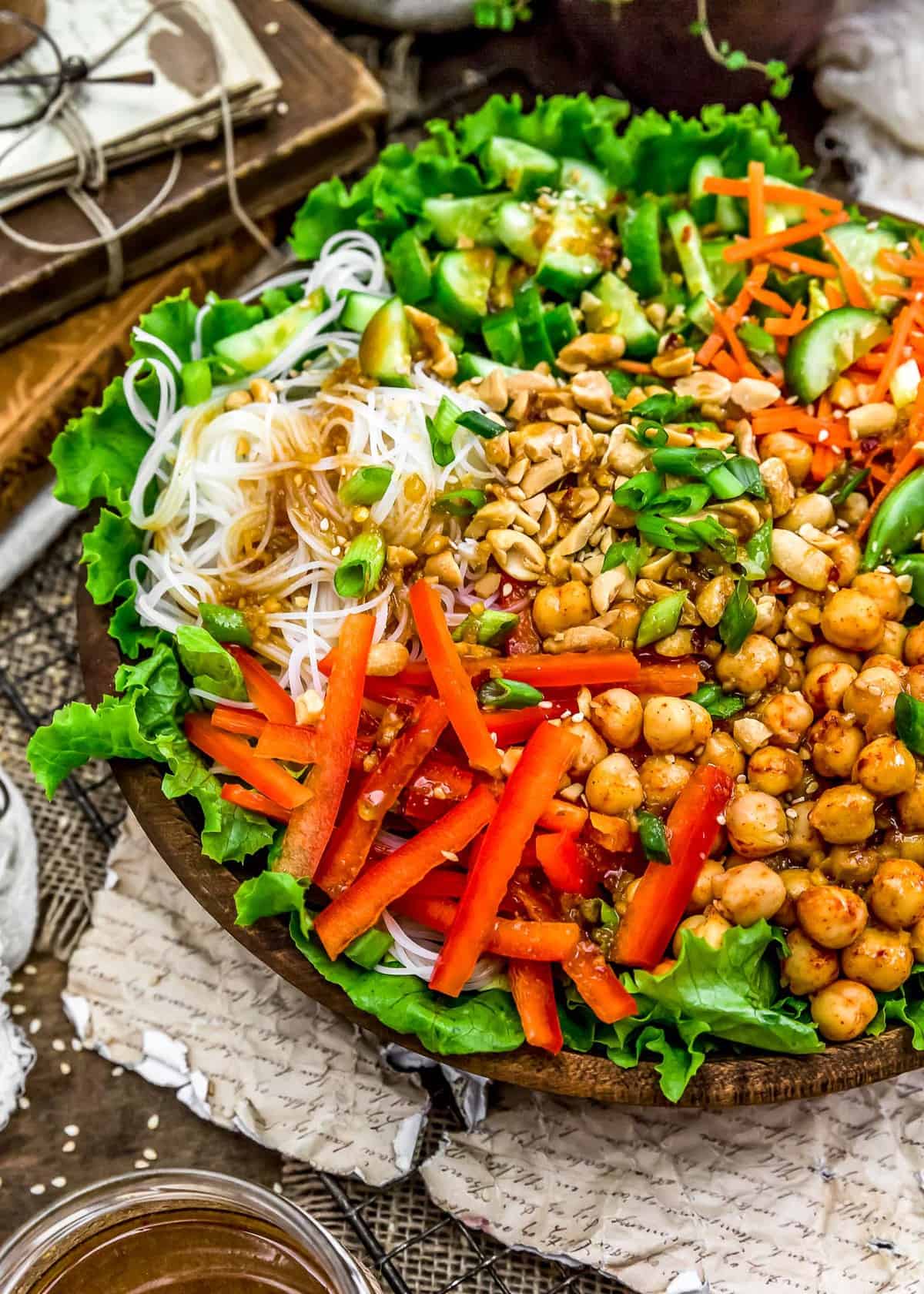 This healthy Oil Free Asian Sweet Chili dressing is fast, easy, and perfect for salad lovers everywhere! Deliciously sweet, savory and packed with perfectly seasoned umami flavors, this dressing will hook you with the first bite. Perfect on your favorite salad, it is sure to absolutely delight your taste buds.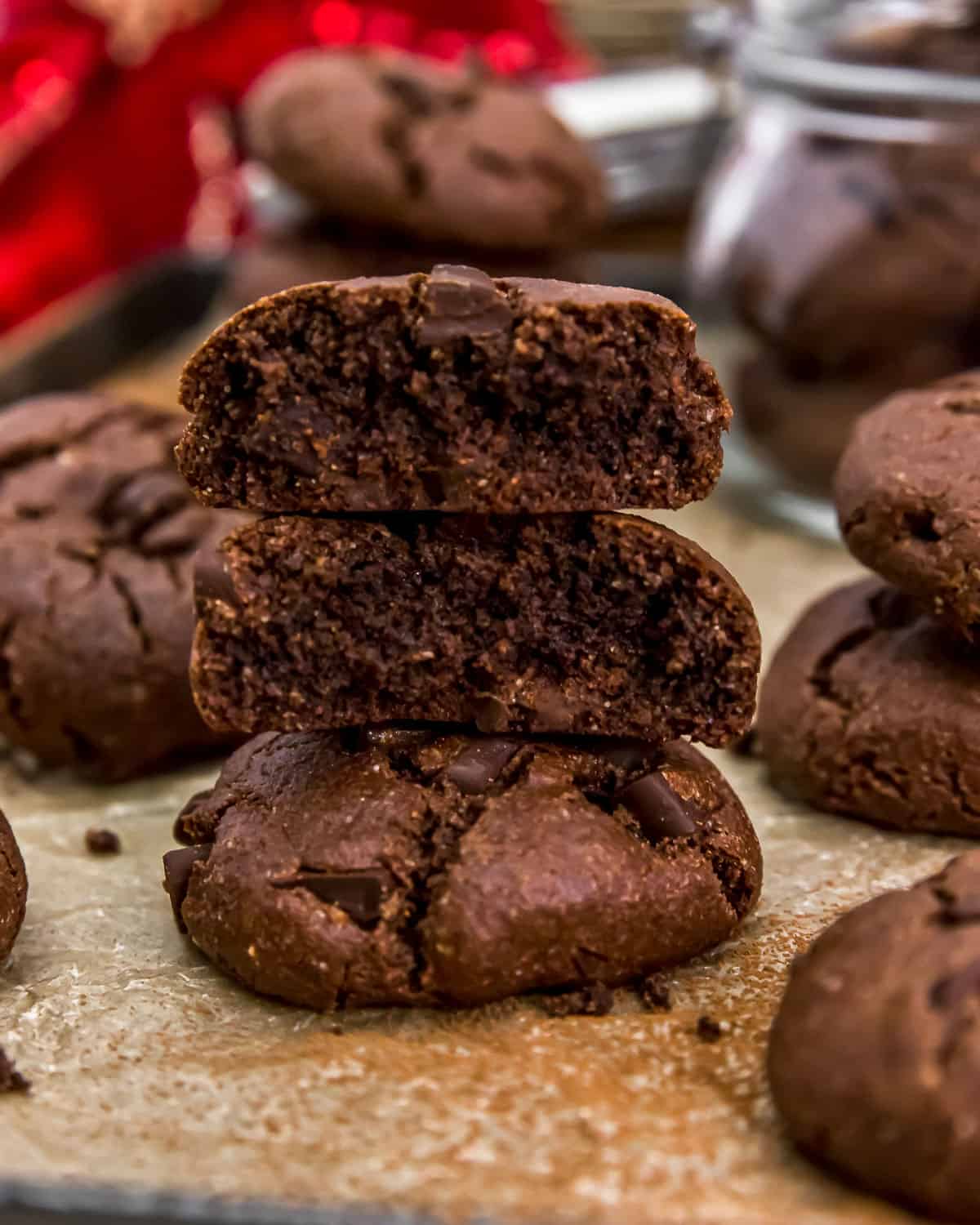 Wholesome, rich, and guilt-free, these deliciously chewy, oil-free Vegan Double Chocolate Peppermint Cookies are pure cookie heaven! Fudgy chocolatey brownie-like cookies, packed with chocolate chips, and a kiss of peppermint really delivers on a whole new level of goodness. These easy to make cookies will quickly become your new favorite!  Perfect for any holiday, bake sales, or any day of the week.