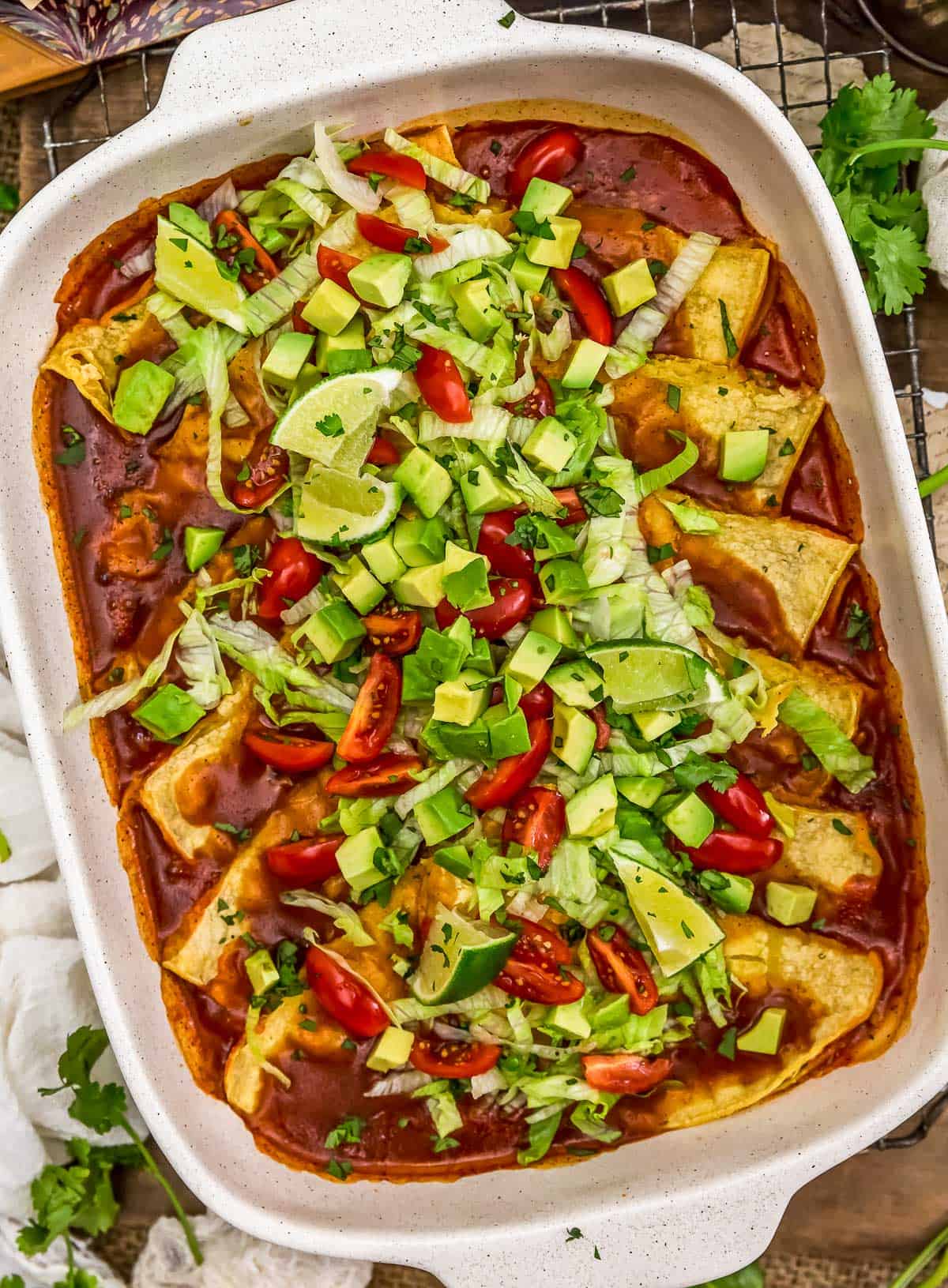 Vegan Enchilada Quesadilla Bake! If quesadillas and enchiladas had a baby, you'd get this fun and flavorful dish. Creamy, cheesy, corn-rich goodness that will have your taste buds tingling!
Bringing all those amazing Southwestern flavors together with this delicious and hearty Vegan Enchilada Quesadilla Bake. This dish boasts a pickled jalapeño, cheesy white bean-based spread stuffed in corn tortillas, layered together, and baked in a flavorful enchilada sauce. Serve it with some chopped avocados, fresh cilantro, shredded lettuce, tomatoes, and green onions for a meal you won't be able to resist.
Whole Food Plant Based, Vegan, plant based, oil free, refined sugar free, no highly processed ingredients and gluten free.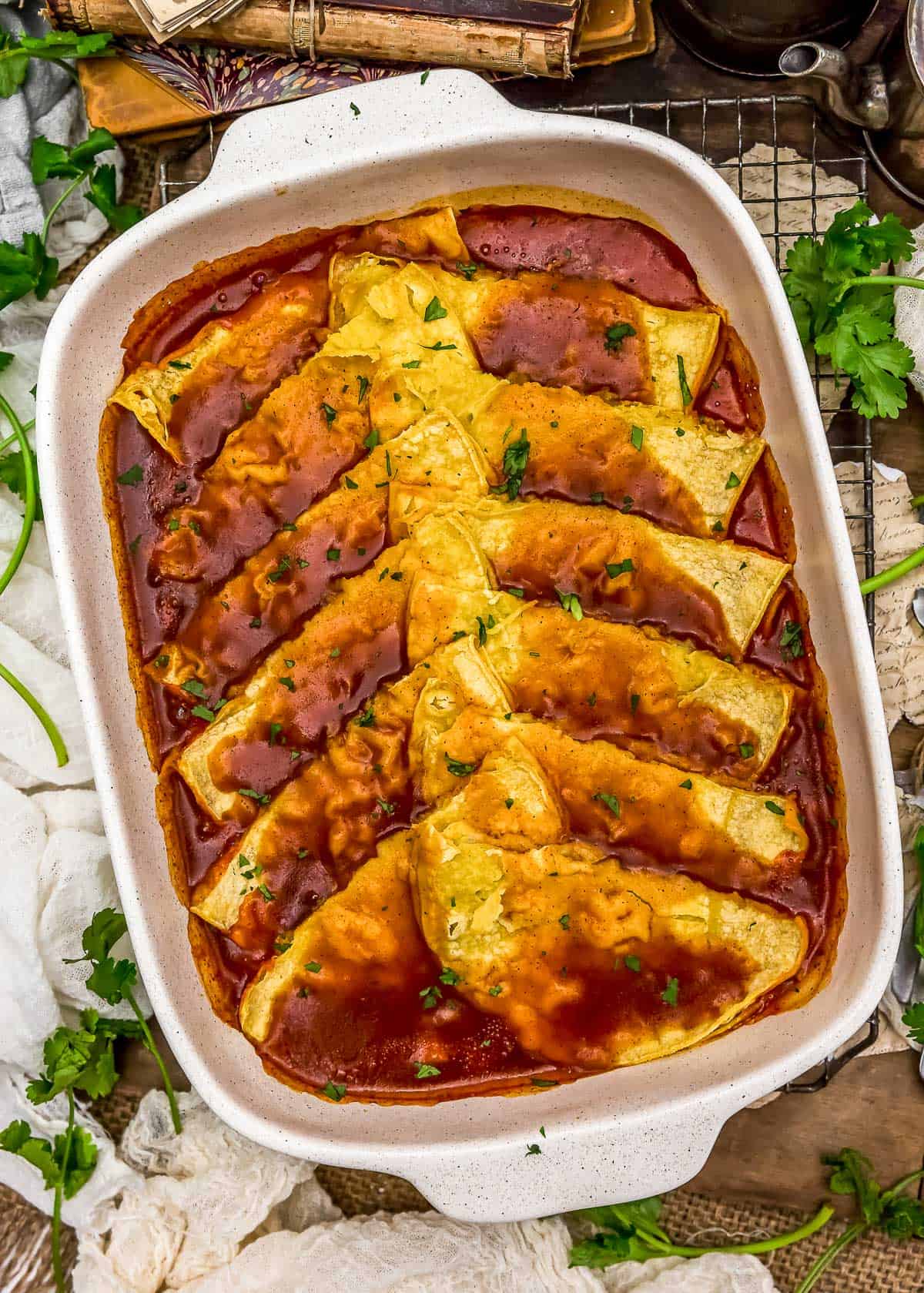 Hi there, Ameera here!
Wow!!! We went crazy of this tasty, zippy, and bold dish! It is more enchilada than quesadilla, but it is truly a hybrid of both. It's got a creamy pickled jalapeño cheese spread nestled in delicious corn tortillas then drenched in a flavorful enchilada sauce.
Mom and I did our happy kitchen dance whenever we hit a home run, and we were definitely dancing all up and down the kitchen with the first bit of this deliciousness. Cheesy corn goodness – yes, please!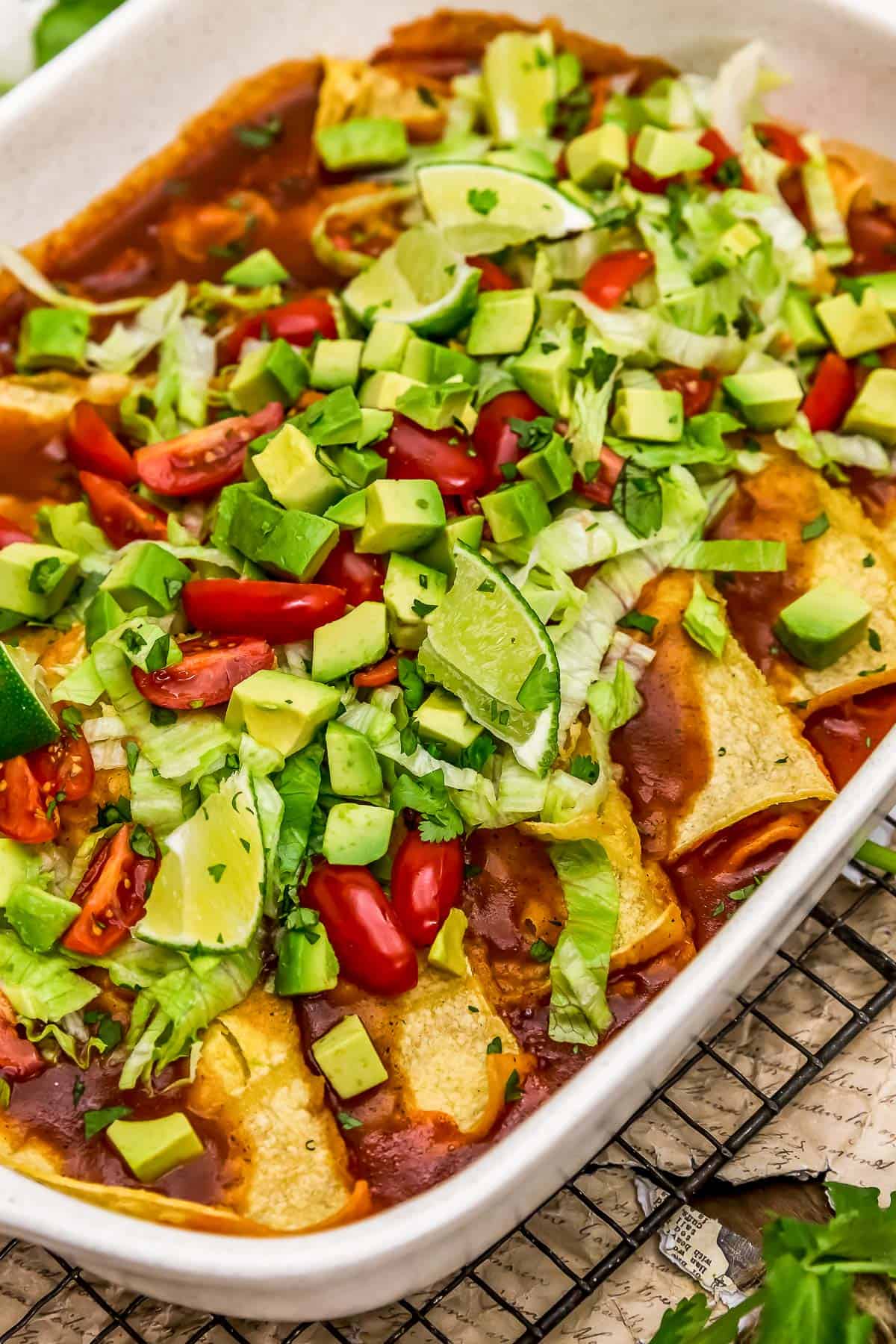 Low Fat Dish
Let's talk expectations. First, we know that a low-fat dish will never taste as rich or decadent as a vegan cashew nut-based cheese spread (or other nut/seed cheese spread). There is nothing wrong with a cashew cheese spread/sauce; we have many on our website. They are amazingly delicious, and we love them.
But it is always nice to have options, and we designed this dish to be low-fat. It is utterly delicious for a low-fat bean-based cheese spread/filling, and we loved it!
We used cannellini beans to be the heart of the dish as these white beans have a very neutral flavor with a creamy interior texture, and soft outer skin/shell.  You can use any bean you wish, but we were specifically looking to mimic a cheesy-jalapeno filling for this recipe.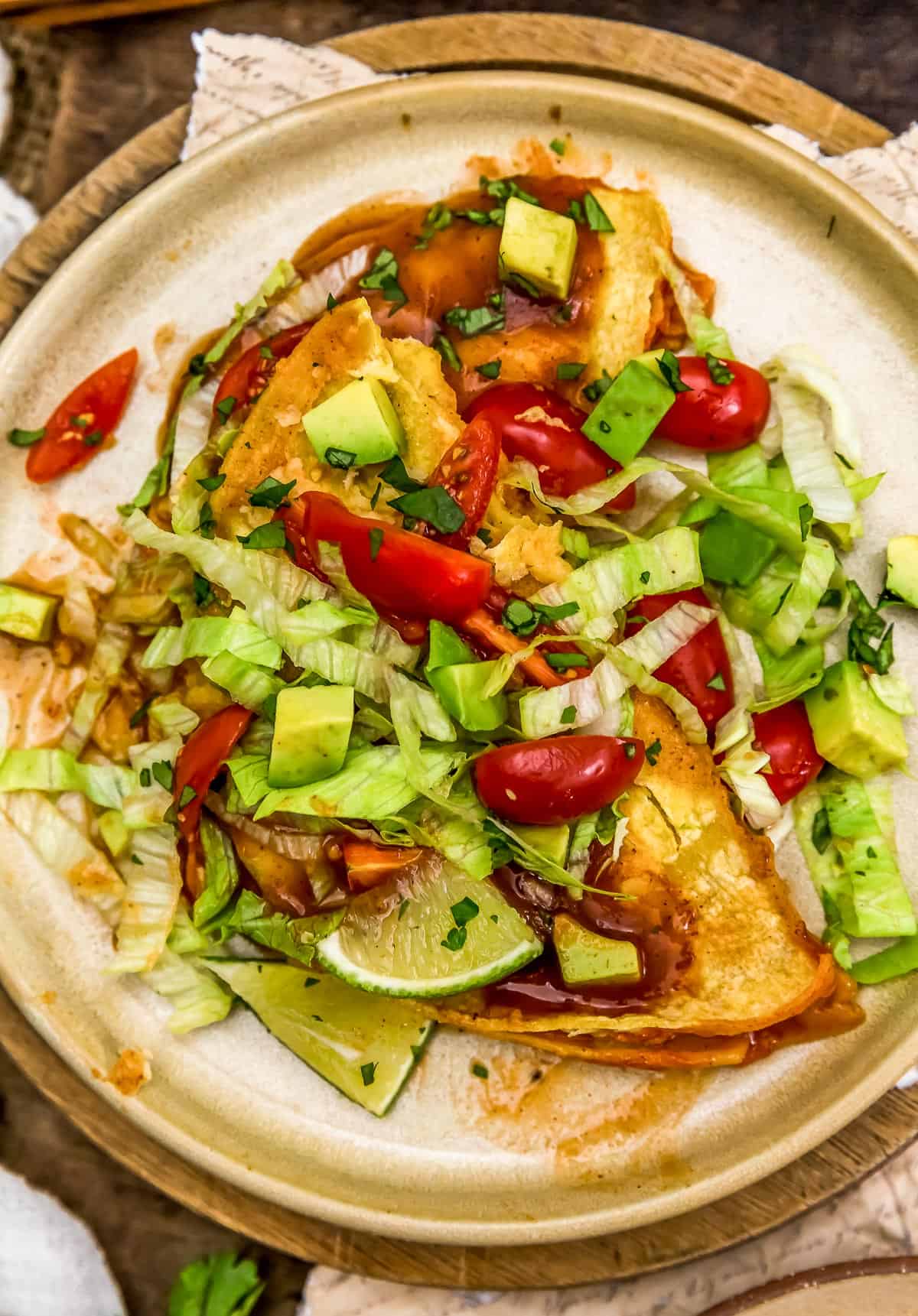 Enchilada Sauce
You can use any enchilada sauce with this recipe, but we absolutely love our enchilada sauce.  It has amazing flavor and works perfectly with this dish.
We suggest using a mild enchilada sauce. Our enchilada sauce is mild (make sure to use mild chili powder.)
Pickled Jalapeños
We used Mezzetta Deli-Sliced Tamed Jalapeno Peppers.  Feel free to use your favorite pickled jalapeno slices; however, be sure to select mild ("tamed") pickled jalapeno slices.
Unfortunately, we do not have a substitute for the pickled jalapenos.
Texture Expectations
This dish is more of a soft enchilada than a crisp quesadilla. If you love when the corn tortillas soaks up all that delicious enchilada sauce and creates a soft creamy, corn tortillas, then this dish is right up your alley. The quesadilla will not crisp up like a traditional quesadilla, it gets soft like an enchilada. We just want to make sure you are aware of what to expect with this recipe.
I'll let Mom tell you more!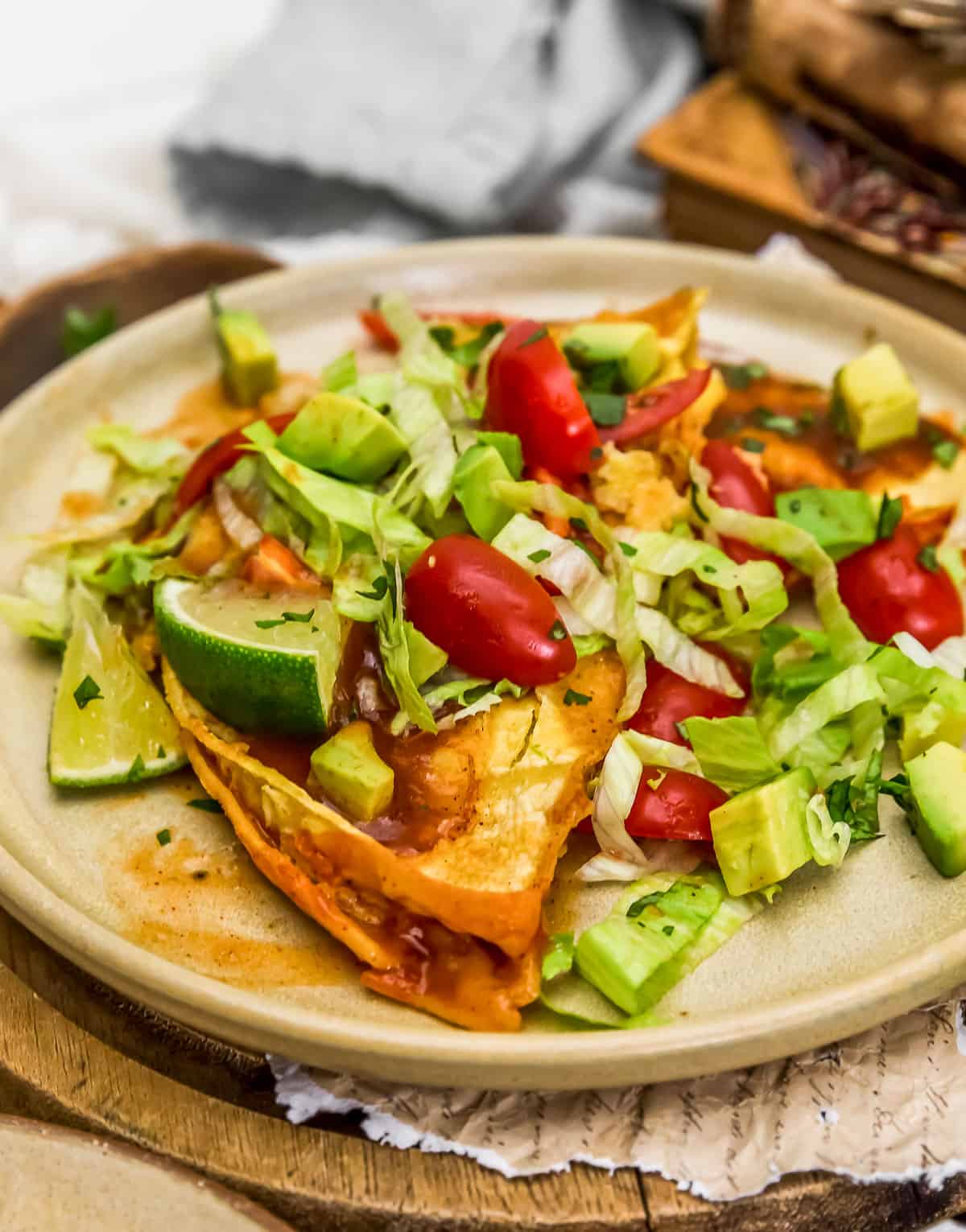 Hi!  Robin here.
Monkey developed this recipe and after several kitchen tests, we were in heaven.  We absolutely loved it for what it is, a low-fat, super-tasty Southwestern dish, so you need to take that into consideration.  In other words, there isn't hardly any fat in this dish to trick your brain, so keep that in mind. But the bold, southwestern flavors will carry the goodness and make your belly happy.
We certainly hope you give this deliciousness a try.
If you try this fun and delicious dish, we would love to know if you enjoy it as much as we do! Please leave us a review! Post a picture on Facebook or Instagram and tag us!  We would love to hear from you.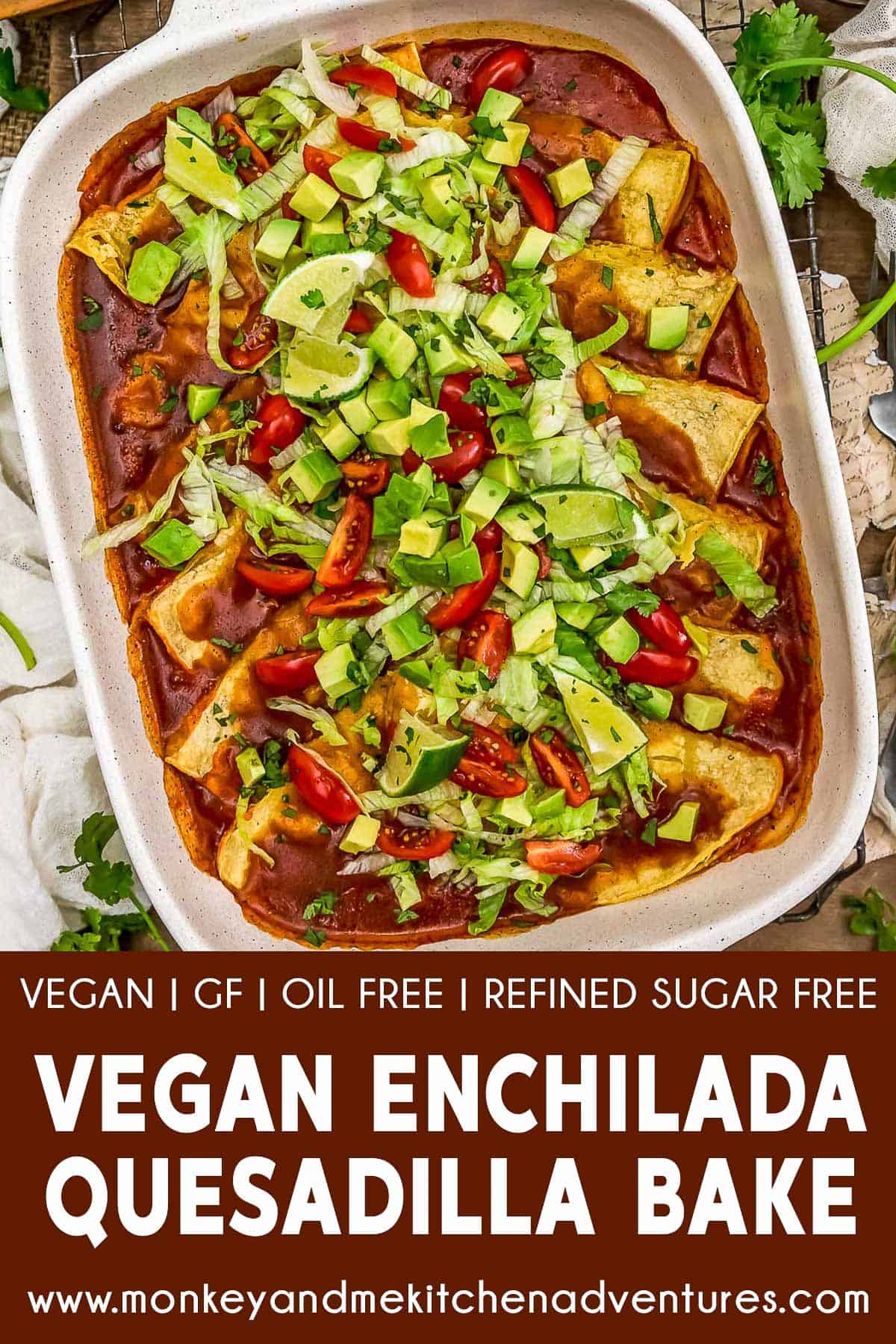 Products Used:
9 x 13 baking dish
Food processor
Print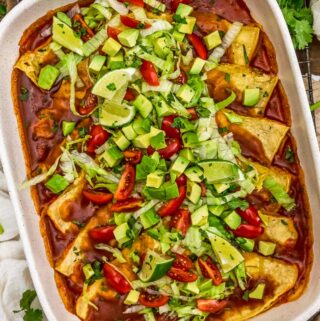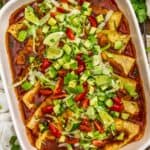 Vegan Enchilada Quesadilla Bake
Author:

Prep Time:

30 Minutes

Cook Time:

25 Minutes

Total Time:

55 Minutes

Yield:

4

-

5

Servings

1

x

Category:

Dinner

Method:

Oven

Cuisine:

Southwestern

Diet:

Vegan
---
Description
Creamy and flavorful, this low-fat Vegan Enchilada Quesadilla Bake boasts a bean cheese sauce stuffed in tortillas and baked to perfection.
---
Quesadilla Filling Ingredients:
1

– [ 15 oz. can ] cannellini beans, drained and rinsed

¼ cup

nutritional yeast (+/-)

¼ cup

pickled "tamed" jalapeno pepper slices *

2 Tablespoons

pickled jalapeno brine *

1 teaspoon

distilled white vinegar

1 Tablespoon

unsweetened plain plant milk

1 Tablespoon

tahini *

1 teaspoon

onion powder

1 teaspoon

garlic powder

1 teaspoon

dried minced onions
pinch to

½ teaspoon

sea salt (+/-) *
Other Ingredients:
12

– [ 6-inch ] corn flour tortillas *

2 cups

mild enchilada sauce *
Optional Topping Ingredients:
Chopped fresh cilantro
Chopped avocados
Shredded lettuce
Chopped tomatoes
Chopped green onions (or red onions)
---
Instructions
Preheat the oven to 350 F.
Place all the Quesadilla Filling Ingredients into a food processor, blend until smooth and emulsified. Set aside.
Heat the tortilla shells – 2 Methods Available:  1) Wrap the stacked tortillas in foil, warm them in a preheated 350 F oven for 6 to 8 minutes, just until warm and easy to work with. OR 2) Dampen several paper towels, wrap the stacked tortillas in the damp paper towel and microwave for 45 to 60 seconds, just until warm and easy to work with.
Assemble the casserole: Place one cup of the enchilada sauce on the bottom of a 9 x 13 baking dish, spread out evenly.  Then lay a warmed tortilla on a flat surface and spread a thin layer (one heaping tablespoon) of Quesadilla Filling on half of the tortilla, then fold in half.  Continue until the remaining tortillas are made, then arrange the filled quesadillas over the sauce mixture in the baking dish in an semi-overlapping pattern (see photos) then top with 1 cup of enchilada sauce over top.  Cover with foil (or invert a cookie sheet over top of the baking dish to lock in the heat).
Place into a preheated 350 F oven bake for 25 minutes until hot, bubby, and heated through.
Remove from the oven, allow to rest for 5 minutes, then top with shredded lettuce, chopped tomatoes, avocados, and chopped green or red onions along with a sprinkle of freshly chopped cilantro leaves.
---
Notes
*Tips for Success:
Keep the tortillas warm and covered – In order to keep the tortillas warm and pliable, keep them wrapped in a dampened paper towel or tea towel while making the quesadillas. This will prevent them from drying out and cracking.
When placing the enchilada sauce on top, run it down the center of both rows of the quesadilla enchiladas, but leave some of the edges uncovered. See the photos on the blog as a reference.
Texture Expectations: This dish is more of a soft enchilada than a crisp quesadilla.  The corn tortillas soak up the enchilada sauce and get soft.  If you are expecting a crispy quesadilla style dish, then this dish is not for you.
Cutting the casserole: Don't attempt to pick up individual quesadillas, this "bake" it more like a lasagna where you should cut it in squares or rectangles as the corn tortillas melt into the beautiful enchilada sauce and the definition of the folded tortillas is somewhat lost. You'll still see their beauty but picking them up individually will be difficult.  Just cut squares for easy serving.
Don't overfill the quesadillas. Use a heaping tablespoon of filling.  They will be thin when you fold them over.  That is perfect.
 *Notes Continued:
*Enchilada Sauce:  Use your favorite enchilada sauce or use our Enchilada Sauce.  If you are buying an enchilada sauce from the store, be sure to select a "mild" sauce and not a hot one.
*Pickled Jalapenos:  We used Mezzetta Deli-Sliced Tamed Jalapeno Peppers.  Feel free to use your favorite pickled jalapeno slices, but be sure to select mild ("tamed") pickled jalapeno slices.  We do not have a substitute for the pickled jalapenos.
*Corn Flour Tortillas:  Select a corn flour tortilla that is soft and flexible.
*Tahini:  We do not have a substitute for the tahini.  It add a nice depth of flavor. You can leave it out if you wish with the understanding that it will change the flavor of the dish.
*Sea Salt:  Please adjust the sea salt based upon your family's sea salt preferences and/or based upon dietary needs.
*Serving:  Makes 4-5 servings. 
*Storage:  Refrigerate and use within 5 days.

This post contains affiliate links, and we may receive a very small commission if you purchase through those links at no additional cost to you. Thank you for supporting Monkey and Me Kitchen Adventures! For more information, see our disclosures here.