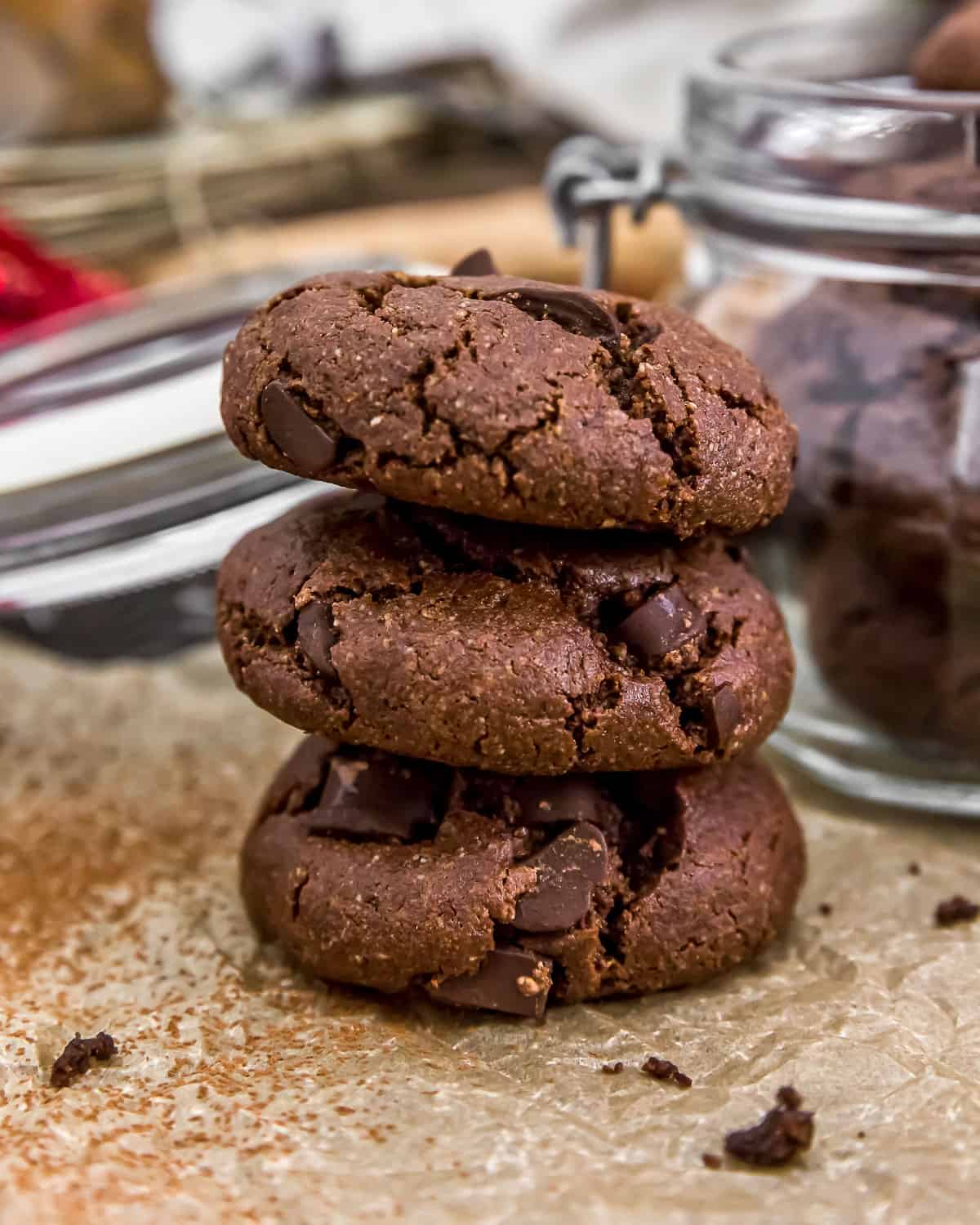 Vegan Double Chocolate Peppermint Cookies! Treat your taste buds to this delicious quintessential holiday cookie that is sure to get rave reviews!
Wholesome, rich, and guilt-free, these deliciously chewy, oil-free Vegan Double Chocolate Peppermint Cookies are pure cookie heaven! Fudgy chocolatey brownie-like cookies, packed with chocolate chips, and a kiss of peppermint really delivers on a whole new level of goodness. These easy to make cookies will quickly become your new favorite!  Perfect for any holiday, bake sales, or any day of the week.
Whole Food Plant Based, vegan, plant based, oil free, refined sugar free, gluten free, no highly processed ingredients.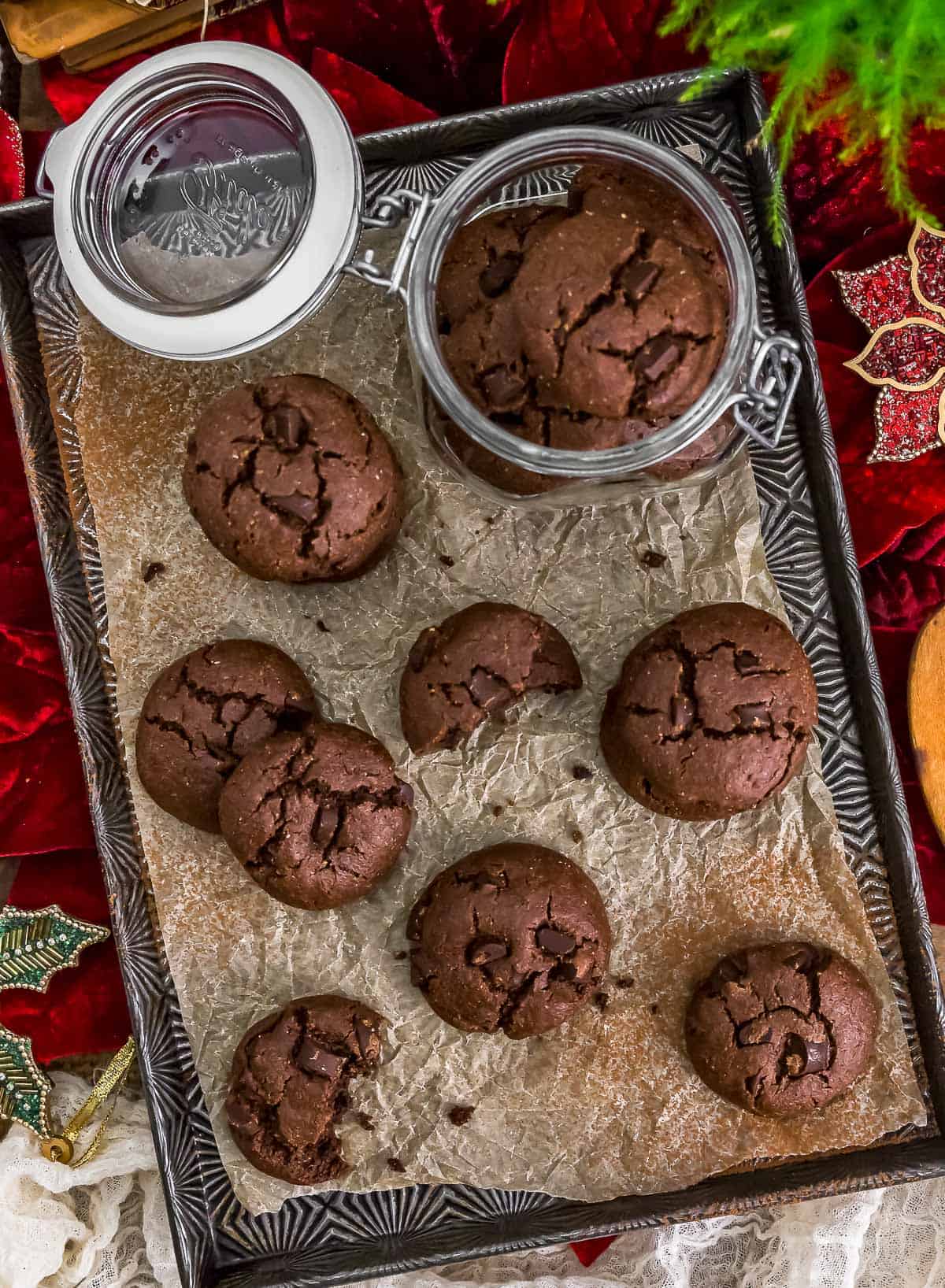 Hi there, Ameera here!
Can I just say "Ohhh my goodness!"  This fudgy, chocolatey, pepperminty cookie is what Christmas cookie dreams are all about.
The texture is like a brownie cookie in my humble opinion. You know like those corner brownies where the corner edges are slightly crispy, and the inside is tender and chewy.  And the pièce de ré·sis·tance is delicious bits of  melty chocolate chips. That is the best way I can describe the texture of these yummy cookies.
When we make our Mexican Hot Chocolate Cookies, we just knew we could spin that recipe in a bunch of different ways.  We've been sitting on this recipe for the perfect release time, Christmas! Stay tuned for more fun-flavored twists!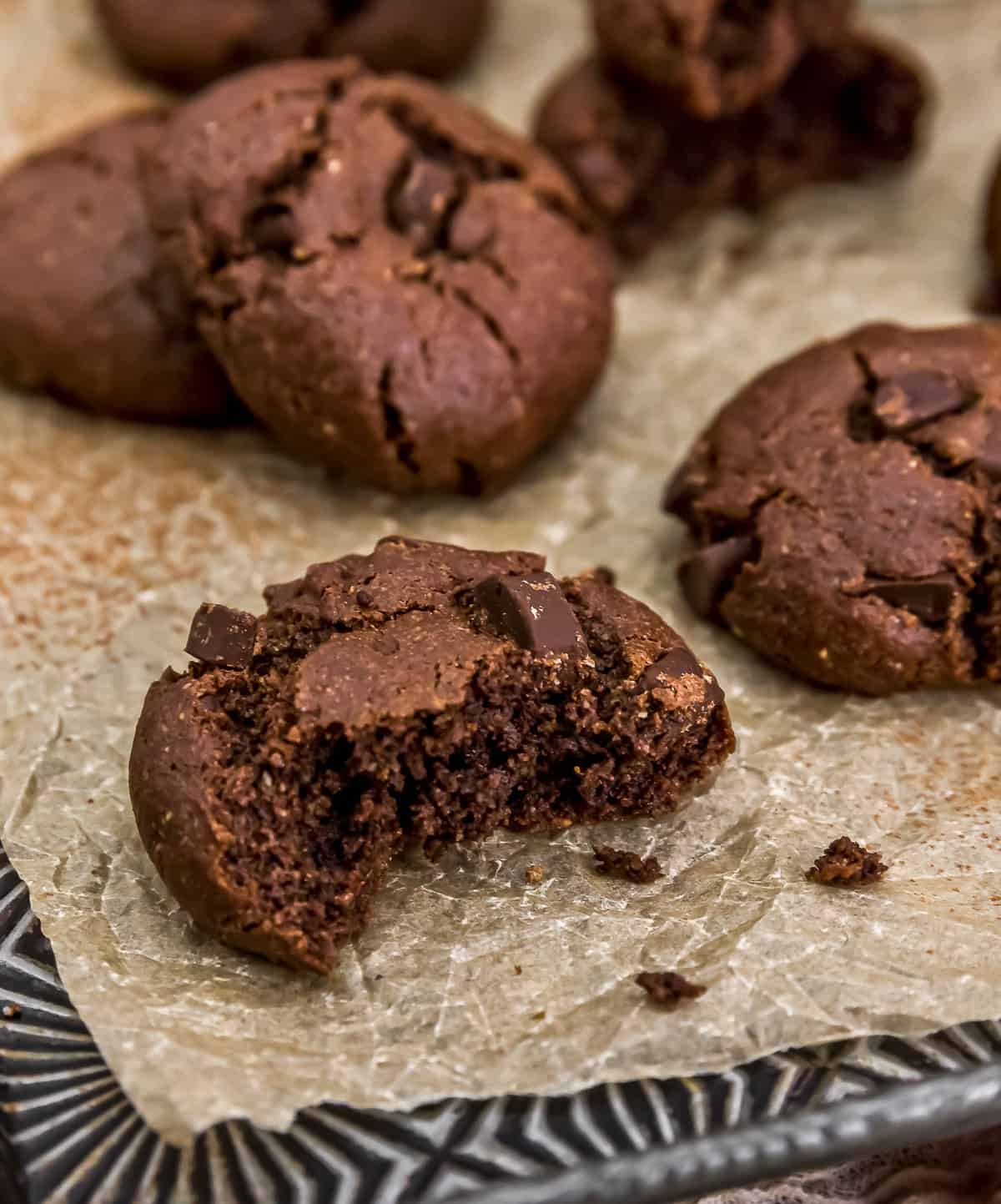 Girl Scout Thin Mints
These cookies have a reminiscent flavor of Girl Scout Thin Mints, but with a different texture. A kiss of delicious peppermint, which is a personal favorite. But if your a peppermint LOVER, feel free to ramp up the peppermint extract for a bold POW of pepperminty goodness.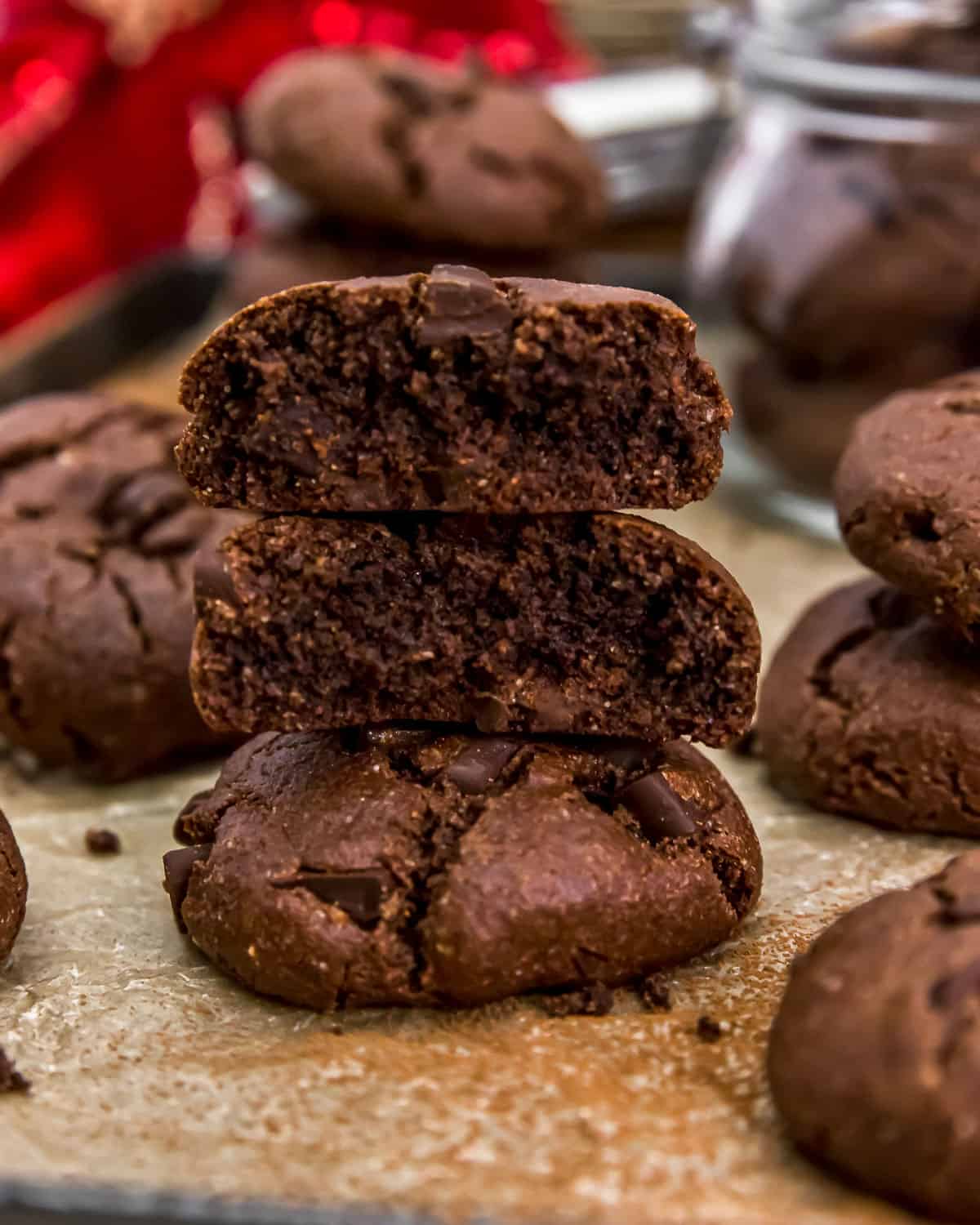 Cookie Bakers!
As I've already said a million times now, but it needs to be said once again, so hang in there with me again!  Mom and I love to bake!  In our prior lives, Mom and I were dedicated holiday cookie bakers. We created and baked countless dozens of Christmas cookies and sold them in large glass jars and tin containers with huge fancy Christmas ribbons.
We dedicated ourselves to Christmas cookie baking starting the 2nd week of December though Christmas eve of every year for as long as I can remember holding a wooden spoon! Yes, I know I've said this before, but I find the need to repeat myself in case you are new to our blog! *smiles and waves*
We made just about every kind of holiday cookie you can possibly conceive of.  We have been trying to convert as many of our holiday cookies as possible to Whole Food Plant Based – check out our delicious Christmas Cookie Round Ups here!
Some WFPB conversions work perfectly, while others have been quite challenging. We are determined to convert as many holiday cookies as we can. We are so happy to share with you this beautiful creation!
I'll let Mom tell you more.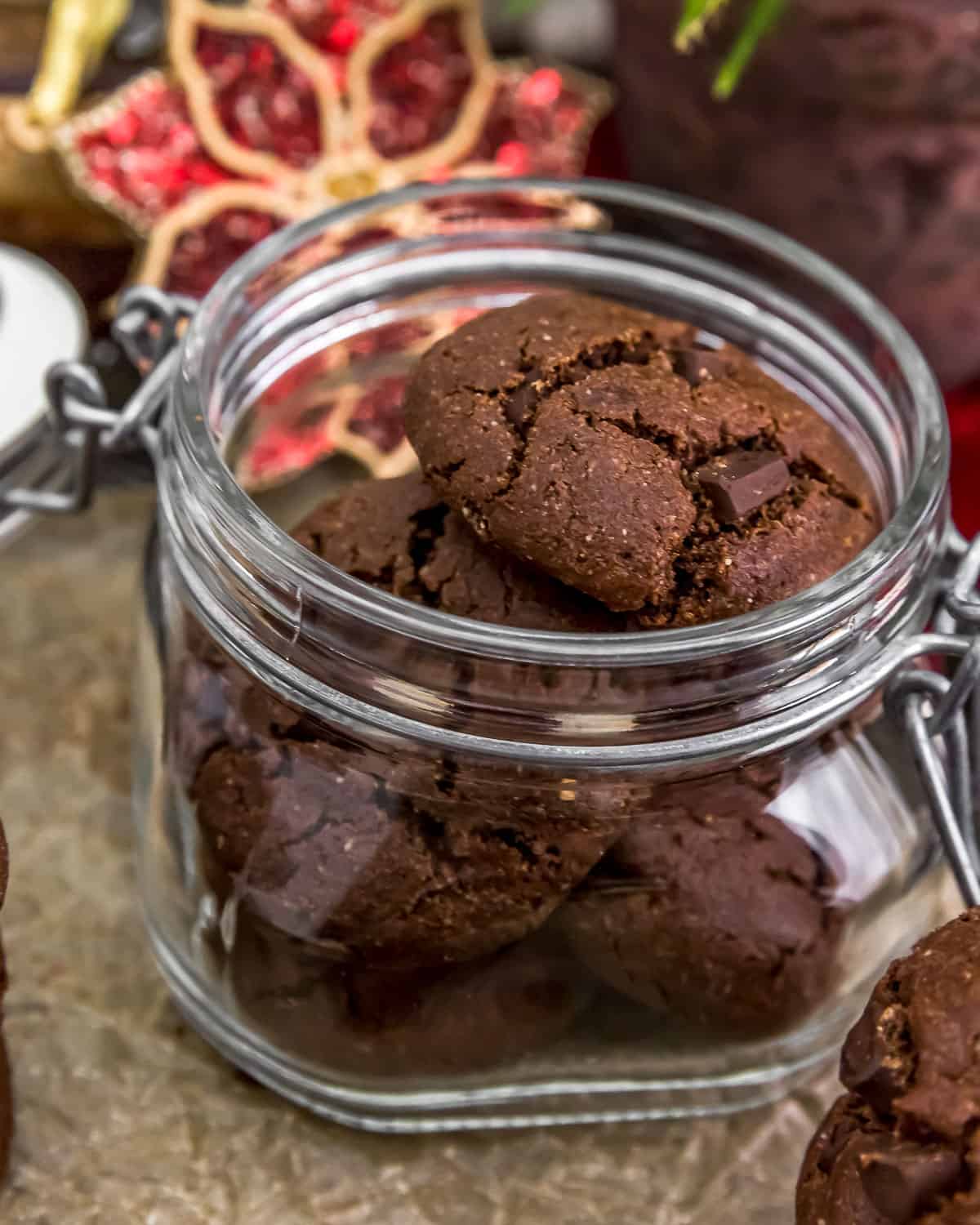 Hi!  Robin here!
I love me some Girl Scout Thin Mints. I missed them. After making these lovelies, I no longer feel like I am missing out on a thing.  These Whole Food Plant Based cookies are just as delicious and as decadent feeling as any normal (S.A.D.) cookie I've ever had.
Warm or Room Temperature
Do me a favor, OK?  After they come out of the oven and have slightly cooled down (and are still warm), try one.  I LOVE them warm with all the gooey chocolate chip goodness leaking out. Monkey, on the other hand, enjoys them at room temperature as the peppermint really comes forward and is more prominent.
After you make them, let us know.  Inquiring minds would love to know what you think!
TP109 loved them and ate all the kitchen tests and continued to raid our freezer to find more cookies.  They freeze well by the way!  LOL
We can't wait for you to try them.
If you try these festive treats, we would love to know if you enjoy it as much as we do! Please leave us a review! Post a picture on Facebook or Instagram and tag us!  We would love to hear from you.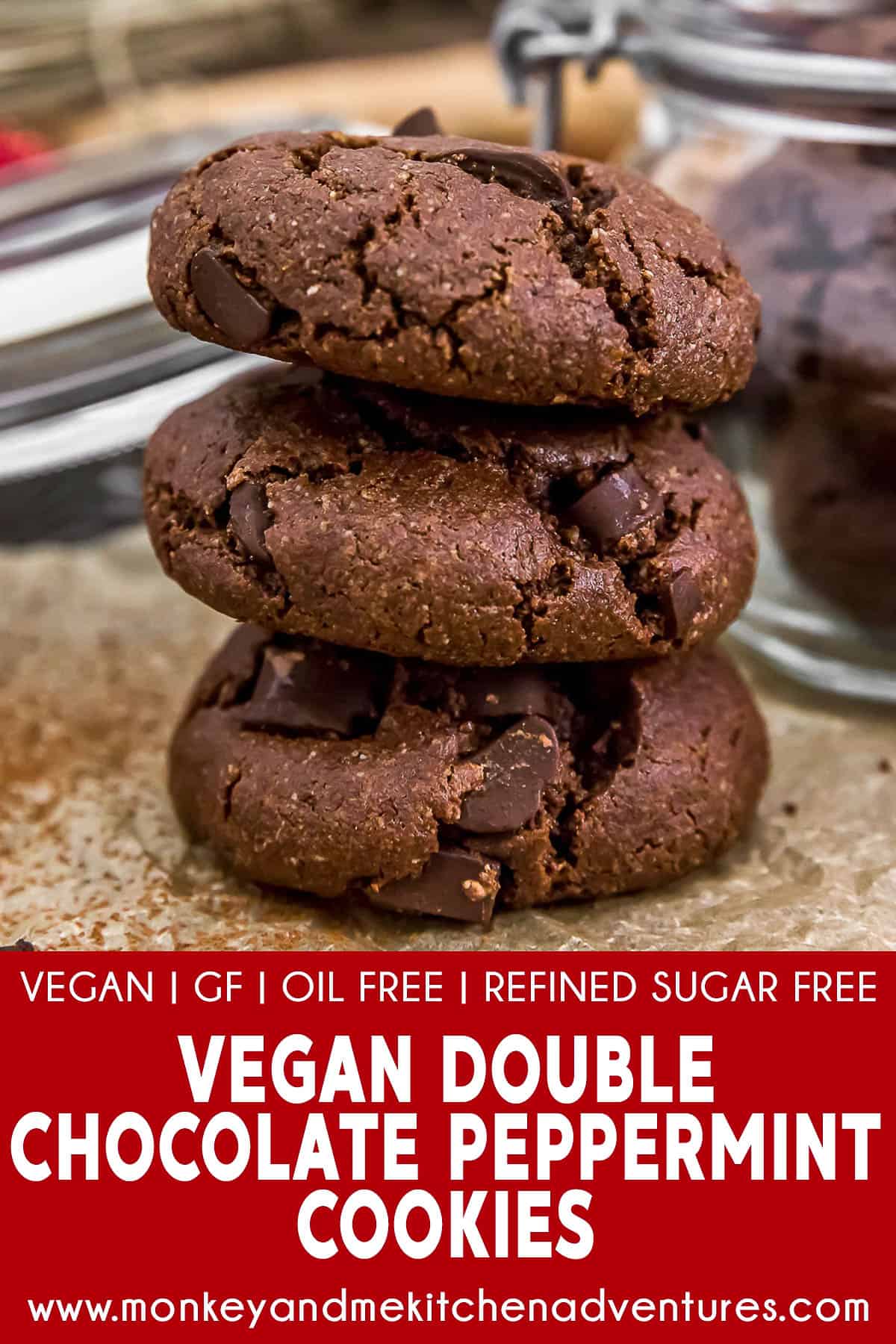 Products Used:
Large baking sheet
Silicone baking mat (or parchment paper). We used silicone baking mats.
Wire cooling rack (optional)
Print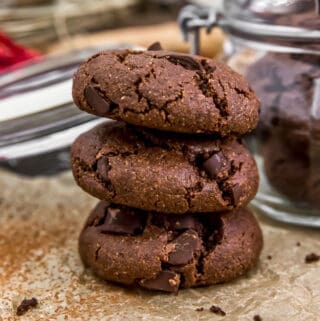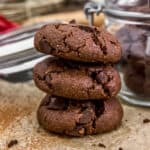 Vegan Double Chocolate Peppermint Cookies
Author:

Prep Time:

20 Minutes

Cook Time:

11 Minutes

Total Time:

21 Minutes (+Rest Time)

Yield:

16

-

20

Cookies

1

x

Category:

Dessert

Method:

Oven

Cuisine:

American

Diet:

Vegan
---
Description
Wholesome, rich, and guilt-free, these deliciously chewy, oil-free Vegan Double Chocolate Peppermint Cookies are pure holiday cookie heaven!
---
Dry Ingredients:
1 ½ cups

+

2 Tablespoons

almond flour, lightly packed

½ cup

unsweetened cocoa powder

¼ cup

maple sugar *

¼ teaspoon

baking soda

2 teaspoons

baking powder

1 Tablespoon

cornstarch (or arrowroot powder)

¼ teaspoon

sea salt *
 Wet Ingredients:
½ cup

unsalted almond butter, softened *

1/3 cup

organic maple syrup *

1 teaspoon

molasses

1 teaspoon

vanilla

2 Tablespoons

unsweetened plain plant milk

½

to

1

teaspoon peppermint extract *
Other Ingredients:
¾

to

1

cup vegan chocolate chips (optional) *
---
Instructions
Preheat the oven to 350 F. Place oven rack in the center position, avoiding the lower oven rack placement.
Line a baking sheet with a silicone mat (or parchment paper).
Place all the other Dry Ingredients into a bowl, whisk well to combine.
Add the Wet Ingredients to the dry ingredients, stir well to combine (no electric mixer required). Then stir in the chocolate chips.
Take 2 tablespoons of cookie dough and roll it in your dampened hands to form a ball (see recipe notes), then while the cookie is in your hands, slightly flatten into a disk and place on the baking sheet. Try to keep the cookie size uniform. Space them apart as they do spread slightly. Continue until you have rolled all the dough into balls, flattened them, and placed on the baking sheet.
Place the baking sheet into a preheated 350 F oven and bake for 11 minutes.
After 11 minutes, remove from the oven, allow the cookies to sit on the baking sheet(s) undisturbed for 2 minutes to firm up, then transfer to a wire cooling rack.
Enjoy!
---
Notes
Tips for Success:
Rolling Cookie Balls with Damp Hands: The dough is sticky.  Wet your hands, shake off the excess water, then use dampened hands to roll the cookies into tight balls, you will get a smooth glossier cookie.  Wash your hands between every 3 to 5 cookies so you can continue to roll a smooth round cookie ball.  Then while the cookie is in your hands, slightly flatten into a disk and place on the baking sheet.  This is not a cookie recipe where you can just drop the batter onto the baking sheet.  We highly recommend rolling the dough into balls in your hands.
Vegan Chocolate Chips: You can use your favorite chocolate chips with this recipe.  We used Enjoy Life Semi-Sweet Chocolate Mega Chunks. We prefer to chop the longer chunks into 3rds and the smaller chunks in half, then measure out ¾ cup.  You can use up to 1 cup if you wish. You do not need to chop the Mega Chunks; however, it will make the rolling of the dough slightly more challenging if you don't chop them.  This is what we like to do, we place ¾ cup of the chopped Mega Chunks in the dough, then after the cookies have been rolled, flattened, and placed onto the cookie sheet, we then press the last ¼ cup (or less) individually into the tops of the cookies so the tops show off the lovely chocolate pieces.  It lets cookie eaters know that they are in for a double chocolate treat!
Peppermint Extract: We like to use 1/2 teaspoon of peppermint extract for a kiss of peppermint.  If you love peppermint, then you can always increase the amount of peppermint extract.
Silicone Baking Mats: We highly recommend using silicone baking mats to prevent the bottoms from overbrowning.  We have not tested parchment paper lined baking sheets; however, we feel confident that parchment paper will work fine; however, instead of allowing the cookies to rest 2 minutes on the baking sheet, reduce the time to 30 seconds before transferring to a wire rack.
Baking Sheet: We used a large 14 x 20 baking sheet, then placed two silicone baking mats on the baking sheet.  We laid them vertically on the baking sheet, so that the silicone mats stuck over the edges a little. Just form the silicone mats to the baking sheet. They will stick up a little like an "L" on the wider end.  This is fine. We place the side that sticks up like an "L" toward the back of the oven.  If you don't have a large baking sheet, use 2 small ones, but bake only one batch at a time using the center rack.
Cookie Scoop: We used a small cookie scoop (1 ½ inches in diameter). This helped keep the cookies uniform.
 *Notes Continued:
*Maple Syrup and Maple Sugar:  We get tons of questions about sweetener substitutions. We totally get it. Some folks want to use their favorite sweetener.  Honestly, the best sweetener for this cookie recipe is the combination of maple syrup and maple sugar. Additionally, using date sugar is not recommended either as it just doesn't have the same flavor and texture needed for this recipe. *** We also get lot questions about using coconut sugar, if your diet permits, you can substitute coconut sugar for the maple sugar. However, we have not tested with coconut sugar, many of our readers have let us know that coconut sugar works well as a substitute for maple sugar.
*Unsalted Almond Butter:  You want the almond butter softened, but not melted.  Almond butter at room temperature is best; however, if you store your opened jar of almond butter in the fridge like we do, just spoon out the recipe required amount and microwave it for 4 to 5 seconds to soften it without melting it.  You can substitute other nut or seed butters that have the same consistency as the almond butter with the understanding that the flavor will change accordingly.  We do not recommend tahini as a substitute.
*Peppermint Extract:  You can find peppermint extract at most grocery stores. We often get questions about essential oils.  We have not tried this recipe with peppermint essential oil.  We used peppermint extract.  You can totally leave the peppermint out of this recipe for Double Chocolate Cookies.
*Chocolate Chips:  We used Enjoy Life Semi-Sweet Chocolate Mega Chunks. We prefer to chop the chunks into smaller pieces as they are rather large.  The Enjoy Life Dark Chocolate Morsels are another option.  You can use your favorite semi-sweet chocolate/dark chocolate chips or chocolate bar chopped.
*Sea Salt:  Please adjust the sea salt based upon your family's sea salt preferences and/or based upon dietary needs.
*Serving:  Makes approximately 16 to 20 cookies.
*Storage:   Use within 5 days.  Freezes well.

This post contains affiliate links, and we may receive a very small commission if you purchase through those links at no additional cost to you. Thank you for supporting Monkey and Me Kitchen Adventures! For more information, see our disclosures here.