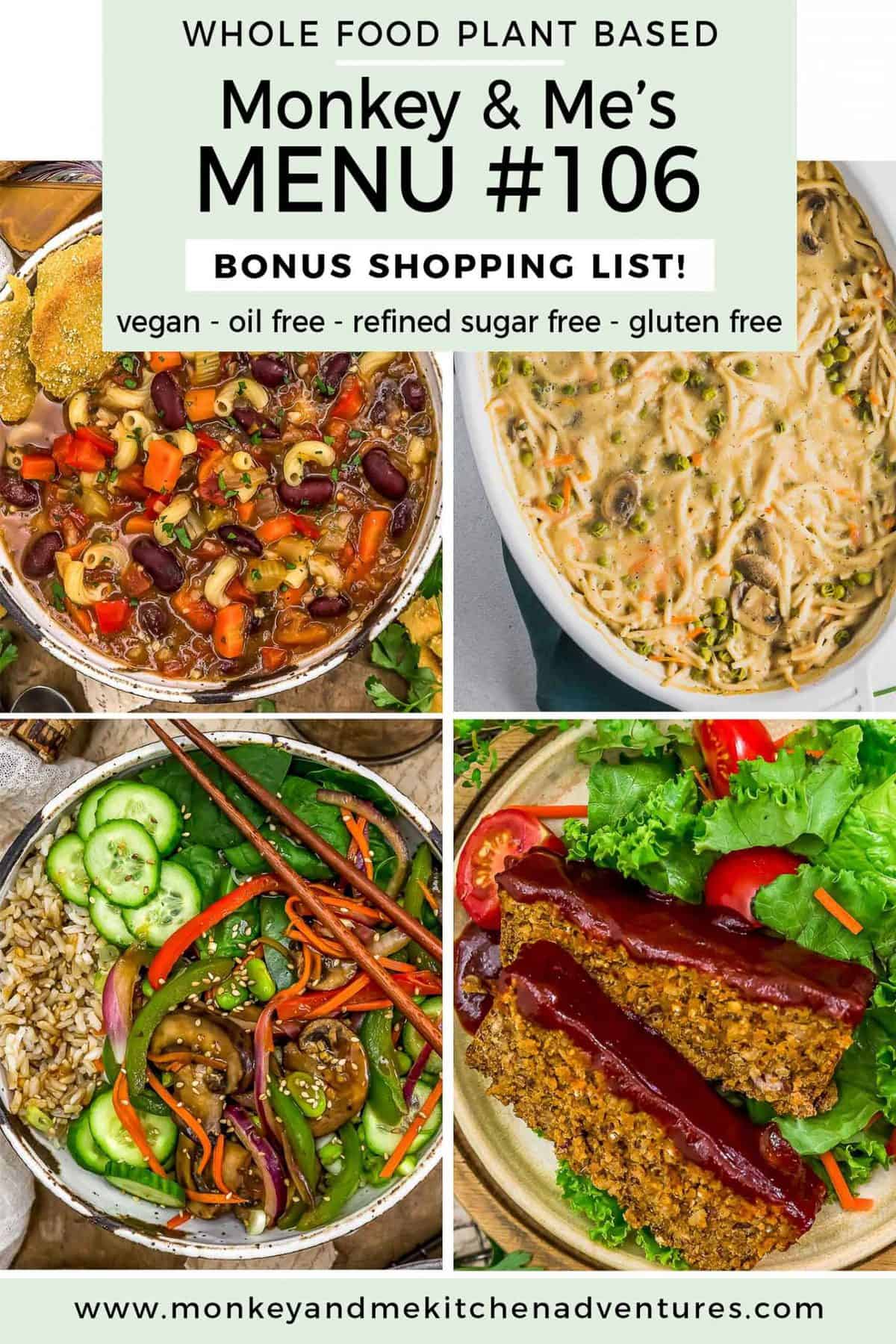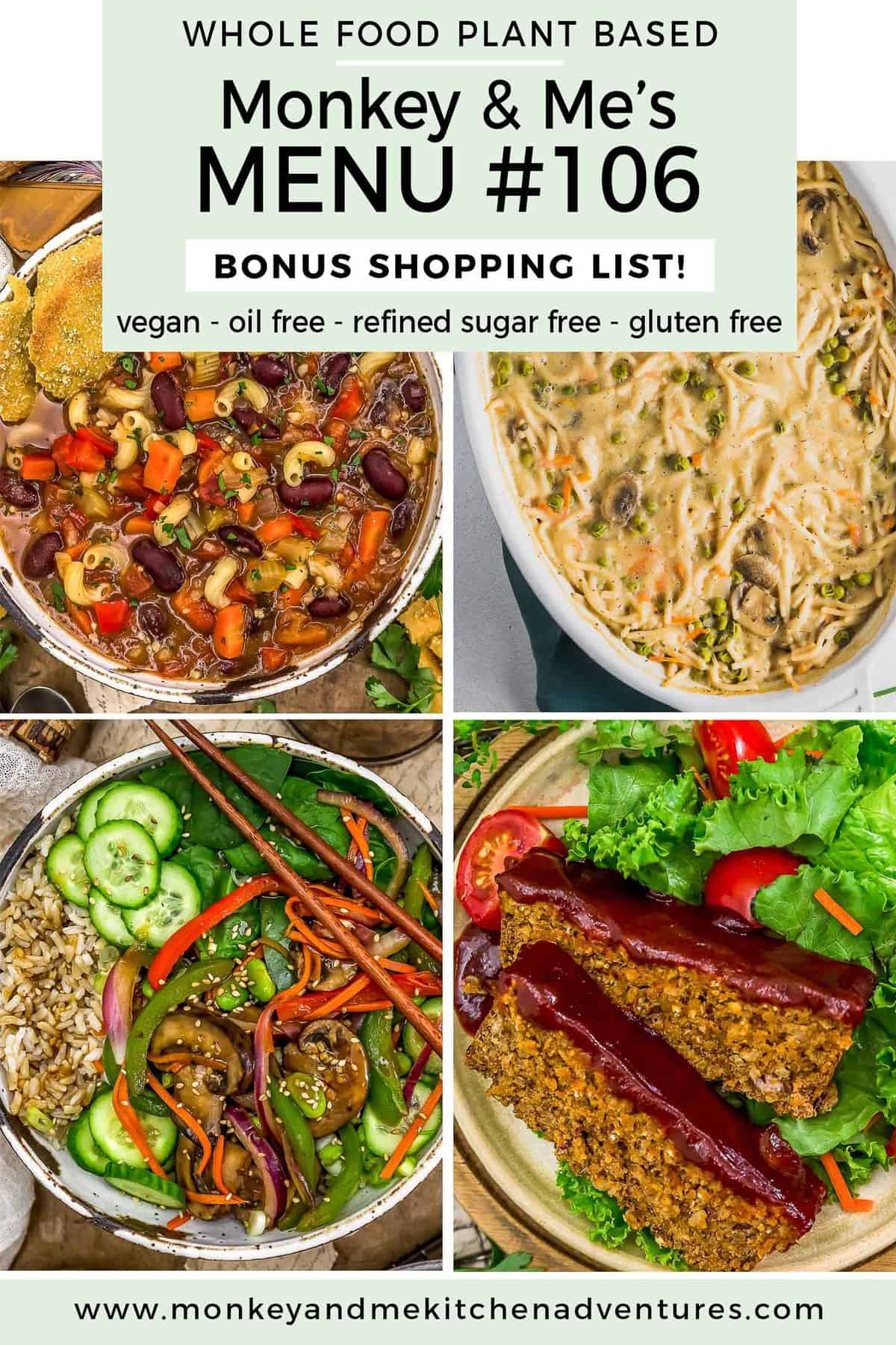 This week's Monkey and Me's Menu features some tasty recipes.  Menu #106 includes a FREE bonus shopping list.  All recipes are Whole Food Plant Based, vegan, plant based, oil free, refined sugar free, no highly processed ingredients, and gluten free.

Downloadable Menu which offers the following:

2 Breakfast ideas
2 Lunch ideas
2 Snack Ideas
5 Dinner Ideas, including a FREE downloaded shopping list (PDF – Below)

A comprehensive (downloadable) shopping list for the 5 Dinners

The shopping list is segmented into the common grocery store sections like "produce, spices, etc." making it easy to pick up these items from your local grocery store.
It also includes product suggestions that are Whole Food Plant Based compliant* for easy reference.  Note: These products are suggestions, please feel free to select your own favorite products.
Includes helpful codes so you can easily subtract items that you choose not to make.

Downloadable Instructions on how the meal plan work.
Note:  The term "Whole Food Plant Based compliant" is from a general standpoint.  There are Whole Food Plant Based diet branches that restrict certain food items.  Our recipes are all Whole Food Plant Based compliant based upon a high-level compliance standpoint. i.e. vegan, plant based, oil free, refined sugar free, minimally processed foods.
Some breakfast, lunch, and snack ideas are simple concepts that require no recipe.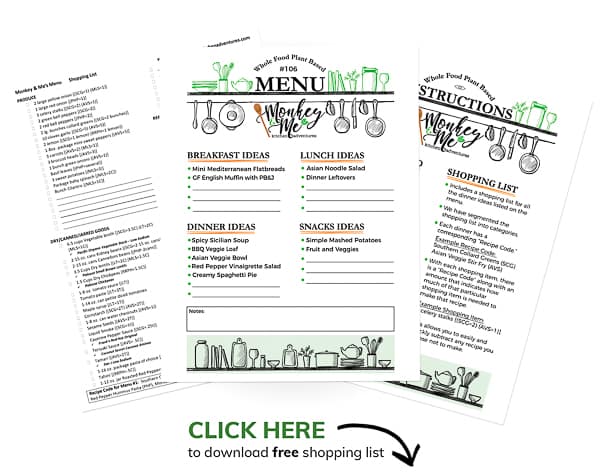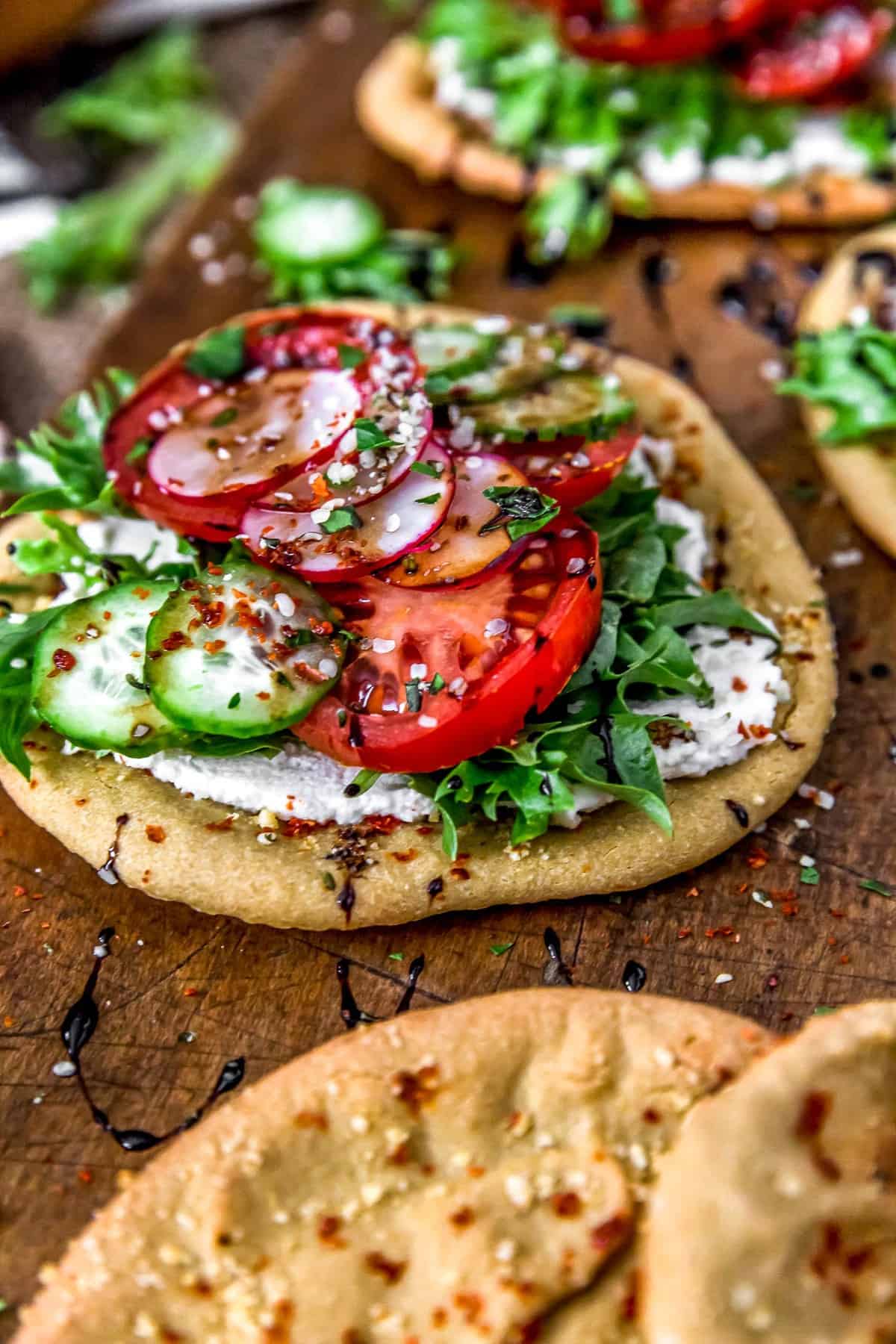 We are upping our entertainment game with these these amazingly delicious Mini Mediterranean Quinoa Flatbreads that are both healthy and delicious! Perfectly oven baked to soft and chewy or crisp and crunchy texture and consisting of a few simple ingredients, these tasty mini flatbreads turn into an irresistible appetizer, breakfast, or snack.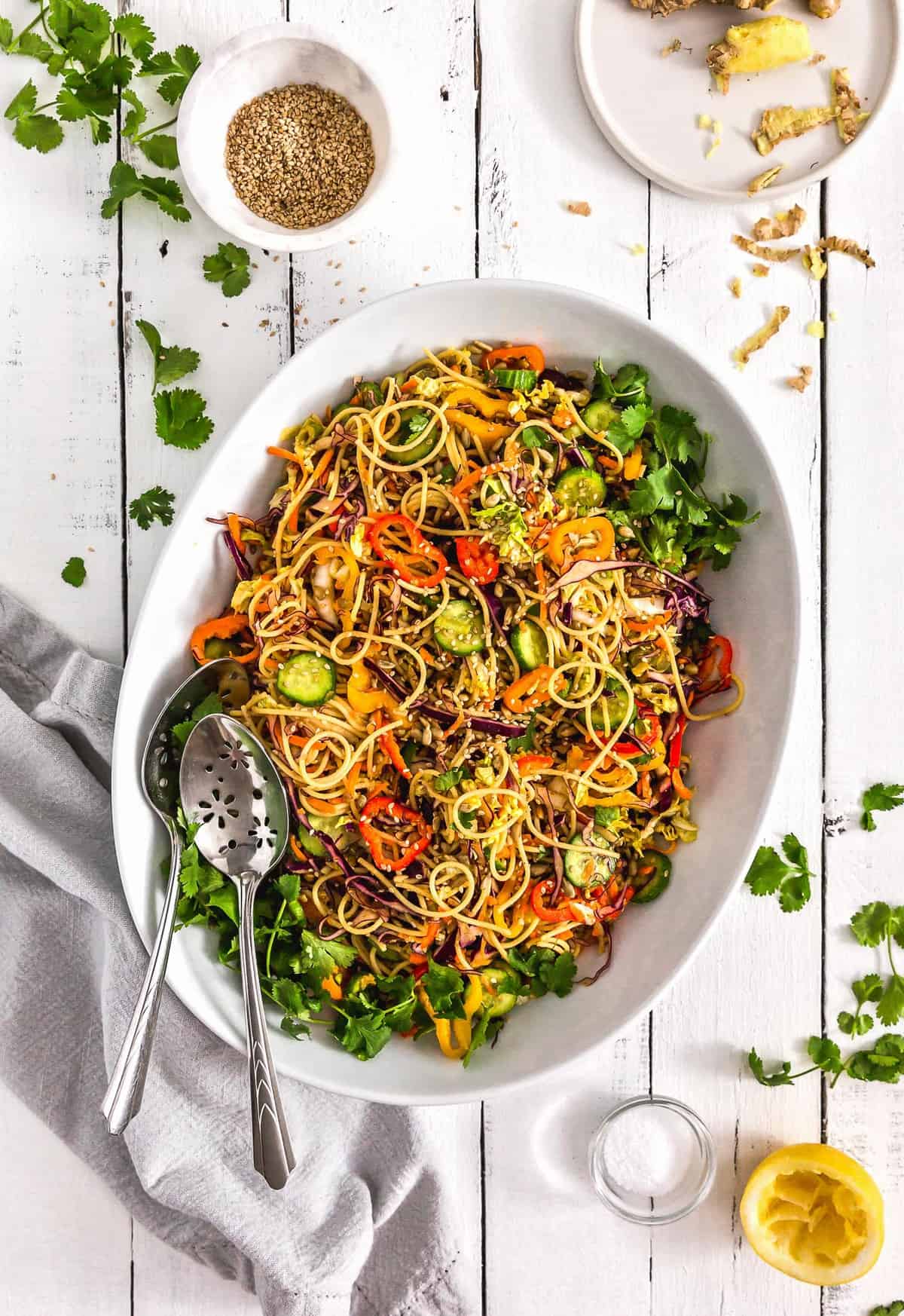 Incredibly easy to make, bursting with flavor, this bright and colorful Asian Noodle Salad is healthy and delicious. The tasty ginger dressing boasts no oil, and is light and refreshing; once you try it, you'll keep coming back for more.  It is an excellent salad for lunch, picnics, and barbecues.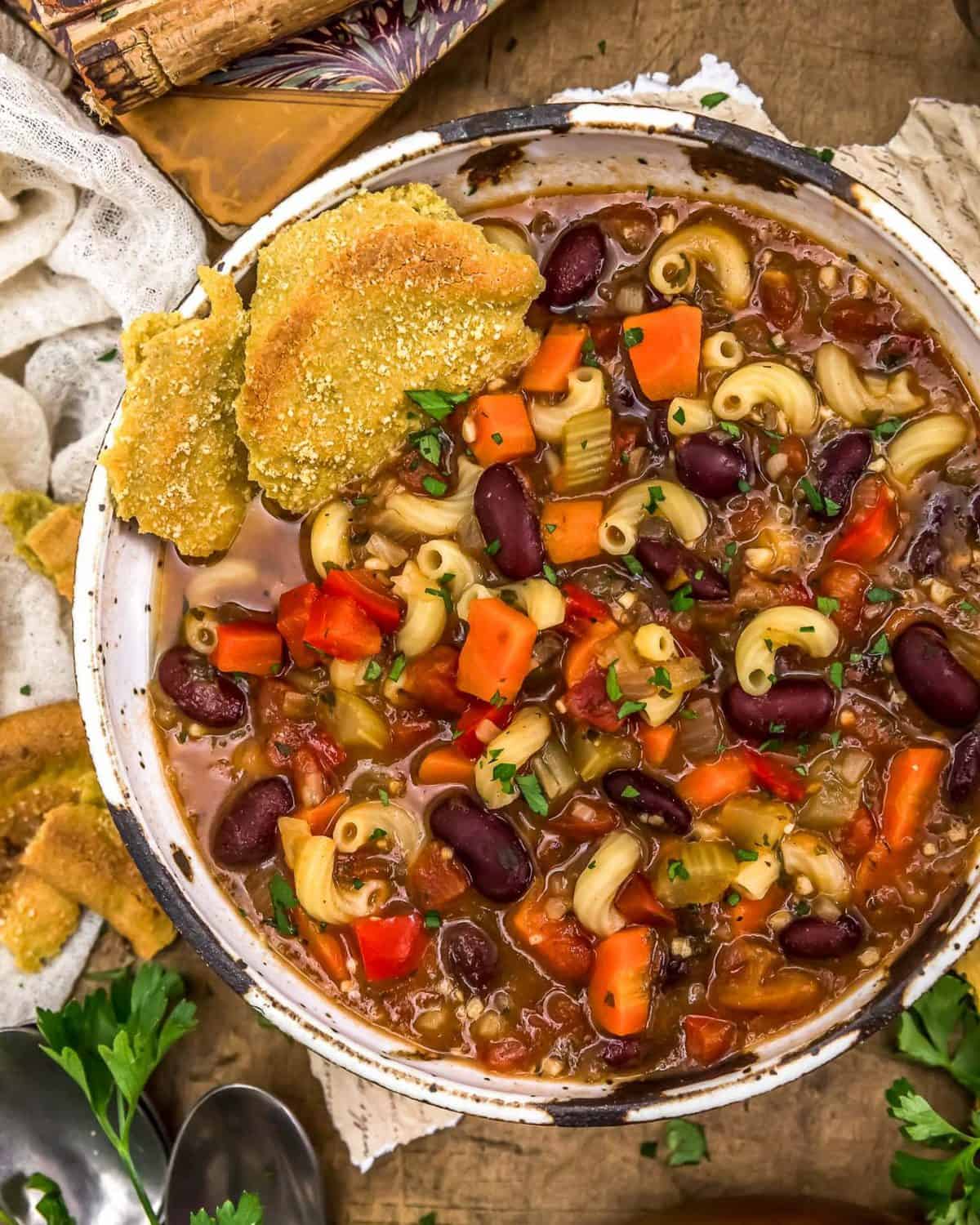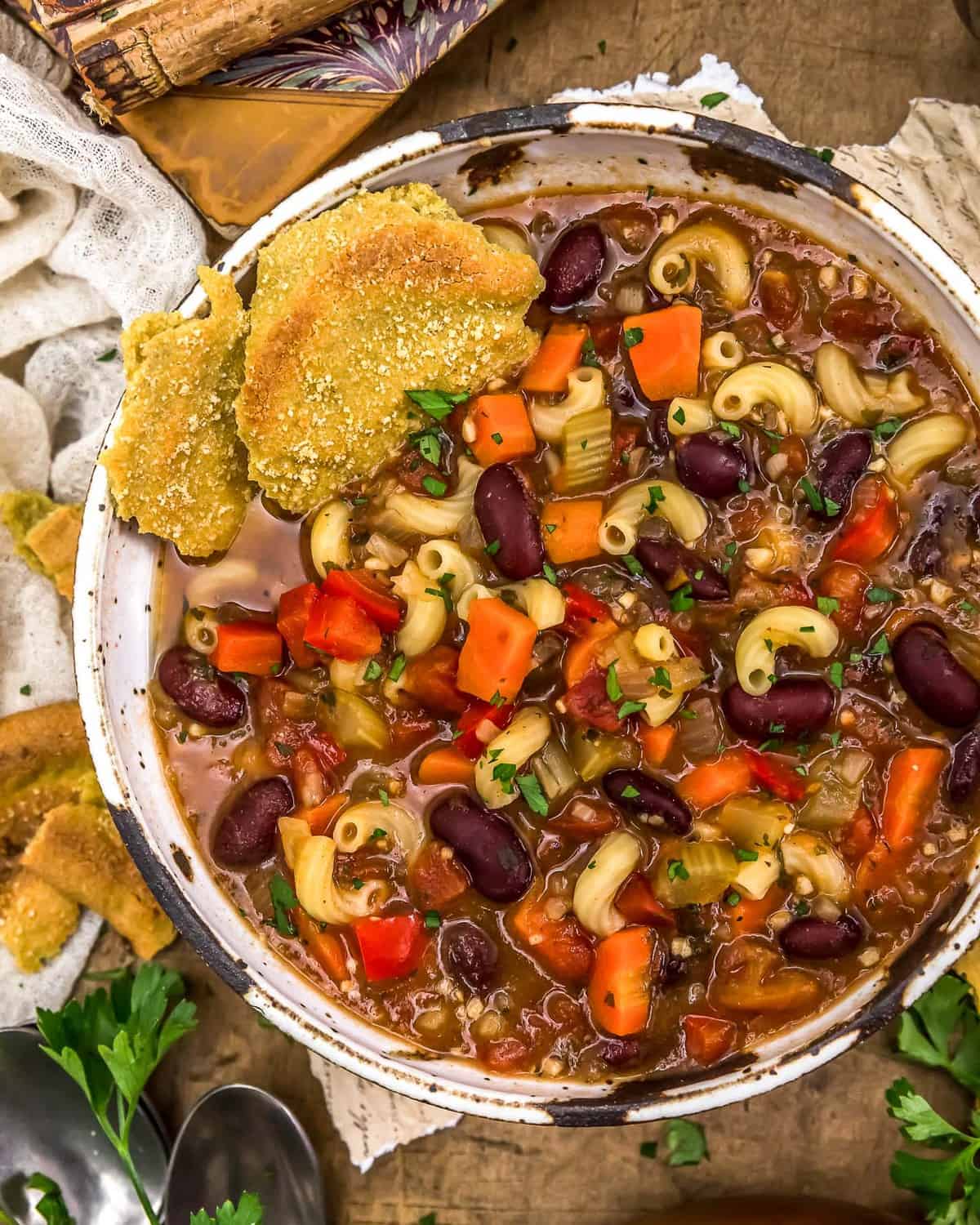 Serve up some of this ultra-cozy soup to celebrate all those fall feels. This flavorful, easy, and wholesome oil-free Spicy Sicilian Soup is a vegan nod to the popular Carrabba's Spicy Sicilian Chicken Soup. Packed with nourishing veggies, this bowl of deliciousness is sure to warm you up and make your belly happy. This soup has the perfect ratio of veggies, pasta, beans, and broth and loaded with just the right amount of spiciness.  Perfect for every day of the week, this delightful soup is sure to boost your immune system and soothe your soul; comfort soup at is finest!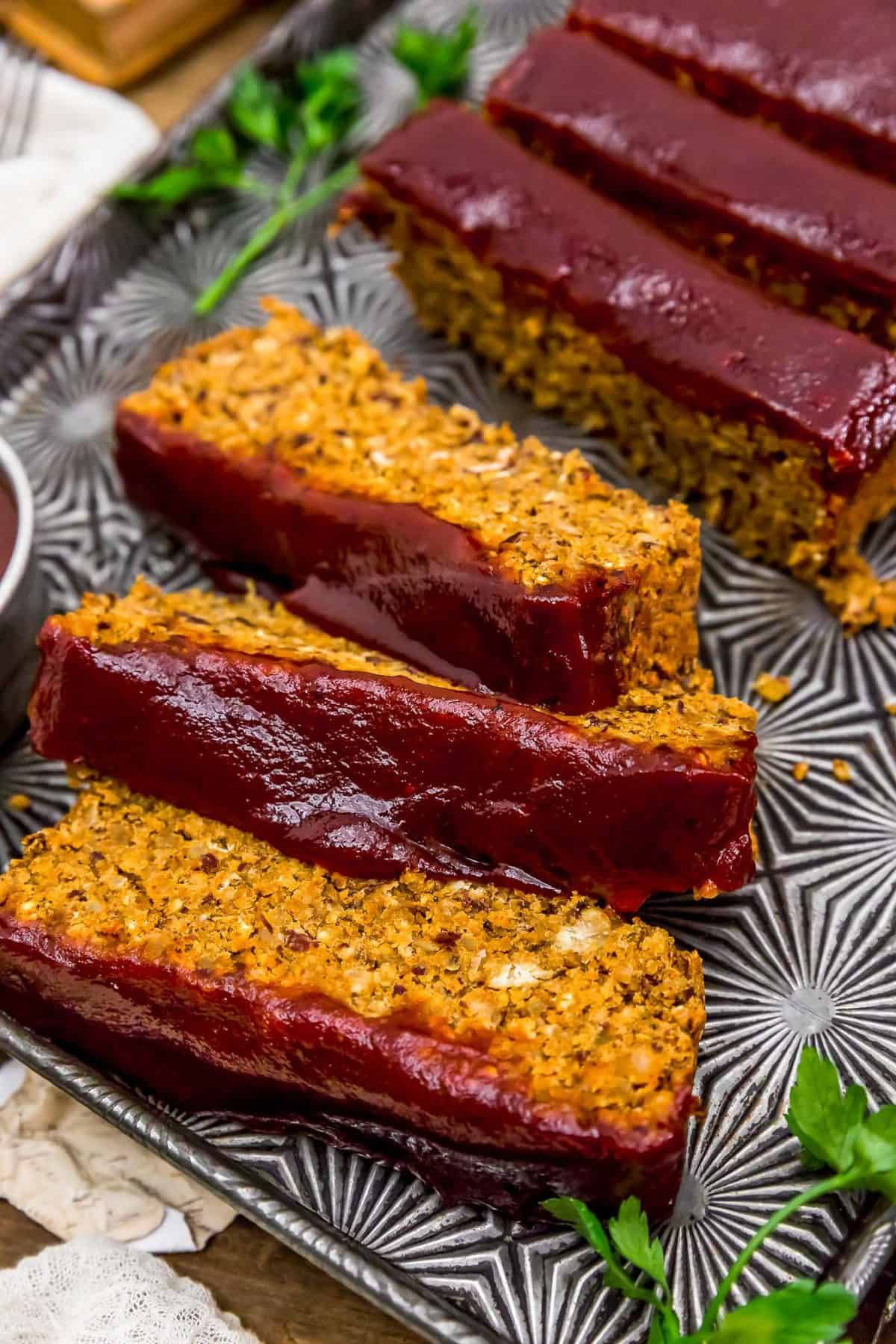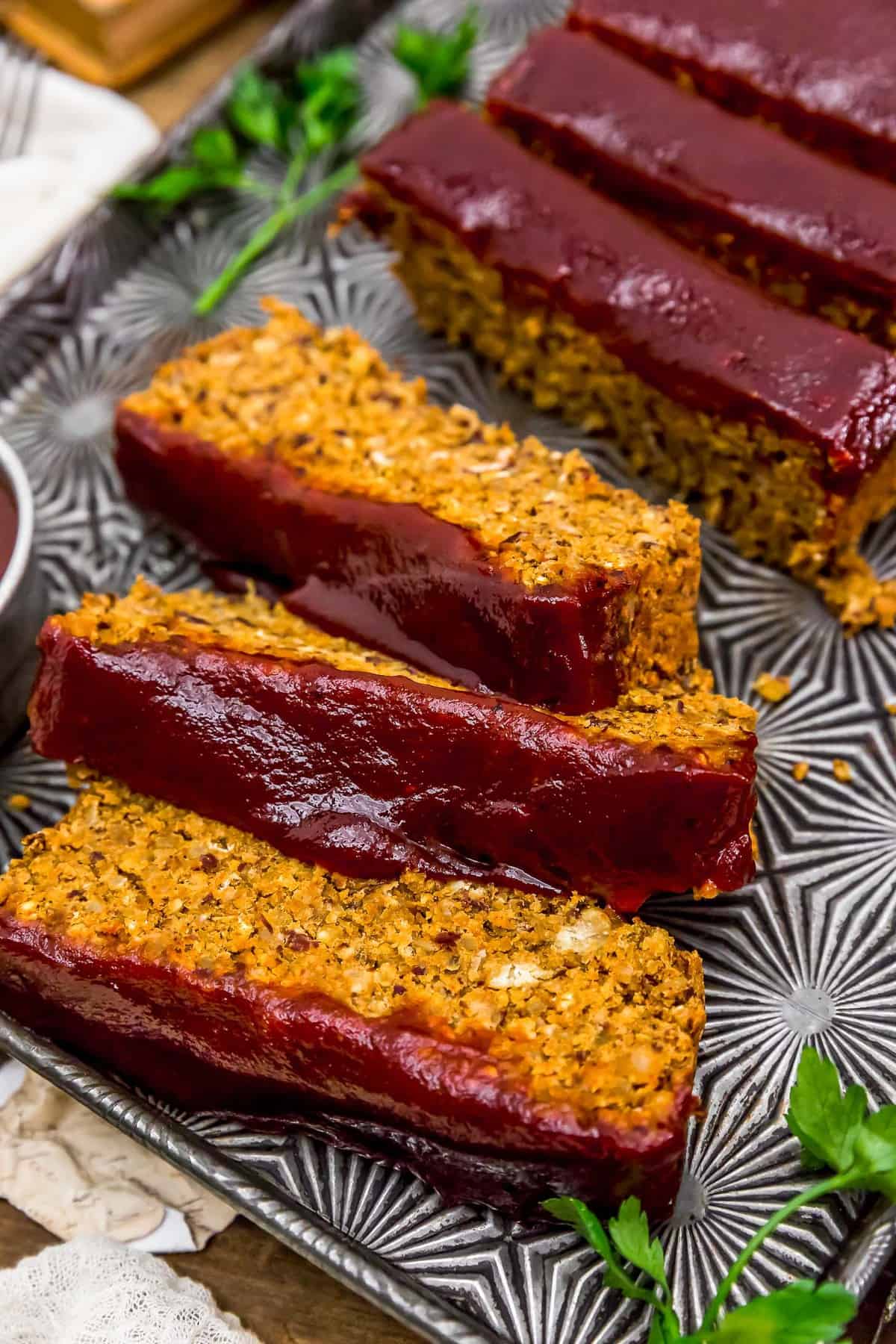 Let's talk veggie loaves, friends. We've got an irresistible, give me all the slices, BBQ Veggie Loaf that totally delivers in plant based goodness. Sweet, smokey, and sensations, our oil-free BBQ Veggie Loaf is bringing all those BBQ flavors in a wholesome loaf the whole family will love. Powerhouse veggies, protein-packed beans, and delicious BBQ spices all blend together creating beautiful textures and flavors. This flavor-packed veggie loaf is sure to become a new family favorite.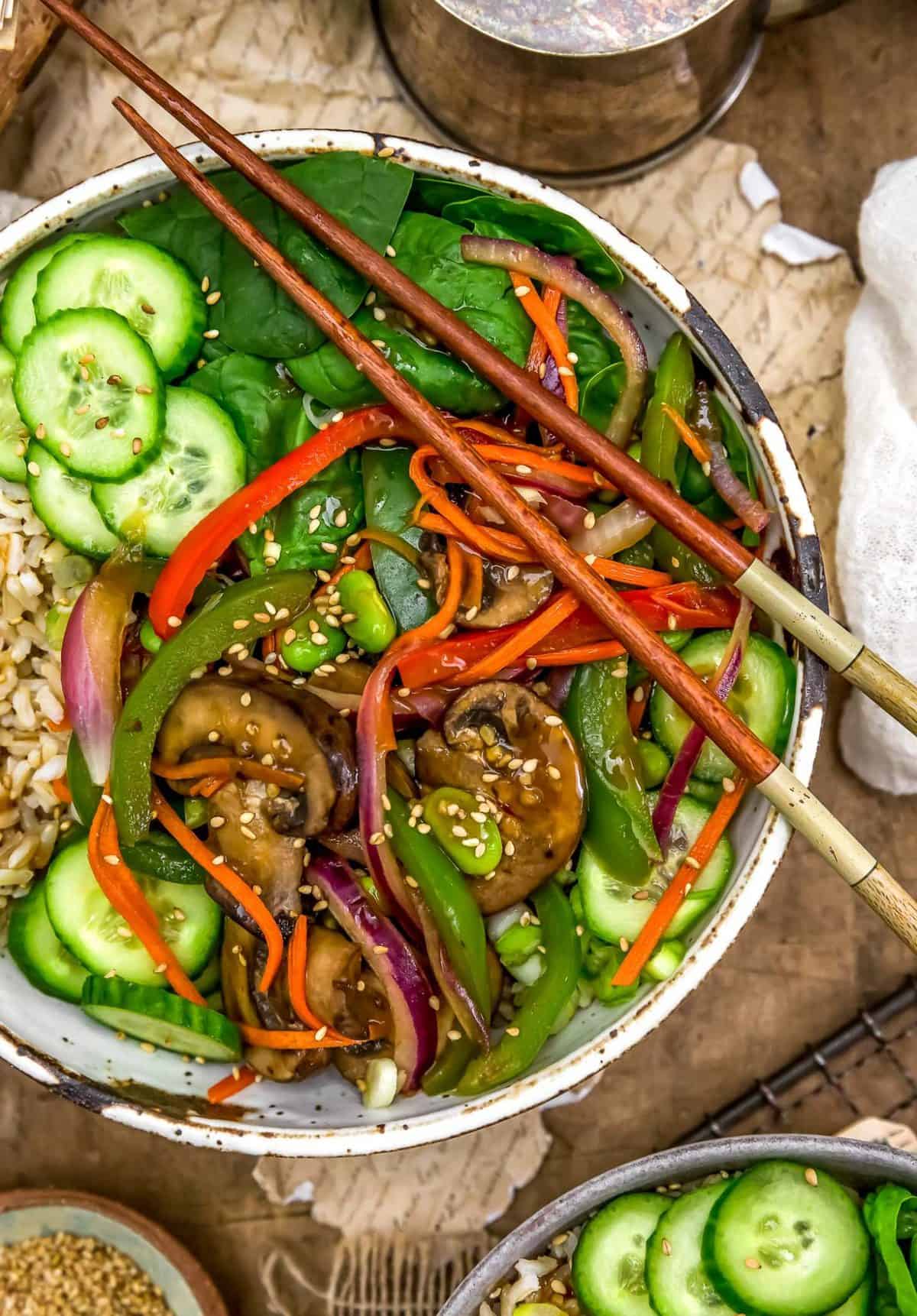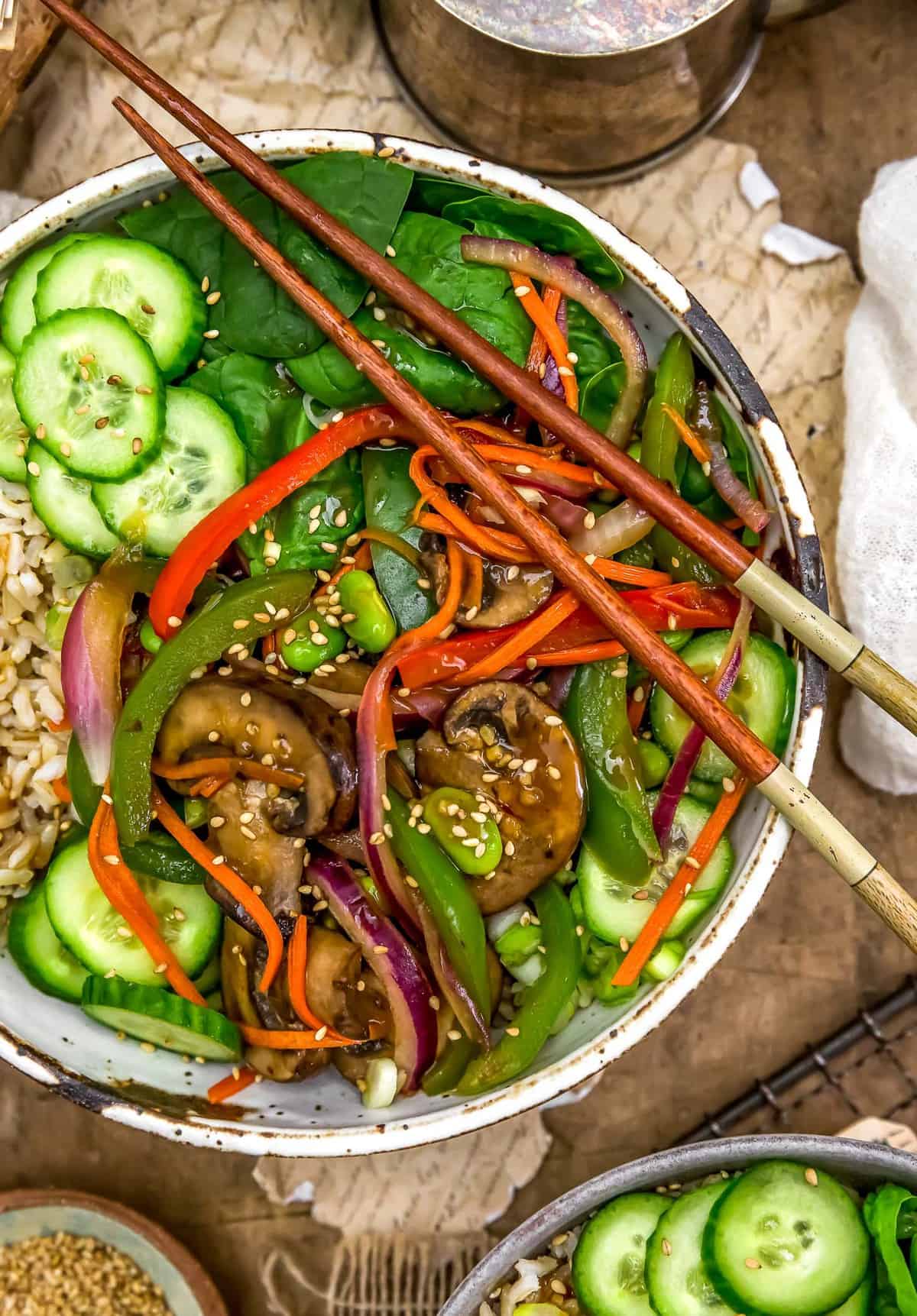 The best part about this delicious Asian Veggie Bowl is how fast it comes together. Warmed veggies tossed in sweet, spicy, and luscious sauce; piled high in a bowl; and paired with cooling cucumbers, earthy spinach, and hearty brown rice makes for a simple and quick dish that will get those taste buds tingling. Ready in 20 minutes or less, this tasty bowl is perfect for those busy weekday lunch or dinner meals when you need something satisfying and filling in a flash.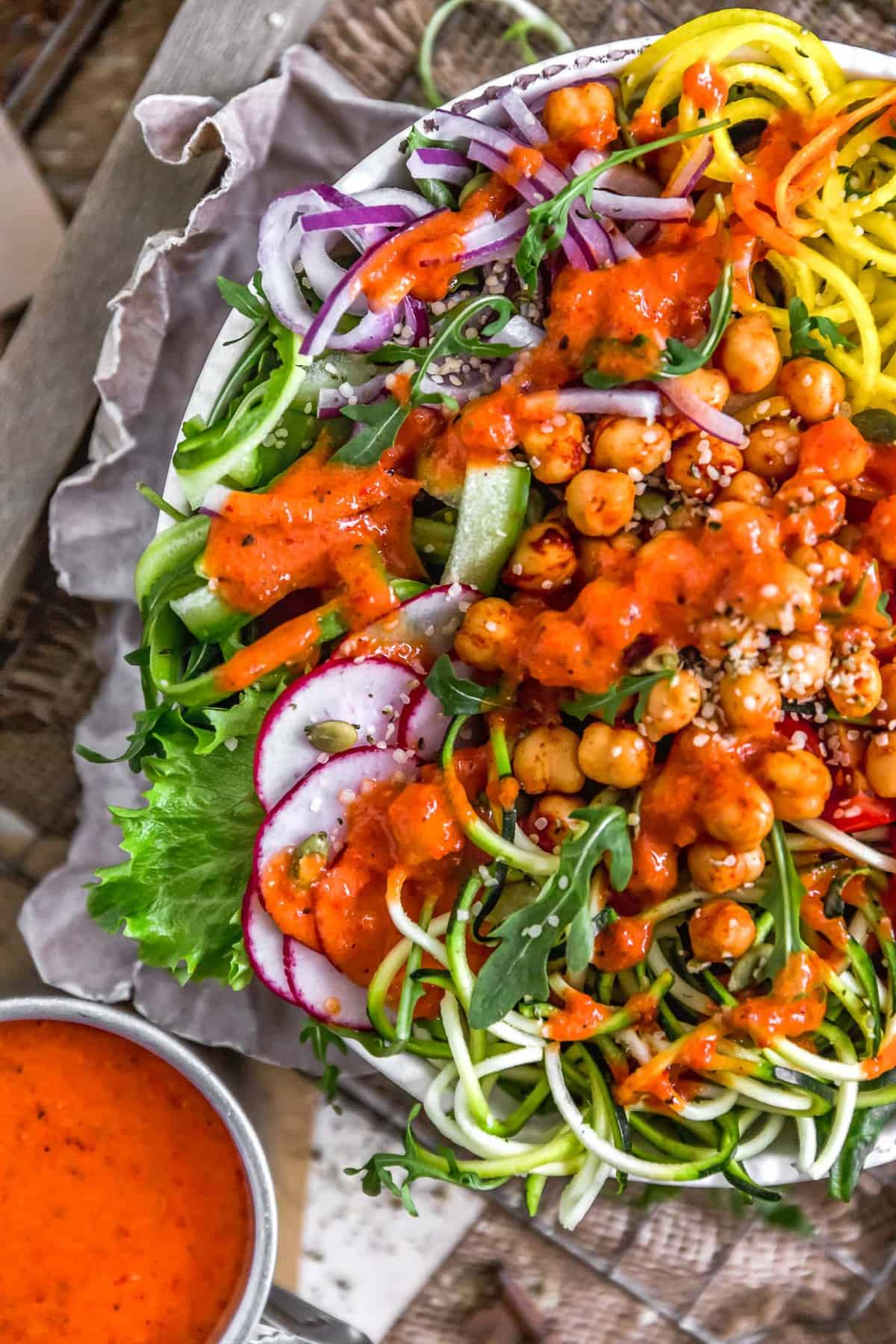 Salads make the world go round! Nothing like a refreshing, nourishing salad to brighten the day, and we've got a perfect, vibrant dressing that is going to knock your socks off. This healthy, homemade oil-free Roasted Red Pepper Vinaigrette is deliciously tangy, creamy, and a pow of sweet roasted red pepper flavor that is wholesome and super tasty! A perfect addition to veggie bowls and salads alike, it is sure to add sunshine to your bowl of veggie goodness.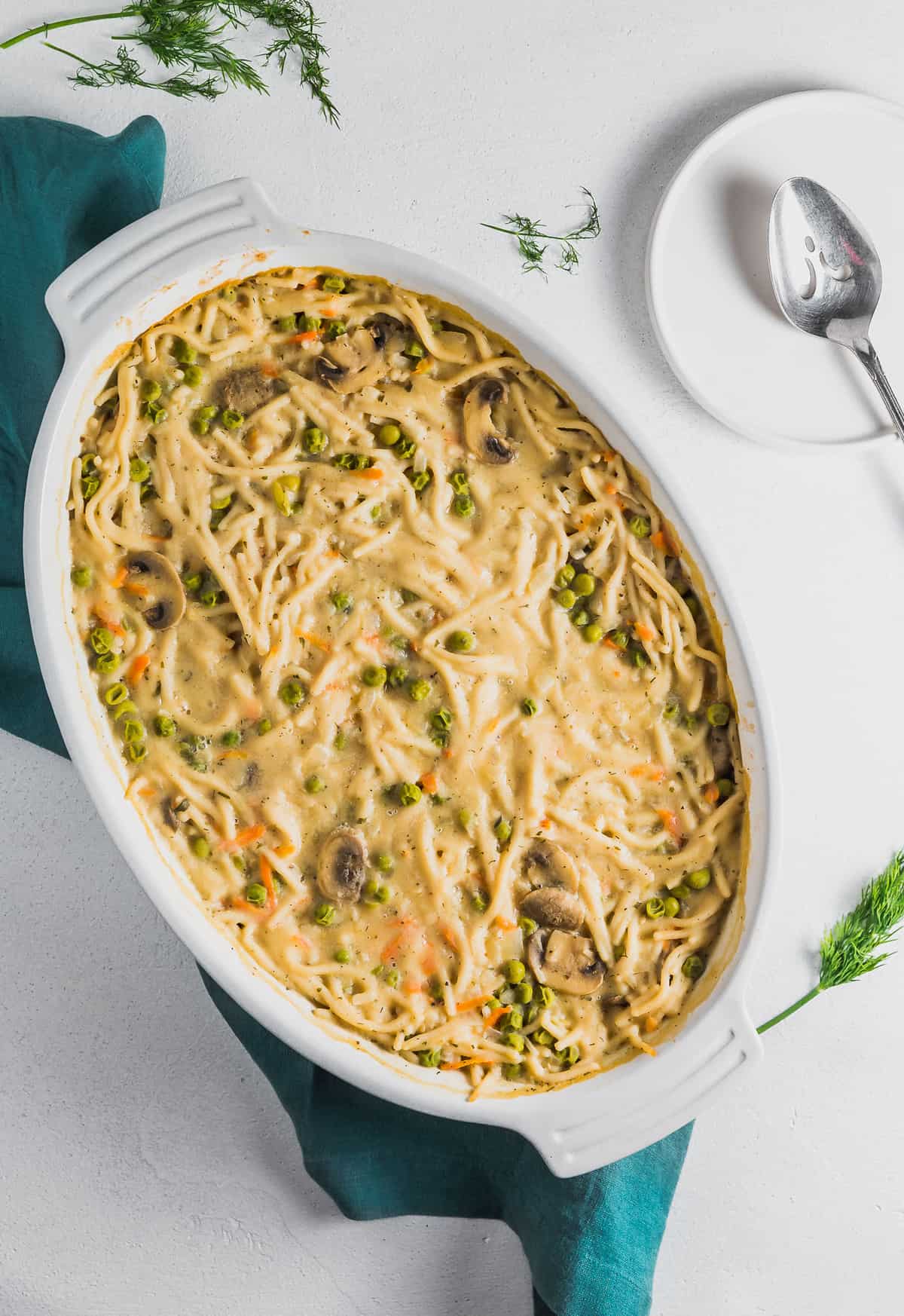 This rich Creamy Spaghetti Pie is super tasty and filling. Spaghetti, peas, and mushrooms coated with a delightful cream sauce is comfort food your family is sure to love!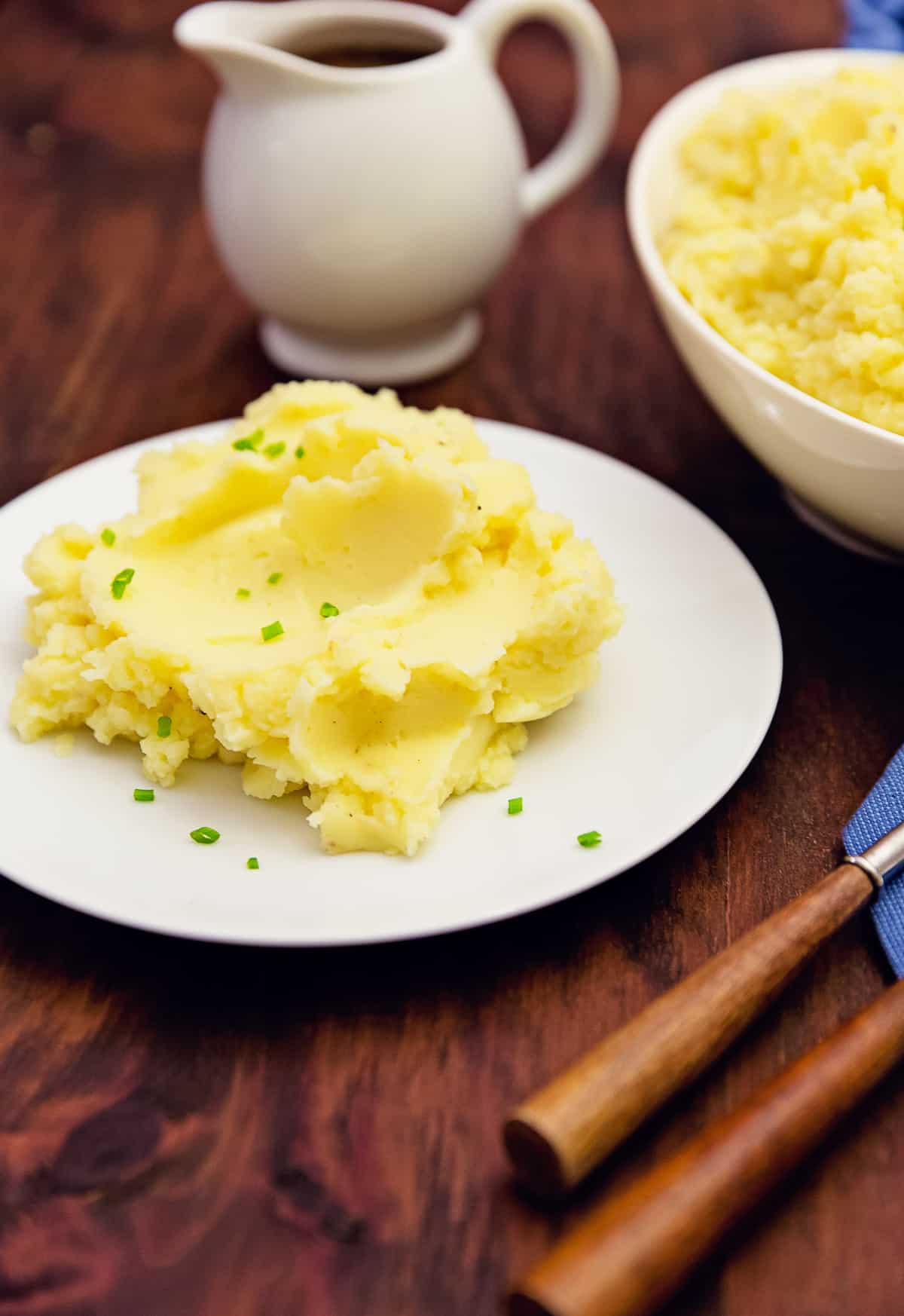 Enjoy this classic favorite; it's simple and fast, creamy and delicious.  Homemade mashed potatoes made healthy, you say?  Why yes, it can be done – the Whole Food Plant Based way!  The smooth texture is superb, making it a perfect side dish.