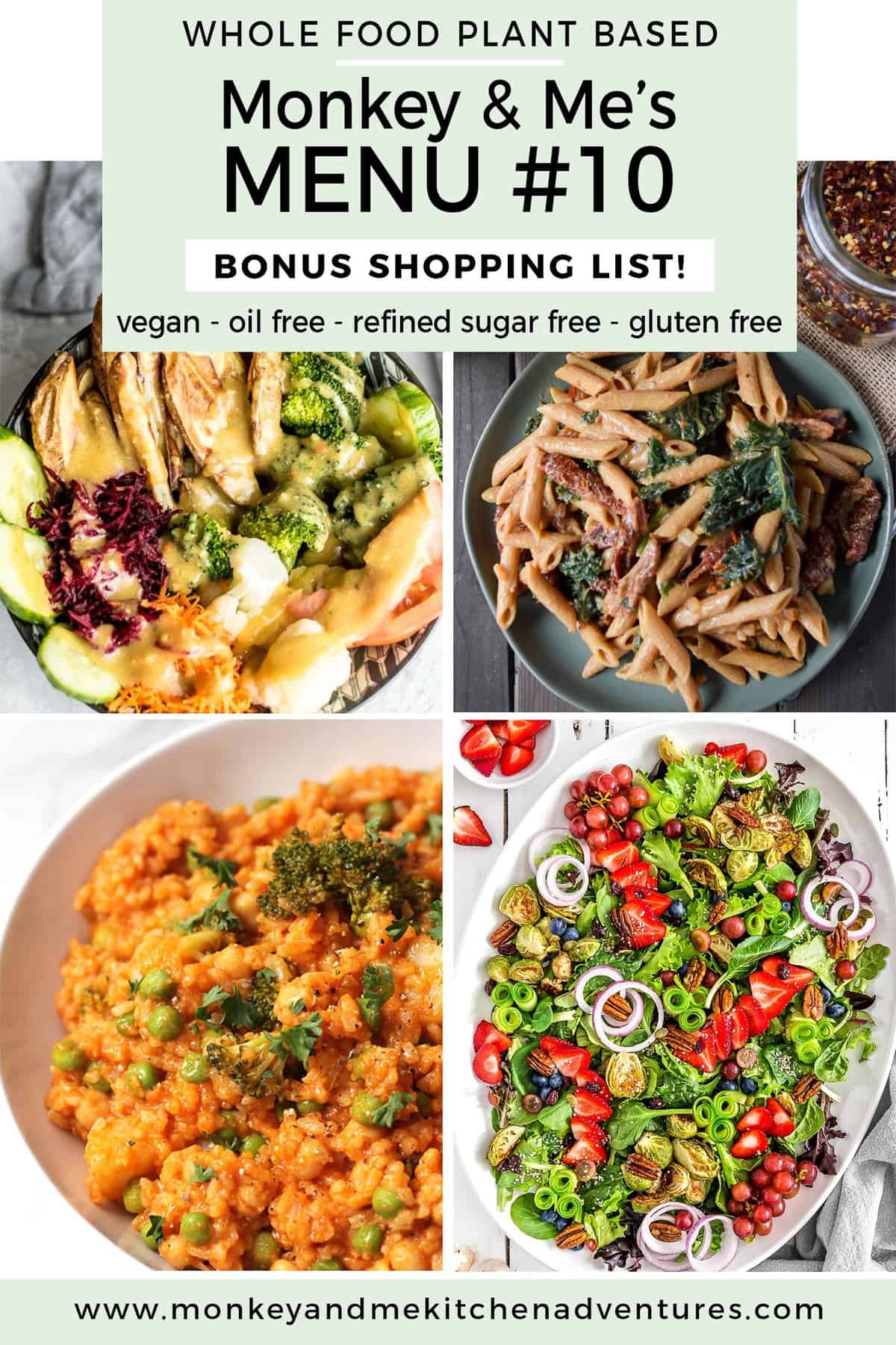 We are so happy to share with you that our Monkey and Me Weeknight Meal Menus have been huge hits.  We received a lot of excellent feedback.  This week we are very excited to feature some of our favorite foodie bloggers in Menu #10.  All recipes are Whole Food Plant Based, vegan, no oil, no refined sugar, no highly processed ingredients, and gluten free.
This super tasty menu features delicious dishes from Karissa at Karissa's Vegan Kitchen, Deryn at Running on Real Food, Shane at Shane & Simple, and Jess at Choosing Chia, as well as featuring a few of our own dishes.  😉
Menu #10 meal plan features the following:
Downloadable Menu which offers the following:

2 Breakfast ideas
2 Lunch ideas
2 Snack Ideas
5 Dinner Ideas, including a shopping list

A comprehensive (downloadable) shopping list for the 5 Dinners

The shopping list is segmented into the common grocery store sections like "produce, spices, etc." making it easy to pick up these items from your local grocery store.
It also includes product suggestions that are Whole Food Plant Based compliant* for easy reference.  Note: These products are suggestions, please feel free to select your own favorite products.
Includes helpful codes so you can easily subtract items that you choose not to make.

Downloadable Instructions on how the meal plan work.
Note:  The term "Whole Food Plant Based compliant" is from a general standpoint.  There are Whole Food Plant Based diet branches that restrict certain food items.  Our recipes are all Whole Food Plant Based compliant based upon a high-level compliance standpoint. i.e. vegan, no oil, no refined sugar, minimally processed foods.
Some breakfast, lunch, and snack ideas are simple concepts that require no recipe.
Meal Plan #10 includes the following recipes: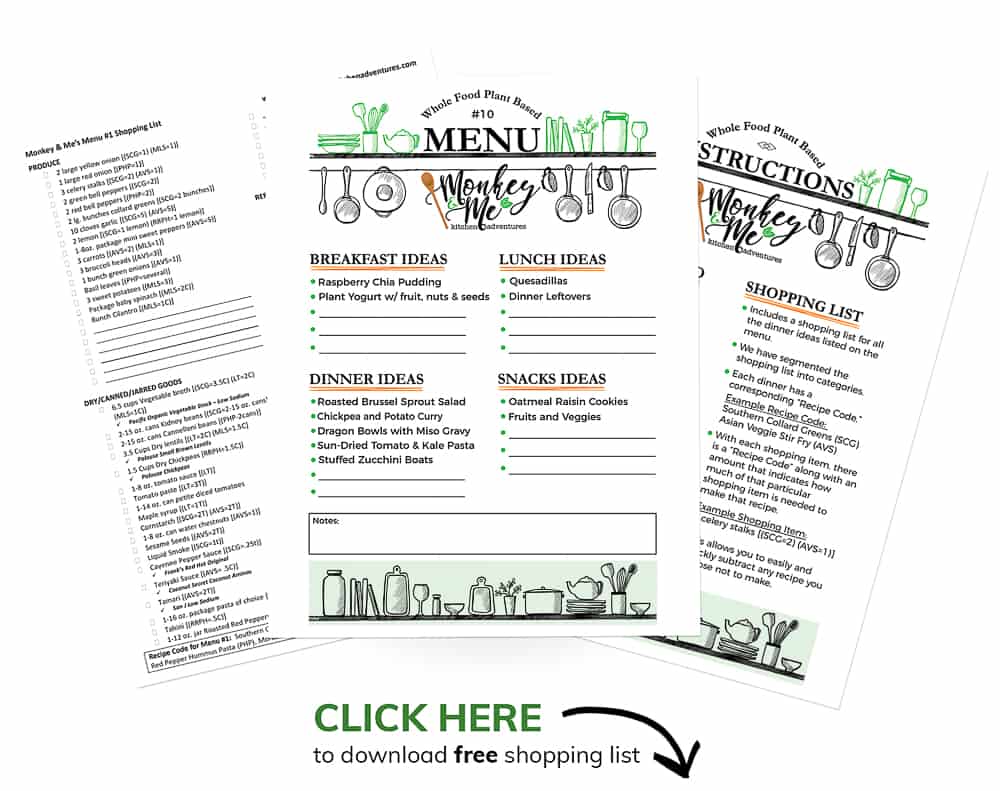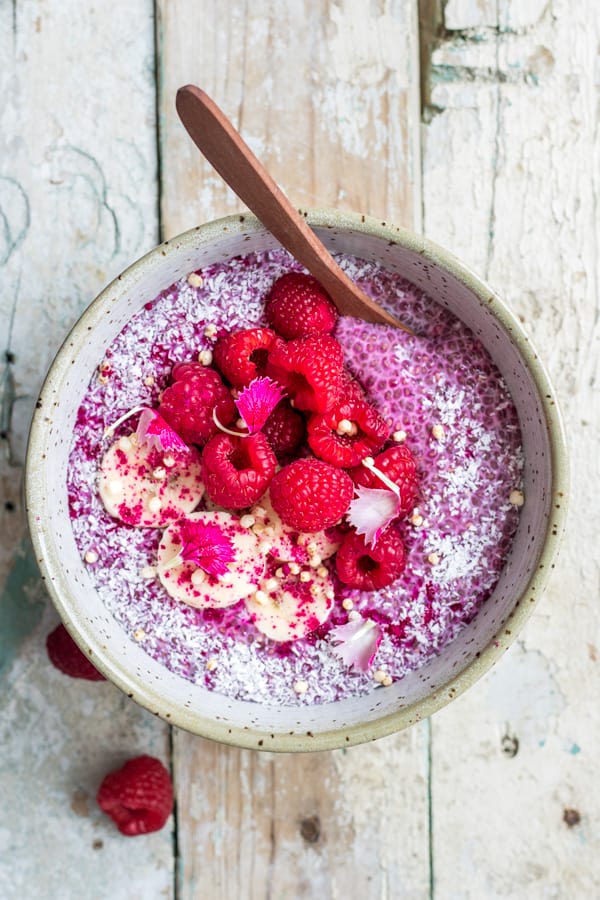 Summer is for berry-lovin' and this beautiful Raspberry Chia Pudding is a delicious and nourishing way to start the day! Creamy, refreshing, and oh-so-sweet this wholesome pudding is brimming with healthy beneficial chia seeds, almond milk, raspberries. Head on over and check it out!
These Quesadillas are quick and easy. Nutritious and healthy black beans are the star of the show. A meal the whole family will love and look forward to eating. The best go-to recipe when you and your family are looking for something fast and satisfying.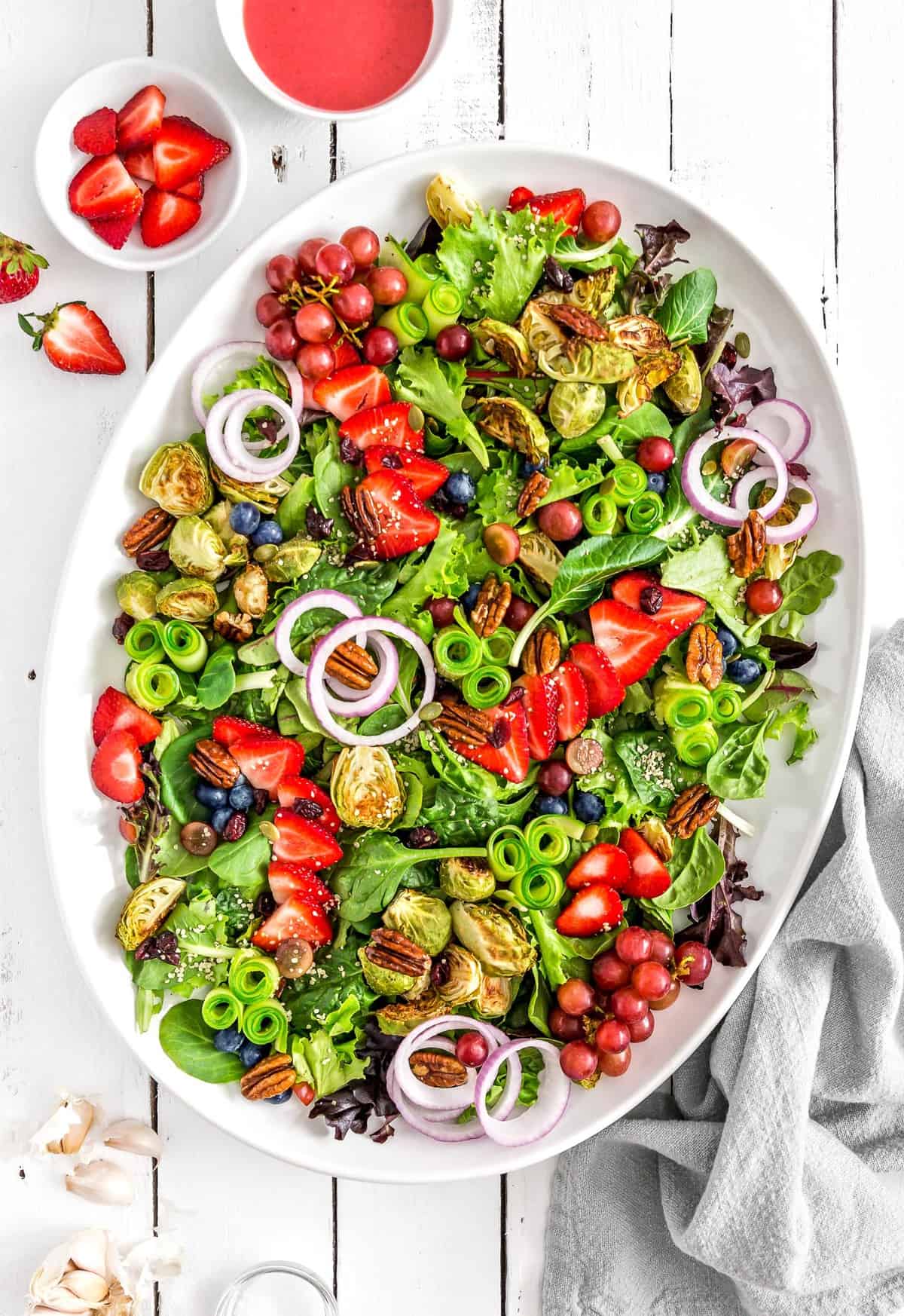 This epic Roasted Brussel Sprout Salad is summertime in a bowl! Fruits and veggies team up together to create this enchantingly delicious salad of sweet and savory flavors! Beautifully roasted Brussel sprouts, fresh veggies, and a tasty scattering of delectable fruit, seeds, and nuts, all combined together with a creamy and flavorful Strawberry Vinaigrette create delicious summer vibes in every bite.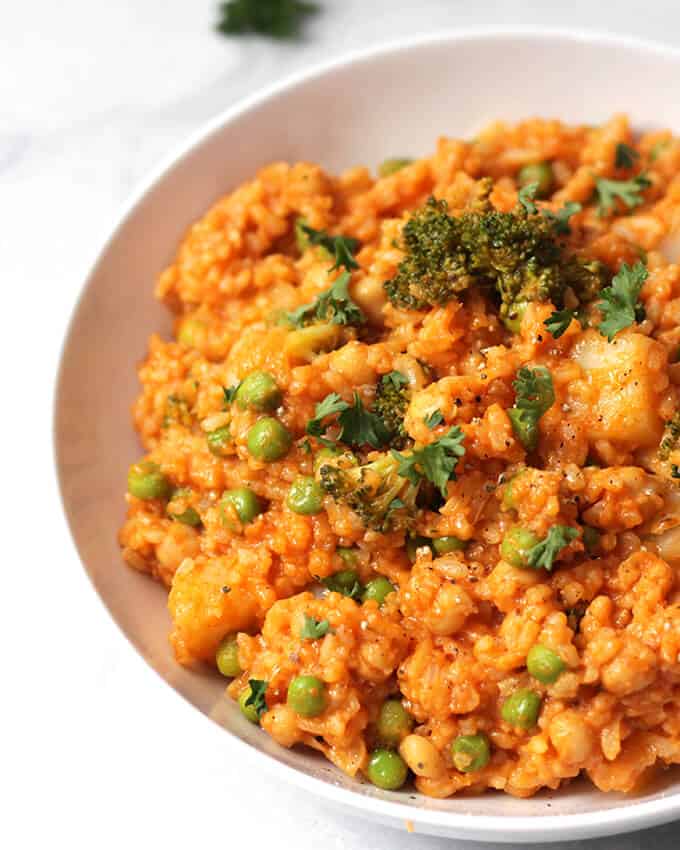 Creamy, satisfying, and packed with healthy wholesome ingredients, this mouth-watering One-Pot Vegan Chickpea and Potato Curry has got weeknight meals feeling "easy breezy." A dish that will bring the whole family running to the dinner table. Head on over and check it out!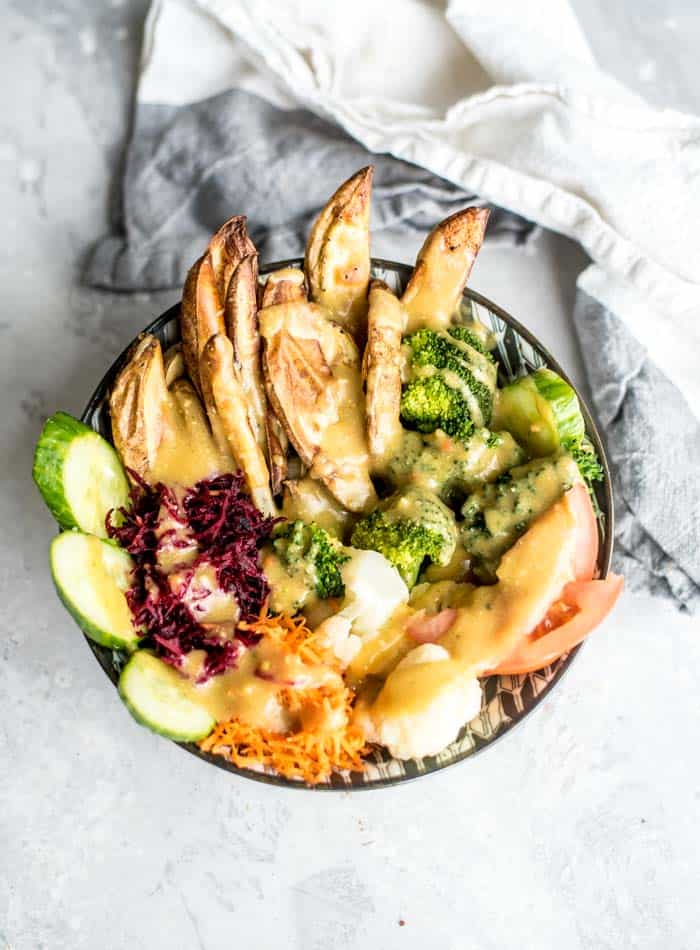 Cozy on up to the beautiful bowl of veggie packed goodness! Oven roasted potatoes, steamed broccoli and cauliflower, grated beet and carrot, fresh tomatoes and cucumbers all nestled together and topped with a rich, creamy warm miso gravy. This delicious dish is sure to put a smile on your face.  Head on over and check it out!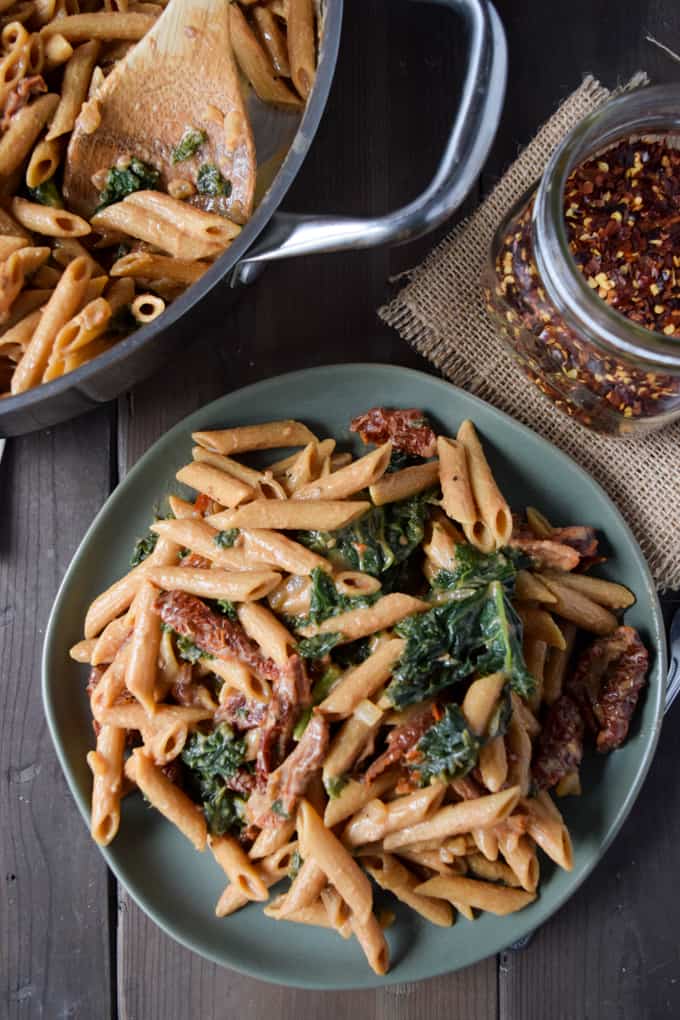 Grab a fork and get ready to dig into this gorgeous, drool-worthy mound of hearty, healthy pasta! This tasty dish features a rich and creamy sauce tossed with pasta, sun-dried tomatoes, and kale. This nutritious and wholesome dish is sure to please. Head on over and check it out!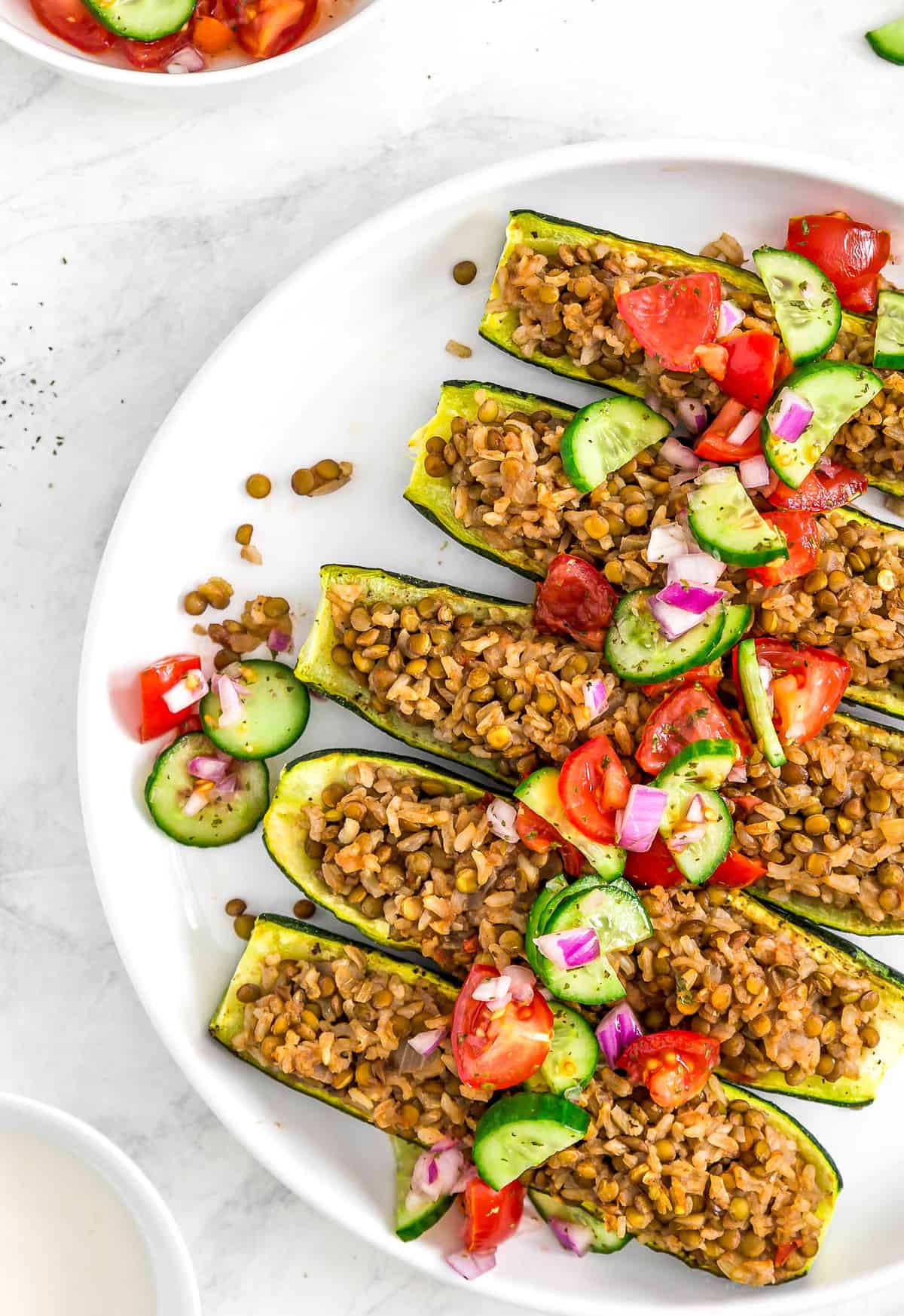 Full of flavor, stuffed with lentils and brown rice, these delicious Middle Eastern Stuffed Zucchini Boats are a new take on a classic Lebanese stuffed "koosa" (zucchini) dish.  The inexpensive and humble zucchini is brimming with deliciously earthy-spiced rice and lentils, then topped with a refreshing veggie salad and a zingy garlic yogurt dressing that is sure to knock your socks off.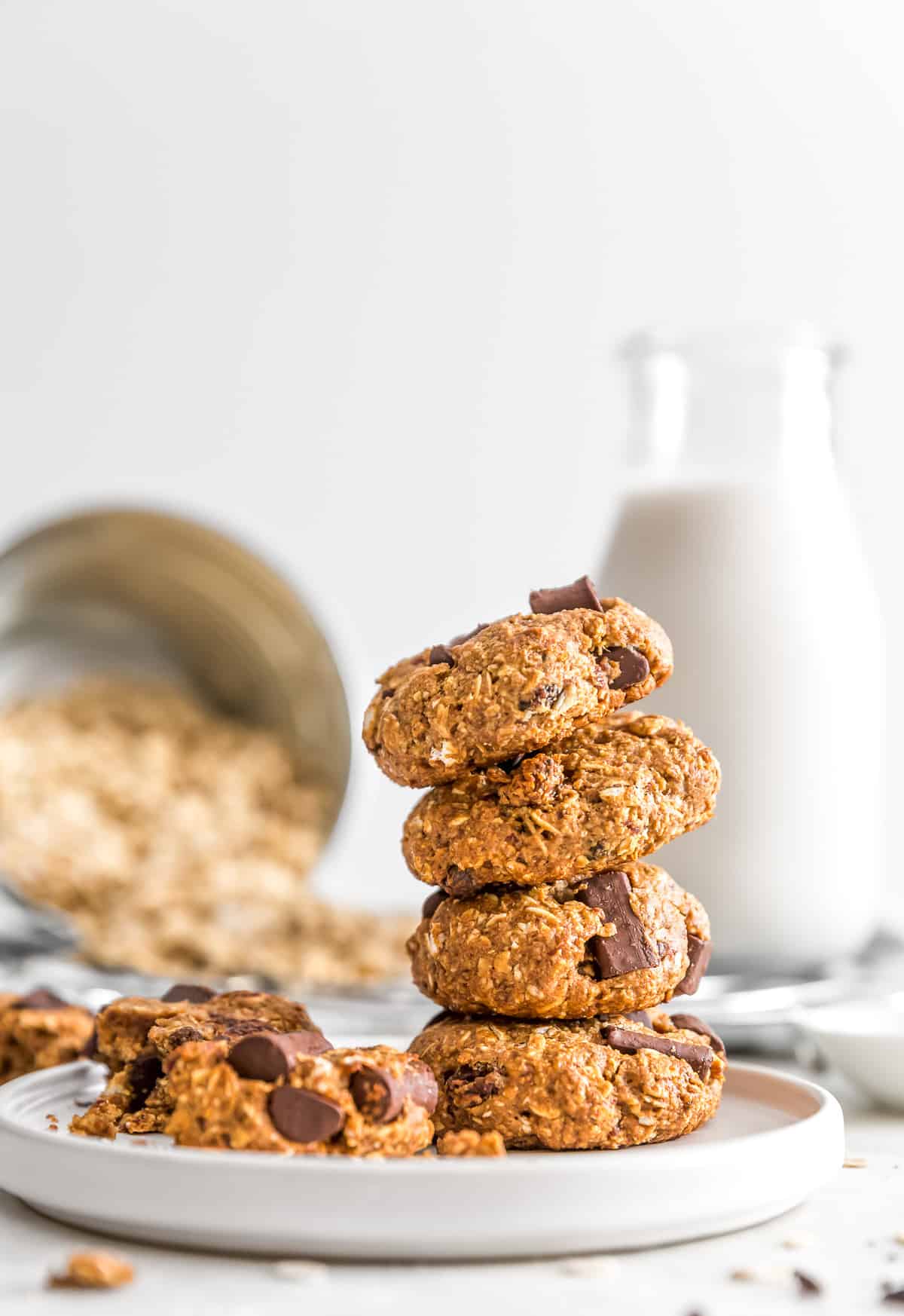 Looking for something sweet AND healthy? Let us introduce you to these beautiful goodies, Old Fashioned Oatmeal Raisin Cookies with chocolate chips. Perfectly healthy and delicious, these amazingly chewy and delightfully soft cookies are easy to make; plus, they are the perfect after school treat for the kids or after a long day at work for the bigger "kids." One bite and your sweet tooth will be sated!