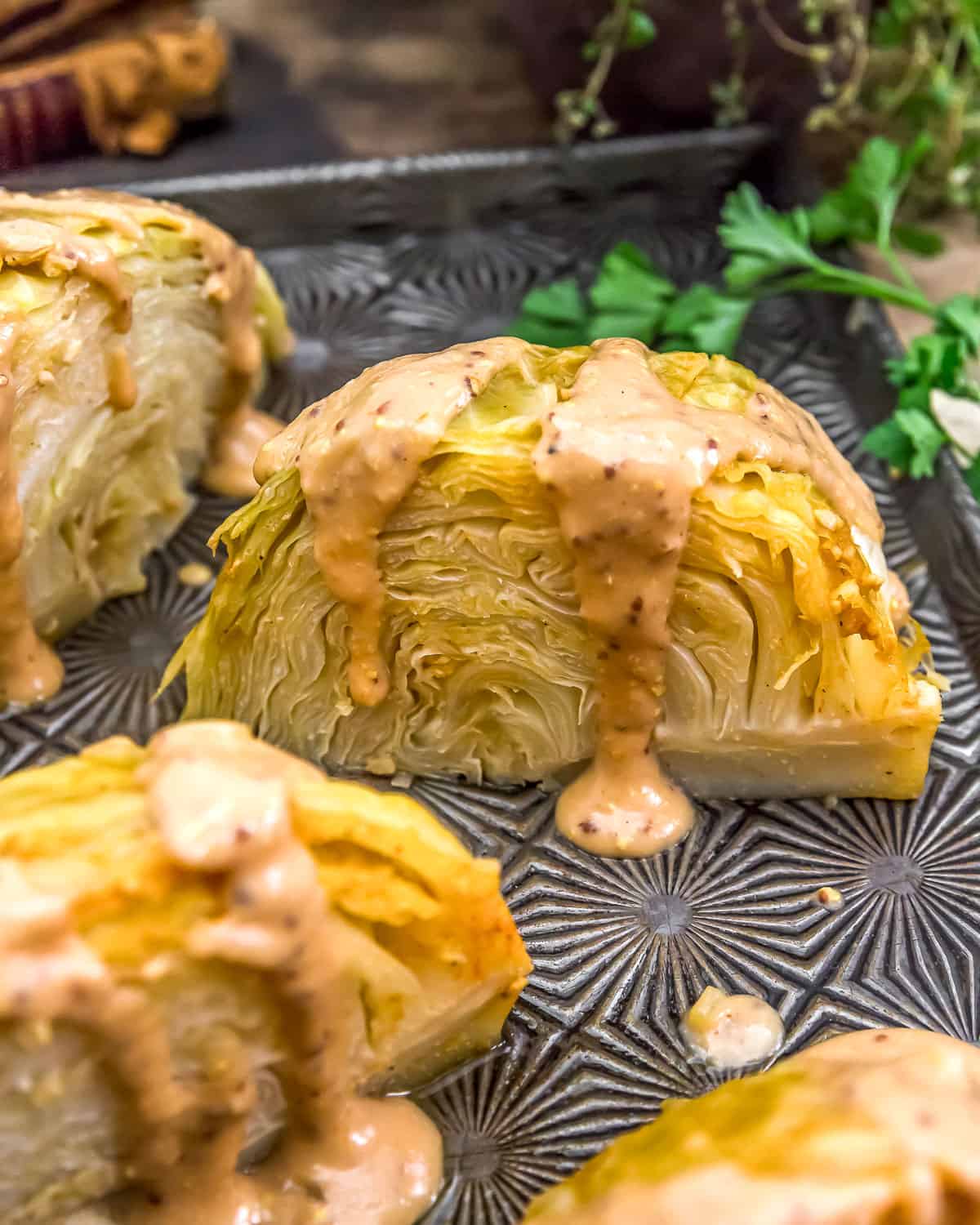 Instant Pot Reuben Cabbage Wedges!
A fun and healthy, vegan twist to a classic American sandwich, this oil free Instant Pot Reuben Cabbage Wedges are easy to make and oh-so-delicious. Perfectly seasoned cabbage wedges are cooked to tender and topped with tasty Thousand Island dressing. We are transforming this humble cabbage dinner into a vegan nod to Reuben heaven!
Whole Food Plant Based, Vegan, plant based, oil free, refined sugar free, no highly processed ingredients and gluten free.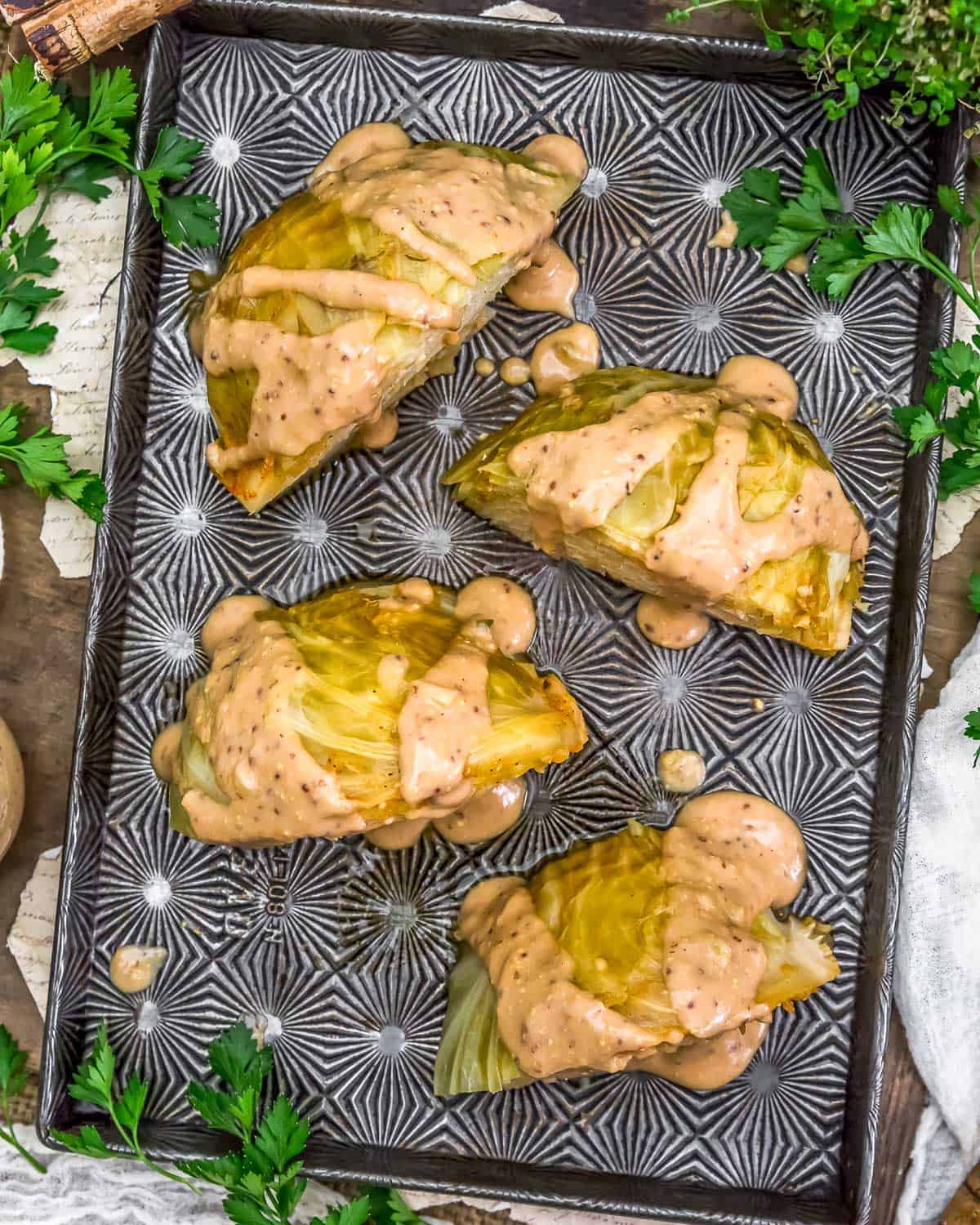 Hi there, Ameera here!
So, Mom was all over this one, she loves cabbage and loved Reuben sandwiches in her former life, so she was all about making a humble penny-pinching cabbage recipe into a fantastic dinner.
This recipe is a nod those tasty Reuben flavors, it certainly is not going to taste like a Reuben sandwich, but it will give you a delightful nod to that deliciousness.
You gotta give this one a try!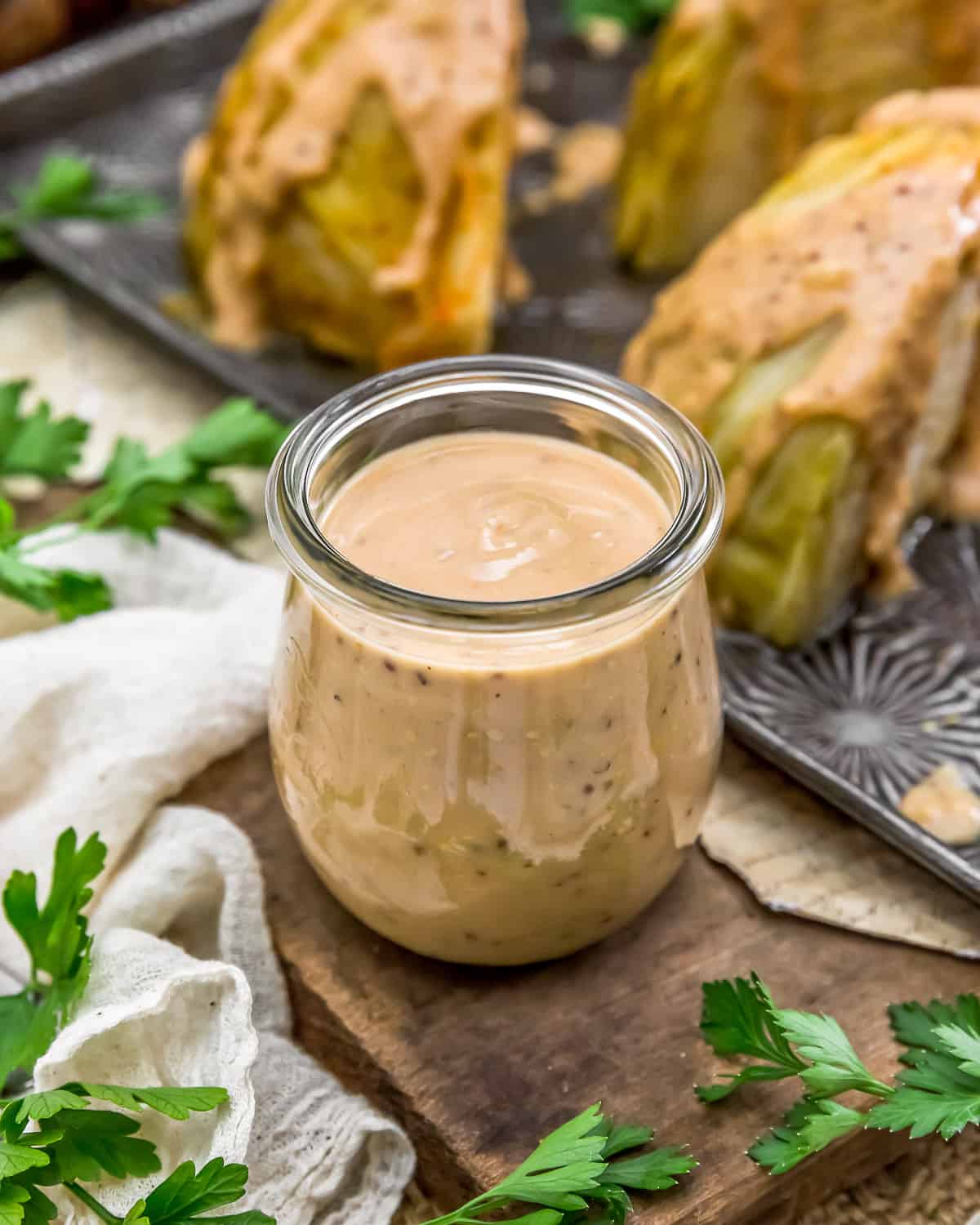 Tips for Success:
Flavor Profile: The favor profile of this dish is a lightly caraway infused cabbage that gives a nod to a Reuben Sandwich.
Low Fat Dish Expectations: This dish is designed to be a low-fat dish.  It is not going to taste as decadent as a dish that has a higher fat content.  It is very delicious, but we want to make sure the reader understands this.   Top with Thousand Island Dressing.  We used our Oil Free Tangy Thousand Island Hummus Dressing.  If you are looking for a more decadent dressing, try our Oil Free Vegan Thousand Island Dressing.
Served Plain:  This dish is also yummy without any dressing.  You can use the broth that the cabbage was cooked in as a savory topping.
Ground Caraway Seeds: This is an essential ingredient to this dish.  Do not leave it out.  There are no substitutions to offer.  Feel free to ramp up the caraway seeds if you want a stronger Reuben flavor experience.
Green Cabbage: We used a medium-sized green cabbage. In our kitchen tests, the green cabbages ranged from approx. 2 lbs. 14 oz. to 3 lbs. 8 oz. Pretty much any size will work except a really small one or a really large one.  We recommend not going over 3 lbs. 8 ounces.  The rule of thumb would be, does it fit in your Instant Pot with a little room to spare?
Cutting the Cabbage Stem Off: If the cabbage stem does not stick out, then there is no cabbage stem to trim off.
Instant Pot Method – Cabbage Tenderness: The Instant Pot does create a perfectly tender cabbage. The Instant Pot method is superior to the oven method for cabbage tenderness.
Cooking Times for the Instant Pot:  We used our 8 quart IP, if you use a 6 quart IP, you may with to adjust the time downward.  Additional factors that can influence time is the denseness of the cabbage, the size of the cabbage, and the desired tenderness of the cabbage.  As you know some cabbages are very dense while others are not.  If you have a very dense cabbage as you can see from the photos, this was a dense cabbage, this influencing the timing.  We also like a very tender cabbage which is a factor as well.  The size of the cabbage (large versus small) will also require some time adjustments.  We did multiple tests on dense, large cabbages in our 8 quart IP and felt that 11 minutes was the perfect time to get a very tender cabbage that did not fall apart.  Feel free to adjust the IP timing to suit your preferences. One last note about this recipe to ensure success is do NOT remove the core of the cabbage or it will completely fall apart.
Serving the Cabbage Wedges: The intact cabbage core allows you to serve the cabbage wedges easily.  We suggest removing the wedges after cooking and placing them onto a cookie sheet to drain, then placing the wedges onto a serving platter.  This allows the wedges to drain off the broth. We discarded the cooking broth as it served its purpose to flavor the cabbage.
Sea salt amount: We had family members who felt strongly that the dish needed a little more sea salt than indicated on the recipe ingredient amount.   Others thought it was perfect and some even wanted less.  Feel free to sprinkle additional sea salt onto individual servings.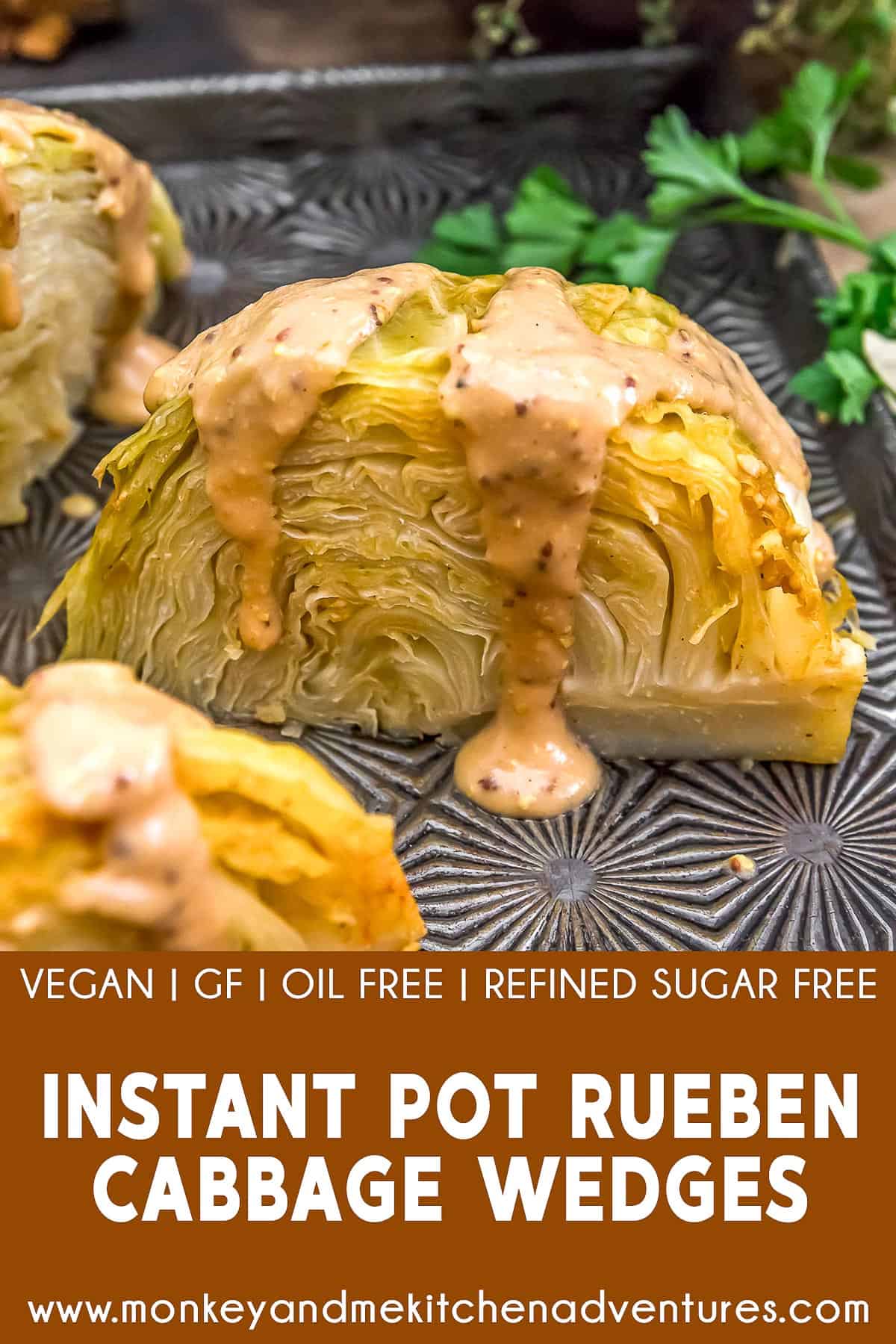 Leftovers and Freezing:
Leftovers will generally keep for 4-5 days in the refrigerator.  Store in a covered container.  Reheating can be done in the oven, or in the microwave.
This dish can be frozen.
Pantry Products Used:
Kitchen Products Used:
We certainly hope you give this deliciousness a try.
If you try this delicious dish, we would love to know if you enjoy it as much as we do! Please leave us a review! Post a picture on Facebook or Instagram and tag us!  We would love to hear from you.
Print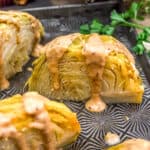 Instant Pot Rueben Cabbage Wedges
Author:

Prep Time:

5 Minutes

Cook Time:

16 Minutes

Total Time:

21 Minutes

Yield:

4

Servings

1

x

Category:

Side, Dinner

Method:

Instant Pot

Cuisine:

American

Diet:

Vegan
---
Description
A fun and healthy, vegan twist to a classic American sandwich, this oil free Instant Pot Ruben Cabbage Wedges are easy to make and oh-so-delicious.
---
Ingredients:
1

green cabbage, cut into wedges *
Broth Ingredients:
1 cup

water

1 Tablespoon

hot sauce *

2 Tablespoon

nutritional yeast

1 Tablespoon

reduced-sodium tamari *

2 Tablespoons

minced garlic

1 teaspoon

onion powder

1 ¼ teaspoons

garlic powder

2 Tablespoons

dried minced onions

1/8 teaspoon

ground caraway seeds (+/-) *

½

to

1

teaspoon sea salt (+/-) *

¼ teaspoon

black pepper (+/-) 
Other Ingredients:
---
Instructions
Clean the cabbage head by removing any lose leaves. Cut the core stem off; however, leave the hard core intact.
Turn the cabbage upside-down so you can visibly see the center hard core. Slice the green cabbage in half through the hard core, then take each half and slice it in half.There should be 4 cabbage wedges. Do not slice out the hard-inner core, this will help keep the wedge together.
Arrange the 4 cabbage wedges into the Instant Pot, hard core side down with the cut wedges facing inward.
Place all the Broth Ingredients into a bowl, whisk well to combine, then pour the broth mixture over top of the cabbage wedges making sure that each wedge was wet with the broth, allowing the broth to seep into the creases of the cabbage leaves.
Set the Instant Pot to Manual Pressure High for 11 minutes. When finished, press Cancel, all to sit for 5 minutes, then do a Quick Release.  Unplug the Instant Pot.
Once all the pressure is released from the Instant Pot, remove the lid, and carefully remove the cabbage wedges from the Instant Pot using two large-slotted spoons, arrange on a serving platter.
---
Notes
*Please reference the blog post for Tips for Success, Pantry Items Used, Storage and Freezing, and Kitchen Products Used. 
*Sea Salt:  Please adjust the sea salt based upon your family's sea salt preferences and/or based upon dietary needs.
*Serving:  4

This post contains affiliate links, and we may receive a very small commission if you purchase through those links at no additional cost to you. Thank you for supporting Monkey and Me Kitchen Adventures! For more information, see our disclosures here.