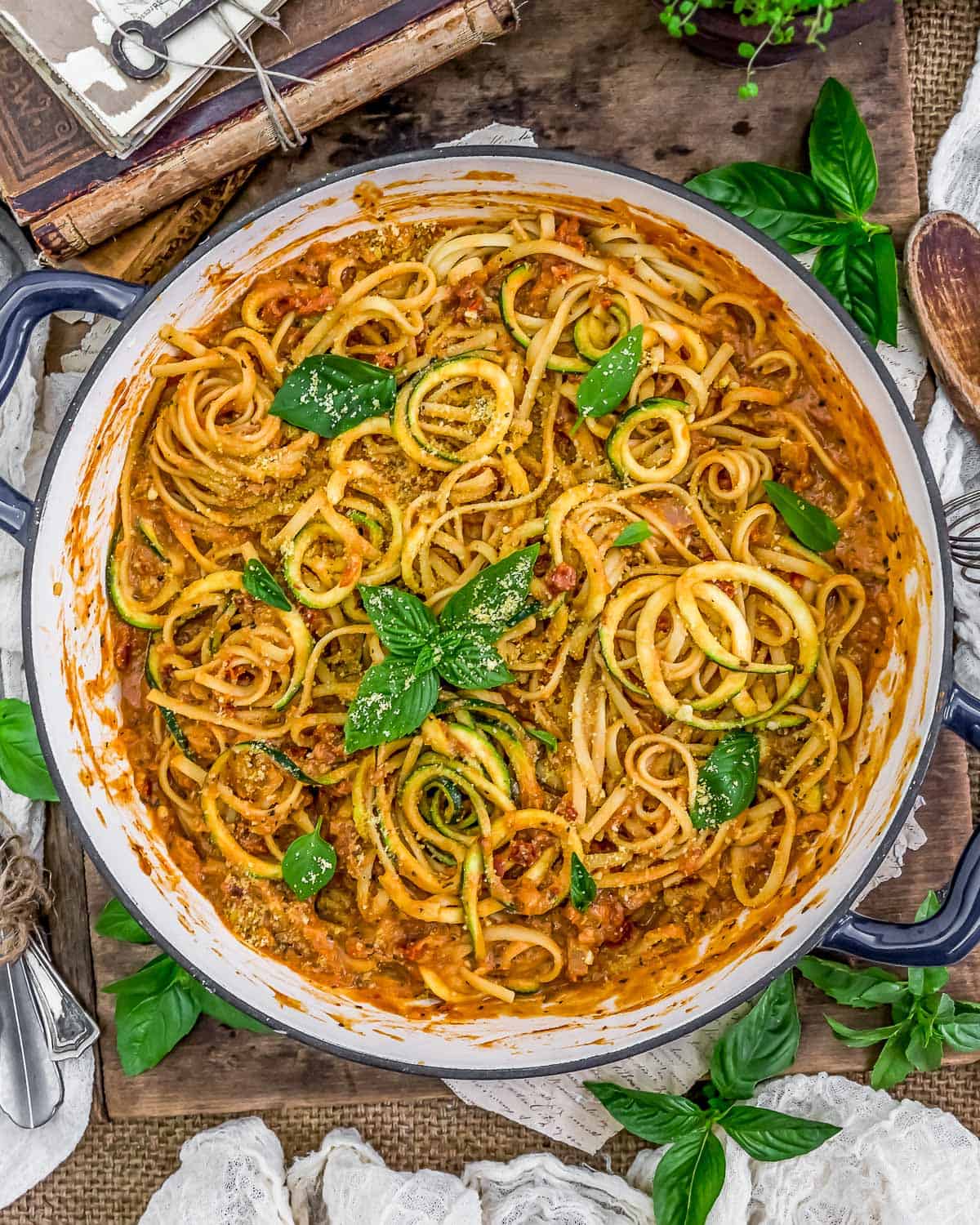 Vegan Sun-Dried Tomato Parmesan Pasta! It's simple, it's indulgent, and most importantly, it's absolutely delicious!  You'll want this one on rotation for sure!
Healthy, flavorful, and satisfying, this oil free Vegan Sun-Dried Tomato Parmesan Pasta dish is a fun and fancy twist on your traditional tomato sauce. Comfort food that makes your taste buds tingle, yes please! This dish delivers on rich, deliciousness that comes from a cashew cream but without the need of a high-speed blender – a total win, win!
Whole Food Plant Based, Vegan, plant based, oil free, refined sugar free, no highly processed ingredients.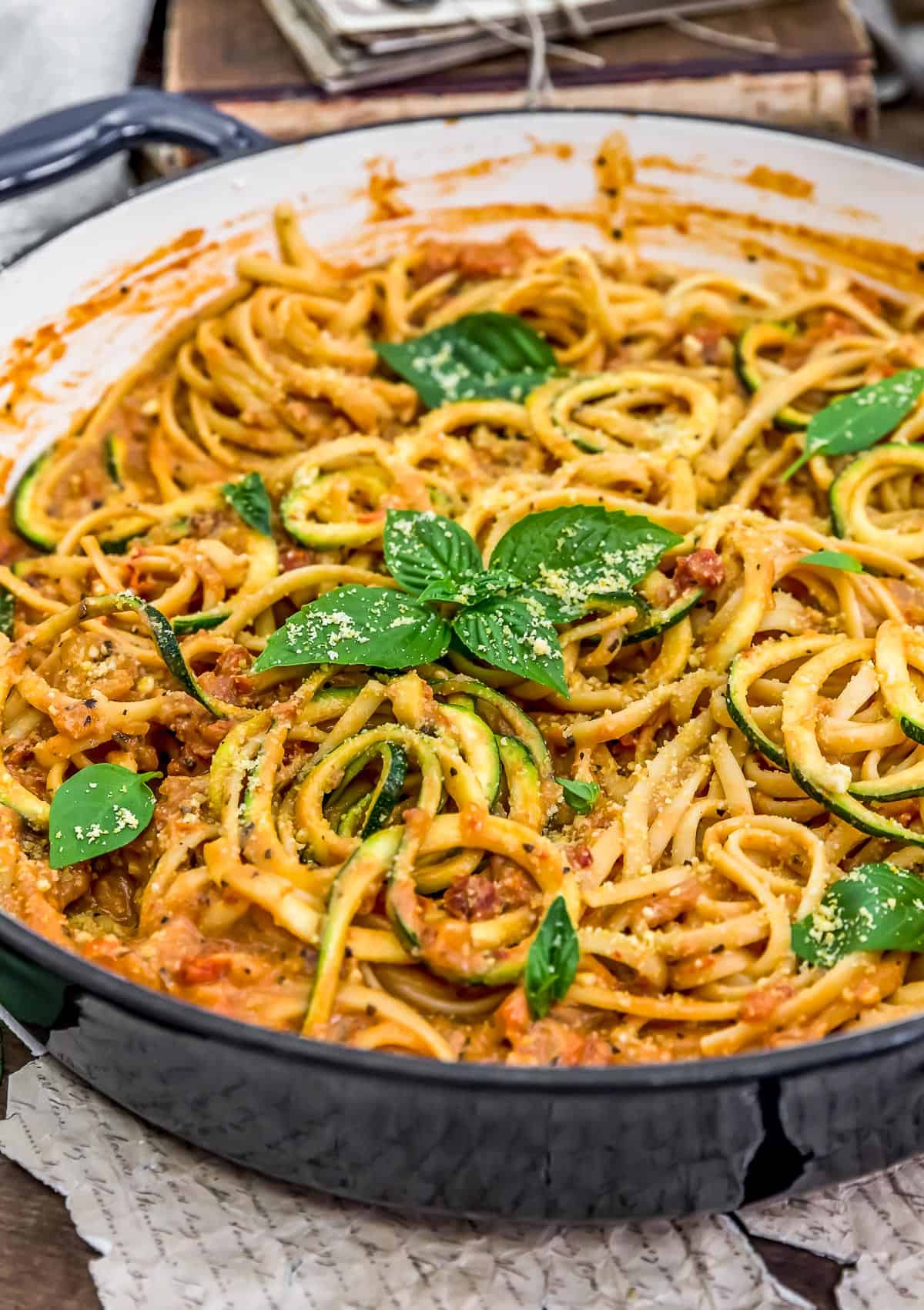 Hi there, Ameera here!
This dish was created for our readers who don't have a high-speed blender but wanted all the indulgence of a cashew cream sauce without making a cashew cream!  Cashew butter is the perfect ingredient to make a deliciously indulgent dish without the fuss of pulling out your high-speed blender.
We absolutely loved it. You gotta give this one a try!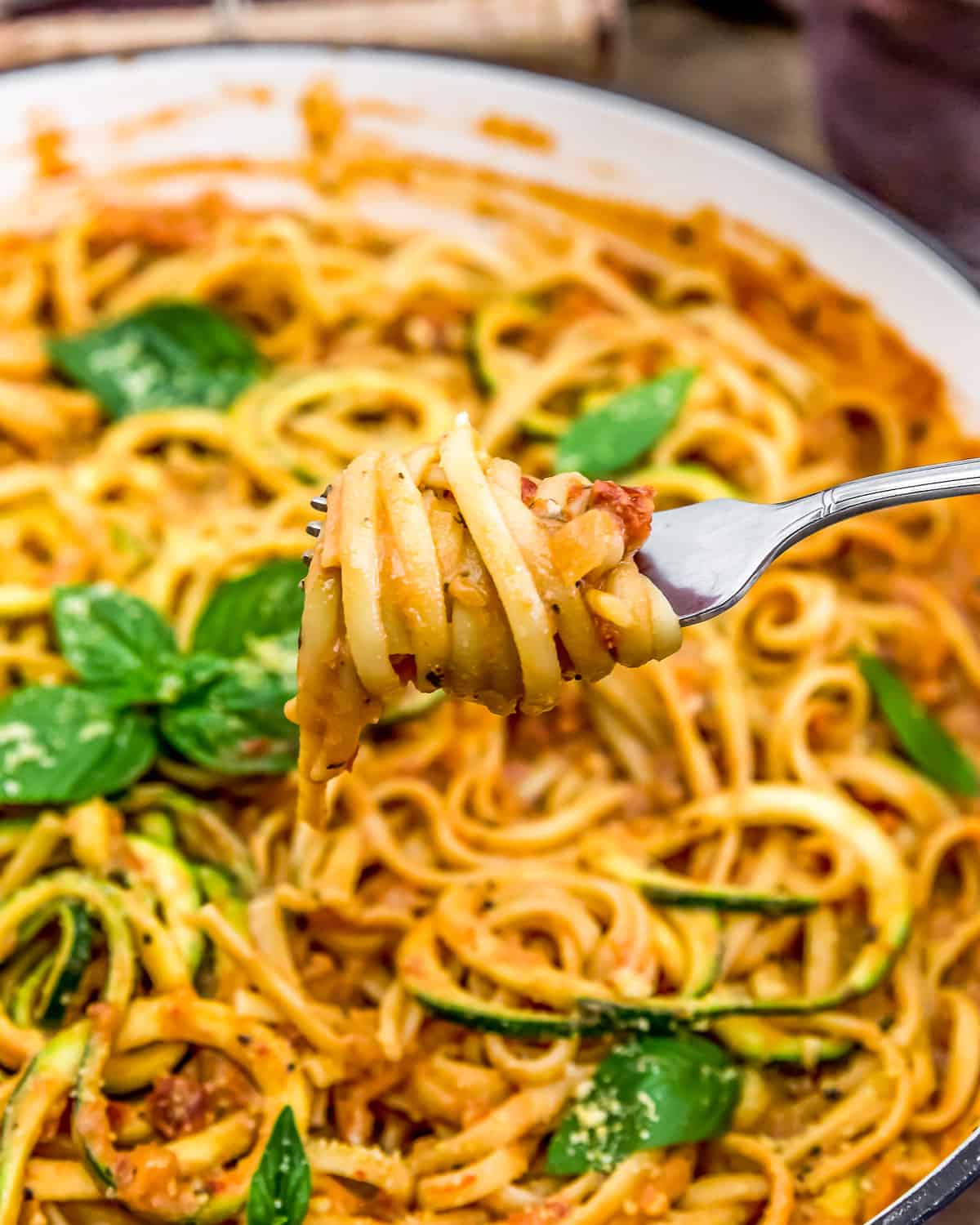 Tips for Success:
Flavor Profile: This dish is all about the sundried tomatoes and vegan parmesan cheese flavors.  It is a rich dish that boasts oregano and basil flavors.
Cashew Butter: This dish was specifically designed for those individuals who wished to have a more indulgent dish which is traditionally created by creating a cashew cream, but do not have a high-speed blender in their kitchen arsenal just yet to create cashew creams.  Cashew butter works perfectly in this dish.
Cashew Butter Alternatives: We do not have any alternatives to offer for this recipe as this recipe was designed specifically to use cashew butter.  See the note above.  It was meant to be a rich, indulgent dish. Even our omnivore family members went crazy over it.
Sauce Thickness: The sauce is a thick indulgent sauce.  Feel free to add a few tablespoons of water if you feel like you need to thin it out.
Greek Sun-dried Tomatoes: We used Bella Sun Luci California Sun Dried Tomatoes with Greek Oregano, Basil, and Garlic – Julienne Cut.  This was actually a happy accident.  In our original kitchen test, we used Bella Sun Luci Sun Dried Tomato Halves; which works great by the way; however, in subsequent kitchen tests, our local grocery was out of these oil-free sun-dried tomato halves, so we opted to use the Greek Oregano, Basil, and Garlic – Julienne cut.  The flavor was outstanding.  If you can't find the Greek Oregano, Basil, and Garlic – Julienne Cut, then use 10 of the regular Sun-Dried Tomato Halves and add a teaspoon of dried oregano.
Steeped Sun-dried Tomatoes: The 1 ¼ cups of boiling water used to steep the sundried tomatoes is then used in the dish to add flavor.  Simply drain the water directly into the skillet, then chopped the steeped sundried tomatoes and place them into the dish.
Chopped Sun-dried Tomatoes:  After the sun-dried tomatoes have been steeped, finely chop them into very tiny pieces.  This will create a better mouth feel when eating this dish. We spent a few extra minutes, mincing them very finely.
Finely Chopped Onions: Be sure to chop the onions to a fine consistency. The onions will sauté faster and add extra flavor. Cutting an onion into fine pieces releases flavor compounds, the more you cut it across the grain, the more flavor compounds it releases. Don't have the extra minute to spare chopping, then simply dice them as fine as you can.  Note:   Additionally, a word of caution, do not overthink this and believe that placing the onion into a food processor to get the job done will work better, because it won't.  The food processor will overprocess the onion and can potentially produce an off-flavor.
Baking Soda: Baking soda is often used as a neutralizer for dishes that contain a lot of acidity, typically from tomatoes.  We use it in this dish to remove some of the tomato acidity (from the tomato sauce and sun-dried tomatoes) without losing the tomatoey flavor. When you add it, the mixture may bubble up, then settle down as it neutralizes the acidity. However, if you prefer that slightly 'tinny' flavor that comes from canned tomatoes, then leave out the baking soda.
Amount of Pasta: While it is always tempting to use more pasta than the amount indicated in the recipe; however, resist the temptation as the amount of pasta indicated is the perfection sauce to pasta ratio.  We found 12 oz. to 14 oz. to be the perfect amount.  If you decide to leave out the zucchini zoodles, you can increase the amount of pasta.  If you decide to add more vegetables, you will need to cut back on the amount of pasta.  Often times, we will cook a full pound of pasta, then start with a small amount of cooked pasta to the sauces slowly adding more until we reach the perfect ratio of sauce to pasta. We save any remaining pasta to use in other recipes.
Zucchini Zoodles to Pasta Noodles Ratio: Finding that perfect ratio of zucchini zoodles to pasta noodles ratio is key or you will end up with a dry dish which is no fun.
Linguini (or spaghetti): You can use any type of long noodle you wish in this recipe.  Please note that if you use really thin noodles (like Angel Hair), you will need to use less as they require a lot of sauce to coat the noodles.
Zucchini Zoodles: We absolutely loved using zucchini zoodles in this recipe. We used an OXO Good Grips 3-Blade Tabletop Spiralizer.  If you don't have a veggie zoodler/spiralizer, you can often times find zucchini already spiralized at most major grocery stores.  If you can't locate zoodles at your local grocery, then you simple can slice the zucchini into very thin strips using a chef's knife or vegetable peeler, or simply leave them out altogether and just increase the amount of pasta.
Pasta Alternatives: You can leave the pasta out of this recipe and simply use all zucchini zoodles if you wish.
Optional Mushrooms: Mushrooms (any type) can be easily added to this dish. After the onions, add the sliced mushrooms with a splash of tamari and sauté for several minutes until they reduce.  We did not add mushrooms to our recipe.  If you add mushrooms, you may wish to cut back on the zoodles or pasta to avoid a dry dish.
Optional Beans: Beans can be easily added to this dish. Simply add at the end with the cooked pasta. We did not add beans to our recipe.  If you add beans, you may wish to cut back on the zoodles or pasta to avoid a dry dish.
Vegan Parmesan Cheese:  We used our Vegan Parmesan Cheese recipe; however, feel free to use your favorite Vegan Parmesan Cheese.  You can also substitute with extra nutritional yeast mixed with a pinch of sea salt and garlic powder if you wish.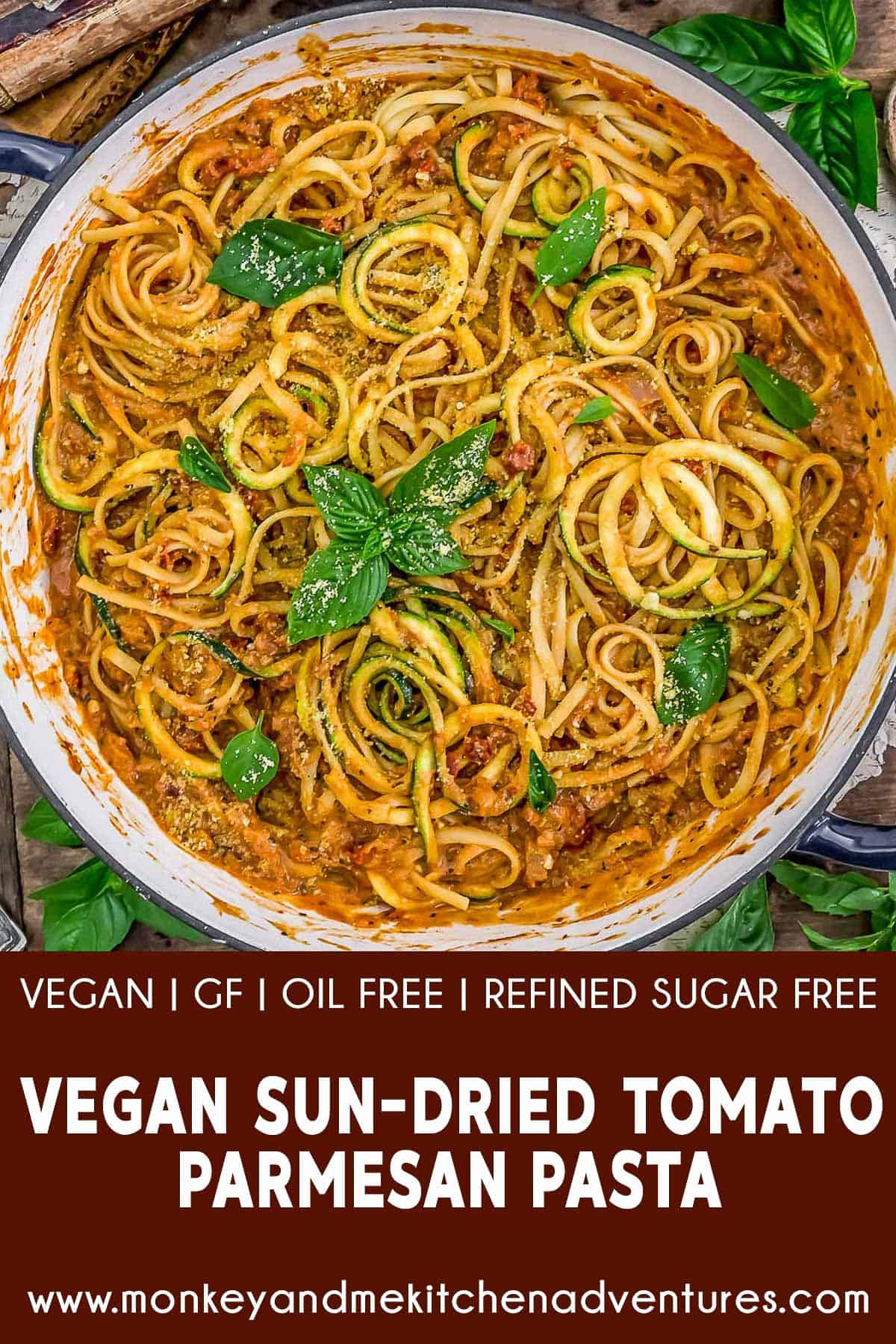 Leftovers and Freezing:
Leftovers will generally keep for 4-5 days in the refrigerator.  Store in a covered container.  Reheating can be done on the stovetop or in the microwave.
This dish can be frozen.
Pantry Products Used:
Kitchen Products Used:
Large ceramic/enamel lined skillet or similar stockpot
Stockpot to cook the linguini
If you try this tasty dish, we would love to know if you enjoy it as much as we do! Please leave us a review! Post a picture on Facebook or Instagram and tag us!  We would love to hear from you.
Print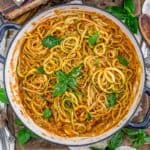 Vegan Sun-Dried Tomato Parmesan Pasta
Author:

Prep Time:

20 Minutes

Cook Time:

20 Minutes

Total Time:

40 Minutes

Yield:

4

Servings

1

x

Category:

Dinner

Method:

Stovetop

Cuisine:

Italian Inspired

Diet:

Vegan
---
Description
Healthy, flavorful, and satisfying, this oil free Vegan Sun-Dried Tomato Parmesan Pasta is a fun and fancy twist on your traditional tomato sauce.
---
Base Ingredients:
¾ cup

sundried tomatoes *

1 ¼ cup

boiling water

1

medium yellow onion, fine dice

1 Tablespoon

minced garlic

1

– [ 8 oz. can ] tomato sauce

2 Tablespoons

cashew butter *

½ cup

low-sodium vegetable broth *

2 Tablespoons

nutritional yeast

1 Tablespoon

Vegan Parmesan Cheese *
Pinch baking soda *
Herb/Spice Ingredients:
1 teaspoon

onion powder

1 teaspoon

garlic powder

2 teaspoon

dried basil

½

to

1

teaspoon sea salt (+/-) * 
Other Ingredients:
Optional Ingredients:
2

to

3

cups zucchini zoodles *
Toppings:
Optional Toppings:
Freshly chopped basil or parsley
---
Instructions
Place the sundried tomatoes (see notes) into a small bowl, cover with 1 ¼ cups of boiling water. Steep for 10 minutes.
Fill a large stock pot full of water. Add some sea salt to the water. Bring the water to a boil then add the linguini (or noodles of choice). Stir occasionally to prevent sticking. Check package directions on cooking times and/or boil the pasta until el dente, drain, rinse with cold water to remove any excess starch, shake well, set aside until Step 9. If the pasta gets sticky while waiting, simply rinse with cold water to loosen it up again.
Place all the Herb/Spice Ingredients into a bowl, whisk, set aside.
In a large ceramic/enamel-lined pot or similar stock pot, add the onions, sauté over medium-high heat until the onions are soft, approximately 7 to 9 minutes, stirring periodically to prevent burning. Add a tablespoon or so of water if they start to stick and/or to prevent burning.
Add the minced garlic to the skillet, sauté for 1 minute.
Next strain the steeped sun-dried tomato water directly into the skillet. In other words, you are placing the steeped tomato water into the skillet, but not the steeped tomato pieces just yet.  Place the steeped sundried tomatoes onto a cutting board and chop into small pieces, then place in the skillet.
Add all the remaining Base Ingredients (except the baking soda) and the Herb/Spice Mix into the skillet. Mix well to dissolve the cashew butter into the liquids, heat to a rolling boiling, then immediately reduce to a simmer.
Add the baking soda, stir well for a minute.
If adding the zucchini zoodles, add at this time and mix well to evenly distribute and coat the zoodles. Simmer for several minutes to ensure the zoodles has been thoroughly heated through, then stir in the cooked linguini pasta. Stir well to coat the linguini and to heat through.
Remove from the stove, top with Vegan Parmesan Cheese and serve topped with freshly chopped basil or parsley.
---
Notes
*Please reference the blog post for Tips for Success, Pantry Items Used, Storage and Freezing, and Kitchen Products Used.
*Sea Salt:  Please adjust the sea salt based upon your family's sea salt preferences and/or based upon dietary needs.   
*Serving:  4

This post contains affiliate links, and we may receive a very small commission if you purchase through those links at no additional cost to you. Thank you for supporting Monkey and Me Kitchen Adventures! For more information, see our disclosures here.