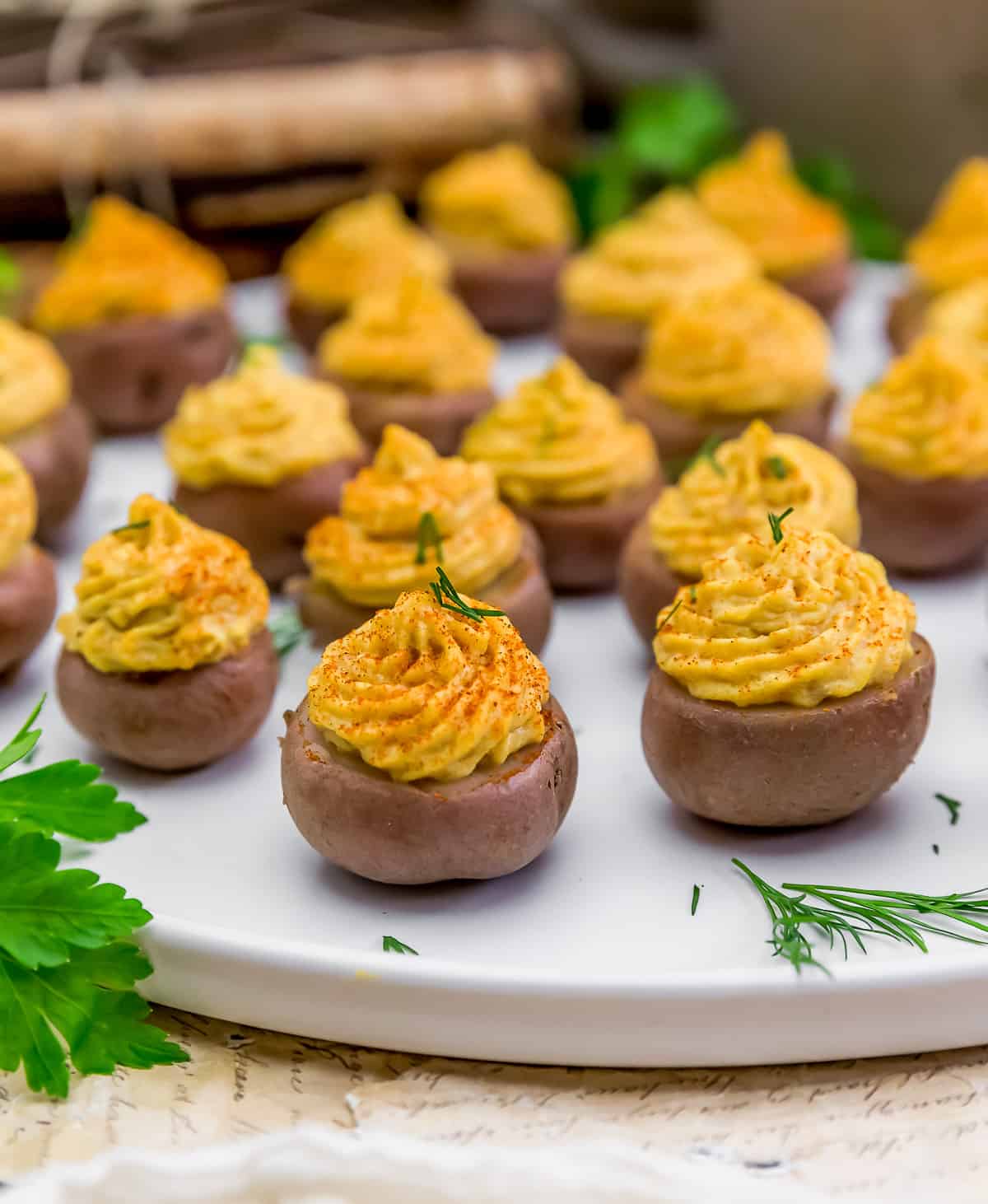 Vegan Southern Deviled Potatoes! Getting the party started with these decadent and pop-able deviled potatoes.
Creamy, flavorful, and drool-worthy, these Vegan Southern Deviled Potatoes are a delicious plant-based nod to the classic Southern Deviled Eggs. These party-staple appetizers will be BIG hit at your next holiday, potluck, or special event. No one can resist them!
Whole Food Plant Based, Vegan, plant based, oil free, refined sugar free, no highly processed ingredients and gluten free.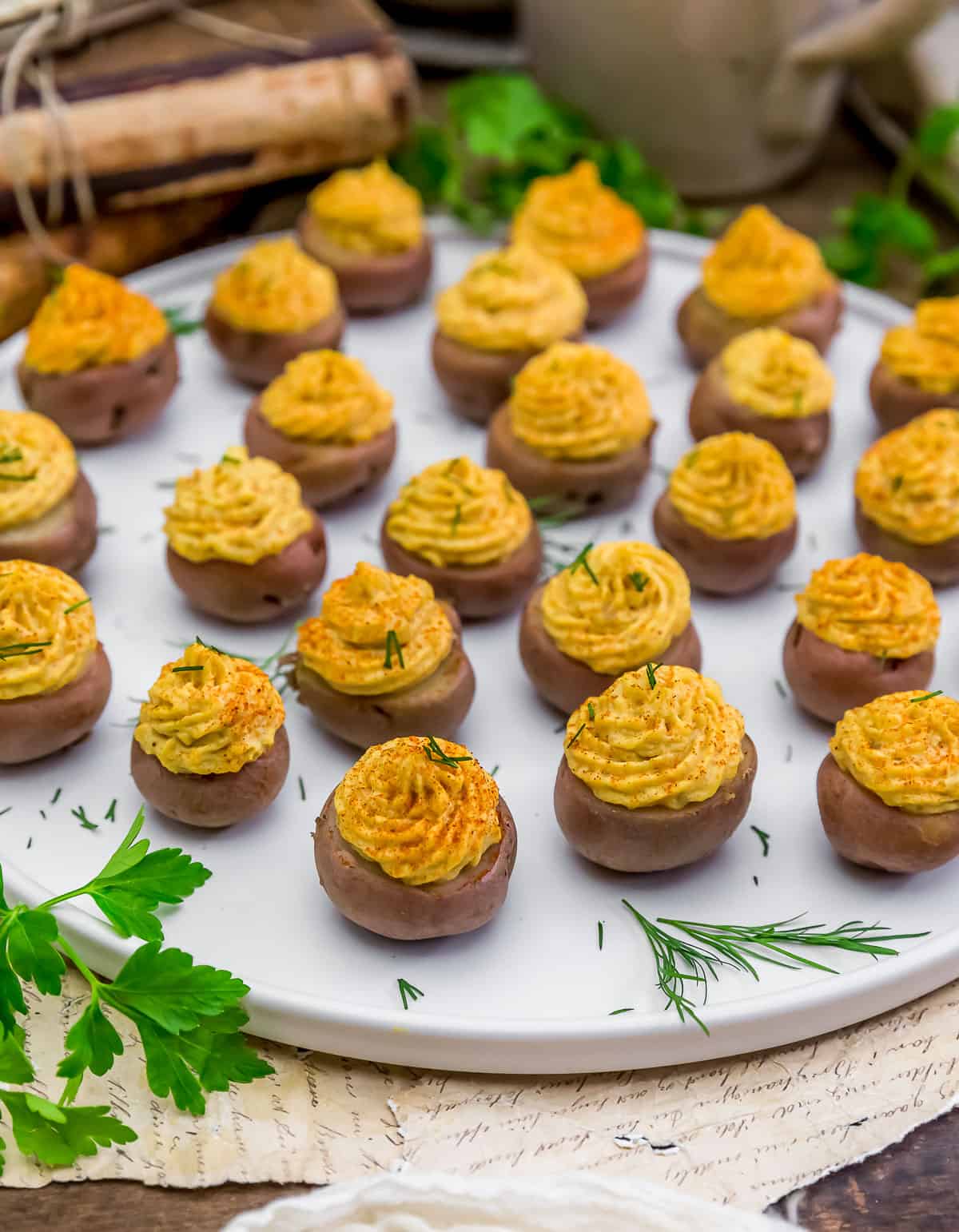 Hi there, Ameera here!
As anyone who has read our blog for any length of time knows that in my former life, I hated eggs.  I just couldn't eat them.
This deliciousness, well, I could eat them all day long!  Yasmeen and Dad loved them! He said they were "Absolutely delicious!"
If you love deviled eggs, then you gotta give this one a try!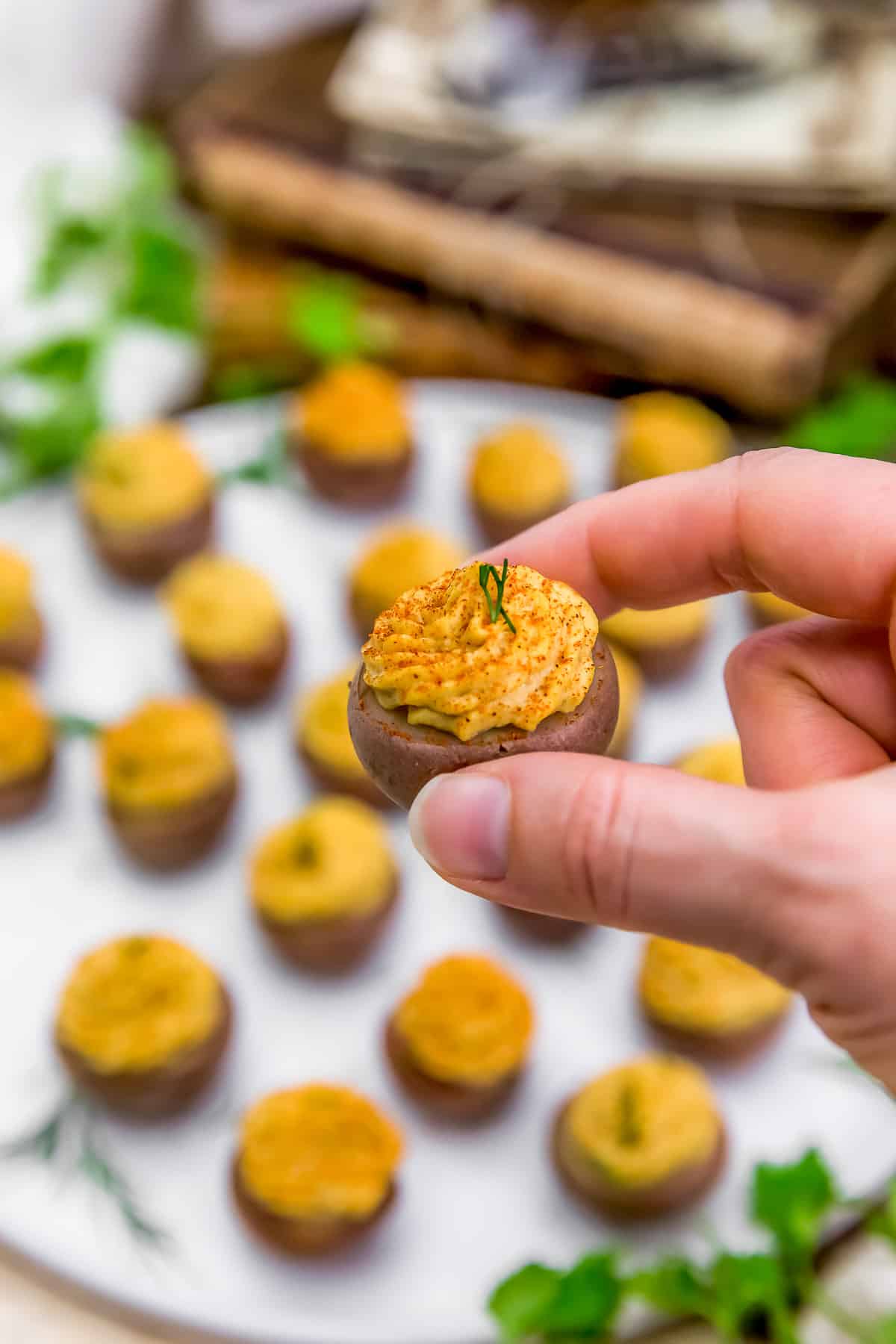 Tips for Success:
Flavor Profile: These Vegan Southern Deviled Potatoes are outrageously delicious and a Whole Food Plant Based nod to Southern Deviled Eggs.
Checking for Potato Tenderness: We always add a few extra potatoes just in case there is an issue with a potato falling apart and to test tenderness. Select a large potato from the boiling pot, poke it with a sharpe knife. If it feels done, run it under cold water and bite into it to see if it is perfectly tender. Continue testing until the potatoes are perfectly tender. Do not overcook the potatoes, they will fall apart, and the peels will start to break off and shred. If you find that you have accidentally overcooked the potatoes and they fall apart when you scoop them, then do not try to scoop out the hole for the filling.  Simply get them cooled off and place the filling on top of the potato.  If they are over cooked and have split or started to disintegrate, then change plans and make rustic mashed potatoes instead. This recipe won't hold up.
Small Potatoes, Baby Potatoes, or Petite Potatoes: You can use small, baby, or petite sized potatoes to make this recipe. The number of deviled potatoes is directly proportionate to the size of potato selected. In other words, the size will determine if you just take a small top off the potato (as seen in our photos) or cut the potato in half creating two deviled potatoes.
Scooping, Cutting, and Portioning the Filling: Placing the filling on the potatoes is based upon the size of the potato selected. If you selected a moderately sized baby or small potato where you can easily use a melon baller to remove a scoop of the potato, then you can simply cut each potato in half, and you have doubled the number of appetizers. However, if you select a petite sized potato (tiny potato) like we did (reference the blog photos) where you are unable to use a melon baller to scoop the potatoes, then you will simply just need to slice off a small portion off the top (about ¼ to 1/3 off the top) and you will have the number of appetizers relative to the number of potatoes 1:1 ratio. Where a larger potato will result in double the appetizers since you are cutting the potato in half.
Hot Sauce: The hot sauce does not add any heat to this recipe. It adds dimension. You can leave it out, but we strongly suggest using it to create that extra flavor and layer of dimension.
Optional Black Salt (Kala namak): Kala namak is a kiln-fired rock salt with a sulphureous, eggy flavor. It is also known as Himalayan black salt. We did not use it, but feel free to add it as it does create an eggy flavor. Only use a tiny pinch as a little goes a long way. We prefer the powder over the granulated version.
Pro Tip: When the potatoes are cooked and you want to begin to fill them, check the potato for the best side to sit without rolling around. In other words, select a side where the potato does not roll around and fall down. The last thing you want is to spend time creating the deviled eggs only to have them fall on their sides or roll around. If you can't find a side that won't roll around, then very gently slice off a tiny amount off the bottom so they lay flat.
Potatoes in the Filling: You will use only 1 cup (slightly packed) of fork-mashed potatoes in the filling. While you may have some potatoes left over largely dependent upon which potato size you used. You can save them to eat later. Do not use more than 1 cup of fork mashed potatoes.
Fork Mashed Potatoes: Simply place some of the scooped-out potatoes (or topped potatoes) into a small bowl and roughly mash them with a fork. You want some small bits of texture. Do not create mush that you would normally associate with mashed potatoes.
Filling the Deviled Potatoes: If you scooped out potatoes, then fill the hole and continue over top of the surface of the potato. If you simply sliced off the tops of the potatoes (petite sized potatoes), then you will simply place the filling on top of the flat surface (as seen in our photos). Either way, the Deviled Potatoes will look the same.
Piping the Deviled Potatoes: We love the look of the piping. We bought an inexpensive piping kit and used a star tip to pipe the filling.
Pickles: Some traditional Southern Deviled Eggs use very finely minced sweet pickles or Bread & Butter pickles. We did not add them. Feel free to add them if you wish, but make sure you very finely chop them, especially if you plan to use a piping bag. We have a Healthy Refrigerator Bread and Butter Pickles recipe if you are looking for Whole Food Plant Based pickles.
Leftover Filling: If you have any leftover filling, we had about 1/3 cup. The filling makes a fantastic "egg" salad sandwich. We also have a separate Vegan "Egg" Salad Sandwich recipe using virtually the same recipe, but we made two blog posts for searchability. This post comes out on Friday, March 31, 2023.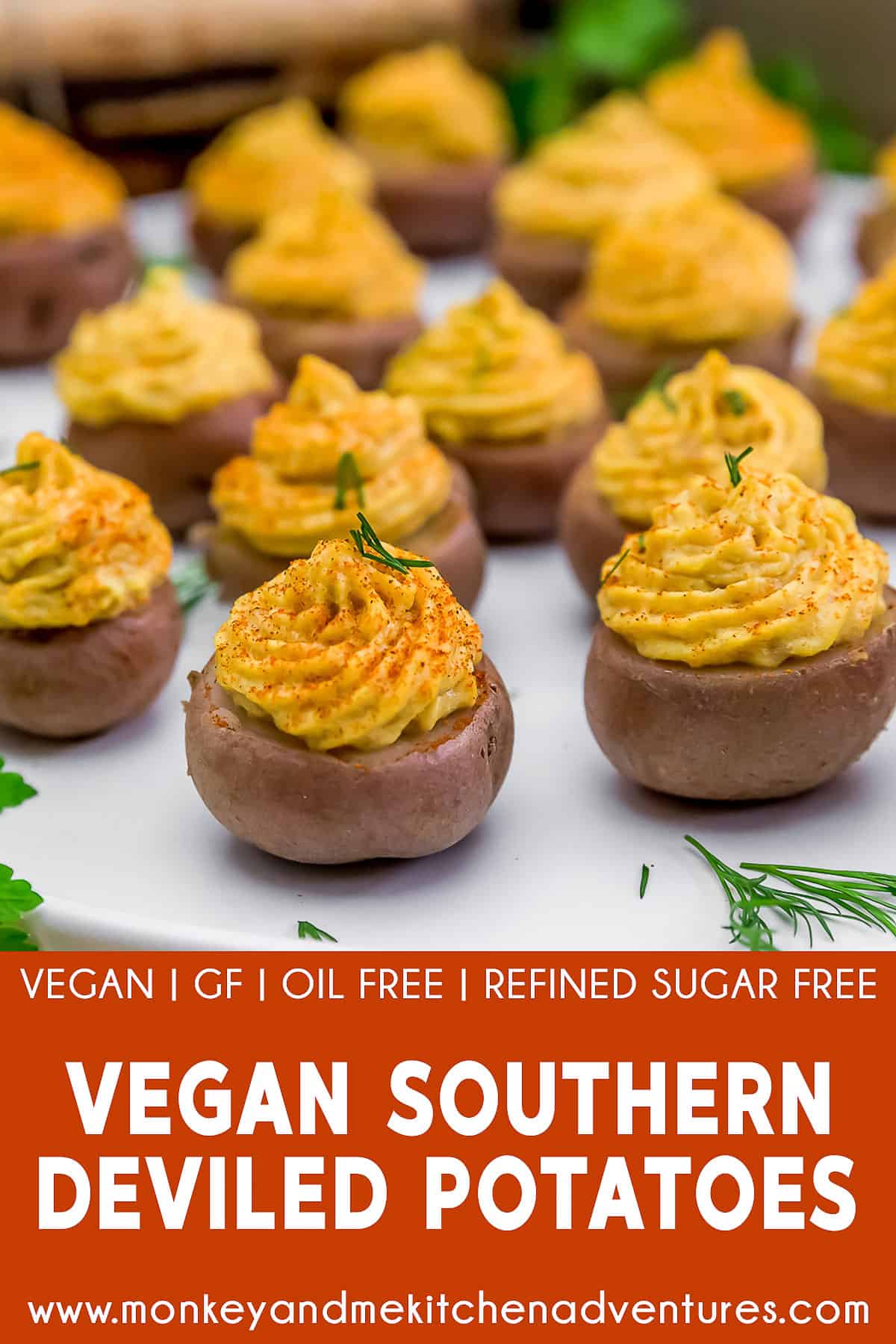 Leftovers and Freezing:
Leftovers will generally keep 5 days in the refrigerator. Store in a covered container.
These appetizers cannot be frozen.
Pantry Products:
Kitchen Products Used:
Stock pot to boil the potatoes
High-speed blender
Piping bag with star tip (optional)
We certainly hope you give these flavorful deviled potatoes a try! If you try them, please leave us a review! Post a picture on Facebook or Instagram and tag us! We would love to hear from you.
Print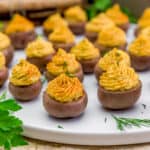 Vegan Southern Deviled Potatoes
Author:

Prep Time:

25 Minutes

Cook Time:

20-25 Minutes

Total Time:

50 Minutes (+Rest Time)

Yield:

24

-

36

deviled potatoes

1

x

Category:

Appetizer

Method:

Stovetop

Cuisine:

American

Diet:

Vegan
---
Description
Creamy, flavorful, and drool-worthy, these Vegan Southern Deviled Potatoes are a delicious plant-based nod to the classic Southern Deviled Eggs.
---
Ingredients:
1 ½

lbs. baby potatoes, unpeeled (red, yellow, gold, or white)
Blender Ingredients:
½ cup

(raw) cashews

¼ cup

distilled white vinegar

3 Tablespoons

water

¼ cup

yellow mustard *

2 Tablespoons

pure maple syrup

¼ teaspoon

hot sauce *

½ teaspoon

garlic powder

½ teaspoon

onion powder

½ teaspoon

sweet paprika

½

to

¾

teaspoon sea salt (+/-) *
Other Ingredients:
1 cup

lightly packed fork-mashed potatoes (from boiled potatoes) *
Other Optional Ingredients:
Pinch black salt (for egg flavor) (+/-) – we did not use
Finely chopped bread and butter pickles – we did not use
Optional Toppings:
Sprinkle sweet paprika
Dill fronds
Chopped chives
---
Instructions
Place the whole baby potatoes in a large stock pot, cover with cold water, add a sprinkle of sea salt, place on the stove, bring to a boil, then lower to a gently boil. Gently boil for 20 to 25 minutes, or until perfectly tender. Do not overcook. Drain off all the water, then run cold water over the cooked potatoes for 3 minutes to cool them down, then set aside.
In the meantime, place the cashews into a small bowl, cover with boiling water and allow to sit for 15 minutes, then drain off and discard the water. Place the soaked cashews into a high-speed blender along with all the remaining Blender Ingredients. Blend until smooth and emulsified. Set aside, do not remove the blender as you will later add some potatoes and pulse a few times.
When the potatoes are cooled (they can be slightly warm), you will do one of the following:

If the potatoes are petite sized, then carefully slice off the top 3rd of the potato. Save the top 3rd of the potatoes and place them in a bowl. Note: You will later simply pipe (or spoon) the filling on top of the sliced potato.  Place the cut potatoes on a baking sheet or any flat surface while preparing the filling.
If the potatoes are small, then carefully slice the potato in half, then use a small melon baller, spoon, etc., to scoop out a hole in the potatoes. Save the potato scoops in a bowl. Note: You will later pipe (or spoon) the filling into the hole of the potato. Place the cut potatoes on a baking sheet or any flat surface while preparing the filling.

Next, take the cut or scooped potatoes, (remove the skins if you used petite potatoes), then place them into a small bowl, mash with a fork and measure out

one

cup (slightly packed) of the mashed potatoes and place them in the high-speed blender with the filling mixture and pulse a few times, just to incorporate. Do not blend. The mixture will be slightly lumpy which is fine. Place in the refrigerator for 30 minutes for the filling to set up.
Spoon (or pipe)* the filling mixture on top of the petite sized cut potatoes or if using small potatoes, fill the small hole and pile on top of the small cut potato halves.
If desired, sprinkle the tops with a light dusting of sweet paprika and/or a few dill fronds or chopped chives. Serve immediately or refrigerate. If refrigerated, before serving, remove from the refrigerator for 10-20 minutes to allow the flavors to wake up.
---
Notes
*Please reference the blog post for Tips for Success, Pantry Items Used, Storage and Freezing, and Kitchen Products Used.
*Sea Salt:  Please adjust the sea salt based upon your family's sea salt preferences and/or based upon dietary needs.
*Servings:  Makes 24 to 36 potato appetizers (depending on potato size.)

This post contains affiliate links, and we may receive a very small commission if you purchase through those links at no additional cost to you. Thank you for supporting Monkey and Me Kitchen Adventures! For more information, see our disclosures here.