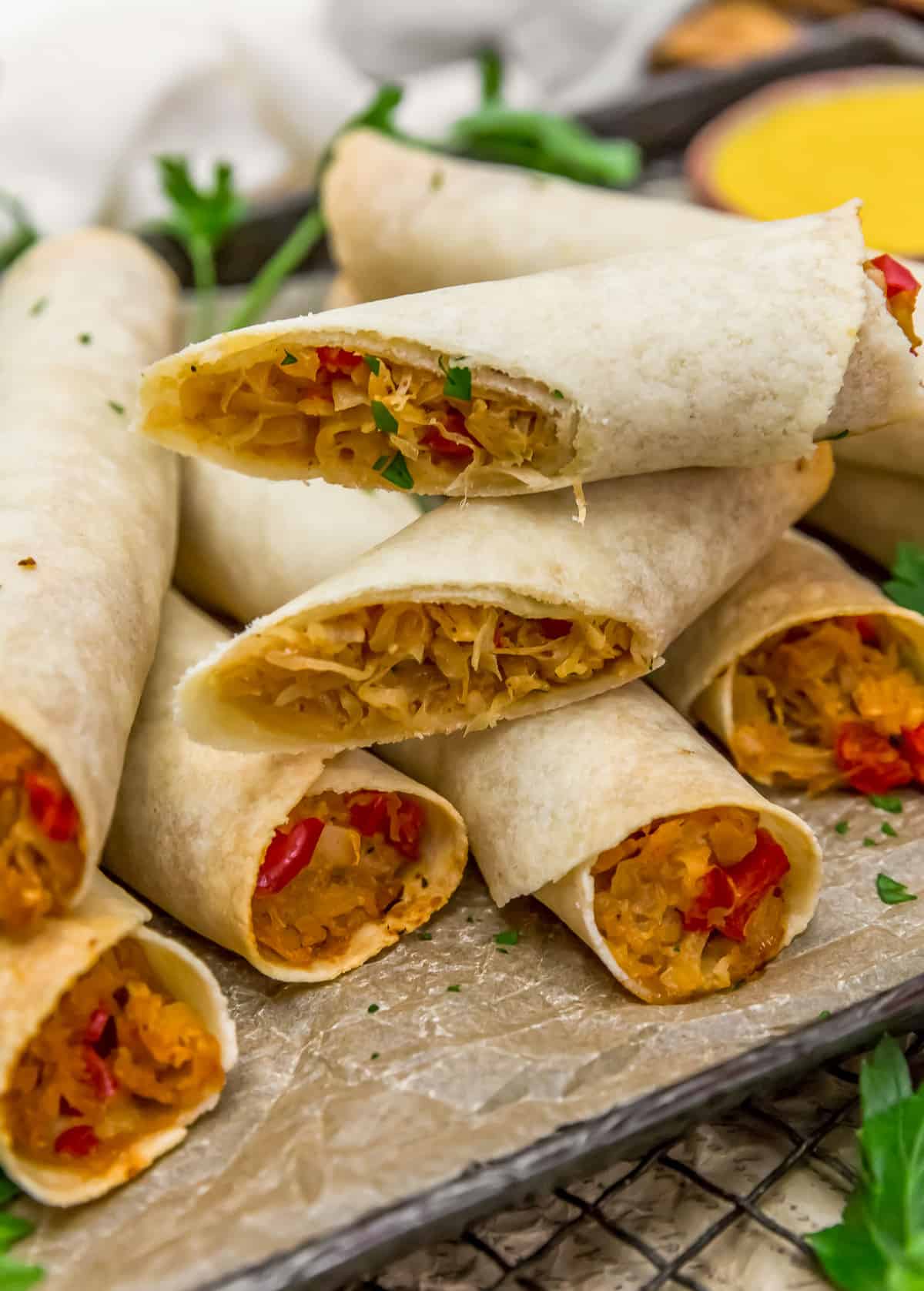 Sauerkraut lovers rejoice, we've got that tangy goodness all bundled up in a delicious roll for an easy dish that is sure to get those hips swiveling and those feet dancing with happiness. This wholesome, oil-free Vegan Sauerkraut Strudel (Krautstrudel) brings all those amazing German savory flavors together in a delightfully easy roll. Sautéed onions, garlic, sauerkraut, and aromatic spices are wrapped up in a tasty flaky tortilla, then baked to perfection for a hearty appetizer or main course that is sure to have the whole family running to the table as soon as they come out of the oven. They are completely and utterly delicious; you can't just eat one!
Whole Food Plant Based, Vegan, plant based, oil free, refined sugar free, no highly processed ingredients and gluten free.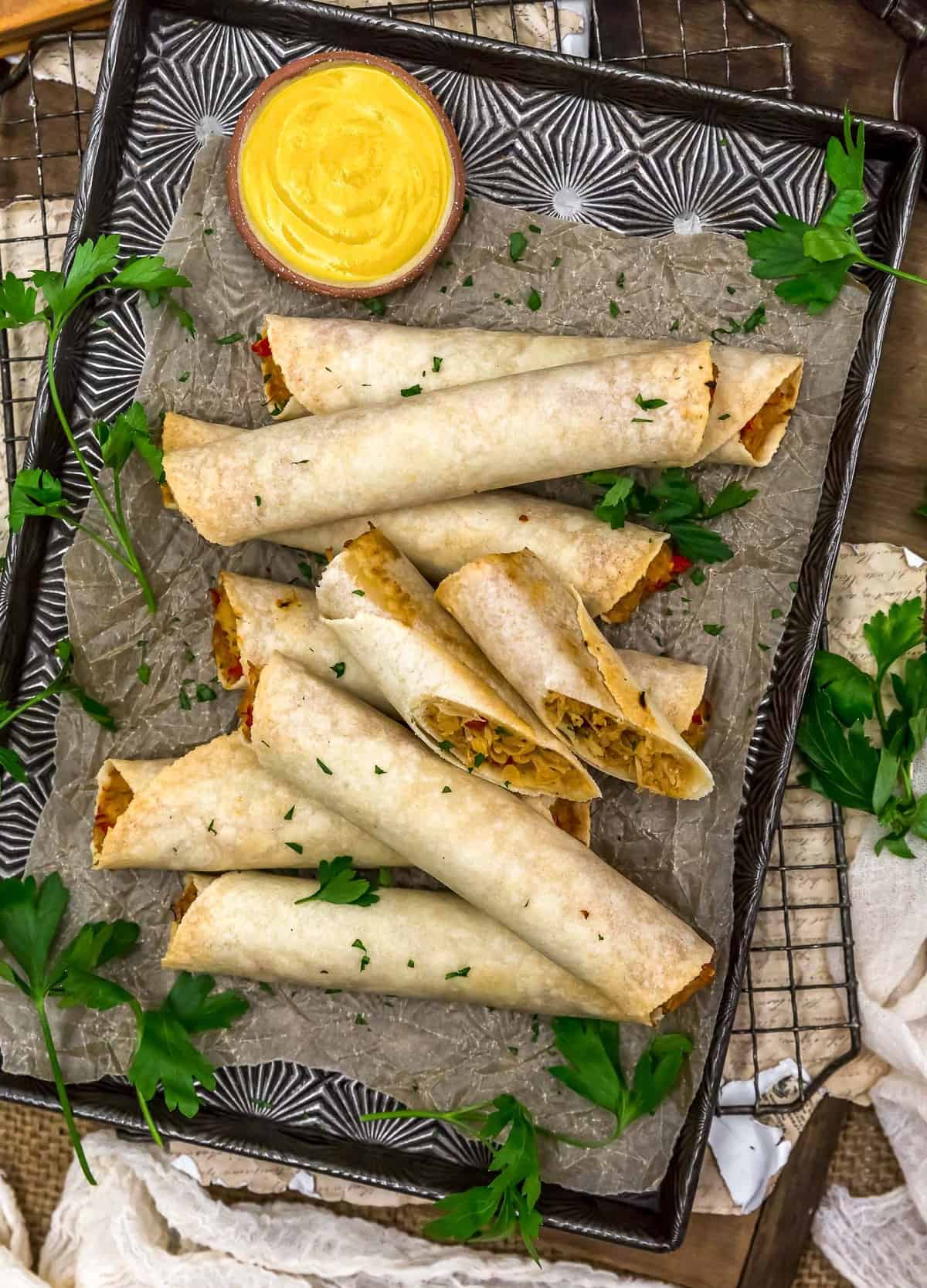 Hi there, Ameera here!
Mom and Dad both LOVE sauerkraut! Especially Mom, her love of all things sauerkraut is a little off the charts if you ask me. LOL   I knew we needed to get a sauerkraut recipe "on the books" because Mom will put plain sauerkraut on some WFPB mashed potatoes and call it a day.
I wanted to create a savory sauerkraut recipe that she would love as she is a sauerkraut connoisseur after all. So, we got to work finding a suitable sauerkraut dish that we could convert to Whole Food Plant Based!  And find it, we did – krautstudel!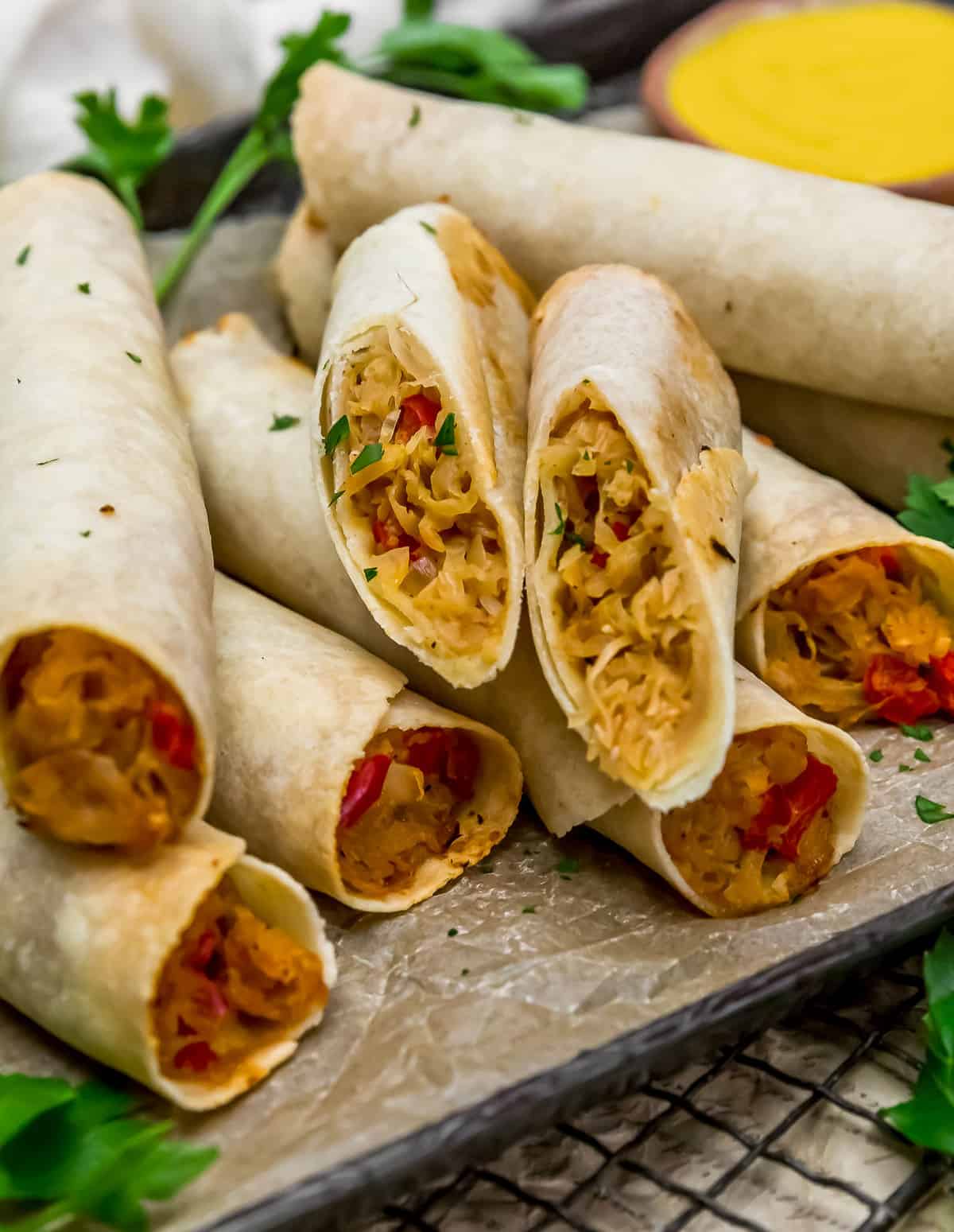 Traditional Krautstrudel
Traditional krautstrudel is basically cabbage or sauerkraut plain or mixed with various meats, cheeses and spices, then wrapped and baked in a beautiful buttery golden-brown strudel.
Finding a gluten-free, oil free, WFPB alternative to wrap this deliciousness in was pretty much a no-brainer as we have done it before using delicious Siete almond flour tortillas. We did exactly that with our Vegan Spanakopitas.
Siete Almond Tortillas
We are totally in love with Seite Almond Tortillas as they are almost pastry like in texture and taste when baked. They are 100% Whole Food Plant Based and make for the perfect vehicle to bring a neutral, flakey, decadent pastry essence to these rolls.
If you have not tried Siete Almond Tortillas, we highly recommend them for this recipe. We have not tried this recipe using flour or corn tortillas. Using a tortilla other than Siete Almond Tortillas will greatly influence the flavor and overall texture of this roll, but would work just as well.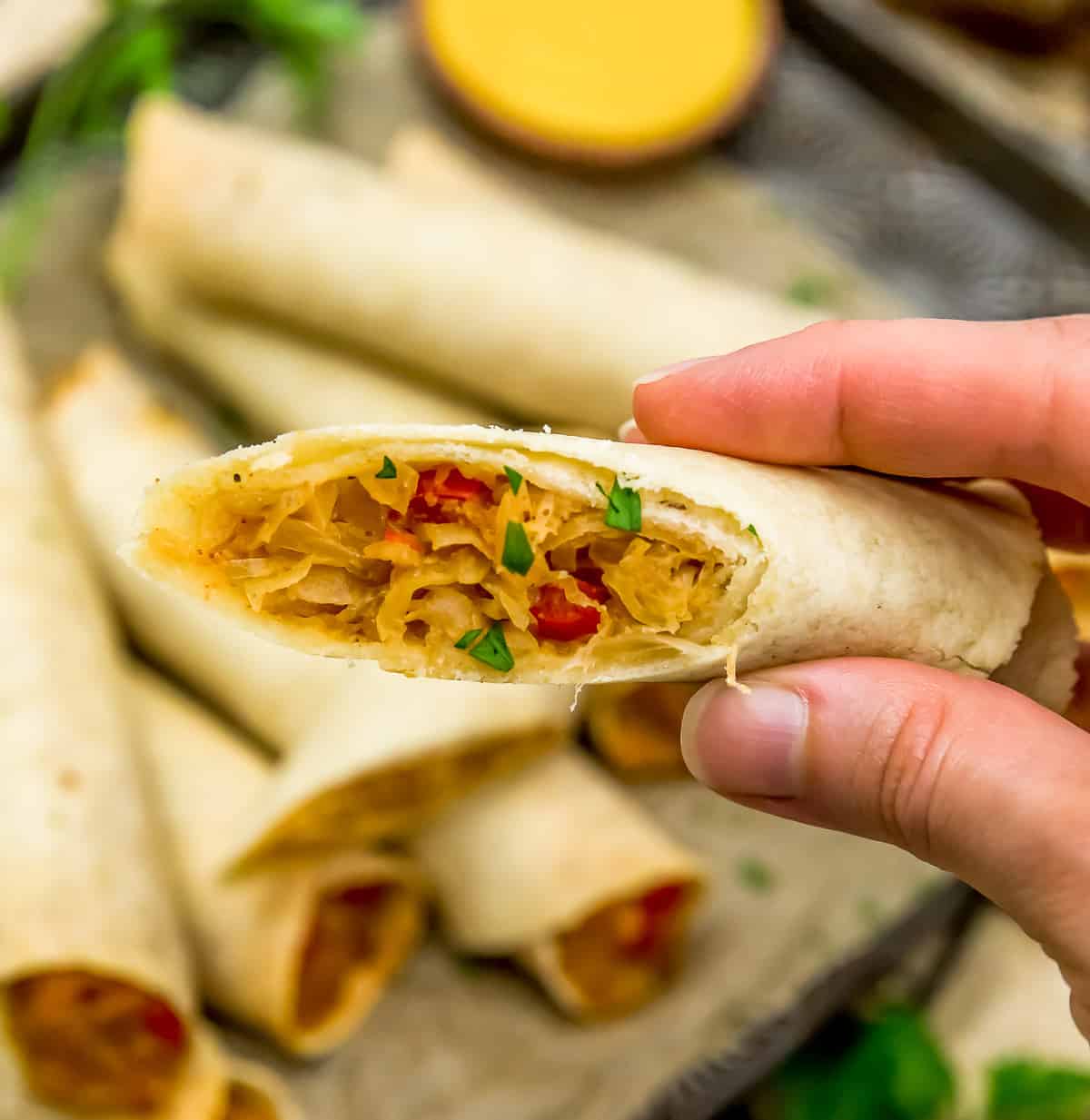 Bold vs Light
First, let me just say that you have to love sauerkraut if you are going to make this recipe.  On a rare occasion we get reviews that we just don't understand,  for example one reader wrote:  "I hate 'green beans,' but I tried your 'green bean' recipe, and I didn't like it."   :O
So, I guess the point I am making is that if you don't love sauerkraut, then this recipe is not for you as the main component of this recipe is sauerkraut. It's not going to turn a sauerkraut hater into a sauerkraut lover. Just had to get that out there. Hee Hee I say that with respect and love. <3
However, there is a way to tone down the tang of the sauerkraut that we employed with this recipe.  We used 2 teaspoons of almond butter (neutral flavor) to slightly mellow out the tanginess of the sauerkraut. It gives that long-oven baked savory feel to the sauerkraut. If you really like your sauerkraut to pop, then use less almond butter (or none at all).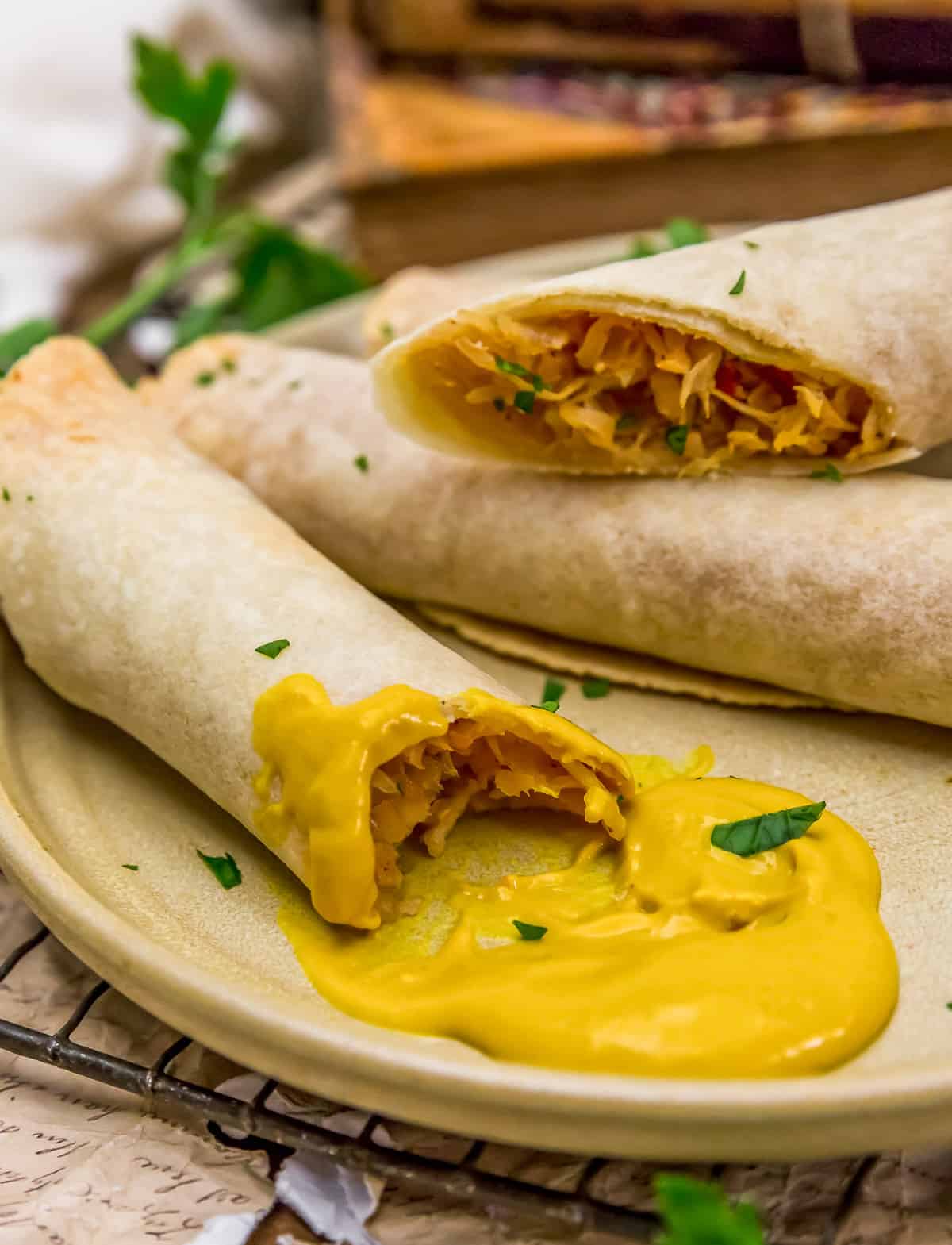 Sauerkraut
Choose a sauerkraut brand/ type that you love to eat. There are so many varieties and flavor options available. The main flavor of this roll comes from the sauerkraut, so make sure to find a kraut you love. Also, it would be fun to play around with different kraut flavors – yum!
Mom absolutely loved dipping her krautstrudel into some good old-fashioned yellow mustard. You can also eat them plain or with some vegan/WFPB sour cream.  Either works well.
We LOVE our WFPB version of Krautstrudel. Those little rolls of savory goodness taste absolutely amazing.  I think Mom and I did the dish justice even though it is vegan (WFPB).
If you try these flavorful rolls, we would love to know if you enjoy it as much as we do! Please leave us a review! Post a picture on Facebook or Instagram and tag us!  We would love to hear from you.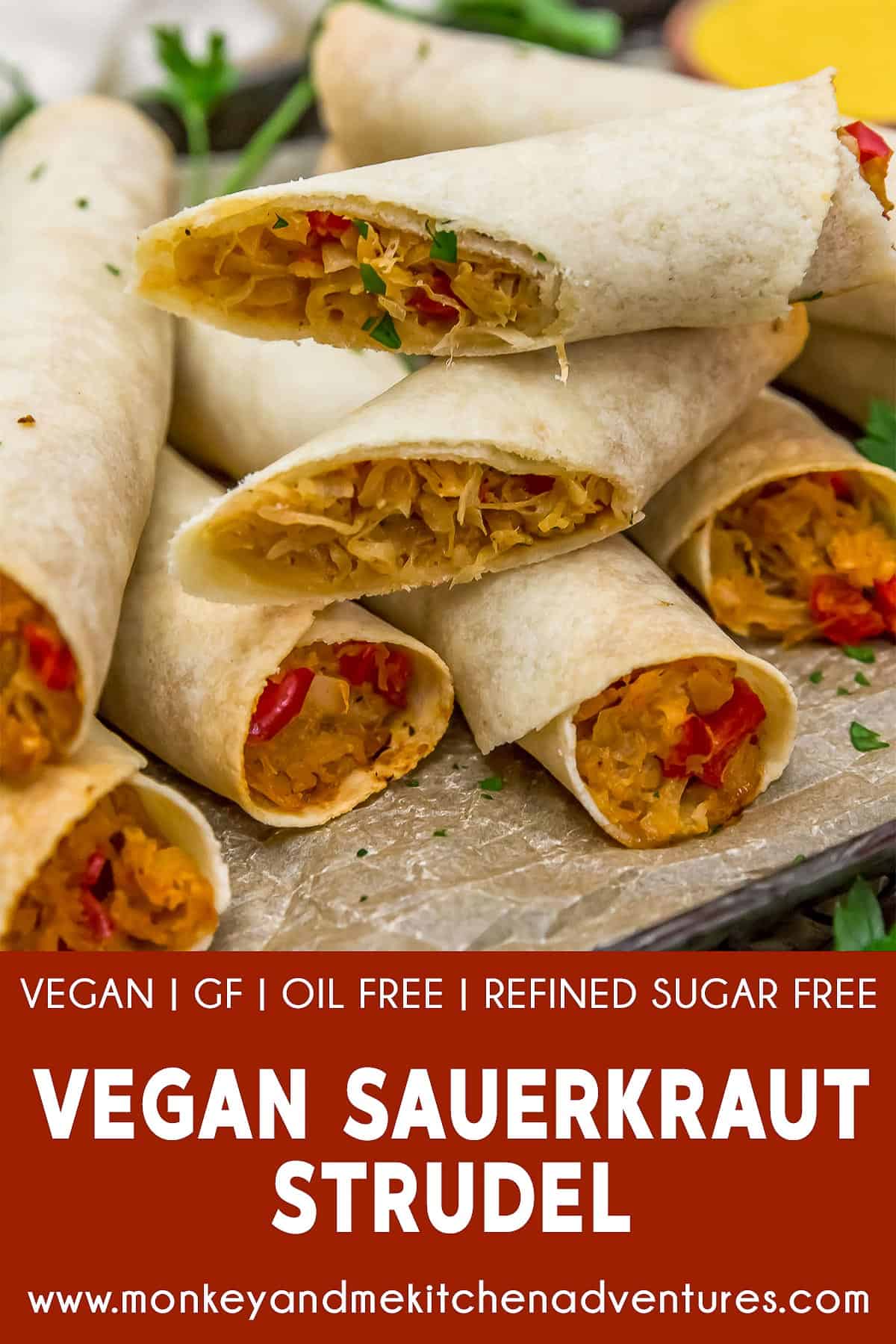 Products Used:
Large enamel/ceramic lined skillet or similar non-stick skillet
Baking Sheet
Print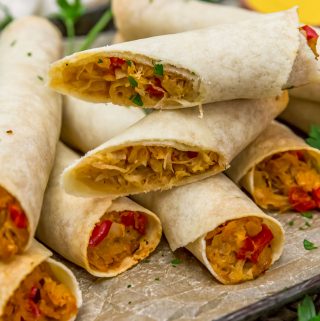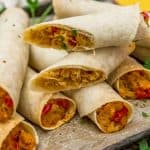 Vegan Sauerkraut Strudel (Krautstrudel)
Author:

Prep Time:

30 Minutes

Cook Time:

15 Minutes

Total Time:

45 Minutes

Yield:

4

Servings

1

x

Category:

Dinner, Appetizer

Method:

Stovetop, Oven

Cuisine:

German

Diet:

Vegan
---
Description
This wholesome, oil-free Vegan Sauerkraut Strudel (Krautstrudel) brings all those amazing German savory flavors together in a delightfully easy roll.
---
Skillet Ingredients:
1 cup

yellow onions, fine dice

½

red bell pepper, fine dice

2 Tablespoons

minced garlic

1

–  [ 14 oz. can ] sauerkraut, drained *

2 teaspoons

unsalted almond butter *

1 teaspoon

reduced-sodium tamari *

2 Tablespoons

water
Spice/Herb Ingredients:
½ teaspoon

onion powder

½ teaspoon

garlic powder

1 Tablespoon

dried minced onions

¼ teaspoon

smoked paprika
Large pinch ground caraway seed
Pinch black pepper
Other Ingredients:
8

almond flour tortillas *
Optional Toppings:
Yellow mustard
Vegan sour cream
---
Instructions
Preheat the oven to 350 F.
Line a baking sheet with parchment paper, set aside.
Place the Spice/Herb Ingredients into a small bowl, mix well, set aside.
In a large ceramic/enamel lined skillet (or similarly large nonstick skillet) add the finely diced onions and red bell peppers, sauté over medium-high heat for 7 to 9 minutes until tender, then add the minced garlic, sauté for one minute.
Add the almond butter, stirring constantly for 30 seconds, then add the drained sauerkraut, water, tamari, and the Spice/Herb Mix, mix well while also scraping the bottom of the pan to deglaze it. Heat everything through for 3 to 4 minutes.  Remove from the stove.   Divide the mixture in half, then each half in half, continue until you have 8 equal piles (about ¼ cup each) of the sauerkraut mixture.
Assemble the rolls: Lay the tortilla out flat, then place 1/8th (approximately ¼ cup) of the mixture in the middle of the tortilla, creating a log of the mixture, then roll it up.  Place the seam side down onto the parchment paper-lined baking sheet. Continue until the remaining tortillas are made.
Place into a preheated 350 F oven bake for 14-16 minutes. Serve plain or with yellow mustard or vegan sour cream.
---
Notes
Tips for Success:
Roll-up versus Burrito Style: We tried both rolling methods (roll-up versus burrito style). We preferred the rolls over the burritos. Please feel free to use either method.
Flavor: These rolls are delicious.  The beauty of this dish is that you can literally taste the sauerkraut mixture before you roll them up so if you need to boost any seasonings, you can.  The flavors did slightly intensify in the oven.
Almond Butter: You can leave the almond butter out of the sauerkraut mixture (or reduce the amount) if you wish, with the understanding that the almond butter tempers the sauerkraut, so it is not so tangy.  In multiple kitchen tests we had family members totally divided over the sauerkraut tang.  Some members really loved the tangy sauerkraut flavor while others really enjoyed a tempered flavor.
Almond Butter Substitutions: We use almond butter because of its neutral flavor.  It is used to temper the sauerkraut a tiny bit since we are not using any oil.  You can try other nut or seed butters with the understanding that they might influence the flavor.
Drain the sauerkraut: We placed the sauerkraut into a fine mesh strainer to remove the liquid.  You don't need to squeeze the liquids out, just the excess brine liquid that comes with the can, jar, or bag.
Notes Continued:
*Sauerkraut:  We used a 14 oz. can of SnowFloss Kraut (sauerkraut.) Feel free to use your favorite brand of sauerkraut.  Watch the ingredients list.  SnowFloss Kraut (plain) is WFPB, its ingredients list is cabbage, water, salt.
*Almond Flour Tortillas:  We used Siete Almond Flour Tortillas as they are almost pastry like quality which would mimic a studel.  Feel free to use your favorite 6-inch tortilla shells or similar wrapper-style bread.
*Serving:  Makes 4 servings (makes 8 rolls)
*Storage:  Refrigerate and use within 5 days.
*Nutrition Information INCLUDING Siete Almond Flour Tortillas: Serving Size = 1 roll: 127 Calories, 6.4g Total Fat, 0mg Cholesterol, 15.4g Total Carbohydrates, 3.6g Dietary Fiber, 4.2g Protein.

This post contains affiliate links, and we may receive a very small commission if you purchase through those links at no additional cost to you. Thank you for supporting Monkey and Me Kitchen Adventures! For more information, see our disclosures here.