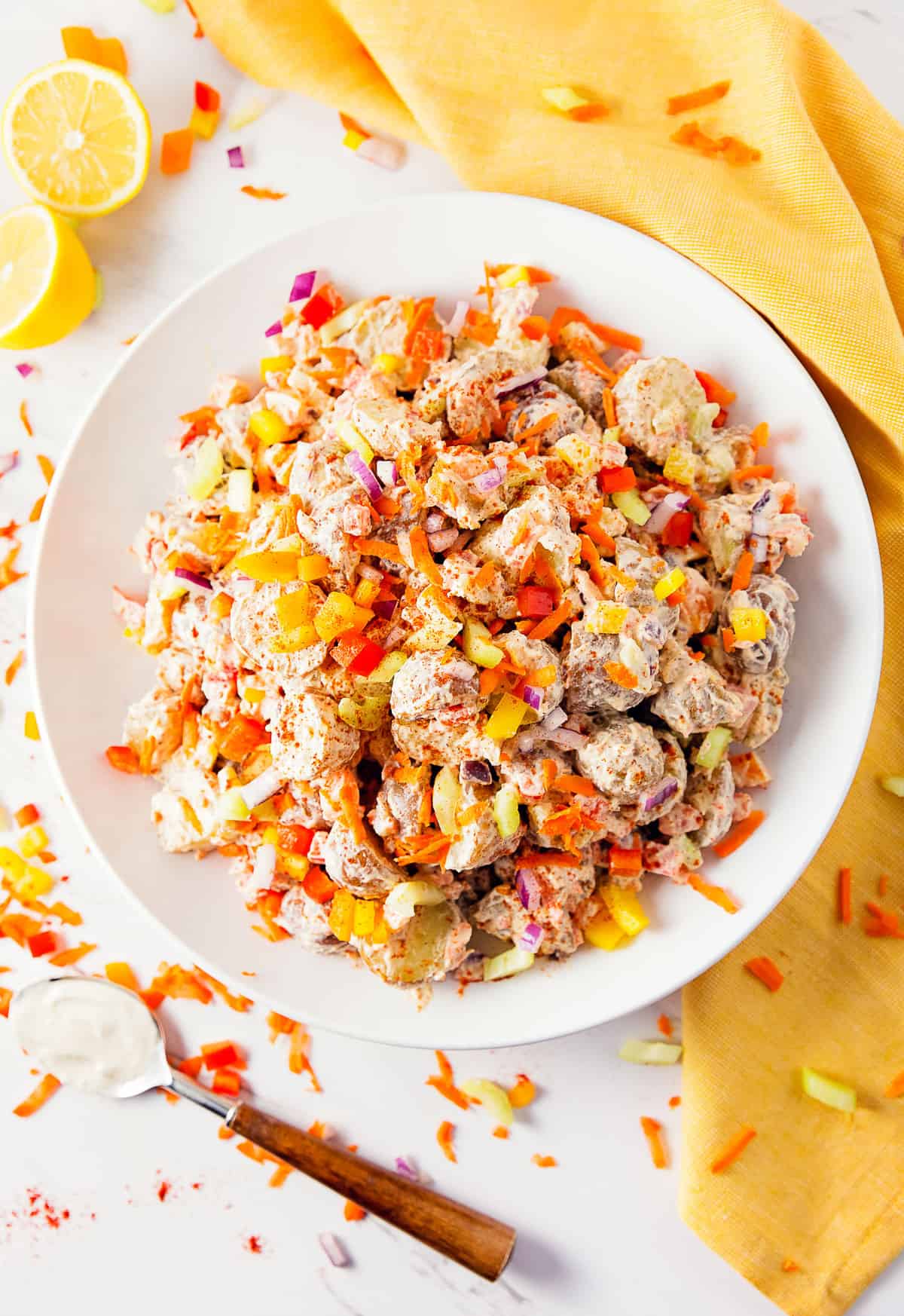 A potato salad that even grandma would be proud to call her own.  Simple is best with a splash of vegan creativity, this creamy and delicious potato salad will quickly become your family's picnic favorite. A fabulous Whole Food Plant Based recipe. Vegan, oil free, refined sugar free, gluten free, no highly processed ingredients.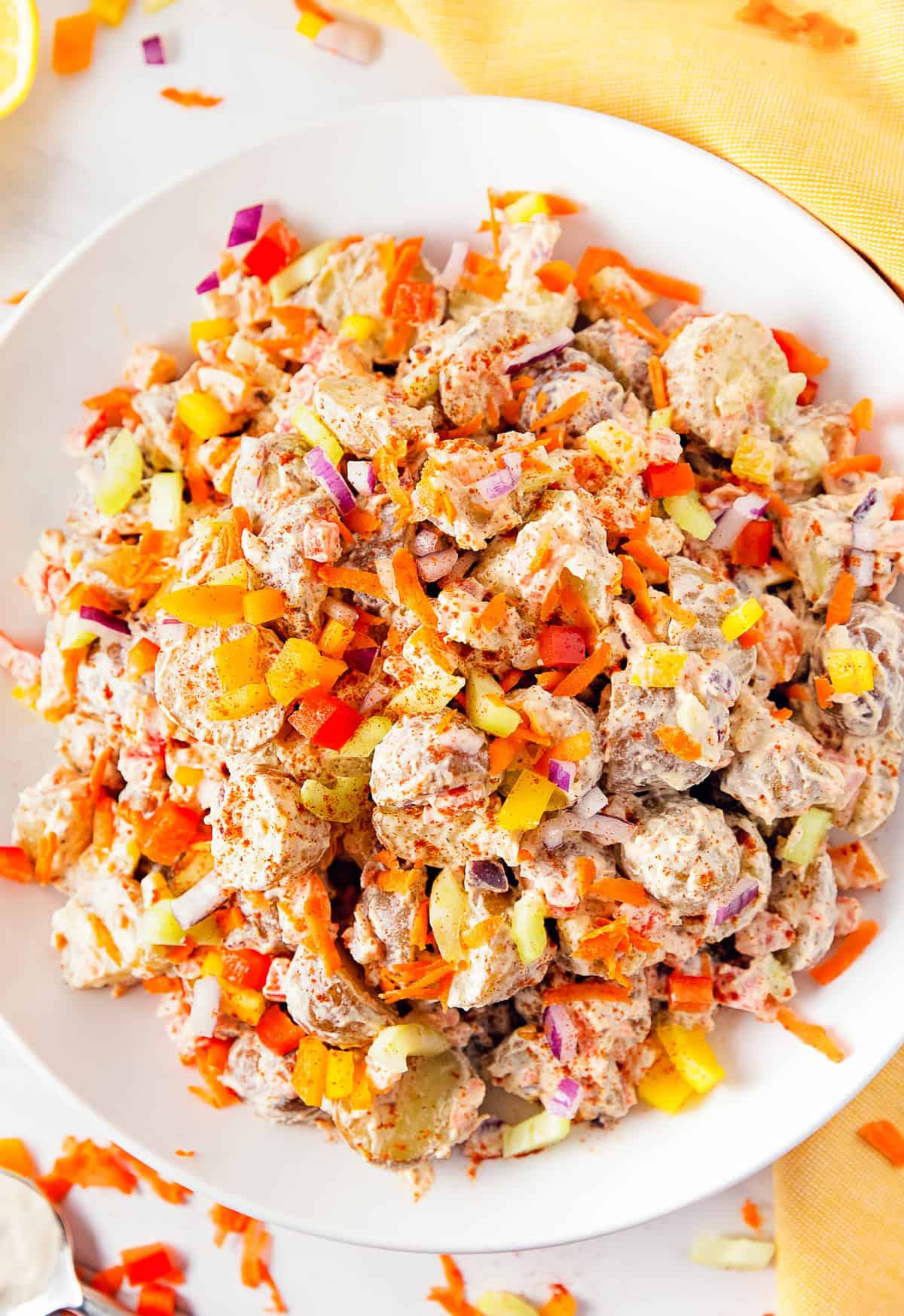 Hi, Robin here!
My grandmother, Grandma Ethel, made the most fabulous potato salad.  It was actually a legend here in my home town, "relatively speaking." She made it for every family event for as long as I can remember.  You may be thinking "potato salad, really?", but honestly, it was that outstanding and she knew it.
Legendary Potato Salad
Grandma never had an opportunity to make anything other than her famous potato salad because it was understood that she would always bring it.  It was like pulling teeth to find out exactly what she put in there, but I am not actually sure if she even knew the quantities/measurements.  I think she just knew by taste.  She was one of those amazingly gifted cooks with an exceptional palate that didn't use recipes, everything always came together like magic.
What I do know is that it was loaded with tons of potatoes, hard boiled eggs, mayonnaise, celery, onion, paprika and celery seeds.  Those are the items that I could identify.  Beyond that, it was up for grabs.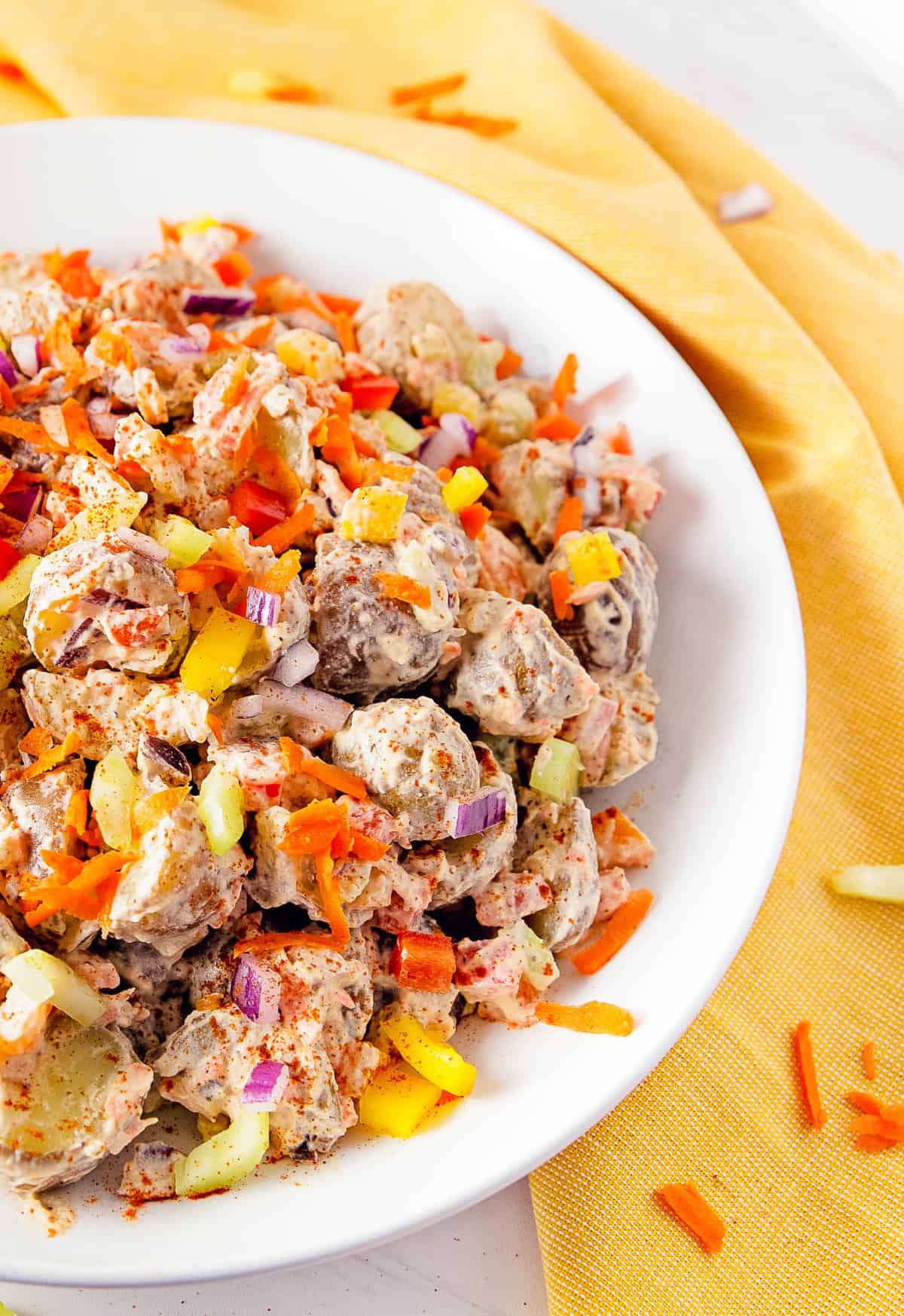 Vegan Creativity
The creaminess of this potato salad comes from the Cashew Vegan Mayonnaise.  It gives the dish this beautiful creaminess without the guilt.  Grandma loved to use a lot of celery seeds in her potato salad, this is where my love of celery seeds stems from.
Celery seeds
I love celery seeds in my coleslaw, macaroni salad and potato salad, I think it adds a nice layer of flavor, little specks of yumminess.  I have been known to get a little heavy handed with the celery seeds.
Have you ever tasted something and it instantly reminded you of someone or someplace?
Literally, every time I taste celery seeds in a dish, I immediately think of my Grandma Ethel because of her famous potato salad.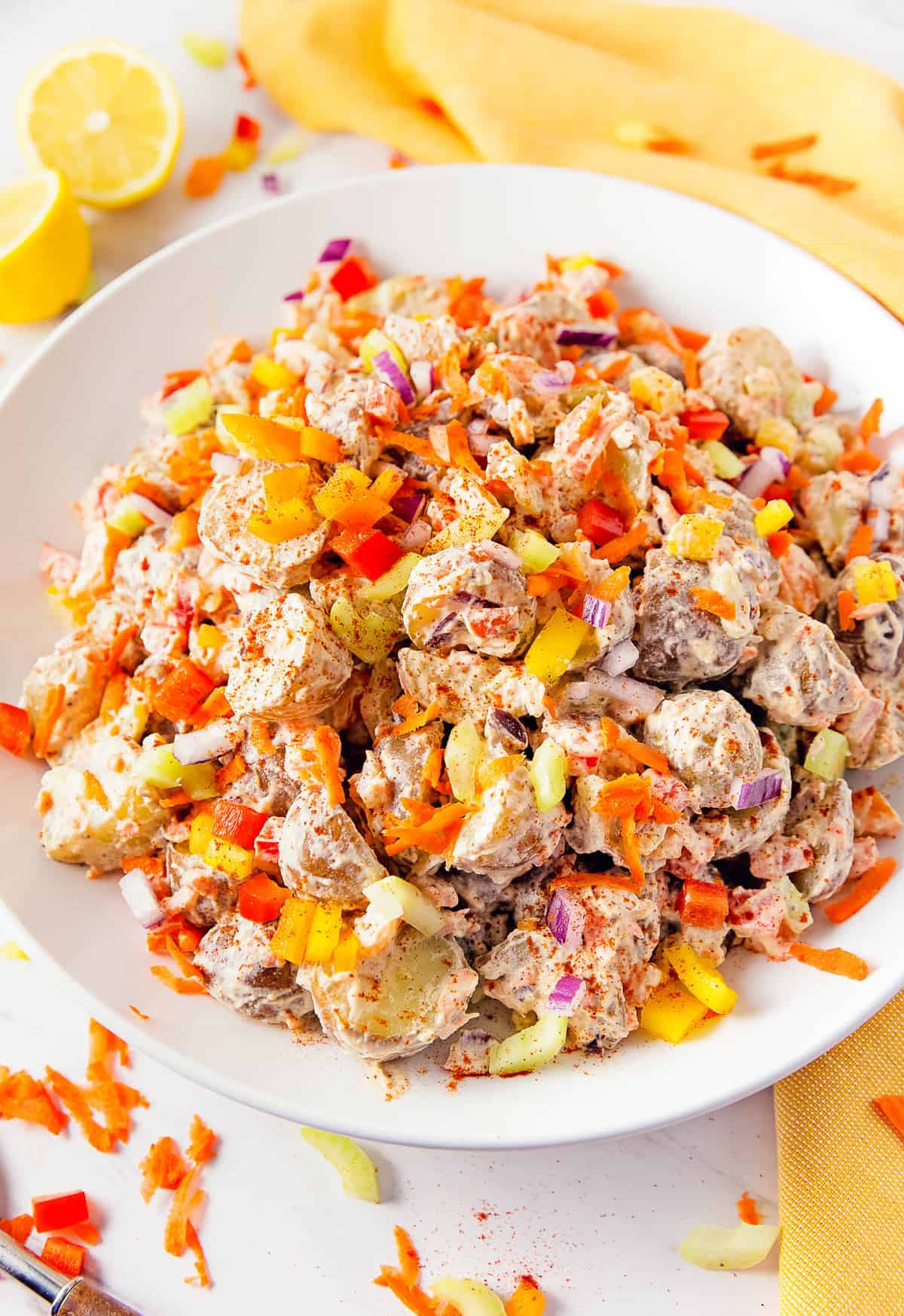 Grandma Ethel
My grandmother was an amazing woman.  She had flaming red hair and a flashy Irish temper.  I have been told she had a colorful past and she was a sucker for a handsome face.  LOL  It is my understanding that she finally settled down when she married my grandfather, Grandpa Sam, coupled with the birth of my Aunt Sue, "Sooge".  Grandma was an amazingly strong woman who enjoyed life, told great stories, and had a heart of gold.  She would give you the shirt off her back.
Wooden Spoon
Sometimes my grandma needed help around the house.  There were times when I was around 15 or 16 when I would go over to her home and clean for her.  After each house cleaning, she would spend some time with me and tell me stories and she always insisted on giving me items for my hope chest.  I remember one time she gave me this huge stack of  highly starched and pressed pillowcases with amazing intricately and delicately crotched edges.  I remember putting them into my hope chest, and then taking them out every now to look at them and dream.
When I was teenager, hope chests were still a thing.  Most kids today would have no idea what a hope chest is.  LOL   I really don't know what happened to most of those grandma-gifted items, but I do still have a wooden spoon that she gave me.  As a matter of fact, I use that wooden spoon on a daily basis. The stick handle is actually bent from overuse.  I also had Monkey incorporate it into our Monkey and Me Kitchen Adventures logo.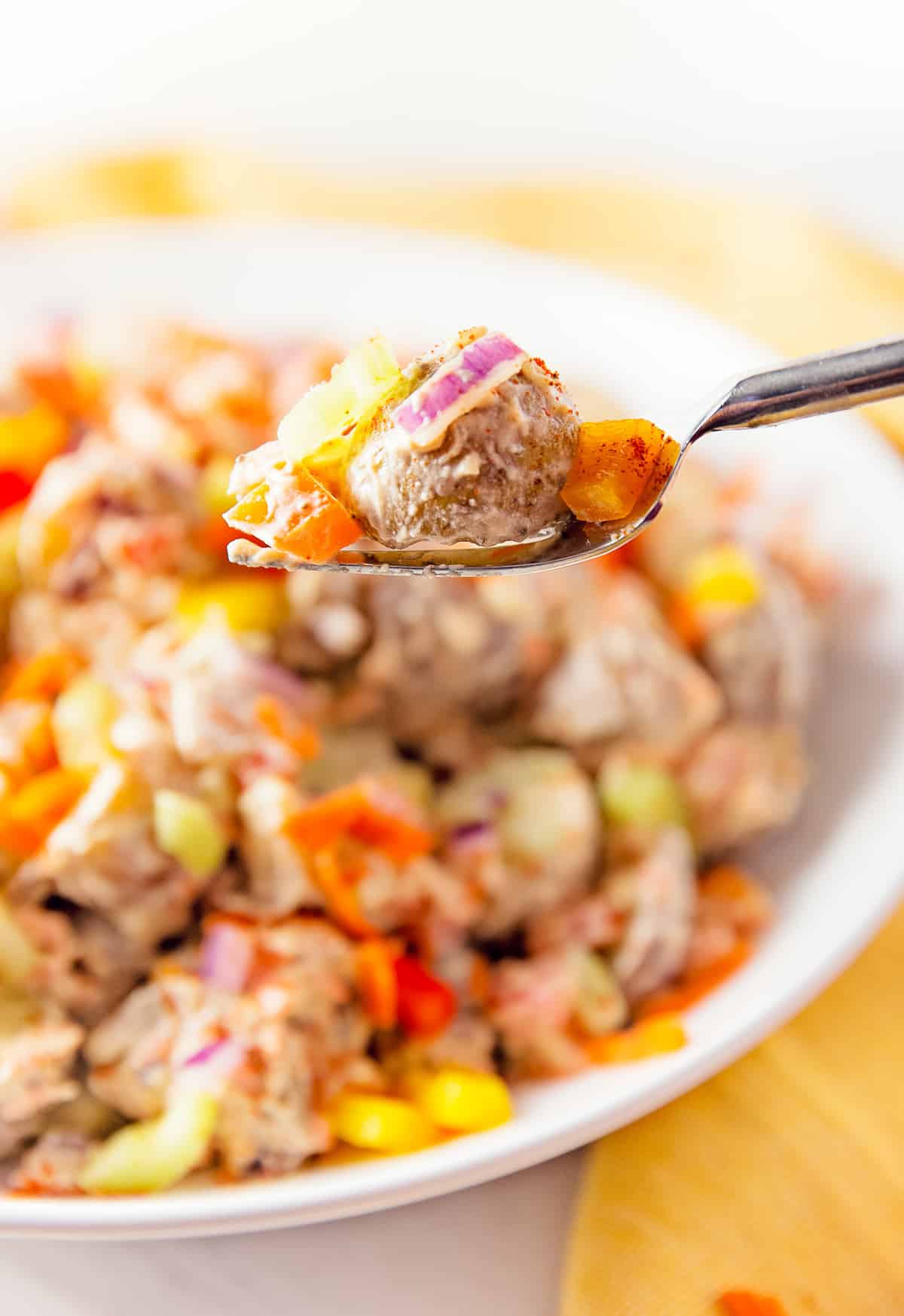 Ameera here!
I love this vegan picnic potato salad.  It is super delicious and I think my great-grandma would have loved it too if she was still around.  I remember her always bringing thee most massive bowl of potato salad for every 4th of July cookout.
The bowl was just ridiculously HUGE and full of potato salad and I always thought "Who is going to eat all of this?"  But somehow it always magically disappeared because everyone wanted to take some home with them, so I think that is why she always made it in massive quantities.  LOL
Looking for a beautiful classic picnic potato salad that is healthy and vegan, look no further, we've got the golden ticket right here! 🙂


Products used:
High-speed blender or food processor (Cashew Vegan Mayonnaise recipe)
Box grater for grating carrots
Print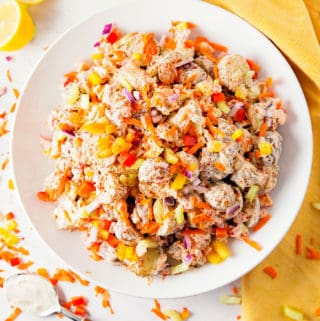 Vegan Picnic Potato Salad
Author:

Prep Time:

25 minutes

Total Time:

25 minutes

Yield:

4

-

6

Servings

1

x

Category:

Side

Cuisine:

American
---
Description
A potato salad that even grandma would be proud to call her own.  Simple is best with a splash of vegan creativity, this creamy and delicious potato salad will quickly become your family's picnic favorite. A fabulous Whole Food Plant Based recipe. Vegan, oil free, refined sugar free, gluten free, no highly processed ingredients.
---
2 ½

lbs. baby potatoes, cut in half or fourths (largely dependent on size of potatoes) boiled until tender

2

large celery ribs, medium dice

2

large carrots, grated

¼

large red onion, small dice

1 1/3 cup

assorted, red, orange, and yellow bell peppers, small dice – measure after dicing the bell peppers

3 Tablespoons

apple cider vinegar

¼ teaspoon

sweet paprika

½

to

1

teaspoon celery seed (+/- to taste)

½

to

1

teaspoon sea salt (+/- to taste)

8

cracks freshly ground pepper (+/- to taste)
Optional Toppings
Assorted bell peppers, small diced
Red onion, small dice
---
Instructions
Wash 2 ½ pounds of white and red baby potatoes. Leave the skins on; cut them into half or fourths depending on the size of the baby potatoes.  Baby potato sizes vary greatly.  You want to ensure that your potatoes are uniform in size to ensure they are all cooked and tender at nearly the same time.  Do not cut them too small as they tend to shrink in size when boiled.  Additionally, if you cut them too small, they tend to self-destruct when boiling them.
In a medium stockpot, add the cut baby potatoes, cover with cold water, sprinkle the water with some sea salt and place on the stove over high heat. Bring the water to a rolling boil, then once the water is boiling, reduce the heat to medium and lightly boil the baby potatoes until just tender. This takes approximately 20 to 25 minutes.  Start checking around the 15 minute time frame.
Test for tenderness by sliding a sharp knife into a potato (select one of the larger ones). If the knife slides in cleanly, then the potatoes are done.  If unsure if the potatoes are tender enough, then take one potato out of the boiling water with a slotted spoon and run it under cold water, then carefully taste it (the inside of the potato will still be piping hot). If not done, simmer for a few more minutes and repeat the process of checking for tenderness until done.
Once the potatoes are done, then very gently drain the potatoes into a colander and run them under cold water until they are no longer hot. Next, lay the boiled potatoes out onto a baking sheet to completely cool.
Once the potatoes are completed cooled, place them into a large bowl. Add all the other remaining ingredients and gently stir to incorporate.
Test the flavors, add more spices (recipe ingredients) to achieve the level of flavor you desire.
Refrigerate for one to two hours before serving.
Right before serving, place some assorted small diced bell peppers and red onions.  Sprinkle the top with sweet paprika.
---
Storage:  Place in the fridge and use within 7 to 10 days.