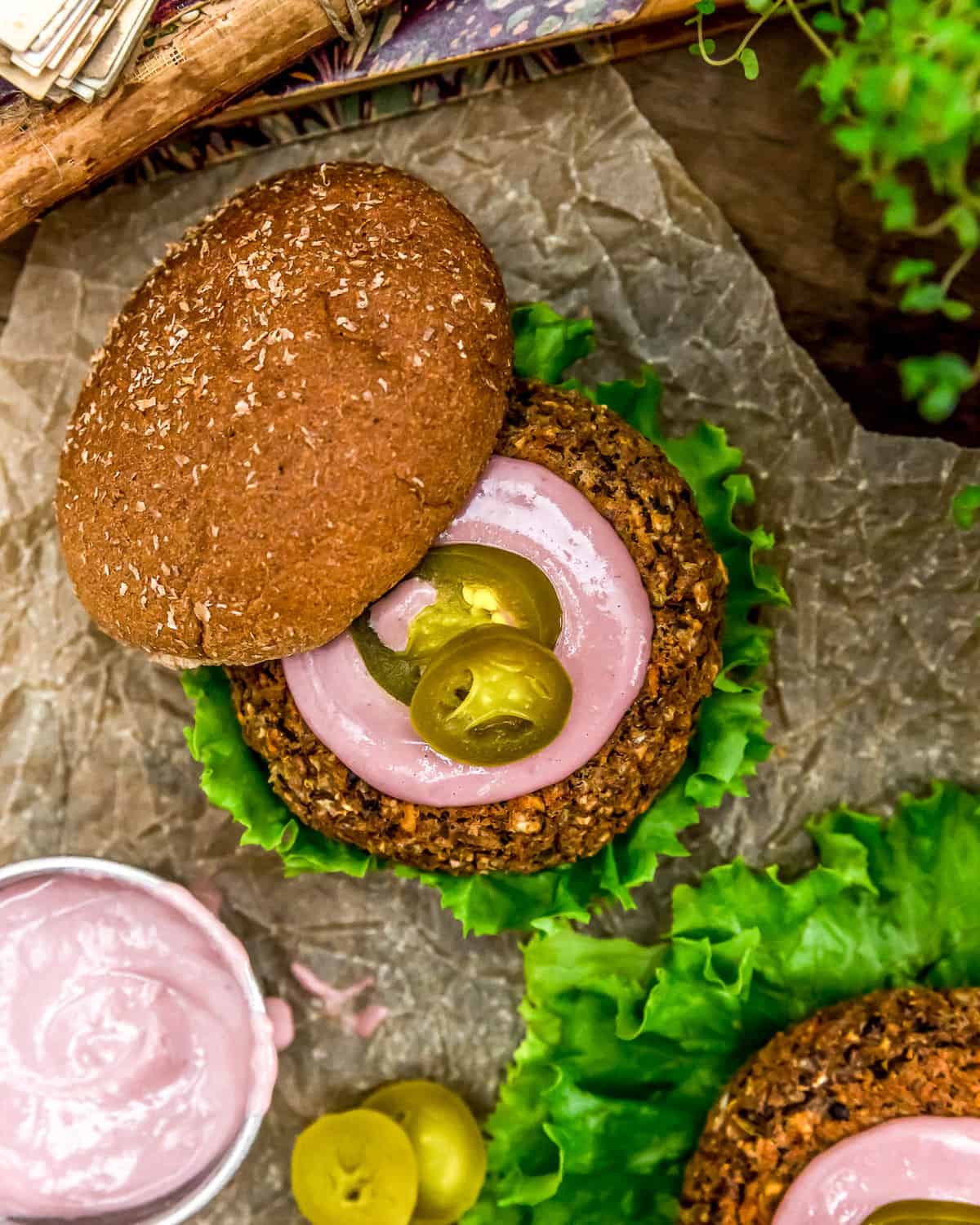 Perfectly tangy, sweet, and delicious, this healthy, oil-free Vegan Pickled Jalapeño Raspberry Burger Sauce is absolutely amazing over our Jalapeño Popper Burger or your favorite veggie burger for a fun twist. Delicious pickled jalapeños pair perfectly with sweet raspberry goodness that will hook you with the first bite; it is sure to absolutely delight your taste buds.
Whole Food Plant Based, vegan, plant based, oil free, refined sugar free, gluten free, no highly processed ingredients.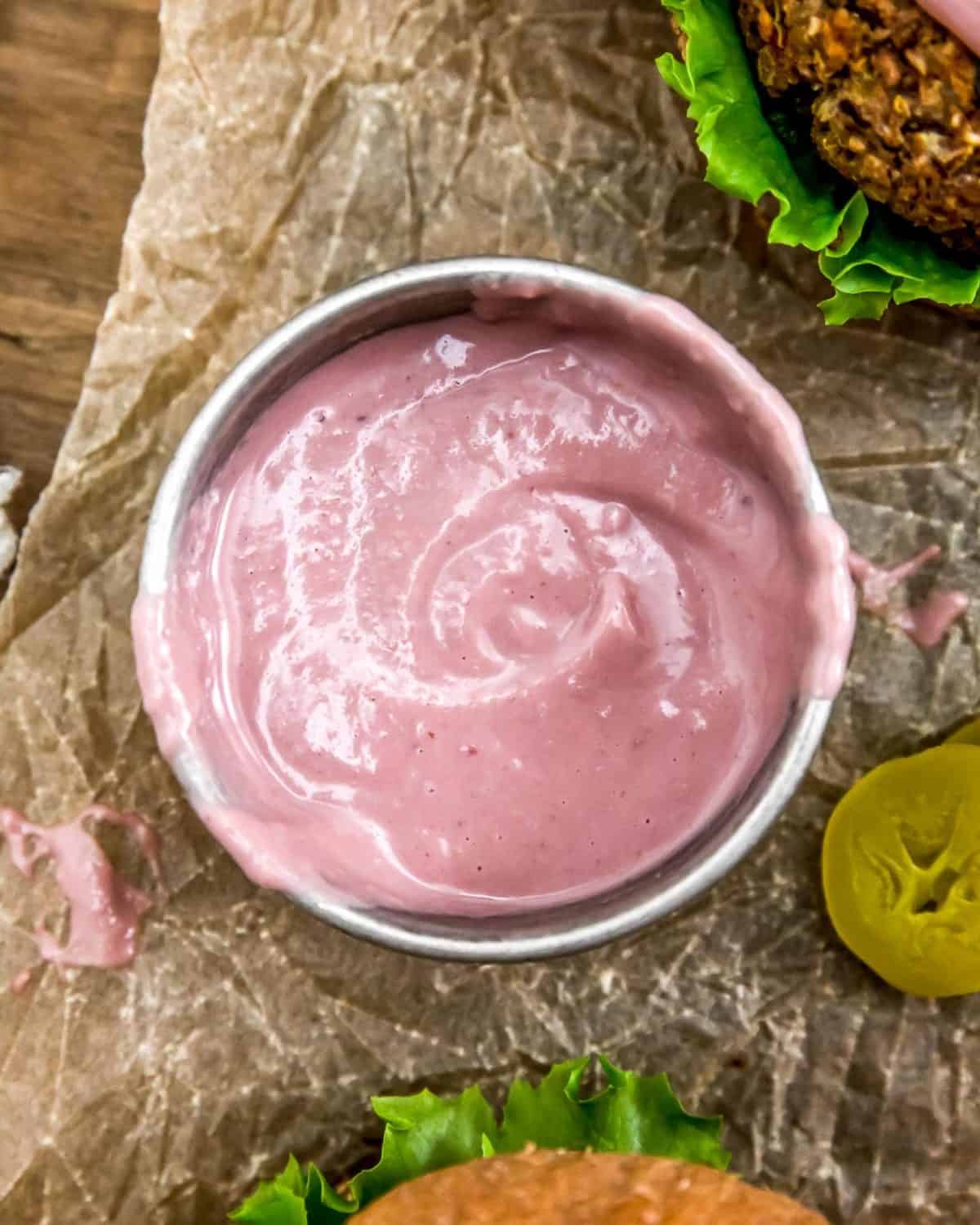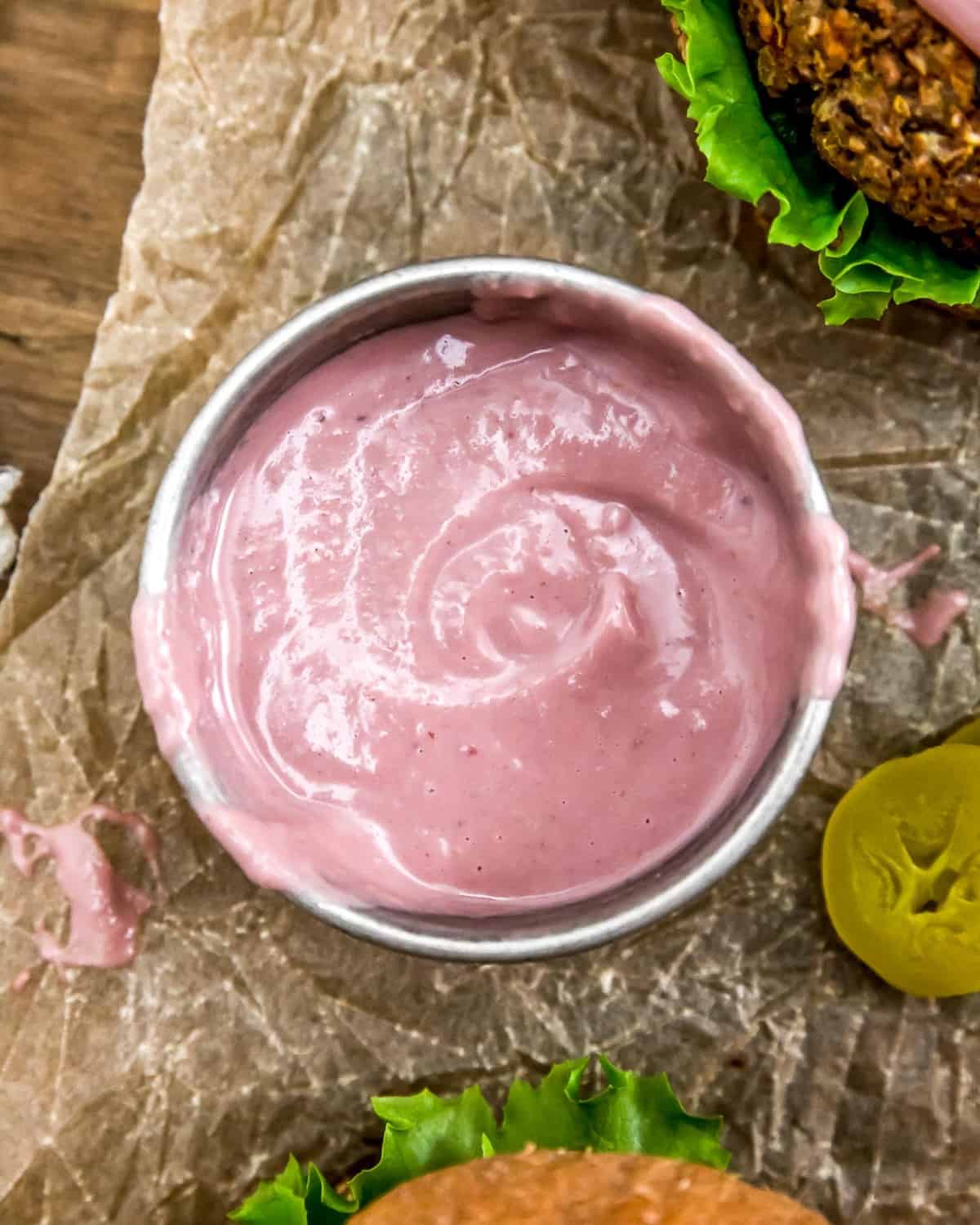 Hi there, Ameera here!
This burger sauce is incredible. We specifically designed it for our Jalapeño Popper Burger, but you could literally put this deliciousness on anything.  The flavor is absolutely perfect with the awesome combo of sweet and tangy. You get this beautiful play of flavor complexity; the pickled jalapenos coupled with the sweet raspberry infused cream sauce, it just works!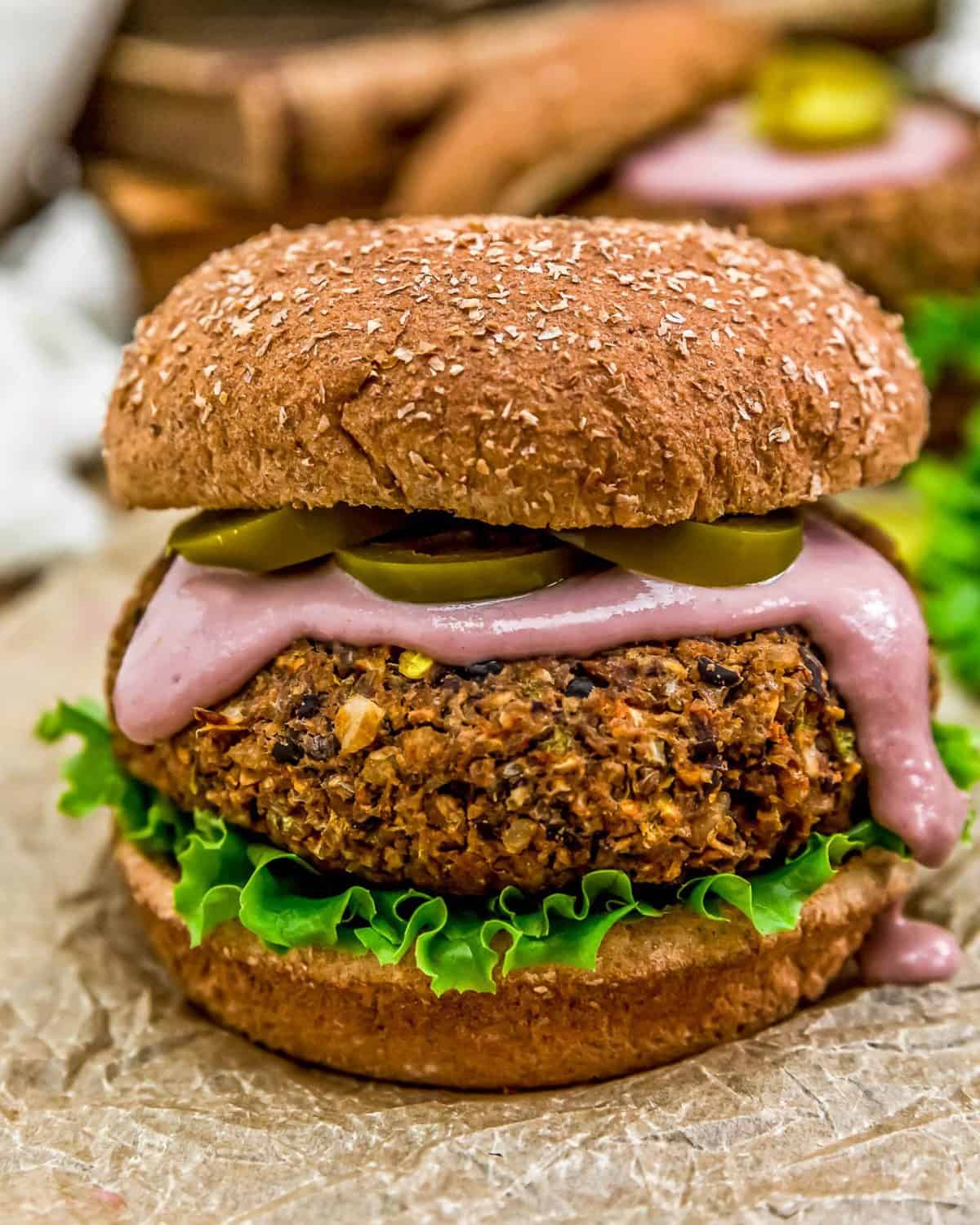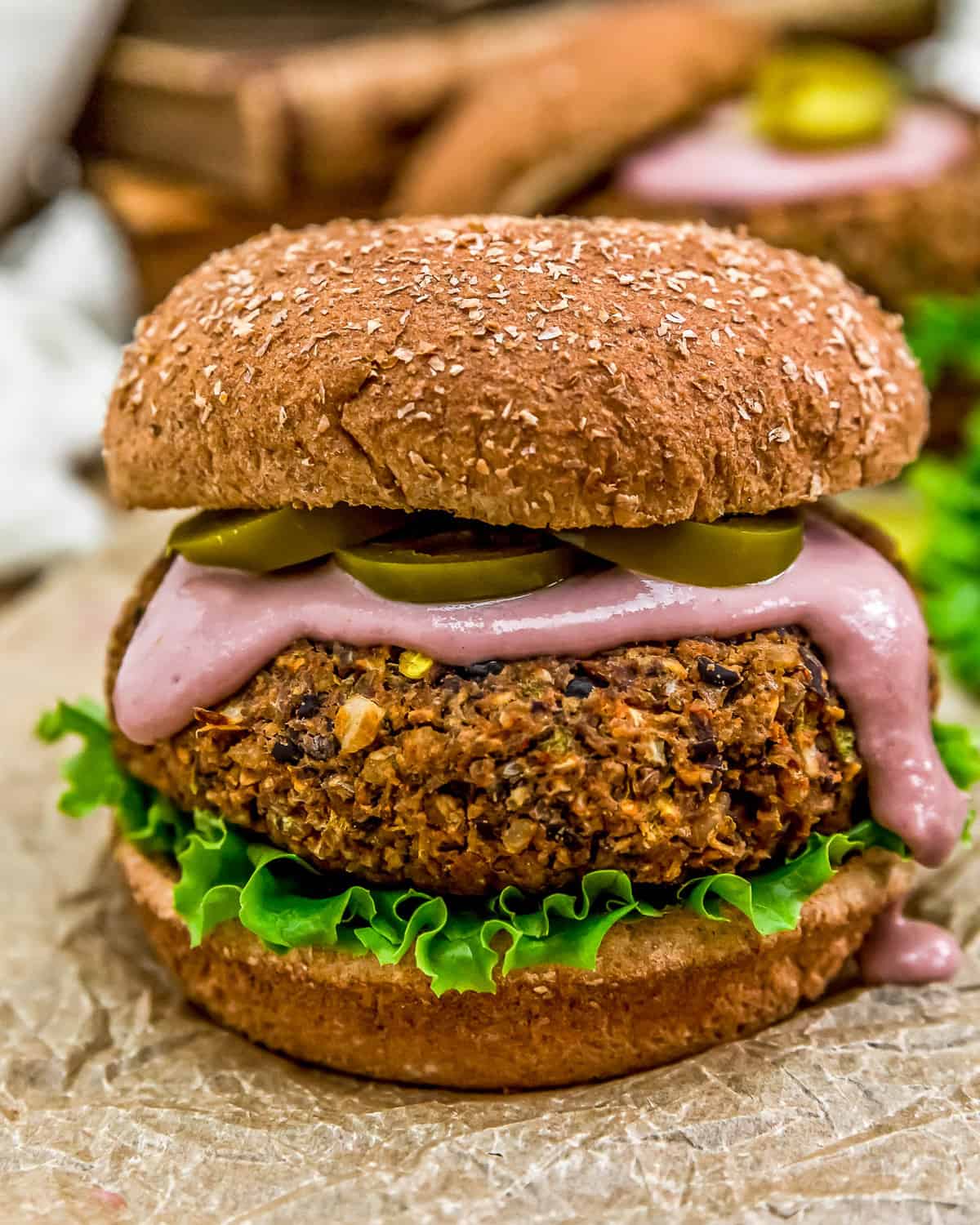 Don't Forget!
This sauce is easy to make.  There are some things that we want to make sure you do and don't do:
Don't buzz the jam too much if your raspberry jam has seeds in it. Just give it a very quick whirl to mix it in.  See the recipe notes for details.
AND if your raspberry jam has seeds in it (which most WFPB raspberry jams do), then strain them out. It is not very pleasant to eat this incredibly flavorful, creamy sauce and bite down on the seeds. We learned that the hard way. LOL
Pickled Jalapenos
We LOVE Mezzetta's Deli-Sliced Tamed Jalapeño Peppers. They work so perfectly with this recipe.  Make sure you get the "tamed" (mild) ones versus the hot ones, unless you want to walk on the wild side.  And just for the record, this is not a sponsored post, we just love these tasty lil puppies so much that we want you to enjoy them too!
We hope you give it a try.
If you try this sassy sauce, we would love to know if you enjoy it as much as we do! Please leave us a review! Post a picture on Facebook or Instagram and tag us!  We would love to hear from you.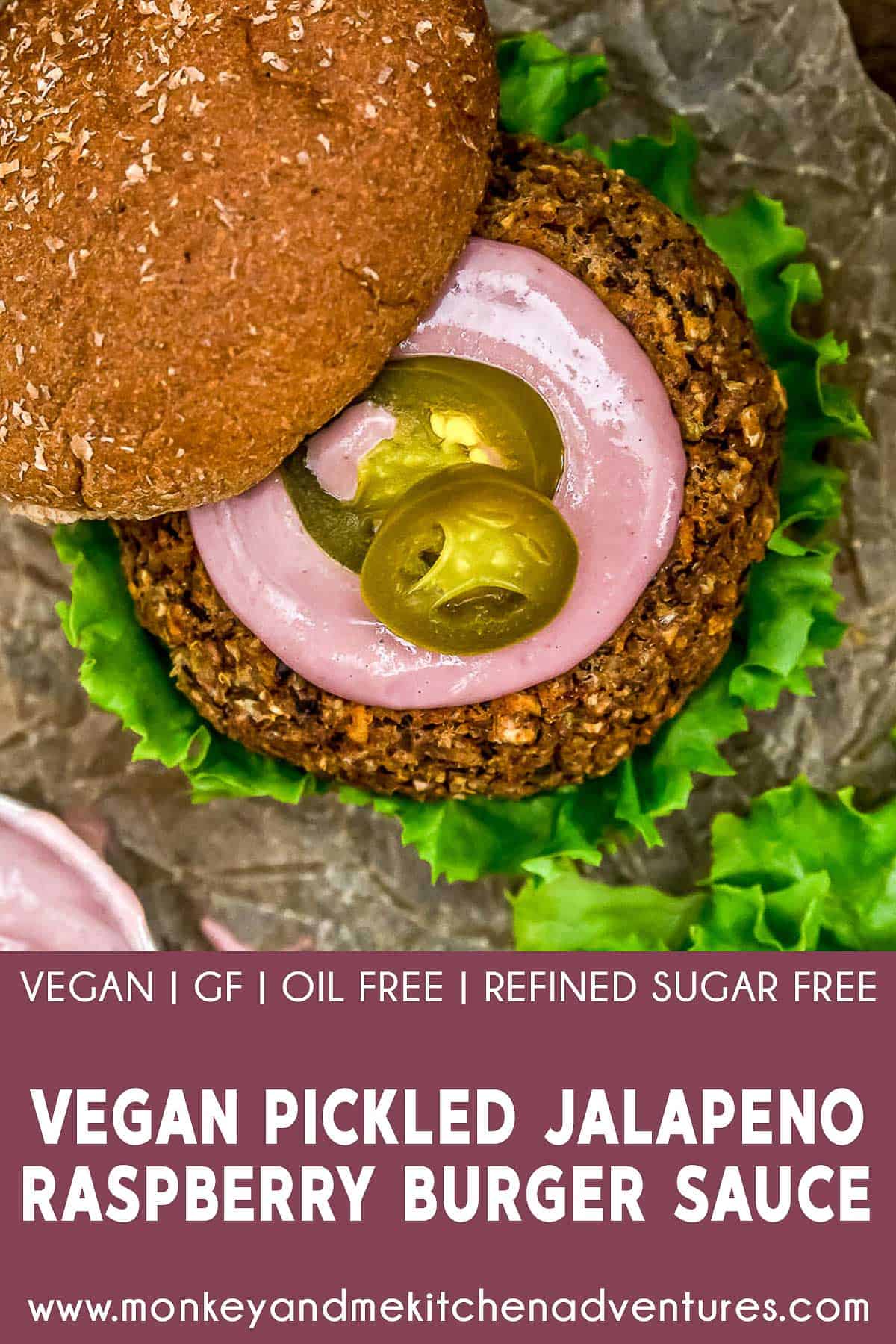 Products Used:
Fine mesh strainer
High-speed blender
Print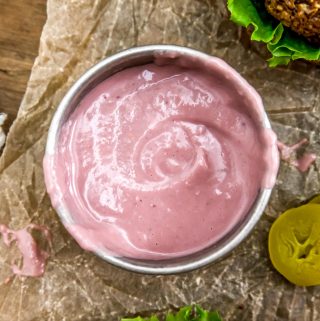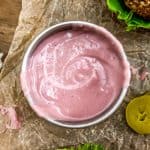 Vegan Pickled Jalapeno Raspberry Burger Sauce
Author:

Prep Time:

10 Minutes

Total Time:

10 Minutes (+Soaking Time)

Yield:

1 Cup

1

x

Category:

Sauces

Cuisine:

American

Diet:

Vegan
---
Description
Tangy, sweet, and delicious, this healthy, oil-free Vegan Pickled Jalapeño Raspberry Burger Sauce is absolutely amazing over Jalapeño Popper Burger.
---
Base Ingredients:
½ cup

raw cashews

2 teaspoons

lemon juice

1 Tablespoon

+

1 teaspoon

distilled white vinegar

1 Tablespoon

pickled "tamed" jalapeno pepper juice (brine) *

1 Tablespoon

unsweetened plain plant milk

2 Tablespoons

water

¼ teaspoon

sea salt (+/- to taste) *
Other Ingredients:
¼ cup

red raspberry jam *

3 Tablespoons

pickled "tamed" jalapeno pepper slices *
---
Instructions
Place the raw cashews in a small bowl and cover with boiling water, allow to set for 20 minutes. After 20 minutes, discard the water.
In the meantime, place all the other Base Ingredients into a high-speed blender and blend until smooth and emulsified, scraping down the sides of the blender occasionally.
Then place the red raspberry jam and pickled "tamed" jalapeno pepper slices into the blender and pulse until just blended. Do not over blend. You do not want to pulverize the seeds. Strain the mixture through a fine mesh strainer.  This will remove any seeds from the raspberry jam and pickled jalapeno peppers.
Place in the refrigerator for 20 minutes.
---
Notes
*Tips for Success:
Raspberry Jam: Typically, WFPB natural raspberry jams come with the seeds in the jam.  We found that the seeds were distracting to the palate in the sauce.  After we made the sauce, we strained it through a fine-mesh sieve to remove the seeds.  This only took about a minute or so and worked perfectly to remove the seeds, leaving a very creamy, smooth sauce.  If you can find a WFPB natural raspberry jam without seeds, you can skip straining the sauce.  To remove the seeds from the sauce simply place the sauce into a fine mesh sieve over a bowl, then press down on the sauce with a rubber spatula so it falls into the bowl, keep pressing the sauce until the only thing you have left in the sieve is the seeds which you can then discard the seeds.  Don't neglect the removal of the seeds.  It's important to remove them.  Note:  Additionally, we tried to strain the jam through a fine mesh sleeve, it is too difficult; however, straining the sauce after it is completed worked perfectly.
Pickled versus Fresh Jalapeno Peppers: Fresh jalapenos do not work as well in this sauce.  You do not need to remove the seeds from the pickled jalapenos.  Make sure you select mild "tamed" jalapeno peppers.
Measuring Pickled Jalapeno Peppers: It can be a little challenging measuring out pickled jalapeno peppers onto a tablespoon, just make sure you kind of smashed them onto the tablespoon to get a good solid measurement.  Also, make sure you don't get any of the juice (brine) with it.  We laid some out onto a paper towel then placed them onto the tablespoon pressing downward to get a solid measurement.  You will use some of the brine in the recipe so it is important not to get any extra brine during this measurement. Otherwise, it will be too runny.  However, note that because this sauce is a cashew-based sauce, it will seize up (thicken) in the refrigerator which is exactly what you want; however, if it seizes up too much, then add a little of the pickled jalapeno brine to loosen it up a little.
Color:  We added a tiny bit of beet powder to enhance the color of the sauce. This is optional. Without the beet powder, the color of the sauce is slightly less vibrant.
 *Notes Continued:
*Pickled Jalapenos:  We used Mezzetta Deli-Sliced Tamed Jalapeno Peppers.  Be sure to select a the jarred mild ("tamed") pickled jalapeno.
*Raspberry Jam:  We used St. Dalfour Red Raspberry Jam.  It is Whole Food Plant Based.  You can use your favorite raspberry jam.
*Sea Salt:  Please adjust the sea salt based upon your family's sea salt preferences and/or based upon dietary needs.
*Vegan Jalapeno Popper Burger:  We designed this sauce specifically for this burger.  They are an amazing combination.
*Serving:  Makes about approx. 1 cup of sauce
*Storage:  Use within 7 days.

This post contains affiliate links, and we may receive a very small commission if you purchase through those links at no additional cost to you. Thank you for supporting Monkey and Me Kitchen Adventures! For more information, see our disclosures here.