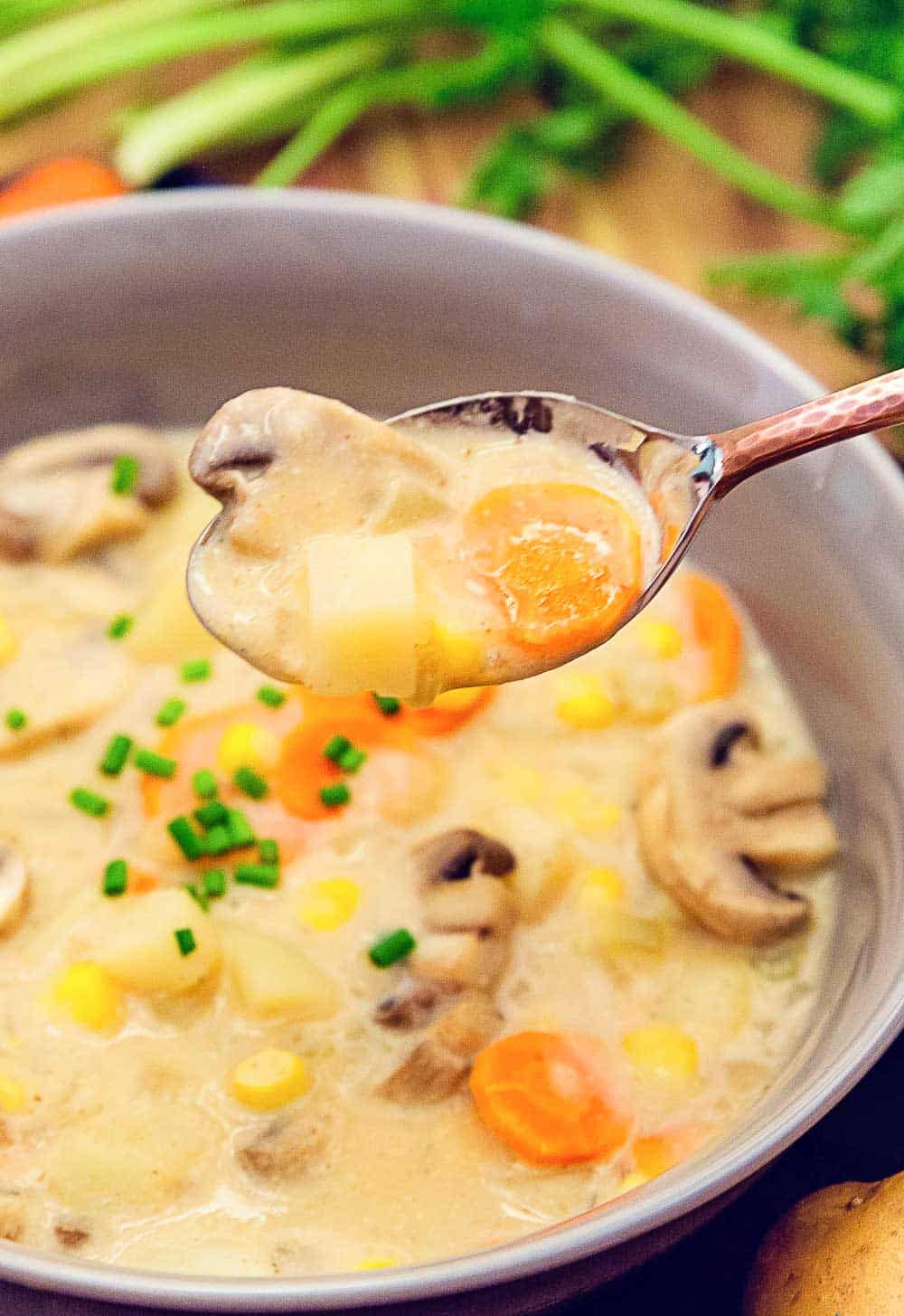 This delectable, rich and creamy vegan "no clam" chowder will warm you up and blow you away with its wholesome deliciousness. With its dreamy texture and amazing flavor; it is the ultimate Whole Food Plant Based soup remix.
Hello there, Ameera here!
Soup season is here!  A nice bowl of homemade tasty soup can really hit the spot on a cold winter day.  I am a soup lover!  Mom always made the most wonderful homemade soups for our family while growing up.  We have all become soup fanatics, and we all consider ourselves to be soup connoisseurs.  Especially, my brother, Chris, who is quick to offer his culinary wisdom on how to skillfully concoct any soup or recipe – lol!   But, in all seriousness, Chris is amazing.  He just naturally knows exactly what to add to a recipe that will put it over the top.
Mom was pretty skeptical that we could create a vegan "clam" chowder that could compete with traditional New England Clam Chowder in all its yummy goodness and smooth, rich texture, but I made her a believer!
This Vegan Clam Chowder recipe was adapted from Vegan Huggs.
Wondrousness of Cashew Cream!
Mom and I do a lot of research and planning when we approach any recipe.  If you have been cooking Whole Food Plant Based, then you know the wondrousness of cashew cream.   Investing in a really great high speed blender is key; however, a great food processor will work as well, it just might take a little longer to achieve the same results.  I LOVE using cashew cream; being able to create smooth creamy textures for recipes had me worried until I found out about cashew cream.  Once I did, I never looked back.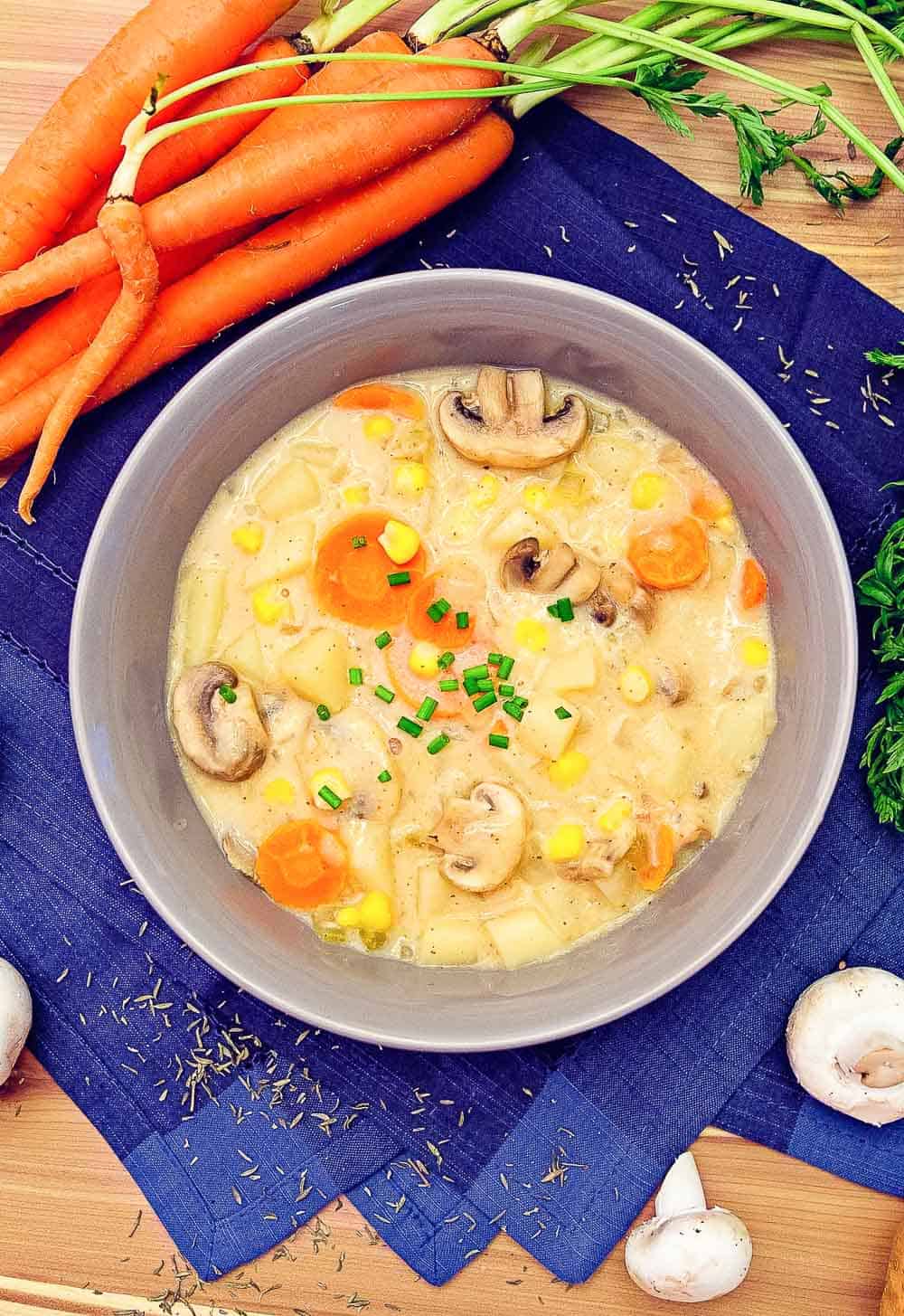 If you've never created a cashew cream, no worries! We are hear to help and guide you through the process. Trust us, it isn't as complicated as one might think. It might seem intimating at first, we were also a little hesitant. But now I wonder – where have you been all my life cashew cream?  It is the perfect addition to make soups creamy and yummy!
Mushrooms make the soup!
Now, I feel like I need to get something off my chest… I hate mushrooms!!!  There I said it. I have always disliked them.  I think it is a textural thing, but I simply can't get past them when they are in any recipe.  But for some reason, I absolutely love them in this soup.  Probably because it doesn't taste like "mushroom" soup. It just adds a nice hint of earthiness. I think the mushrooms make the soup in my opinion – which is really crazy for me to say.   I think that was the reason Mom was initially not a believer, because she knew that I hated mushrooms.  I ended up making a believer out of myself with this recipe!  LOL
The mushrooms combined with the flavor of the dry white wine adds a whole new level of yumminess to this recipe.  No worries about alcohol in the dish because the alcohol totally evaporates away, leaving behind this beautiful essence that perfectly develops the soup flavor.
The dulse (kelp flakes) gives the soup an oceany undertone which alludes to "sea food".  You can totally leave it out if you want, but we really love what it does for the soup.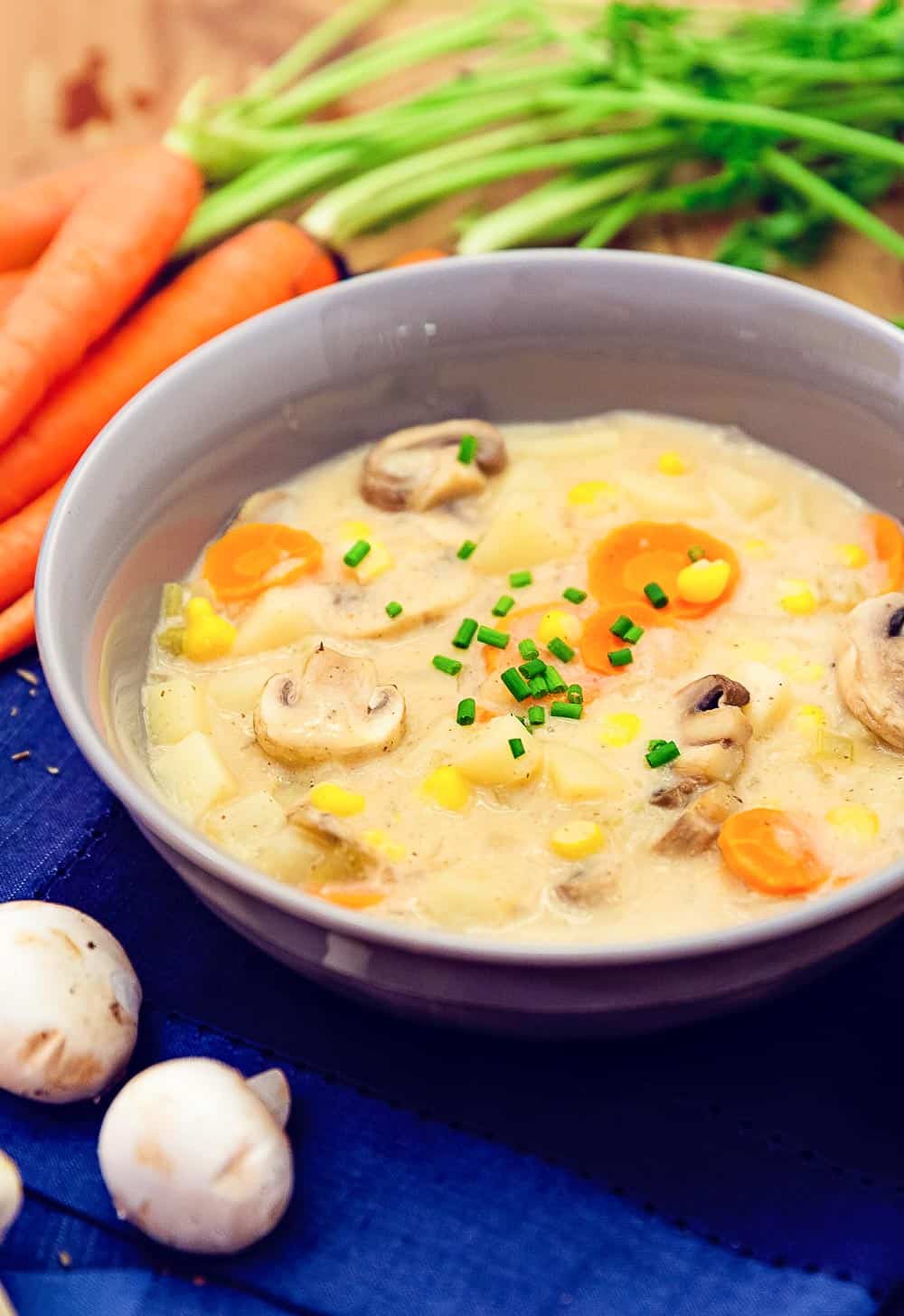 My dad loves seafood, and especially enjoys a good clam chowder. He was a total hoot when we told him that we were going to make a vegan "Clam Chowder" today. He was unsure of how to interpret what we were saying.  He kept asking if I was going to put clams in the vegan "clam" chowder.
Our conversation went a little like this:
Dad: "Are there clams in this soup? You keep saying it is a vegan clam chowder."
Me: "No Dad, the soup is vegan, there are no clams in the soup."
Dad: "I don't get it.  Is it clam chowder or what kind of chowder is it?  You know I love clam chowder.  I would love some clam chowder."
Me: "Dad, it is a vegan "clam" chowder (motioning with my fingers as quotation marks on the word "clam").  There are no clams.  It is reminiscent of a clam chowder.  No clams."
Dad: "Clam chowder, but not really clam chowder?  I don't know how you can make clam chowder without clams!  Let me know when it is done so I can have some not clam-clam chowder or whatever you are calling this not clam chowder soup."
Oh goodness, he really did try to understand. And later, when he tried it, he absolutely loved it!  He ate it like it was his last meal on earth and said he did not miss the clams at all.
Plus, we recently made the soup for my brother when he, Katie, and Charlotte came home for Thanksgiving, he said it was delicious and gave it two thumbs up. – YAY!
Robin here! 
Monkey really hit this one out of the park.  I assisted with veggie prep and general kitchen duty.  We have since made this recipe several times.  It is delicious and hearty with a lovely creamy texture.
What is especially nice about this soup is that you can control the thickness of the soup by cooking down the broth or thin it by adding some water.
While Monkey hates mushrooms, I adore them.  They are SO delicious.  I was really nervous when Monkey told me that mushrooms played a large role in the soup as I know how much she hates them. :O
TP was quite hilarious as he ate 3 decent sized bowls of soup ("I didn't eat lunch."), all the while raving about how good it was. I think he tried to hide the fact that he was devouring a large quantity of the soup before anyone else could get to it.  He is like the original hover vacuum.  He has a bottomless pit for a stomach.
Give it a try.  You're going to fall in love with this soup!

Supplies needed:
8-Quart  or 6-Quart ceramic lined Dutch oven or other similar large kitchen soup stock pot
High Speed Blender, Food Processor, or other high speed blend kitchen appliance
Print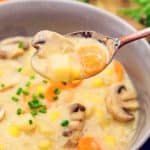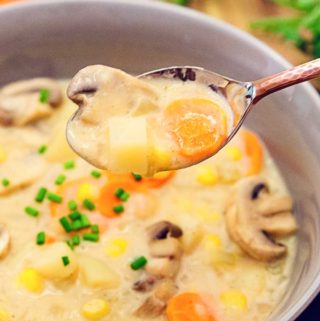 Vegan "Clam" Chowder
Author:

Prep Time:

15 minutes

Cook Time:

40 minutes

Total Time:

55 minutes

Yield:

6

-

8

Servings

1

x
Category:

Soup

Cuisine:

American
---
Description
This delectable, rich and creamy vegan "no clam" chowder will warm you up and blow you away with its wholesome deliciousness. With its dreamy texture and amazing flavor; it is the ultimate Whole Food Plant Based soup remix.
*This Vegan Clam Chowder recipe was adapted from Vegan Huggs.
---
Scale
Ingredients
½ cup

raw cashews
Boiling water – (just to cover the cashews; this water will be discarded later *)

¾ cup

unsweetened plain plant milk (we used almond milk)

8 oz

. white button mushrooms, cleaned & cut into slices

1 teaspoon

garlic, minced

1 teaspoon

Organic Tamari Gluten-Free Soy Sauce – Reduced Sodium

1 Tablespoon

Pacific Organic Vegetable Broth (see recipe notes) * 

1

medium yellow onion, fine diced

2

celery stalks, finely diced

1

carrot, finely sliced (we cut into thin slices)

1

heaping teaspoon garlic, minced

¼ teaspoon

thyme

½ cup

dry white wine* (choose a vegan wine)

1 Tablespoon

(heaping) gluten-free all-purpose flour

3 cup

s water

2 ½ cup

s Pacific Organic Vegetable Broth*

6

–

7

small all-purpose potatoes, peeled, cut into small diced cubes

¾ cup

frozen corn

1

bay leaf

1 Tablespoon

freeze-dried shallots*

2 teaspoon

s sea salt (+/- more to taste)

¼ teaspoon

sweet paprika

¼ teaspoon

freshly cracked pepper

1 teaspoon

dulse flakes* (kelp flakes) optional
Optional Topping Ingredients:
---
Instructions
Place cashews in a heat prove bowl and cover with boiling water. Let sit for 30 minutes.
Drain the water from the cashews, then placed cashews and unsweetened plain plant milk in a high-speed blender until very smooth and creamy. Set aside.
In a large ceramic/enamel lined Dutch oven or similarly large stock pot, add mushrooms and sauté over medium heat until the liquid has evaporated about 2-3 minutes.  If needed, add 1 Tablespoon of vegetable broth to prevent sticking. 
Add the minced garlic and tamari to the mushrooms. Continue to sauté until the mushrooms for a couple of minutes. Then remove mushrooms and place in a bowl for later in the recipe.
In a large ceramic/enamel lined Dutch oven (or large stock pot), add the onions, carrots, and celery, and sauté until tender, about 5 to 7 minutes. Add the garlic and thyme to the pot and sauté another minute. (If needed to prevent sticking, add 1 Tablespoon of vegetable broth).
Next add the white wine and cook about 3-5 minutes.
Add the gluten-free flour over the cooked vegetables, and stir to prevent burning. You want to cook the flour for about 2 minutes.
Pour in the vegetable broth and water, stir and then add the diced potatoes, corn, bay leaf, dulse flakes (or kelp flakes), sweet paprika, freeze dried shallots, cracked pepper and sea salt. Stir well.  Bring the soup to a boil. Once boiling turn down to low heat and simmer for about 12-17 minutes. Cook until potatoes are tender.
Then remove the bay leaf, and pour in the cashew cream, stir, and simmer for a few minutes. 
Taste  the soup and adjust seasoning to taste, add more seasoning if needed.
Add in the mushrooms that were set aside.
Continue to cook for and additional 5 minutes.  Check the flavors once more, add additional seasonings based upon personal preferences, then remove from heat.
Allow to sit undisturbed for 5-7 minutes to allow the flavors to marry.
Serve: Top with chopped chives.  (Optional)
---
---
Notes
*Cashews:  To speed up the soaking time for cashews:  Place the cashews in a small bowl and cover with boiling water, cover for 30 to 45 minutes, until softened.  Use a high-speed blender or food processor to ensure a creamy, smooth texture.
*Wine:  Chose a vegan wine that you would choose to drink.  Not all wine is vegan and may contain eggs whites or other ingredients.
*Vegetable Broth:  We used Pacific Organic Vegetable Broth because it does not have MSG, and has no highly processed ingredients; however, Pacific has a very strong flavor so our water to broth ratio is heavy on the water and low on the vegetable broth.  If you are using a vegetable broth other than Pacific, please adjust the water to broth ratio accordingly. 
*Freeze dried shallots:  I can't help but plug Penzeys freeze dried shallots, they always add a nice element to a lot of Vegan WFPB recipes. 
*Dulse flakes:  These add a nice "oceany" flavor to the soup. 
Storage:  Cool to warm, place in glass storage and refrigerate.