Vegan Cheesy Broccoli Rice Casserole! There is something wonderful about creamy, cheesy comfort food, this dish totally brings all those tasty flavors and hearty goodness that is sure to put a smile on your face.
If you are looking for a side dish that the whole family will love, look no further then this flavorful, healthy, and oil-free Vegan Cheesy Broccoli Rice Casserole. Tender rice and orzo pasta are coated in a velvety cheese sauce that is sure to please. This classic and comforting dish makes for a great weeknight meal or addition to your holiday table.
Whole Food Plant Based, Vegan, plant based, oil free, refined sugar free, no highly processed ingredients and gluten free.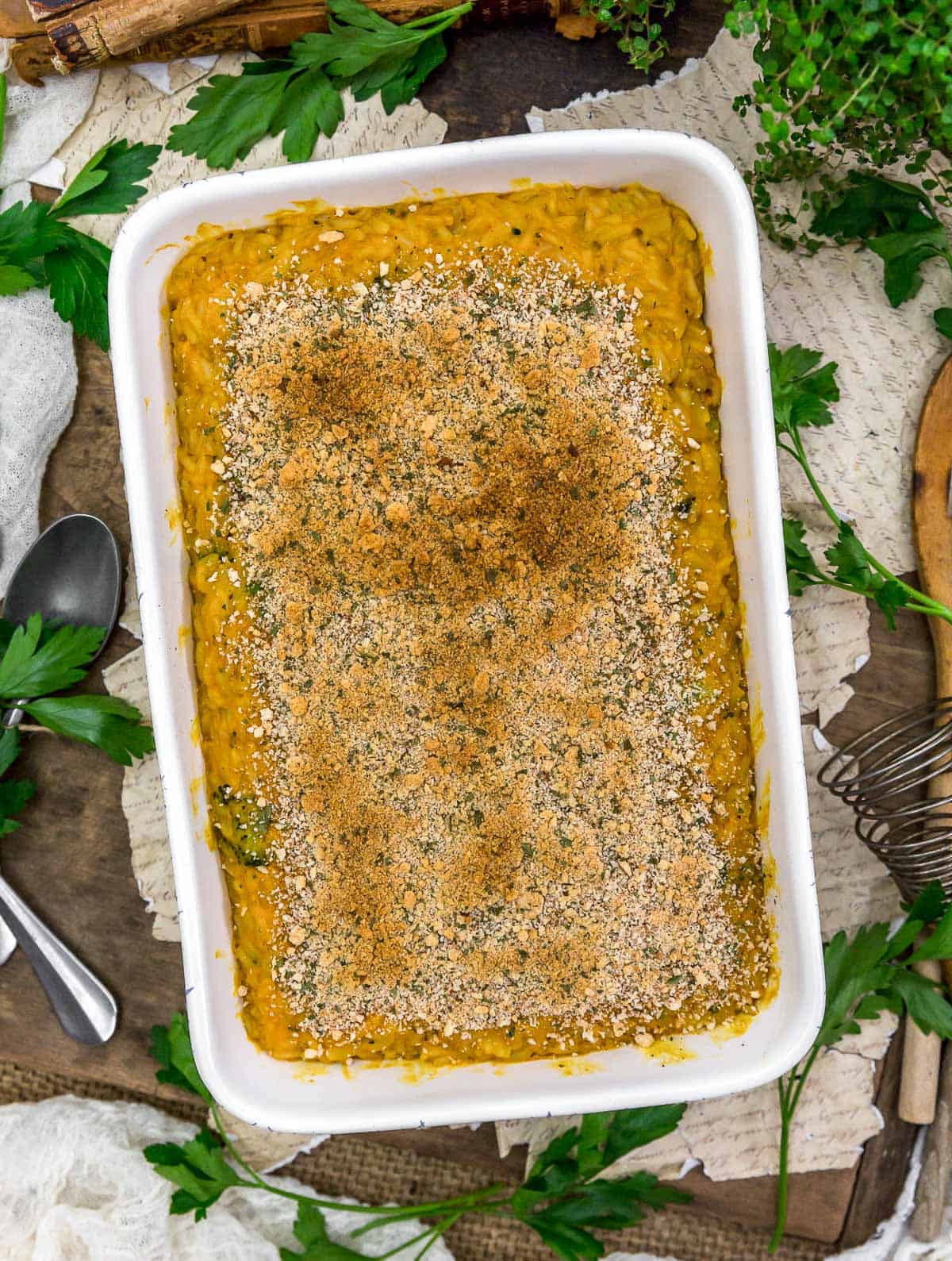 Hi there, Ameera here!
Ohhhh my goodness!  We loved this dish and can't wait to include it at our holiday dinner table.
Mom and I wanted to turn this classic holiday side dish into Whole Food Plant Based yumminess and we did exactly that. It's soooooo good.
Make sure you take the time to read through all the Tips for Success as there are a few extra gems in there to ensure perfection every time!
You gotta give this one a try!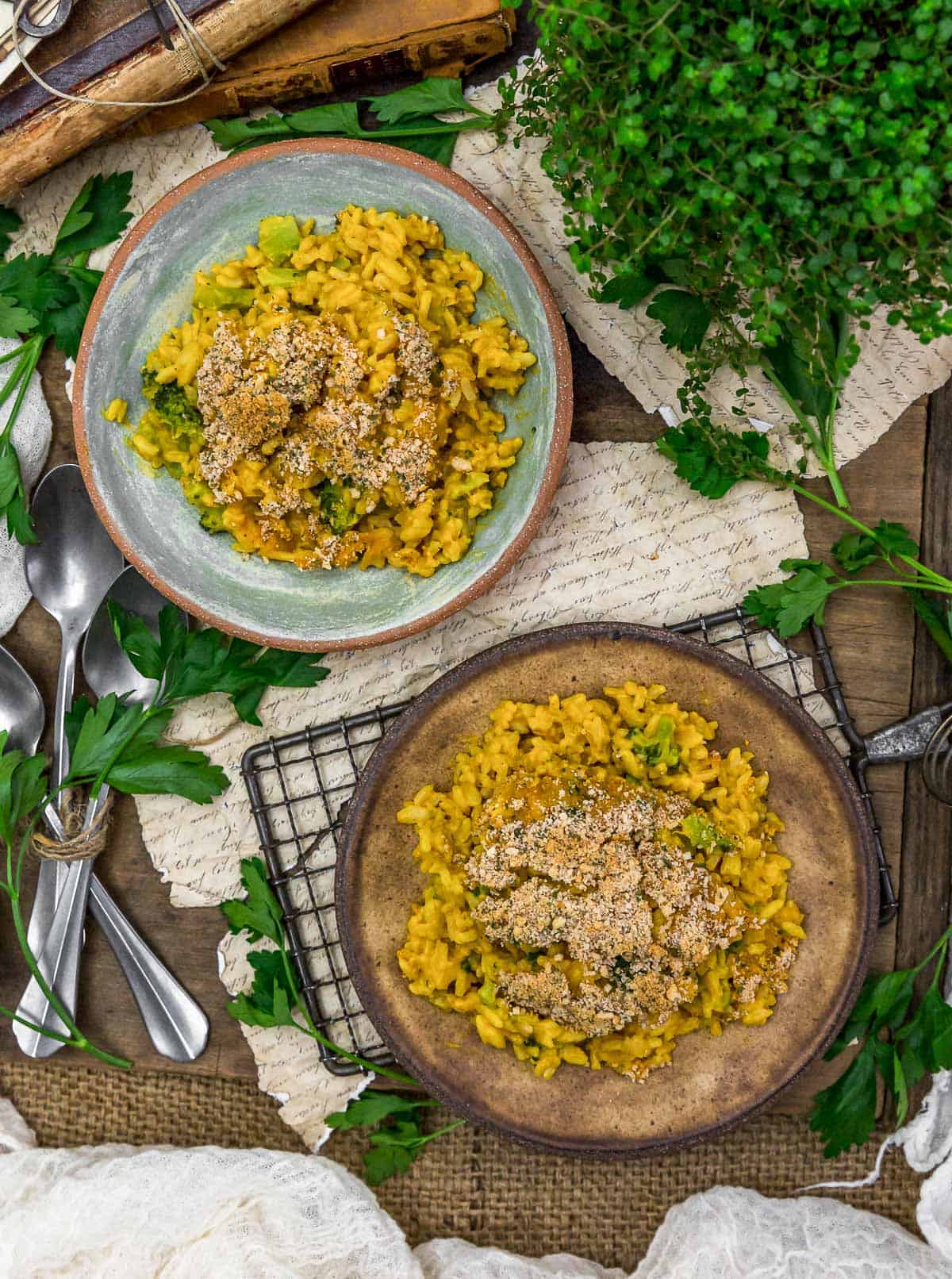 Tips for Success:
Timing: You want to time the completion of the rice cooker with the completion of the sauce.  If unsure, cook the rice, then start the Boil Ingredients.  The tender rice/orzo can sit while the Boil Ingredients are simmering.  It's not a problem if the timing is not perfect. What we are trying to avoid is the sauce being done and sitting as cashew based sauces tend to thicken over time.
Rice/Rice Cooker: We used Uncle Ben's Whole Grain Brown Rice for this dish.   It's important to select a rice that doesn't take a long time to cook IF you plan to also use the orzo pasta in the rice cooker like we did. Do not use Instant Rice or Par-Boiled Rice. We rinsed the rice in really hot tap water for several minutes before placing in the rice cooker. We also used the "White Rice" setting even though we used brown rice.  Uncle Ben's Whole Grain Brown Rice gets tender with the "White Rice" setting.  We have used the "Brown Rice" setting with Uncle Ben's in the past, and the rice gets cooked too long and splits open. If using a different brand of brown rice, check the bag instructions for cooking times. If the rice directions (on the box or bag) indicate that it takes longer than 30 minutes (about 40-ish minutes in the rice cooker), then do not include the orzo pasta.  Simple add an extra ¼ cup of brown rice and skip the orzo pasta.  Cook the brown rice (other than Uncle Ben's) according to package directions and then simply add the sauce to the brown rice as indicated in Step 8.
Flavor:  This dish has amazing flavor; however, as it sits, sometimes the rice and orzo are super absorbent and soak in all the sauciness and some of the flavor.  If you need to perk up the flavor, add some extra hot sauce and it will jazz it right up.
Sauciness: The rice and orzo are perfectly coated in this dish; however, we know that some individuals really enjoy a lot of sauciness.  If you want this dish to be really saucy, then cut back on the rice from 1 ½ cups to 1 ¼ cups.  Make sure you spend a few extra seconds scraping all that velvety cheesy goodness out of the blender to get every drop!
Gluten Free Orzo: Gluten Free Orzo pasta tends to get very mushy very quickly.  If using a gluten free orzo, we suggest cooking the orzo separately and rinsing it really well with cold water to remove the excess starches. Then add with the cooked rice in Step 8.  Or leave it out completely – see notes above on Rice/Rice Cooker.
Frozen Broccoli vs Fresh Broccoli: You can use either fresh or frozen broccoli.  If using fresh broccoli, cut pieces into small florets.  We used frozen broccoli for convenience.  You can also add more broccoli florets or reduce the amount of broccoli florets used in this recipe. You can also skip the broccoli completely if you wish.
Tenderness of Broccoli Florets: Make sure the broccoli florets are at the desired tenderness before adding to the casserole as the dish is not in the oven long enough to cook the broccoli any further.
Russet Potatoes: We used 2 cups small diced peeled potatoes cut into ½ inch cubes.
Cashew Substitutes: You can leave the cashews out of this recipe and rely on the blended veggies in the 'Boil Ingredients' to create the sauce.   Add an extra ½ cup of cubed potatoes to the boil ingredients.  Additionally, by removing the cashews, the dish will become low in fat and you will not experience that endorphin rush that is typically associated with eating a dish that is higher in fat.  You may need to adjust the flavors to compensate for the missing cashews.
Sea Salt Amount: We have family members completely divided over the amount of sea salt needed in the sauce.  Some preferred 1 teaspoon while others enjoyed ½ teaspoon.  It is important to note that while the sauce may taste perfectly seasoned with ½ teaspoon, it does have to cover all the rice and orzo pasta.
Quick Cook Method and Serve: You can completely skip baking this dish in the oven and go straight to the dinner table as a cheesy rice dish without the panko topping.  Simply skip the topping and go straight to the table.
Velvety Cheesy Sauce: Want to skip the rice and go straight to veggie heaven?  This sauce makes for a great baked potato topper or steamed veggie topper.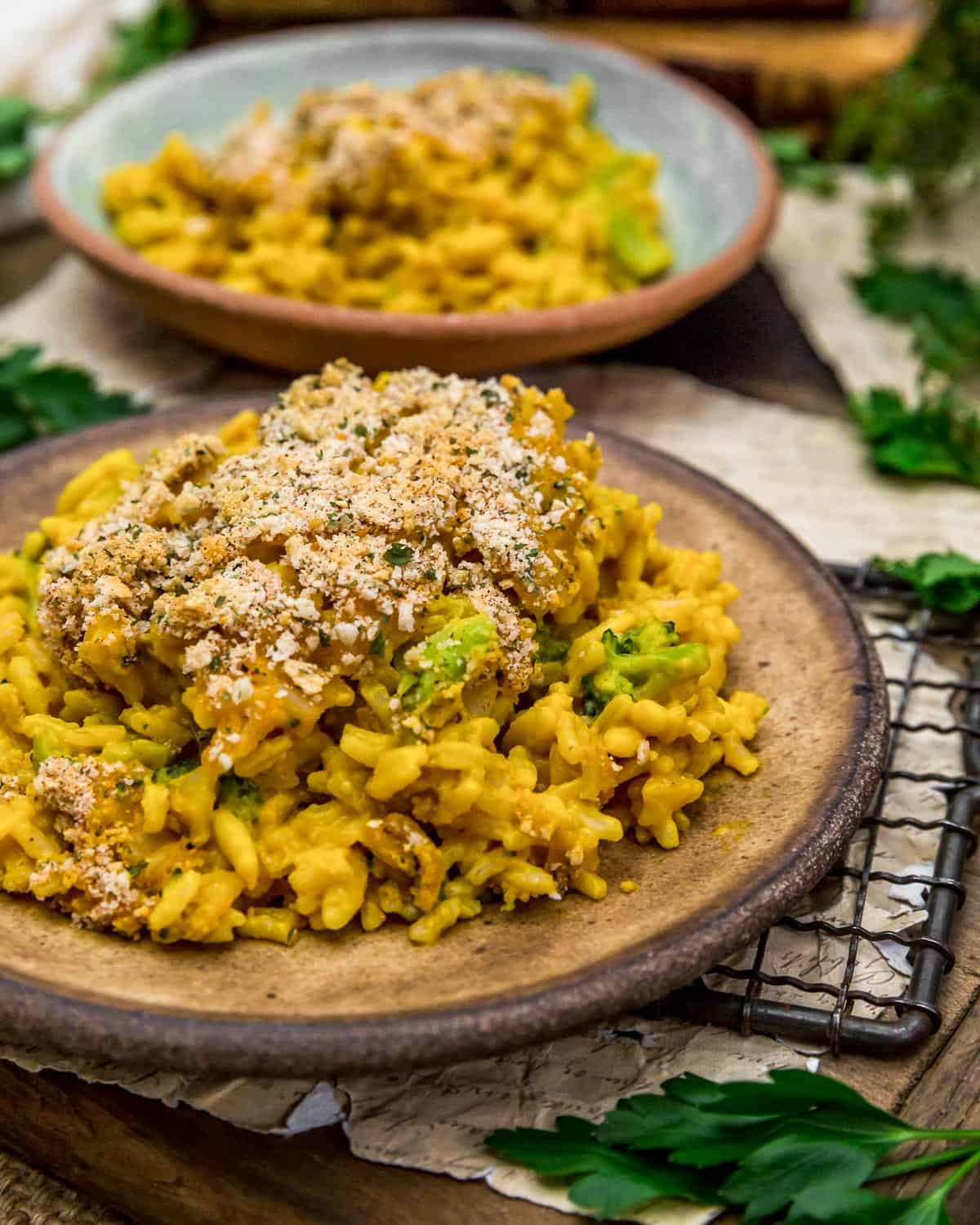 Leftovers and Freezing:
Leftovers will generally keep for 4-5 days in the refrigerator.  Store in a covered container.  Reheating can be done on the stovetop, or in the microwave.  You may need to add a little water to loosen it up.  Cashew based sauces tend to seize up when refrigerated.
This dish can be frozen; however, it is best if served immediately after making or after refrigerating leftovers.
Pantry Products Used:
Vegetable Stock: We use Pacific Organic Low Sodium Vegetable Stock. We love this brand because it is Whole Food Plant Based compliant, as it does not contain MSG, has no oil, and does not contain any highly-processed ingredients.
Tamari: We used San J Tamari Soy Sauce, Gluten Free, Reduced Sodium. You can substitute the tamari with reduced sodium soy sauce, Braggs Liquid Aminos, or Braggs Coconut Liquid Aminos.
Panko Crumbs: We used Ian's Gluten Free Panko crumbs for this recipe. If you do not need to be gluten free, feel free to use any panko bread crumbs of your choosing.
Frozen Broccoli: We used a 12.6 oz bag of Birds Eye Frozen Broccoli Florets.  Feel free to use your favorite frozen broccoli.  Or use fresh broccoli florets.
Hot Sauce: We used Frank's RedHot Original Hot Sauce.
Brown Rice: We used Uncle Ben's Whole Grain Brown Rice for this dish.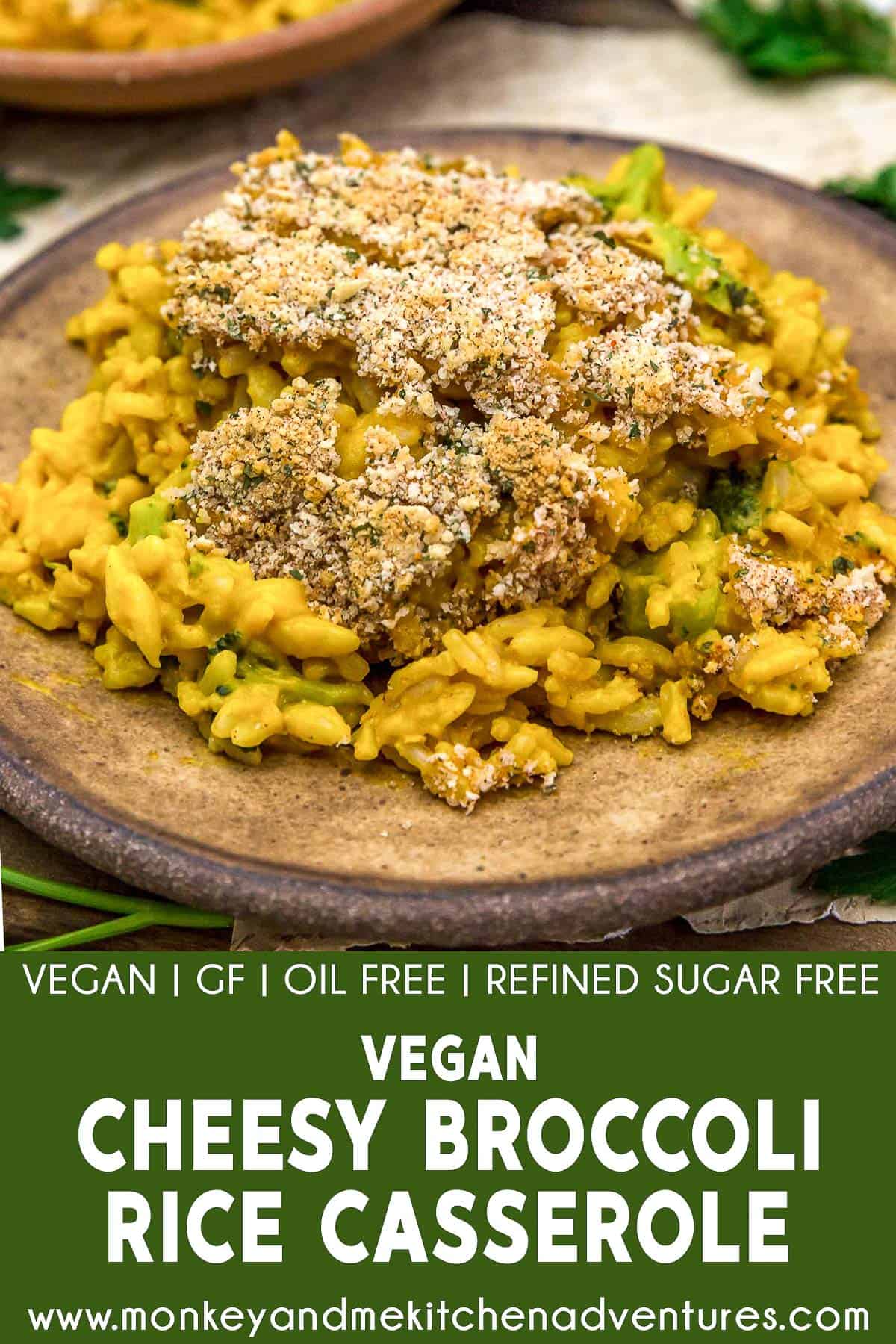 Kitchen Products Used:
Rice Cooker
Stock pot to boil the potatoes, carrots, and cashews
High-Speed Blender
Casserole/Baking Dish (we used an 11x7x3)
We certainly hope you give this deliciousness a try.
If you try this comforting dish, we would love to know if you enjoy it as much as we do! Please leave us a review! Post a picture on Facebook or Instagram and tag us!  We would love to hear from you.
Print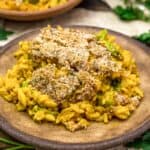 Vegan Cheesy Broccoli Rice Casserole
Author:

Prep Time:

35 Minutes

Cook Time:

15 Minutes

Total Time:

50 Minutes

Yield:

6

Servings

1

x

Category:

Dinner, Side

Method:

Stovetop, Oven

Cuisine:

American

Diet:

Vegan
---
Description
If you are looking for a side dish that the whole family will love, look no further then this comforting, healthy, and oil-free Vegan Cheesy Broccoli Rice Casserole.
---
Boil Ingredients:
1

carrot, sliced thinly

2 cups

Russet potatoes, peeled, small dice (1/2-inch cubes)

¼ cup

(raw) cashews
Sprinkle sea salt
Rice Cooker Ingredients:
1 ½ cups

brown rice *

½ cup

orzo pasta

3 cups

water

½ teaspoon

sea salt (+/-) *
Sauce Ingredients:
¼ cup

low-sodium vegetable broth *

¾ cup

water

¼ cup

nutritional yeast

1 Tablespoon

distilled white vinegar

1 Tablespoon

reduced-sodium tamari *

1 teaspoon

hot sauce * 
Sauce Spice/Herb Ingredients:
1 teaspoon

onion powder

1 teaspoon

garlic powder

2 Tablespoons

dried minced onions

¼ teaspoon

smoked paprika

¼ teaspoon

sweet paprika

½ teaspoon

dried ground mustard powder

½

to

1

teaspoon sea salt (+/-) *
Other Ingredients
6 oz

. bag frozen broccoli florets *
Topping Ingredients:
¼ cup

panko crumbs (or bread crumbs) *

½ teaspoon

onion powder

½ teaspoon

garlic powder

¼ teaspoon

sweet paprika

1 teaspoon

dried parsley

¼ teaspoon

sea salt (+/-) *
Pinch smoked paprika
---
Instructions
Preheat the oven to 350 F.
Place the Topping Ingredients into a small bowl, mix well, set aside.
Place the Sauce Spice/Herb Ingredients into a small bowl, mix well, set aside.
Rinse the rice with hot tap water for several minutes, then place the rinsed rice into a rice cooker with all the remaining Rice Cooker Ingredients, select the appropriate rice button (see notes) on the rice cooker and cook the rice until perfectly tender.
In the meantime, place the diced potatoes, carrot, and cashews into a medium stockpot, cover with water, sprinkle with sea salt and bring to a boil. Then immediately lower to a gentle simmering boil. Boil until the potatoes and carrots, are fork tender (about 10 to 15 minutes). Drain off the water, shake well to remove any lingering water, then place in a high-speed blender.
Add all the Sauce Ingredients and Sauce Spice/Herb Mix into the high-speed blender with the cooked carrots, potatoes, and cashews. Blend on high until smooth and emulsified.  Taste test and adjust seasonings accordingly.
Cut the broccoli florets into tiny pieces and steam the broccoli florets in the microwave or steamer until perfectly tender, set aside.
When the rice/orzo is done, place the cooked rice/orzo and steamed broccoli florets into a large bowl, then pour the sauce over top, mix well to combine. Pour the mixture into a casserole dish, then sprinkle the Topping over the top.
Bake uncovered in a preheated 350 F oven for 10 minutes, switch to high-broil just to toast the top to a golden brown, then remove from the oven and allow to set for 5 minutes.
---
Notes
*Please reference the blog post for Tips for Success, Pantry Items Used, Storage and Freezing, and Kitchen Products Used.
*Sea Salt:  Please adjust the sea salt based upon your family's sea salt preferences and/or based upon dietary needs.   
*Serving:  6

This post contains affiliate links, and we may receive a very small commission if you purchase through those links at no additional cost to you. Thank you for supporting Monkey and Me Kitchen Adventures! For more information, see our disclosures here.