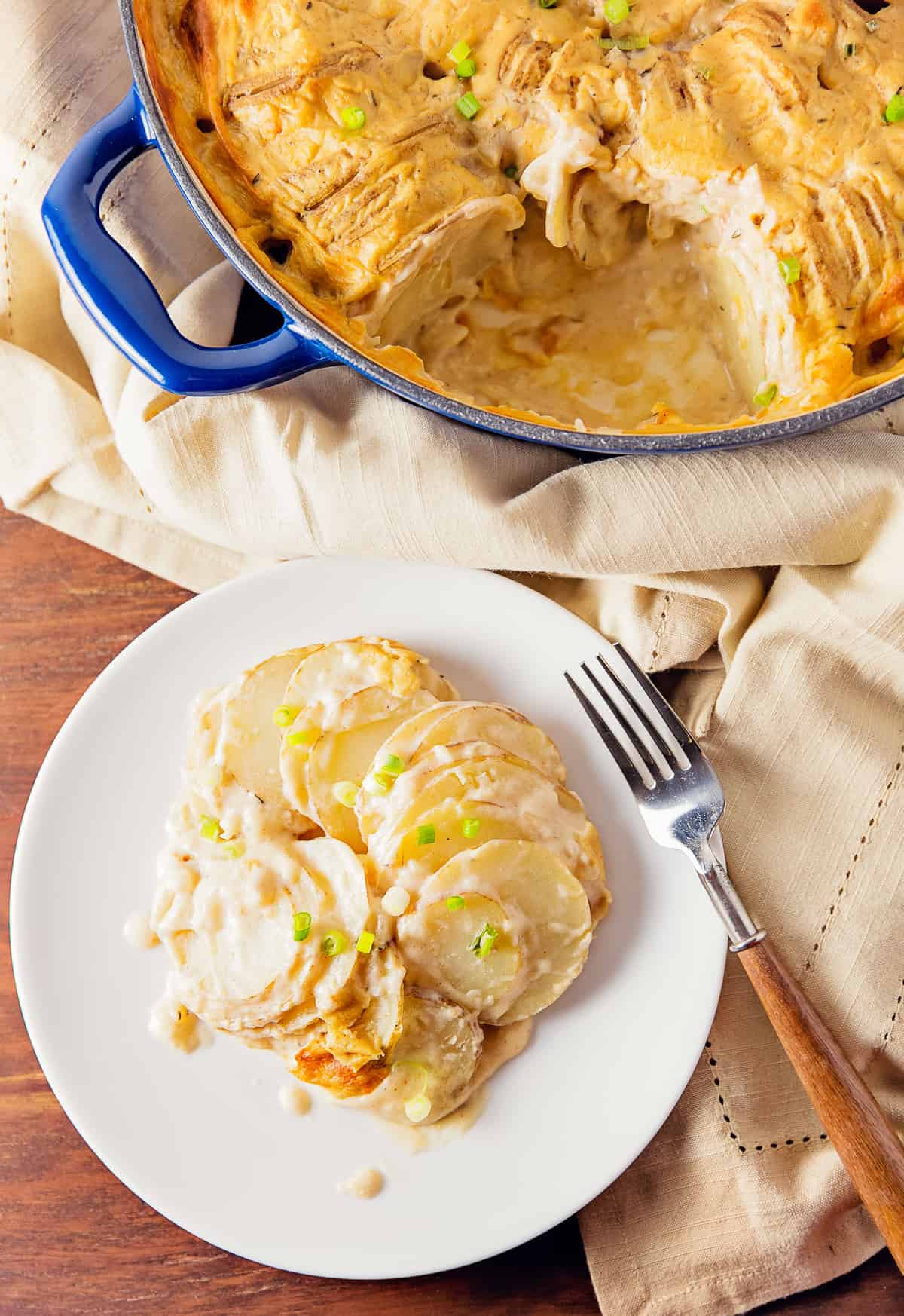 Enjoy this classic favorite, so creamy and delicious.  Homemade scalloped potatoes made healthy!  Healthy you say?  Why yes, it can be done – the Whole Food Plant Based way!  The creamy texture is superb, making it the most perfect Whole Food Plant Based addition to dinner.     

Hi!  Robin here!
Scalloped potatoes are one of my absolute favorite dishes.  There is just something so satisfying, creamy and homey about them.  My mom made excellent scalloped potatoes when I was growing up.  We didn't have them very often, mostly at holidays, but when she made them, we all scarfed them down.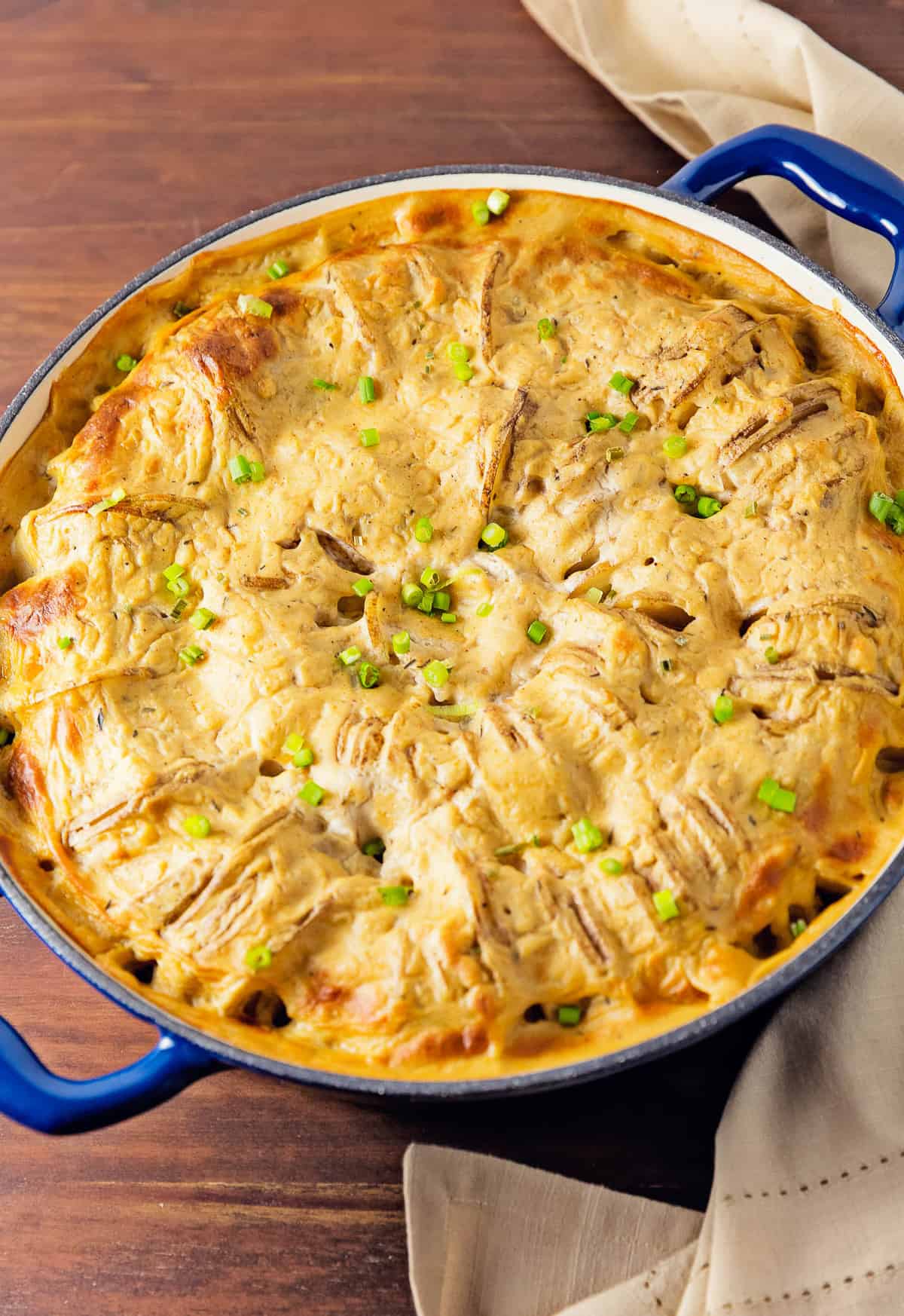 Goodness Gracious Deliciousness
In my previous life, my scalloped potatoes were pretty darn yummy, if I do say so myself.  Surprise! They were full of butter and cream! LOL
I was determined to convert this classic to Whole Food Plant Based, but I was concerned that it might lack in flavor or texture by leaving behind the old traditional ingredients.  I quickly found out that my worries were wasted.   We are SO happy to share with you our new favorite recipe and boy, oh boy, is it DELICIOUS!
With a little experimentation, we arrived at the perfect flavor, texture, and consistency.  The house smelled of its wondrousness.  They do take some time to bake, but they are sooooo worth the effort.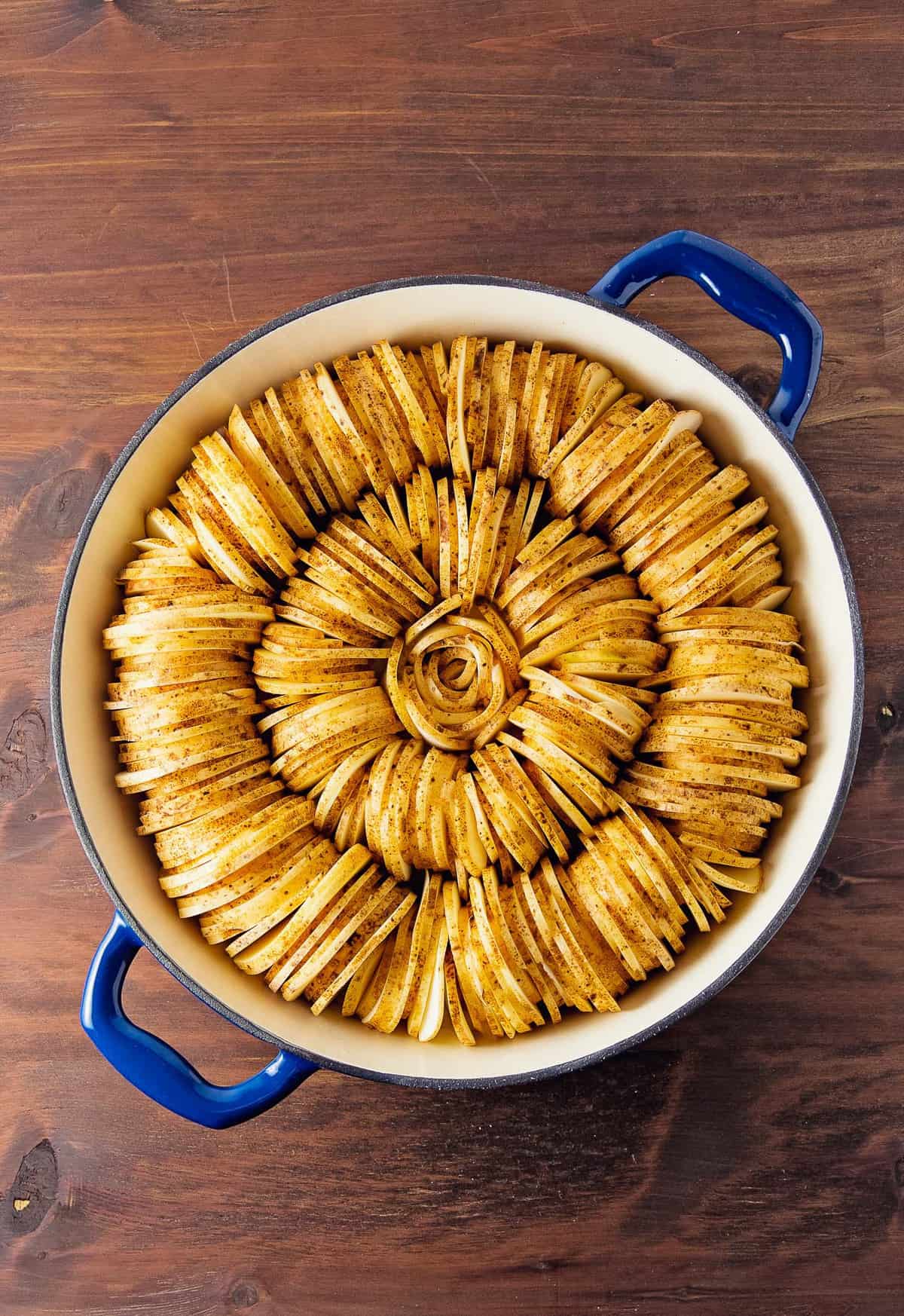 Presentation
We experimented a bit with presentation.  As you can see, we lined them standing up in the skillet, and to be perfectly honest, it was not worth the extra time and effort to present them this way because no one can see it after you put the sauce on top.  You get a hint of the design, but not the full luscious view.
I would recommend just layering the potatoes in a baking dish the good old fashioned way, sauce, potatoes, sauce, potatoes, ending with sauce on the top.
If you do decide to bake the potatoes standing up, place some sauce on the bottom of the pan, then line the sliced potatoes up as shown in the photos above, then place the sauce on top – making sure you get it into all the cracks and crevices,  then cover the pan tightly with aluminum foil (or the pan cover), and bake covered for 45 minutes, then remove the cover and bake another 30 minutes.  There is a longer baking time required if you bake them standing up because the tops of the potatoes may not be fully immersed in the sauce, so it takes longer to ensure the potatoes are tender.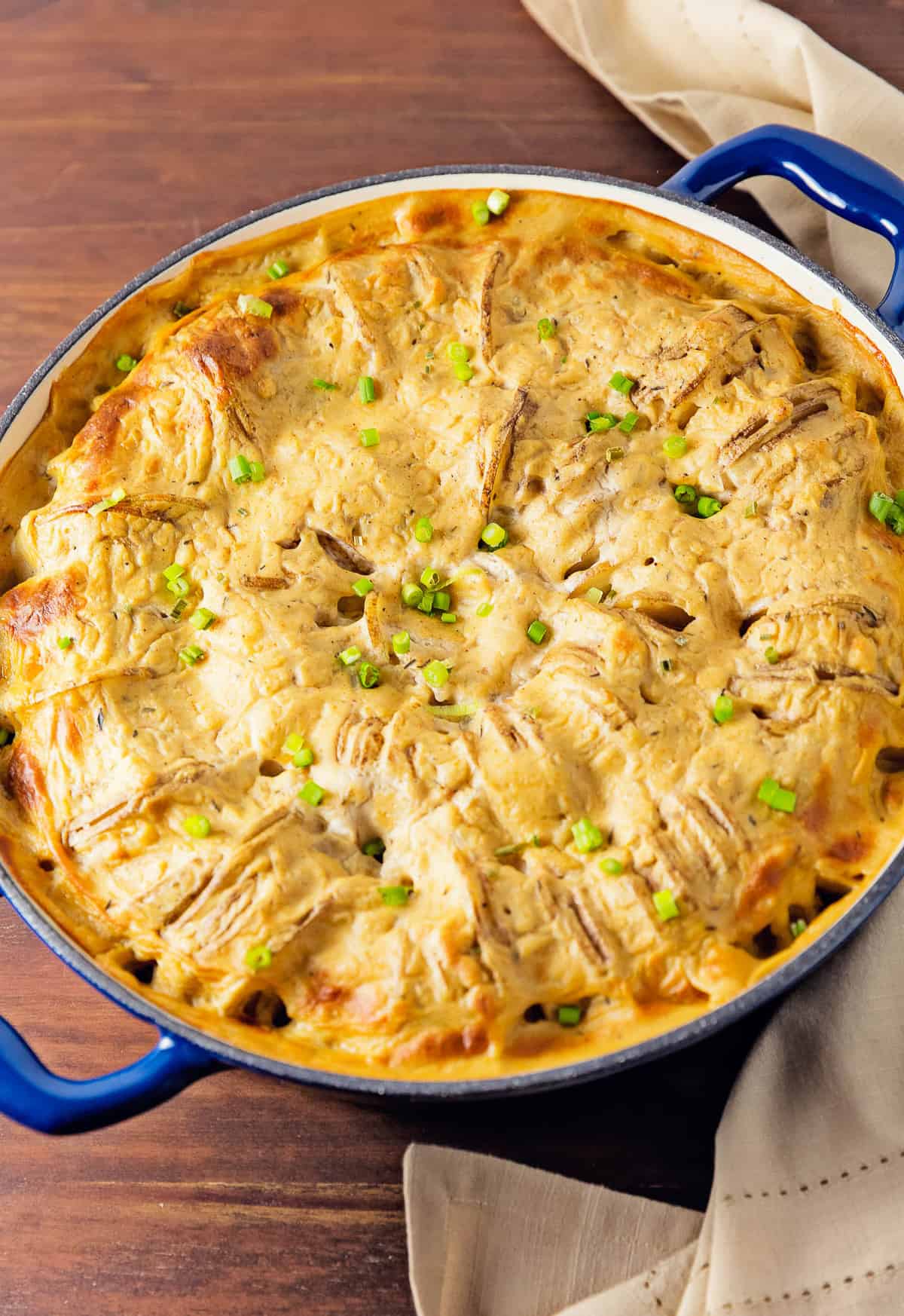 This post contains affiliate links, and I may receive a very small commission if you purchase through those links at no additional cost to you. Thank you for supporting Monkey and Me Kitchen Adventures! For more information, see our disclosures here.
Russet vs Yukon Gold
Selecting a great potato is very important and can impact the baking time as well.  We like to use Russet potatoes for this recipe.  The Russet potato holds it shape really well.  Yukon Golds are a very creamy potato, and will work excellent as well, but they do tend to get mushy.  I love Yukon Golds for mashed potatoes, but when it comes to scalloped potatoes, I prefer a Russet.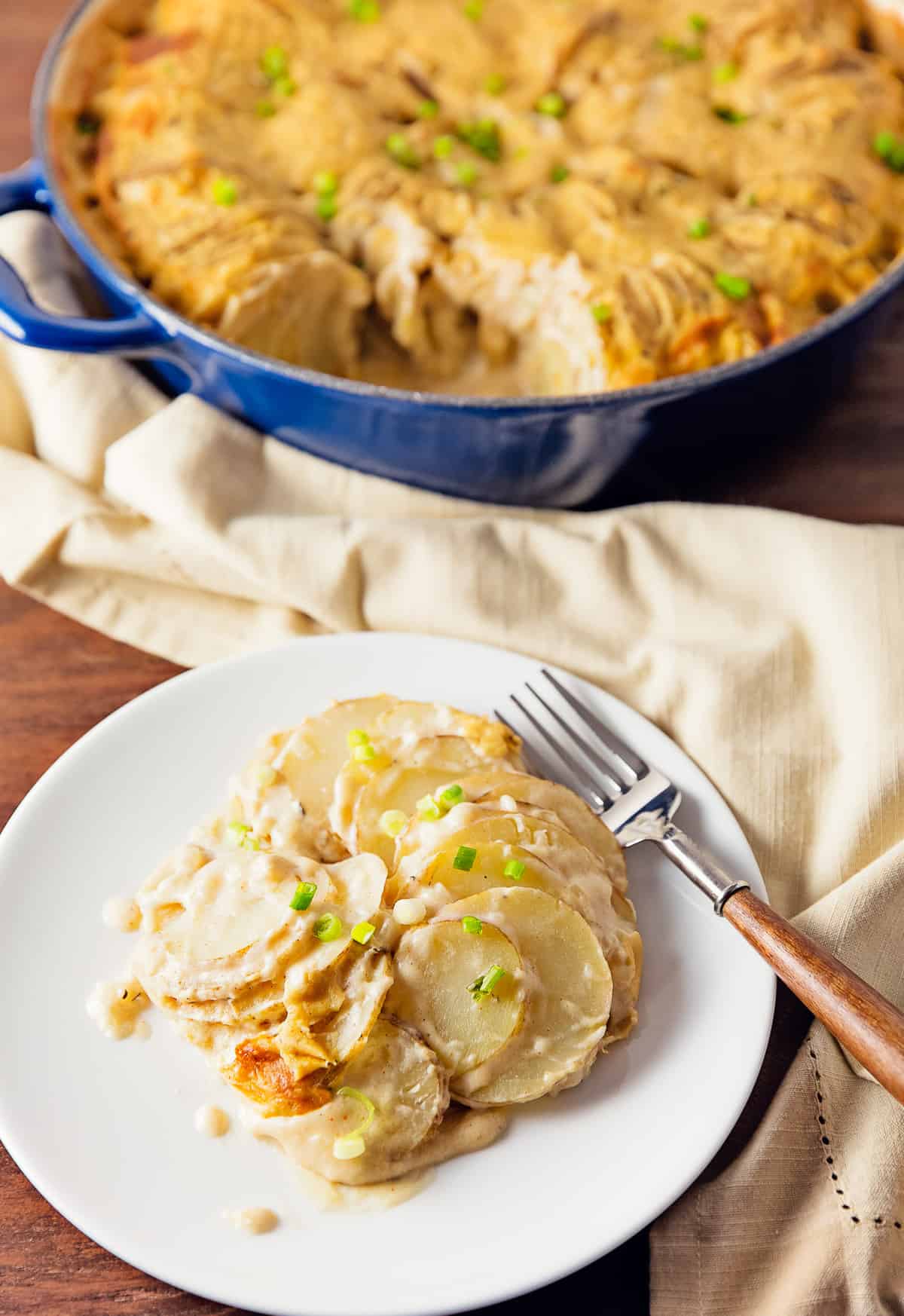 Food Mandolins
We have an OXO Good Grips Chef's Mandolin.  I give it a 2-thumbs up simply because it makes slicing the potatoes a breeze.  Plus, I love the consistent slices that it creates.  We sliced our potatoes using the 1/8th inch thick setting. I can tell you the slicing feature for scalloped potatoes is excellent!
I like the safety guard, even though it may appear clunky, it does a great job protecting your fingers and hands.
I have a serious phobia of slicing my fingers off with a mandolin because when I was a teenager, my best friend sliced a huge chunk of skin off of one of her fingers with an old-fashioned mandolin.  I was there when it happened and I will never, ever, forget it.  Since then, I have been paranoid about using one until now.  Protect your fingers people!!!! 😉
Mandolin mishaps are second to my fear of grizzly bears but that is a story for another day.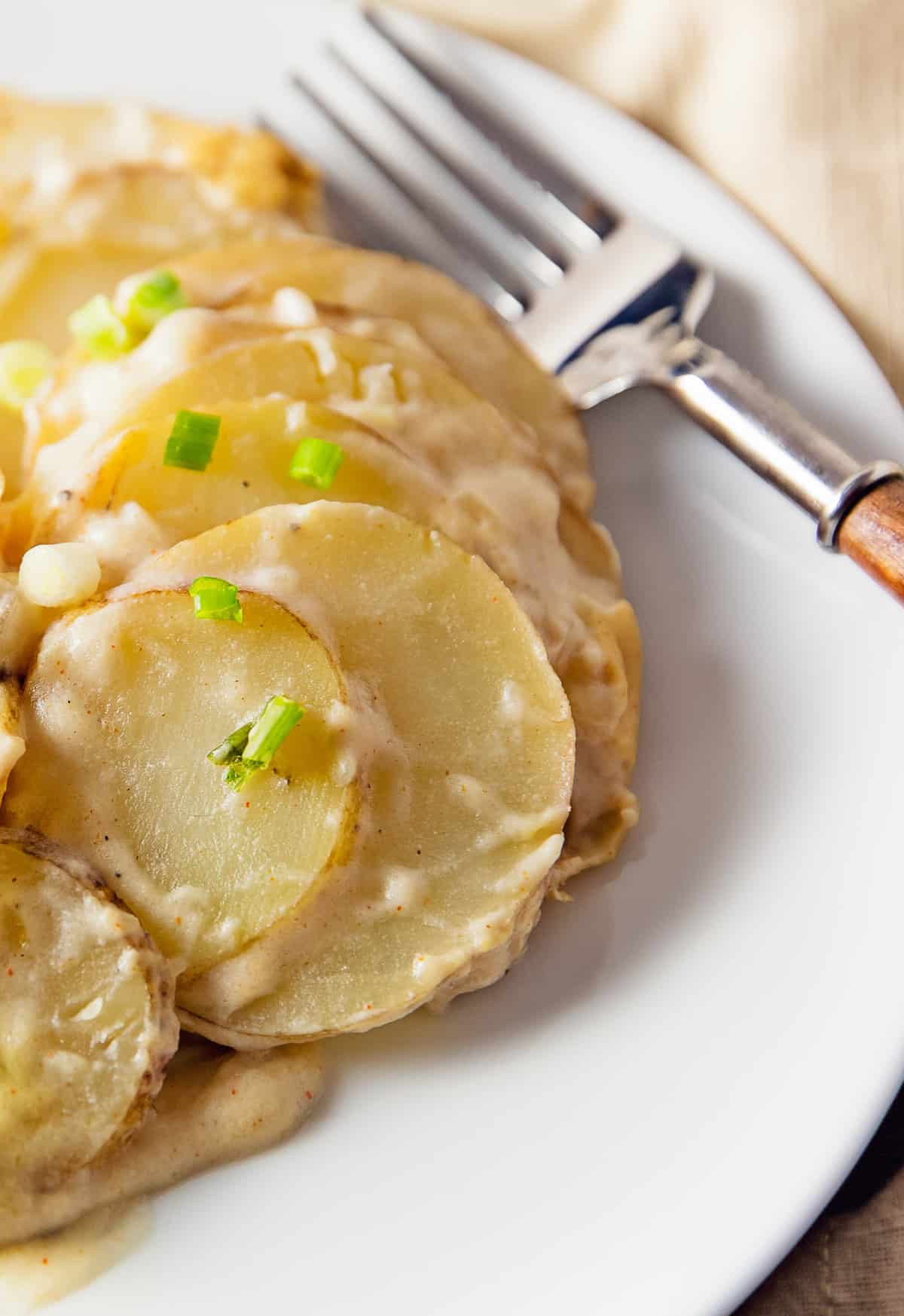 Deliciousness!
When the scalloped potatoes came out of the oven, we had to hold TP back.  He loves, loves, loves scalloped potatoes.  These babies were piping hot and I was concerned that he would burn his mouth.  After waiting 15 tortuous minutes, he finally got to try them.  TP109 went crazy!  He said "These potatoes are so good. I can't stop eating them!"  TP109 = Human Food Vacuum Cleaner. LOL
These Scalloped Potatoes are so darn good, you will want to make a meal out of them, which is what we may or may not have done 😉
It just doesn't get any better than this!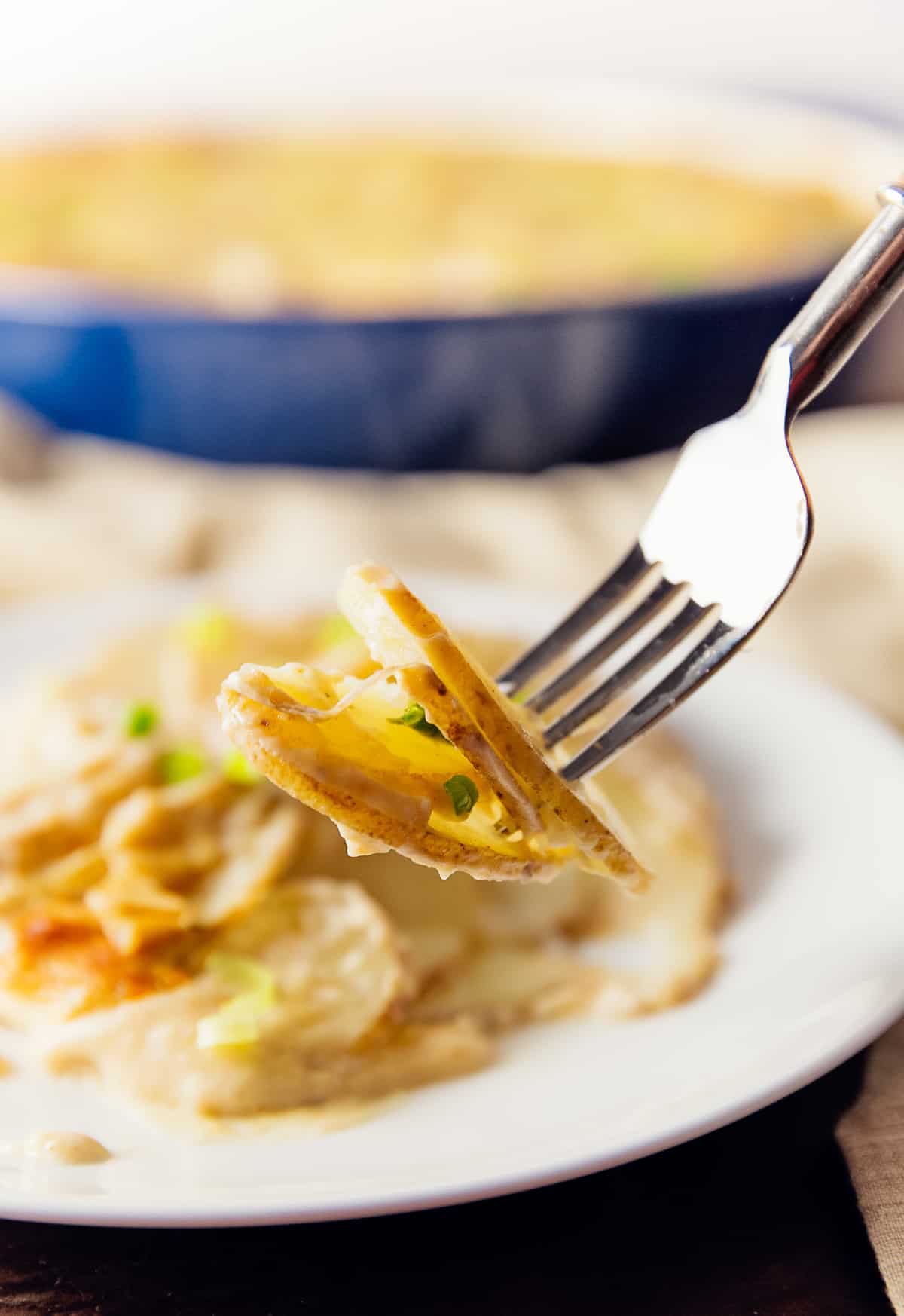 Ameera here! 
When Mom said that these WFPB Scalloped Potatoes were our new favorite, I'd have to completely agree! They are so tasty, filling, and satisfying.
This dish makes a perfect holiday side dish or really an any-day side dish.  Definitely a home run!


Products used:
Print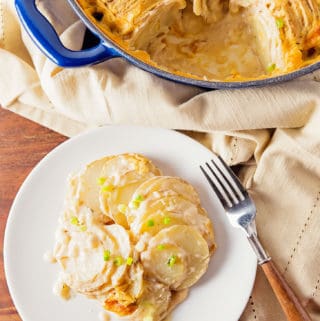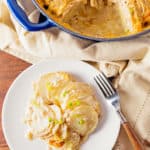 Scalloped Potatoes
Author:

Prep Time:

35 minutes

Cook Time:

1 hours 15 minutes

Total Time:

1 hours 50 minutes

Yield:

8

-

10

Servings

1

x

Category:

Side Dish

Cuisine:

American
---
Description
Creamy and delicious Whole Food Plant Based Scalloped Potatoes.  This healthy homemade vegan side dish is a beautiful addition to any dinner or special occasion. A real crowd pleaser! Plus, it's oil free and has a gluten free option!
---
5

pounds Russet potatoes, scrubbed really well, thinly sliced, skins on

1

large yellow onion, finely minced

2 Tablespoons

flour (of choice or glu

ten

free)

¼ cup

vegetable broth *

2 ½ cups

water (or broth)

2 teaspoons

onion powder

2 teaspoons

garlic powder

¼ teaspoon

sweet paprika

½ teaspoon

dried crushed thyme leaves *

¼ teaspoon

cayenne pepper (+/- to taste for level of heat/spiciness)

3 Tablespoon

dried minced onions

2 ½ teaspoons

sea salt (+/-) *

¼ teaspoon

black pepper (+/-)

2 Tablespoons

to 1/4 cup nutritional yeast (+/-) optional *
Cashew Cream Ingredients
1 cup

(raw) cashews

1 ¼ cup

unsweetened plain plant milk 
Toppings
---
Instructions
Place 1 cup of cashews in a bowl and cover with boiling water. Set aside for 30 minutes.
Preheat the oven to 400 degrees F.
Scrub the potatoes, thinly slice 5 pounds of russet potatoes (skins on) using a mandolin. Slices should be thin, approx. 1/8-inch-thick and place in a large bowl filled with cold water. Set aside.  (Note: potatoes should be thin, but not paper thin).
Over medium heat, sauté the minced onions in an enamel coated skillet until soft, approx. 5 minutes.
Sprinkle the flour over the sautéed onions and then sauté the flour with the onions for 2-3 minutes.
Add the vegetable broth and water to the skillet, stirring to thicken. Add the onion powder, garlic powder, sweet paprika, thyme, cayenne pepper, dried minced onions, sea salt and black pepper (and optional nutritional yeast).   Stir well to combine.
Make the cashew cream. Drain the water from the cashews, discard this water.  Place the cashews in a high-speed blender, add the unsweetened plain plant milk in the blender.  Blend on high until very smooth.
Add the cashew cream to the skillet and heat until smooth and creamy. Allow to cook for 5 minutes on low.
Drain the water from the sliced potatoes. Drain thoroughly, shake off any extra water.
Remove sauce from pan and place in a heat proof bowl except for small amount that covers the bottom of the pan. If you do not have an oven-proof skillet, then use an oven-proof casserole dish to place some of the sauce on the bottom and continue with the instructions below.
Then pick up a handful of sliced potatoes and reassemble the potatoes as if you were trying to put them back together again, creating an outer ring of lined up potatoes – all standing up. Then do the same, creating an inner ring of standing potatoes.  Lastly, find a few smaller potatoes and create a potato rose in the center.
Next pour the cooked cream all over the potatoes, pushing it all over them to fill the cracks and crevices. Cover the skillet or baking dish with a lid or foil.
Place the skillet or baking dish onto a baking sheet (to prevent spillovers) and place it in the oven for 45 minutes.
After 45 minutes, remove the cover and bake for another 30 minutes, then remove the scalloped potatoes from the oven and allow to cook and settle for 15 minutes before serving.  Top with chopped chives, if desired.
---
Notes
*Baking Time:  If making the scalloped potatoes in the traditional way, layered potatoes, then bake covered for 45 minutes, then remove the cover and bake for an additional 15 minutes uncovered.  Test the potatoes to ensure they are tender. If a sharp knife slides into a potato easily, then they are done.  If not, then return to the oven for another 10 – 15 minutes.
*Cayenne Pepper: It's optional depending on how much heat/spiciness you want in your dish. We feel like it adds a nice layer of warmth. If you are looking for a traditional creamy Scalloped Potatoes, feel free to leave out the cayenne pepper.
*Vegetable Broth:  We used Pacific Organic Low Sodium Vegetable Stock because it does not have MSG, and has no highly processed ingredients; however, Pacific has a very strong flavor so our water to broth ratio is heavy on the water and low on the vegetable broth.  If you are using a vegetable broth other than Pacific, please adjust the water to broth ratio accordingly.
*Thyme Leaves: We use Penzeys French Thyme.  It has amazing flavor.  Please note that dried crushed thyme leaves is not the same as ground thyme. You can use either in this recipe.  We used dried crushed thyme leaves, so if you are using ground thyme, scale back a little more than half of the amount used, and check for flavor. Adjust as preferred.
*Nutritional Yeast:  We did not add nutritional yeast to our recipe; however, we have had numerous readers who have added nutritional yeast to this recipe in varying amounts and loved the "cheesiness" that it added.  The beauty of this recipe is that you can taste the sauce to know what the end result will be before fully committing to see the level of flavors you want to add or ramp up.
*Sea Salt:  Please adjust the sea salt based upon your family's sea salt preferences and/or based upon dietary needs.
Storage:  Store in a glass container in the fridge.

This post contains affiliate links, and I may receive a very small commission if you purchase through those links at no additional cost to you. Thank you for supporting Monkey and Me Kitchen Adventures! For more information, see our disclosures here.