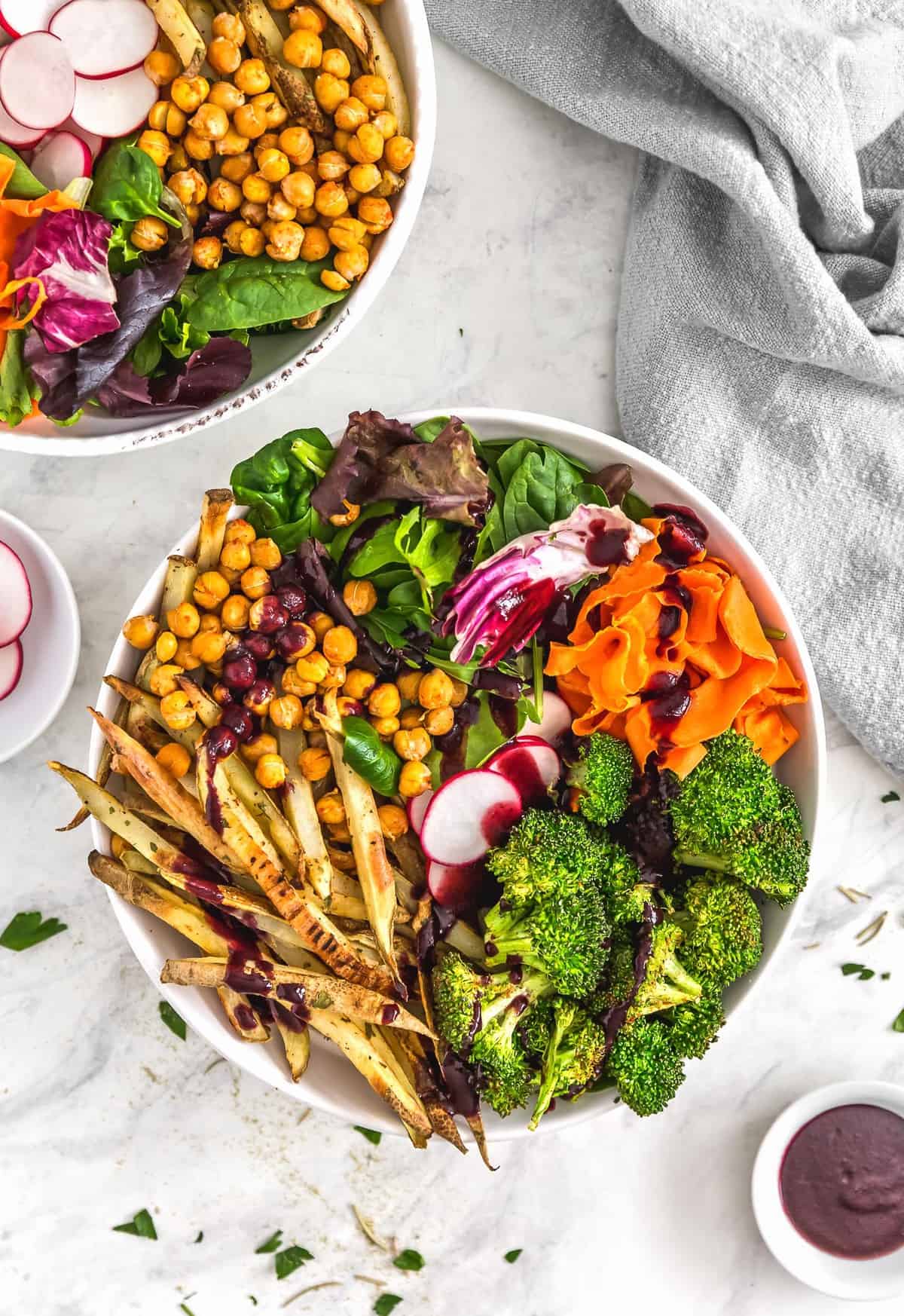 Step up your game with something different and delicious! These tasty Oven Roasted Rosemary Potatoes and yummy Blueberry Balsamic Dipping Sauce are just the ticket.  Perfectly crispy oven roasted potatoes with just the right amount of rosemary are paired with a gorgeous blueberry balsamic dipping sauce that is out of this world flavorful; a fabulous Whole Food Plant Based recipe. Vegan, Oil free, refined sugar free, gluten free, no processed ingredients.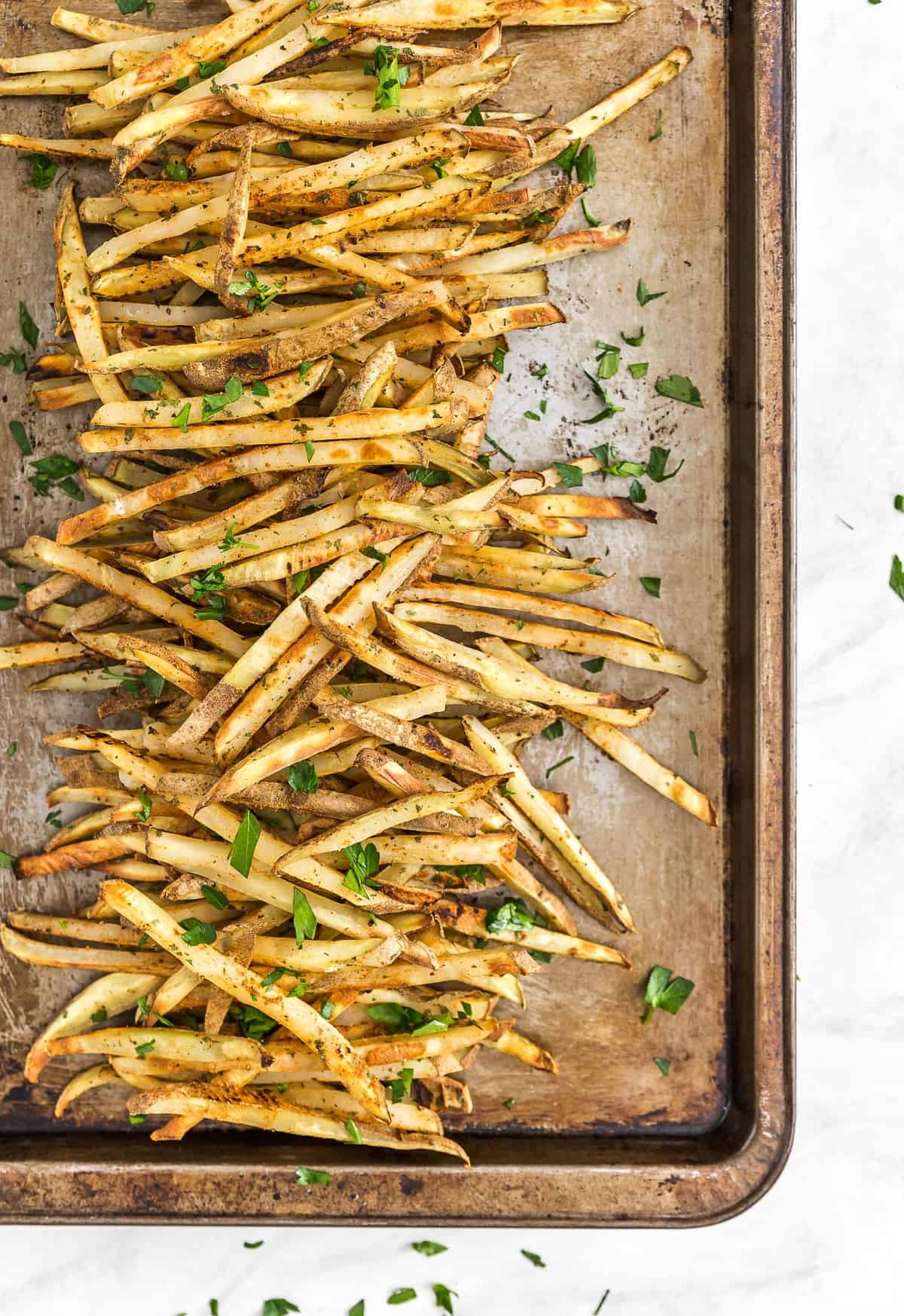 Hi!  Robin here.
Who loves crispy French fries?  We do! These hot, fresh, oven baked to perfection rosemary fries are seasoned just right, and the Blueberry Balsamic Dipping Sauce is sure put a smile on your face with the first bite.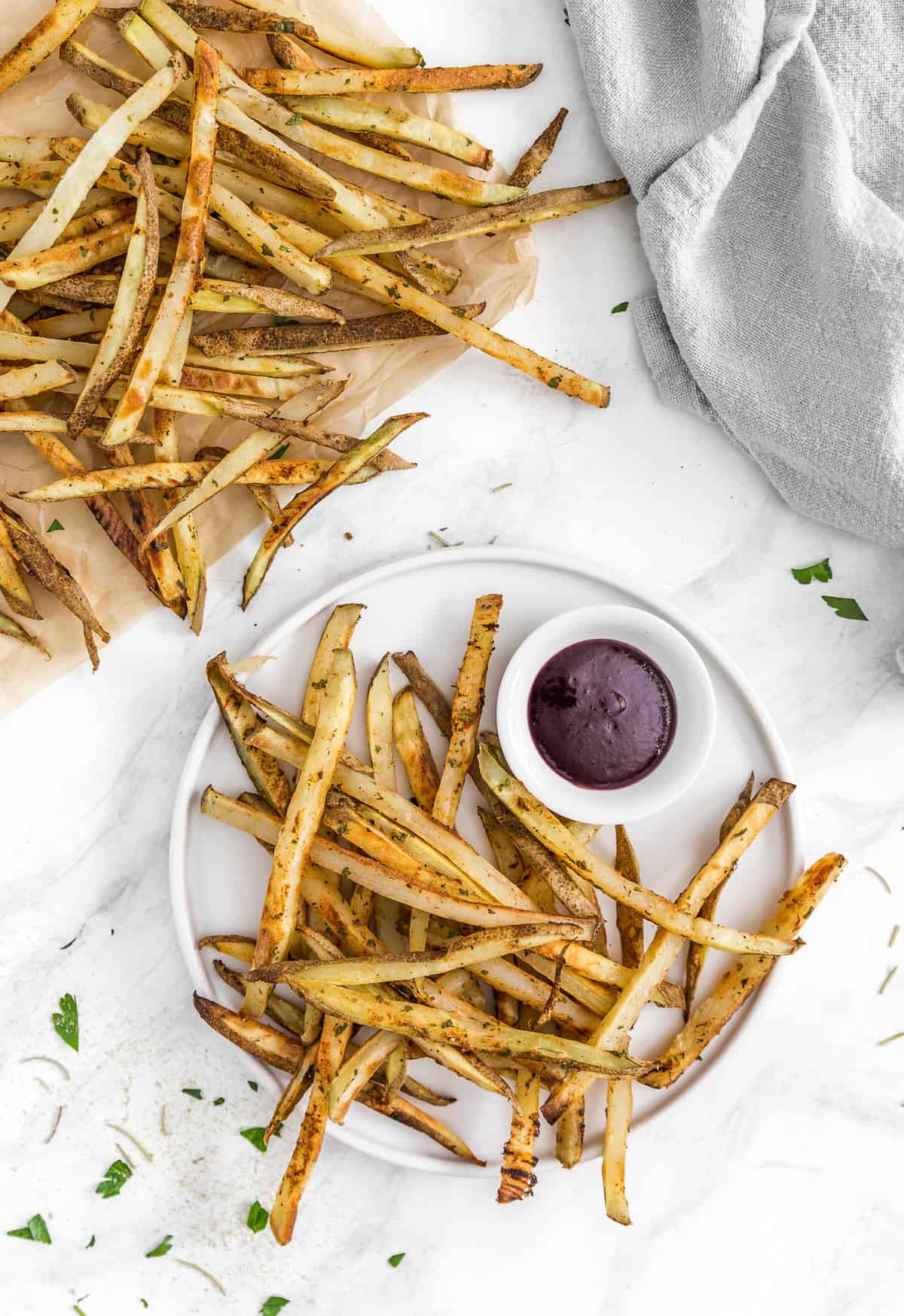 Fries, Fries, and More Fries
I have been making Oven Roasted Rosemary Potatoes for decades.  However, before going Whole Food Plant Based, I coated them in oil first *cringe* before placing them in the oven.  TP109 and the kids gobbled them up.
It never even occurred to me back then to omit the oil as I have found that they are just as great, if not even better, without the oil.  Seriously, they are sooooo good. You won't miss the oil, not even a little bit. I promise.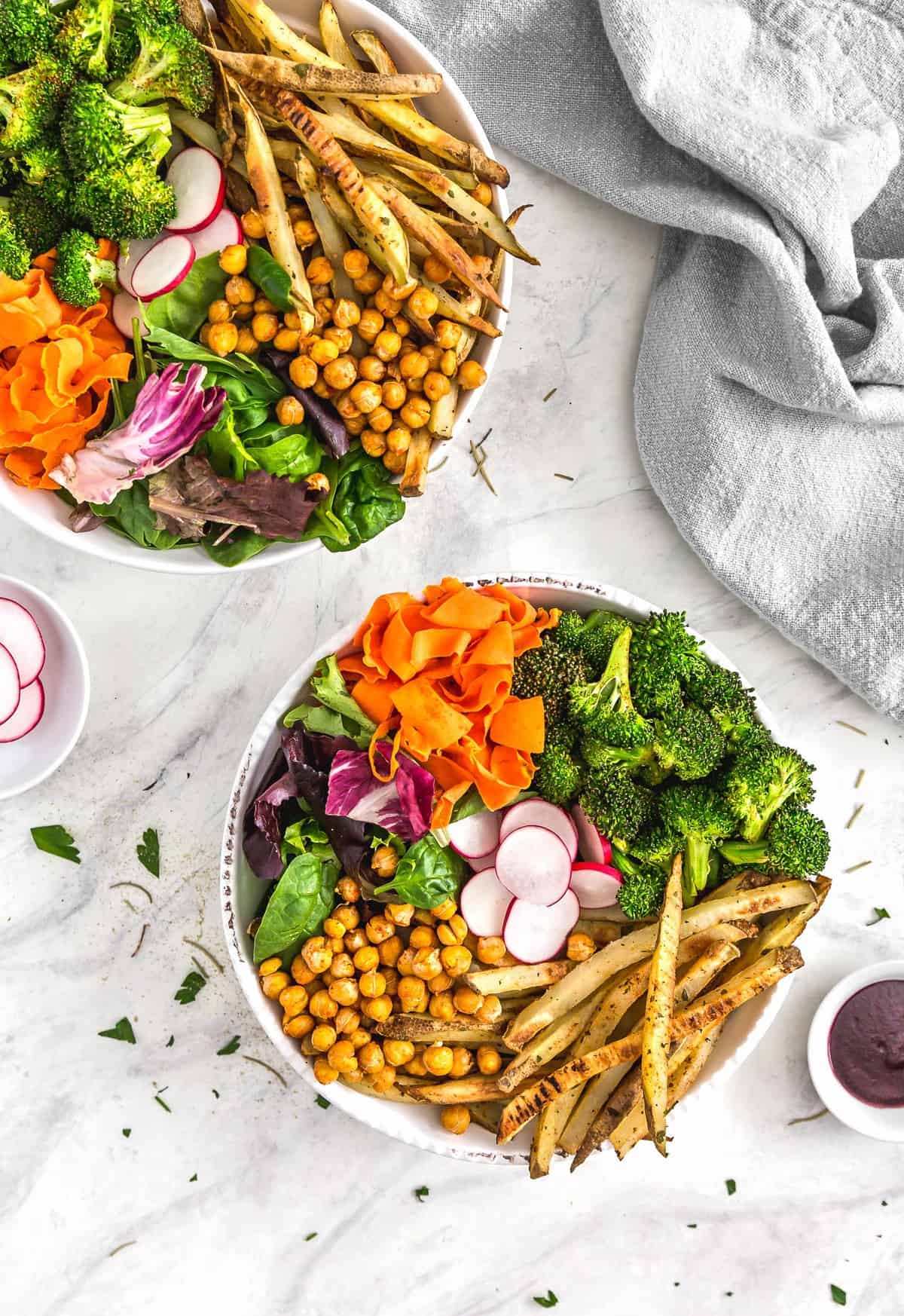 Mikey, Come into the Light! 
As most of our Readers know, Michael (Ameera's husband) is an omnivore. Monkey has been trying to slowly get him to come into to the "Light" (WFPB) for quite some time.  She has a few small victories here and there with him, but she isn't about to give up, neither am I.
Michael LOVES fries.  He loves dipping them in tabbouleh juice. Weird, right?  I thought so too at first, until I tried it for myself.  Very tasty!
"Here Mikey, eat this fry!"
When Monkey and I were making these fries, I had just pulled them out of the oven and sat them on the countertop. They were golden brown and smelled divine, when Mikey walked into the kitchen, half-awake, half-asleep.  He works midnights as a police officer so he was a little groggy. Knowing he loves fries, I said "Here Mikey, eat this fry."
Normally, he is super cautious of anything I feed him because he is a super picky eater; however, I totally took full advantage of his sleep-like state and offered him a fry.
He looked at it, sniffed it and ate it. His eyes popped wide open, and then he proceeded to gobble down a fist full of fries.  He was like "These are so good, I need tabbouleh!"  He then made Monkey promise to put some aside for him as he knows TP109 is the human vacuum cleaner and chances are they would be gone very soon! LOL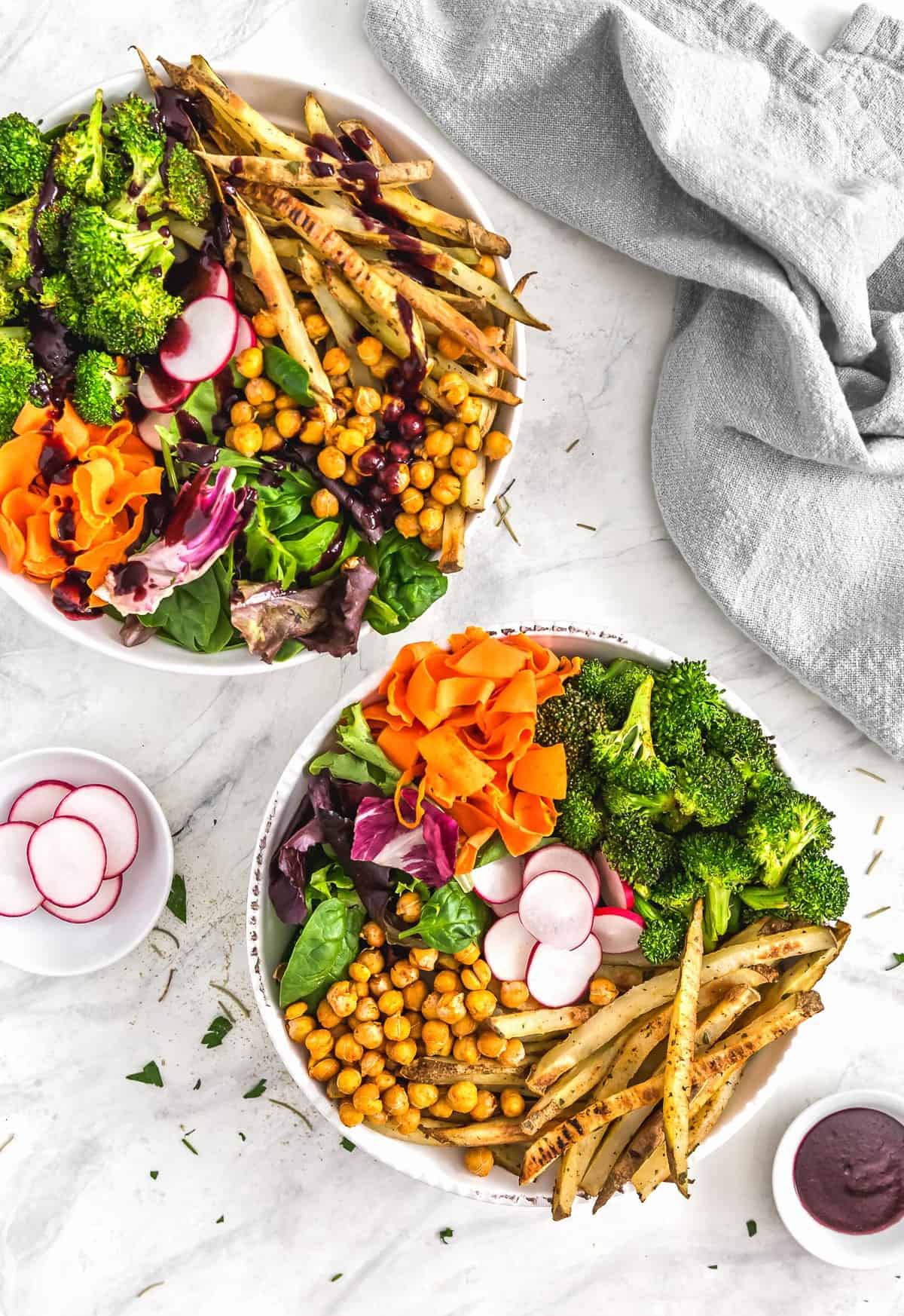 Ameera here!
Michael LOVED these fries. I knew he would.  It was kind of comical how he wanted to make sure I put some aside for him to eat later because he knows my dad would wolf these babies down in no time flat.  LOL
Blueberry Balsamic Dipping Sauce
My mom has been making rosemary potatoes for as long as I can remember; however, I wanted to find something unusual to dip them in.  Blueberries perfectly compliment rosemary.
I wanted to create something sweet and tangy like ketchup, but with a tiny kick.  Using just a hint of cayenne works perfectly.  Everyone loved the dipping sauce, it worked so well with the rosemary potatoes.  Sweet success!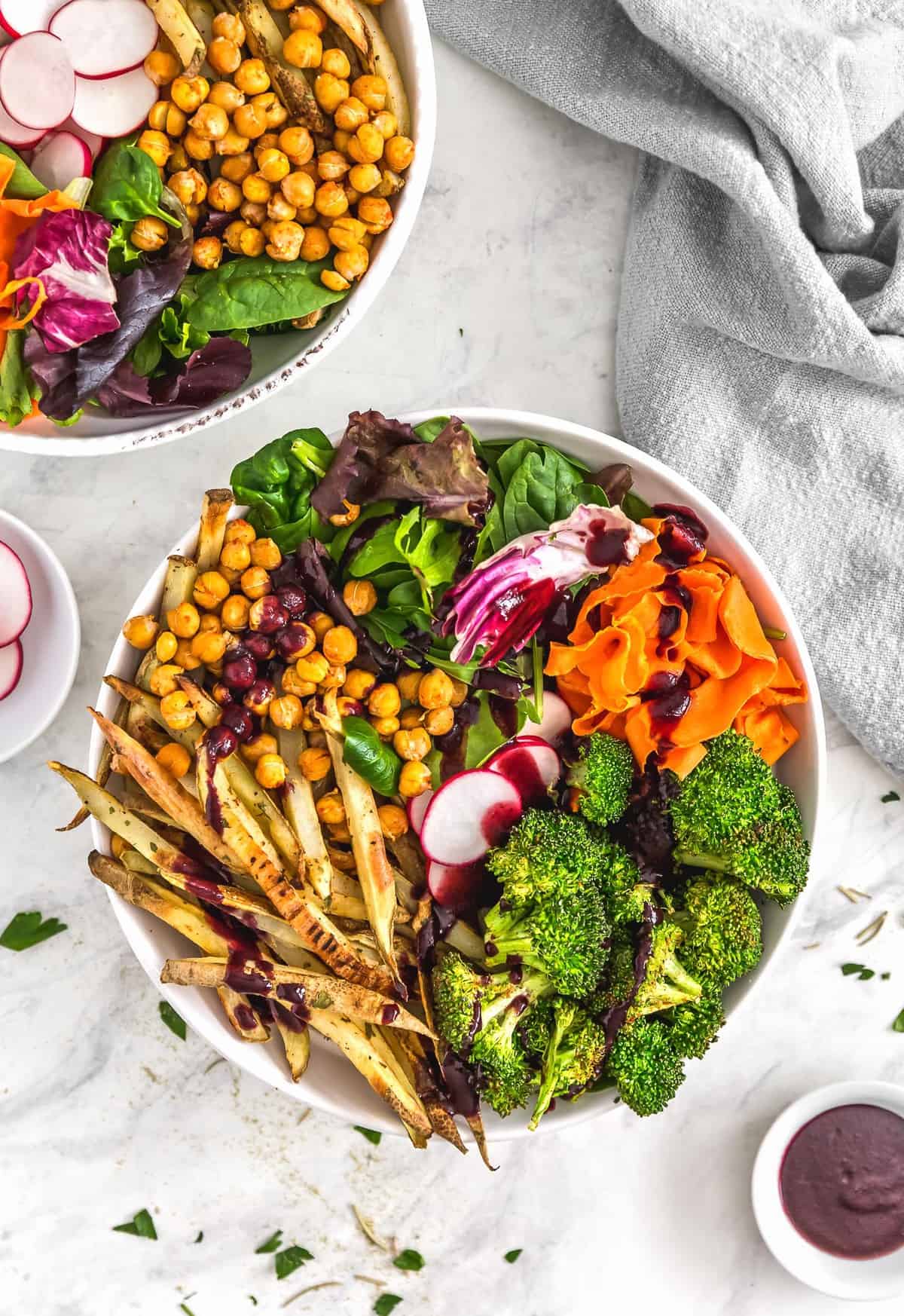 This post contains affiliate links, and I may receive a very small commission if you purchase through those links at no additional cost to you. Thank you for supporting Monkey and Me Kitchen Adventures! For more information, see our disclosures here
Yummy Bowl
Mom and I created a lovely bowl to feature our Oven Roasted Rosemary Potatoes with Blueberry Balsamic Dipping Sauce.  We sprinkled some onion powder, garlic powder, sweet paprika, sea salt, black pepper and a hint of cayenne on some broccoli florets and garbanzo beans, placed them on a parchment paper covered 14 x 20 baking sheet, and roasted them in a 425 F oven for 10 minutes.  We did the same with the carrot ribbons except we only roasted them for 5 minutes.
We then placed a bed of greens on the bottom of the bowl, and then segmented each of the roasted items into the bowl as shown in the pictures.  Sooooo delicious.  We hope you give these delicious Oven Roasted Rosemary Potatoes with Blueberry Balsamic Dipping Sauce a try!

Products Used:
Print
Don't forget to try this delicious fries with our yummy Blueberry Balsamic Dipping Sauce!
Print

This post contains affiliate links, and I may receive a very small commission if you purchase through those links at no additional cost to you. Thank you for supporting Monkey and Me Kitchen Adventures! For more information, see our disclosures here