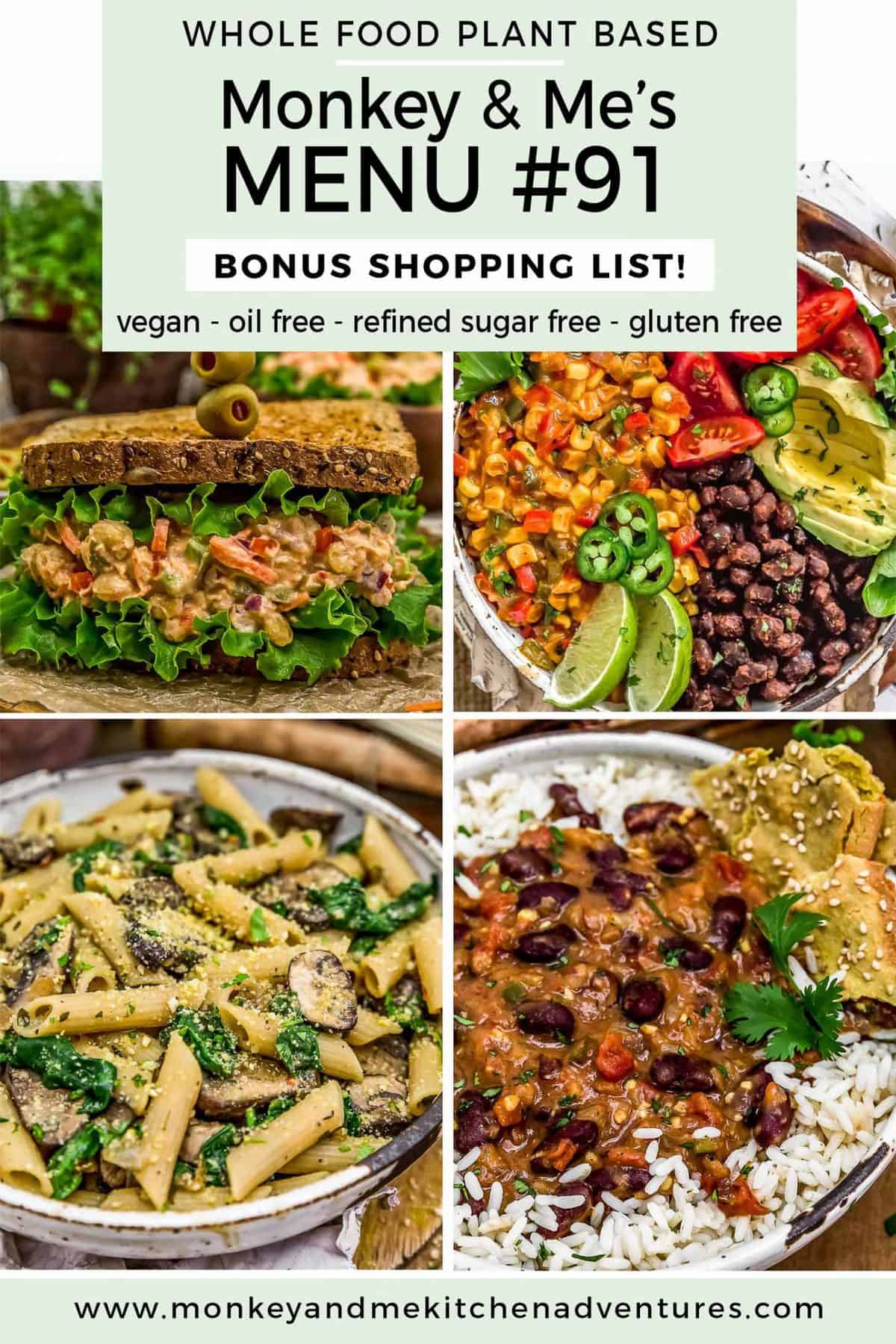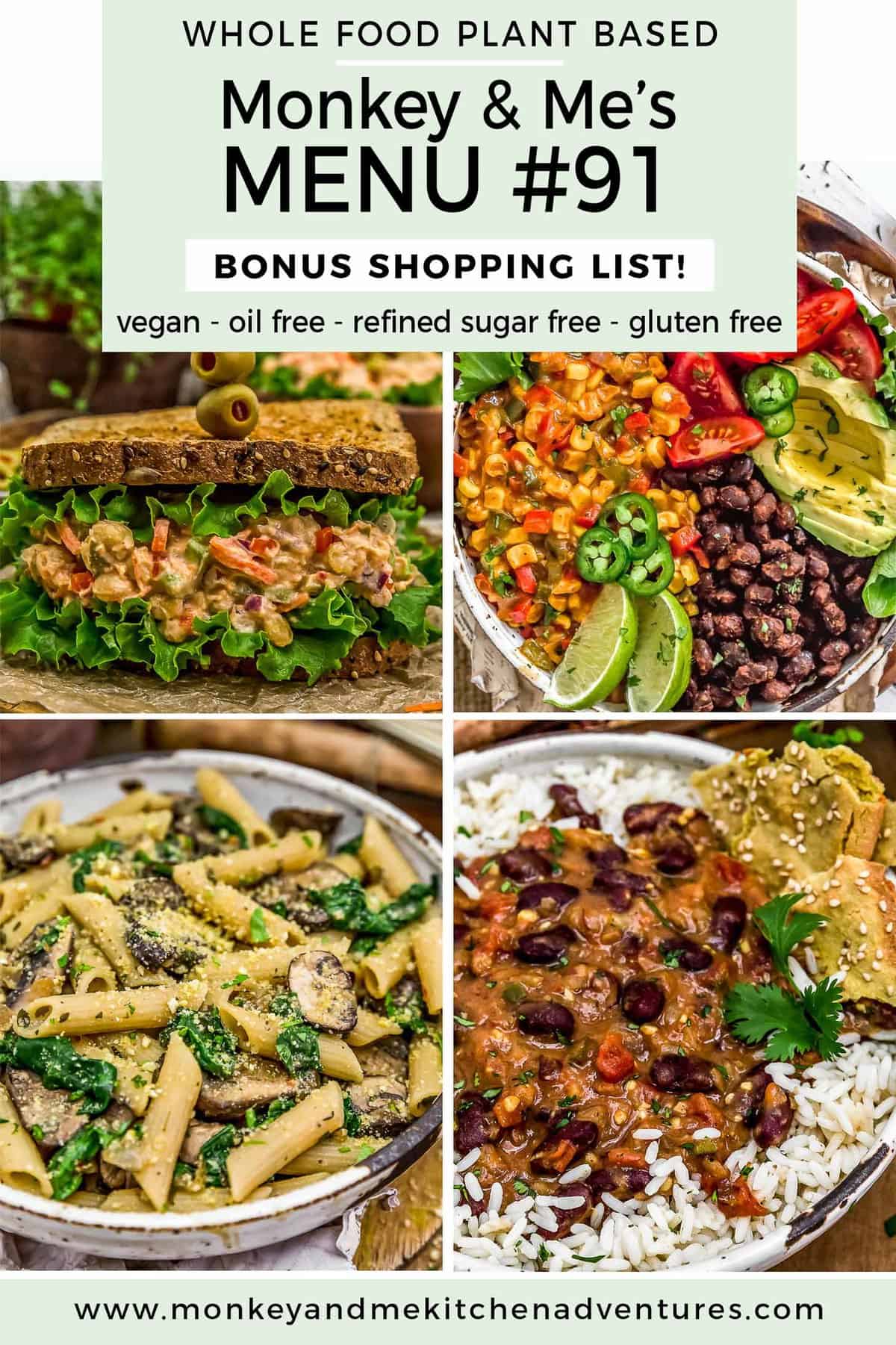 This week's Monkey and Me's Menu features some tasty recipes.  Menu #91 includes a FREE bonus shopping list.  All recipes are Whole Food Plant Based, vegan, plant based, oil free, refined sugar free, no highly processed ingredients, and gluten free.

Downloadable Menu which offers the following:

2 Breakfast ideas
2 Lunch ideas
2 Snack Ideas
5 Dinner Ideas, including a FREE downloaded shopping list (PDF – Below)

A comprehensive (downloadable) shopping list for the 5 Dinners

The shopping list is segmented into the common grocery store sections like "produce, spices, etc." making it easy to pick up these items from your local grocery store.
It also includes product suggestions that are Whole Food Plant Based compliant* for easy reference.  Note: These products are suggestions, please feel free to select your own favorite products.
Includes helpful codes so you can easily subtract items that you choose not to make.

Downloadable Instructions on how the meal plan work.
Note:  The term "Whole Food Plant Based compliant" is from a general standpoint.  There are Whole Food Plant Based diet branches that restrict certain food items.  Our recipes are all Whole Food Plant Based compliant based upon a high-level compliance standpoint. i.e. vegan, plant based, oil free, refined sugar free, minimally processed foods.
Some breakfast, lunch, and snack ideas are simple concepts that require no recipe.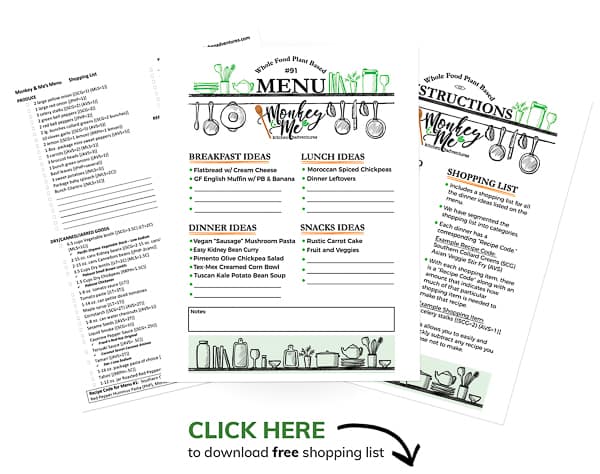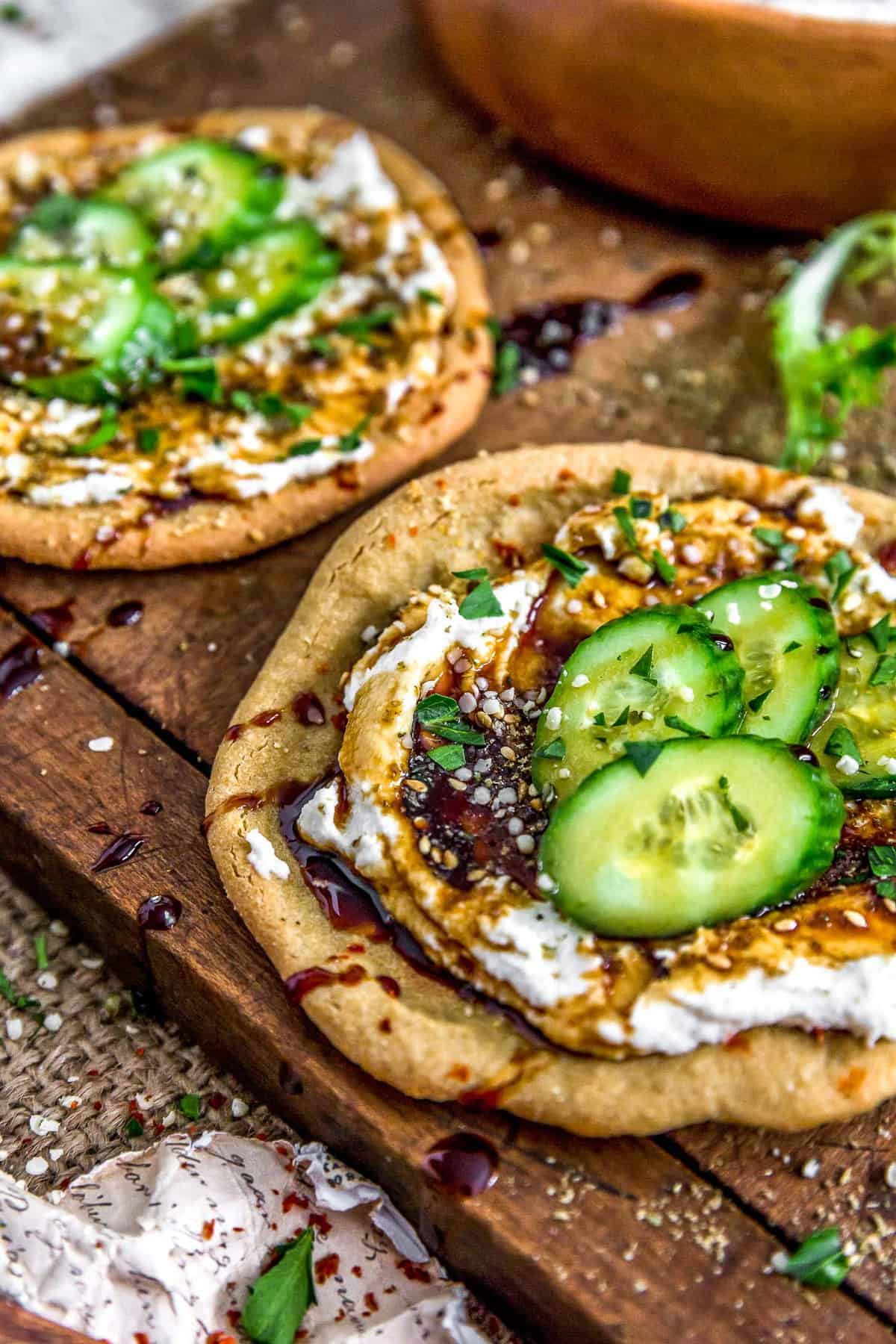 Sometimes you just crave that cool creamy spreadable goodness on crackers and breads or dolloped in recipes for ultra-decadence, and we've got that fix covered with our homemade Vegan Cream Cheese. So easy to make, with just the right amount of tang, and perfect velvety texture, this WFPB Vegan Cream Cheese is both healthy and delicious. The perfect spread, either plain or jazzed up with fun spices, herbs, veggies, or fruit, it's an awesome staple to have in the fridge.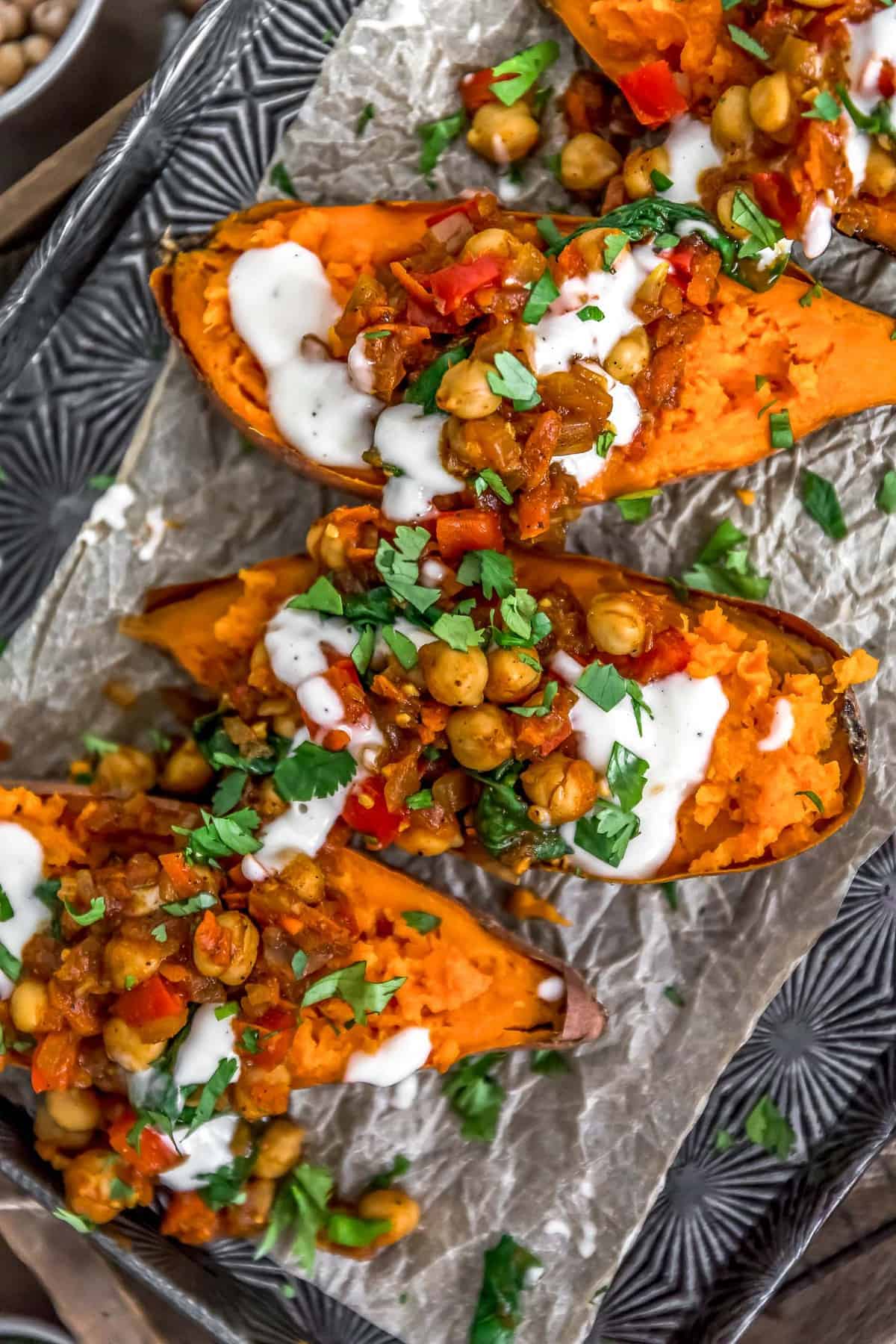 Thirty minutes is all that stands between you and this yummy Moroccan Spiced Chickpeas and Garlic Sauce! We just can't get enough of this one-pot, fast, and easy dish that is packed with feel-good ingredients. Hearty chickpeas coated in spicy Moroccan flavors ladled over nutritious baked sweet potatoes, and covered in a creamy garlic sauce is a delicious comfort food the whole family will love. A perfect dish for using up leftovers too; switch up baked sweet potatoes for roasted veggies, rice, or boiled potatoes for a scrumptious way to use up leftovers.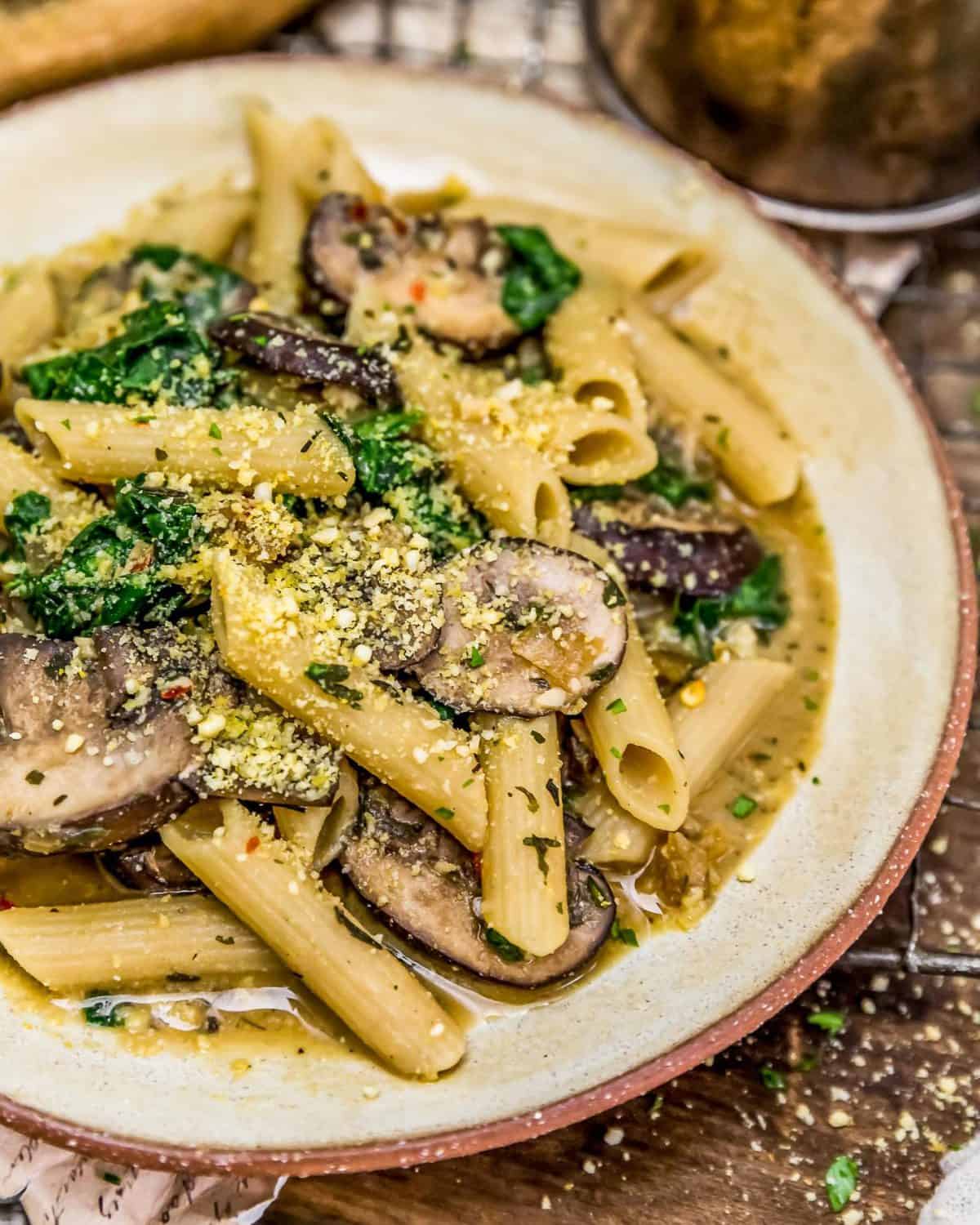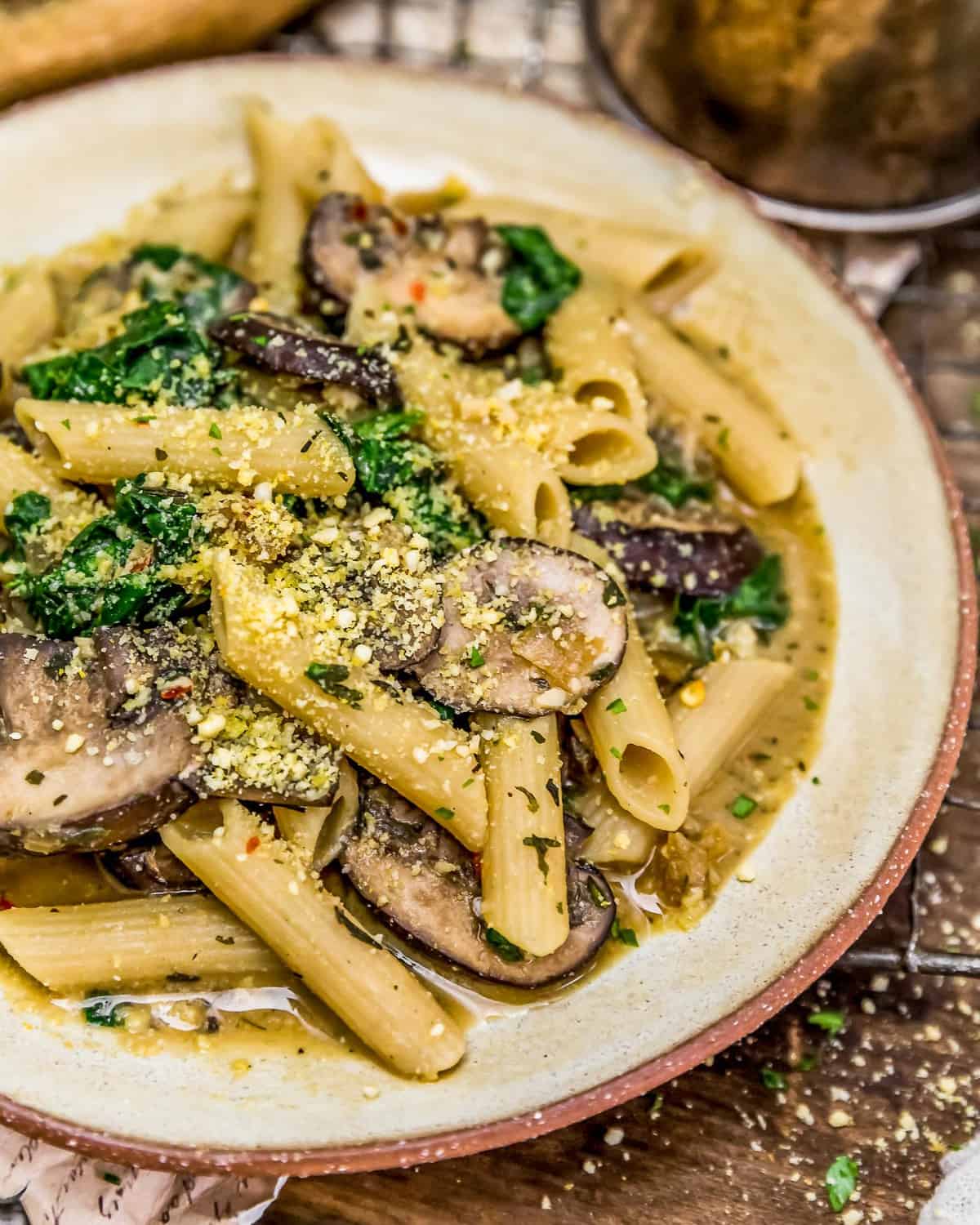 Nothing is more comforting than a big bowl of pasta, and this tasty vegan nod to Italian goodness is perfectly seasoned and oh-so-delicious.  Our Vegan "Sausage" Mushroom Pasta is full of rich flavors and packed with zesty onions, hearty mushrooms, earthy garlic, protein-packed lentils, nourishing spinach, and tender pasta.  A must-try flavor experience that is sure to have the whole family seated at the dinner table in a flash!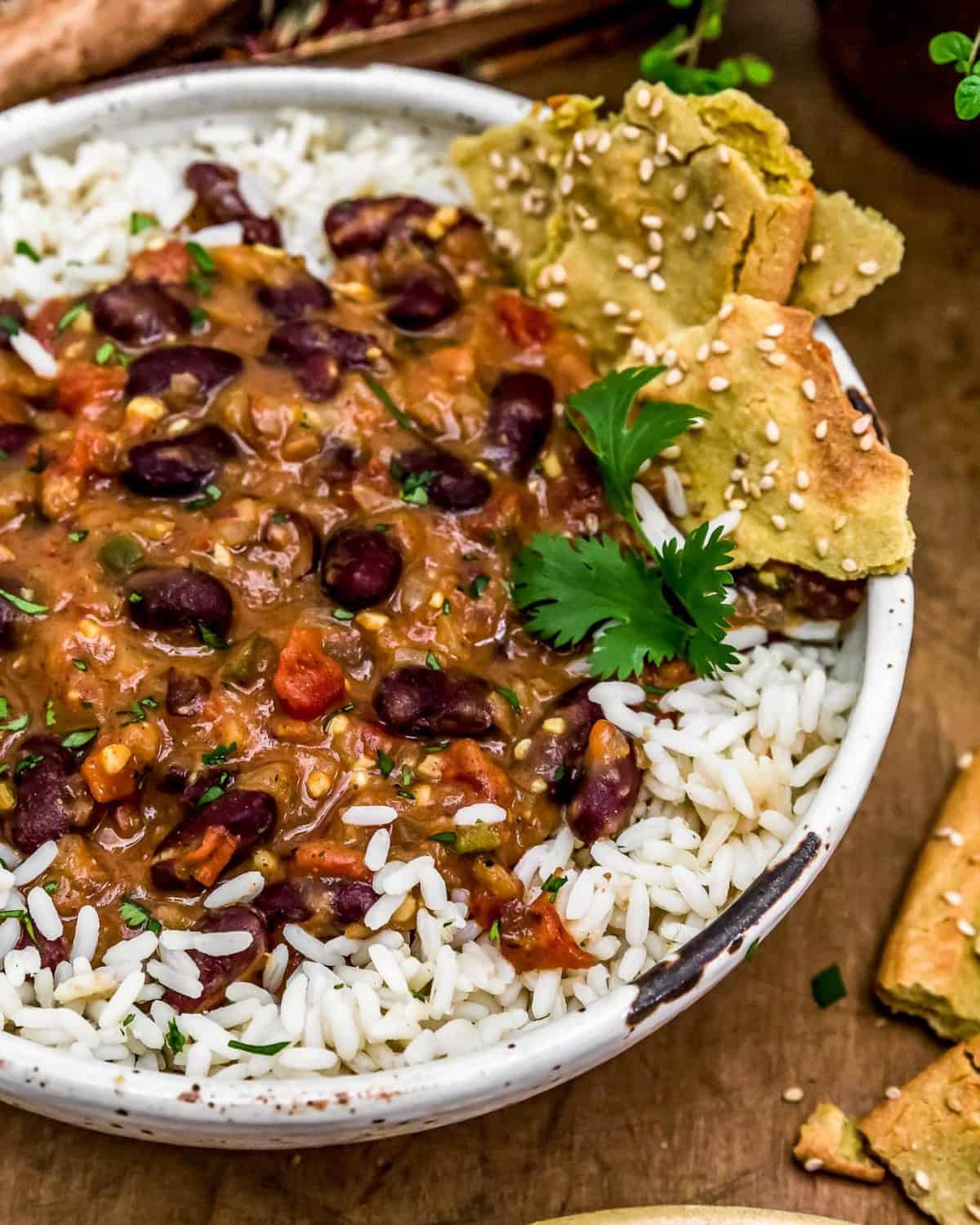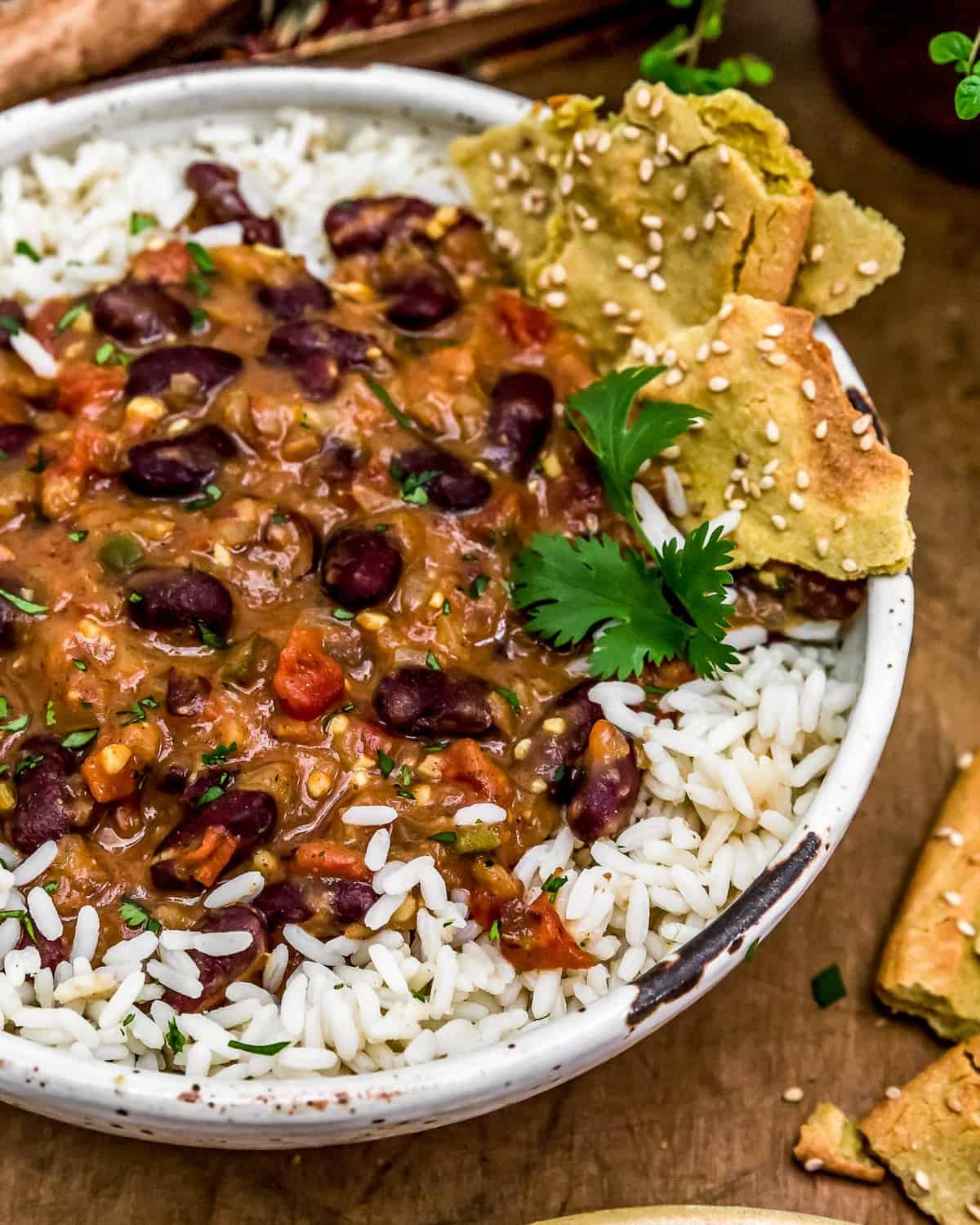 Warming, cozy, and brimming with goodness, this Easy Kidney Bean Curry is so simple to make and sure to put a smile on your face. It's perfect for a quick weeknight dinner that the whole family will love! This hearty, filling dish is full of feel good ingredients, herbs, and spices. A totally delicious and satisfying meal that you will enjoy cuddling up with – yum!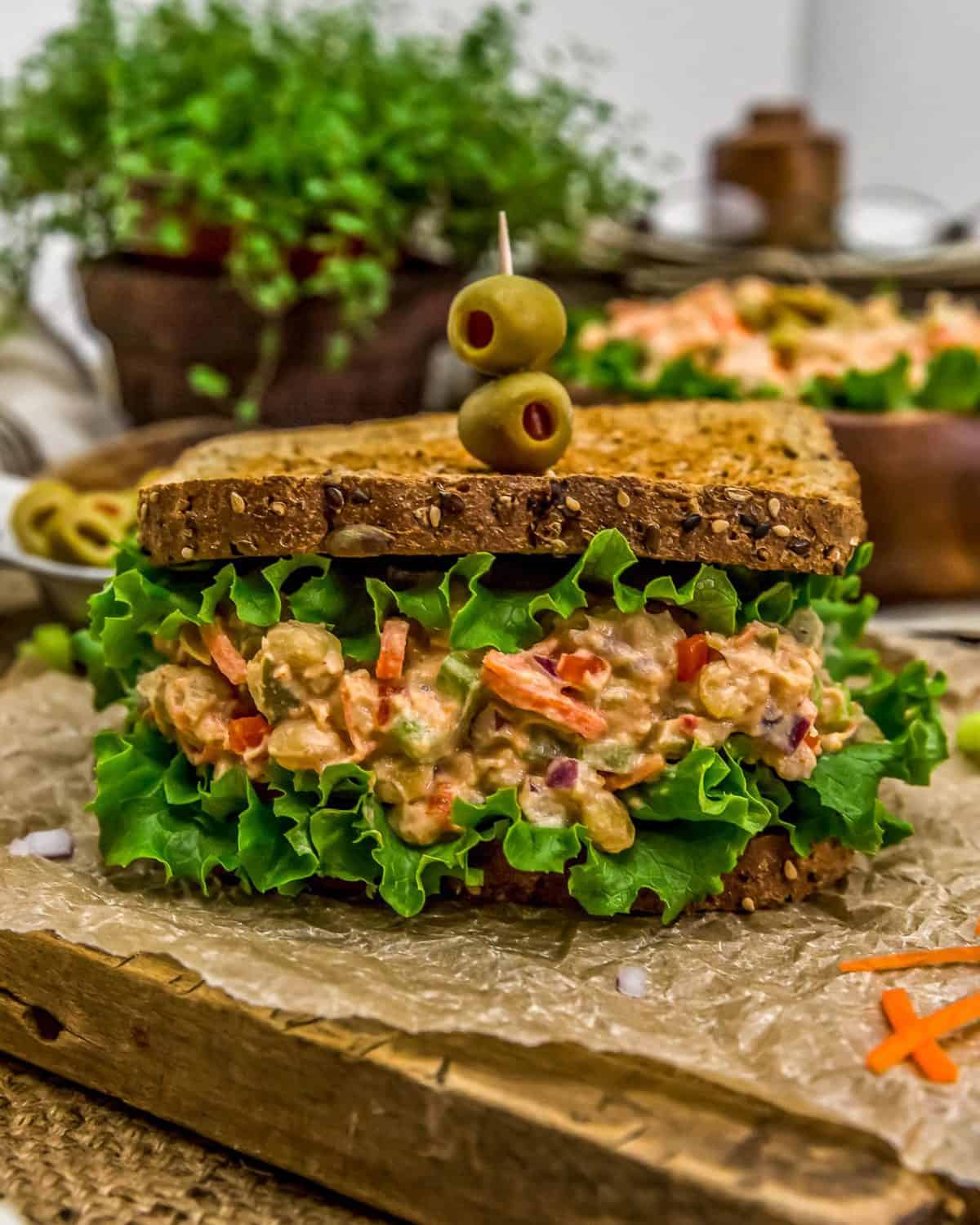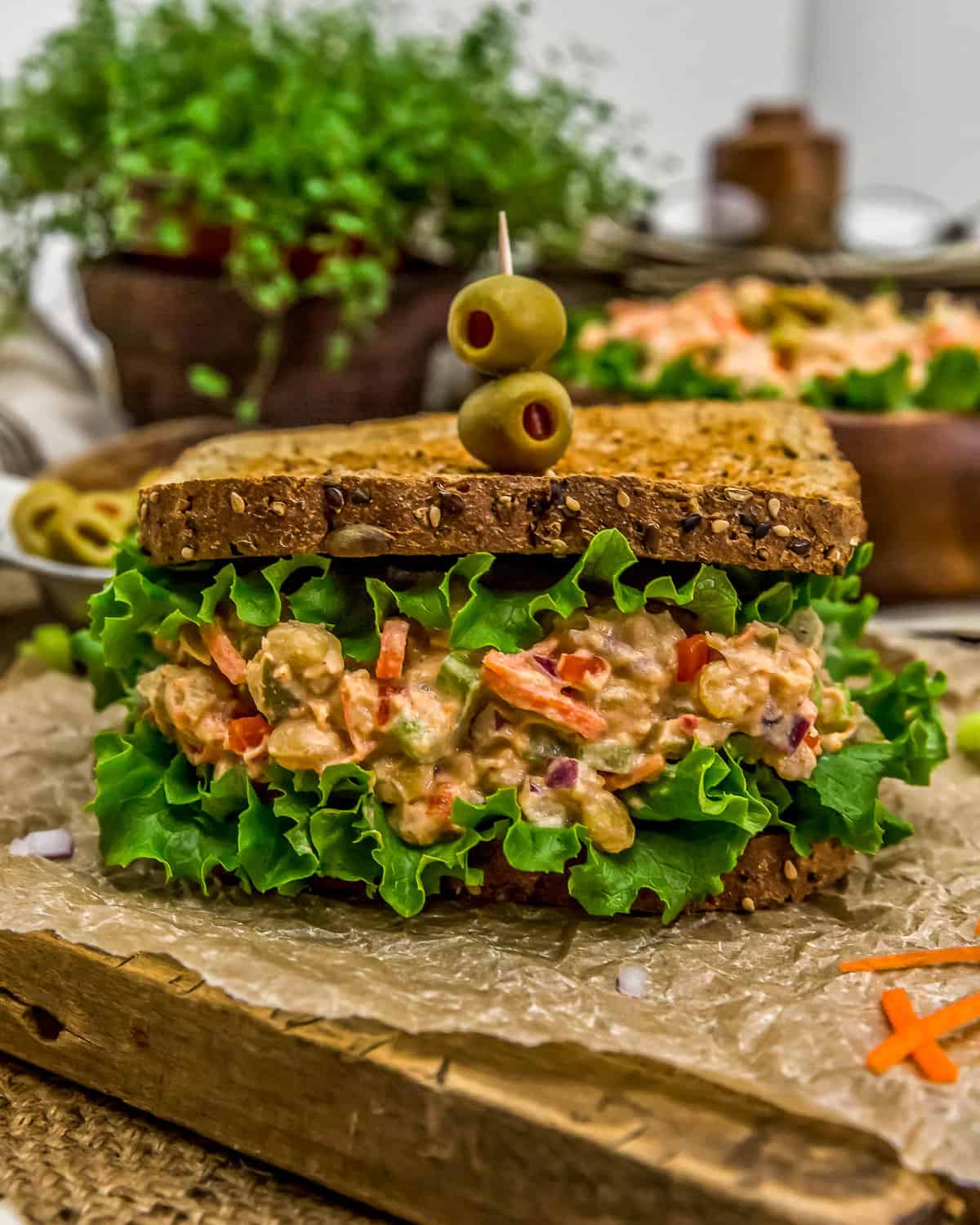 Calling all pimento olive lovers!  If you love those briny green olives stuffed with delicious red pimento peppers, then this fun Pimento Olive Chickpea Salad is right up your alley! A perfect dish for a quick and tasty lunch. Full of healthy feel good ingredients and packed with tons of flavor, this salad is filled with hearty chickpeas, bold pimento stuffed green olives, crisp celery, zesty red onions, and sweet carrots all blanketed in an awesome creamy pimento dressing.
We can't stop, won't stop with this deliciousness over here! Creamed corn just got a whole lot more exciting AND healthier.  Rich, creamy, and bursting with Southwestern flavors, this Tex-Mex Creamed Corn is super easy to make and packed with hearty, healthy ingredients. Sweet corn, bell peppers, onions paired with creamy plant milk and yogurt all simmered together with warming aromatic spices for a feel good dish that can whipped up in 20 minutes. For a fun twist, serve in a bowl with hearty black beans, fresh tomatoes, creamy avocado, crispy baked tortillas, spicy jalapeños, and zesty limes. A perfect dish to mix and match with your favorite southwestern veggies!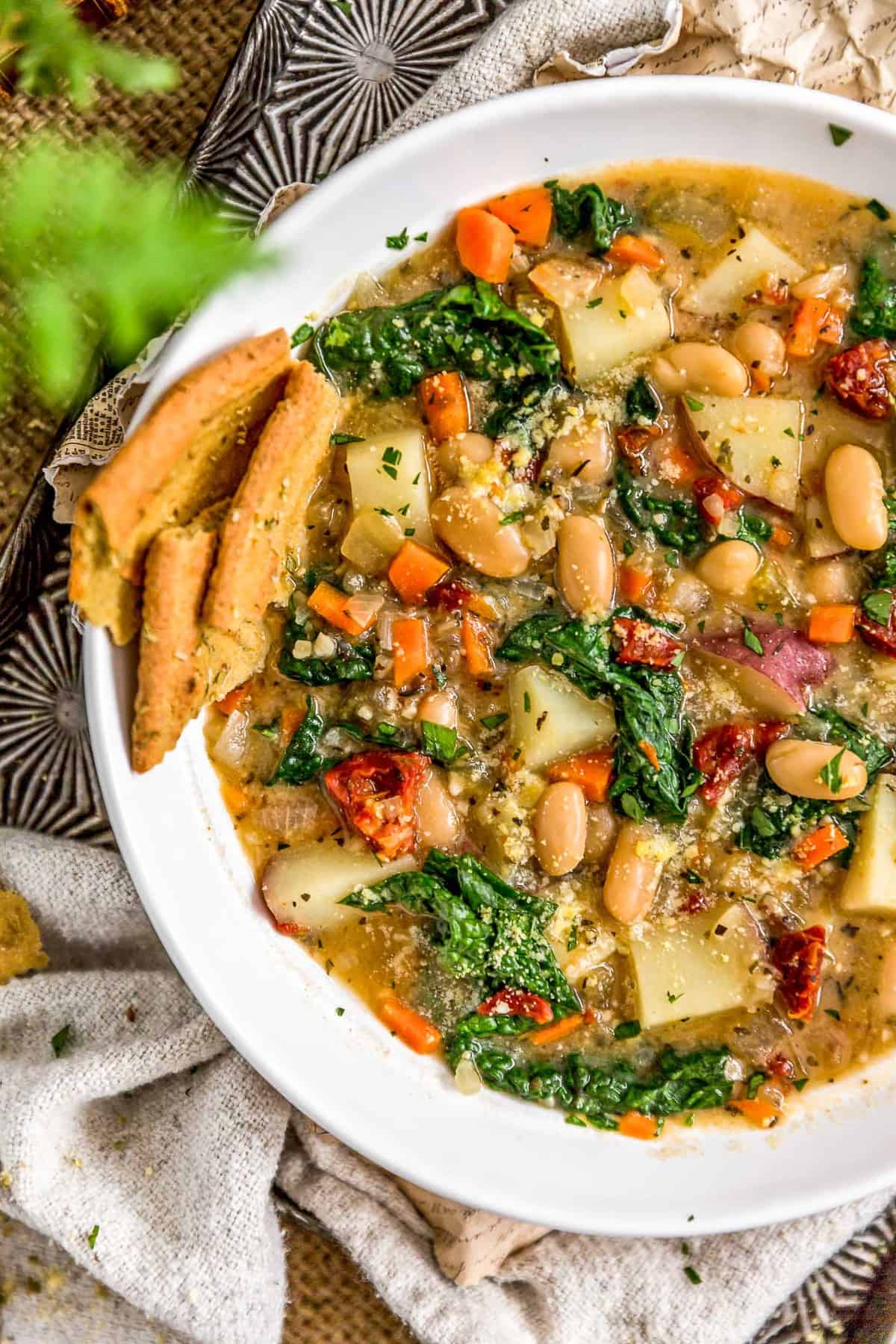 Forever in blissful soup mode over here, and this comforting, flavorful soup brings all the goodness. Perfectly cozy and bursting with Italian spices, this ah-mazing Tuscan Kale Potato Bean Soup is packed with powerhouse ingredients all bathed in a luscious broth. It's not only easy to make, but the whole family will think you were working in the kitchen all day to create this bowl of deliciousness.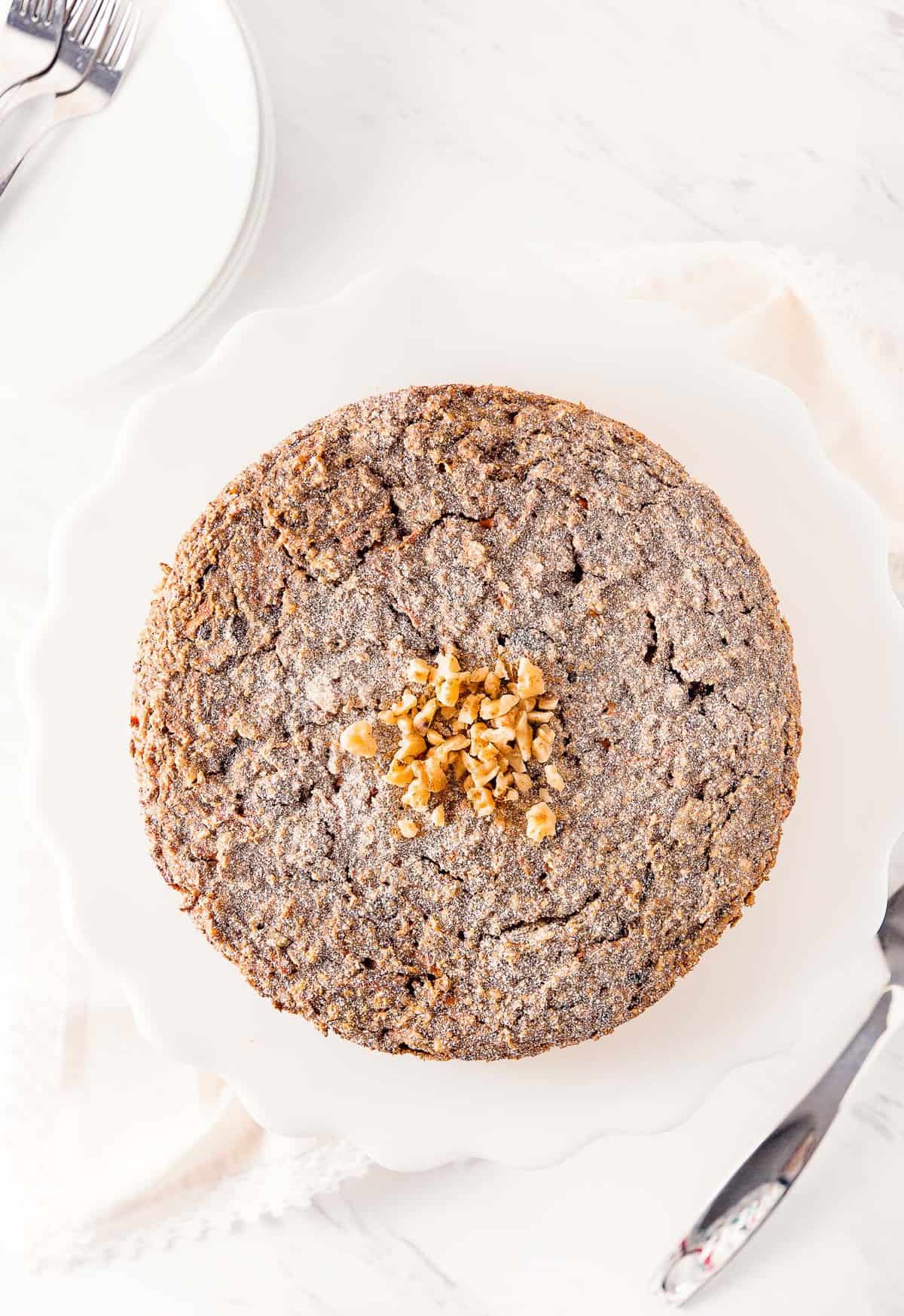 Amazingly delicious Rustic Carrot Cake with a beautiful moist texture and flavorful cinnamon spice! Perfectly sweetened with medjool dates and filled with plump raisins and chopped walnuts making the most wonderful Whole Food Plant Based carrot cake.