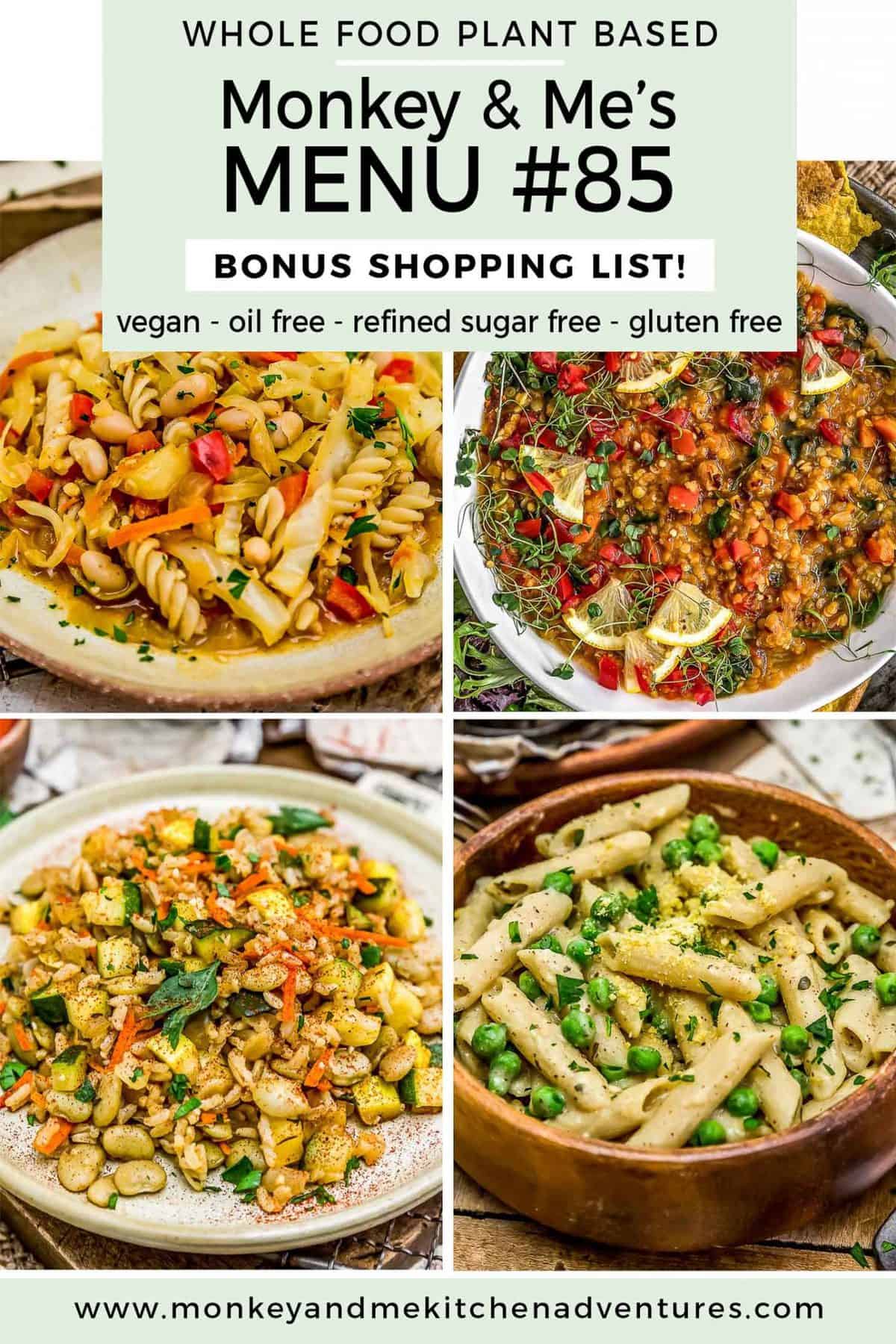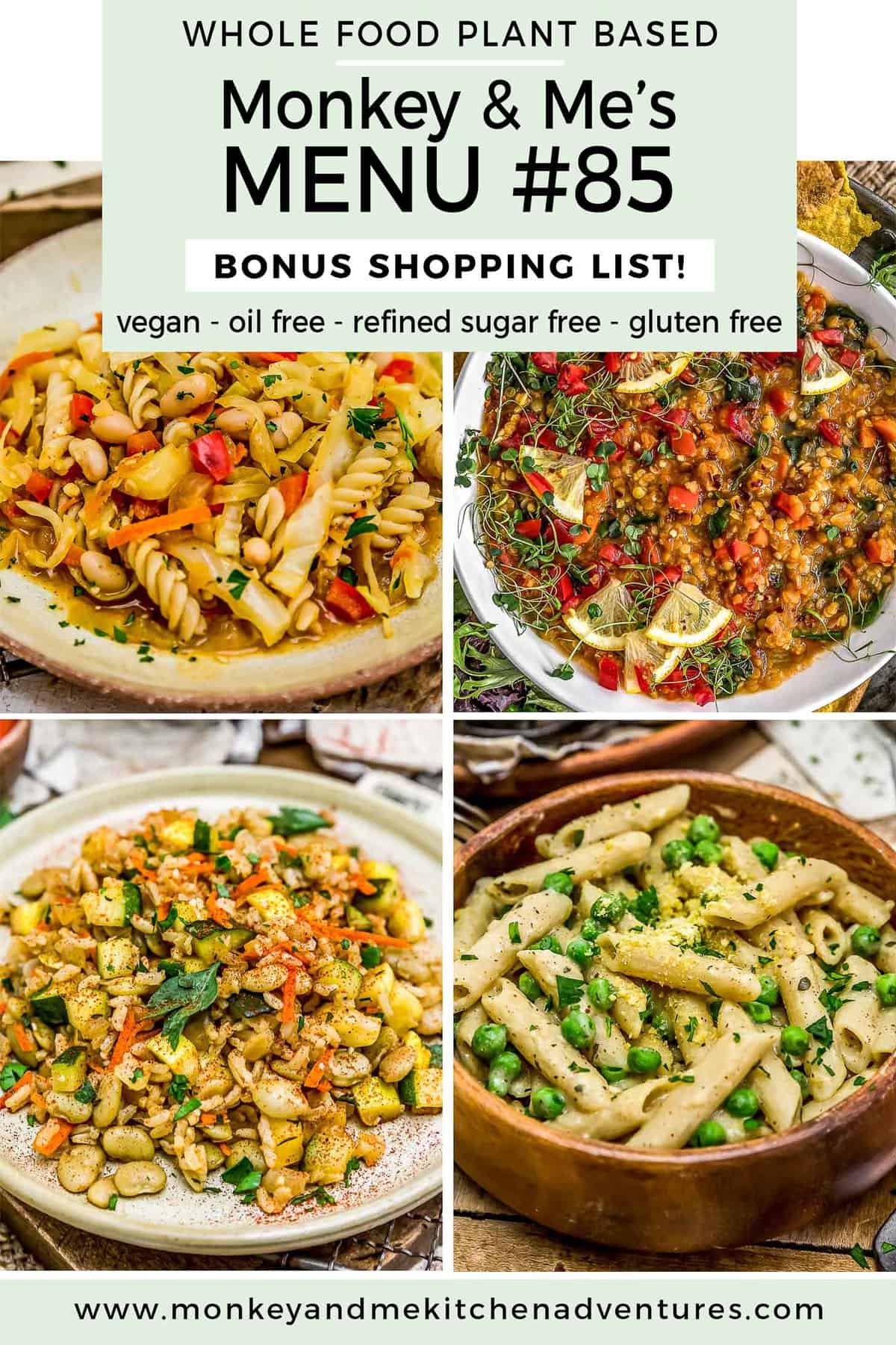 This week's Monkey and Me's Menu features some tasty recipes.  Menu #85 includes a FREE bonus shopping list.  All recipes are Whole Food Plant Based, vegan, plant based, oil free, refined sugar free, no highly processed ingredients, and gluten free.

Downloadable Menu which offers the following:

2 Breakfast ideas
2 Lunch ideas
2 Snack Ideas
5 Dinner Ideas, including a FREE downloaded shopping list (PDF – Below)

A comprehensive (downloadable) shopping list for the 5 Dinners

The shopping list is segmented into the common grocery store sections like "produce, spices, etc." making it easy to pick up these items from your local grocery store.
It also includes product suggestions that are Whole Food Plant Based compliant* for easy reference.  Note: These products are suggestions, please feel free to select your own favorite products.
Includes helpful codes so you can easily subtract items that you choose not to make.

Downloadable Instructions on how the meal plan work.
Note:  The term "Whole Food Plant Based compliant" is from a general standpoint.  There are Whole Food Plant Based diet branches that restrict certain food items.  Our recipes are all Whole Food Plant Based compliant based upon a high-level compliance standpoint. i.e. vegan, plant based, oil free, refined sugar free, minimally processed foods.
Some breakfast, lunch, and snack ideas are simple concepts that require no recipe.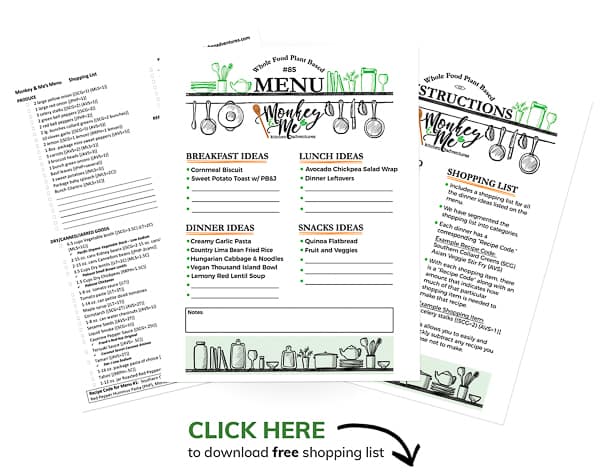 Fast and easy, this tasty Cornmeal Biscuit is slightly sweet, and is perfect with a bowl of your favorite stew or simply as a breakfast treat, toasted and slathered with jam, making this cute cornmeal biscuit a delicious Whole Food Plant Based recipe!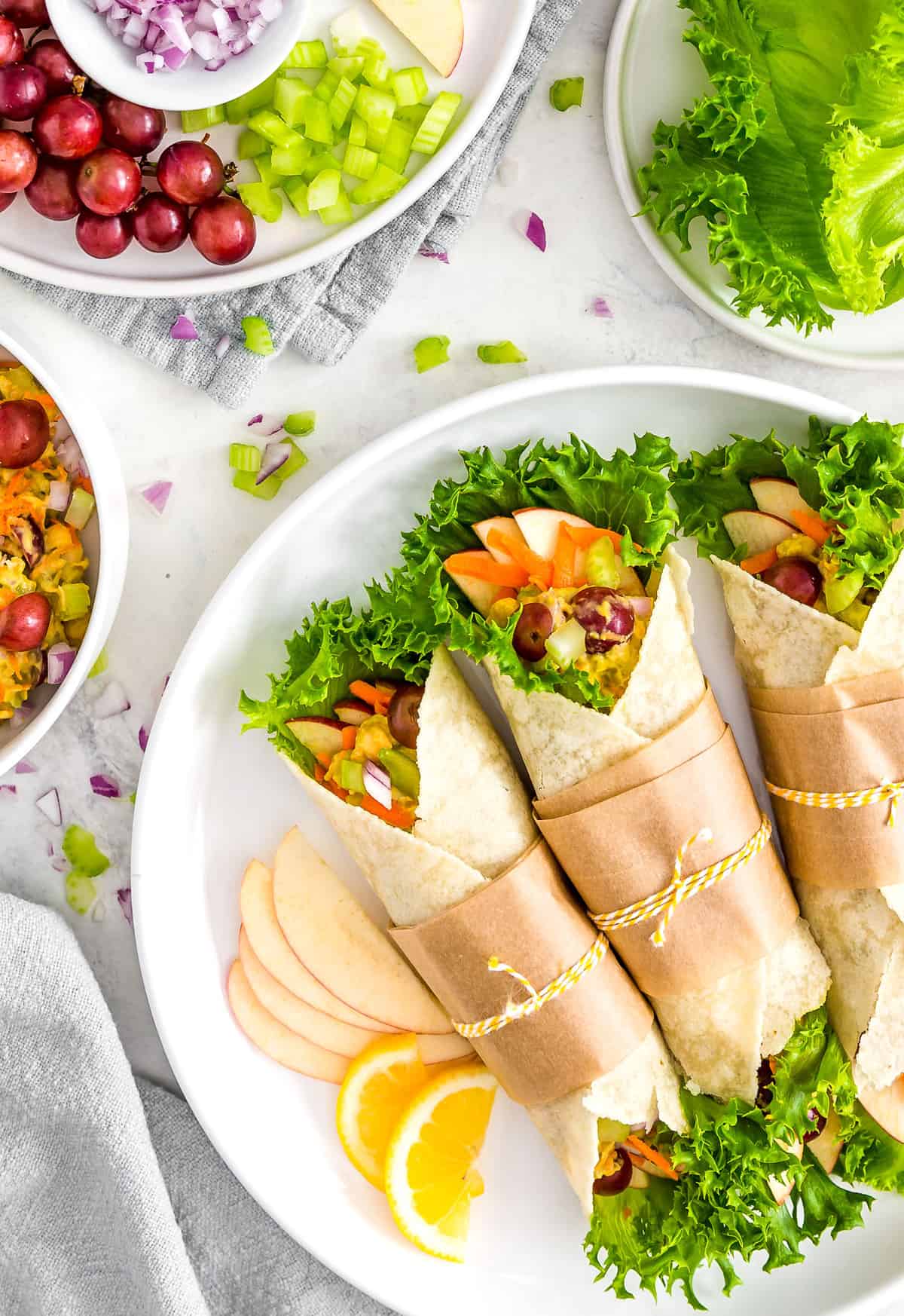 Light and refreshing, this sweet and savory Avocado Chickpea Salad Wrap is perfect for a quick and tasty lunch.  Chopped walnuts, chickpeas, red grapes, apple slices, grated carrots, celery and red onion come together in a beautiful and tasty avocado dressing, then wrapped to perfection in your favorite tortilla or wrap.  This is an ideal recipe for work lunchboxes, quick dinners, or just plain fun.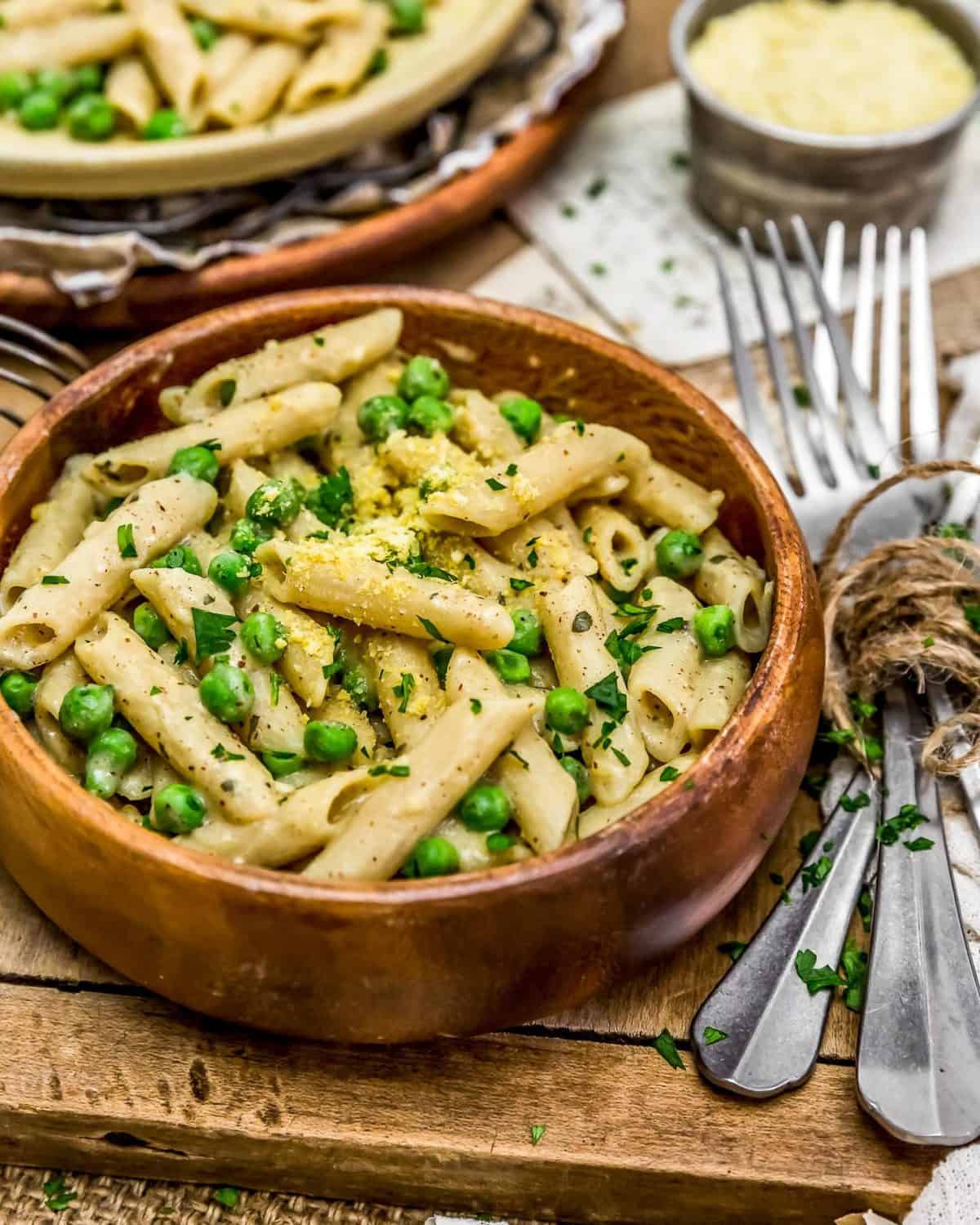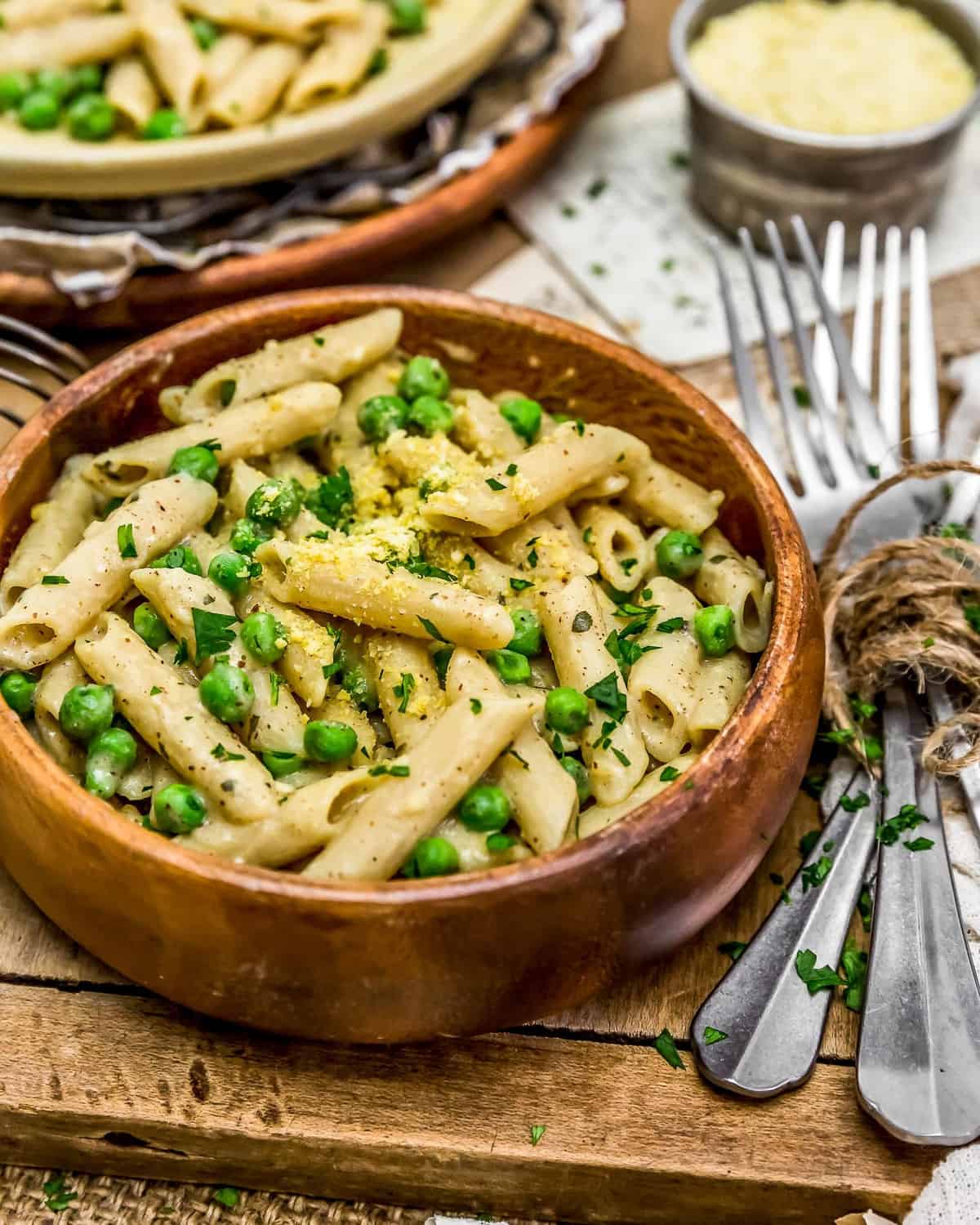 There's just something magical about creamy comforting pasta, and we got the perfect dish to curb those cravings. Our wholesome, flavorful, and super easy Creamy Garlic Pasta is brimming with bold garlic flavor and velvety, saucey goodness.  This vegan Italian classic is healthy and can be whipped up in just about 20 minutes. A perfect dish for busy days when you need dinner on the table fast
This nod to the Southern Ham and Lima Bean Fried Rice is a healthy, delicious, vegan twist that is an easy one-skillet wonder and packed with comfort food goodness.  Zesty Onions, sweet carrots, nourishing zucchini and yellow squash, earthy garlic, hearty lima beans and chewy rice come together to create an amazingly tasty Country Lima Bean Fried Rice dish that is savory and delicious.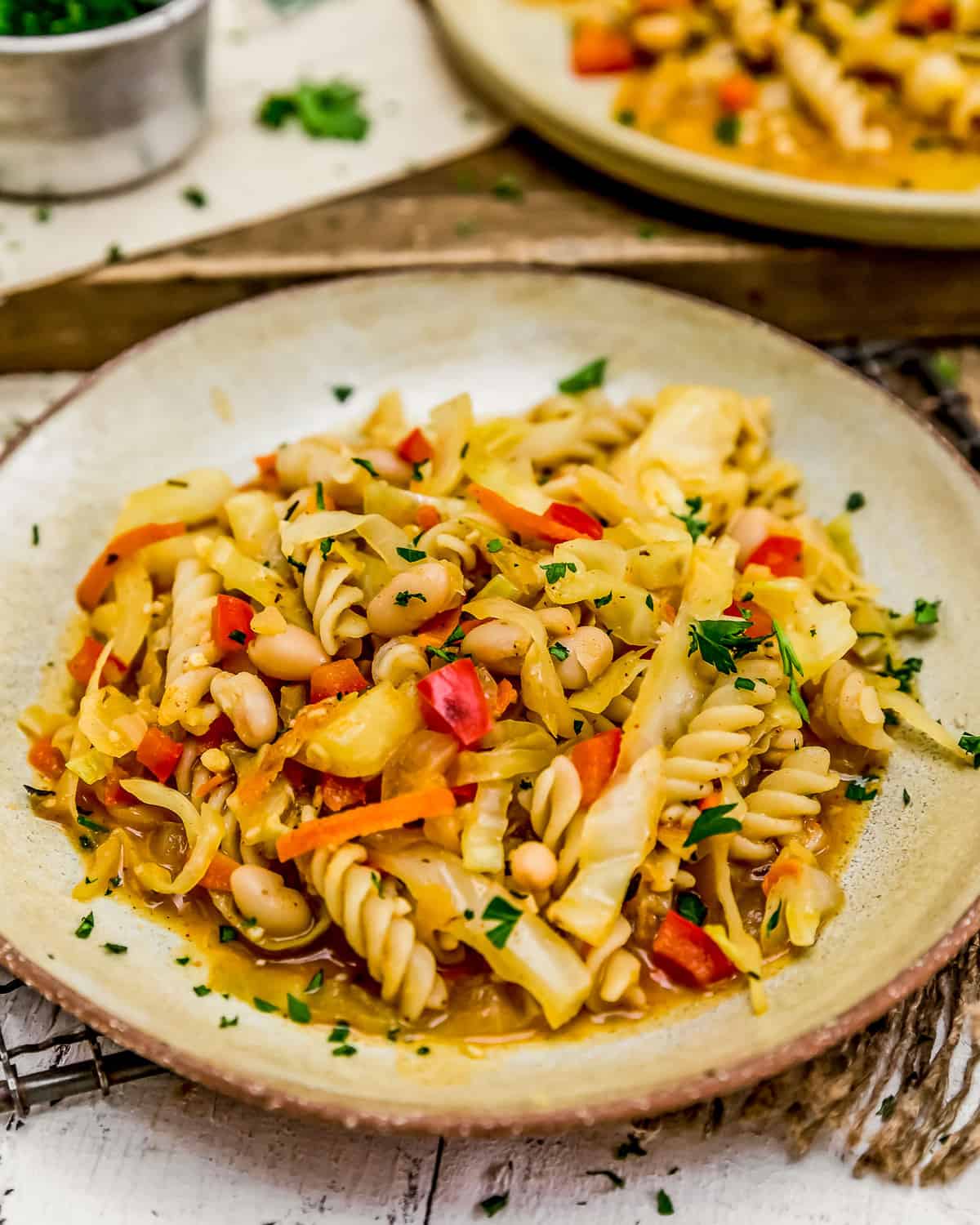 This Whole Food Plant Based nod to the Hungarian dish called Haluski (Cabbage and Noodles) is a healthy, delicious dish. Our Vegan Hungarian Cabbage and Noodles is an easy one-skillet wonder that is full of comfort food goodness and powerhouse veggies.  Sweet onions, nourishing carrots, vibrant red bell peppers, hearty navy beans, earthy cabbage and tasty noodles are cooked in a savory and flavorful broth that will make this dish a new family favorite.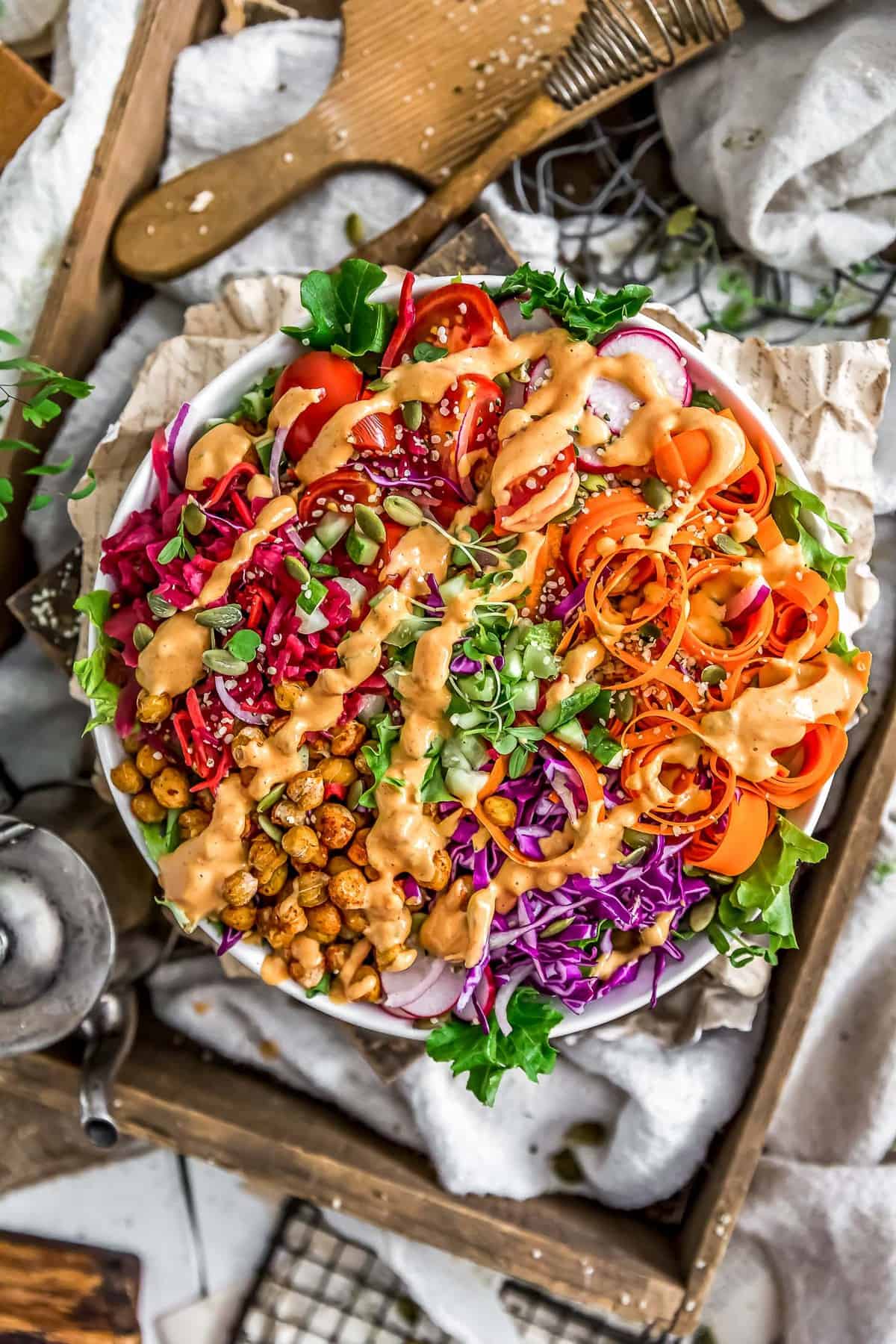 If you're not a huge salad fan, maybe you just haven't meet the right dressing to sweep your off your feet. Our homemade Oil Free Vegan Thousand Island Dressing is just that dressing that will give you heart eyes when looking at your new and improved salad. Rich, tangy, healthy and refined sugar free, this delicious dressing is fast, easy, and the perfect POW of flavor for salads and dipping veggies. Deliciously bold undertones with creamy, decadent cashews will hook you with the first bite.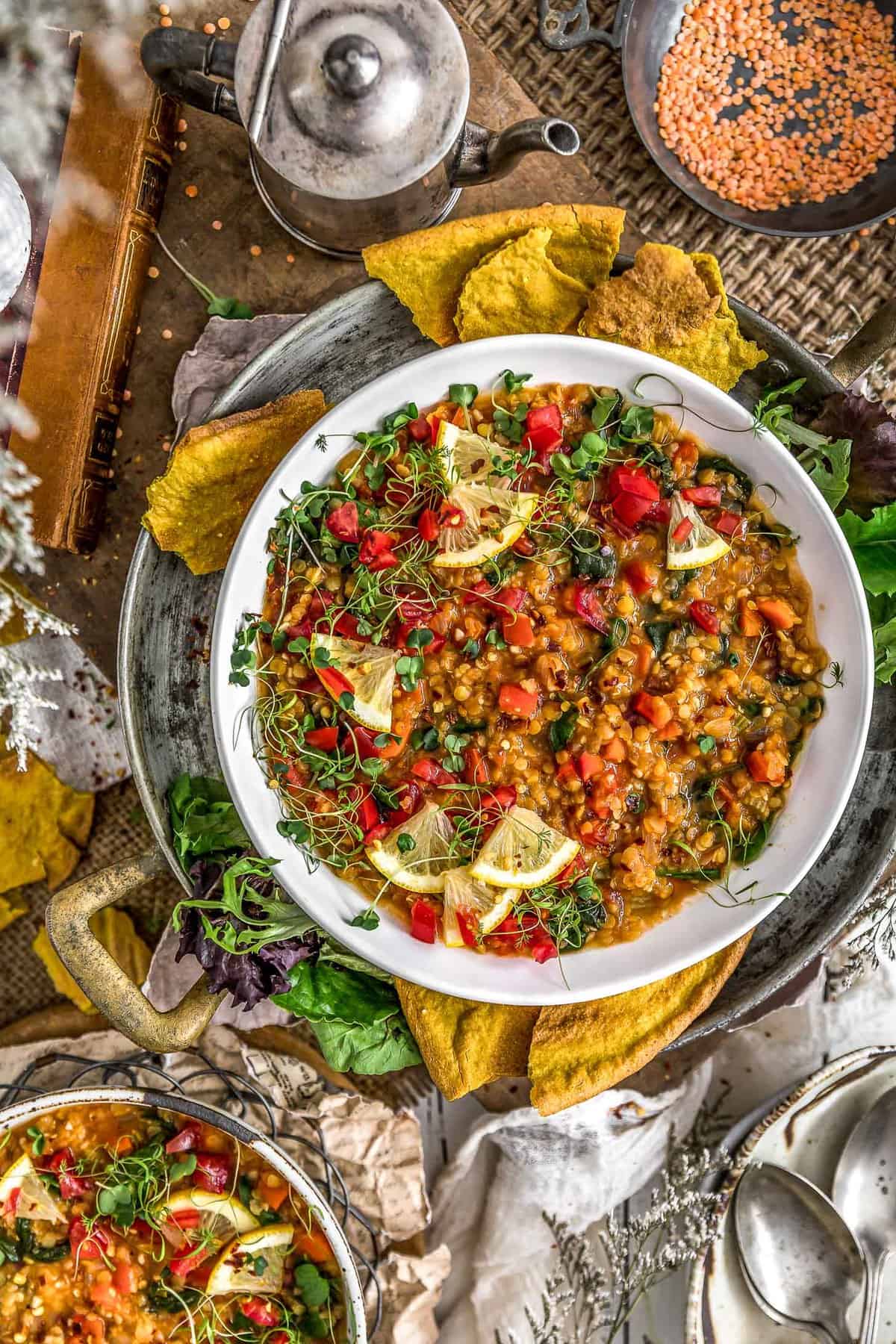 Comforting, simple healthy goodness, all in one pot, is all you'll need on a chilly day. Perfectly seasoned, it never fails to please, this delicious Lemony Red Lentil Spinach Stew is perfect for warming you up and filling your belly with wholesome goodness. Healthy and packed with feel-good ingredients, you can be assured that your tastebuds will be delighted.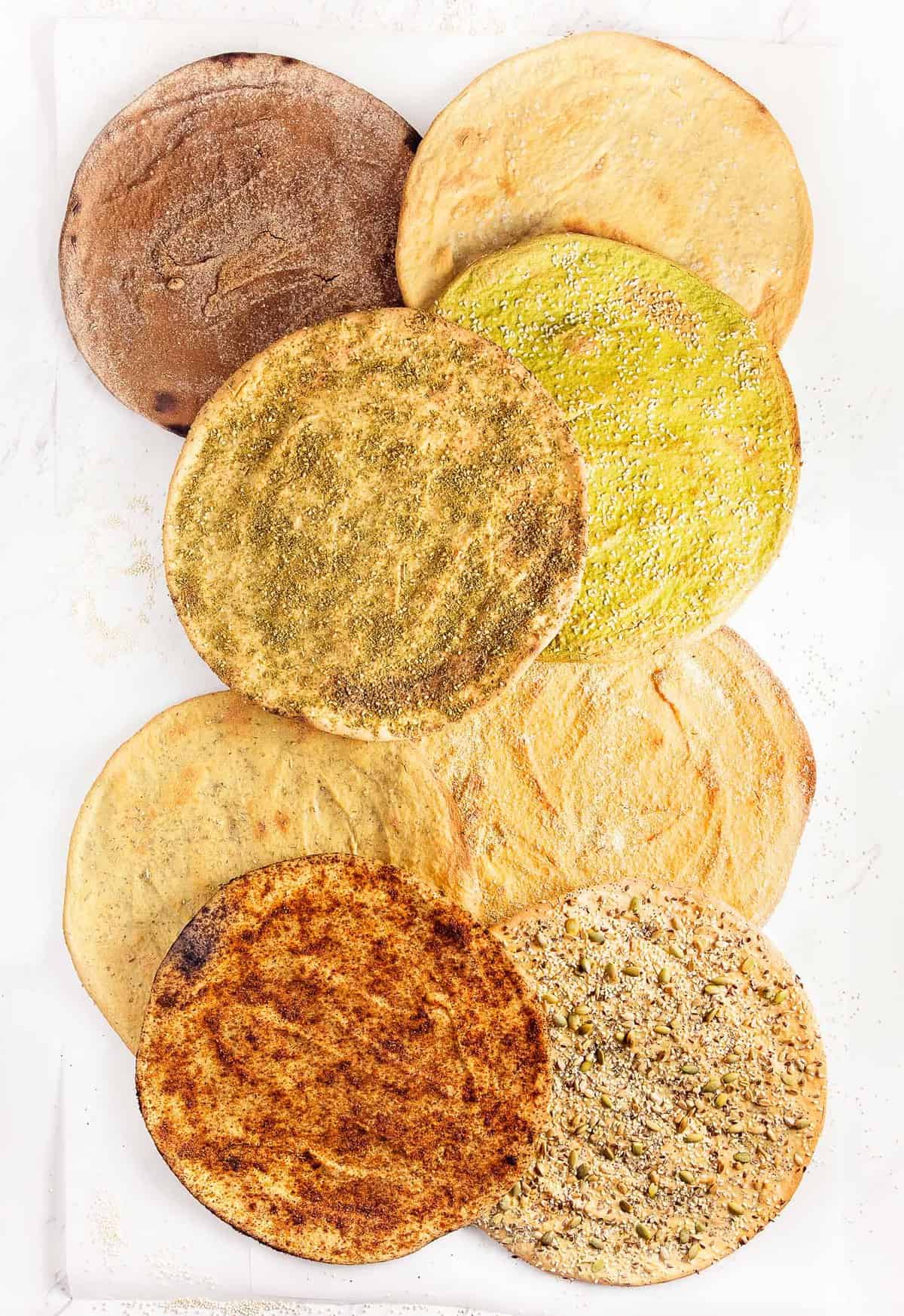 This amazingly simple and easy Quinoa Flatbread is healthy and sure to be a new family favorite.  You just may never buy bread again after tasting these delicious flatbreads. It is versatile and oh so yummy!