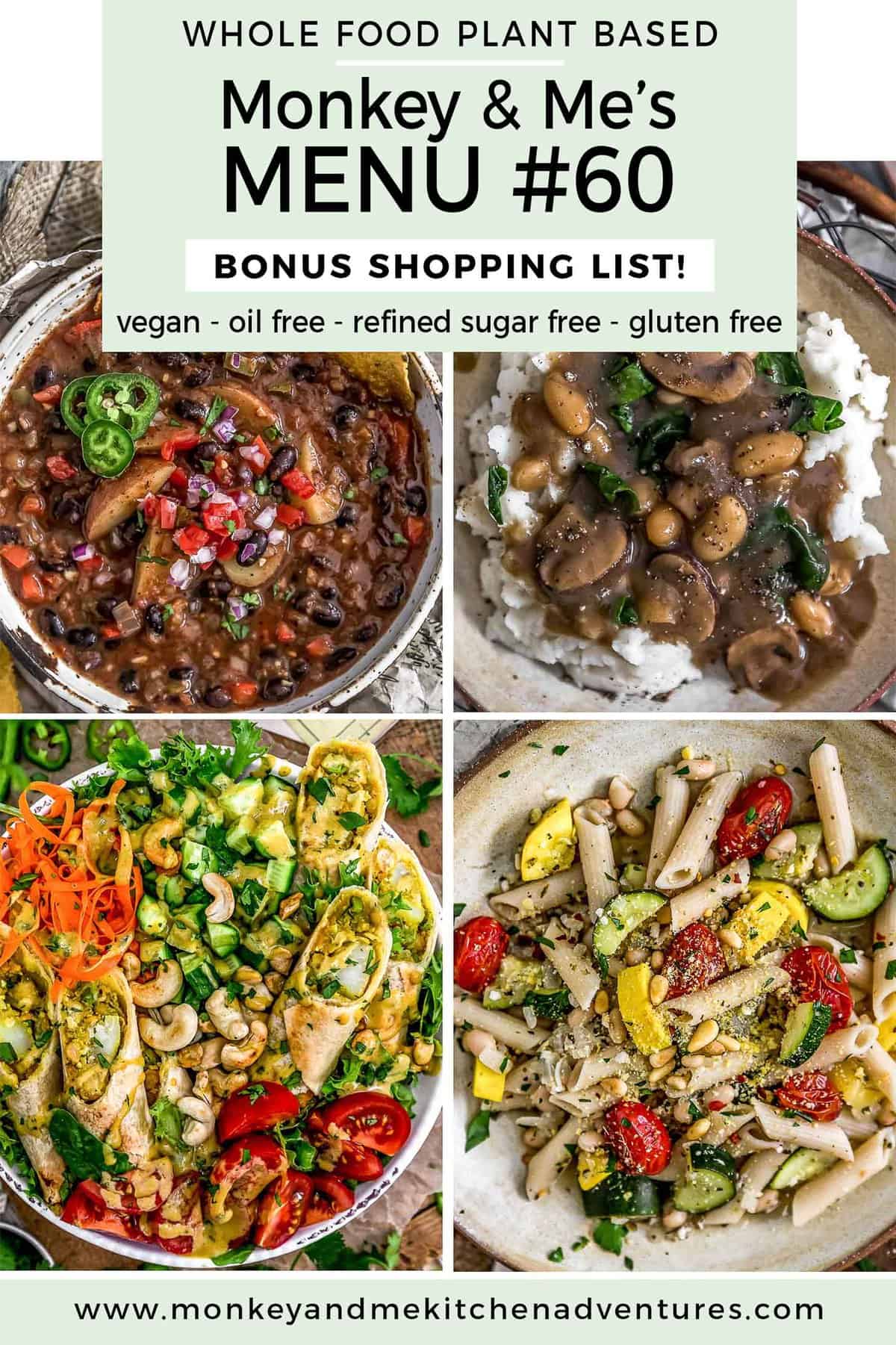 This week's Monkey and Me's Menu features some tasty recipes.  Menu #60 includes a FREE bonus shopping list.  All recipes are Whole Food Plant Based, vegan, plant based, oil free, refined sugar free, no highly processed ingredients, and gluten free.

Downloadable Menu which offers the following:

2 Breakfast ideas
2 Lunch ideas
2 Snack Ideas
5 Dinner Ideas, including a FREE downloaded shopping list (PDF – Below)

A comprehensive (downloadable) shopping list for the 5 Dinners

The shopping list is segmented into the common grocery store sections like "produce, spices, etc." making it easy to pick up these items from your local grocery store.
It also includes product suggestions that are Whole Food Plant Based compliant* for easy reference.  Note: These products are suggestions, please feel free to select your own favorite products.
Includes helpful codes so you can easily subtract items that you choose not to make.

Downloadable Instructions on how the meal plan work.
Note:  The term "Whole Food Plant Based compliant" is from a general standpoint.  There are Whole Food Plant Based diet branches that restrict certain food items.  Our recipes are all Whole Food Plant Based compliant based upon a high-level compliance standpoint. i.e. vegan, plant based, oil free, refined sugar free, minimally processed foods.
Some breakfast, lunch, and snack ideas are simple concepts that require no recipe.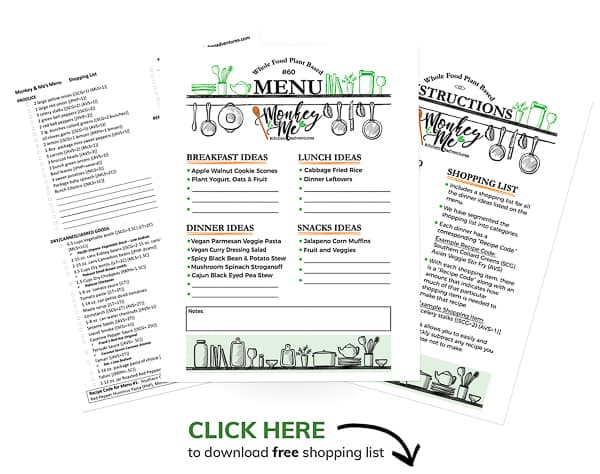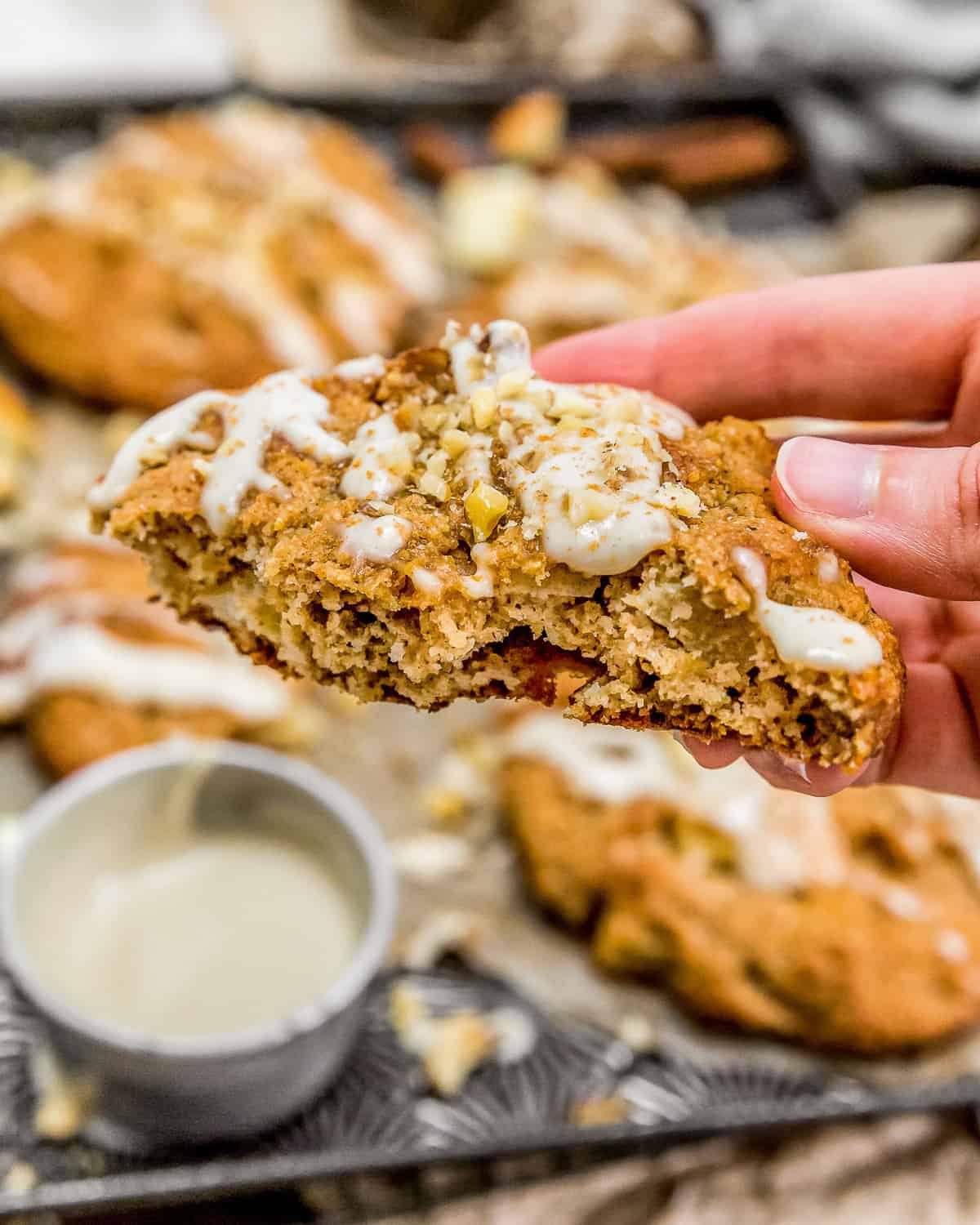 These comforting Apple Walnut Cookie Scones are truly dream worthy. Sweet cinnamon coated apples and tasty walnuts are baked into delicious cookie-scones that are perfect as a breakfast or dessert treat! Tender, soft, crumbly goodness has never been better. Your whole family will be high 5ing you while enjoying this delightful, wholesome treat. Anytime you can have dessert for breakfast, count us in!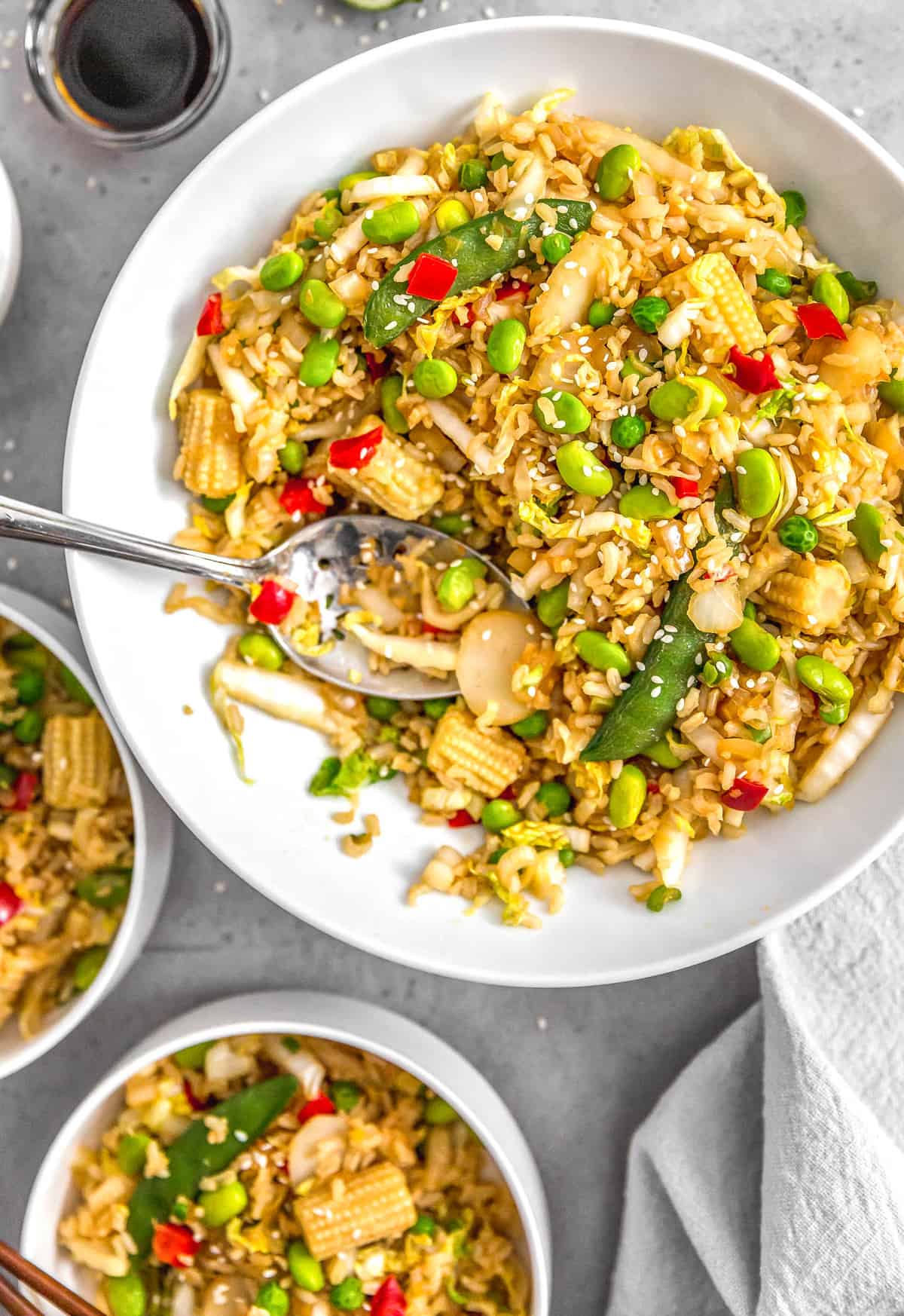 Incredibly easy and fast to make, this Cabbage Fried Rice is bursting with flavor and loaded with tons of veggies; plus, it tastes amazing. The best part is it's ready in 20 minutes or less! Mix and match using your favorite veggies for this healthy and nutritious recipe! A must try Whole Food Plant Based "dinner in minutes" recipe!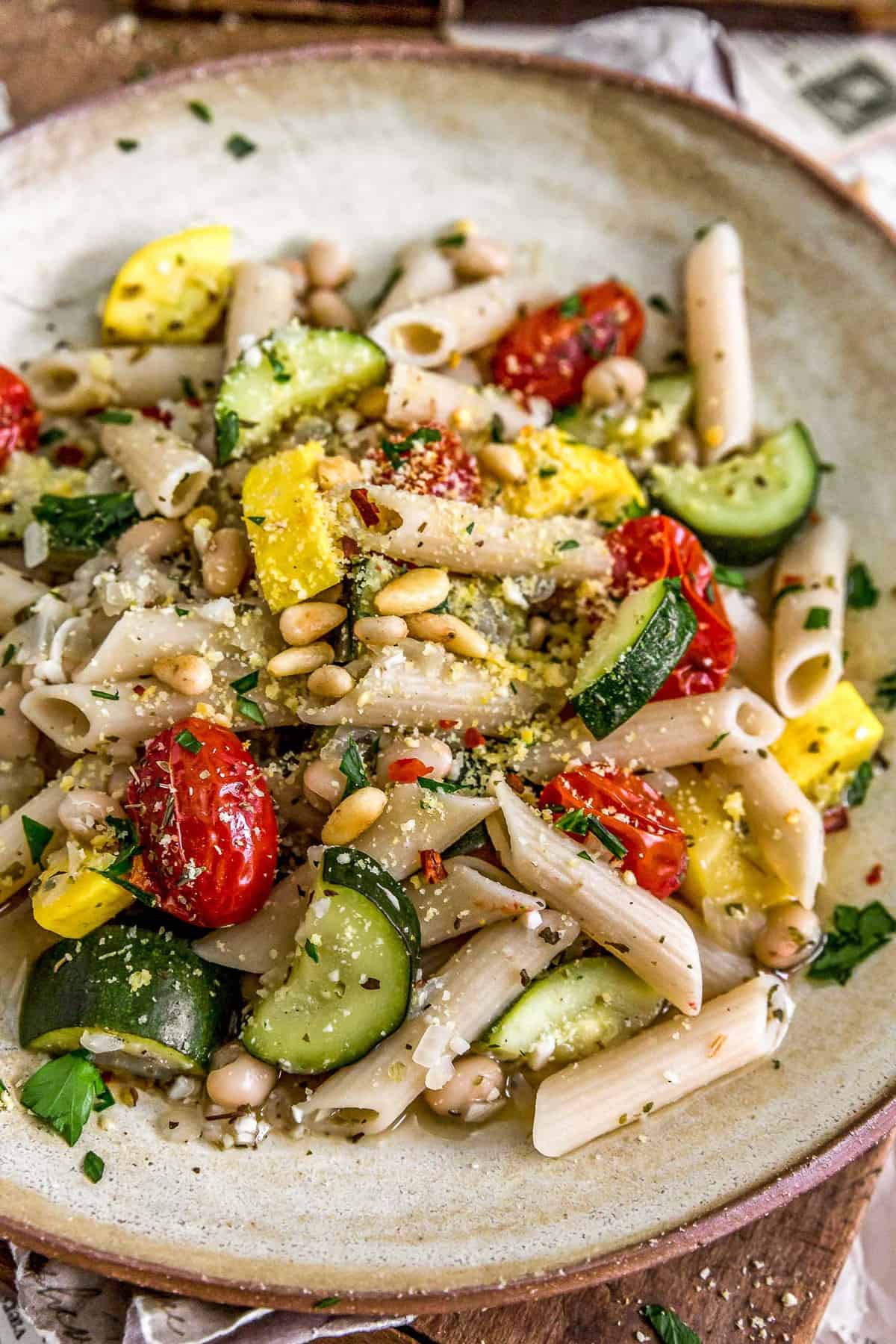 This fresh, comforting, and oh-so-delicious Vegan Parmesan Veggie Pasta dish is brimming with summer stars: zucchini and yellow squash yumminess.  Toasty pine nuts, hearty navy beans, tasty pasta, nourishing garden veggies, and vegan Parmesan cheese makes for a delicious dinner that has everyone running back for seconds. This dish is filled with all your favorite healthy wholesome ingredients.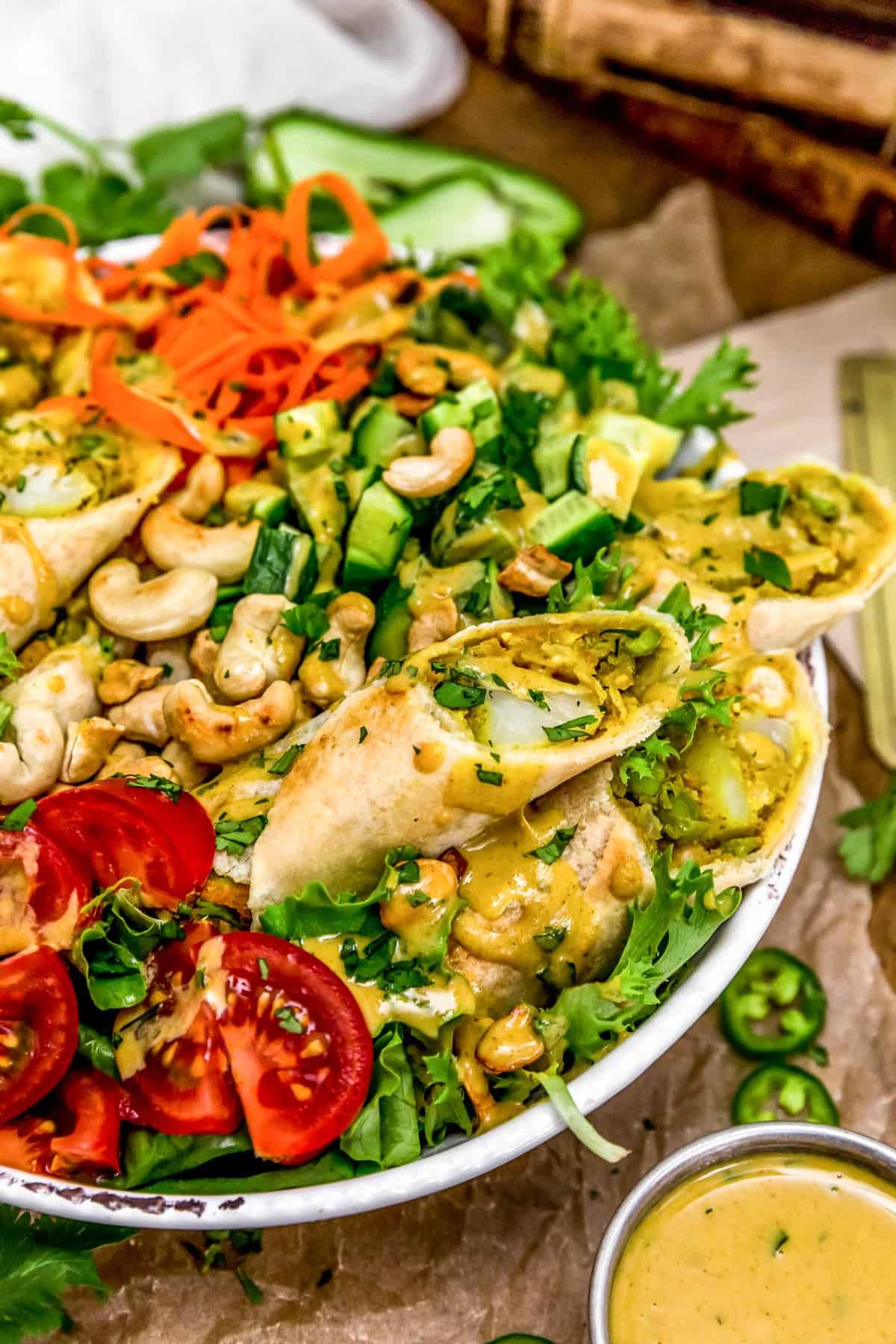 Bold and refreshing, yet sweet and savory, this Vegan Curry Dressing is perfect for a quick and tasty dressing on your favorite salads or veggie bowls. Creamy tahini, tangy rice vinegar, sweet maple syrup, bold tamari, and aromatic curry makes for a flavor-packed salad dressing that is super easy to make and is the perfect dressing to wake up any salad.
This Spicy Black Bean Potato Stew is real comfort food in a bowl. Easy to make and filled with deliciously creamy black beans, hearty baby potatoes and aromatic spices, it is sure to warm you up. It's wholesome, healthy, hearty, and oh so flavorful, and it has a secret ingredient that gives exceptional dimension to this stew. Don't miss this tasty stew!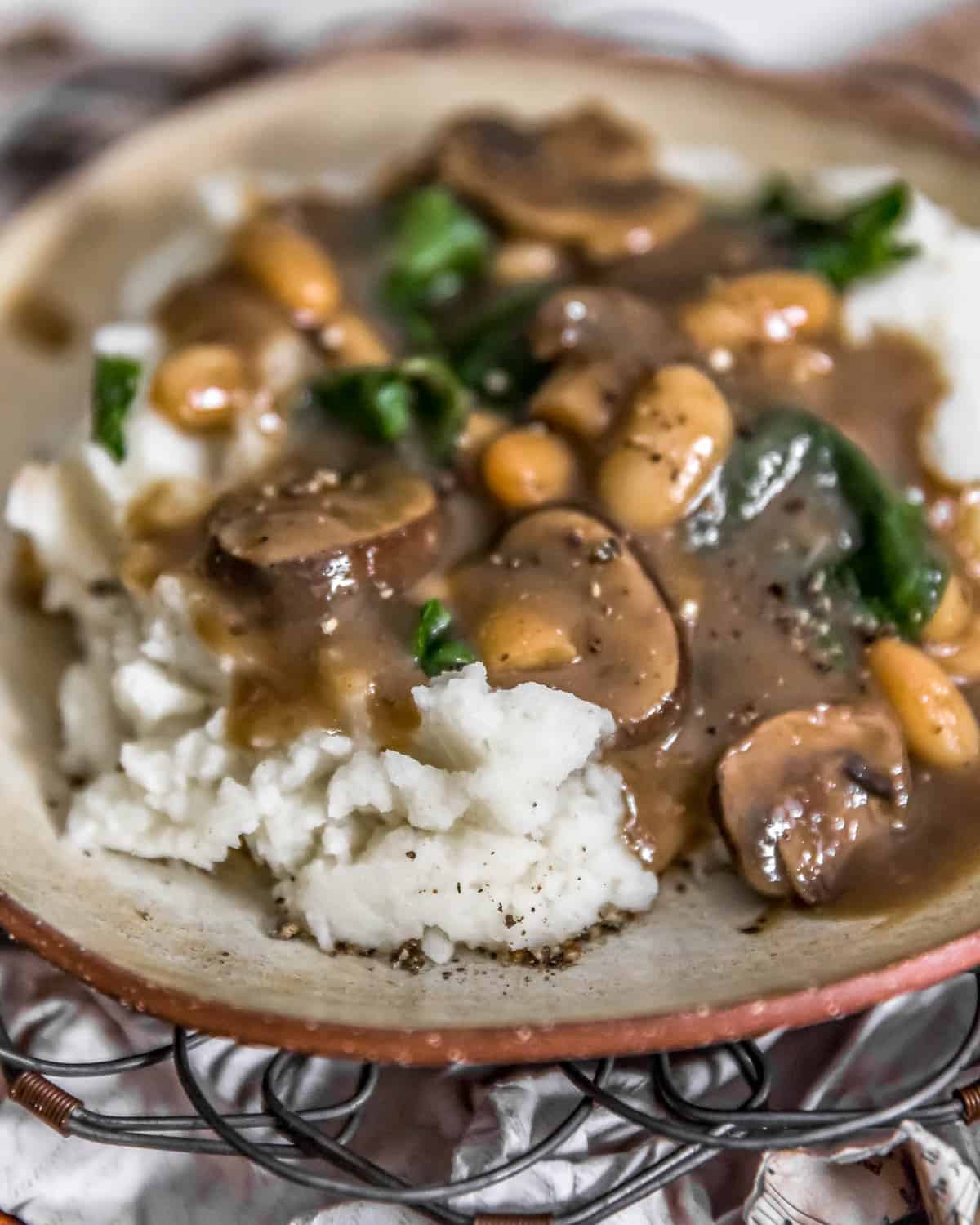 When the words comfort and food are involved, we just can't help but do our happy dance! And wow, do we have a healthy, delicious comfort food meal for you!  Rich, creamy and bursting with flavor, this Vegan Mushroom Spinach Stroganoff is fantastic meal the whole family will love! Serve over pasta, mashed potatoes, or rice for an ultimate warming dish that is perfect for cold winter days.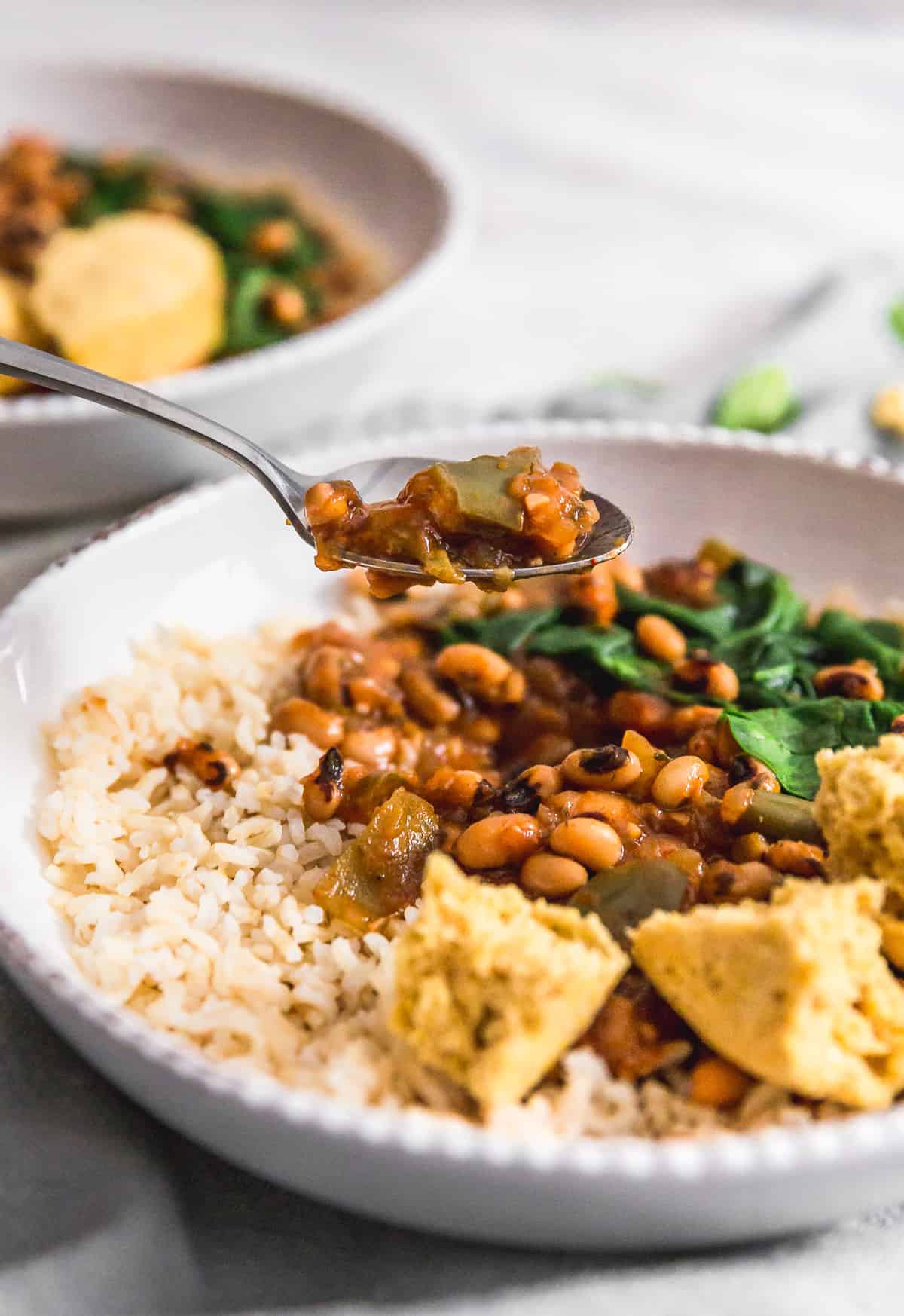 Flavorful, hearty, and yummy, this Instant Pot Cajun Black Eyed Pea Stew is as easy as it is delicious.  Perfectly seasoned with Cajun spices, this Whole Food Plant Based vegan stew is sure to become one of your favorite comfort foods making this dish a tasty Whole Food Plant Based recipe!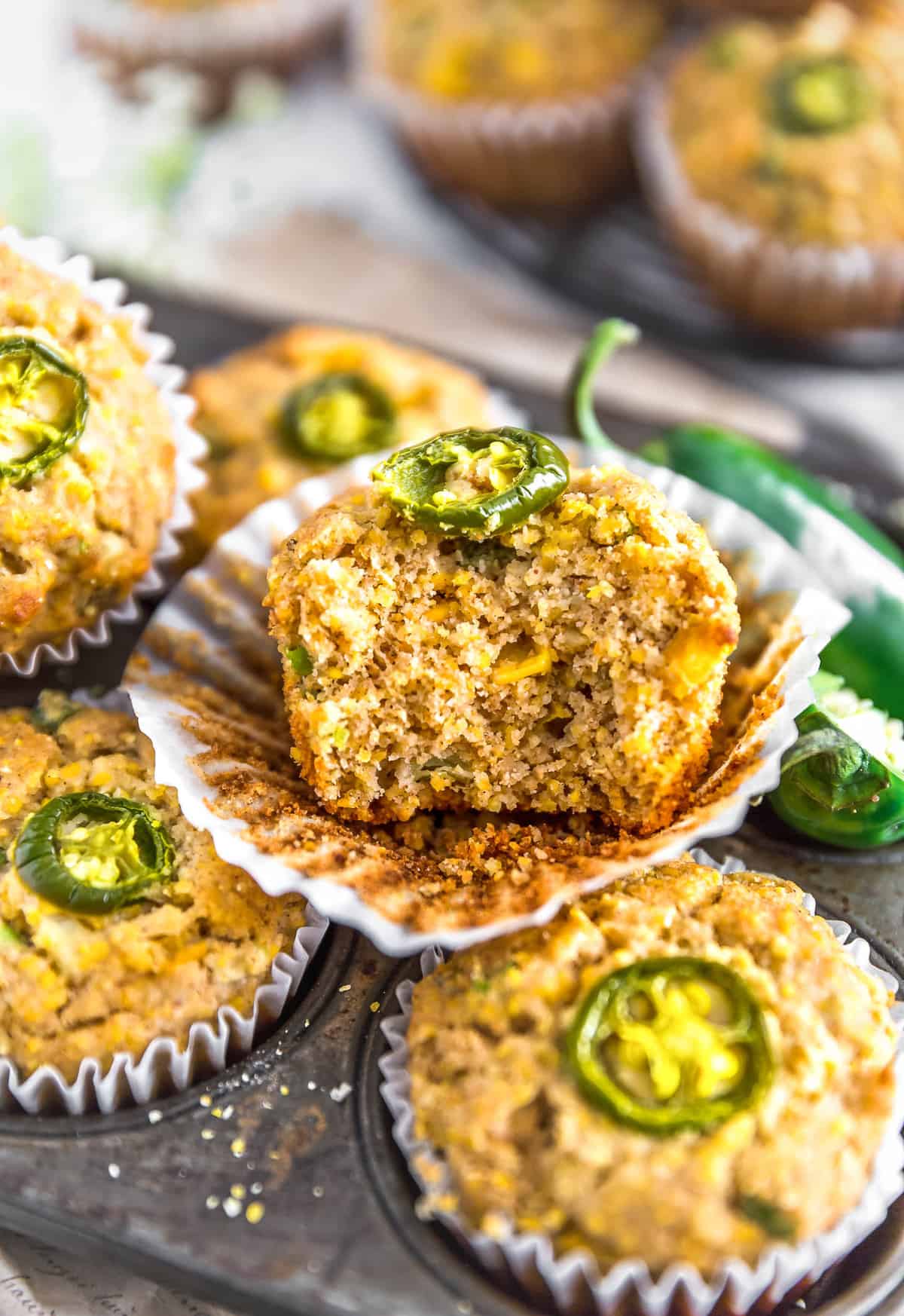 Full of Southwestern flair and flavor, these healthy Jalapeño Corn Muffins are so unbelievably delicious, you won't want to stop eating them. Perfectly fluffy, packed with exceptional yumminess, and topped with a pickled jalapeño sends these savory muffins over the top to flavor town! An awesome accompaniment to any dish!