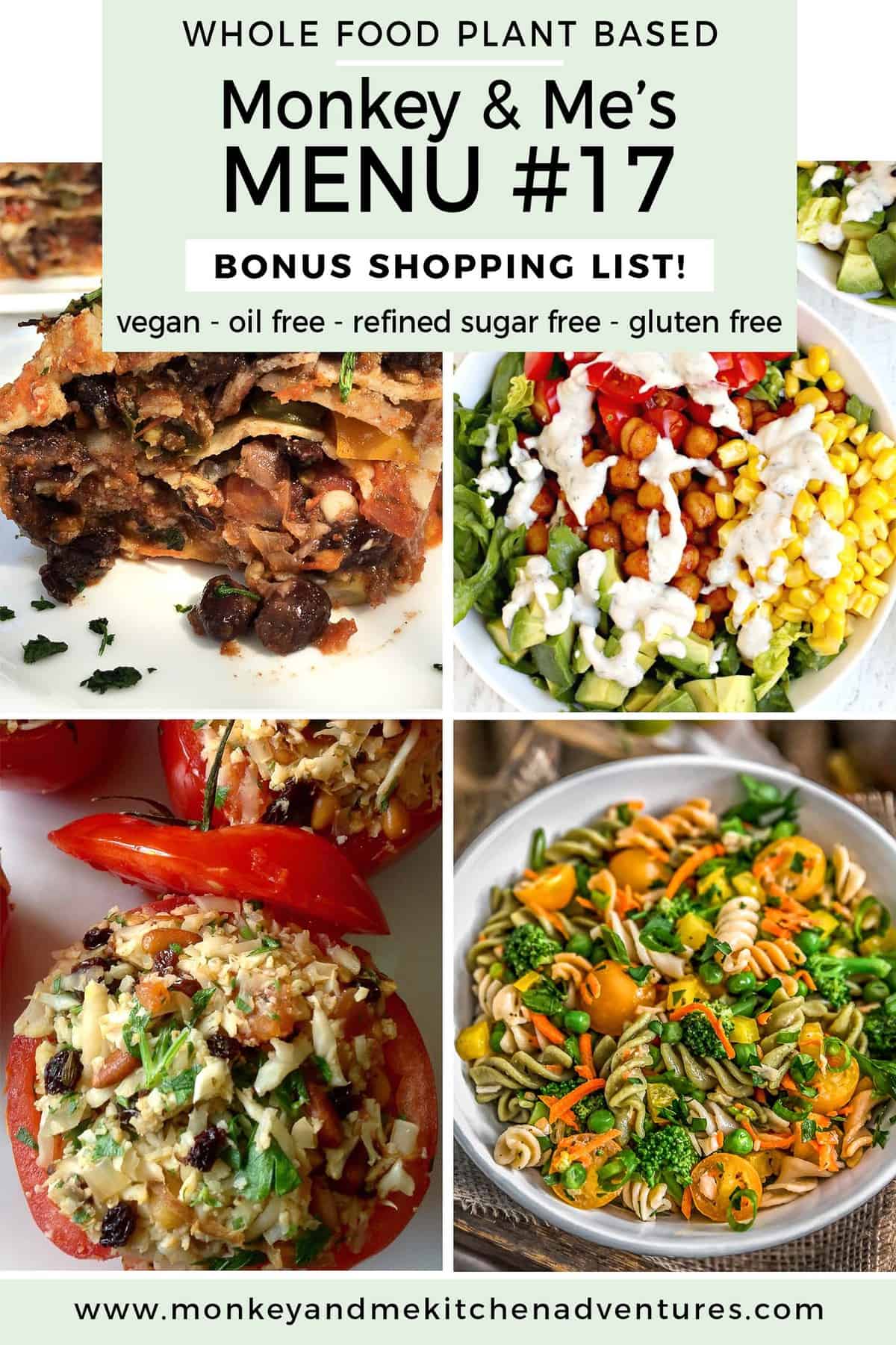 We are so happy to share with you that our Monkey and Me Weeknight Meal Menus have been huge hits.  We received a lot of excellent feedback.  This week we are very excited to feature some of our favorite foodie bloggers in Menu #17.  All recipes are Whole Food Plant Based, vegan, no oil, no refined sugar, no highly processed ingredients, and gluten free.
This super tasty menu features delicious dishes from Chef Katie at Plants Rule, Amy Katz at Veggies Save the Day, Natalie and Lexie at Wholly Plants, and Audrey at Unconventional Baker, as well as featuring a few of our own dishes. 😉
Menu #17 meal plan features the following:
Downloadable Menu which offers the following:

2 Breakfast ideas
2 Lunch ideas
2 Snack Ideas
5 Dinner Ideas, including a shopping list

A comprehensive (downloadable) shopping list for the 5 Dinners

The shopping list is segmented into the common grocery store sections like "produce, spices, etc." making it easy to pick up these items from your local grocery store.
It also includes product suggestions that are Whole Food Plant Based compliant* for easy reference.  Note: These products are suggestions, please feel free to select your own favorite products.
Includes helpful codes so you can easily subtract items that you choose not to make.

Downloadable Instructions on how the meal plan work.
Note:  The term "Whole Food Plant Based compliant" is from a general standpoint.  There are Whole Food Plant Based diet branches that restrict certain food items.  Our recipes are all Whole Food Plant Based compliant based upon a high-level compliance standpoint. i.e. vegan, no oil, no refined sugar, minimally processed foods.
Some breakfast, lunch, and snack ideas are simple concepts that require no recipe.
Meal Plan #17 includes the following recipes: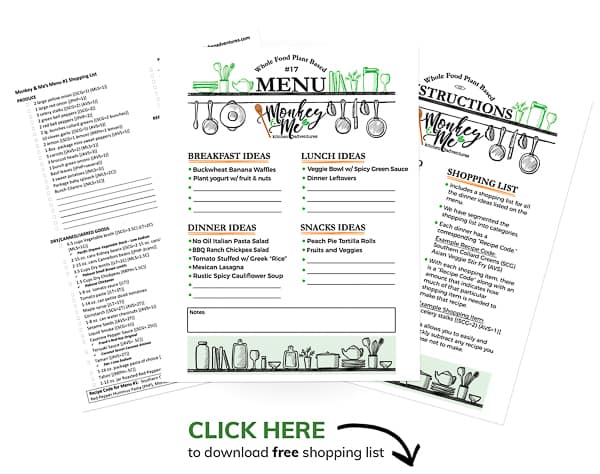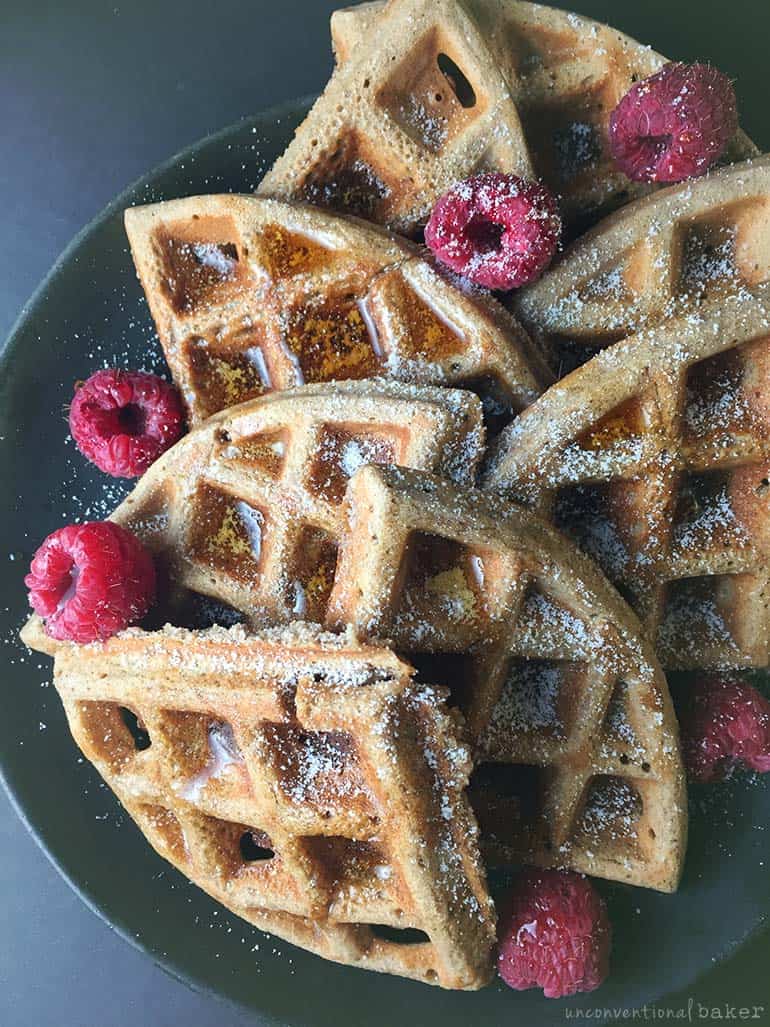 Flavorful, simple, and oh-so-yummy, these gorgeous Buckwheat Banana Waffles are crispy on the outside and tender on the inside. A perfect way to start the day. Made with wholesome healthy ingredients and topped with your favorite fruit, these tasty waffles are sure to put a smile on your face. Head on over and check it out!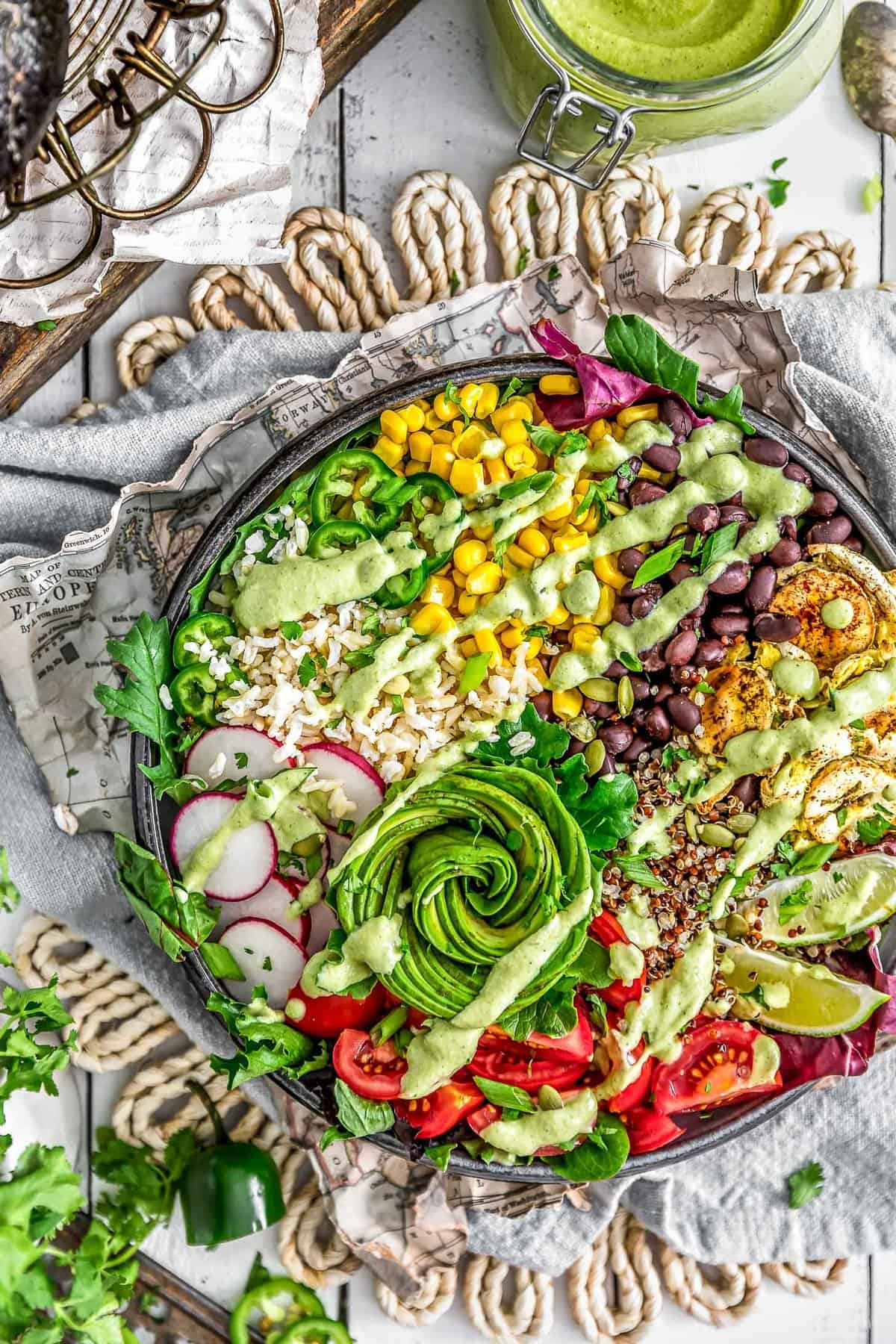 There's something extra special about wholesome and nutritious veggies piled high over a bed of greens and nestled in a bowl, and those sauces that are drizzled on top are eve-ry-thing! This vibrant sauce fits the bill! Creamy, flavorful with a little *POW* of heat this Spicy Green Chile Cilantro Sauce is packed full of deliciousness that is sure to please.  Fresh cilantro and zesty lime pairs perfectly with the spicy green chilies, adding a light cooling freshness. Head on over and check it out!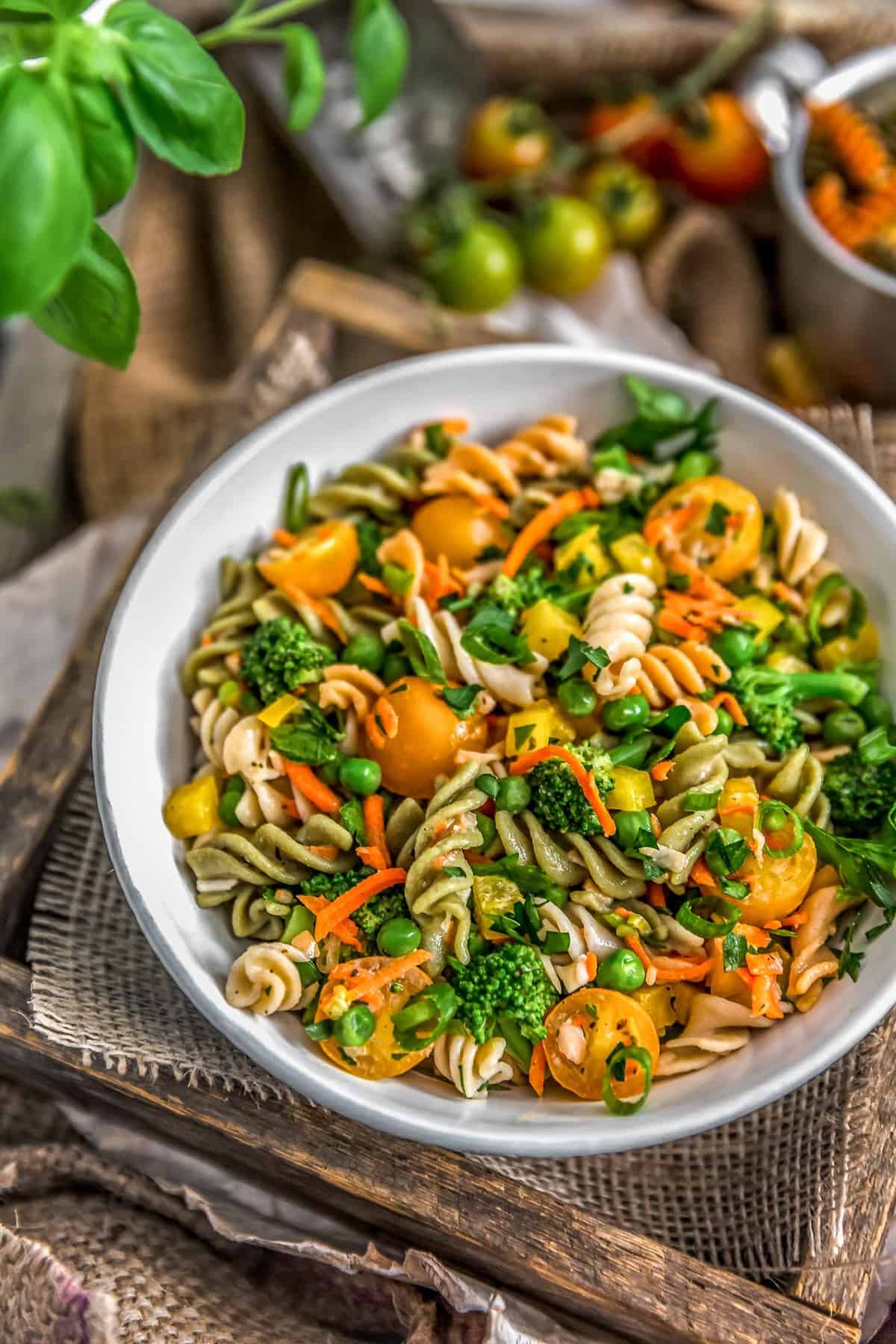 Hanging on to the summer feels with this vibrant, tangy, and *get in my belly* deliciousness No Oil Italian Pasta Salad. This fun, classic picnic dish is reinvented with a healthy twist and packed with nutritious veggies, gluten free tri-colored pasta, and lively dressing. This No Oil Italian Pasta Salad is fast, easy, and an awesome plant based dish that everyone will want seconds. It's light, refreshing, and perfect for family gatherings or just when you need some summer sunshine vibes. Head on over and check it out!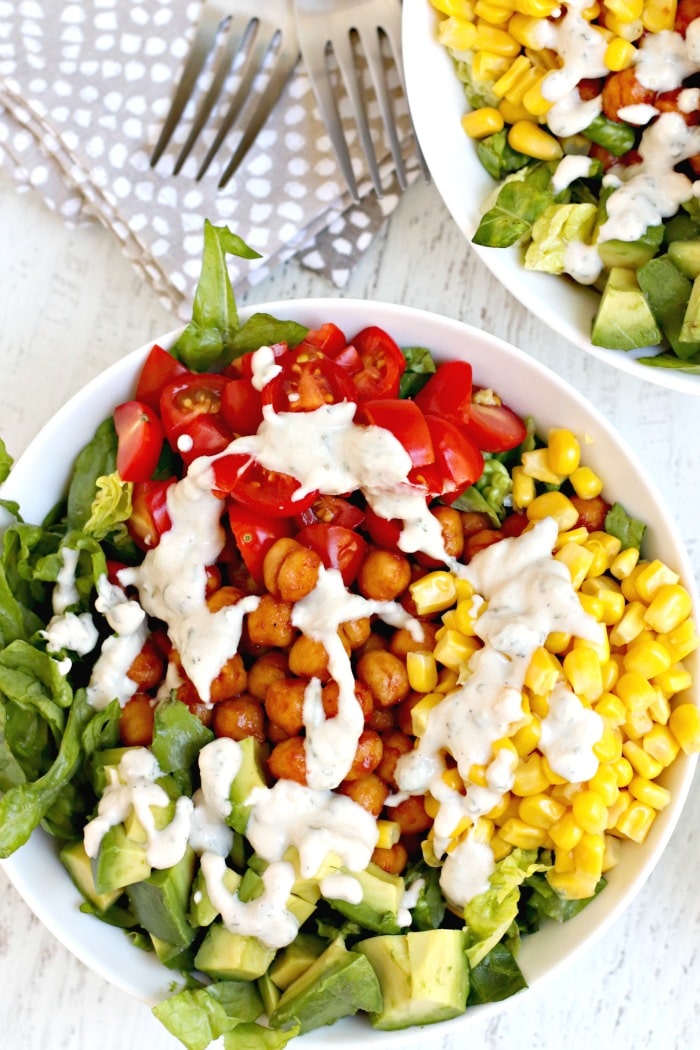 This beautiful, hearty, and bursting with flavor BBQ Ranch Chickpea Salad combines two delicious flavors in one wholesome bowl. Pan-fried BBQ Chickpeas are pilled high over a nutritious bed of greens, sweet corn, juicy tomatoes, creamy avocados, and topped with a delicious drizzle of cashew style vegan Ranch dressing. A tasty salad the whole family with love. Head on over and check it out!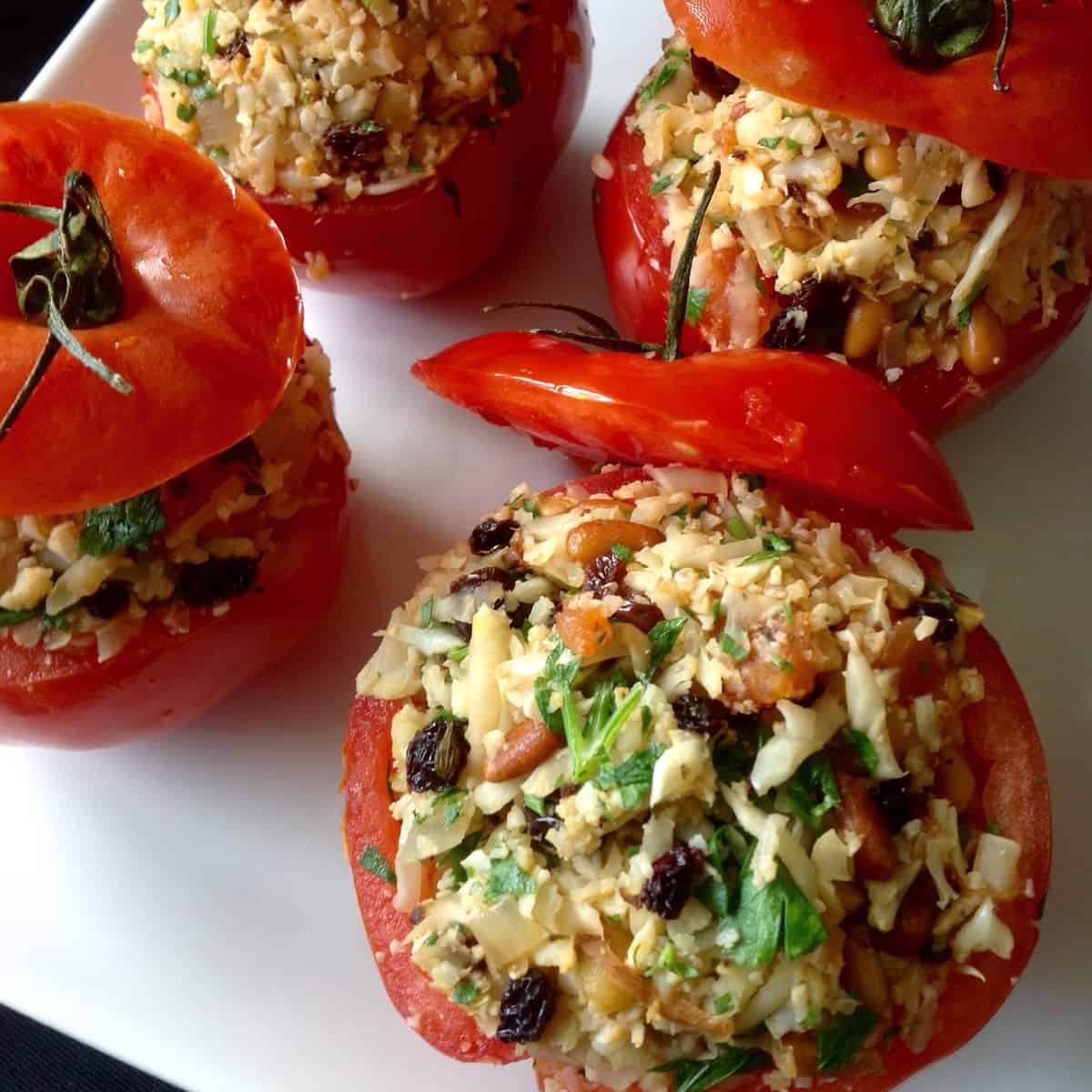 Hearty, comforting, and brimming with flavor these gorgeous Brandywine Tomatoes Stuffed with Greek Cauliflower "Rice" are a perfect dinner meal. Head on over and check it out! A low carb stuffing using tasty cauliflower and tossed with onions, pine nuts, currants, and aromatic herbs and spices is the perfect filling for delicious tomatoes. This flavorful dish is sure to have you coming back for seconds. Head on over and check it out!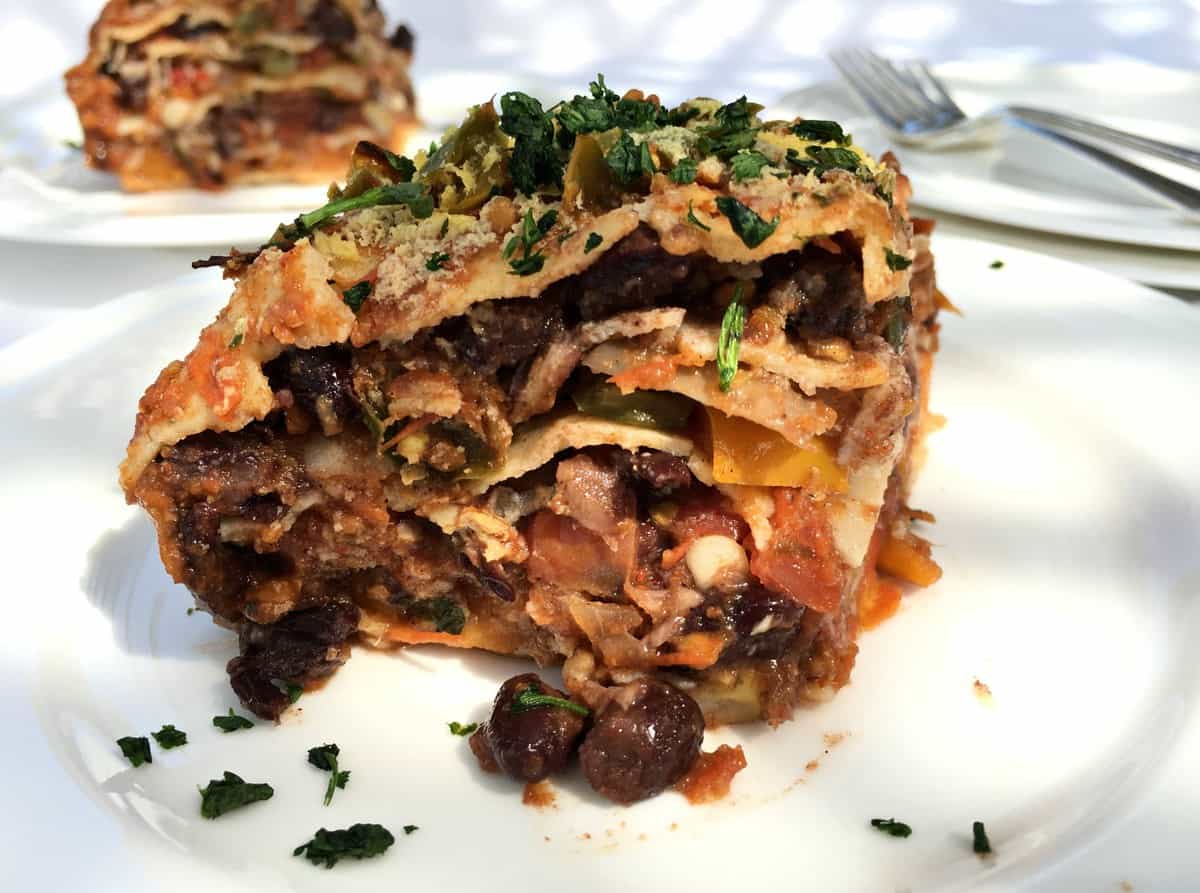 Grab your fork get ready to dive into this comforting, flavorful, and completely irresistible Mexican Lasagna. Delicious filling of black beans, corn, bell peppers, greens, and spices all tossed in a flavorful sauce, layered with corn tortillas, and topped with jalapeños and cilantro for a gorgeous stack of goodness. This dish will have the whole family running to the dinner table. Head on over and check it out!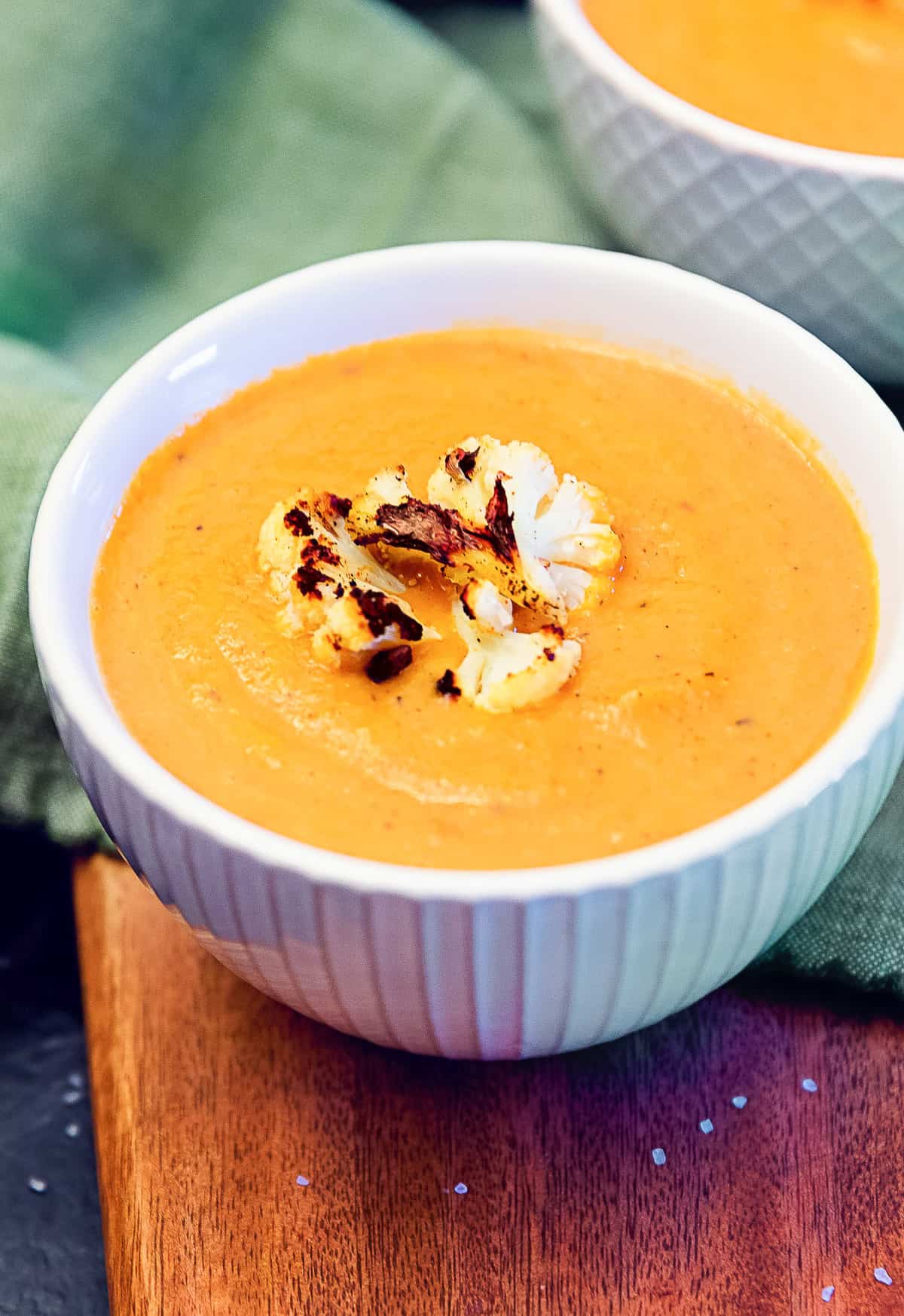 Flavorful, smoky, and oh-so-creamy this Rustic and Spicy Cauliflower Soup is bursting with irresistible deliciousness. Hearty cauliflower, carrots, celery, and spices create a beautiful vibrant and rich soup that is perfect to cuddle up with a nice blanket. A nutrient packed soup with a delightful "kick" of spice is sure to put a smile on your face. Head on over and check it out!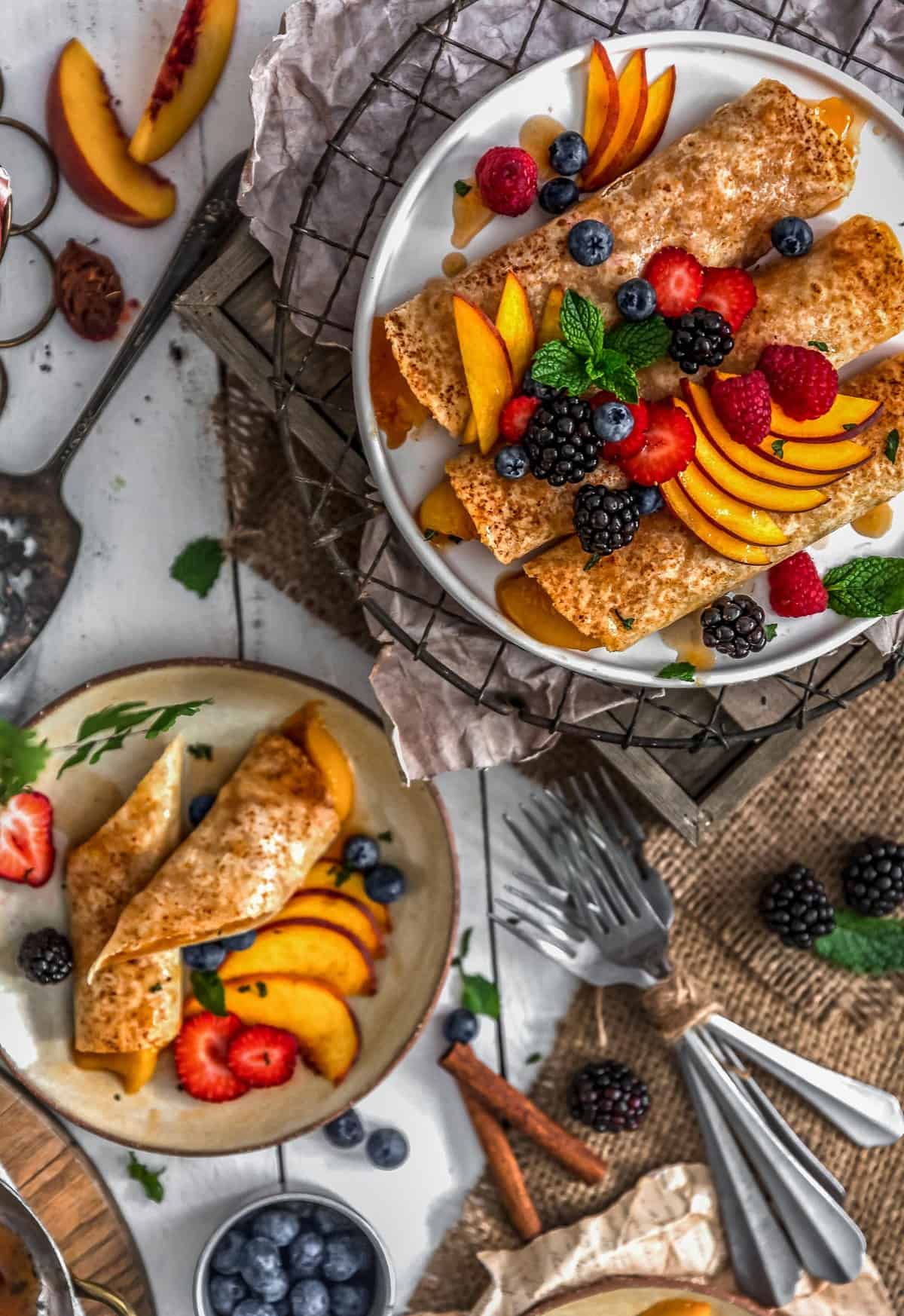 Healthy eating + sweet deliciousness = Peach Pie Tortilla Rolls! Ooey gooey peach filling, wrapped in crispy cinnamon shell is everything you could ever want in a healthy pie peach.  Instead of a traditional pie crust, these beauties are wrapped in a maple-glazed almond flour tortilla, then baked into toasty perfection. Rich, flavorful and spiced perfectly with cinnamony goodness, they are lightly sweet, yet taste decadent.  To be honest, totally tried using a fork, but couldn't shovel this tasty peach pie in fast enough, so totally calling them "hand pies." Messy but oh-so-worth it! Not only is the peach pie filling delicious, it's versatile. Instead of tortilla rolls, you can place the peach filling on plant yogurt and top with some yummy granola for a peaches and cream parfait, or you can put it on top of nice cream for a peach pie sundae. There are so many delicious ways to use this awesome filling. Head on over and check it out!