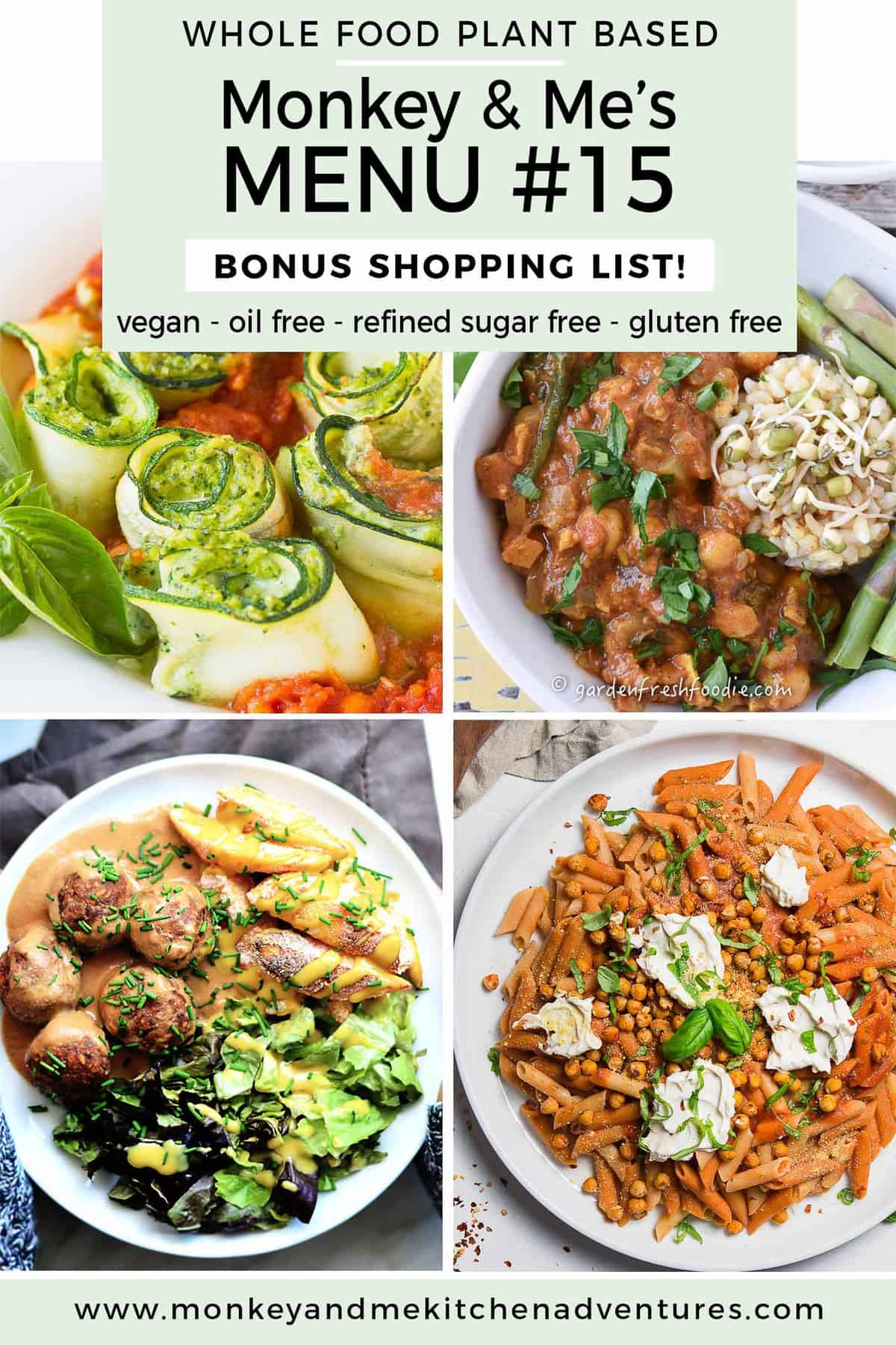 We are so happy to share with you that our Monkey and Me Weeknight Meal Menus have been huge hits.  We received a lot of excellent feedback.  This week we are very excited to feature some of our favorite foodie bloggers in Menu #15.  All recipes are Whole Food Plant Based, vegan, no oil, no refined sugar, no highly processed ingredients, and gluten free.
This super tasty menu features delicious dishes from Sonia at The Bright Bird, Beth at Pass the Plants, Jessica at Garden Fresh Foodie, and Monique at Feenin For Greens, as well as featuring a few of our own dishes. 😉
Menu #15 meal plan features the following:
Downloadable Menu which offers the following:

2 Breakfast ideas
2 Lunch ideas
2 Snack Ideas
5 Dinner Ideas, including a shopping list

A comprehensive (downloadable) shopping list for the 5 Dinners

The shopping list is segmented into the common grocery store sections like "produce, spices, etc." making it easy to pick up these items from your local grocery store.
It also includes product suggestions that are Whole Food Plant Based compliant* for easy reference.  Note: These products are suggestions, please feel free to select your own favorite products.
Includes helpful codes so you can easily subtract items that you choose not to make.

Downloadable Instructions on how the meal plan work.
Note:  The term "Whole Food Plant Based compliant" is from a general standpoint.  There are Whole Food Plant Based diet branches that restrict certain food items.  Our recipes are all Whole Food Plant Based compliant based upon a high-level compliance standpoint. i.e. vegan, no oil, no refined sugar, minimally processed foods.
Some breakfast, lunch, and snack ideas are simple concepts that require no recipe.
Meal Plan #15 includes the following recipes: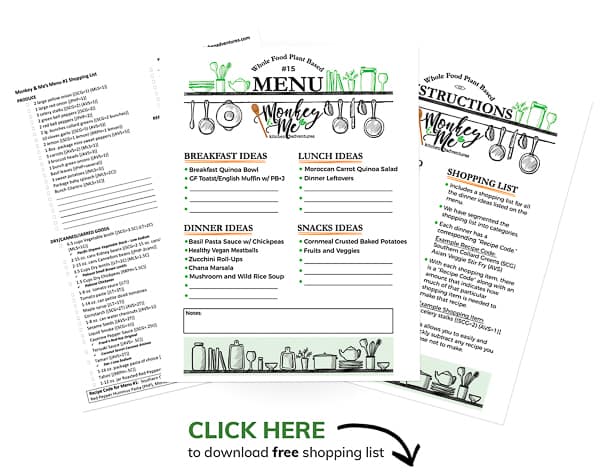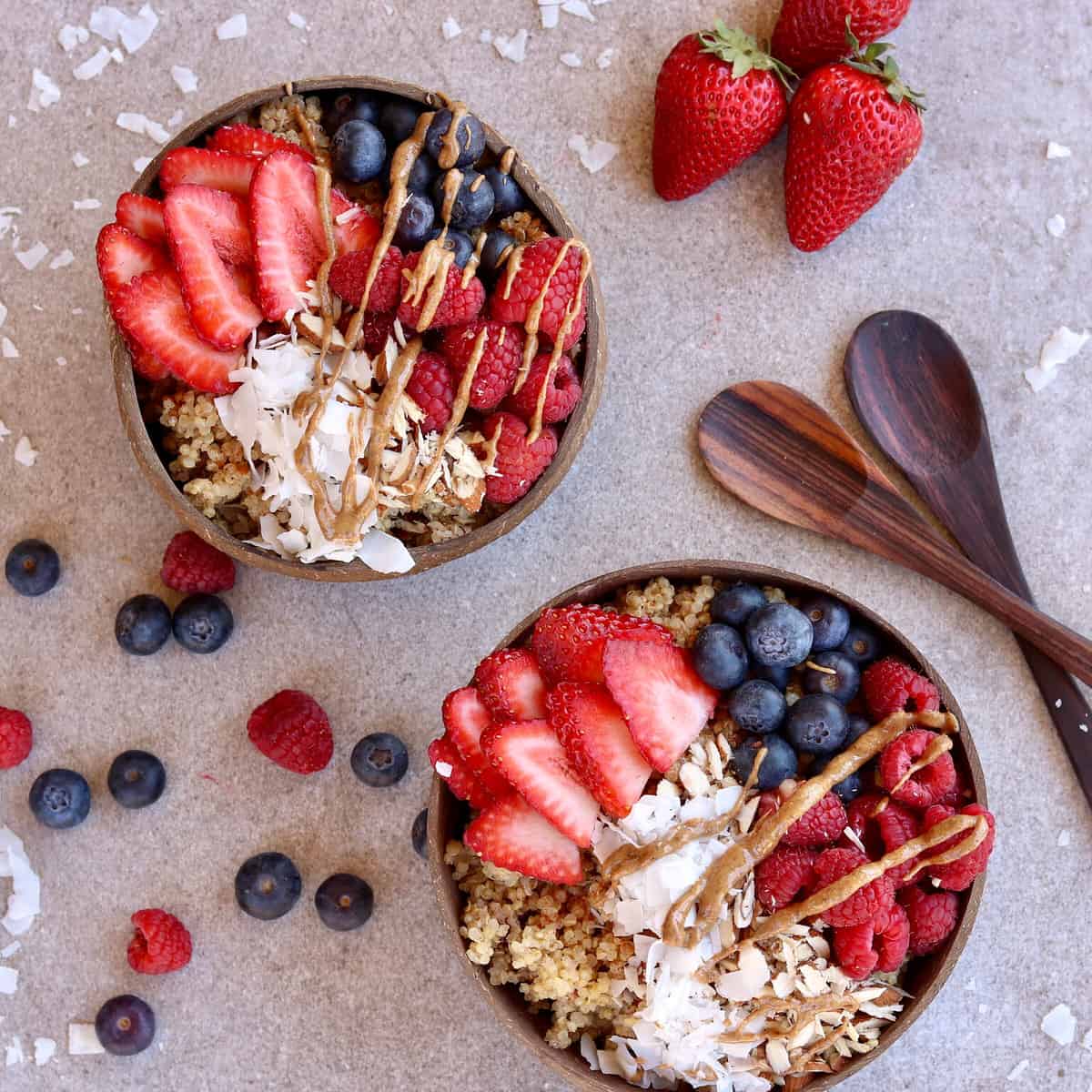 Hearty, filling, and delicious quinoa is seasoned with aromatic spices and topped with gorgeous fresh fruit, crunchy coconut flakes, creamy almond butter for an amazing breakfast bowl. This satisfying Breakfast Quinoa Bowl is a perfect way to start the day. Head on over and check it out!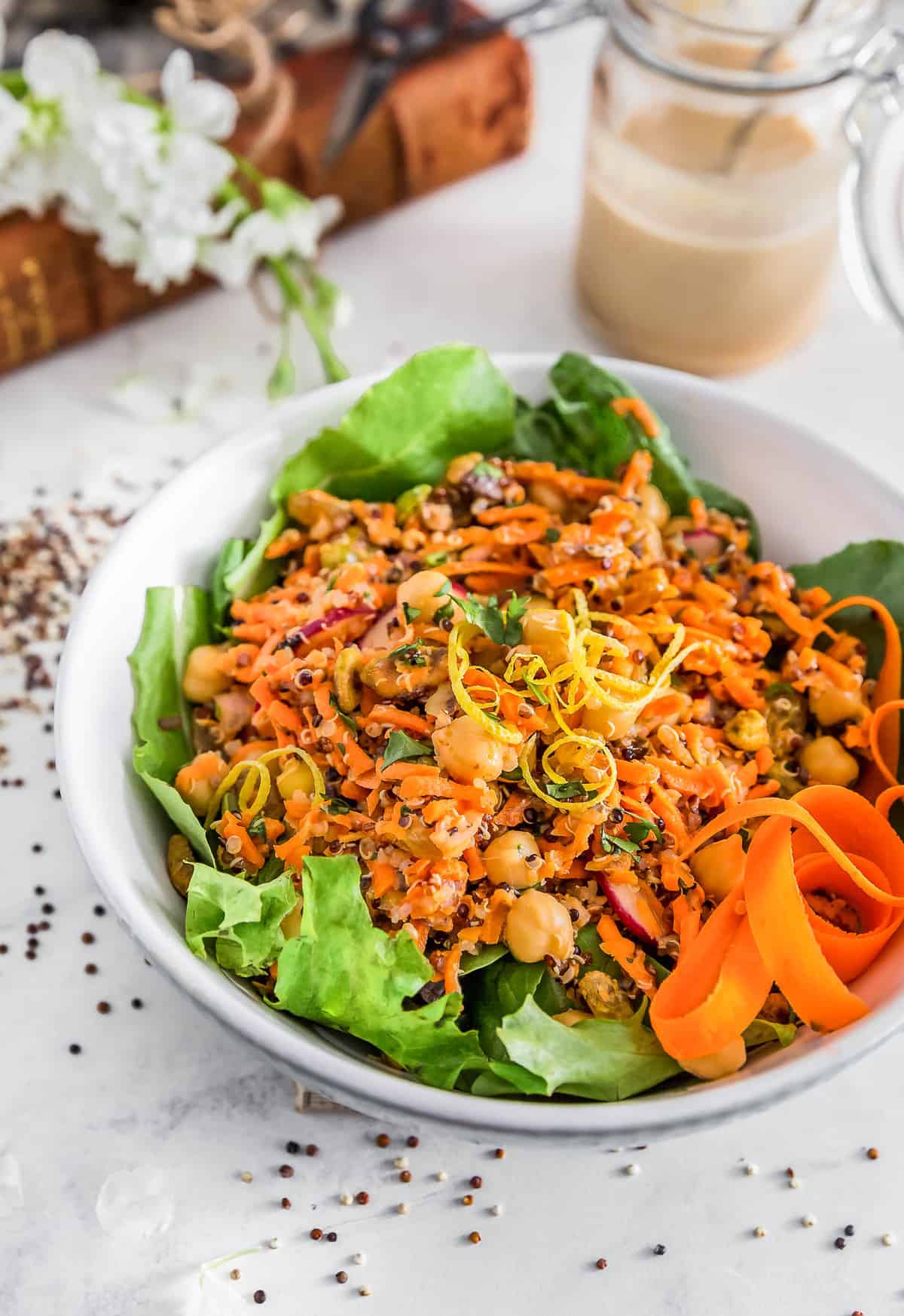 Incredibly easy and fast to make, this sweet and savory No Oil Moroccan Carrot Quinoa Salad gives a hint of Middle Eastern spices and is full of flavor, tang, and crunch.  Filled with luscious golden raisins, crunchy carrots, radishes, and pistachios, then tossed all together with beautiful tri-colored quinoa and chickpeas; it packs a healthy  and hearty punch. This recipe boasts no oil and is so delicious making it an ultimate Whole Food Plant Based salad recipe! Head on over and check it out!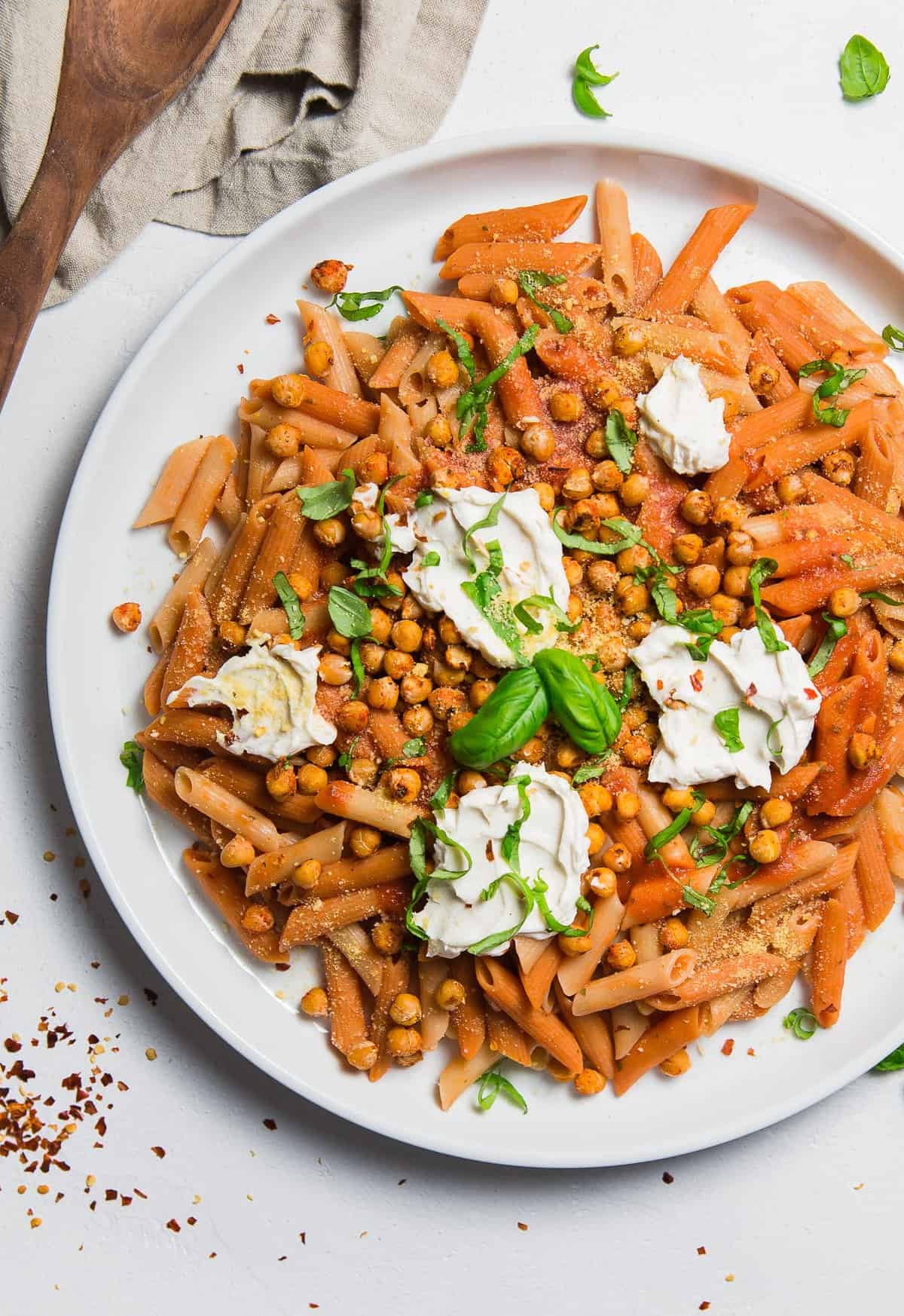 Fresh, rich, and oh-so-yummy, this Easy Basil Pasta Sauce Topped with Roasted Chickpeas is absolutely delicious and SO easy to make.  Flavorful homemade pasta sauce with strained tomatoes, spices, and fresh basil will make you forget all about jarred sauces, and the chickpeas are like tasty little bits of joy! Head on over and check it out!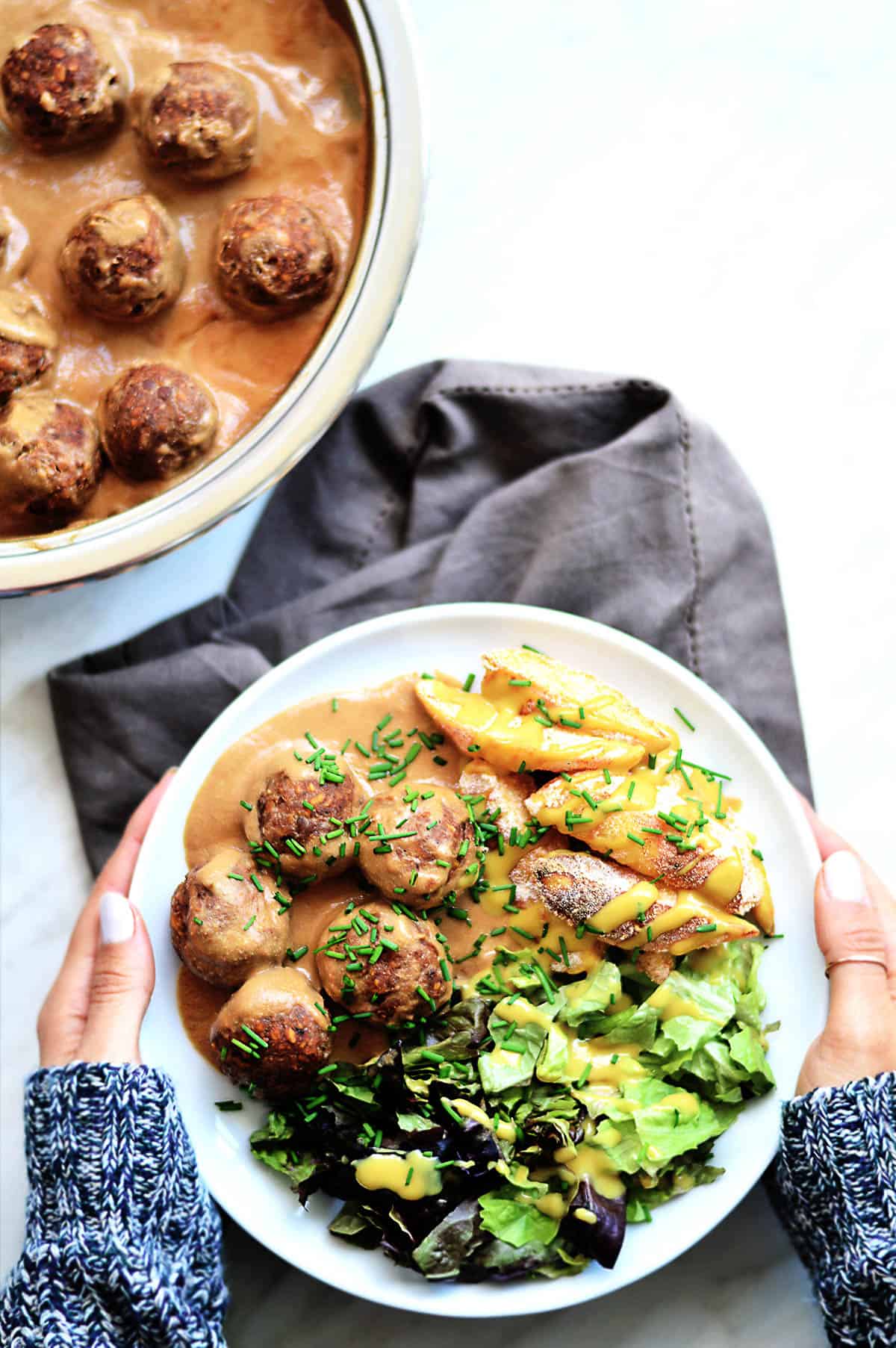 These incredibly Healthy Vegan Meatballs made of hearty lentils and nutrient-packed oats are slathered in a flavorful, rich, and creamy gravy. Served with a healthy cooked collards and tasty baked potato wedges, you have a fabulous dish that will have the whole family running to the table. Head on over and check it out!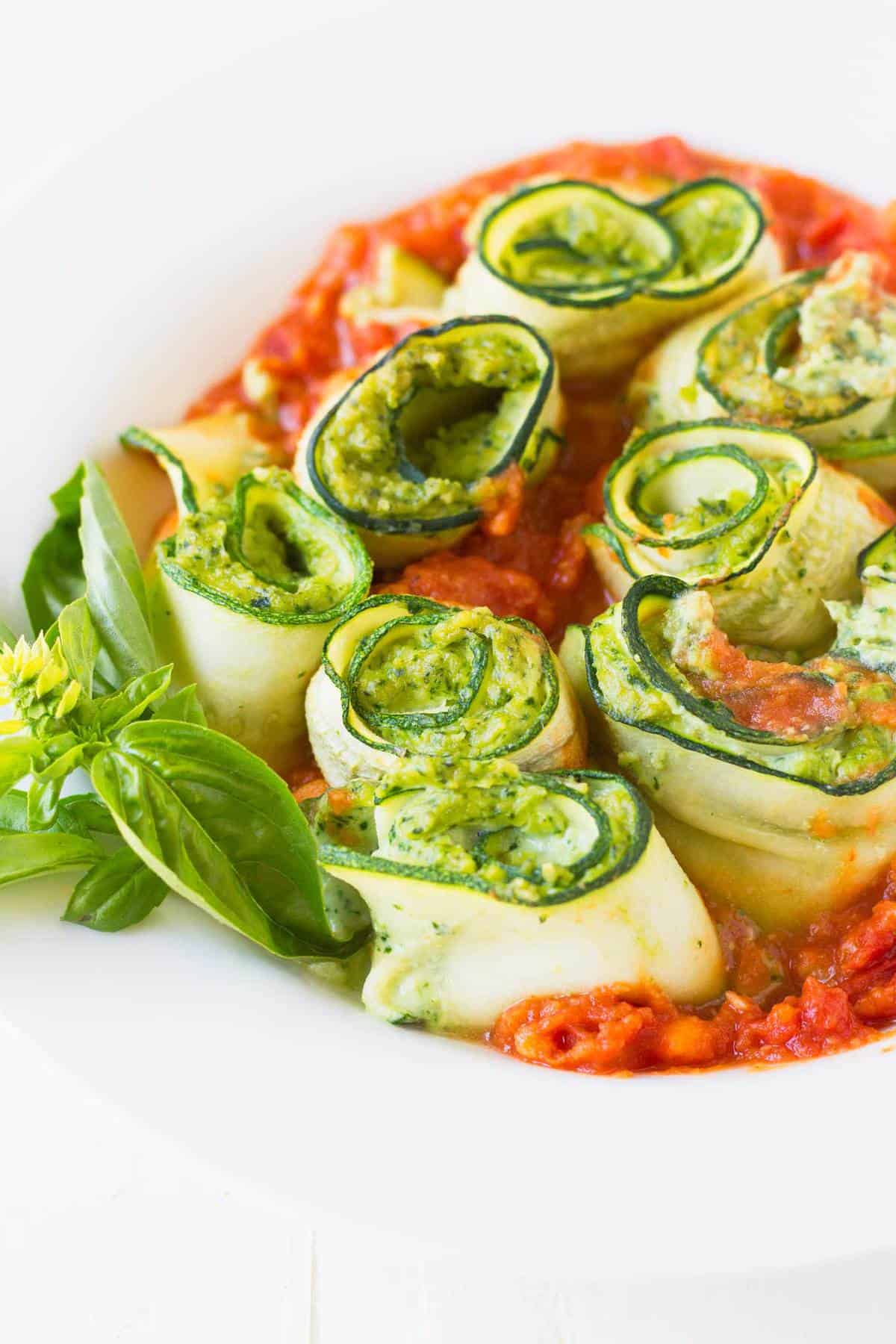 When it comes to protein this flavorful, satisfying, and oh-so-yummy dish is packing a PUNCH with a whopping 21g per serving. Nutritious zucchini is ribboned, filled with a hearty tofu mix, gently rolled-up, and nestled in a delicious marinara sauce and baked to perfection for a fabulous meal that is sure to put a smile on your face. Head on over and check it out!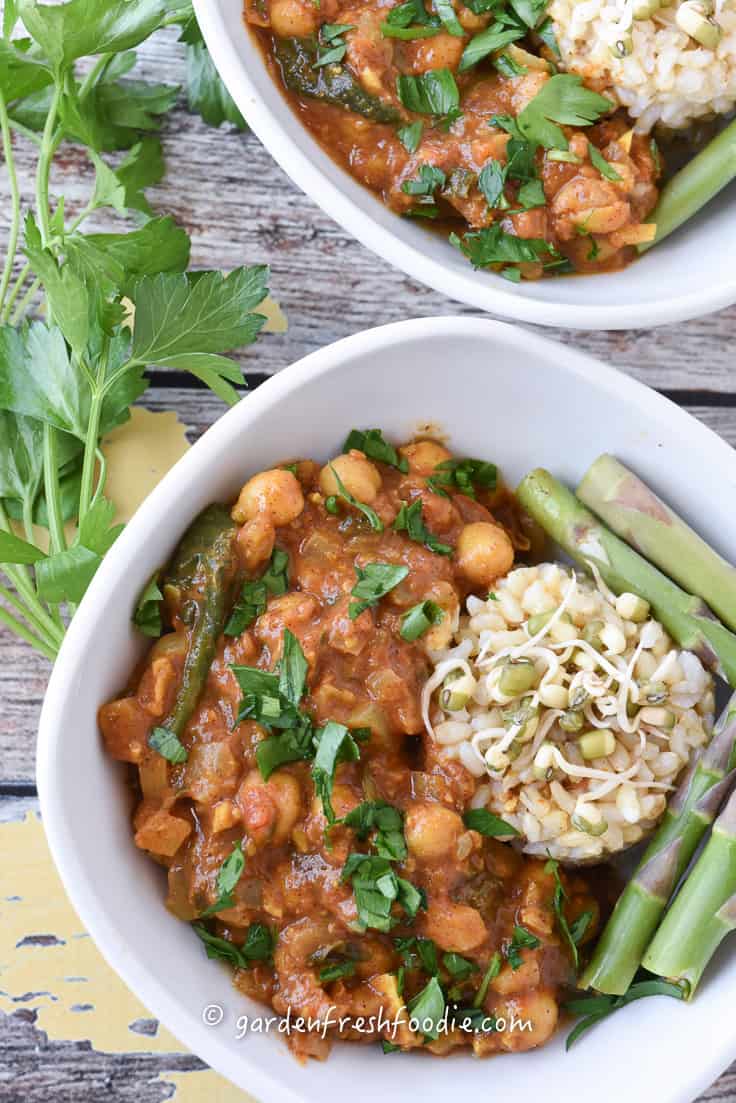 Grab a bowl and get ready to pill high with this delicious, flavorful, and cozy Indian chickpea stew! This beautiful Chana Masala is filled with aromatic spices, hearty tomatoes, protein packed chickpeas, refreshing lemon and cilantro, and nutritious spinach. Serve along side wholesome brown rice and a salad for a wonderful meal that is sure to please. Head on over and check it out!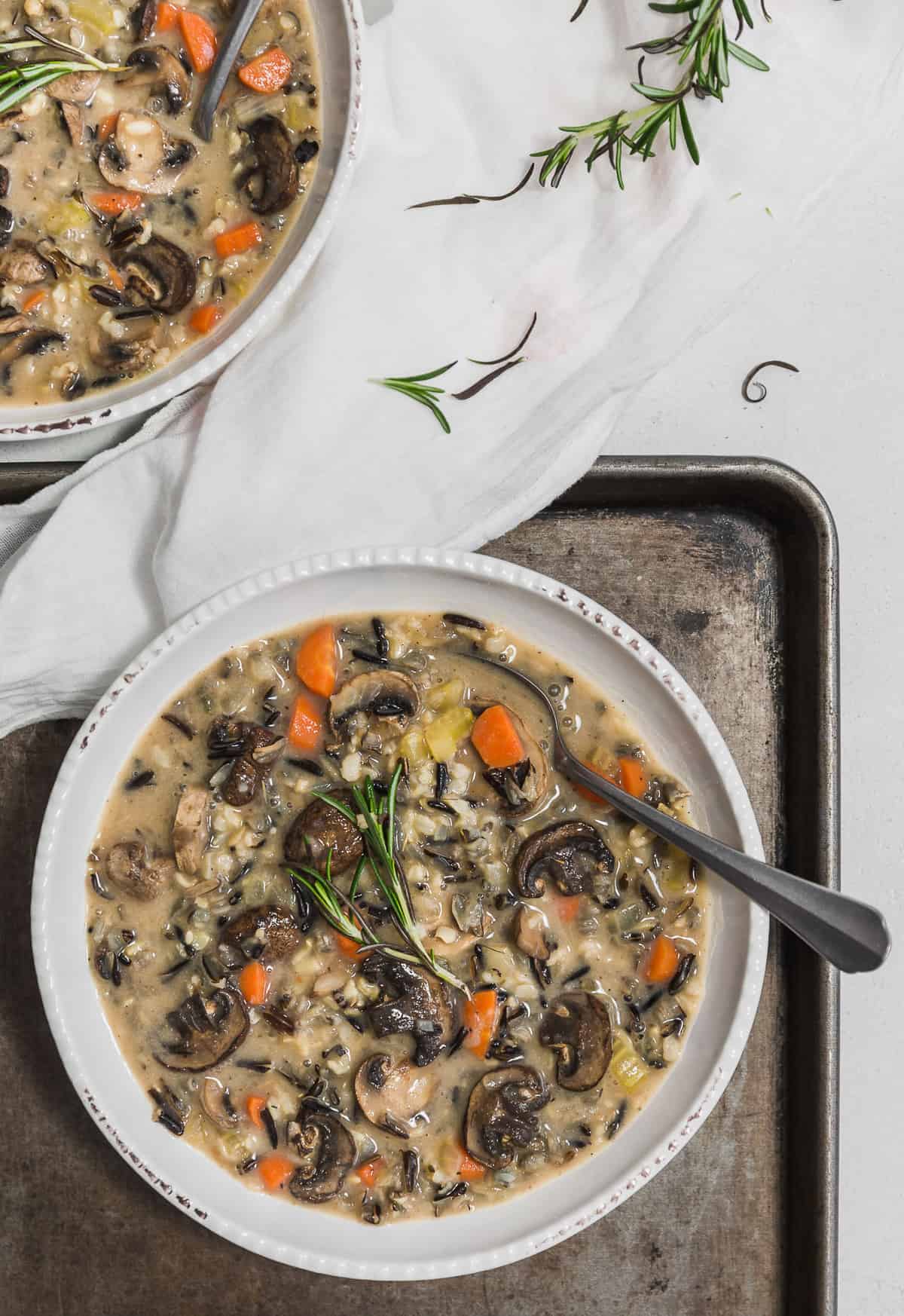 Rich, creamy, and ultra cozy this easy to make Creamy Mushroom and Wild Rice soup is loaded with wholesome, healthy ingredients. Earthy aromatics and soul-satisfying warmth is what this soup brings with the first bite! Perfectly oven roasted mushrooms and garlic combined with yummy wild and brown rice make this beautifully hearty soup super tasty! Head on over and check it out!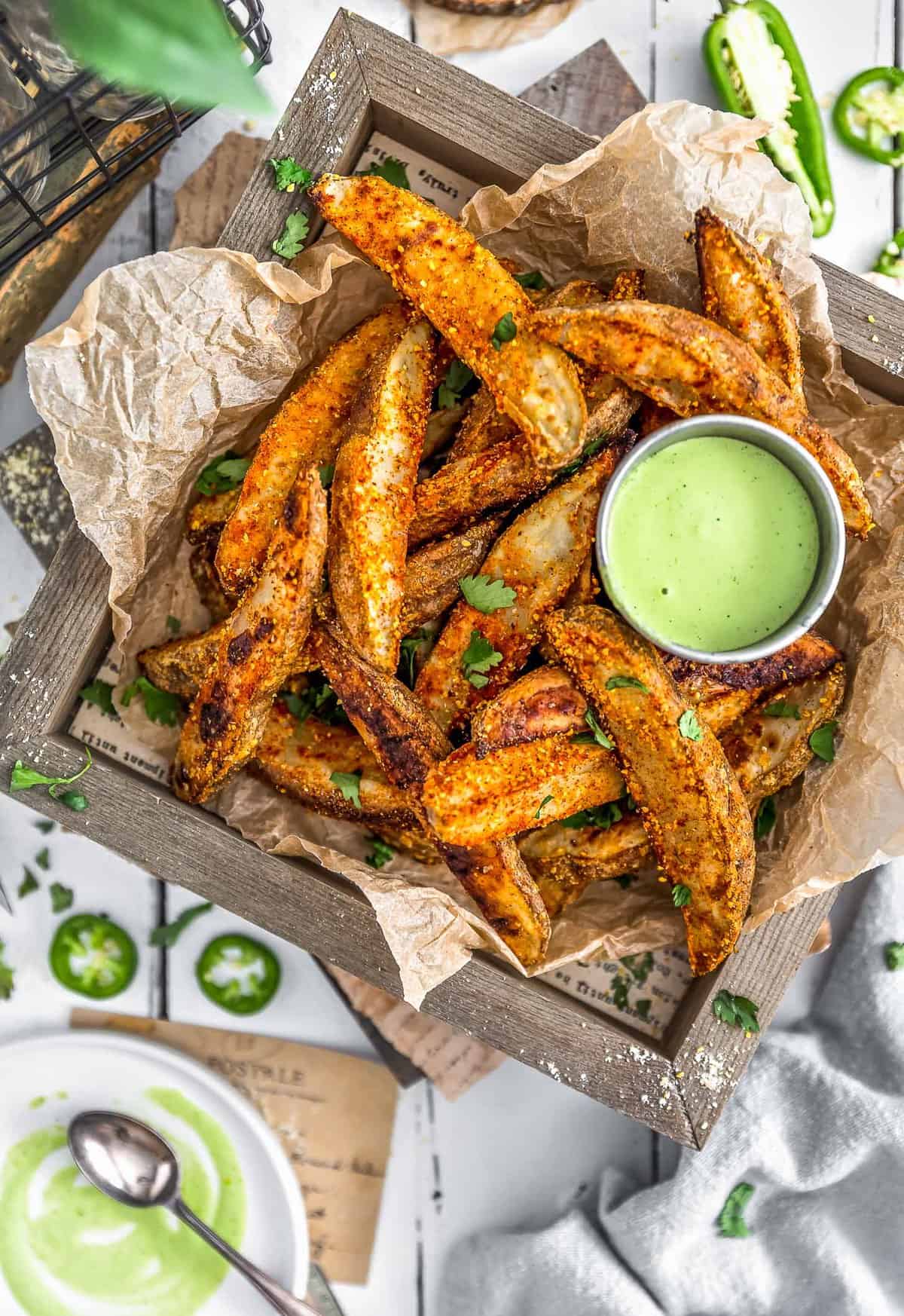 Say hello to these golden potatoes of pure happiness! Perfectly seasoned, crispy, and oh-so-crunchy these Cornmeal Crusted Baked Potatoes are the new essential side. The perfect healthy addition to your favorite veggie bowl, dinner dish, or just when your hankering for some "fries" that pack a crunch. When it comes to potato wedges this one is king (or queen!)  A fabulous Whole Food Plant Based recipe the whole family will be begging for.  Head on over and check it out!