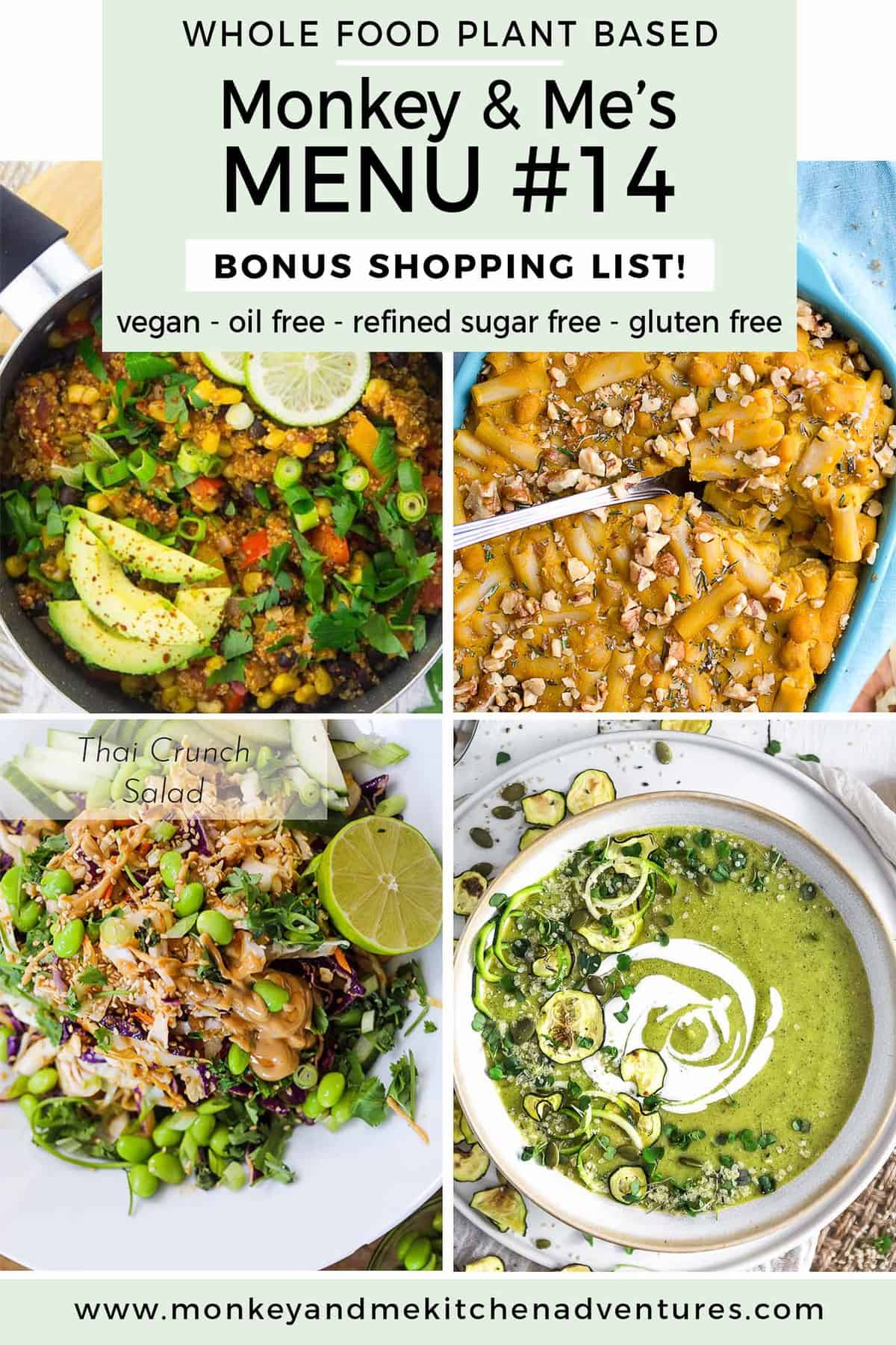 We are so happy to share with you that our Monkey and Me Weeknight Meal Menus have been huge hits.  We received a lot of excellent feedback.  This week we are very excited to feature some of our favorite foodie bloggers in Menu #14.  All recipes are Whole Food Plant Based, vegan, no oil, no refined sugar, no highly processed ingredients, and gluten free.
This super tasty menu features delicious dishes from Sina at Vegan Heaven, Ashley at Rise Shine Cook, Hannah at Raw Till Whenever, and Bo at Bo's Kitchen, as well as featuring a few of our own dishes. 😉
Menu #14 meal plan features the following:
Downloadable Menu which offers the following:

2 Breakfast ideas
2 Lunch ideas
2 Snack Ideas
5 Dinner Ideas, including a shopping list

A comprehensive (downloadable) shopping list for the 5 Dinners

The shopping list is segmented into the common grocery store sections like "produce, spices, etc." making it easy to pick up these items from your local grocery store.
It also includes product suggestions that are Whole Food Plant Based compliant* for easy reference.  Note: These products are suggestions, please feel free to select your own favorite products.
Includes helpful codes so you can easily subtract items that you choose not to make.

Downloadable Instructions on how the meal plan work.
Note:  The term "Whole Food Plant Based compliant" is from a general standpoint.  There are Whole Food Plant Based diet branches that restrict certain food items.  Our recipes are all Whole Food Plant Based compliant based upon a high-level compliance standpoint. i.e. vegan, no oil, no refined sugar, minimally processed foods.
Some breakfast, lunch, and snack ideas are simple concepts that require no recipe.
Meal Plan #14 includes the following recipes: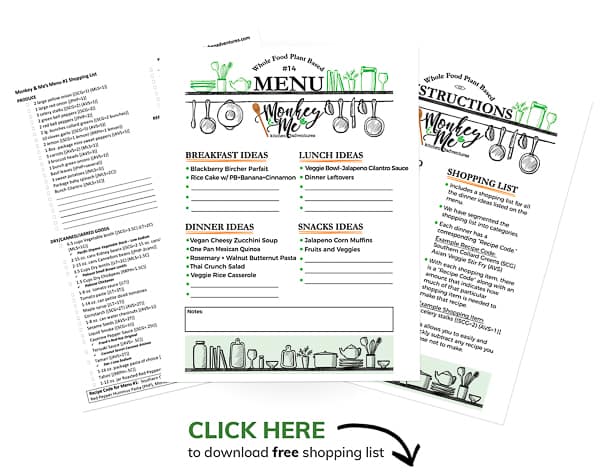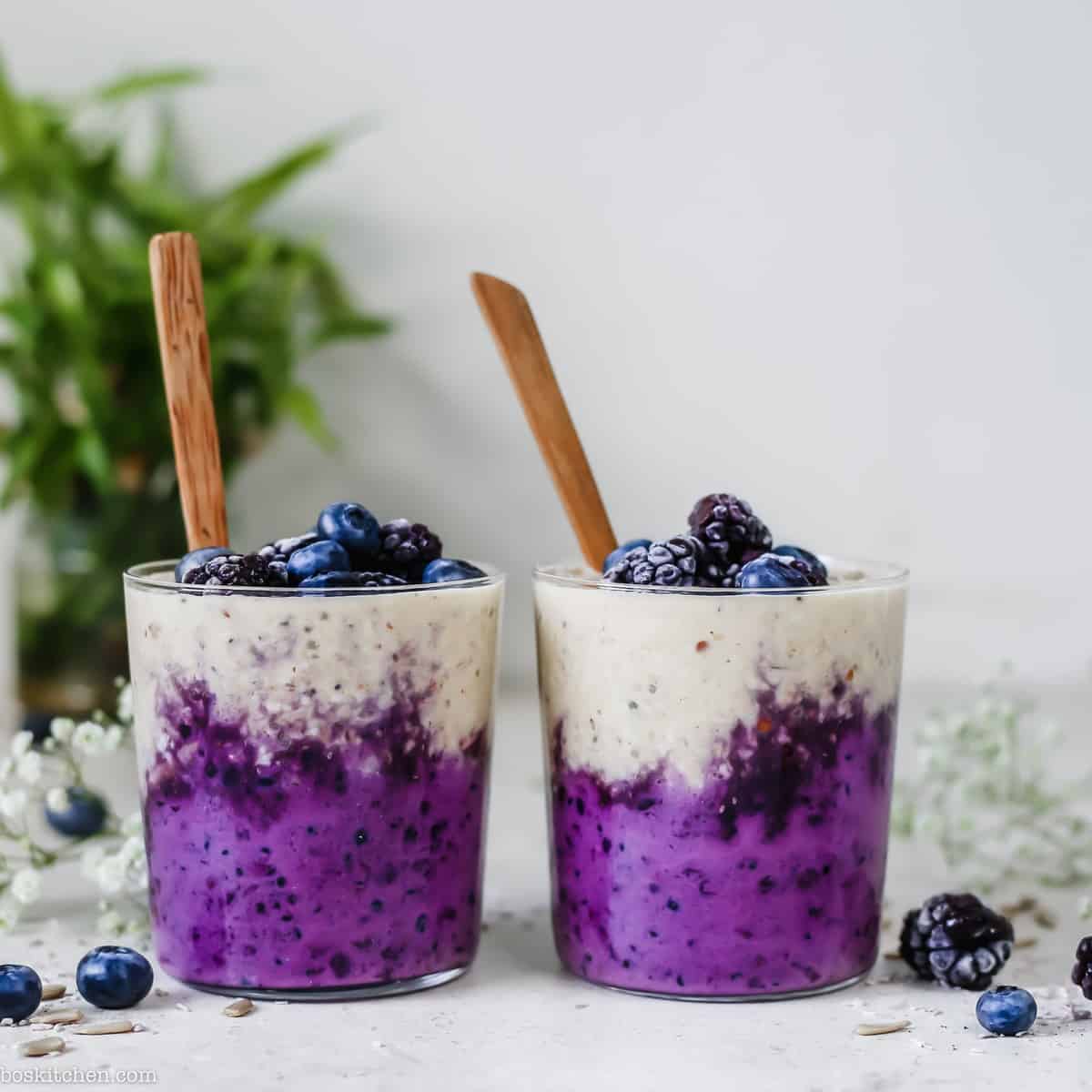 Sweet, creamy, and absolutely drool-worthy, these stunning Blackberry Bircher Parfaits are calling your name. Packed with wholesome protein, antioxidant blackberries, and heart-healthy oats, these delicious parfaits are a perfect way to start the day. Head on over and check it out!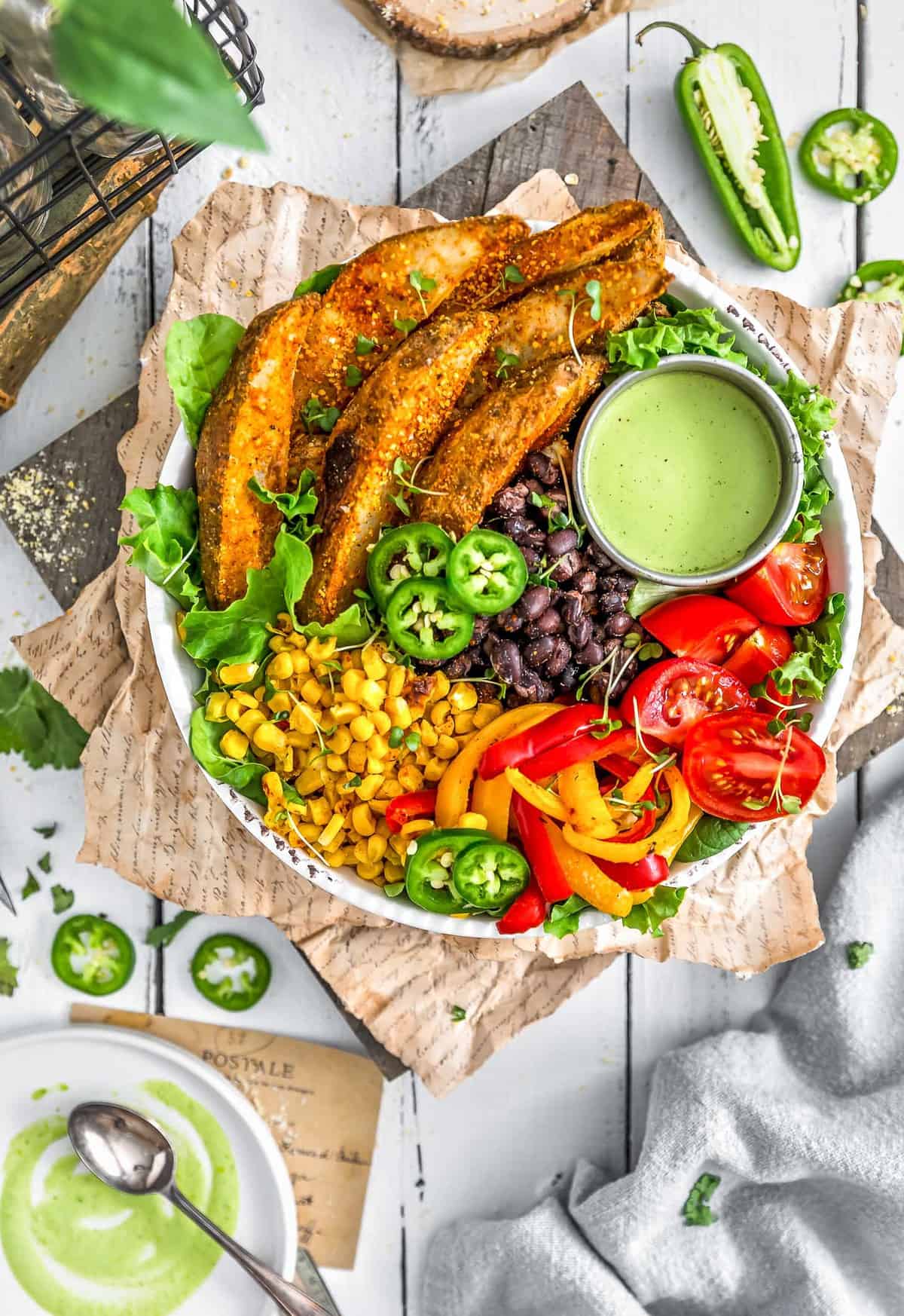 This Pickled Jalapeno Cilantro Dressing is everything you could ever want in a flavorful Southwestern dressing. Ultra creamy, refreshing, and zesty with a hint of jalapeno heat makes this healthy dressing utterly delicious! A finger lickin' good sauce and perfect for veggie bowl drizzling. Head on over and check it out!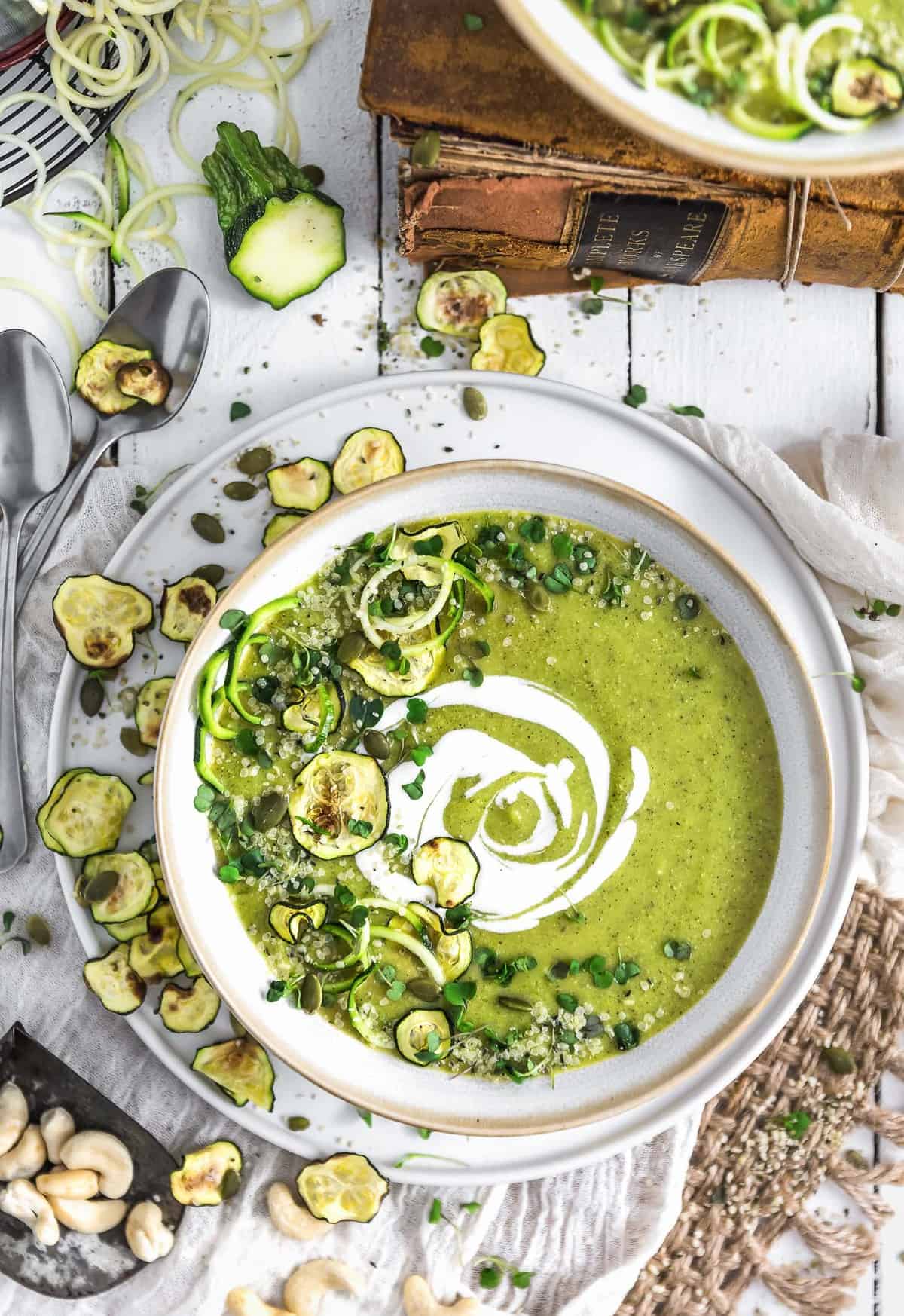 This ultra creamy and delicious Vegan Cheesy Zucchini Soup is a fabulous summertime dish.  Zucchini is the star of the show making us wish zucchini was in season all year around! Cashews, veggie broth, plant milk, and nutritional yeast help create a rich, thick, and comforting soup!  Packed full of wholesome zucchini and topped with fun zucchini chips, zoodles, hemp seeds, and pumpkin seeds, this healthy and super easy soup will have the whole family chowing down. Head on over and check it out!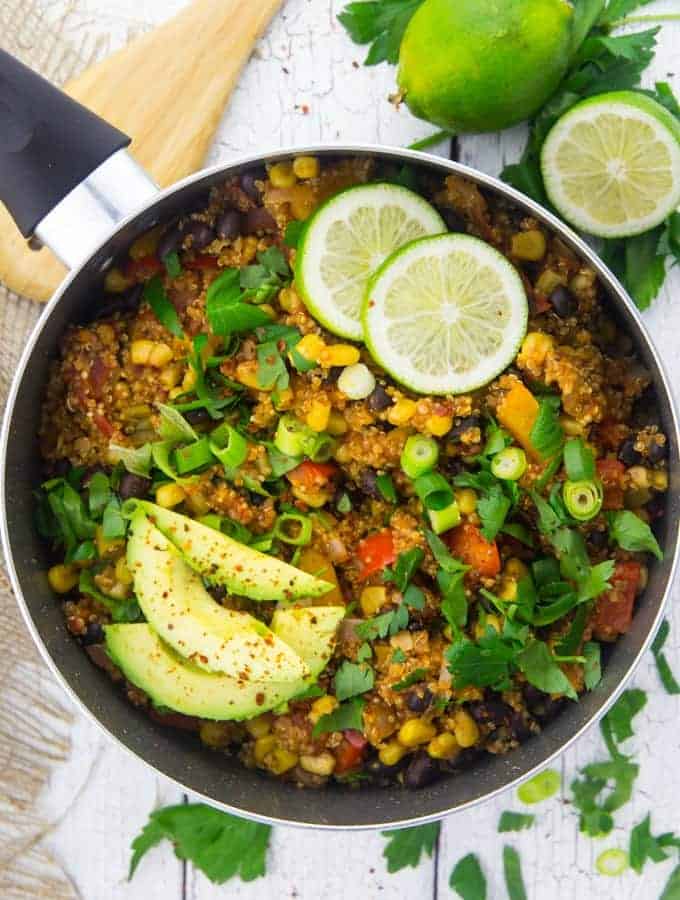 When you need dinner on the table in no-time flat, this satisfying, flavorful and cozy dish fits just the ticket. One pan Mexican Quinoa is packed full of nutritiousness: peppers, quinoa, tomatoes, black beans, corn, and aromatic spices. This delicious dish is sure to have the whole family running to the dinner table. Head on over and check it out!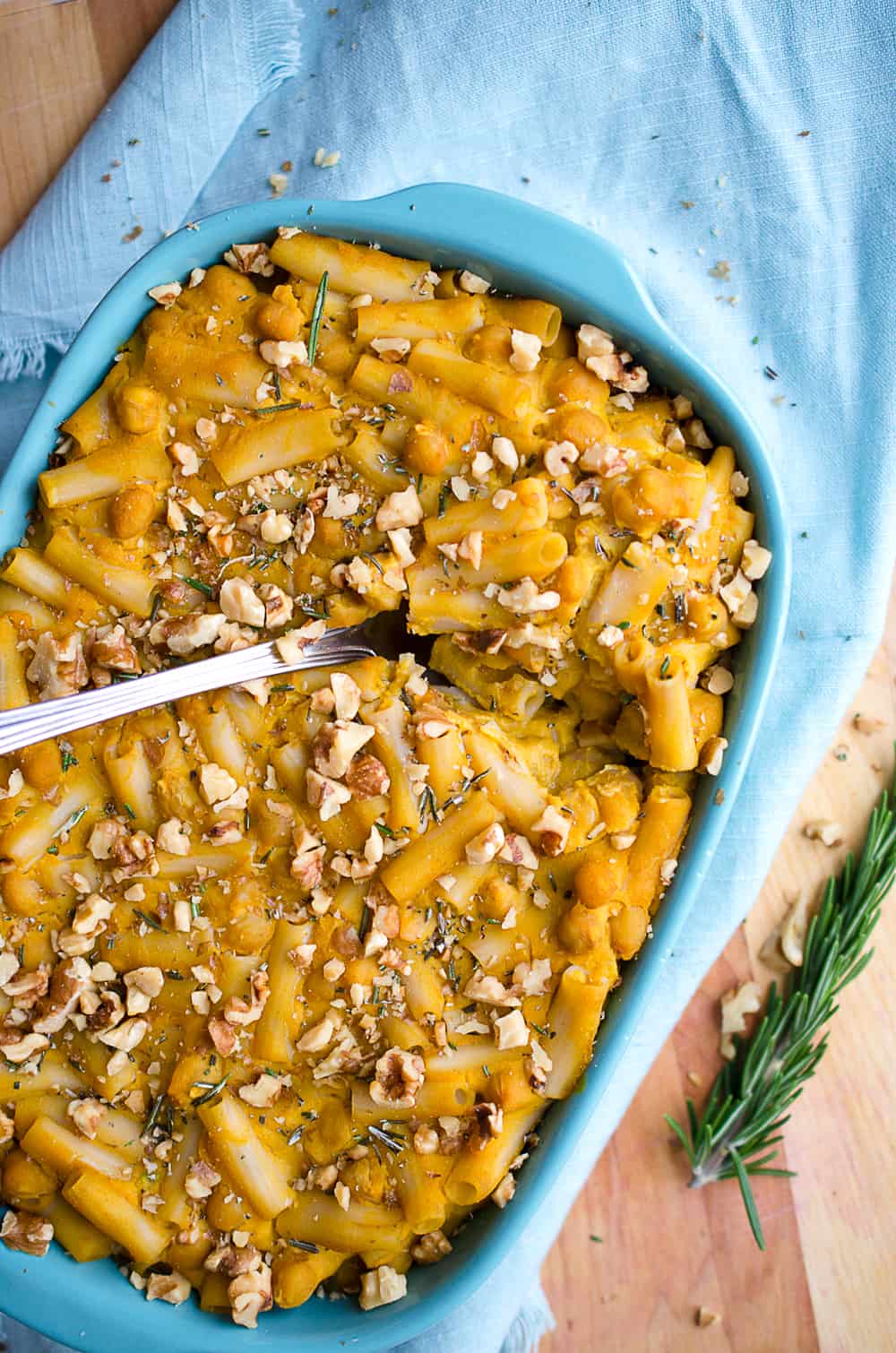 Flavorful, hearty, and oh-so- irresistible, this vibrant Vegan Rosemary and Walnut Butternut Squash Baked Pasta is deliciousness in a dish. Creamy and rich butternut squash, walnuts, and rosemary sauce beautiful coats penne pasta and baked to perfection. This comforting meal is sure to put a smile on your face. Head on over and check it out!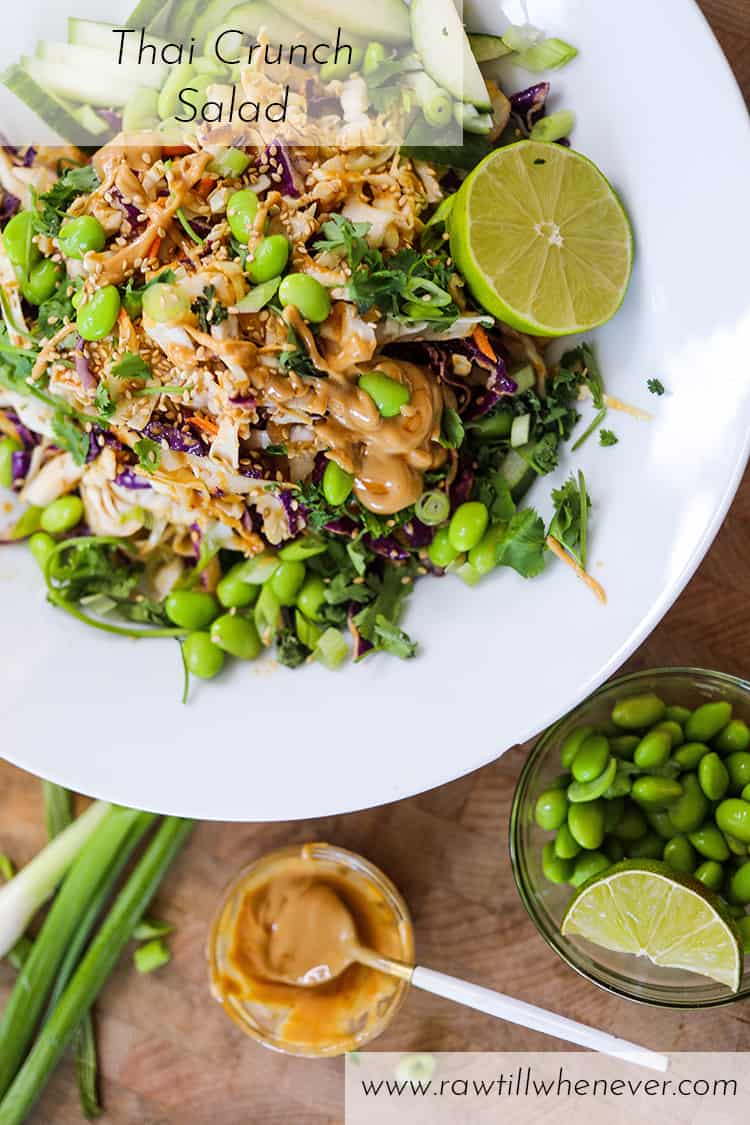 Grab a fork and get ready to dig into this gorgeous, refreshing, and healthy salad. Packed full of rich aromatic flavors, this Thai Crunch Salad is a perfect fast and delicious dish for your dinner table. Crunchy cabbage, protein packed edamame with zesty green onions, limes, and cilantro all covered in a creamy peanut dressing for a perfect weeknight dish. Head on over and check it out!
Creamy, rich, and hearty, this Whole Food Plant Based Veggie Rice Casserole is packed with wholesome healthy ingredients. Cashew cream sauce coats nutrient packed brown rice, broccoli, and mushrooms then baked to perfection. A delicious dish the whole family will love. Head on over and check it out!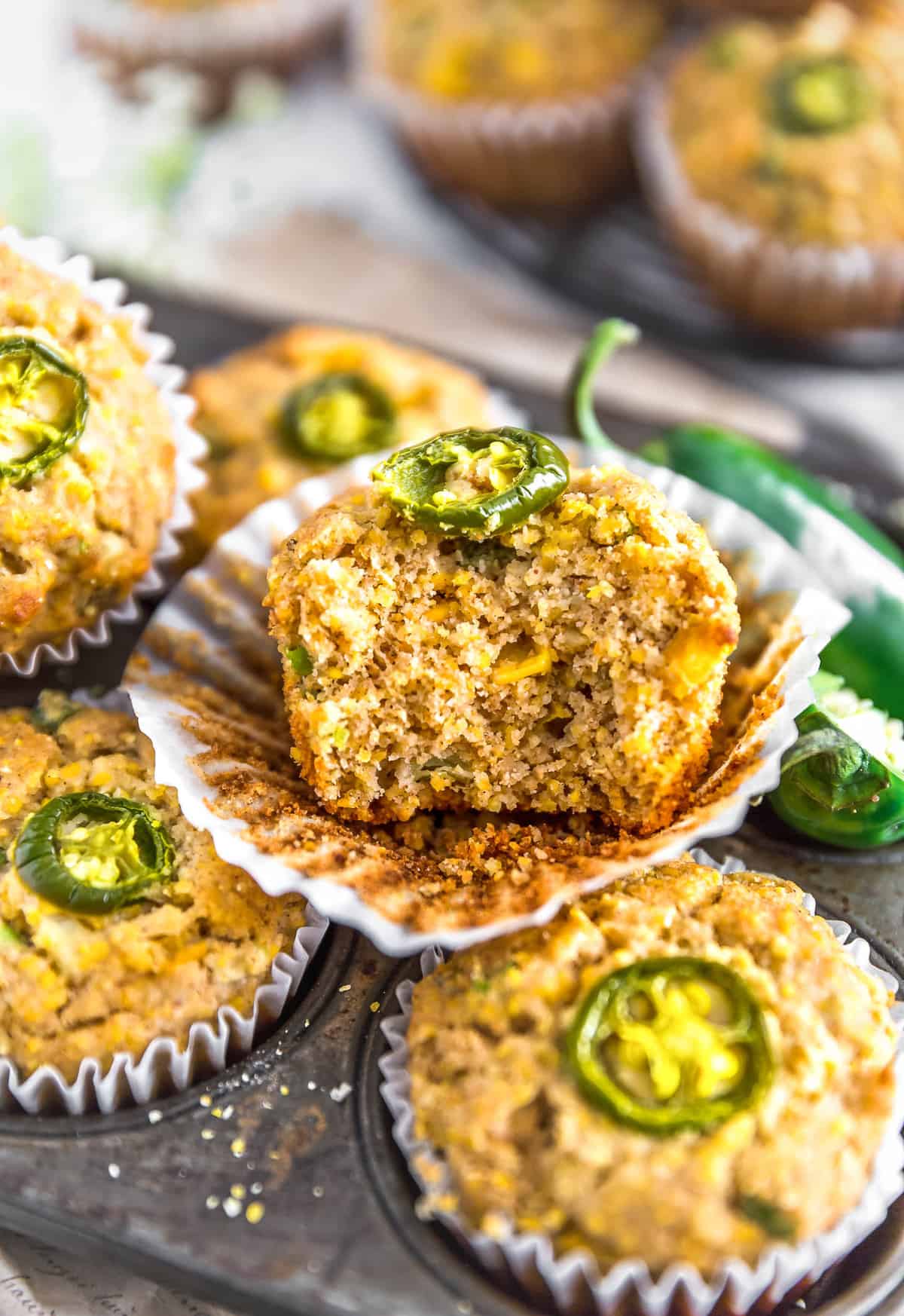 Full of Southwestern flair and flavor, these healthy Jalapeño Corn Muffins are so unbelievably delicious, you won't want to stop eating them. Perfectly fluffy, packed with exceptional yumminess, and topped with a pickled jalapeño sends these savory muffins over the top to flavor town! An awesome accompaniment to any dish, making them the ultimate Whole Food Plant Based corn muffin! Head on over and check it out!