Comforting, satisfying, and delicious, this Veggie Rice Casserole is brimming with feel-good ingredients and savory flavors. Nutrient packed veggies like broccoli, mushrooms, onions, garlic, carrots, and celery are tossed with hearty wild rice and coated in an aromatic cashew cream sauce for a fantastic dinner the family will love!
Whole Food Plant Based, Vegan, plant based, oil free, refined sugar free, no highly processed ingredients and gluten free.

Hi!  Robin here.
Monkey and I created this casserole with winter in mind, "Winter is coming!" (said with my best Game of Thrones enthusiasm).  It is getting cold outside and nothing greets cold weather better than a warm casserole straight from the oven.  This dish is a classic and we Whole Food Plant Based it!   Plus, it's easy to make!
Growing up, my mom didn't make casseroles very often.  Her style was mostly "farm style" cooking.  Our biggest meal was typically breakfast where she went all out.  As I grew up and then started a family, I quickly found that casseroles were a good choice for an active family.  They come together quickly, bake in the oven, and you typically have leftovers for the next day.
The "Oven Monitor"
TP loves a good casserole; however, casseroles typically require using the oven.  TP is our home's official "oven monitor" – lol .  He prefers that the oven is not used unless the temperature outside is what he calls "oven weather". . .   a little crazy, right?  Especially since our home has two food bloggers, and the oven and stove are in constant use.  He thinks the kitchen becomes overheated (which it does).
Monkey and I don't follow the established TP oven guidelines (established in his mind only).  He reluctantly agrees that his oven guidelines can be a little ridiculous since he gets to enjoy the bounty that is produced from its use, and trust me, he is a vulture.  He loves when Monkey and I cook and bake, which is practically all the time – lol.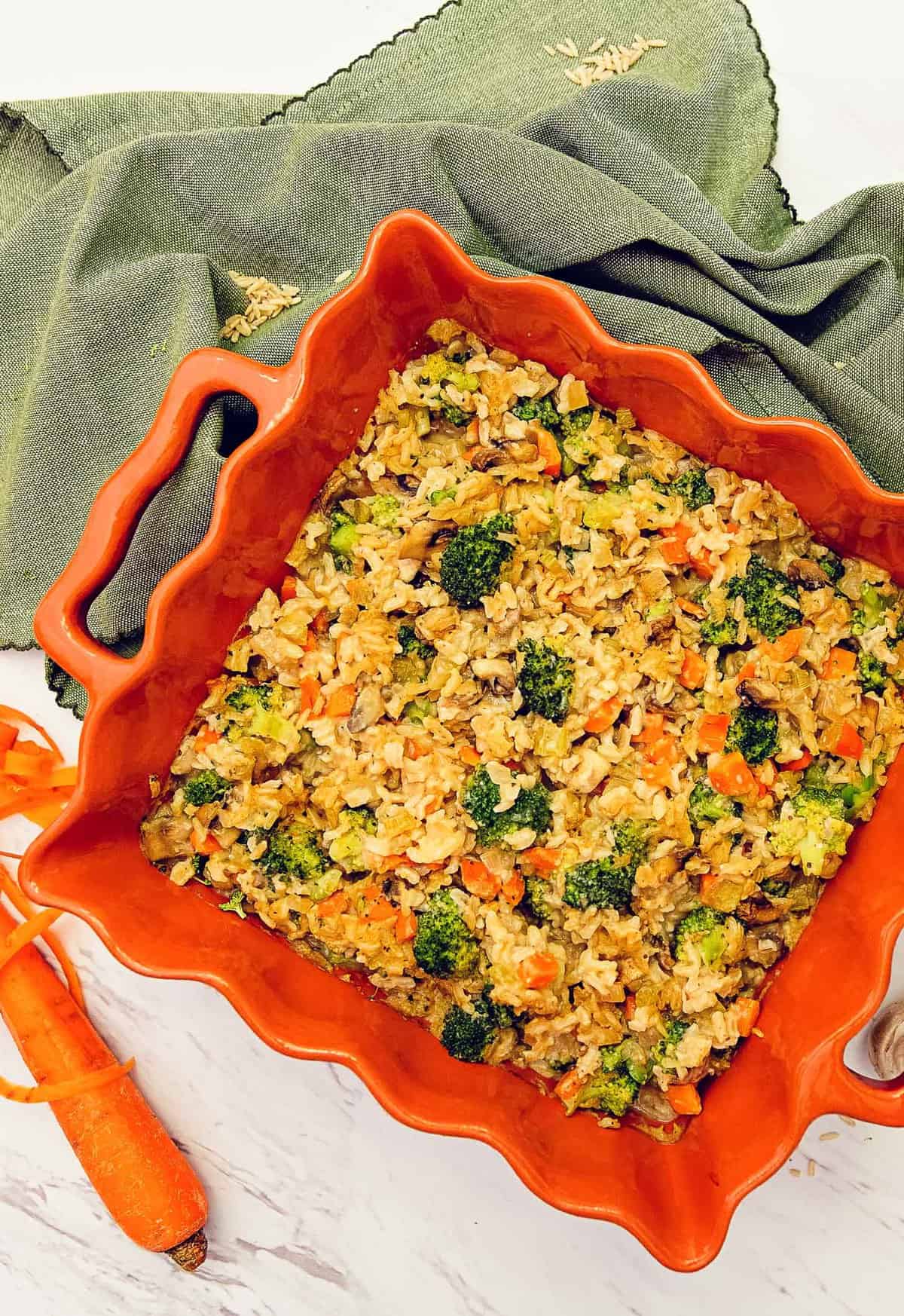 TP was super happy with this dish.  His only complaint was there were no leftovers.
Improved Health Numbers
On a side note, TP's stomach isn't the only thing that enjoys our Whole Food Plant Based lifestyle.  His health numbers have improved significantly all the way around.  His cholesterol numbers have dropped significantly.  His doctor told him to keep doing whatever he is doing because it is working. Yay!
There are no oils, no refined sugars and no processed ingredients used in this dish.  It is perfectly delectable and a family favorite, especially around the holidays.  It is quick to prepare and very economical.  I love that this casserole lends itself to taking to family gatherings or potlucks.  Even the omnivores won't know that is it WFPB.  Now, how cool is that?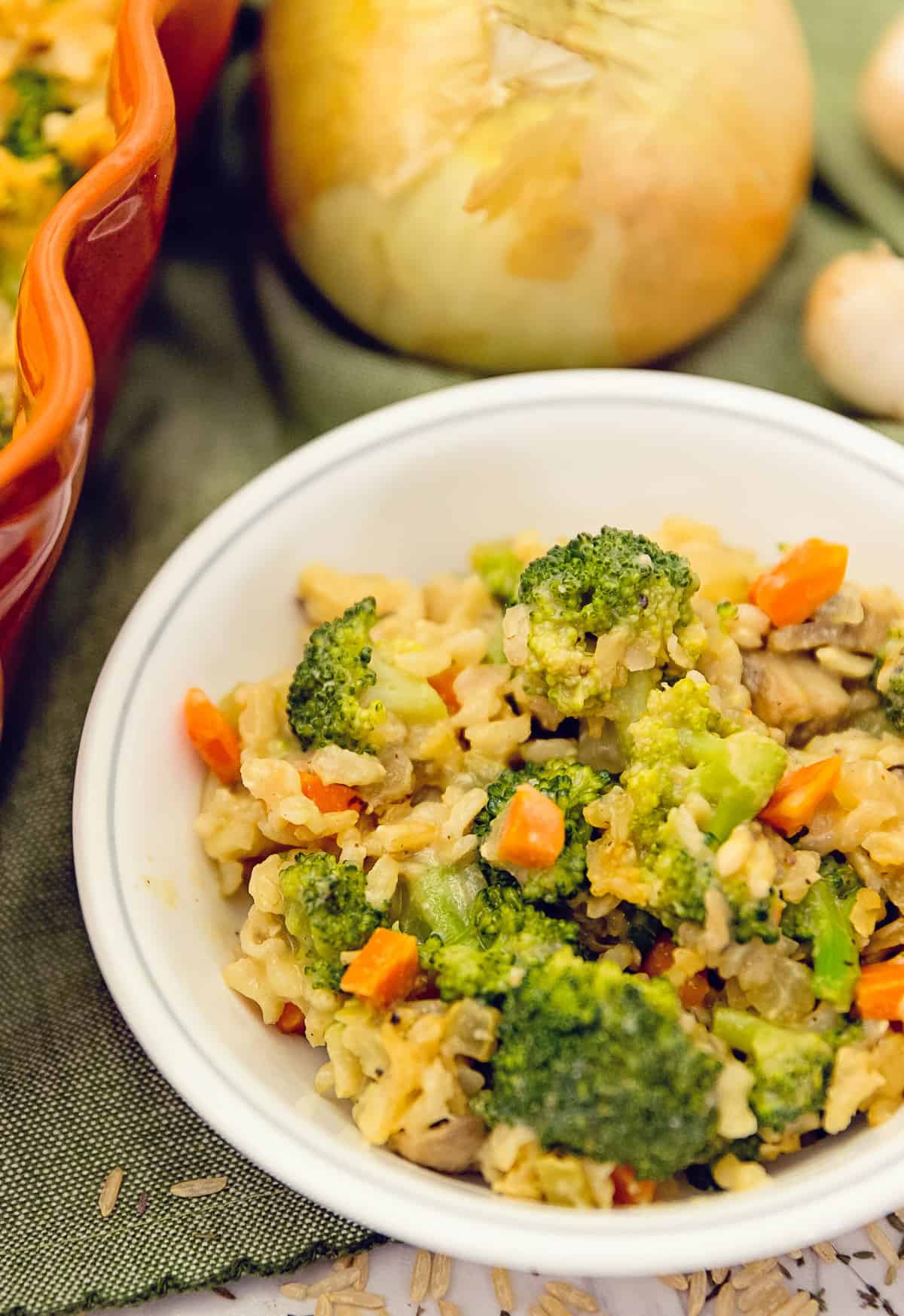 Ameera here!
I love this recipe because of its simplicity of flavors.  It is a traditional recipe that everyone recognizes as a classic holiday dish.  We enjoy it all year round.   The cashew cream makes for a luscious velvety sauce for the broccoli and rice.  Getting that part right is easy.  The rest comes together in a cinch.
"Daddyisms"
Mom cracks me up with her quips about my Dad.  He is quite the character.  He is famous for what we call "Daddyisms." He tends to mix words together or pronounce them in interesting (nice way of saying incorrect) ways.
Most Recent "Daddyism:" He wanted to know why we no longer have "Toridos" in the house.  "Toridos"?  What are those?  He said "You know those orange triangle chips?"  Ohhhhh Doritos!  He was mixing up Doritos and Tortilla chips, hence "Toridos."


Products used:
Baking dish 9x9x3 or 9×13
Print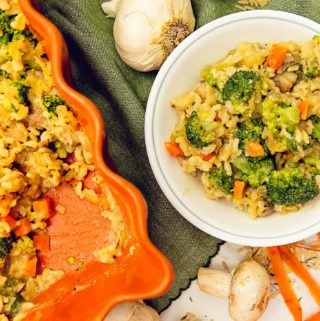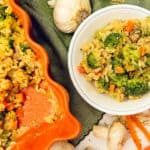 Veggie Rice Casserole
Author:

Prep Time:

15 minutes

Cook Time:

45 minutes

Total Time:

60 minutes

Yield:

4

-

6

Servings

1

x

Category:

Dinner, Side

Cuisine:

American
---
Description
Our fabulous Whole Food Plant Based Veggie Rice Casserole is hearty and satisfying, healthy and delicious, made from scratch with fluffy rice and fresh broccoli. Yum!
---
Cream Base
1⁄4 cup

raw cashews, soaked in water overnight in the refrigerator*

1⁄4 cup

unsweetened almond milk (or any plant-based milk)
Steamed Rice
1 cup

uncooked Brown Rice or Wild Rice

2 cups

water
dash of sea salt
Casserole Base
3

heads of broccoli, cut into small florets

1

medium yellow onion, finely diced

2

celery stalks, finely diced

2

carrots, finely diced

10 oz

. white button mushrooms, finely chopped

1 Tablespoon

(heaping) Gluten-Free All-Purpose Flour (or thickener of choice)

1

1⁄2 cup water (or broth)

1 cups

Pacific organic vegetable broth*

1⁄4 teaspoon

thyme

1⁄2 teaspoon

onion powder

1⁄2 teaspoon

garlic powder

1 Tablespoon

freeze dried shallots* (or dried minced onions) (optional)
Tiny pinch of rubbed ground sage

1 teaspoon

sea salt (+/- to taste)

1⁄4 teaspoon

freshly ground pepper (+/- to taste)
---
Instructions
Cream Base:
1. Blend the unsweetened almond milk & cashews (discard soaking water) together in a high-speed blender or food processor until very smooth. Set aside.
Soup Base:
Preheat the oven to 375 degrees F.
Prepare the Steamed Rice by placing the rice of your choice into a rice steamer or prepare on the stove top (per package directions), add water, and sea salt. When done, set aside.
Prepare the Cream Base. See Cashew notes. When done, set aside.
Blanche the broccoli florets. Bring a pot of water to boil. When the water boils, place the broccoli florets into the boiling water until they turn bright green and are still slightly crisp, about 2 minutes. Then immediately remove from the heat, drain the broccoli florets into a strainer and then dump the hot broccoli florets into cold ice water to stop the cooking processing. When the broccoli is cold, remove from the ice water and set aside.
In a large ceramic lined Dutch oven, add the onions, carrots, and celery, and sauté until translucent, about 5 minutes. Add the chopped mushrooms. Sauté about 5 minutes, or until vegetables are tender. (If needed to prevent sticking, add 1 Tablespoon of vegetable broth).
Sprinkle the gluten-free flour over the cooked vegetables, and stir constantly for 1-2 minutes.
Stir in the vegetable broth and water, then add the thyme, onion power, garlic powder, freeze dried shallots, sage, cracked pepper and sea salt. Stir well to incorporate the flour and seasonings into the broth. Bring to a simmer for about 3 minutes.
Turn heat to medium low and slowly stir in cashew cream. Cook for 10 minutes to allow the flavors to marry.
Taste for seasoning and add more if needed.
Add the blanched broccoli and steamed rice. Cook for 2 minutes and remove from heat.
Place the mixture into an oven safe casserole dish and bake at 375 F for 15 minutes.
Then switch the oven rack to the top of the oven and broil for 5 minutes.
Remove and allow to cool 10 minutes before serving.
Enjoy!
---
Notes
*Cashews: To speed up the soaking time for cashews: Place the cashews in a small bowl and cover with boiling water for 45 minutes, until softened. Drain the cashews into a colander and discard the water. Place the cashews and unsweetened almond milk into a high-speed blender or food processor to ensure a creamy, smooth texture.
*Vegetable Broth:  We used Pacific Organic Vegetable Broth because it does not have MSG, and has no highly processed ingredients; however, Pacific has a very strong flavor so our water to broth ratio is heavy on the water and low on the vegetable broth.  If you are using a vegetable broth other than Pacific, please adjust the water to broth ratio accordingly.
*Freeze dried shallots: We love freeze dried shallots.  They always add a nice element to a lot of Vegan WFPB recipes.
Storage:  Cool to warm, place in glass storage and refrigerate, or leave in the casserole pan and cover with plastic wrap or foil and place in the refrigerator.