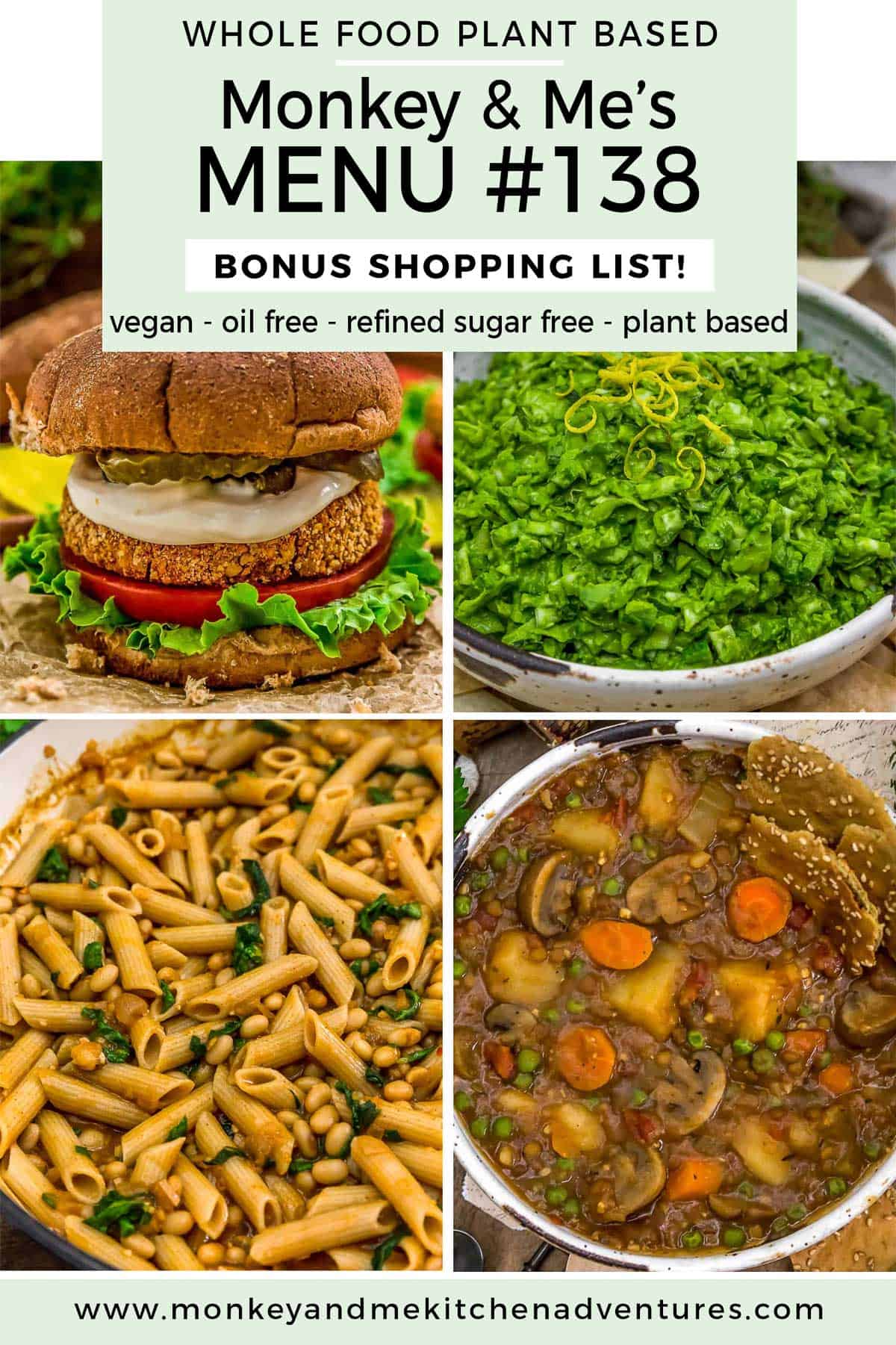 This week's Monkey and Me's Menu features some tasty recipes.  Menu #138 includes a FREE bonus shopping list.  All recipes are Whole Food Plant Based, vegan, plant based, oil free, refined sugar free, and no highly processed ingredients.

Downloadable Menu which offers the following:

2 Breakfast ideas
2 Lunch ideas
2 Snack Ideas
5 Dinner Ideas, including a FREE downloaded shopping list (PDF – Below)

A comprehensive (downloadable) shopping list for the 5 Dinners

The shopping list is segmented into the common grocery store sections like "produce, spices, etc." making it easy to pick up these items from your local grocery store.
It also includes product suggestions that are Whole Food Plant Based compliant* for easy reference.  Note: These products are suggestions, please feel free to select your own favorite products.
Includes helpful codes so you can easily subtract items that you choose not to make.

Downloadable Instructions on how the meal plan work.
Note:  The term "Whole Food Plant Based compliant" is from a general standpoint.  There are Whole Food Plant Based diet branches that restrict certain food items.  Our recipes are all Whole Food Plant Based compliant based upon a high-level compliance standpoint. i.e. vegan, plant based, oil free, refined sugar free, minimally processed foods.
Some breakfast, lunch, and snack ideas are simple concepts that require no recipe.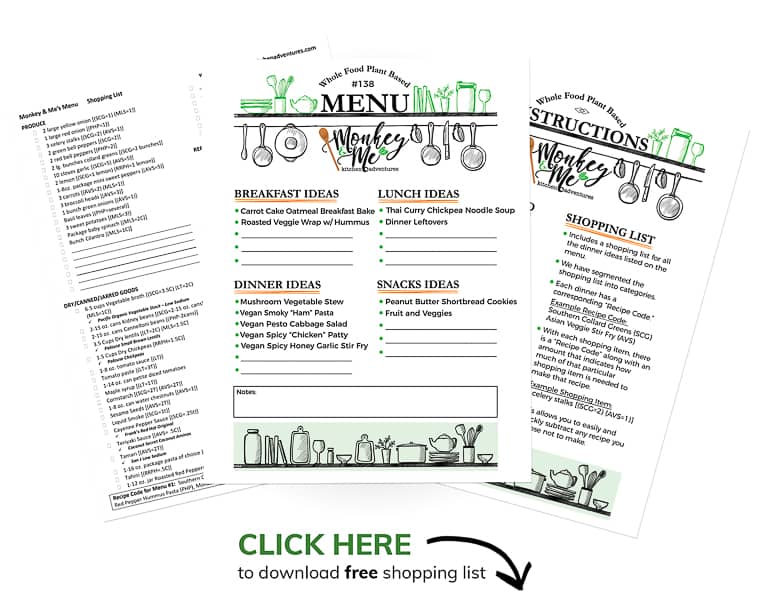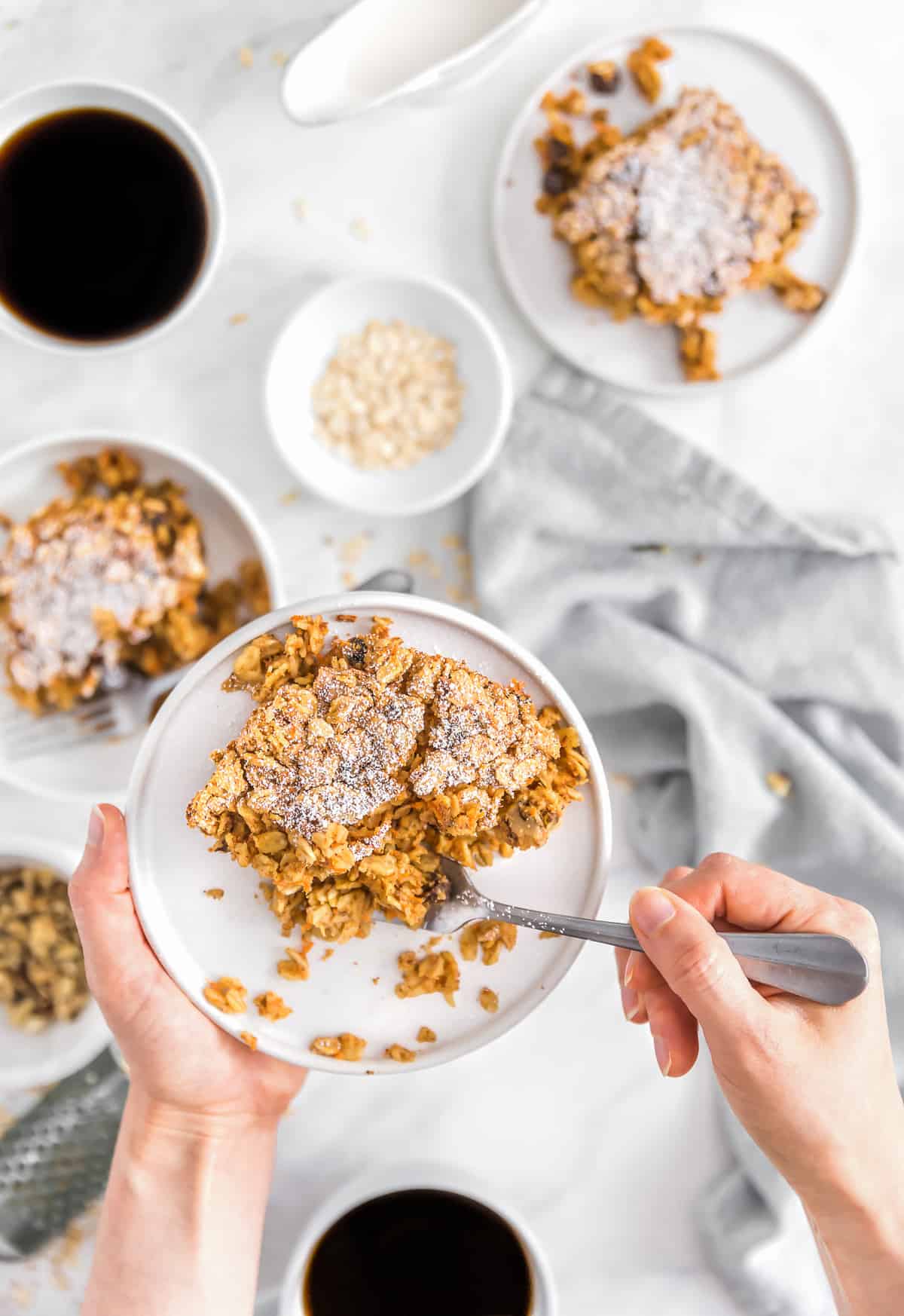 Take your brunch to the next level with this super delicious Carrot Cake Oatmeal Breakfast Bake. Sweet, moist, and packed with oats, walnuts, carrots, and raisins, this breakfast bake is seriously out of this world YUM.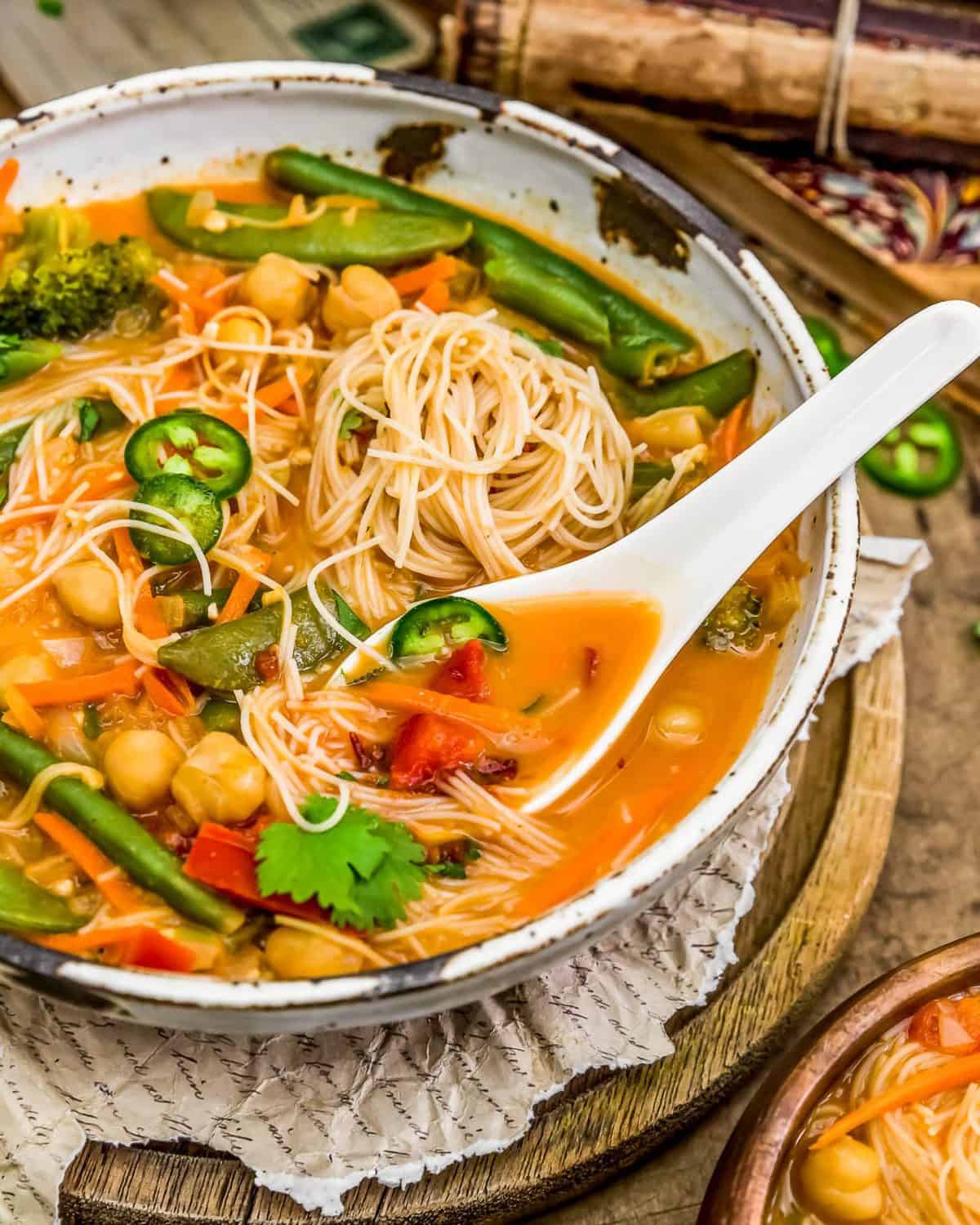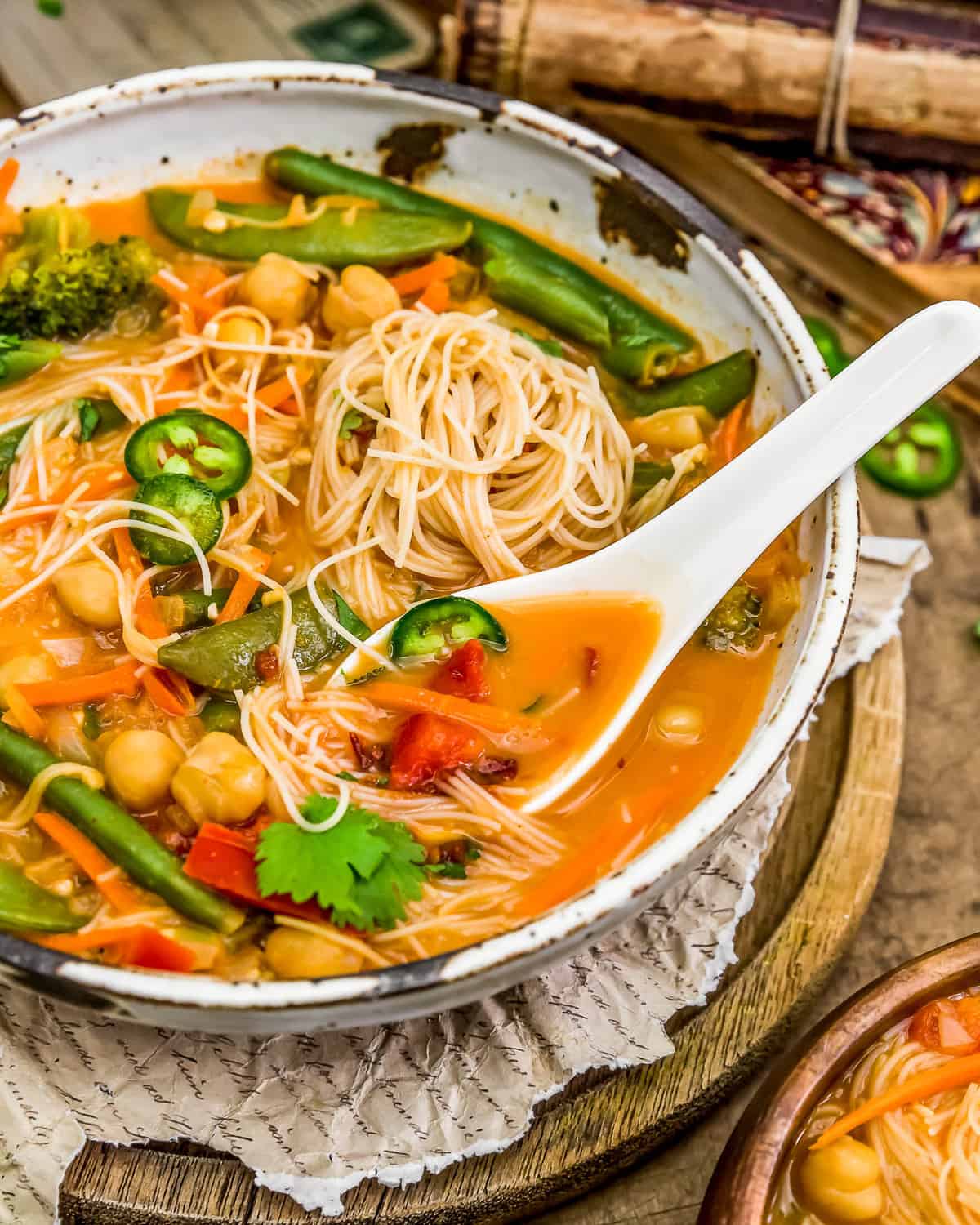 Calling all Thai curry fans, this healthy, wholesome, and utterly delicious Thai Curry Chickpea Noodle Soup is super easy to make and comes together in 20 minutes. It's pure Thai curry heaven. Zesty onions, earthy garlic, zingy ginger, nourishing veggies, hearty chickpeas, and chewy noodles are bathed in a bold Thai Curry flavored-rich soup.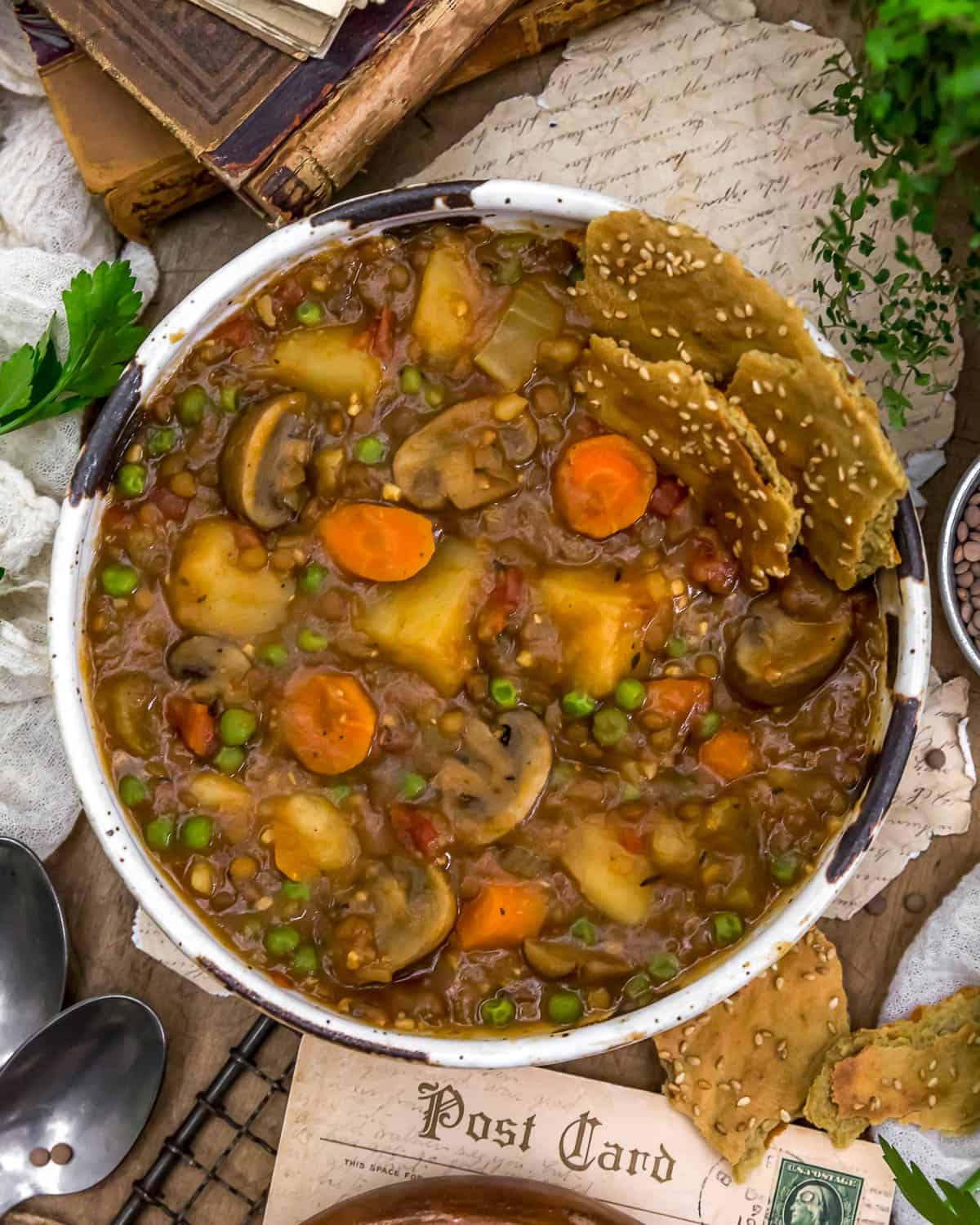 Nourishing, wholesome, and oh-so-delicious, this oil-free Mushroom Vegetable Stew is a classic stick-to-your-ribs stew that is ideal for a chilly day. Hearty mushrooms, tender onions, earthy celery, sweet carrots, and bold garlic come together in cozy harmony. It's pure comfort food heaven for mushroom lovers everywhere. It's hard to beat a bowl of this deliciousness on a cold winter day. Instant Pot and stovetop directions are available for this awesome stew.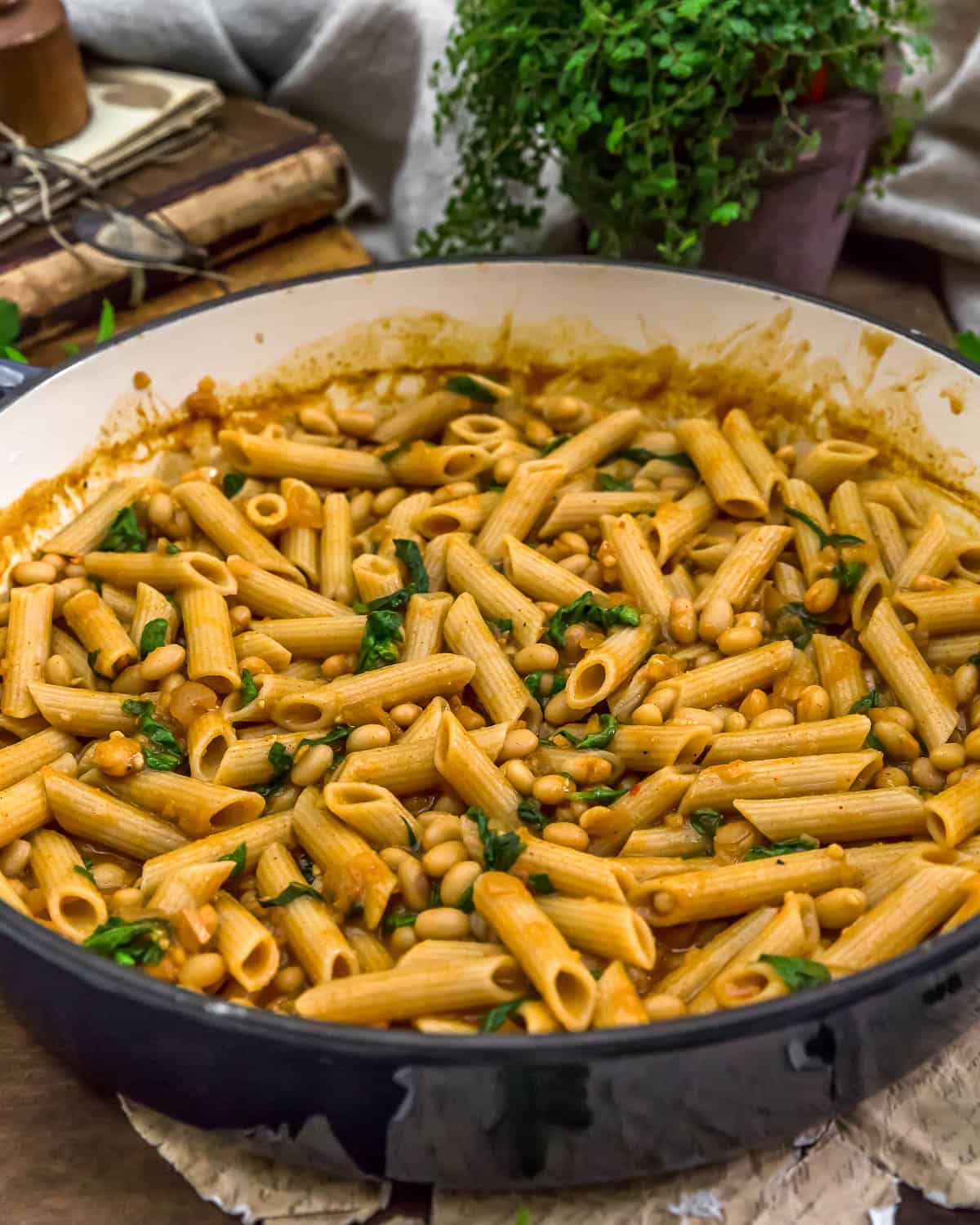 Healthy, simple, and brimming with flavor, this Vegan Smoky "Ham" Pasta is reminiscent of a ham and bean soup, but with a tasty pasta twist. You won't believe how easy it is to make.  The whole family will fall in love with this hearty pasta dish.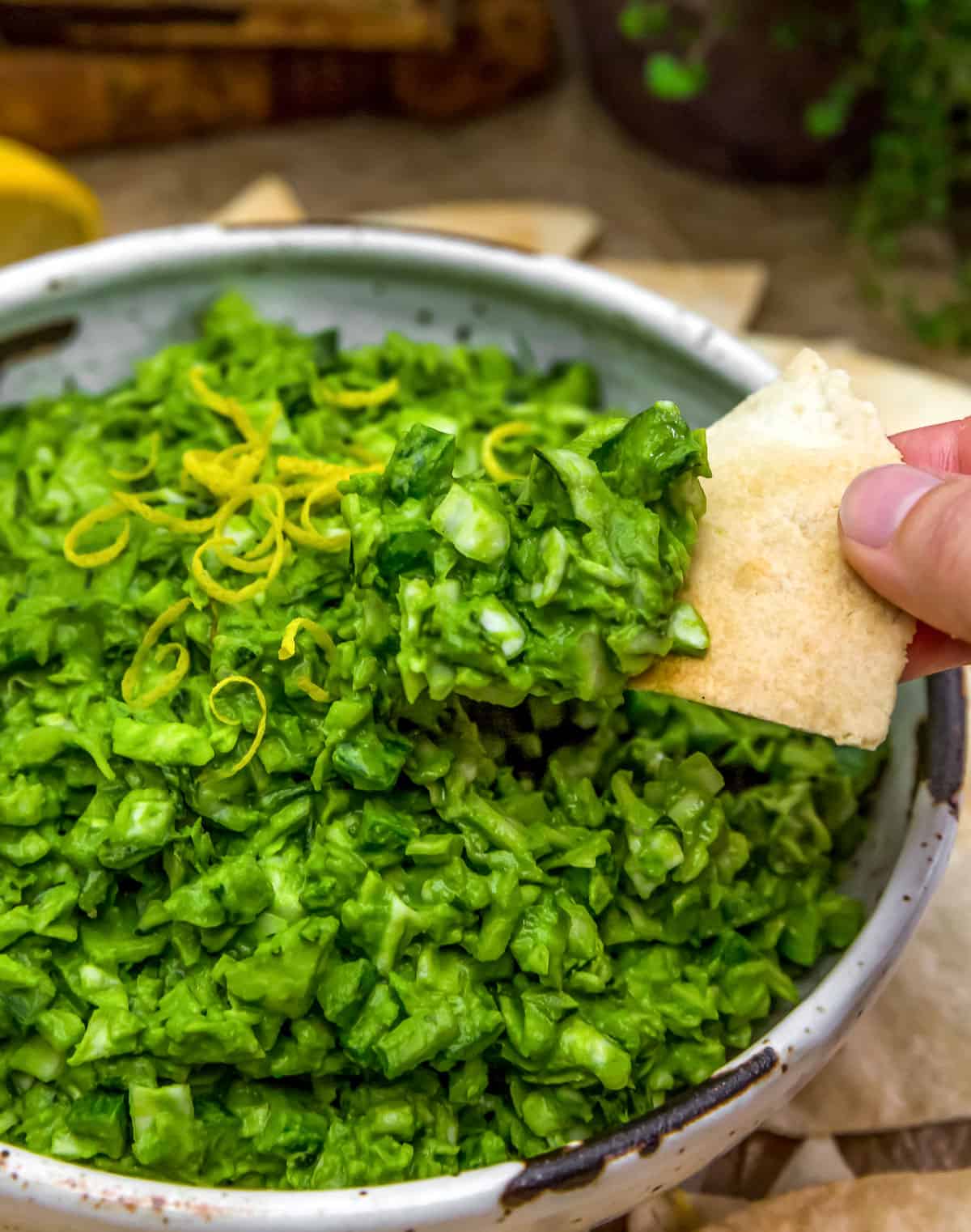 This nourishing, oil-free Vegan Pesto Cabbage Chopped Salad is a burst of fresh ingredients and creamy sauce. Finely chopped cabbage, cucumbers, and chives are coated in a delicious basil-spinach dressing that tastes like a nutritious bite of veggies with every forkful or dip of a chip.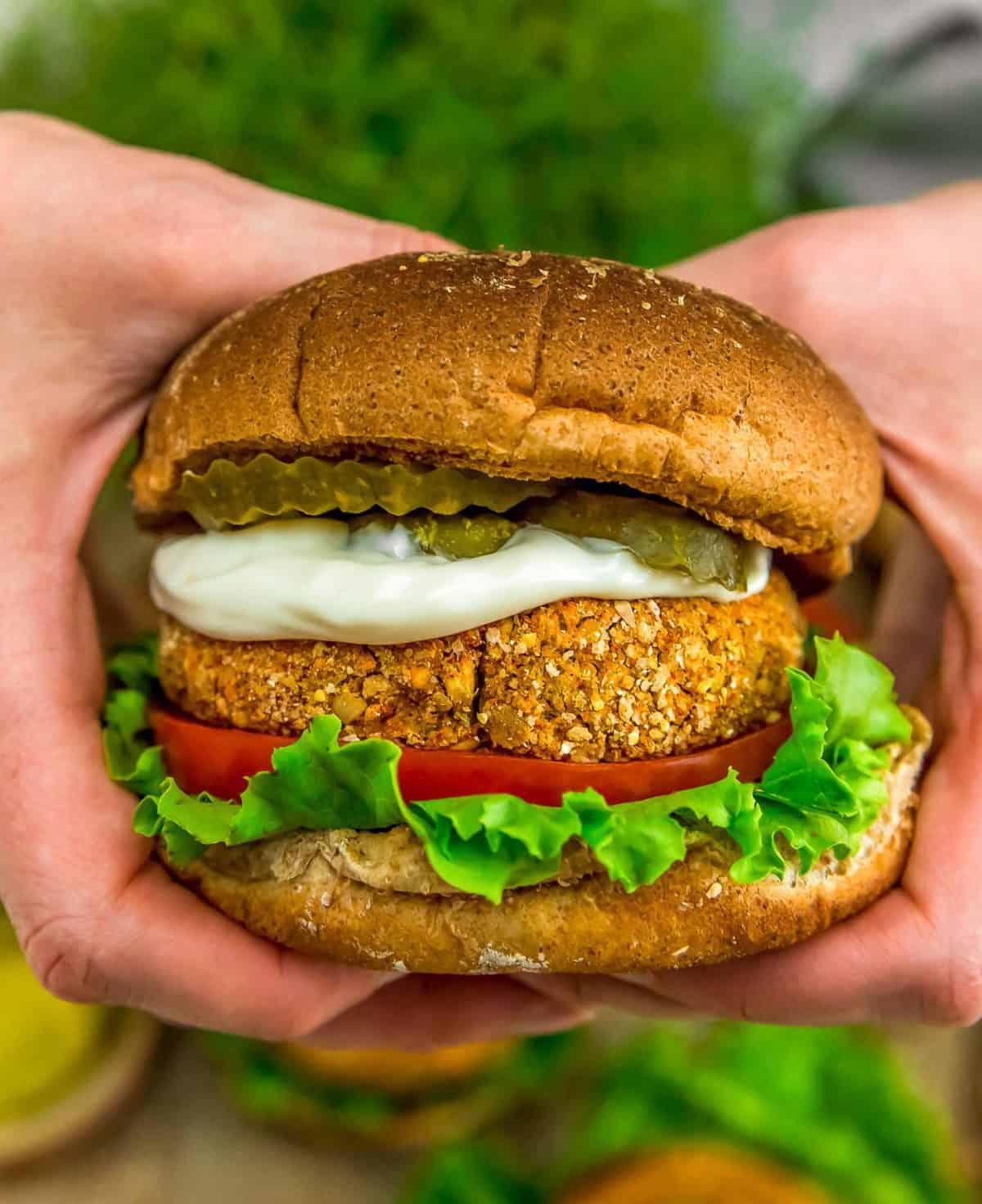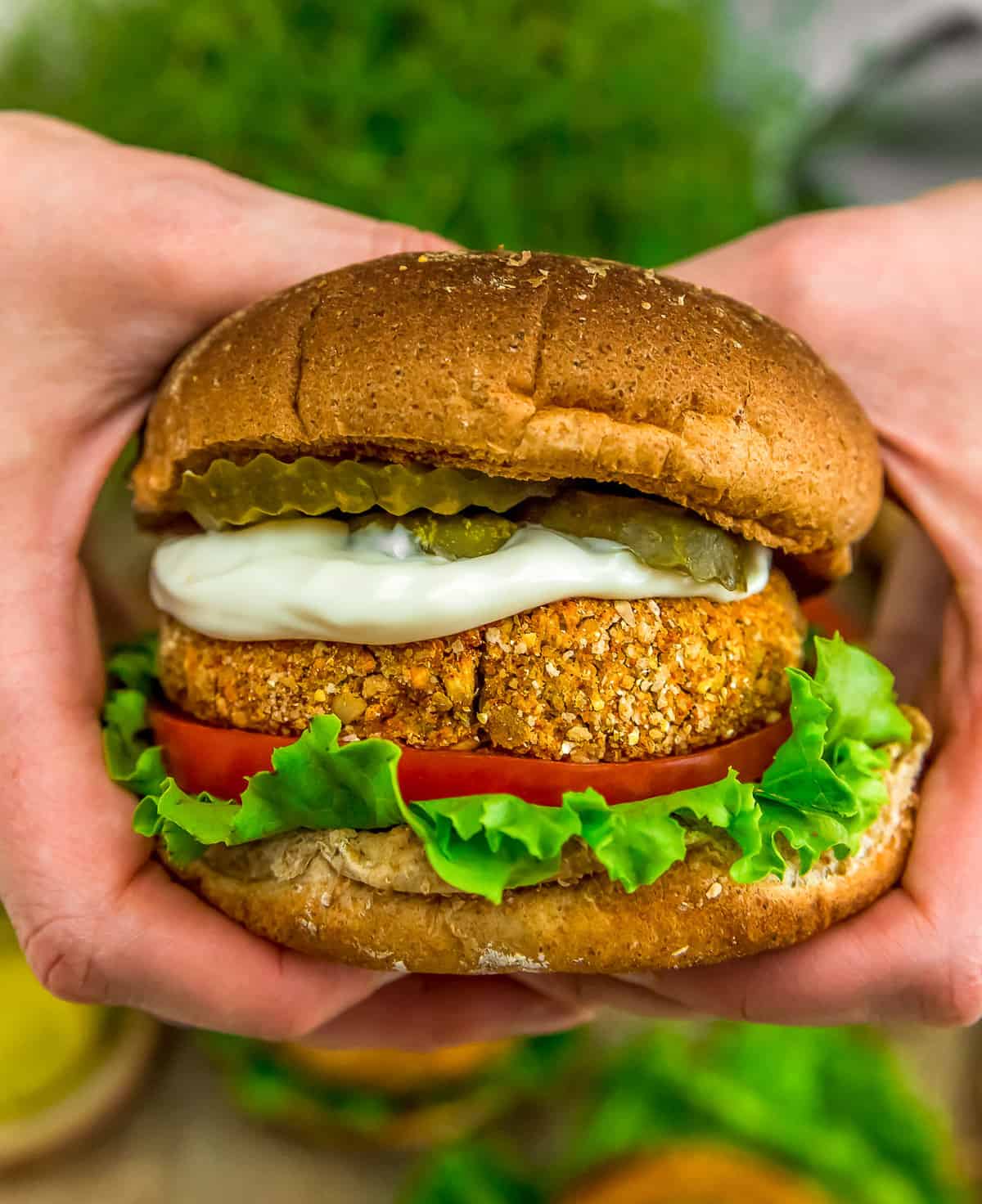 We are always looking for ways to spicy up your life and what better way than putting a vegan spin on a beloved drive-thru spicy chicken sandwich! This beauty is guaranteed to knock your socks off and then some with its authentic, come to mama deliciousness. This healthy sandwich features a flavor-packed chickpea patty, coated in a spicy crumb coating that is packed with tastiness, then baked in the oven to perfection. The whole family will thank you!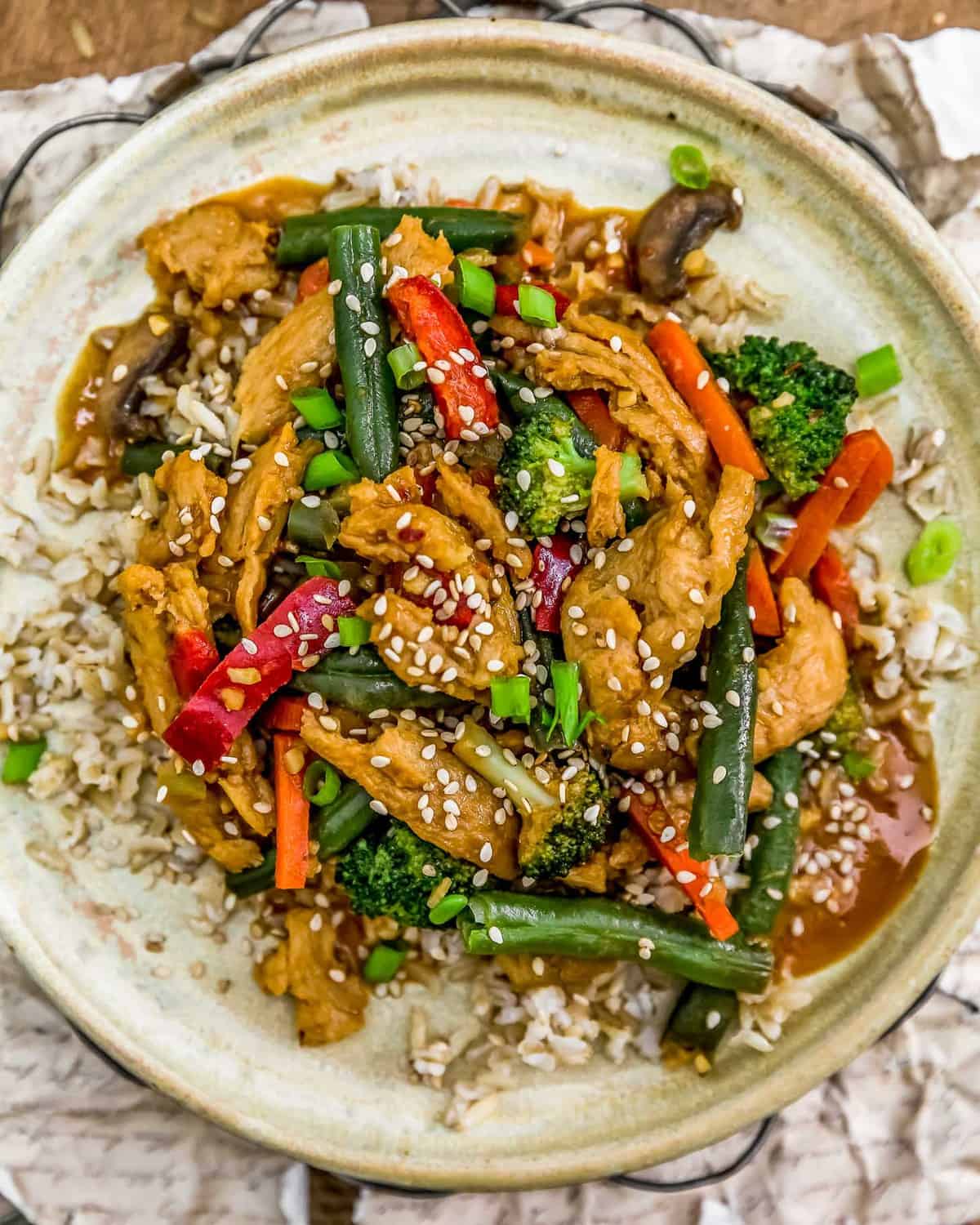 We could eat stir fry all day – every day, and this crazy delicious Vegan Spicy Honey Garlic Stir Fry is so flavorful with a perfect combo of sweet, spicy, and savory. You can't go wrong with amazing stir fry goodness. It's unbelievably easy to whip up, bursting with nutritious veggies and protein, and drenched in an irresistible sauce. Total weeknight meal paradise that is sure to become a new to-go. This veggie stir fry features two fantastic variations that are totally adaptable to fit your personal taste.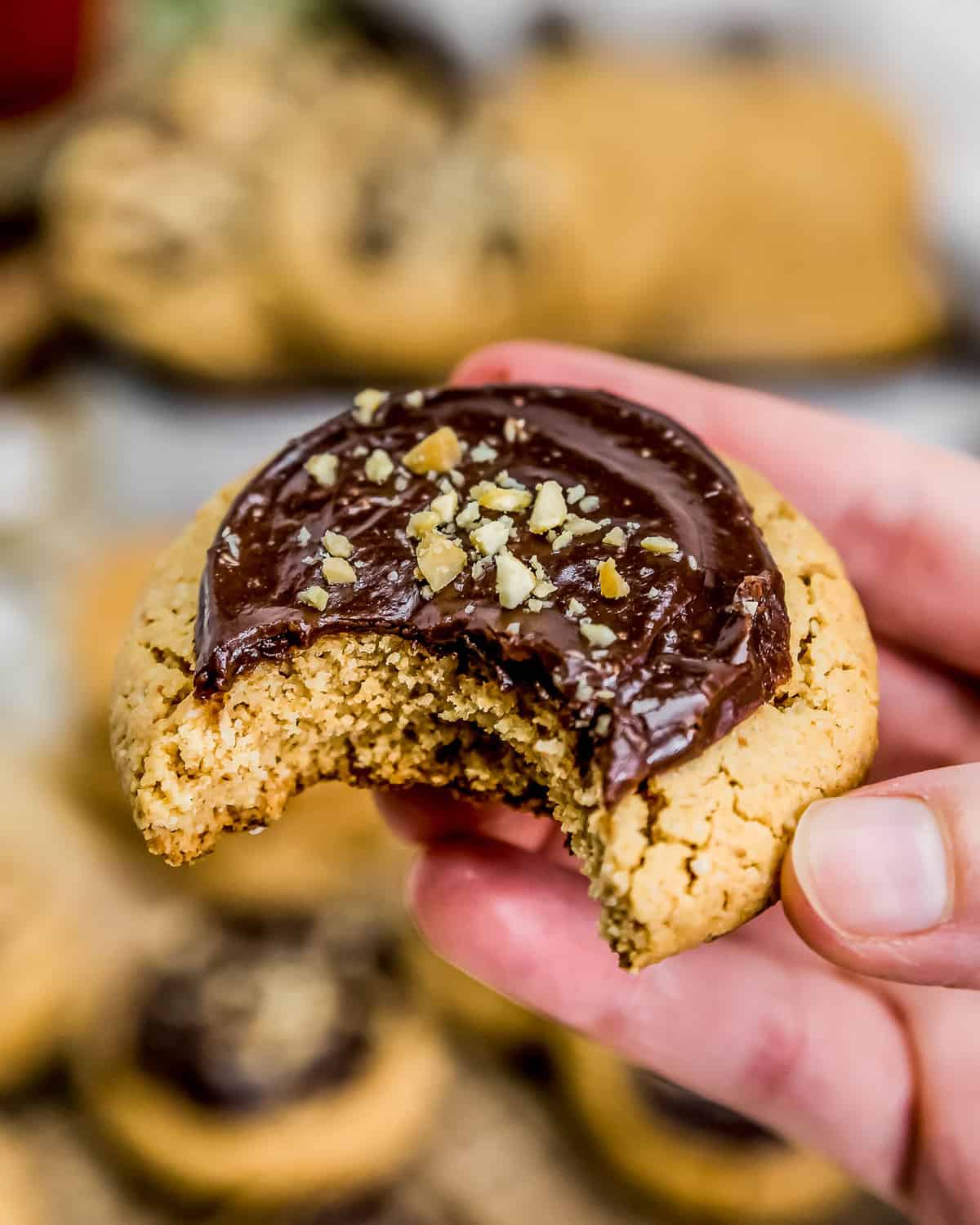 When amazing descriptive words like: soft, buttery, and healthy are combined with the word cookie, then you know it's gonna be a good day! This beauty right here is what peanut butter cookie deliciousness is all about.  These Peanut Butter Shortbread Cookies are easy to make and sure to become your new favorite!  Lightly sweet with a delicate peanut butter accent topped with a creamy chocolatey-peanut butter icing is all you'll need for cookie nirvana. Perfect for any holiday, bake sale, or any day of the week.