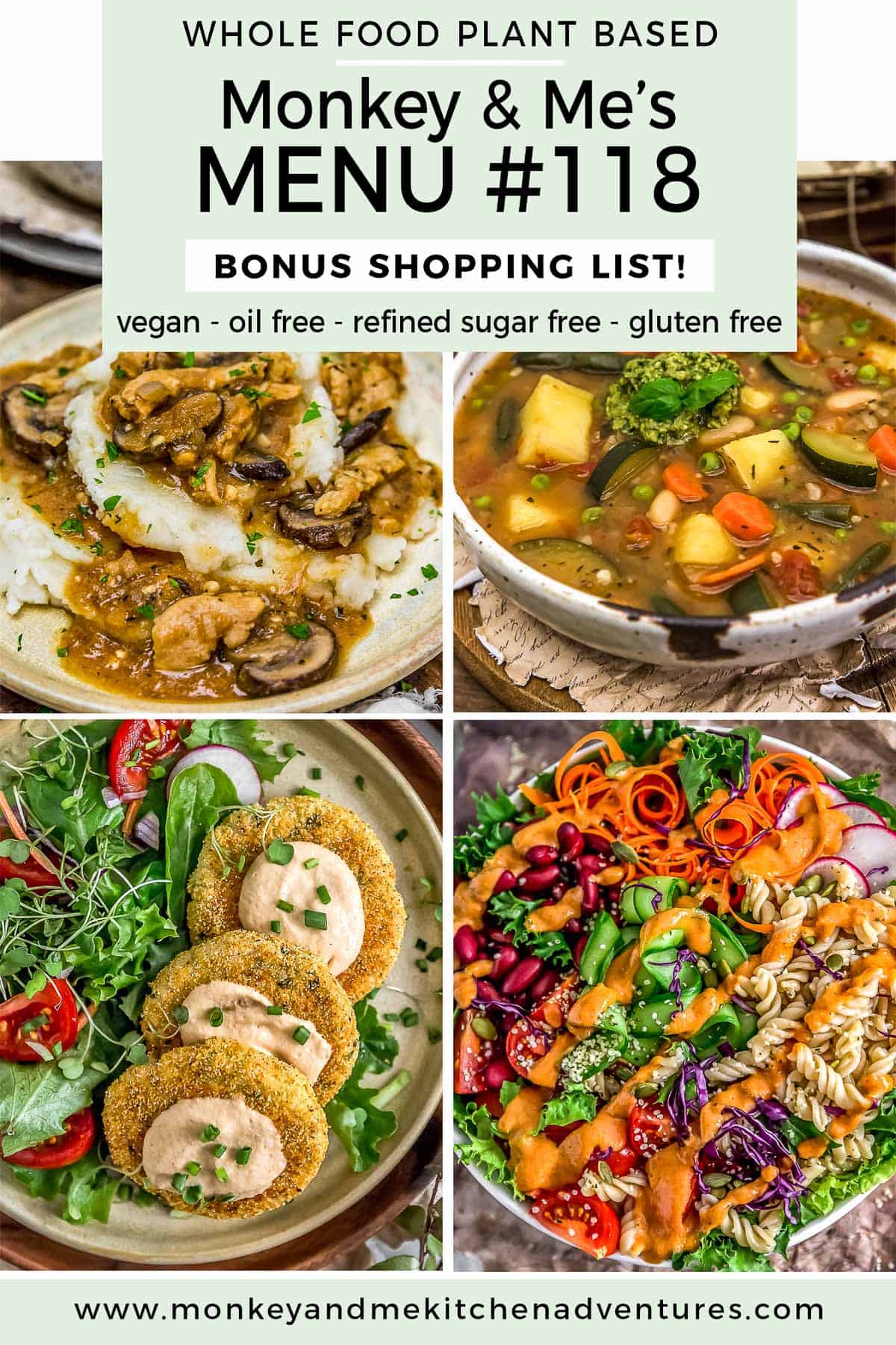 This week's Monkey and Me's Menu features some tasty recipes.  Menu #118 includes a FREE bonus shopping list.  All recipes are Whole Food Plant Based, vegan, plant based, oil free, refined sugar free, no highly processed ingredients, and gluten free.

Downloadable Menu which offers the following:

2 Breakfast ideas
2 Lunch ideas
2 Snack Ideas
5 Dinner Ideas, including a FREE downloaded shopping list (PDF – Below)

A comprehensive (downloadable) shopping list for the 5 Dinners

The shopping list is segmented into the common grocery store sections like "produce, spices, etc." making it easy to pick up these items from your local grocery store.
It also includes product suggestions that are Whole Food Plant Based compliant* for easy reference.  Note: These products are suggestions, please feel free to select your own favorite products.
Includes helpful codes so you can easily subtract items that you choose not to make.

Downloadable Instructions on how the meal plan work.
Note:  The term "Whole Food Plant Based compliant" is from a general standpoint.  There are Whole Food Plant Based diet branches that restrict certain food items.  Our recipes are all Whole Food Plant Based compliant based upon a high-level compliance standpoint. i.e. vegan, plant based, oil free, refined sugar free, minimally processed foods.
Some breakfast, lunch, and snack ideas are simple concepts that require no recipe.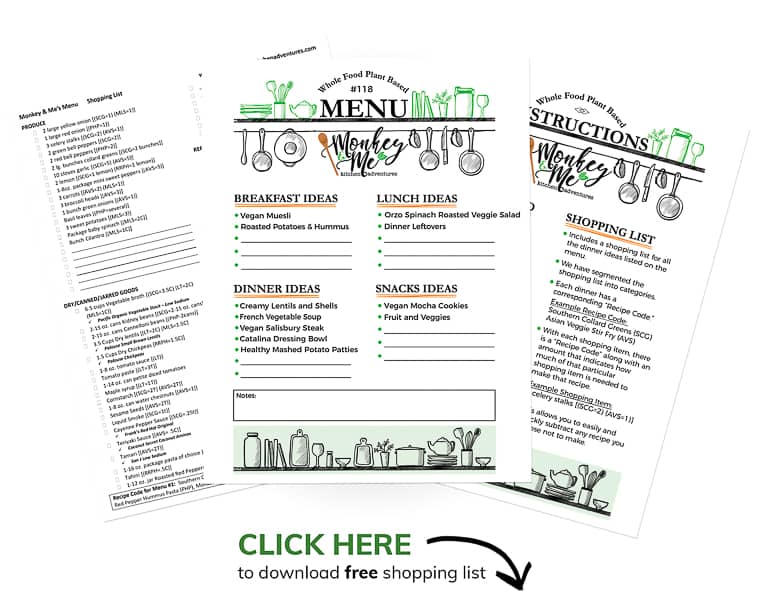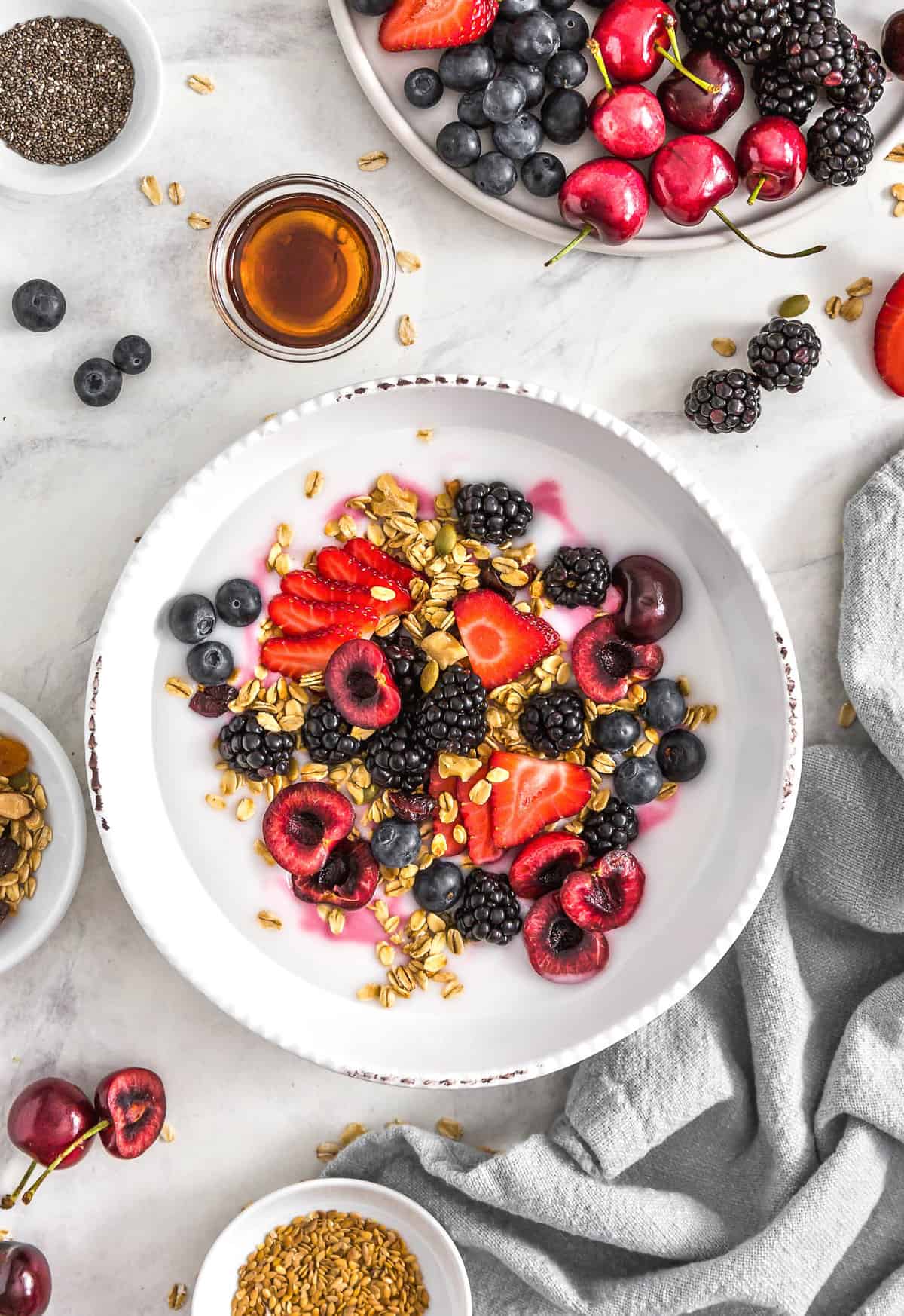 Easy, fast, and most importantly delicious, this vegan muesli will be changing your morning routine for the better! Wholesome, lightly sweetened rolled oats combined with nuts and seeds makes for a tasty healthy breakfast option. The crunchy and chewy oat texture works beautifully as a cereal with plant milk or mixed with your favorite plant yogurt. Add some of your favorite fruits, and you have a delicious dish that will keep you full and satisfied!
Simple and bursting with flavor, this light and refreshing Orzo Spinach Roasted Veggie Salad is summertime deliciousness in a bowl.  Wholesome, roasted garden veggies combined with delicate orzo pasta, then lightly dressed in lemony goodness makes for a fabulous Whole Food Plant Based recipe! Move over macaroni salad, there's a new salad in town, ready for your next picnic/summertime meal!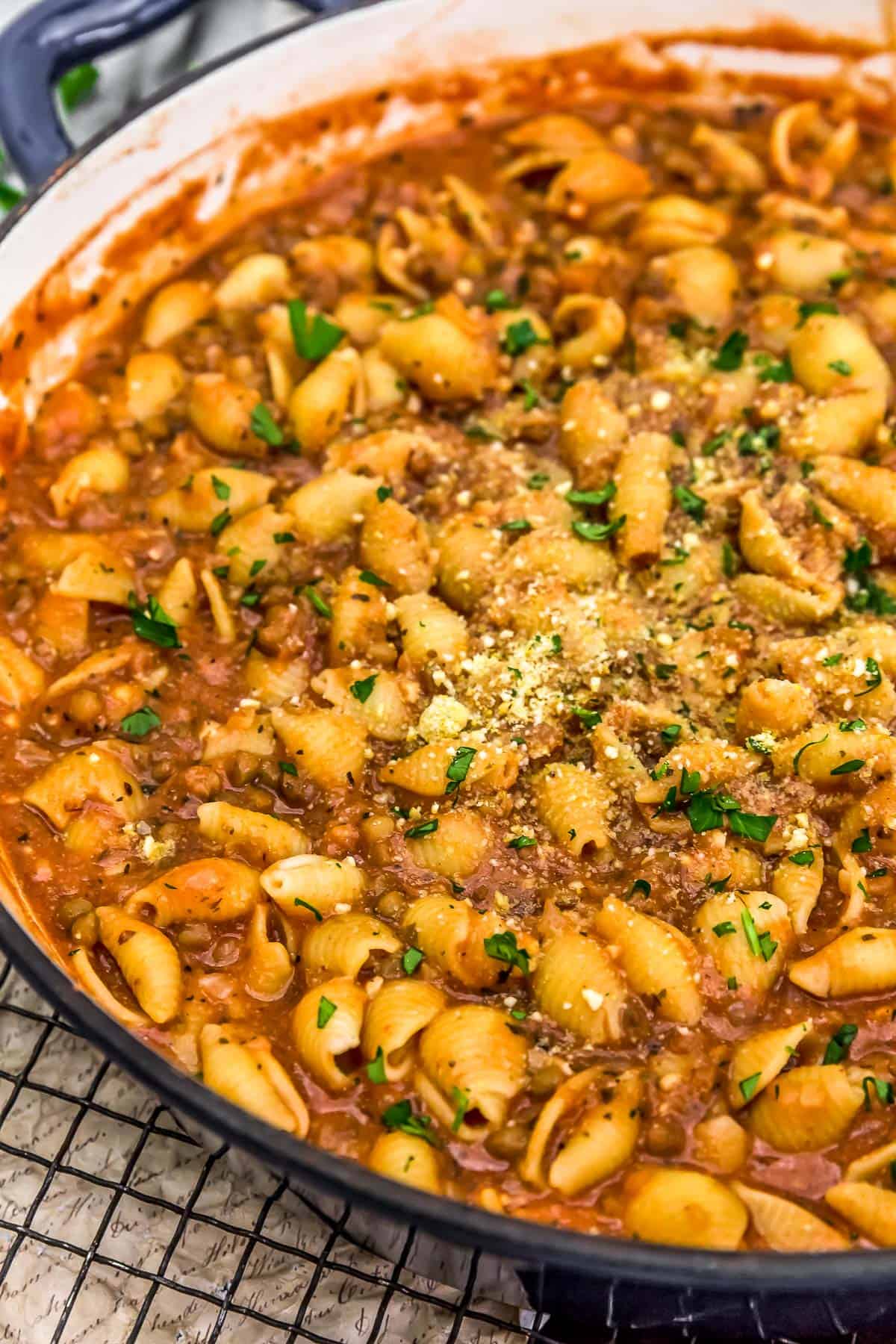 Bringing all those amazing Italian herbs and spices together with this delicious, hearty, and oil-free Creamy Lentils and Shells dish, your week night meals just got a whole new flavor boost. Garlic, onions, hearty lentils and tender pasta shells are swimming in a delightfully delicious tomato-based sauce. The whole family will be singing your culinary praises all week.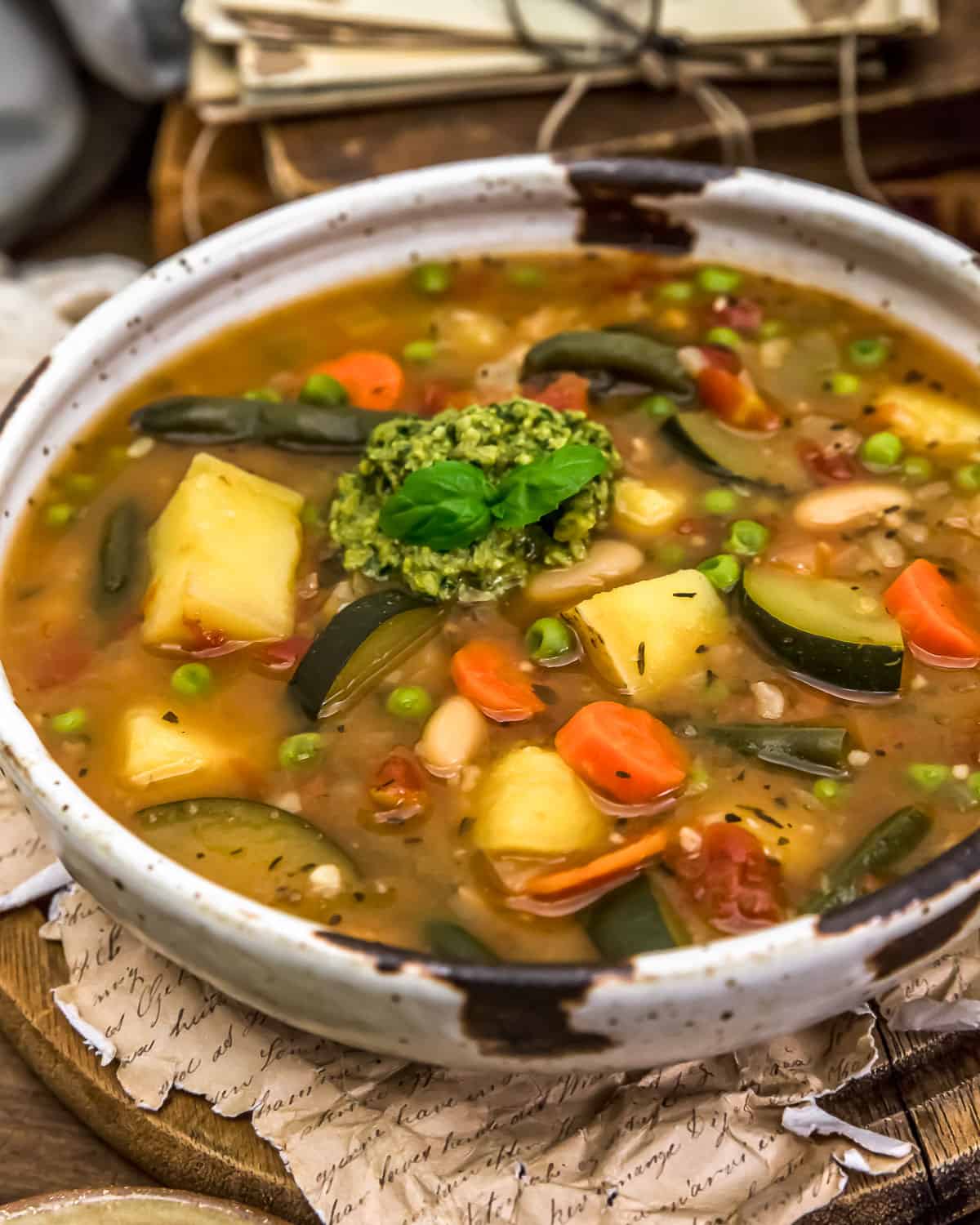 Satisfying, hearty, and flavorful, this healthy, oil-free French Vegetable Soup (Soupe au Pistou) brings all those Southern France flavors together in a light and vibrantly fresh way. The pistou is a bright basil sauce that is reminiscent of a pesto that is stirred into individual servings for burst of zesty, bold deliciousness. Loaded with garden vegetables, it's light, yet filling.  It's sure to become a family favorite.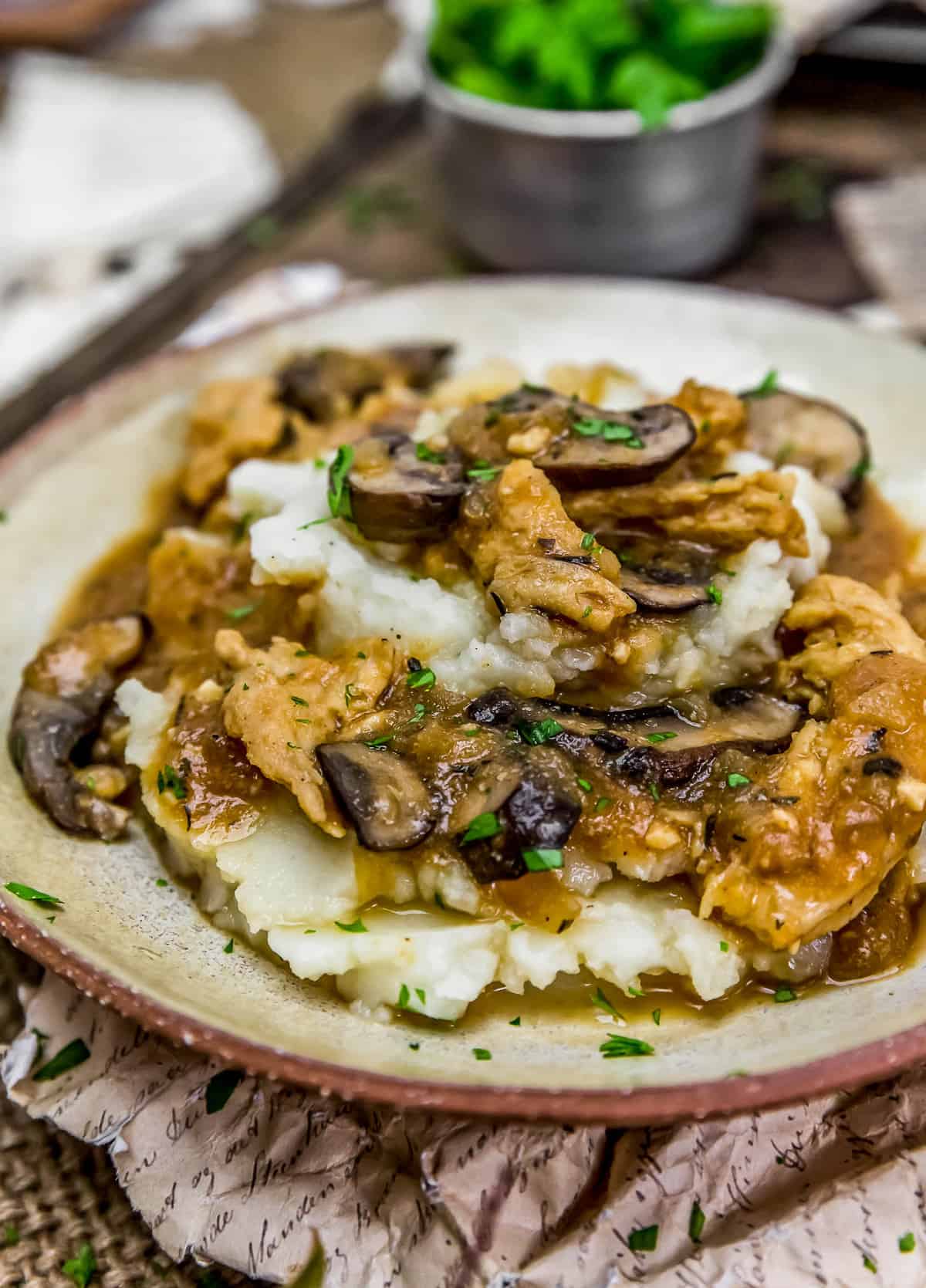 Hunkering down in the cozy chair with a big bowl of this comfort food is total happiness. This hearty and satisfying Vegan Salisbury Steak dish is brimming with delicious flavor.  Sweet Vidalia onions, earthy mushrooms, protein-packed soy curls (or beans), aromatic spices and herbs all bathed in a deliciously rich brown gravy. Served over creamy mashed potatoes, this ultra-comforting dinner will have the whole family falling in love with the first bite.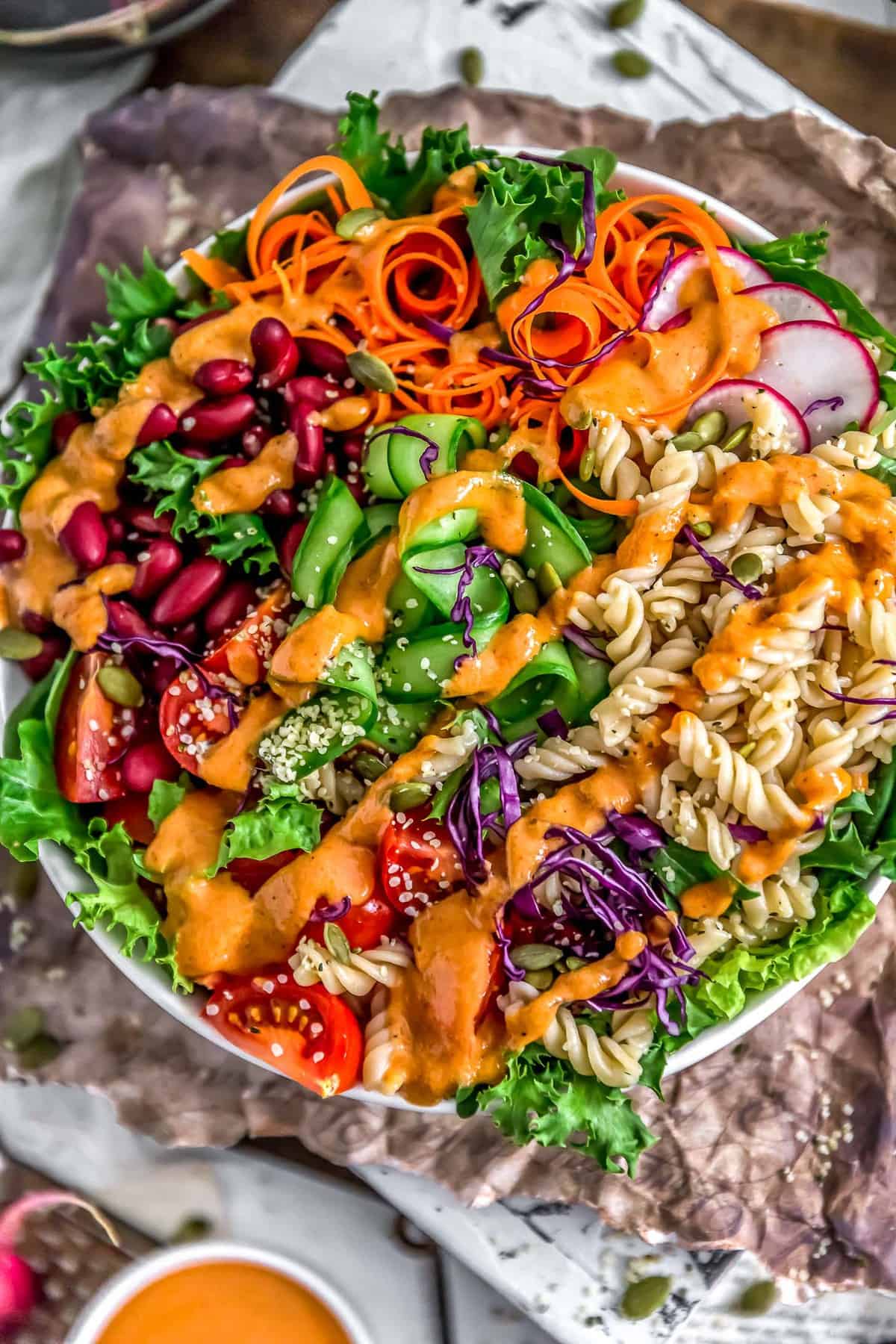 When salads put a smile on your face, you just know that there's a FABULOUS dressing along side it, and boy, oh boy, do we have a new, flavor-packed, creamy dressing that is sure to sweep you off your feet. This healthy, lush Oil Free Catalina Dressing is just that, and boasts no refined sugar too – yah hoo! Not only is it fast and easy, but it's a BLAST of delicious flavors: tangy, sweet, and full of aromatic spices! A perfect addition to salads and a dipping sauce for veggies. Deliciously bold undertones with rich umami flavors will hook you with the very first bite!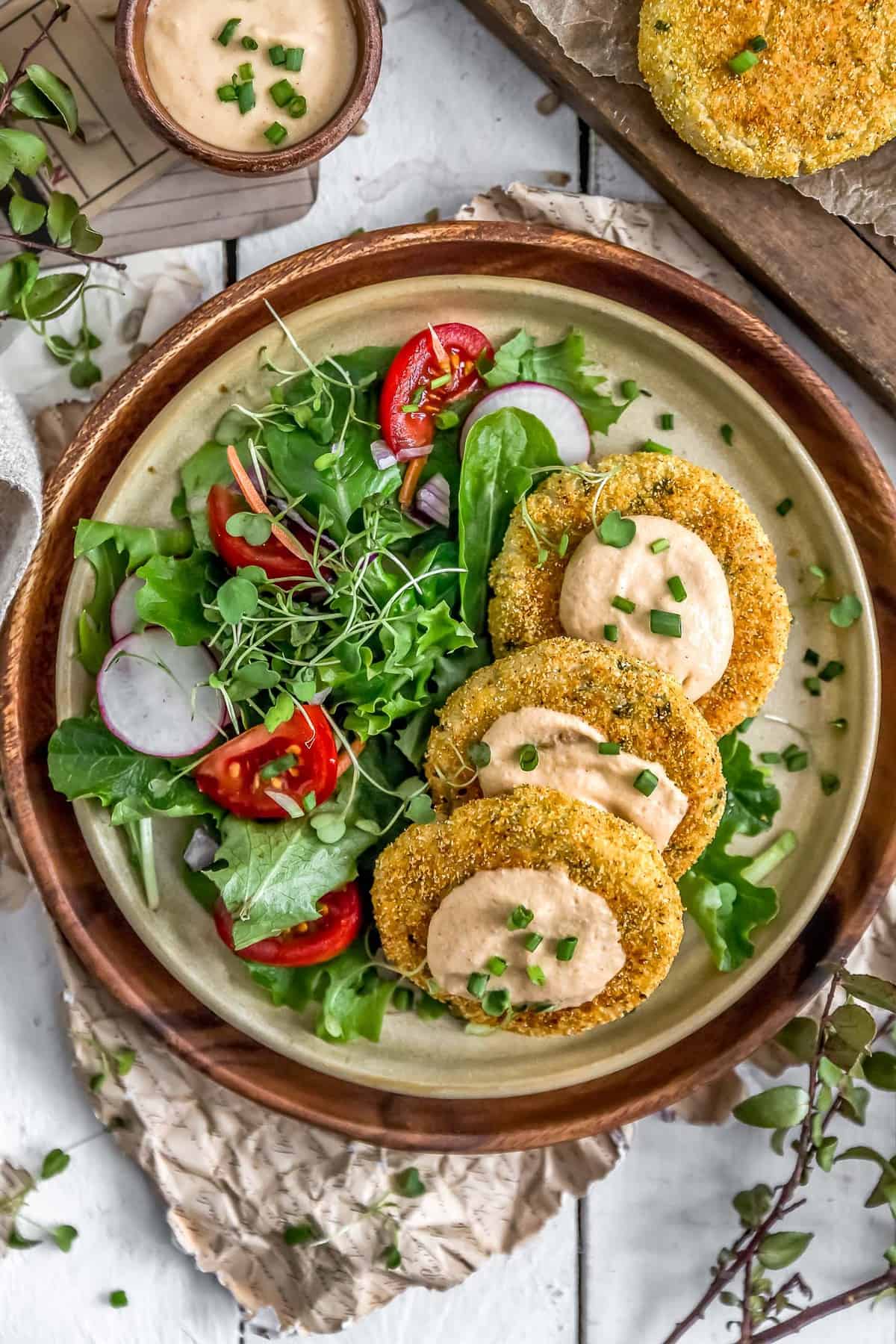 Potatoes are EVE-RY-THING! Healthy and utterly delicious, these easy to make Healthy Mashed Potato Patties with Tangy Garlic Aioli is comfort food at its best.  These amazing mashed potato patties have a perfectly tender and fluffy interior with a crispy exterior and are topped with an irresistible Tangy Garlic Aioli that is out of this world YUM!   A perfect way to use up left-over mashed potatoes that the family will thank you for making!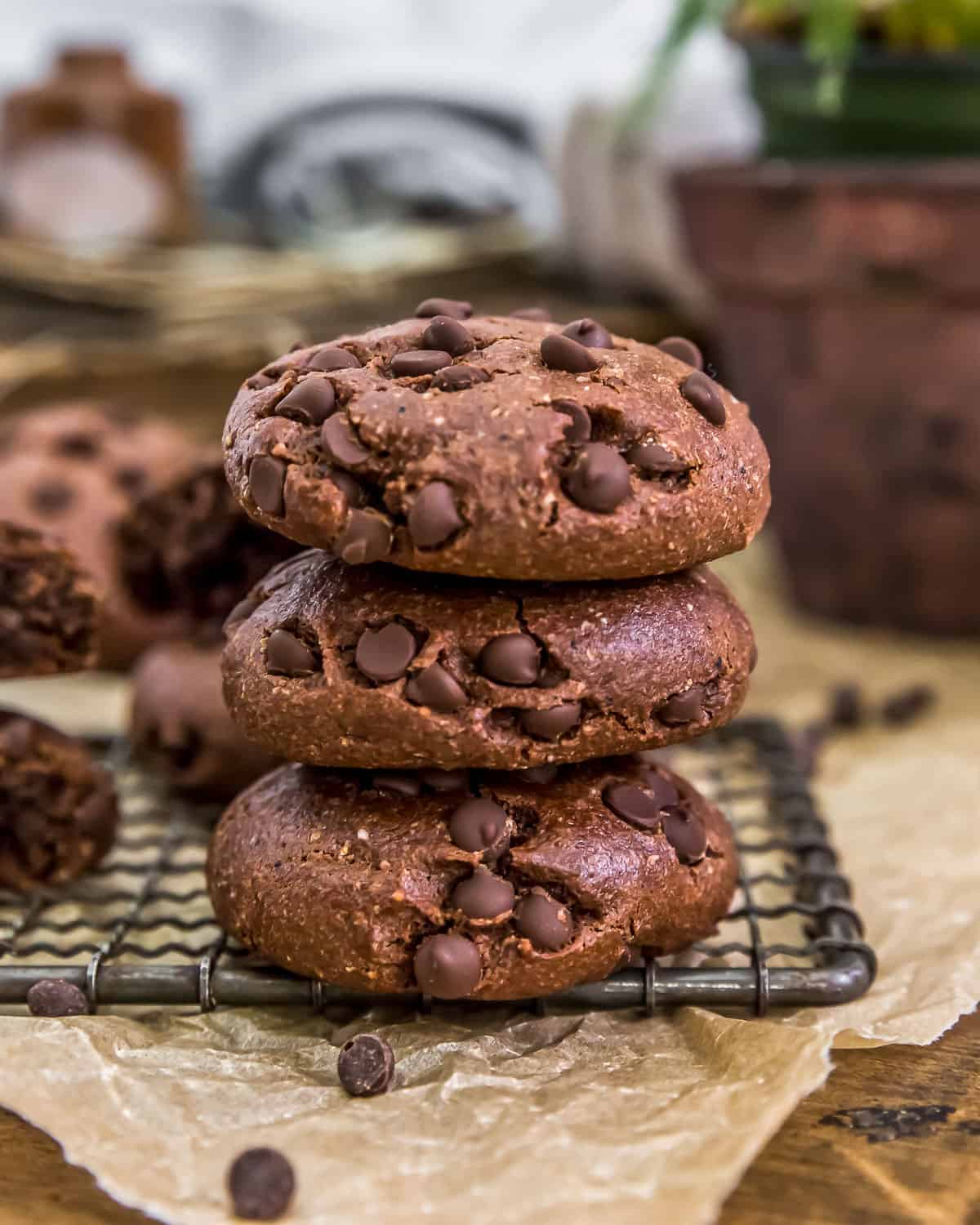 When rich, bold coffee combines with decadent, sweet chocolate, you've got a match made in dessert heaven. Sweet, simple, and oh-so scrumptious, these healthy, oil-free Vegan Mocha Cookies are the perfect texture of soft and chewy. Intense chocolate cookie dough infused with coffee and studded with mini chocolate chips ensures mocha deliciousness in every bite.