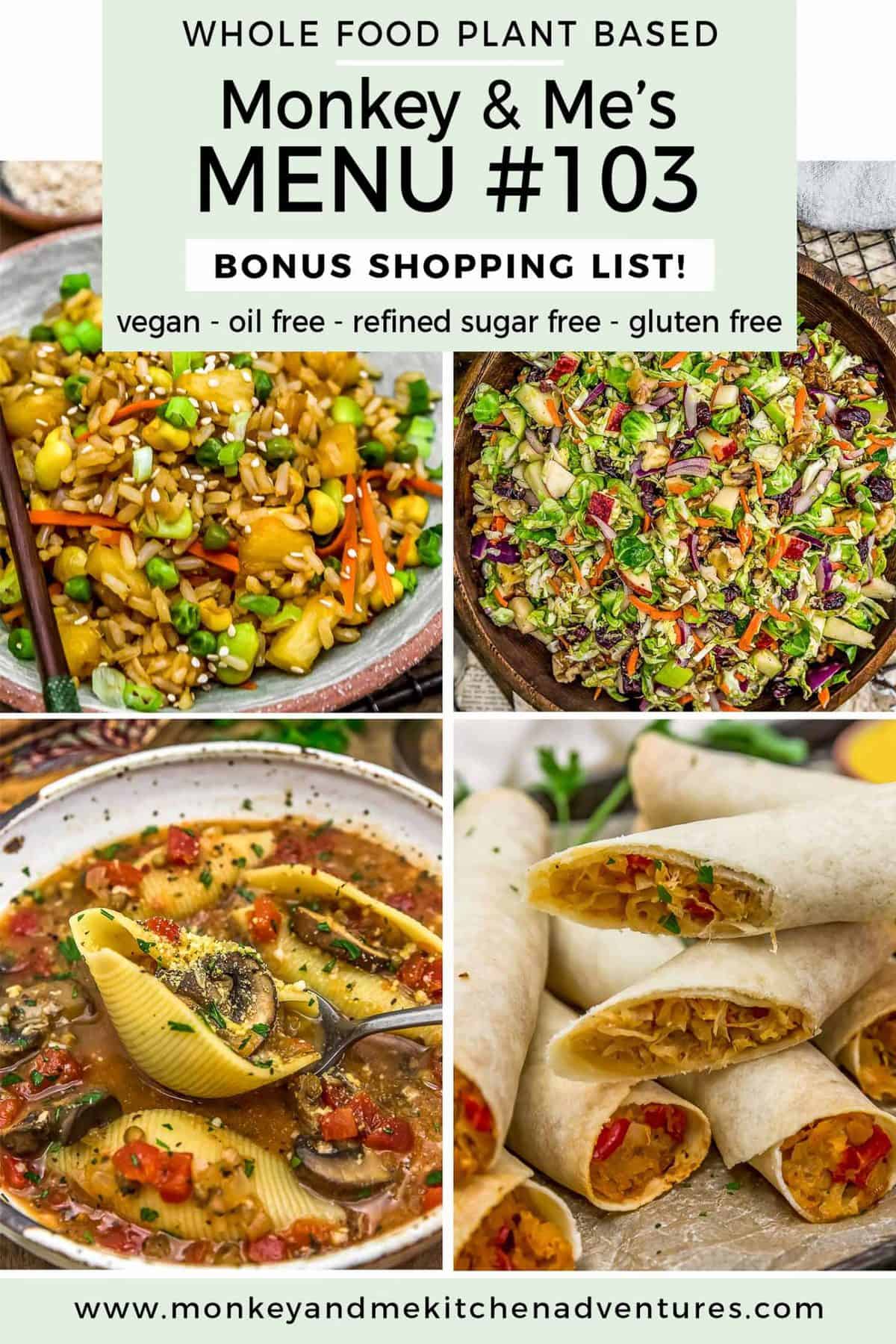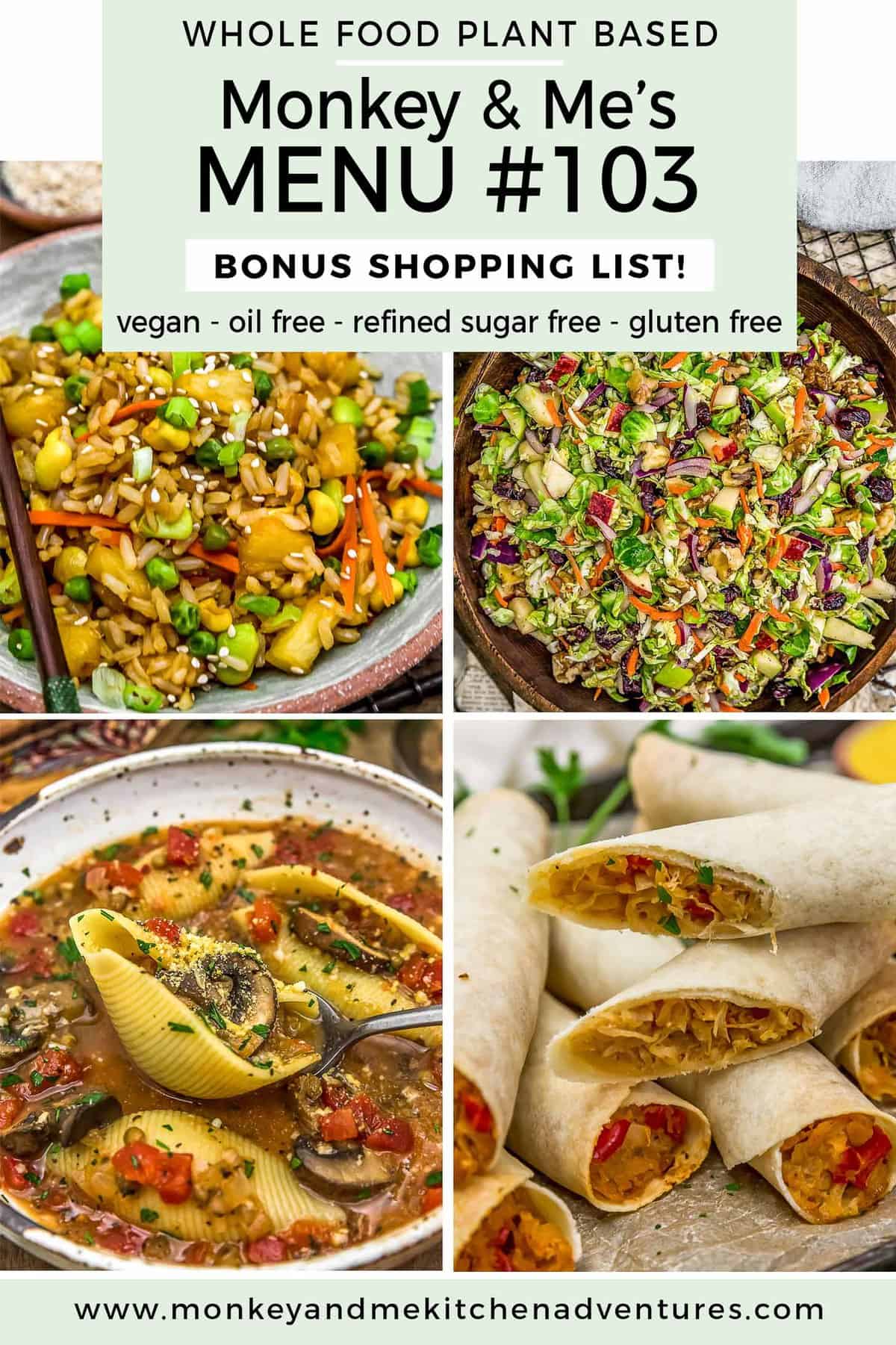 This week's Monkey and Me's Menu features some tasty recipes.  Menu #103 includes a FREE bonus shopping list.  All recipes are Whole Food Plant Based, vegan, plant based, oil free, refined sugar free, no highly processed ingredients, and gluten free.

Downloadable Menu which offers the following:

2 Breakfast ideas
2 Lunch ideas
2 Snack Ideas
5 Dinner Ideas, including a FREE downloaded shopping list (PDF – Below)

A comprehensive (downloadable) shopping list for the 5 Dinners

The shopping list is segmented into the common grocery store sections like "produce, spices, etc." making it easy to pick up these items from your local grocery store.
It also includes product suggestions that are Whole Food Plant Based compliant* for easy reference.  Note: These products are suggestions, please feel free to select your own favorite products.
Includes helpful codes so you can easily subtract items that you choose not to make.

Downloadable Instructions on how the meal plan work.
Note:  The term "Whole Food Plant Based compliant" is from a general standpoint.  There are Whole Food Plant Based diet branches that restrict certain food items.  Our recipes are all Whole Food Plant Based compliant based upon a high-level compliance standpoint. i.e. vegan, plant based, oil free, refined sugar free, minimally processed foods.
Some breakfast, lunch, and snack ideas are simple concepts that require no recipe.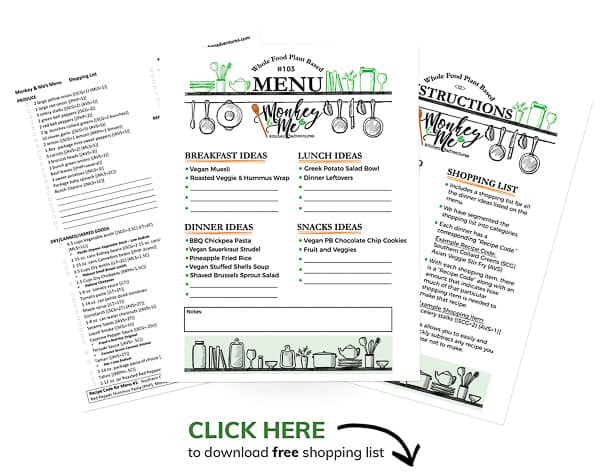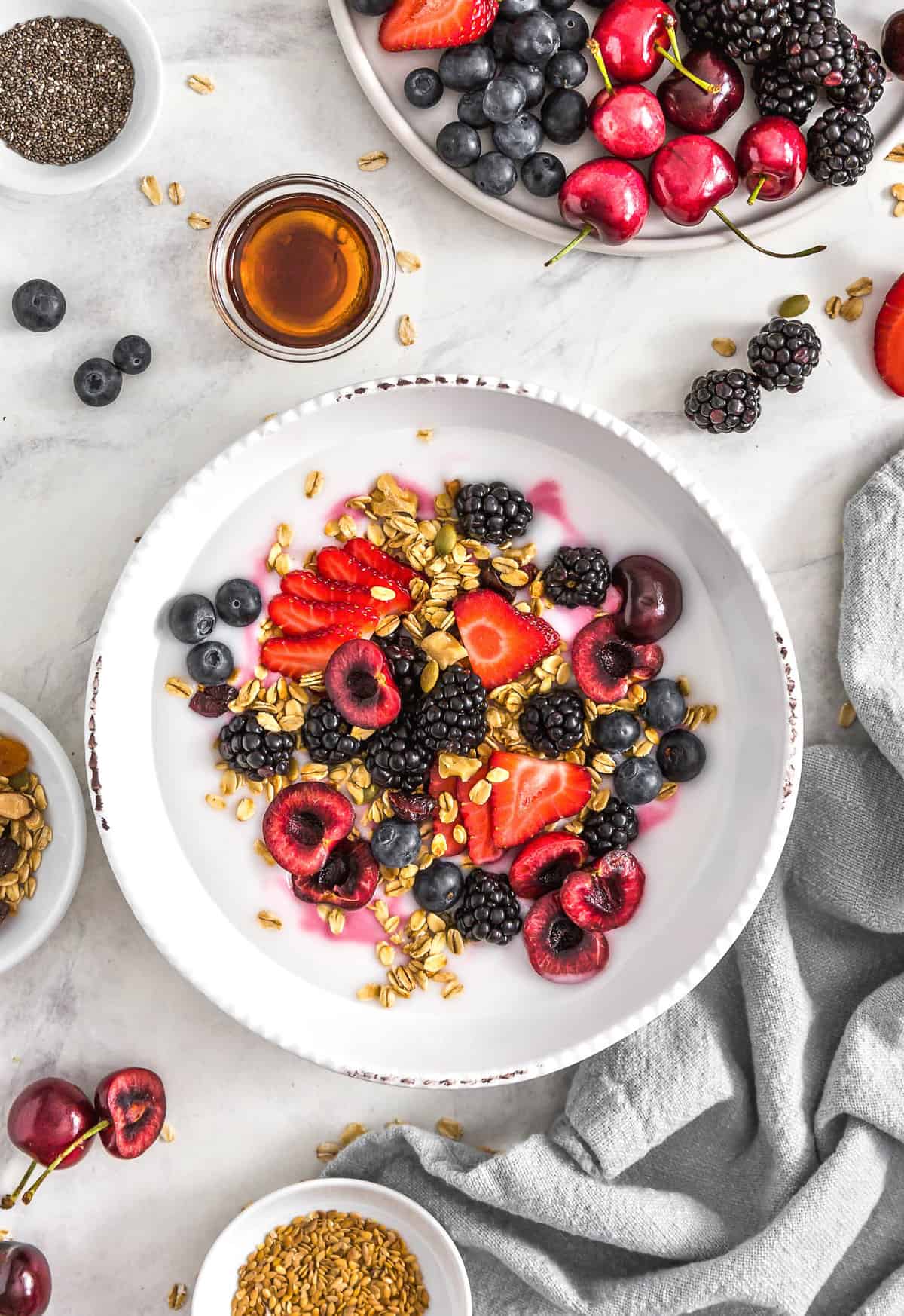 Easy, fast, and most importantly delicious, this vegan muesli will be changing your morning routine for the better! Wholesome, lightly sweetened rolled oats combined with nuts and seeds makes for a tasty healthy breakfast option. The crunchy and chewy oat texture works beautifully as a cereal with plant milk or mixed with your favorite plant yogurt. Add some of your favorite fruits, and you have a delicious dish that will keep you full and satisfied!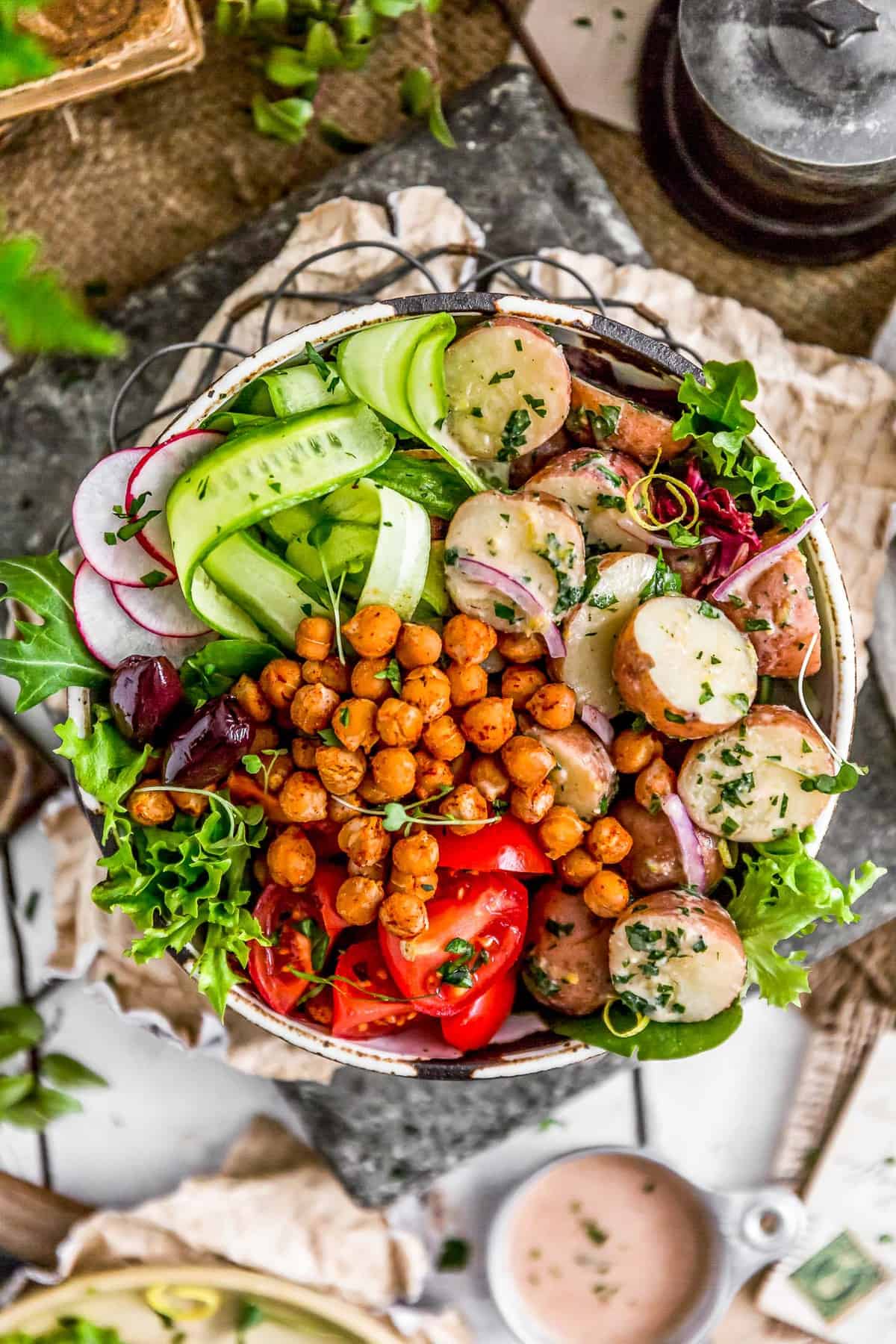 Running out of things to do with potatoes? HAHA – just kidding, we know that's impossible! We are potato lovers too, and we are SO excited to share a new delicious dish to add to your repertoire. Warm, zesty and oh-so-satisfying, this warm Greek Potato Salad is bursting with lemony goodness and super easy to make! Best served warm or at room temperature, this simple potato dish makes for a fantastic side or picnic dish.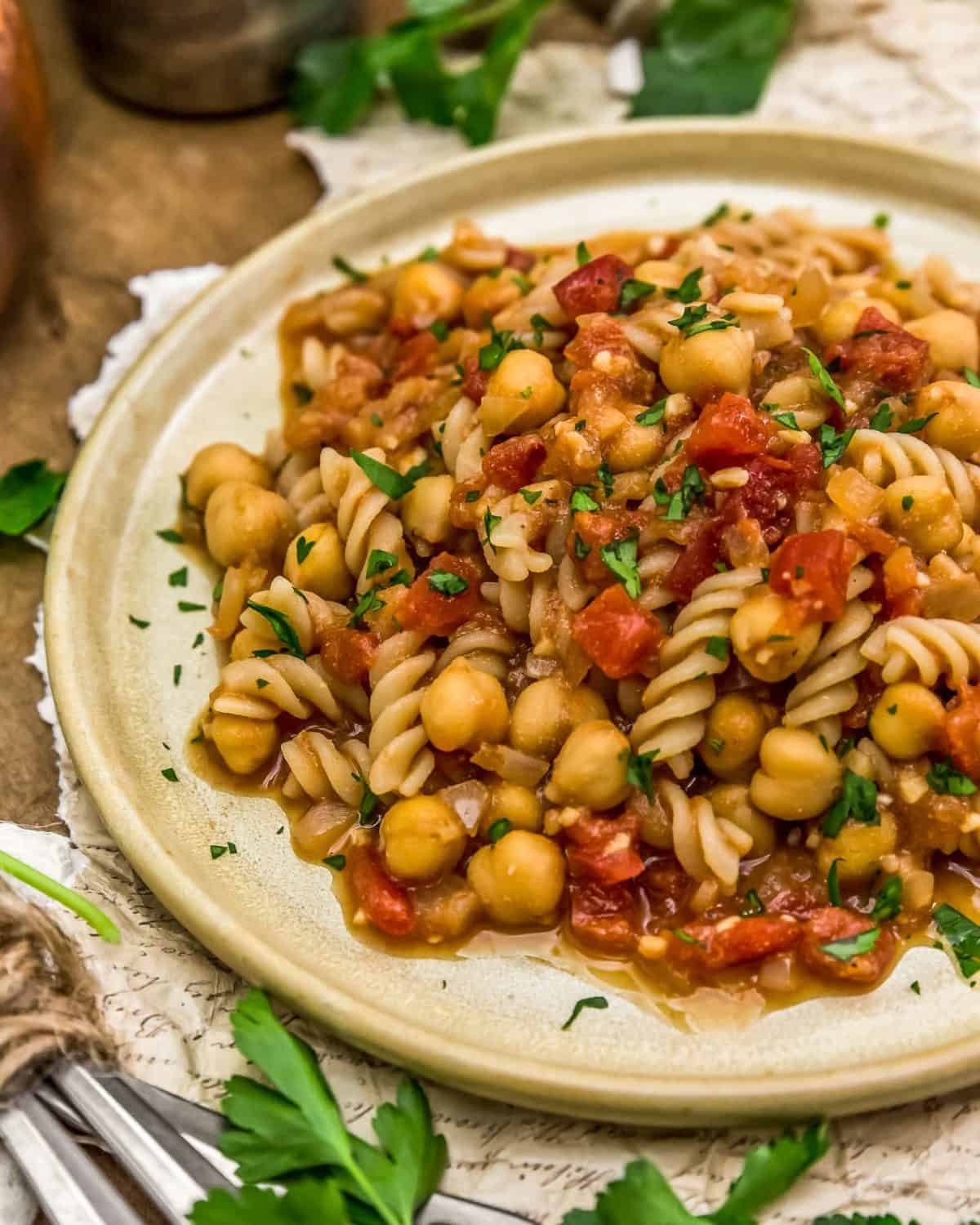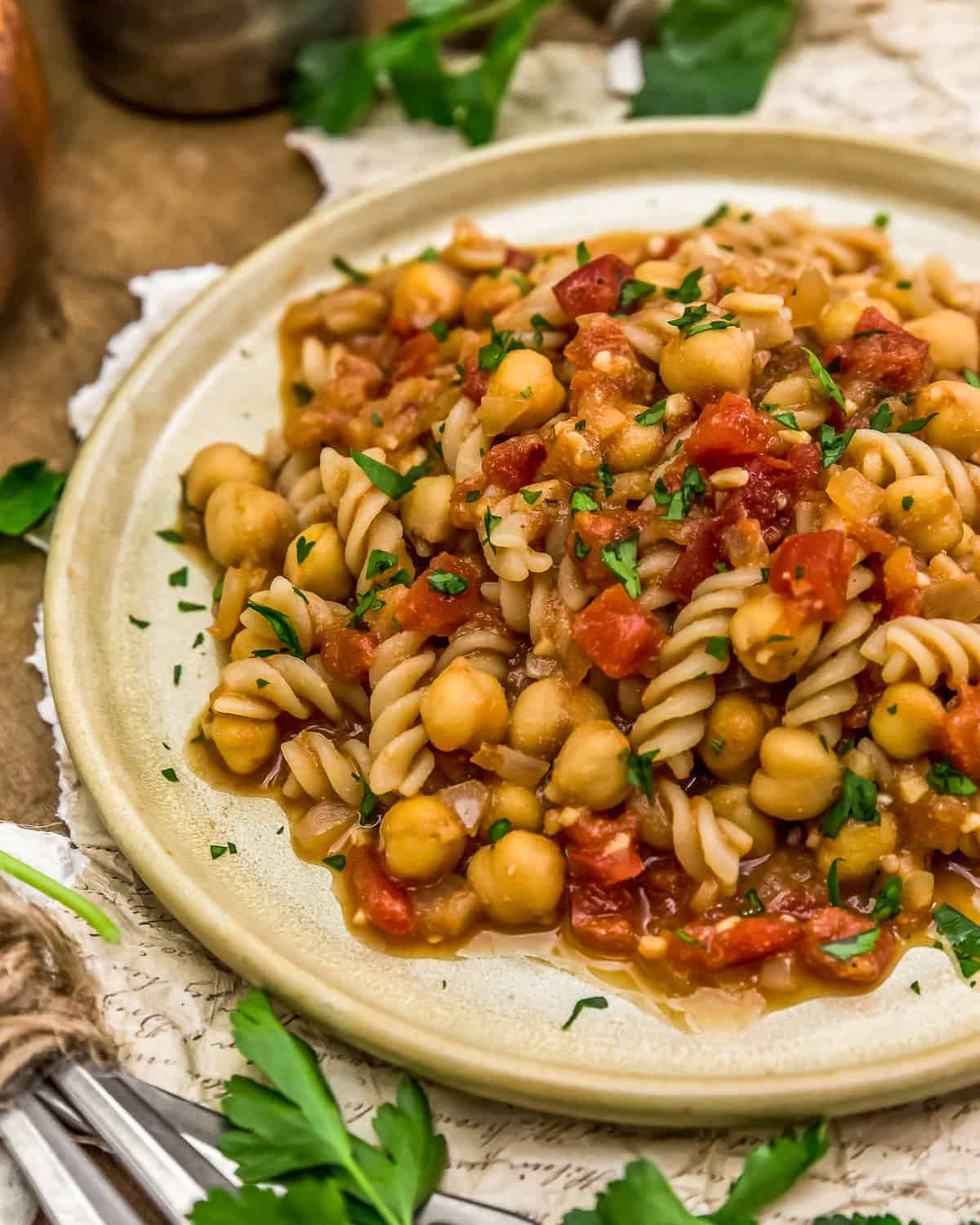 When two comfort foods come together in a fun and delicious twist you get BBQ Chickpea Pasta! This wholesome, flavor-packed pasta dish really delivers a burst of barbecue deliciousness with cozy pasta goodness. It's fast, it's easy, and the kids will love it. It's everything a great skillet dish should be and so much more! The best part is it can be whipped up in just about 20 minutes and sure to satisfy those BBQ cravings.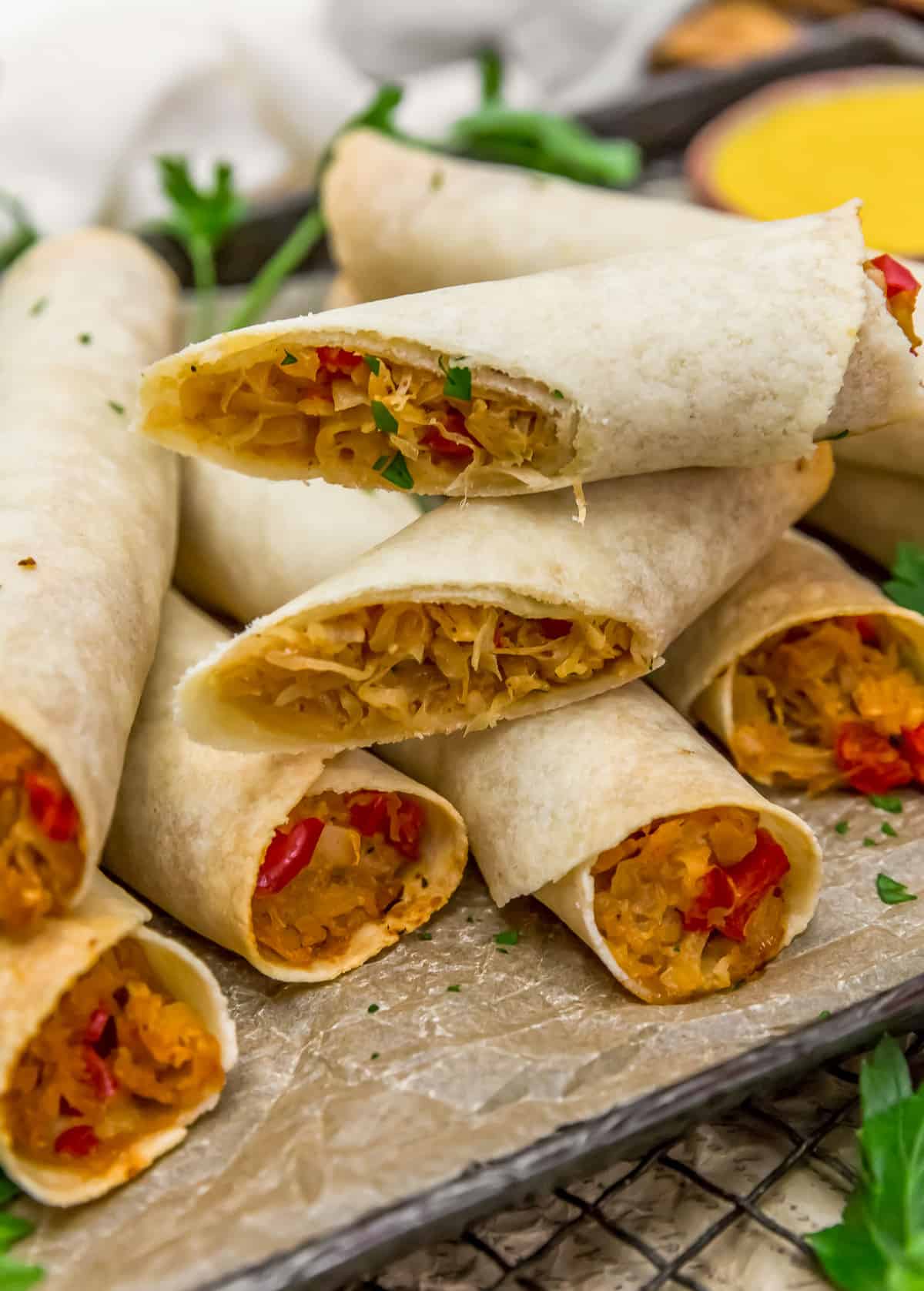 Sauerkraut lovers rejoice, we've got that tangy goodness all bundled up in a delicious roll for an easy dish that is sure to get those hips swiveling and those feet dancing with happiness. This wholesome, oil-free Vegan Sauerkraut Strudel (Krautstrudel) brings all those amazing German savory flavors together in a delightfully easy roll. Sautéed onions, garlic, sauerkraut, and aromatic spices are wrapped up in a tasty flaky tortilla, then baked to perfection for a hearty appetizer or main course that is sure to have the whole family running to the table as soon as they come out of the oven. They are completely and utterly delicious; you can't just eat one!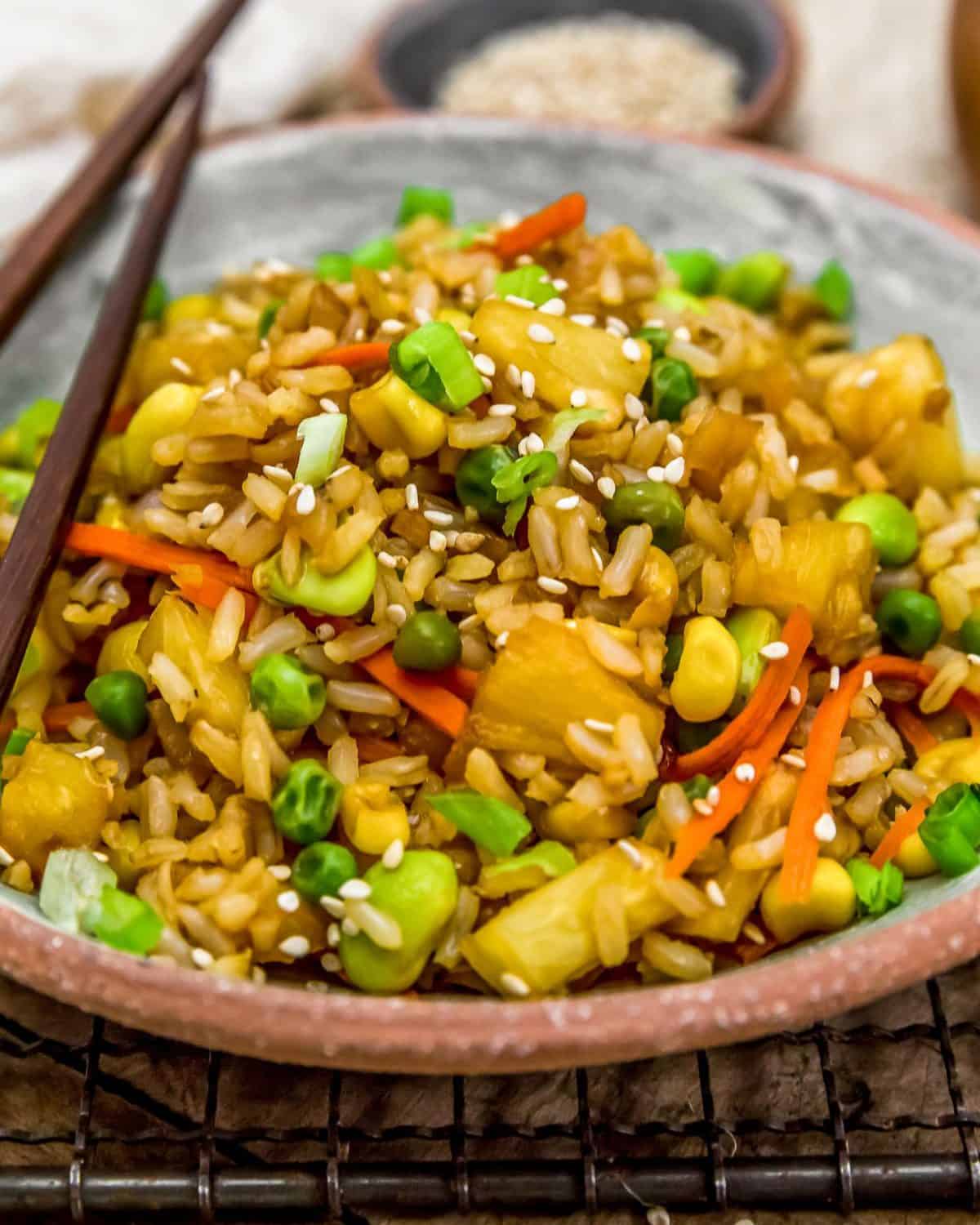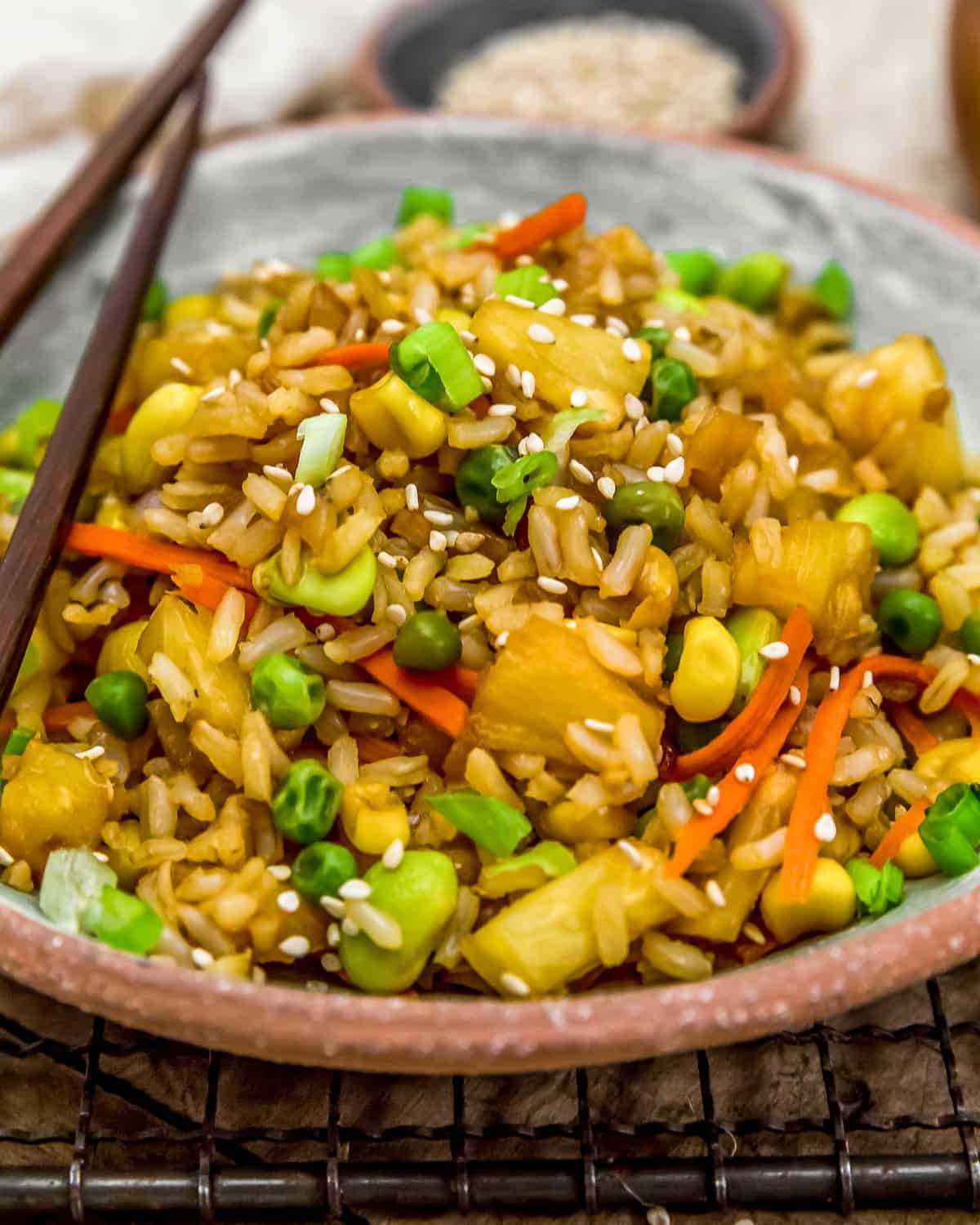 When your belly's craving needs are in high-gear, but your mind is like, "please, don't make me think." Don't worry, we've got you covered with this comforting classic. Incredibly easy and fast to make, this healthy, oil-free Pineapple Fried Rice is brimming with amazing flavors and wholesome ingredients. The pineapple sauce has just the right amount of Asian sweet and tanginess that takes this dish to the next level of yumminess. Pineapple, carrots, corn, peas, edamame, and rice really gives this fried rice dish tons of texture and hearty goodness. The best part is it's ready in 30 minutes or less.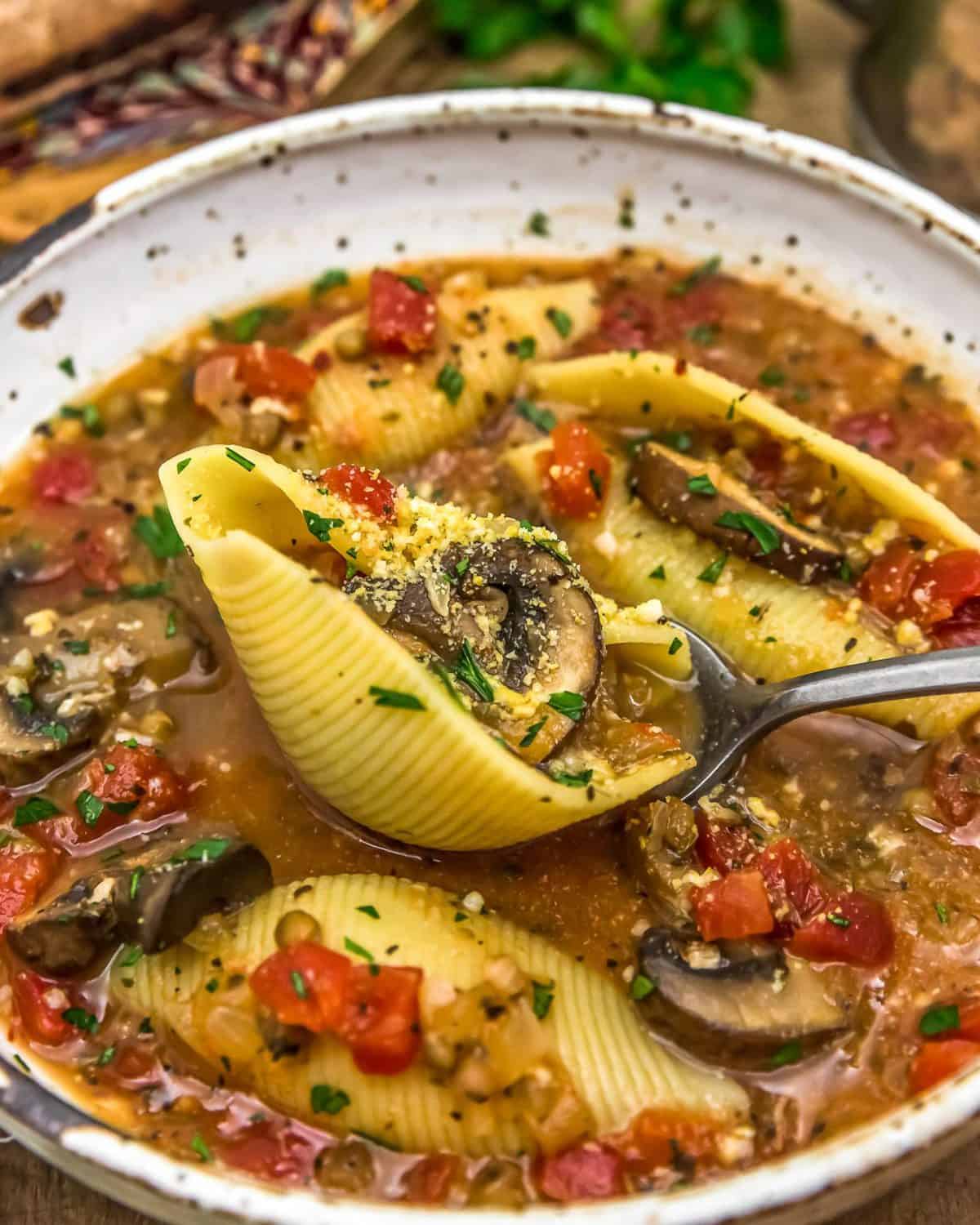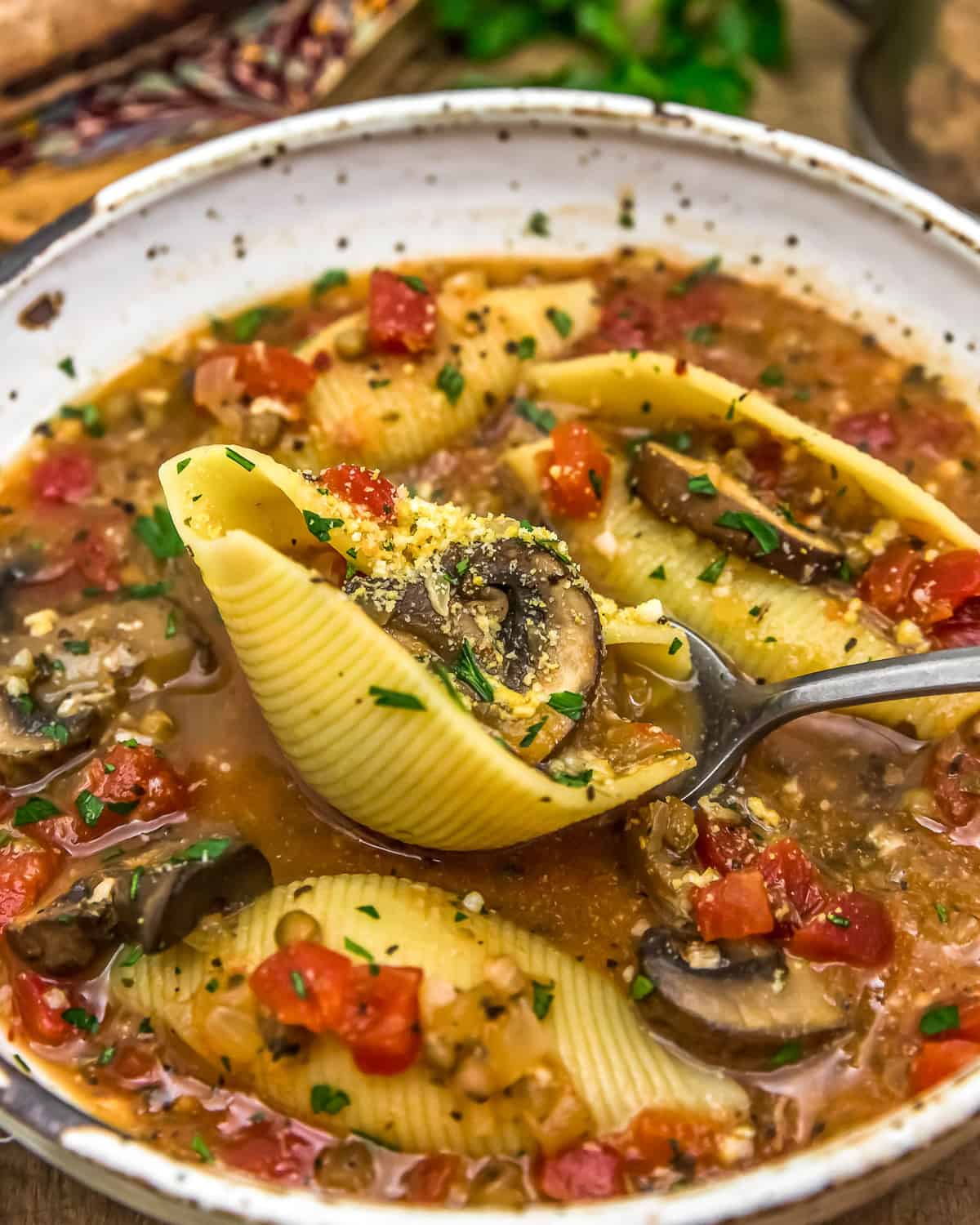 If you are looking for down home comfort food at its finest, then this Vegan Stuffed Shells Soup totally fits the ticket. Deconstructed jumbo shells, zesty garlic, earthy mushrooms and onions bathing in a delicious Italian flavored tomatoey broth that is sure to please. It's so easy, utterly delicious, and full of amazing flavor and texture.  It's makes for a great meal presentation as little kids and big kids alike love those jumbo shells.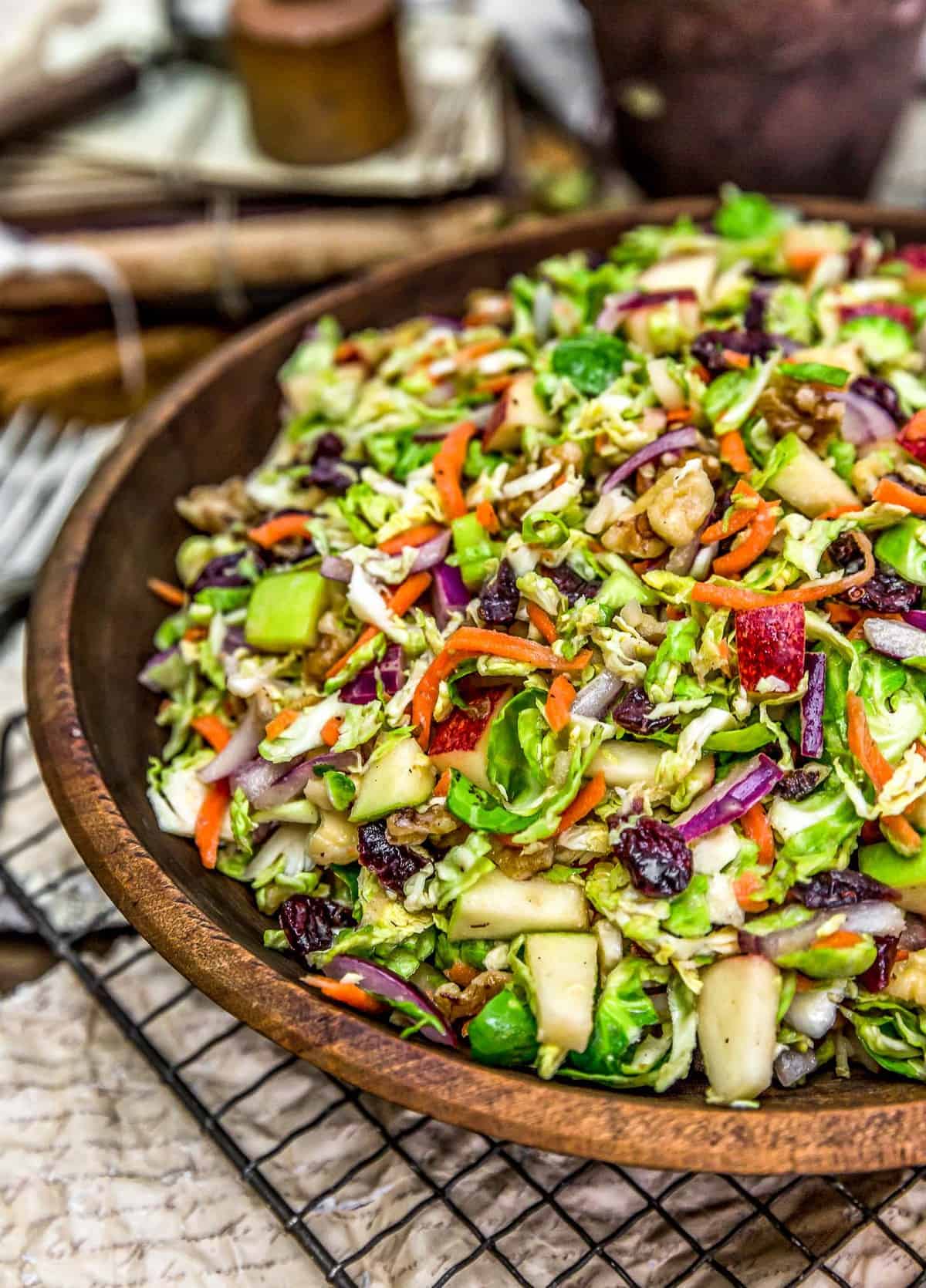 We've got some serious delicious salad action heading your way with all the must haves: flavor, texture, and wholesome goodness. This awesome Shaved Brussels Sprout Salad is loaded with deliciousness. Shaved Brussels sprouts, grated carrots, sweet and tart apples, toasted walnuts, zesty red onions, and chewy dried cranberries come together in the best possible way. Tossed with in a deliciously tangy maple mustard vinaigrette, this delicious salad is a real crowd pleaser. Absolutely perfect for your next holiday dinner table, pot-lucks, or work lunches.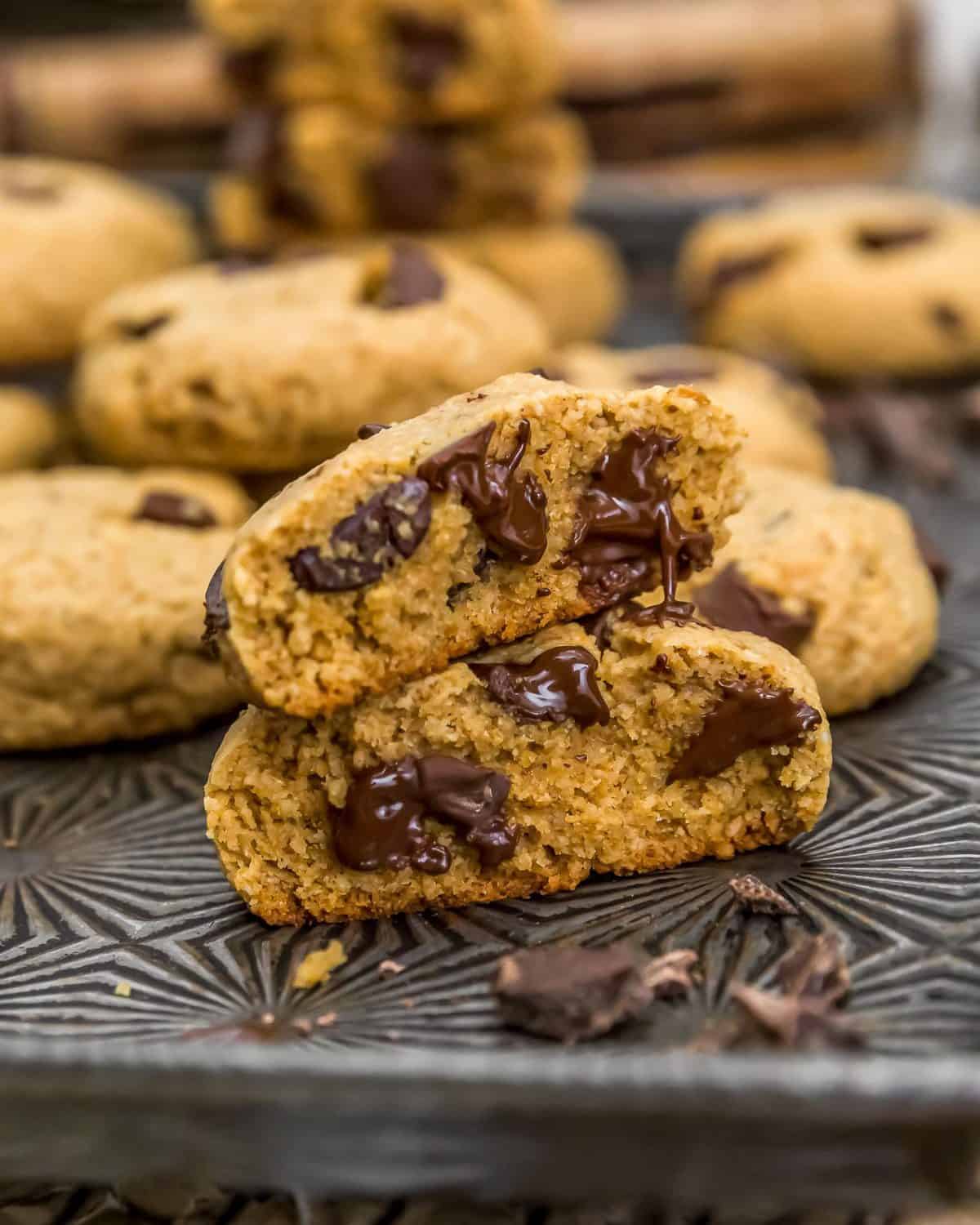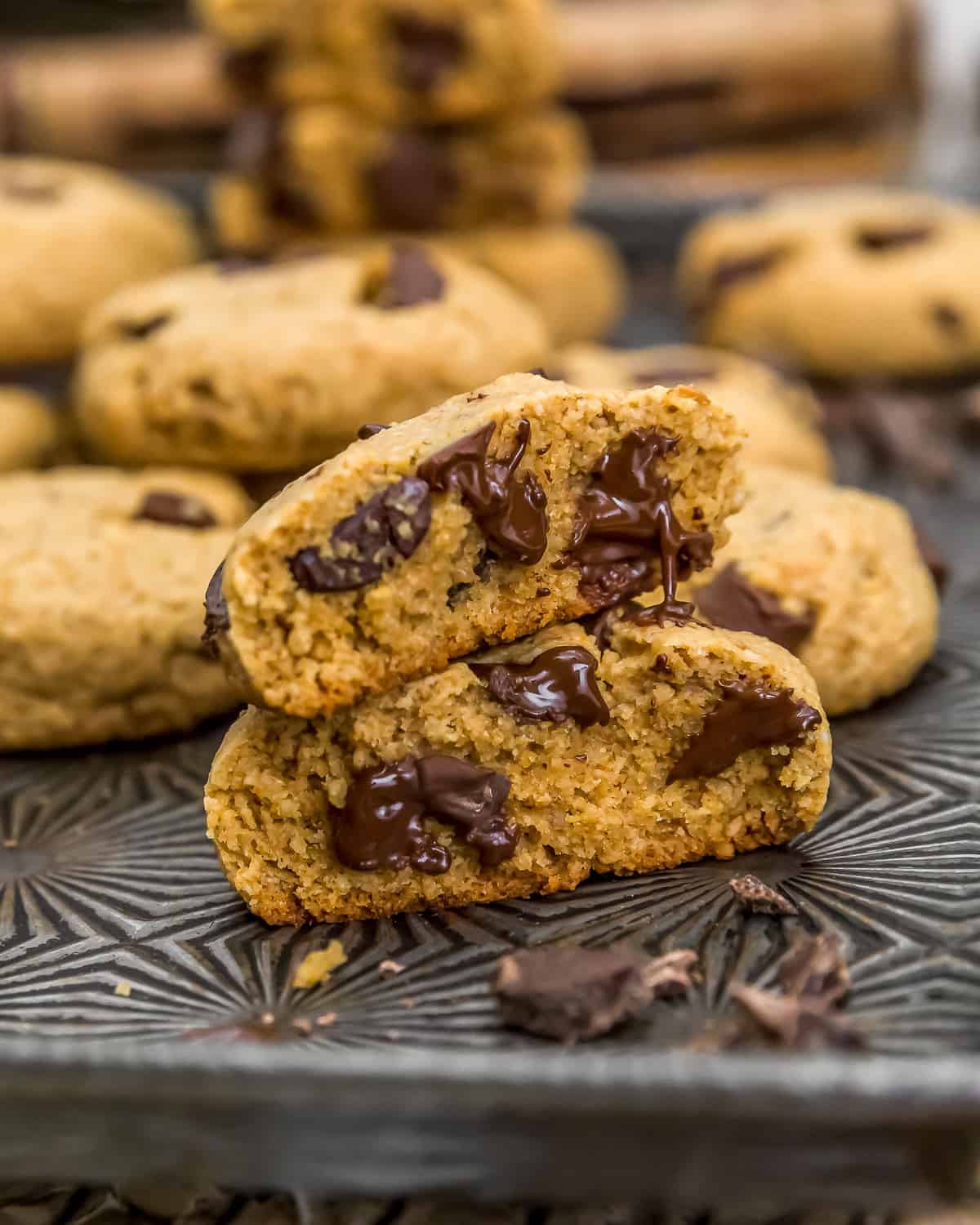 Nothing beats the classic combination of heavenly peanut butter and chocolate. These drool-worthy Vegan Peanut Butter Chocolate Chip Cookies are a delightful combination of rich peanut butter and melty chocolatey goodness all wrapped up in a delicious, guilt-free treat. These tasty sweets are sure to be a family favorite come the holidays.  Brighten up your Christmas cookie platter with these soft cookies that will be gone in a flash. These lovelies are perfect for any holiday, bake sales, or any day of the week.  Guaranteed to get rave reviews!