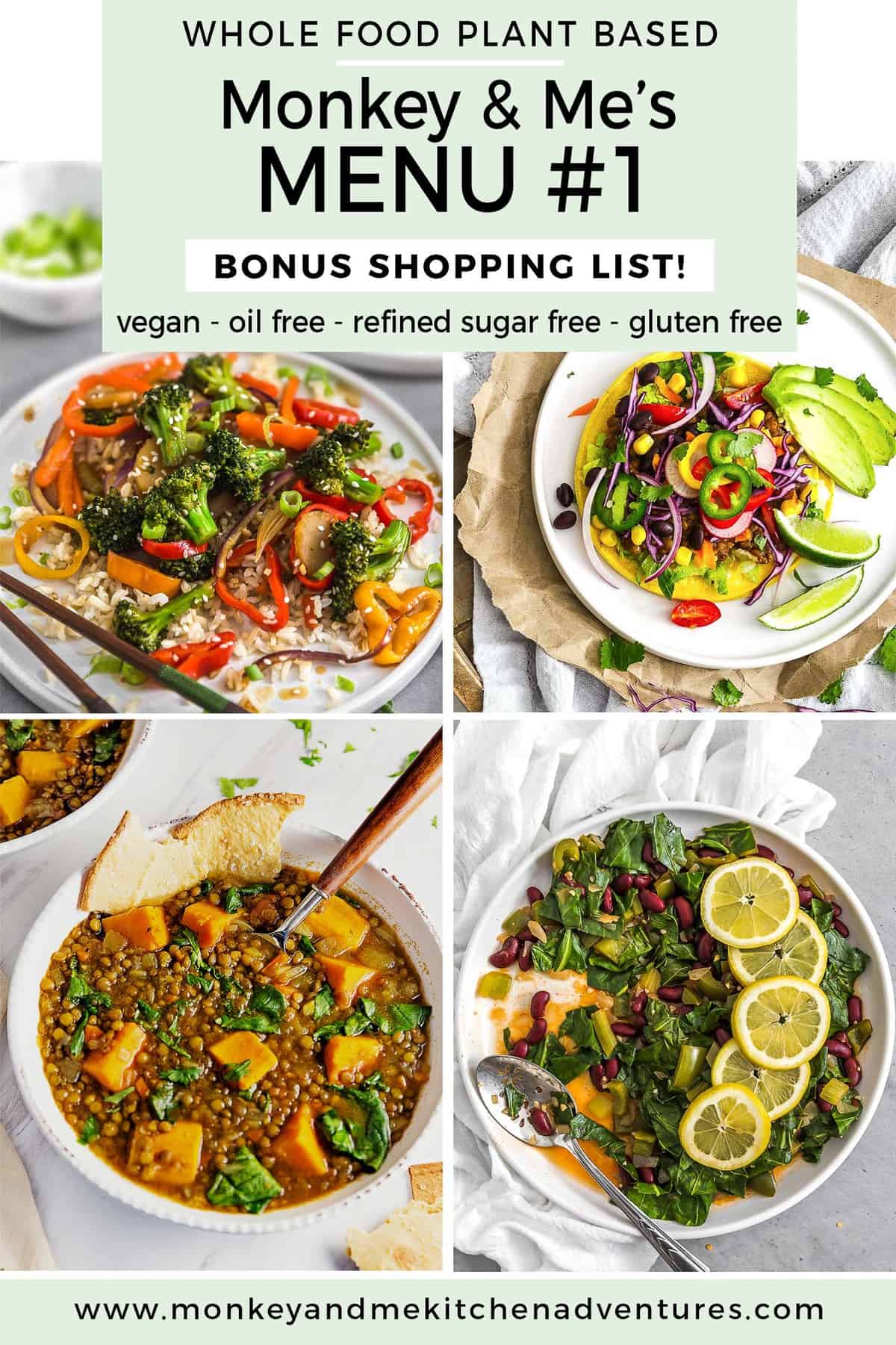 We are excited to share with you our first Whole Food Plant Based Weeknight Menu Plan and shopping list! Our goal is to offer a weekly dinner idea menu plan that includes our recipes as well as recipes from other Whole Food Plant Based food bloggers. This week's menu plan features all Monkey and Me dinner recipes. All recipes are Whole Food Plant Based, vegan, no oil, no sugar, no highly processed ingredients, and gluten free.
Our first menu plan features
Downloadable Menu which includes:

2 Breakfast ideas
2 Lunch ideas
2 Snack Ideas
5 Dinner Ideas, including a shopping list
A comprehensive (downloadable) shopping list for the 5 Dinners

The shopping list is segmented into the most common grocery store sections like "produce, refrigerated items, spices, etc." making it easier and faster when shopping.
Also, includes product suggestions that are Whole Food Plant Based compliant* for easy reference.  Note: These products are suggestions, please feel free to select your own favorite products.
Includes helpful codes so you can easily subtract items that you chose not to make.
Downloadable Instructions on how the menu plan works.
Note:  The entire menu is Whole Food Plant Based compliant from a general standpoint.  In other words, we recognize that there are Whole Food Plant Based diet branches that restrict certain food items.  Our recipes are all Whole Food Plant Based compliant based upon a high level compliance standpoint, i.e. vegan, no oil, no refined sugar, minimally processed foods.
Some breakfast, lunch, and snack ideas are simple concepts that require no recipe.
Menu #1 includes the following recipes: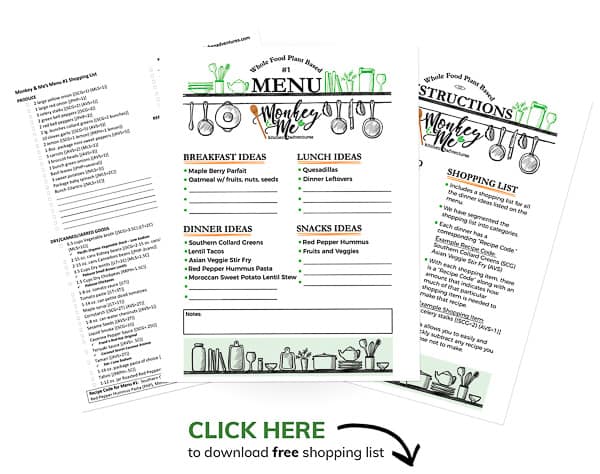 This easy and delicious Maple Berry Parfait is as healthy as it is delicious, making it a perfect Whole Food Plant Based breakfast or dessert.  Made with strawberries, blueberries, raspberries, blackberries, organic pure maple syrup, plant-based yogurt, and a tasty granola consisting of slivered almonds, chopped walnuts, rolled oats, cinnamon, and hint of maple syrup.
These Quesadillas are quick and easy. Nutritious and healthy black beans are the star of the show. A meal the whole family will love and look forward to eating. The best go-to recipe when you and your family are looking for something fast and satisfying.
When you want to treat your taste buds to a totally rocking flavorful packed meal, this Southern Collard Greens recipe is just the ticket! Packed with veggies and healthy ingredients, this nod to Southern Collard Greens dish breaks the away from traditional Southern recipes with a *vegan high five* plus, it's so good for you!  Full of flavor, texture, vitamins, minerals, and yumminess, makes this dish an ah-mazing Whole Food Plant Based recipe!
Incredibly flavorful and delicious, these lentil tacos couldn't be any easier.  Put all the ingredients into an Instant Pot set for 14 minutes, and you are ready for perfectly yummy taco-seasoned lentils that can be served in a variety of different dishes, keeping dinner preparation to under 20 minutes.  Perfectly seasoned just right, these taco lentils are great for Taco Tuesdays, taco salads, nachos, burritos, enchiladas, quesadillas, baked potato toppers, and Taco Joes, making them an ultimate Whole Food Plant Based "endless dish options" recipe!
Incredibly easy and fast to make, this Asian Veggie Stir Fry is bursting with flavor and tastes delicious. The flavors are bright and colorful.  It is loaded with tons of veggies, and the best part is it is ready in 20 minutes or less. This recipe boasts no oil, is healthy and so good for you, making it an ultimate Whole Food Plant Based "dinner in minutes" recipe!
Delicious and creamy Roasted Red Pepper Hummus Pasta will bring the whole family to the dinner table.  Visually beautiful and oh so yummy, this recipe is easy to pull together fast using Roasted Red Pepper Hummus, making it a delicious and flavorful Whole Food Plant Based pasta dish.
This hearty, flavorful, and comforting stew will blow you always with its warm and deliciously fragrant spices make this yummy Moroccan-inspired sweet potato and lentil stew a new family favorite.  Topped with cilantro for the ultimate flavor experience. A fabulous Whole Food Plant Based recipe to enjoy over and over again.
This creamy and velvety Roasted Red Pepper Hummus is perfectly accented with the rich flavor of roasted red peppers. Delicious, healthy, and most importantly satisfying, this hummus is a total must! Our hangry Whole Food Plant Based go-to snack.