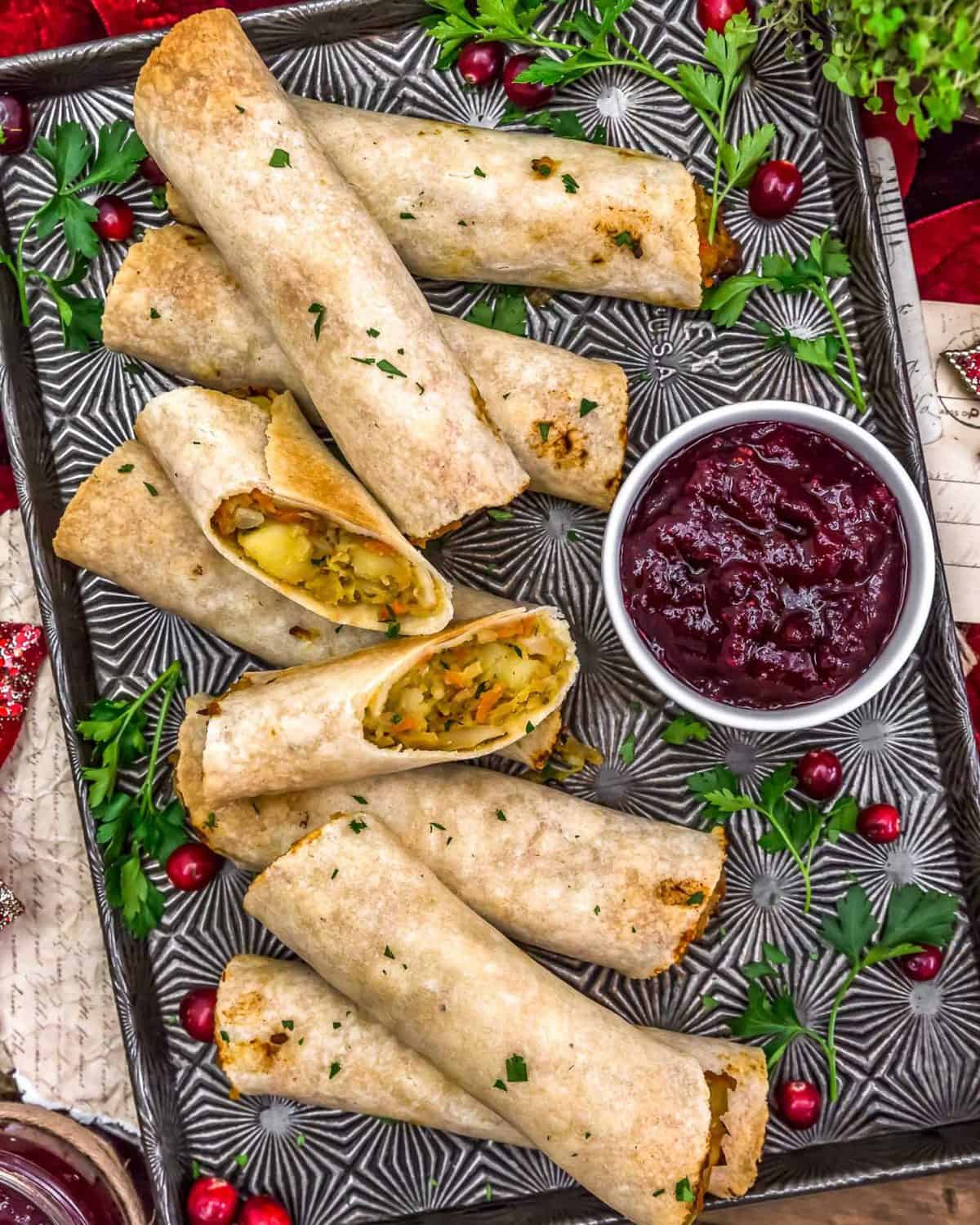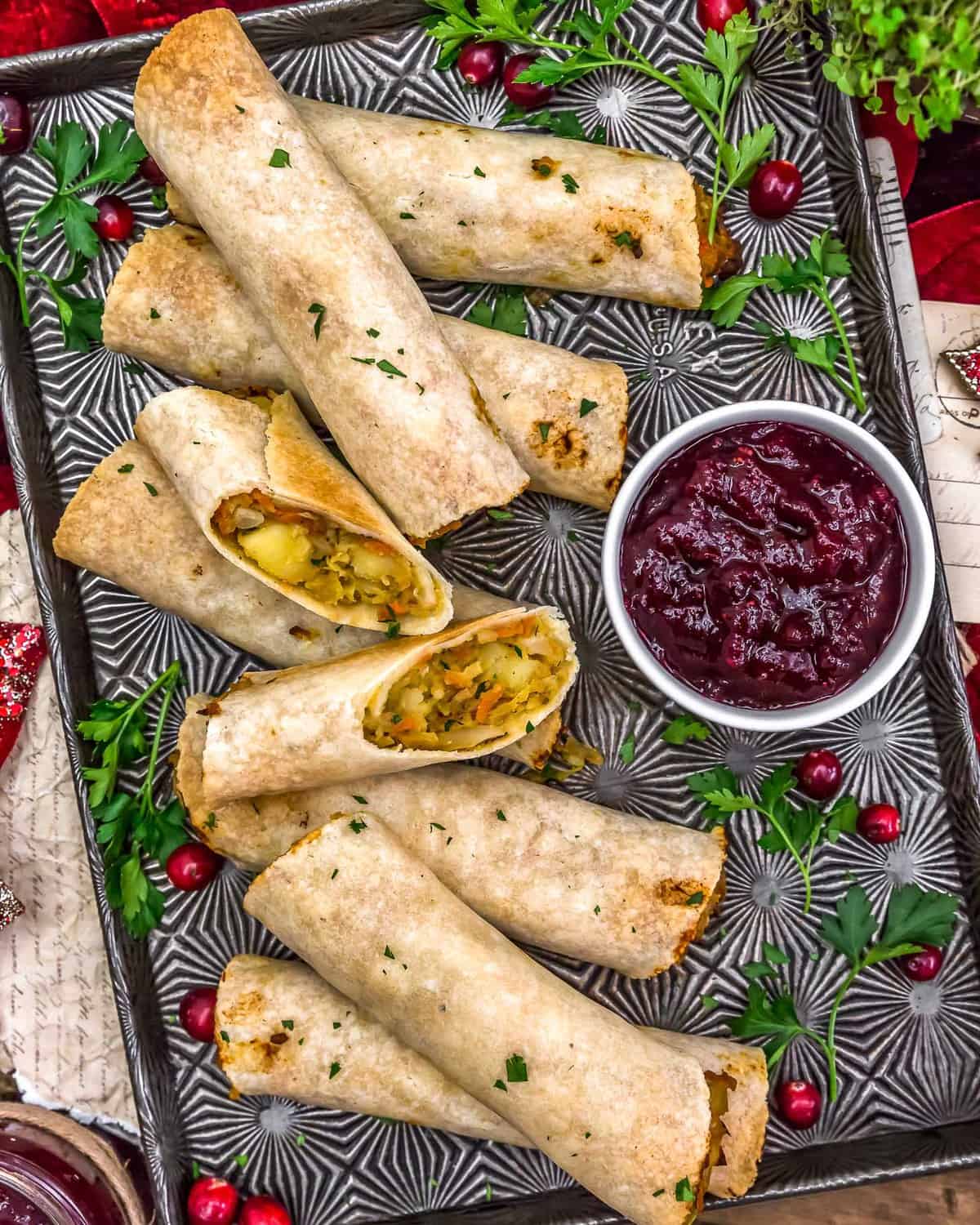 Harvest flavors all wrapped up into a tasty roll that is the ultimate Thanksgiving comfort food with a fun twist; these Harvest Veggie Rolls are seasoned with all your favorite savory herbs that make the holidays come alive.  Bursting with wholesome goodness like onions, carrots, celery, cabbage, potatoes, and aromatic spices. Then rolled in a flakey, pastry-like almond flour tortillas and served with a simple spiced cranberry sauce will have everyone seated at the table in a flash!
Whole Food Plant Based, vegan, plant based, oil free, refined sugar free, gluten free and no highly processed ingredients.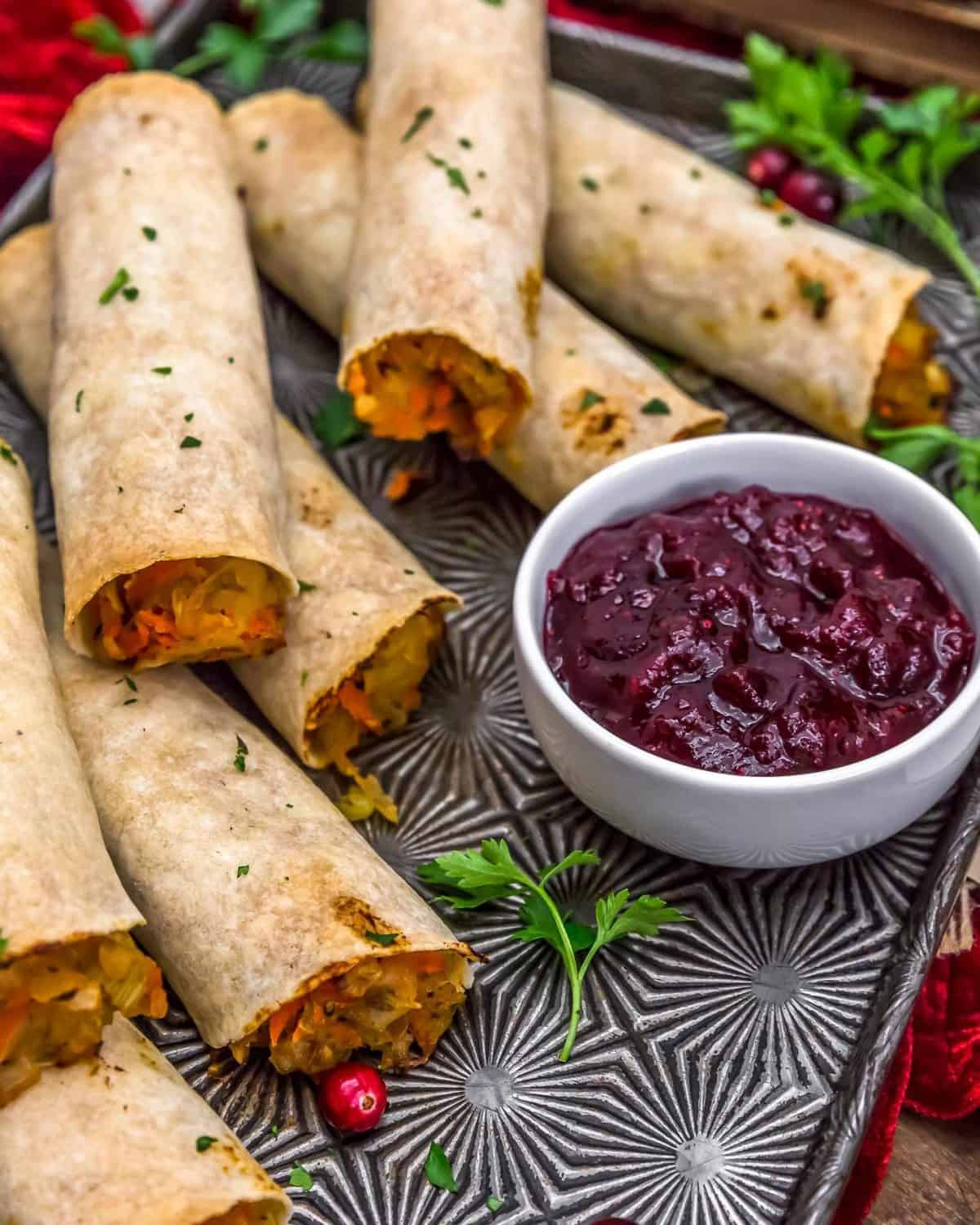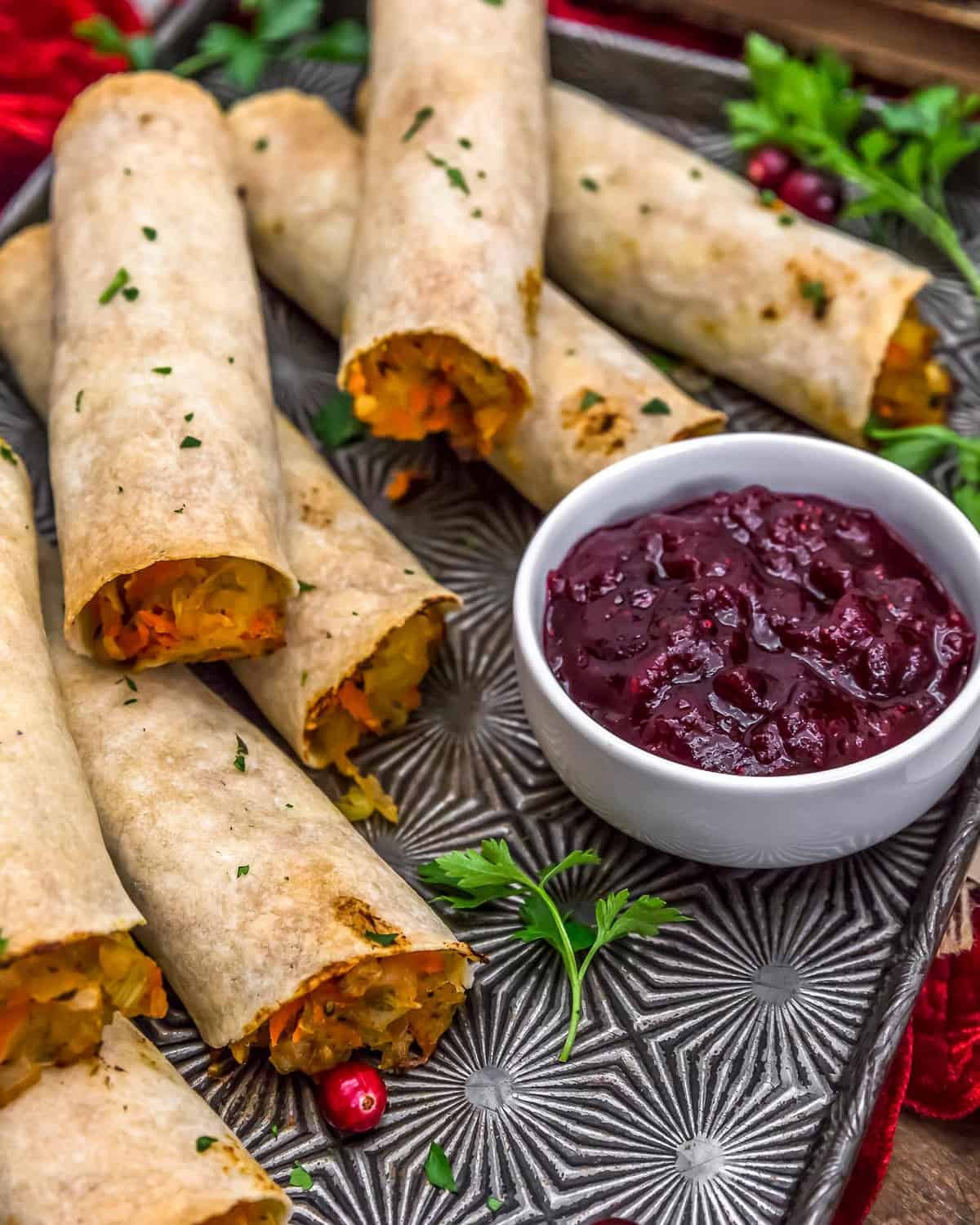 Hi there, Ameera here!
The life of a food blogger is always being at least two seasons ahead of posting.  We typically have between 35 to 45 recipes already developed and shot waiting in the hopper to be posted.
We have literally hundreds in various stages of development and testing.  Why would we do that?  Because we are crazy like that. 😛
No, seriously, we are just overachievers.  LOL  We are always trying to get ahead because a bloggers life is never done.  There is always more than can be accomplished in a day.  There are no days off, or evenings off, or weekends off, or even holidays off.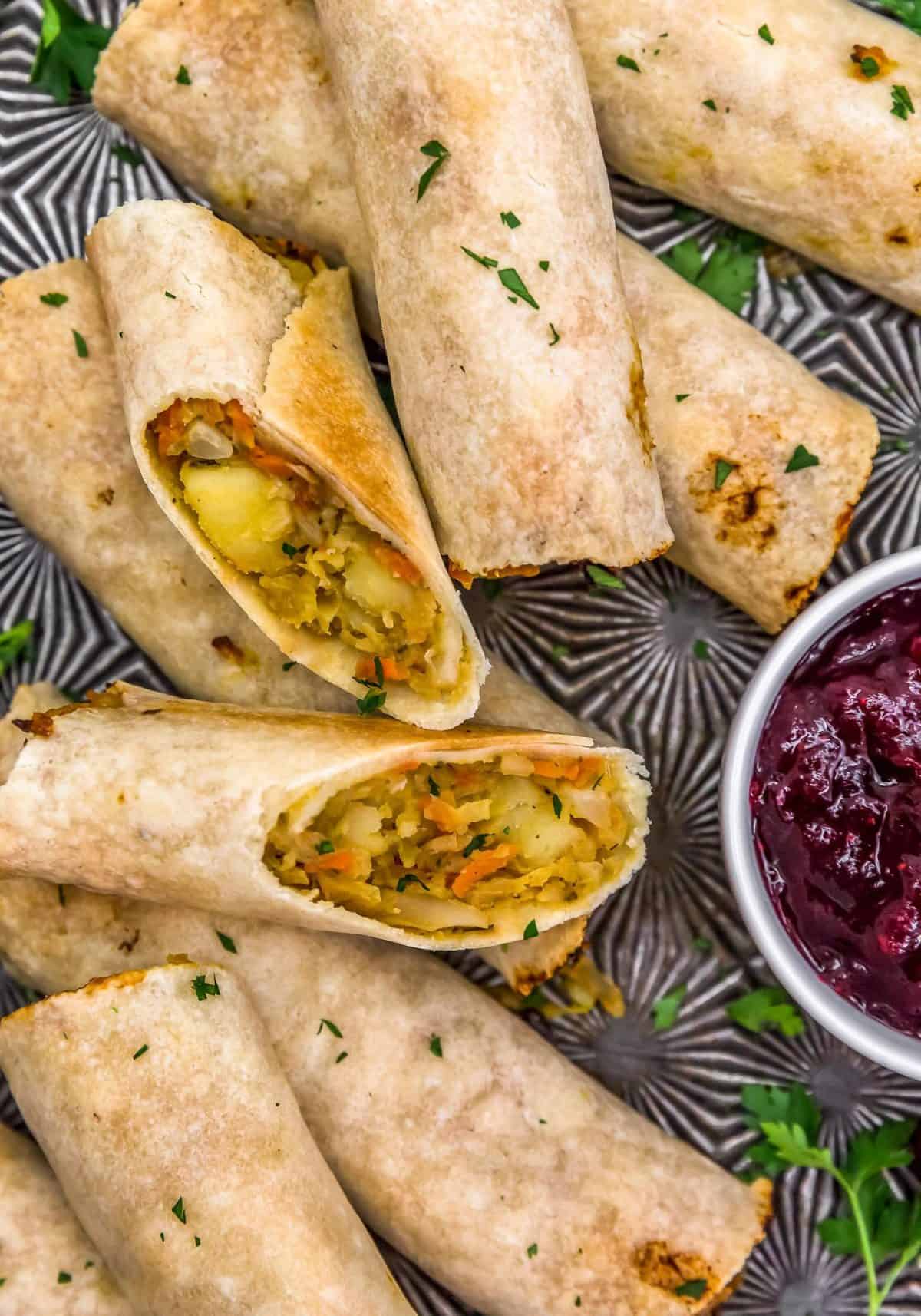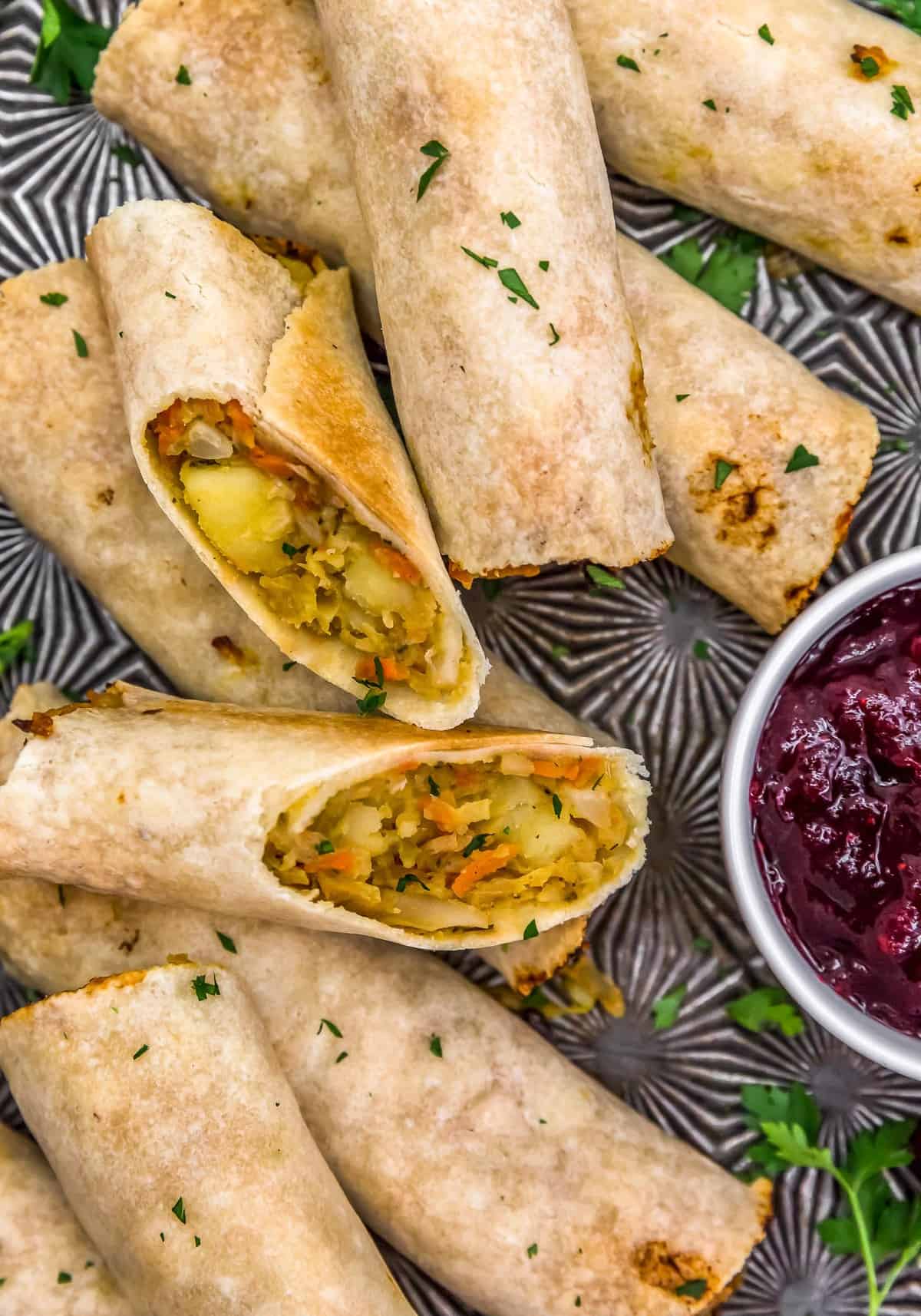 Truly Thankful
Not complaining, just stating facts. Mom and I both love creating recipes, but it doesn't stop there, it really never ends. LOL
But thankfully, we love what we do, and we wouldn't be where we are without you and your support. It sounds so cliché, but it is true. From the bottom of our hearts, we are so grateful to have such amazing readers who support us.
It's like opening a present on Christmas morning when we see you post your beautiful photos of our recipes, the kind and heartfelt comments, and words of encourgement and support. Thank you so much!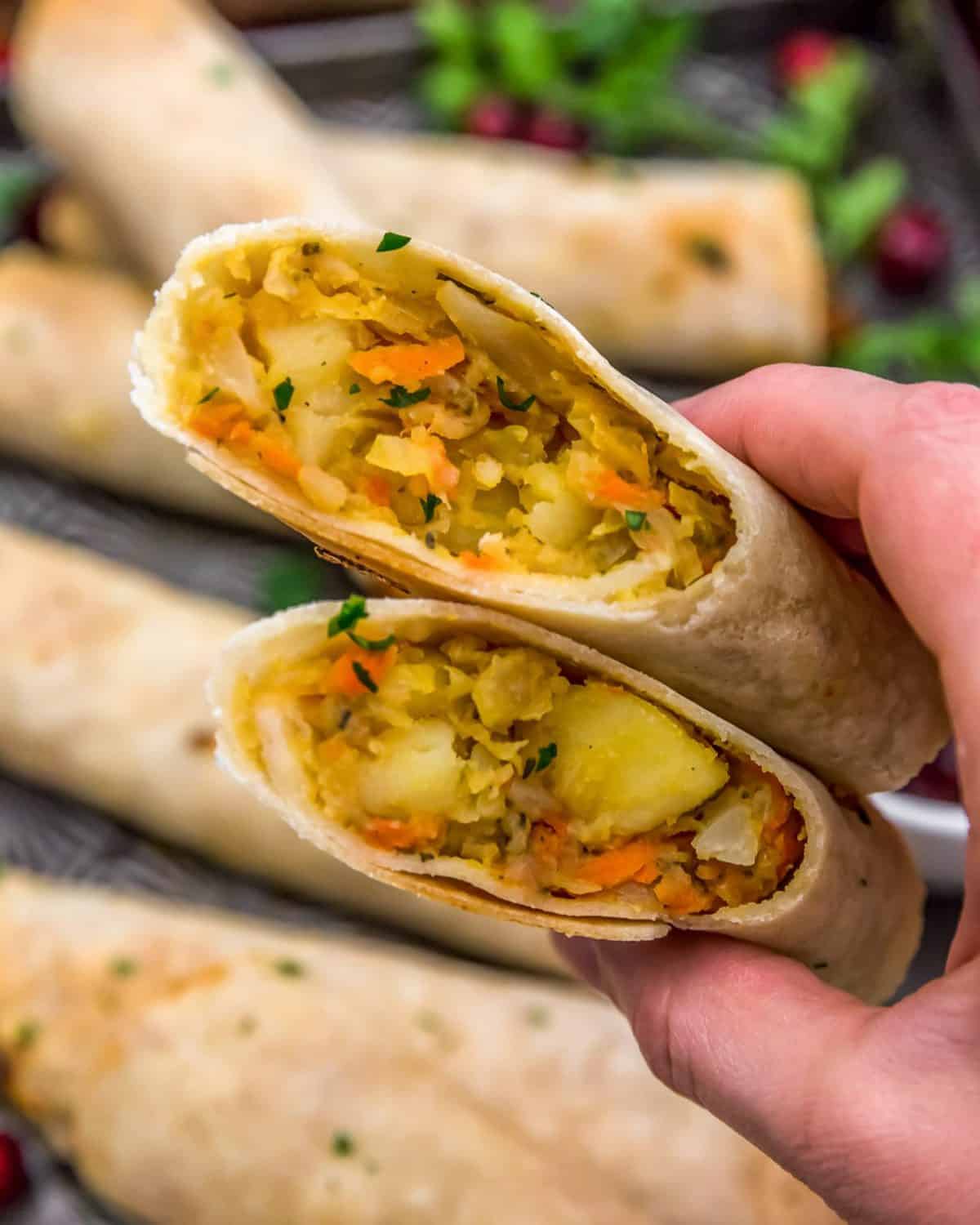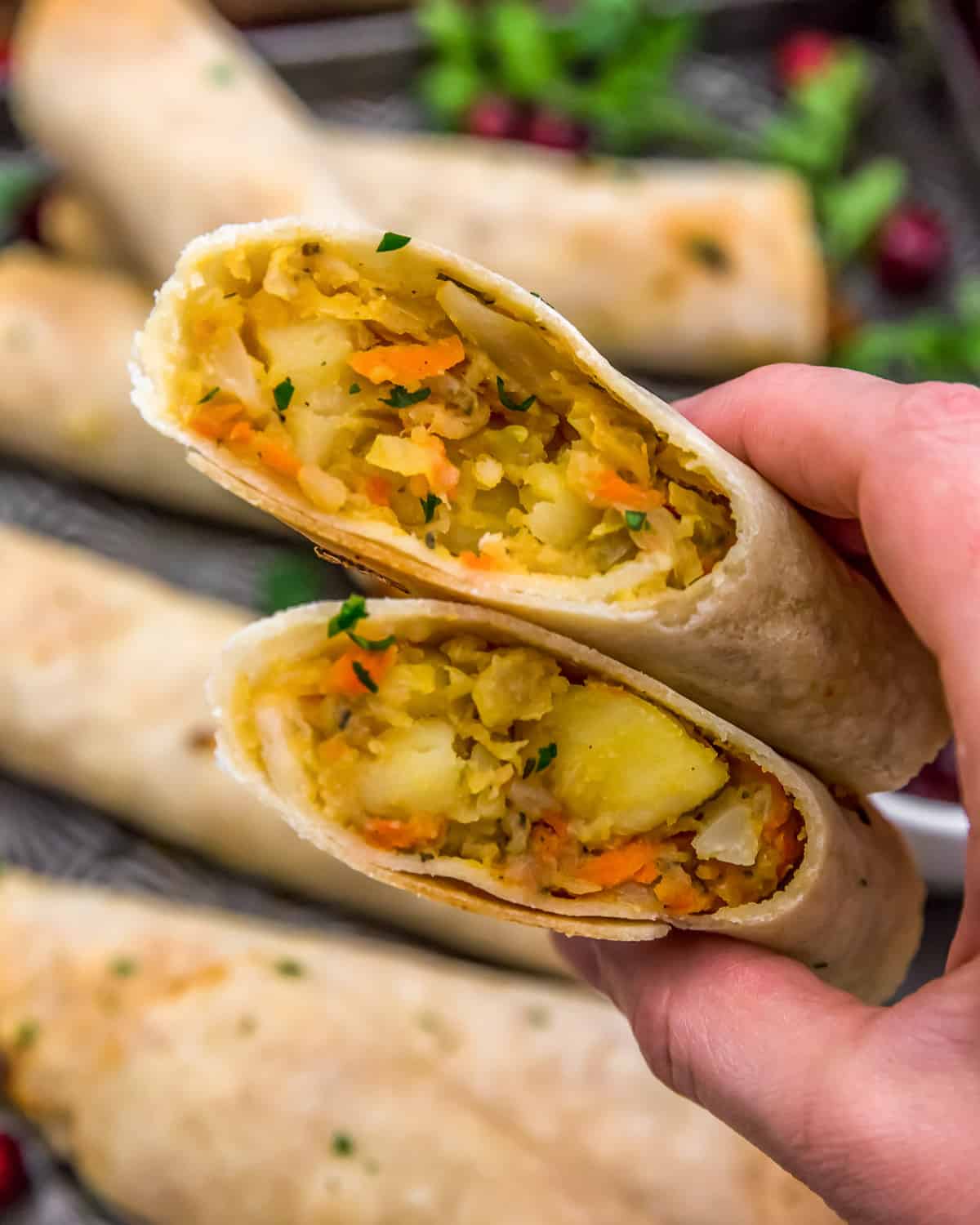 Recent Recipe
I say all of the above, because this recipe kind of snuck up on us.  It was last minute, something, we rarely do!  We have TONS of holiday recipes, but we had a Reader (Sharon) write to us wanting something fairly easy and not super time consuming.
She wanted something very "Thanksgiving-y", but not a ton of work.  It was just her and her husband this year for Thanksgiving as no family members were traveling. She asked for us to create a Thanksgiving menu for her using just two recipes.  Definitely a challenge for sure!
So, Mom and I got down to work to see what we could create that would kind of say "Thanksgiving" in a simple way.  We think we were able to accomplish that with these Harvest Veggie Rolls. Sharon, this recipe is for you!  Happy Thanksgiving!
GOODNESS GRACIOUS!
The Seite Almond Flour Tortillas work really well for this dish because they have an almost pastry-like texture to them when baked in the oven. The filling has that perfect savory harvest infused flavors. And when dunked into our Simple Cranberry Sauce – oh my, these rolls are on another level.
We even loved eating them cold straight from the fridge the next day!  So delish!
I'll let Mom tell you more.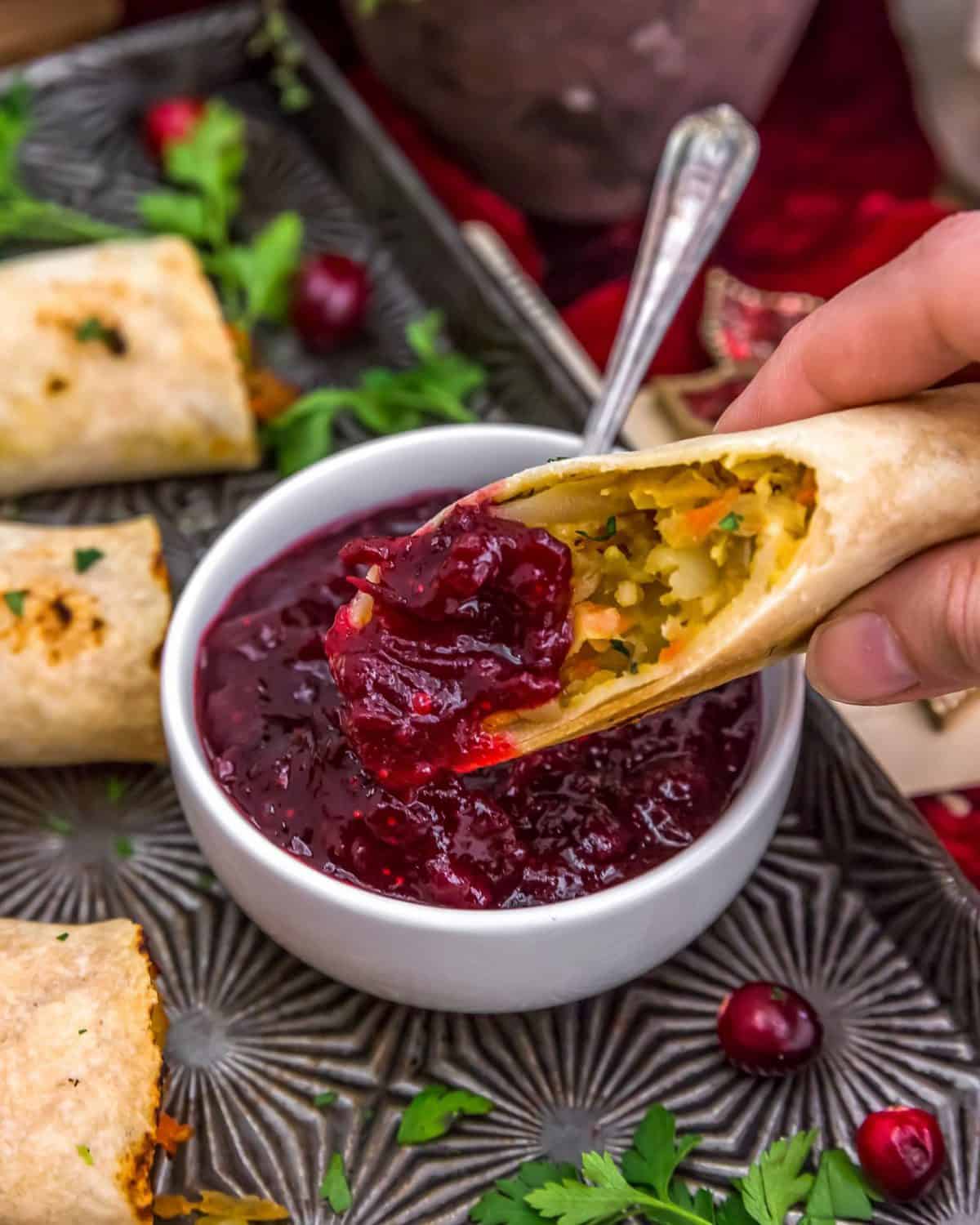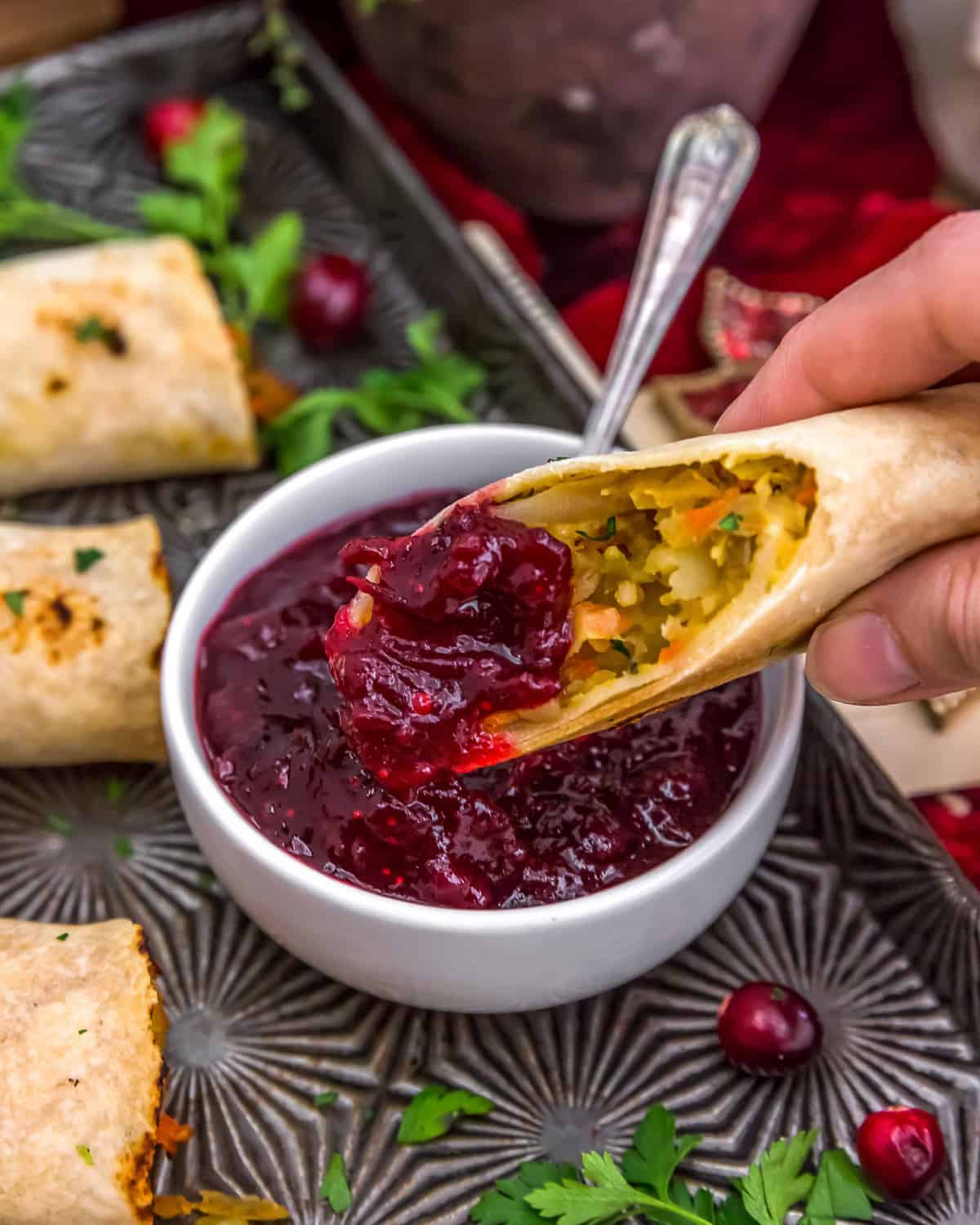 Hi!  Robin here.
OooOoOoo Doggies!  These Harvest Veggie Rolls are so flippin' delicious.  I could eat them all if I let myself.  I loved dunking them in warm cranberry sauce.
TP109 enjoyed dunking his in cold cranberry sauce.  He said "Cranberry sauce is supposed to be cold!"   I guess that is the end of that . . . well at least for TP is it.  But I will go on the record that you should try it with warm cranberry sauce, it's just soooo yummy!
Here ya go Sharon!  We truly hope that we succeeded and you enjoy this simple Thanksgiving menu.
If you try this delicious rolls, we would love to know if you enjoy it as much as we do! Please leave us a review! Post a picture on Facebook or Instagram and tag us!  We would love to hear from you.
Looking for more Thanksgiving recipes? Check out our Ultimate Thanksgiving Recipe Round Up!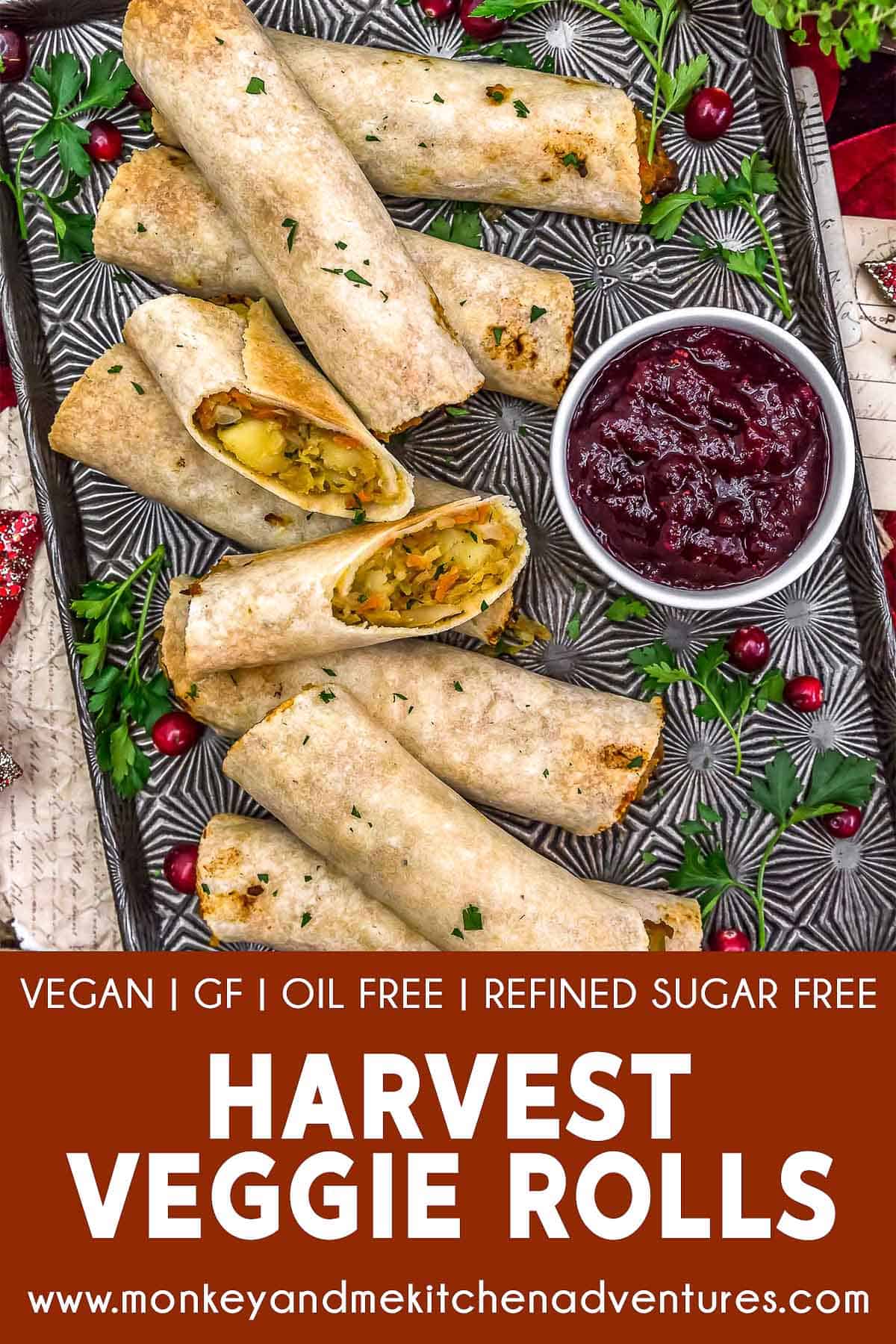 Products Used:
Ceramic/enamel lined skillet, or similar large skillet.
Baking sheet
Small sauce pan (for Cranberry Sauce)
Print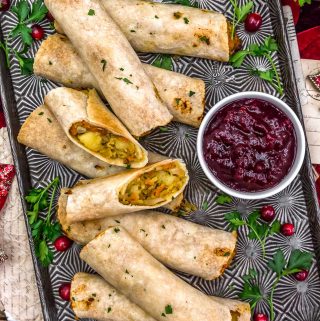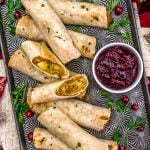 Harvest Veggie Rolls
Author:

Prep Time:

30 Minutes

Cook Time:

20 Minutes

Total Time:

50 Minutes (+Rest Time)

Yield:

8

Rolls

1

x

Category:

Dinner

Method:

Stovetop, Oven

Cuisine:

American

Diet:

Vegan
---
Description
Flavorful, fun, and festive, these oil-free Harvest Veggie Rolls are brimming with Thanksgiving flavors and wholesome goodness.
---
Skillet Ingredients:
1 cup

yellow onions, fine dice

¼ cup

celery, fine dice

1 cup

carrots, grated

2 cups

Yukon Gold potatoes, peeled, cut into

3/4

– inch cubes *

2 cups

cabbage, shredded

1 teaspoon

tomato paste

1 Tablespoon

reduced-sodium tamari *

½ teaspoon

apple cider vinegar

2/3 cup

low-sodium vegetable broth *

1 Tablespoon

white miso *
Herb/Spice Ingredients:
1 teaspoon

onion powder

1 teaspoon

garlic powder

2 Tablespoons

dried minced onions

½ teaspoon

dried crushed thyme leaves *

¼ teaspoon

dried rosemary powder

¼ teaspoon

dried rubbed sage *

¼

–

½

teaspoon sea salt (+/-) *

1/8 teaspoon

black pepper
Other Ingredients:
8

–

6

inch almond flour tortillas (or flour tortillas of choice ) *
Cranberry Sauce Ingredients:
2 cups

frozen (or fresh) cranberries

1/3 cup

water

¼ cup

+ 1 Tablespoon pure maple syrup (+/-)

½

–

1

teaspoon cinnamon (+/-)

1/8 teaspoon

allspice (+/-)
Pinch clove (+/-)
---
Instructions
Preheat the oven to 350 F.
Peel and cube the potatoes, place in a small pot, cover with cold water and sprinkle in some sea salt. Gently boil for approximately 6-7 minutes just until tender, then drain and set aside.
Line a baking sheet with parchment paper, set aside.
Place the Herb/Spice Ingredients in a small bowl, mix and set aside.
In a large ceramic/enamel-lined large skillet, add the diced onions, carrots, and celery; sauté over medium-high heat until they begin to soften, approximately 9 to 10 minutes. Add a tablespoon or so of water if the veggies start to stick and/or to prevent burning.
Next add the tomato paste, shredded cabbage, and Herb/Spice Mix with ¼ cup water, sauté until the cabbage wilts and the water evaporates, approximately 3 minutes.
In a small bowl, add the vegetable broth, miso, apple cider vinegar, and tamari. Whisk until the miso is dissolved, then add to the skillet.  Bring to a boil, then immediately lower to a simmer.  Simmer for several minutes, then add the cooked potatoes.  Very slightly mash a few of the potatoes with a fork. In other words, do not create mashed potatoes, you want to see chunks of potatoes.  Simmer until all the liquid has evaporated, approximately 3 to 5 minutes.
Test the flavors, add more spices, if necessary, to achieve the level of flavor you desire. Remove from the stove.  Set aside to cool for 5 minutes.
Take a tortilla and lay it flat, place a slightly mounded 1/3 cup of the veggie mixture on one end and roll it up into a log. Place it on the parchment paper lined baking sheet. Repeat and continue until you have used up all the mixture.  If you have leftover stuffing, tuck it into the ends of the rolls.
Place in a preheated 350 F oven and bake for 20 minutes.
In the meantime, make the Cranberry Sauce. Place all the Cranberry Sauce ingredients into a small sauce pan and bring to a boil. Boil for 4 to 5 minutes (or longer) until all the cranberries have burst and the sauce thickens.
Lower to a medium-low boil and boil the Cranberry Sauce for several minutes, mashing any remaining unburst cranberries with a fork or wooden spoon. Taste test for flavor, adjust as needed by adding more spices or maple syrup, then cook for several more minutes. Remove from the heat and allow to cool.  Note:  As the sauce cools, the sweetness and spices will come to the forefront.
When the Harvest Veggie Rolls are done, remove from the oven, and allow to sit for 10 minutes.
Serve with Cranberry Sauce. Note: Cranberry Sauce can be served warm or cold.
---
Notes
Tips for Success:
Diced Potatoes: It is important to peel and dice the potatoes into ¾ inch pieces, gently boil them (not a rolling boil) just until tender.  Do not overcook them. Watch them carefully toward the end of the cooking time.
Mashing the Potatoes: Use a fork or a potato masher to slightly mash the potatoes.  This helps keep the ingredients together when rolling the tortillas. Do not over-mash.  You still want to see nice chunks of potatoes.
Liquid in the Skillet: The key is to allow the veggies to absorb all the liquids so when you go to roll the tortillas, the veggie mixture may be damp, but it is not soaking wet or have any liquids leaking from them.  The skillet should be dry and void of any liquid.
Dissolve the Miso: Dissolving the miso in the veggie broth helps evenly distribute the flavors appropriately and avoids clumps.
Celery: Some folks do not care for celery; however, it adds great flavor to this dish giving it a great harvest flavor. The celery pretty much dissolves into the dish.  I would recommend not removing this ingredient.
Shredded Cabbage: Shred the cabbage by cutting it into very thin strips.
Potato Cubed Measurement: We used 2 cups which equates to roughly 1 lb. prior to peeling.
Seite Almond Flour Tortillas:  Seite Almond Flour Tortillas are typically found in the refrigerated section or frozen foods section of most health food stores.  We buy them in bulk and freeze them.  The key here is you want the tortilla to be completely thawed out (if frozen).  Or if refrigerated, bring them just to room temperature.  Don't let them sit out too long because then they become too soft.  In other words, keep them refrigerated, then about 10 minutes before you use them take them out of the fridge to slightly become room temperature.  They should be cool to the touch but flexible. This ensures that they roll easily.  Almond flour tortillas (or any nut flour tortilla) is slightly more fragile than a regular flour tortilla.  They roll easily enough if you exercise some extra care in handling.  You can easily use any WFPB compliant (if WFPB) flour tortilla that you enjoy.  The only except would be Food for Life Corn Tortilla as they are extremely crunchy.
 Notes Continued:
*Almond Flour Tortilla:  We used Siete Almond Flour Tortillas.  They are delicious and have the perfect texture for these roll ups. Feel free to use any WFPB compliant flour tortilla.  We highly recommend using Siete Almond Flour Tortillas as they create a beautiful, almost flaky, crispy exterior when baked.
*Tamari: We used San J Tamari Soy Sauce, Gluten Free, Reduced Sodium.  You can substitute the tamari with reduced sodium soy sauce, Braggs Liquid Aminos, or Braggs Coconut Liquid Aminos
*Vegetable Stock:   We use Pacific Organic Low Sodium Vegetable Stock. We love this brand because it is Whole Food Plant Based compliant, as it does not contain MSG, has no oil, and does not contain any highly-processed ingredients.  
*Dried Rosemary Powder:  We used Penzeys Rosemary Spain Powdered.  Feel free to use your favorite powdered Rosemary.
*Dried Rubbed Sage:  We used Penzeys Sage Albanian Rubbed.  Feel free to use your favorite rubbed sage.
*Dried Thyme Crushed Leaves:  We use Penzeys French Thyme.  It has amazing flavor.  If you can't find dried crushed thyme leaves, you can use ground thyme, but use half the amount. 
*Miso:  We use Miso Master Organic Mellow White Premium Lite Miso, Certified Gluten Free. Miso really lends itself to balancing flavors when you don't use oil.  You can also substitute with chickpea miso for a soy free version.
*Sea Salt:  Please adjust the sea salt based upon your family's sea salt preferences and/or based upon dietary needs.
*Serving:  Makes 8 – 6-inch roll-ups
*Storage:  Refrigerate and use within 5 days.
*Nutrition Information INCLUDING Siete Almond Flour Tortillas: Serving Size = 1 roll: 151 Calories, 5.8g Total Fat, 0mg Cholesterol, 22.2g Total Carbohydrates, 3.7g Dietary Fiber, 4.9g Protein.

This post contains affiliate links, and we may receive a very small commission if you purchase through those links at no additional cost to you. Thank you for supporting Monkey and Me Kitchen Adventures! For more information, see our disclosures here.