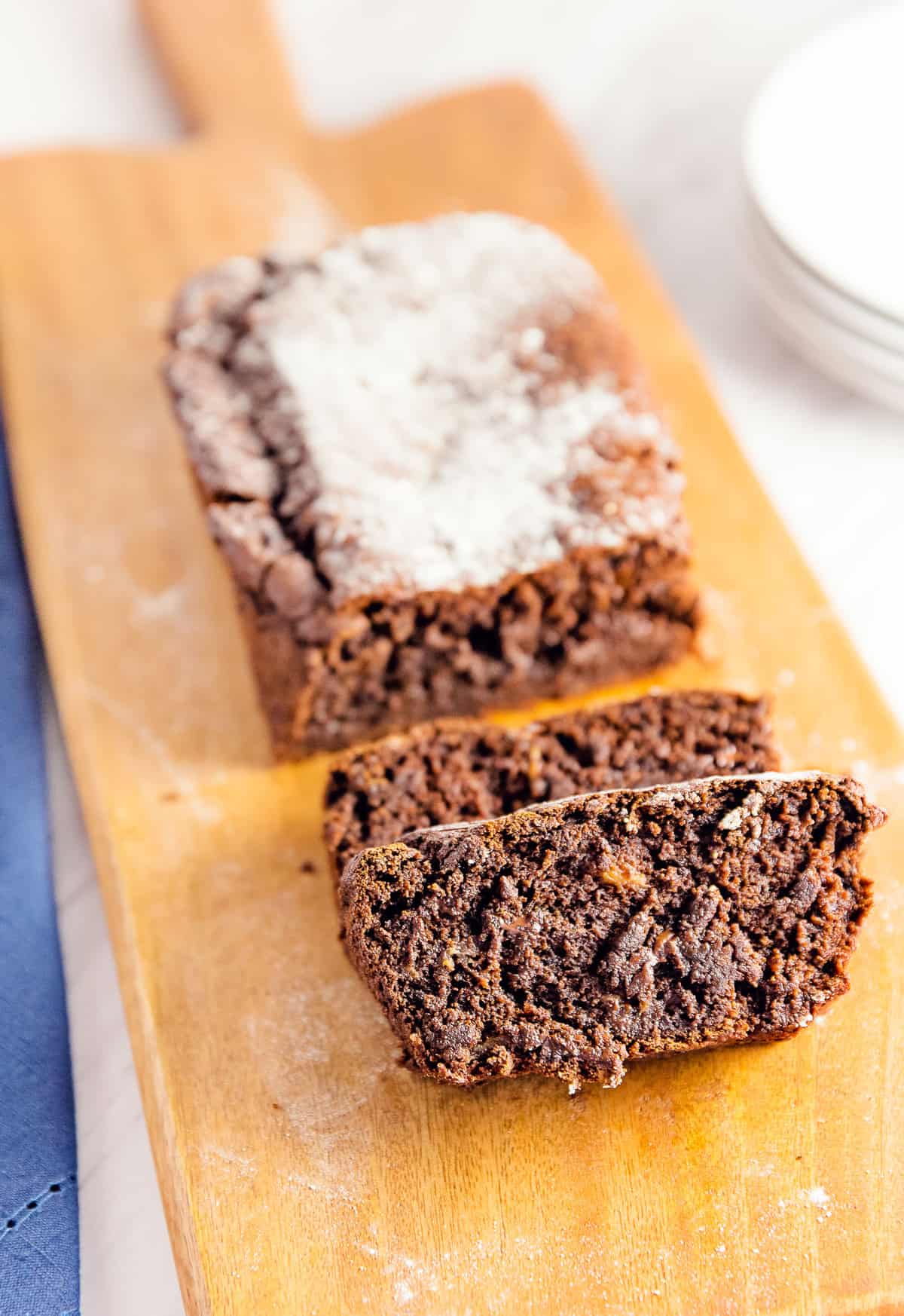 Fudgy Chocolate Banana Bread is sure to knock your socks off!  This super moist chocolate bread is both healthy and delicious!  The fudgy chocolaty goodness makes this recipe a wonderful Whole Food Plant Based sweet treat.  No oil, no refined sugar, no highly processed ingredients.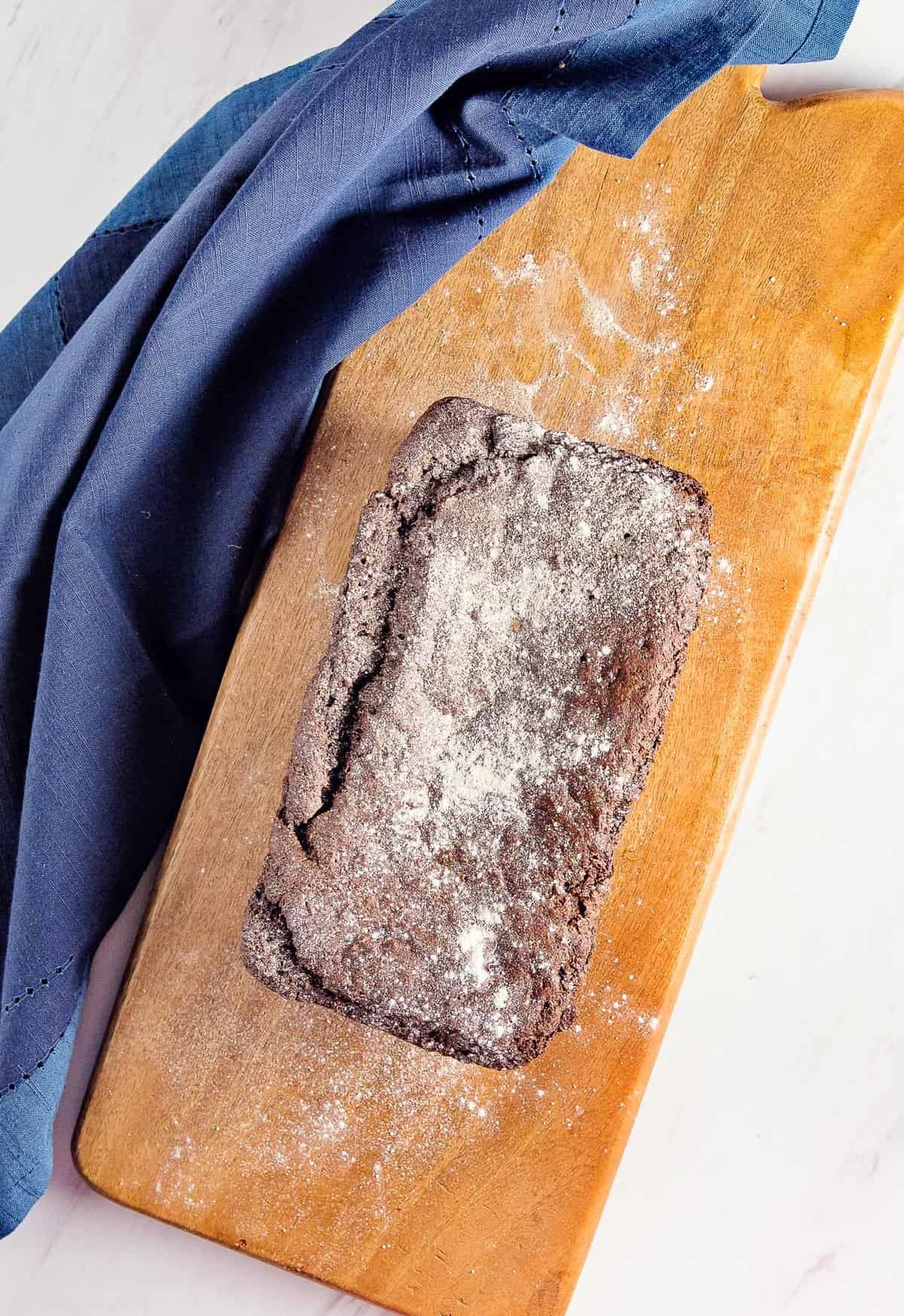 Hi!  Monkey here!
According to my dad, I am a "chocolate alcoholic."  He means "chocoholic" as I LOVE chocolate, but I am certainly not an alcoholic; I rarely drink alcohol.  LOL  He totally cracks me up.  We call them "Daddyisms" because he is constantly rearranging words and phrases.  Some are quite hilarious!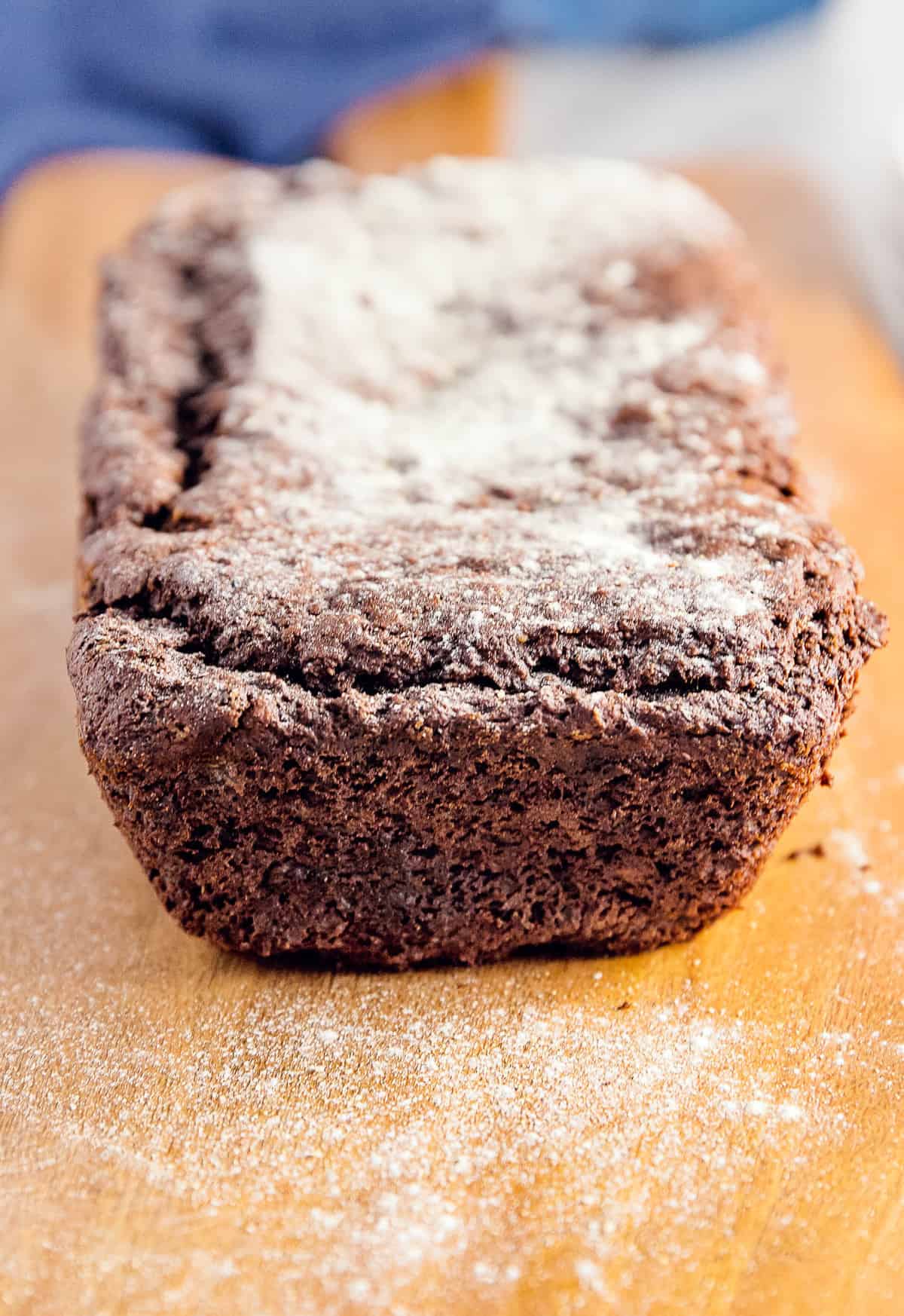 Cravings…
Whenever I'm craving a sweet treat, the first thing that comes to mind is CHOCOLATE. Oh, yesss! Chocolate, chocolate, chocolate – I can't get enough of you!  You are my weakness. So naturally, I needed a chocolatey dessert. ANNNND, this Fudgy Chocolate Banana Bread is just the ticket!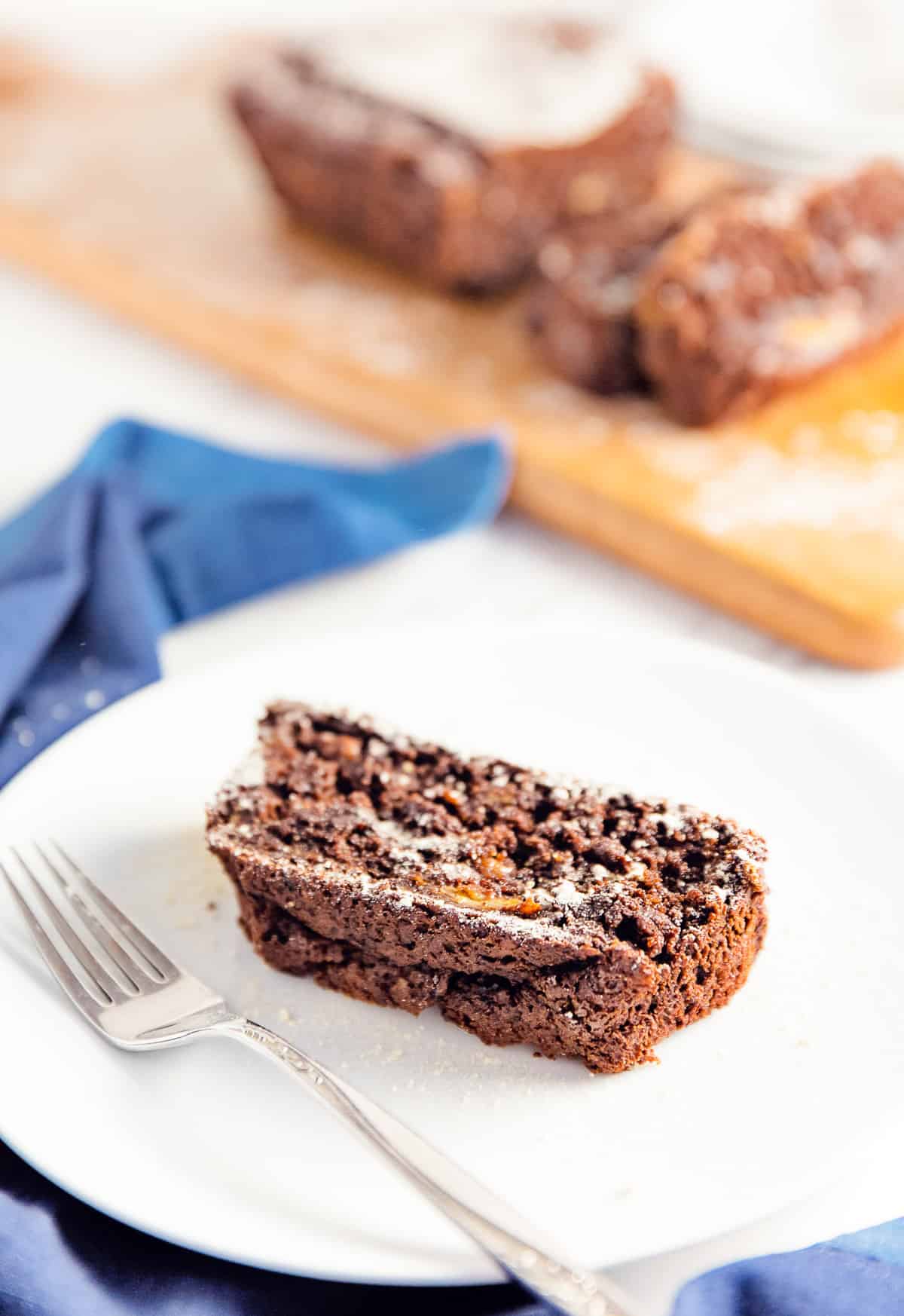 Challenge Accepted!
As a person who has always taken great pride in creating decadent and scrumptious desserts, it has been a real challenge to develop dessert recipes that are post worthy.  No oil, no refined sugar, no refined flour as well as gluten free really does make life more interesting when trying to make something super duper yummy!
Gluten free baking definitely adds an extra level of difficulty to the mix.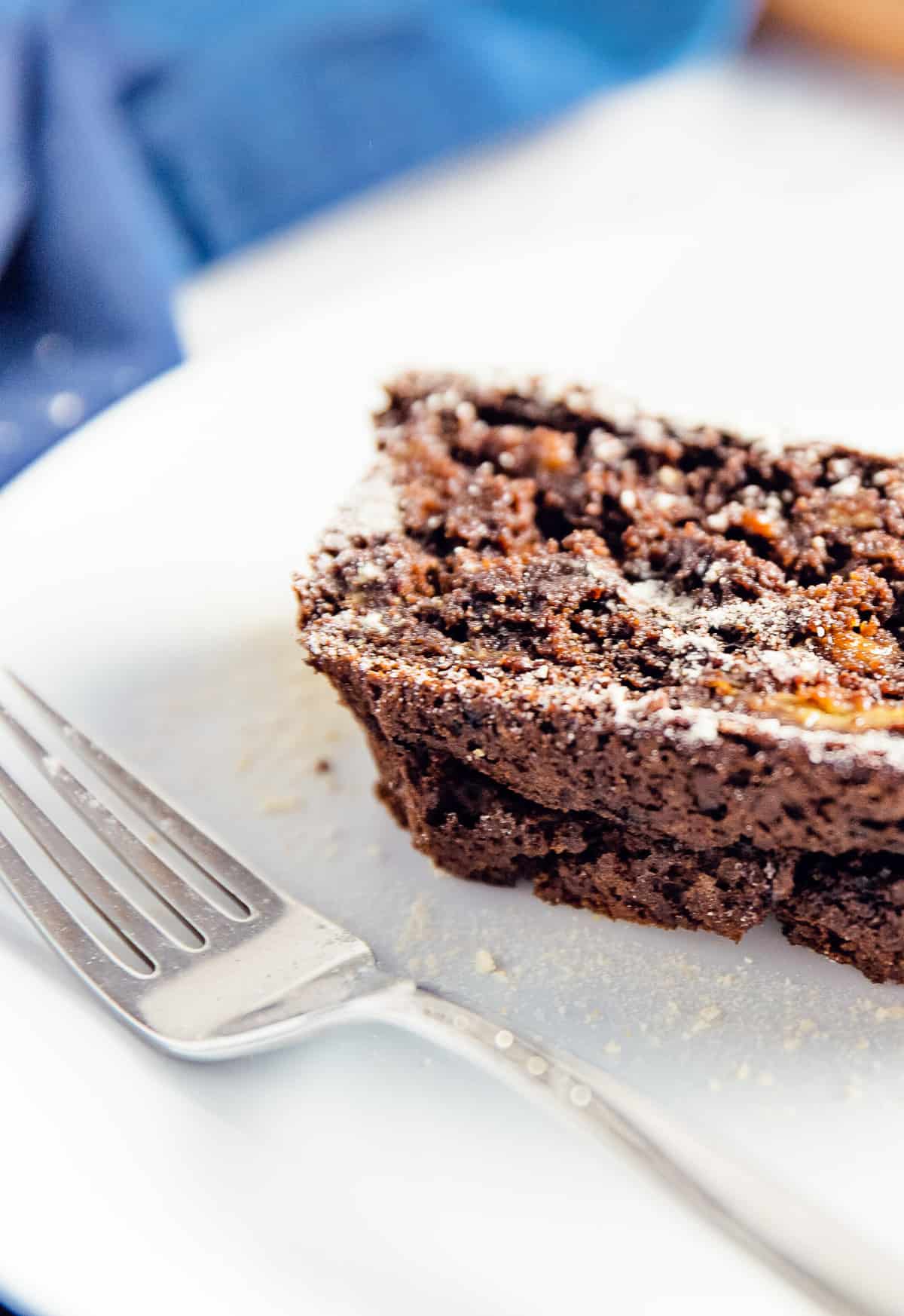 Sooo Chocolatey and Delicious!
We are so pleased to share with you this amazing fudgy chocolate dessert bread.  It is so moist and decadent!  You will surely get your chocolate fix with this recipe if you are a chocoholic like me.  It is so decadently satisfying.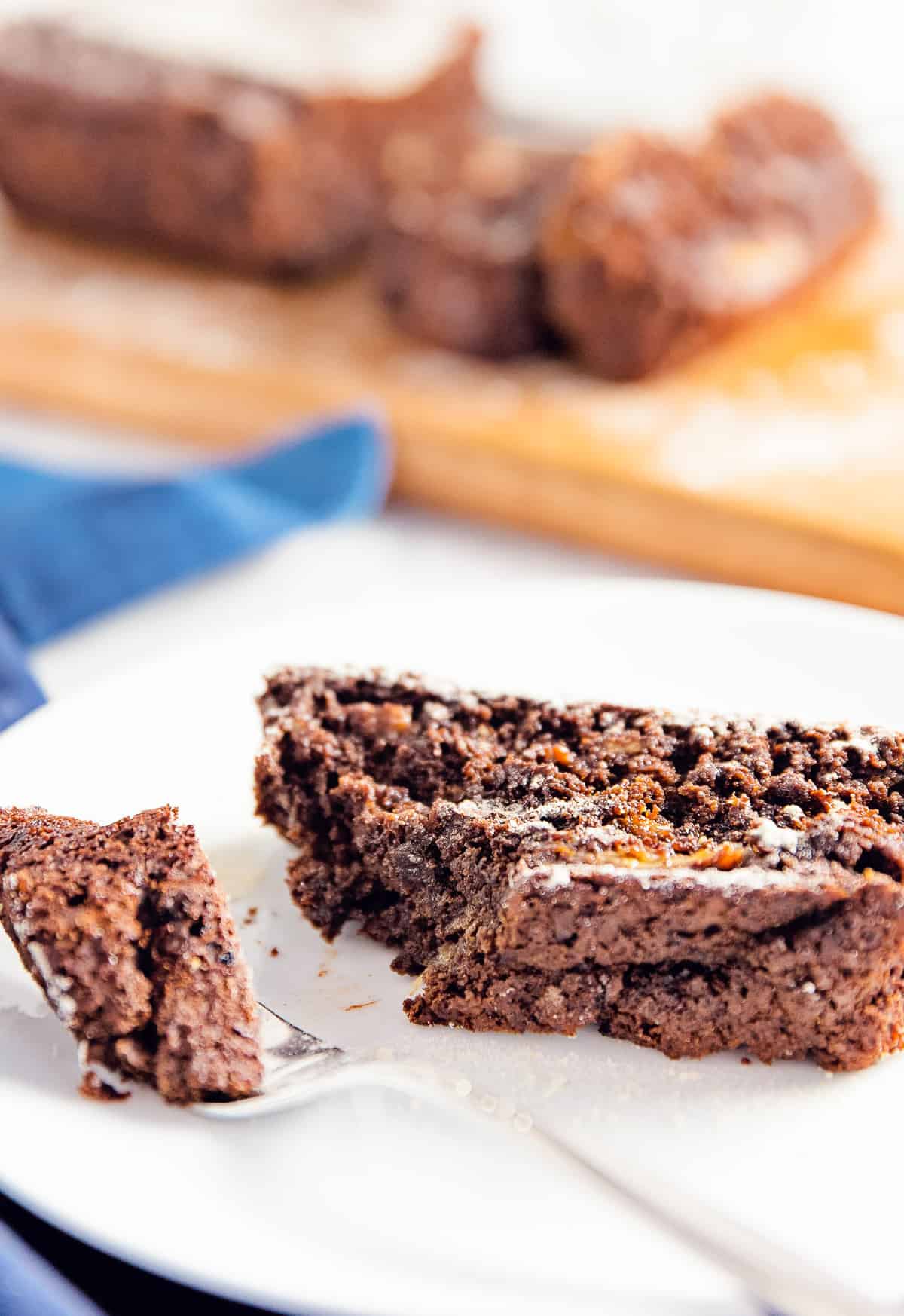 Please Release Me and Let Me Go (pan)!!!
Oil free baking can also add some extra stress to baking as you just never really know if your beautiful dessert will free itself of the pan, right? You can use parchment paper, but sometimes parchment paper just doesn't get it when the dessert pan is oddly shaped.
You often find yourself holding your breath and praying that your gorgeous baked dessert will free itself from the pan or tear apart into a disastrous lump!  Been there!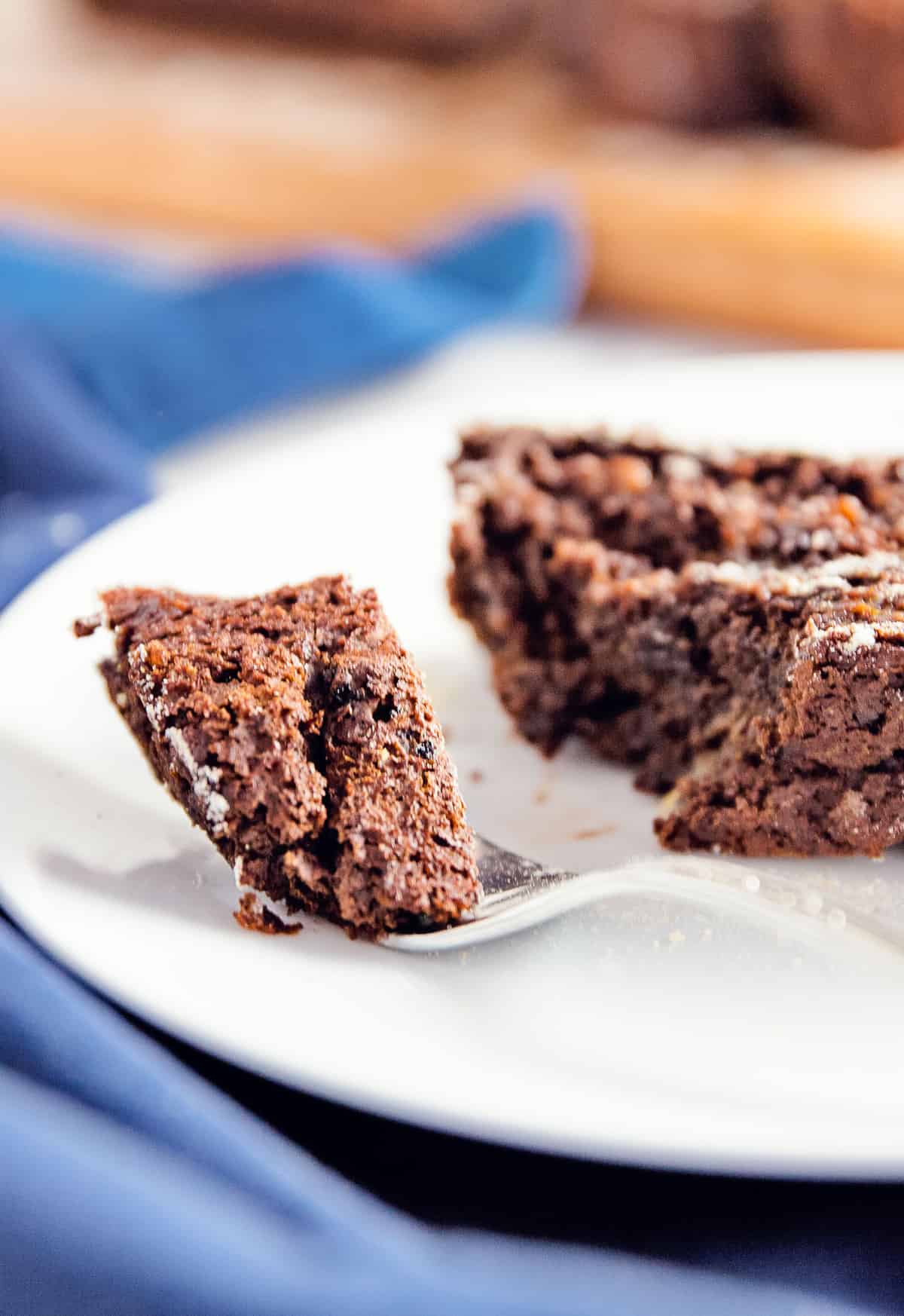 Baking with Silicone
After several baking failures where the baking pan refused to let go (no oil), we did some research on silicone baking pans.  The advice that we have read on the subject of "Is Silicone safe" is to select a high-quality silicone mold for bakeware that doesn't contain fillers or dangerous additives, and do not use beyond 428 F.
We were very happy with the results on baking our dessert bread in a silicone bread mold.  One thing I do want to add is that silicone molds tend to be very flimsy and so we placed our silicone bread mold inside a metal bread mold.  This works marvelously.
After cooling on a wire rack, we loosened the sides of the bread mold, flipped it over, and it popped right out.  WOOT!!!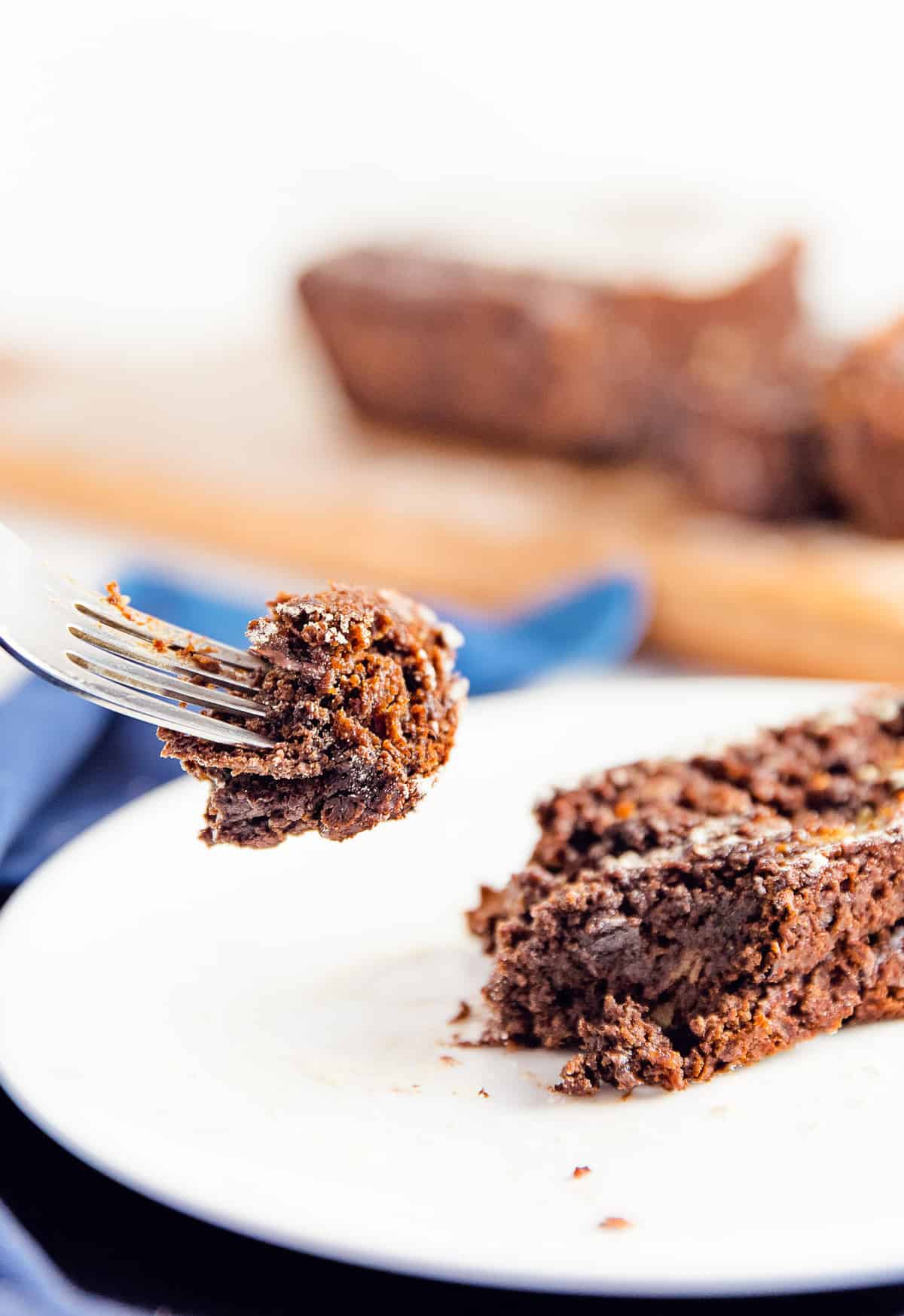 Robin here! 
TP109 and his never-ending word mix-ups.  As Monkey mentioned, we call them "Daddyisms".  We all have a good laugh, including him.  I honestly have no idea how he comes up with these things.
Some recent Daddyisms are "Grey Doctors" for Grey's Anatomy and "Face Finder" for FaceTime, I think that one is a combination of the apps Find Friends and FaceTime.  LOL
Yumminess
This Fudgy Chocolaty goodness was the perfect treat for the whole family.  We all scarfed it down like it was ambrosia.

Products used:
Silicone bread mold
Metal bread mold – to stabilize the silicone mold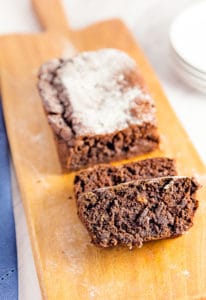 Print
Fudgy Chocolate Banana Bread
Yield 1 Loaf
Fudgy Chocolate Banana Bread is sure to knock your socks off!  This super moist chocolate bread is both healthy and delicious!  The fudgy chocolaty goodness makes this recipe a wonderful Whole Food Plant Based sweet treat.  No oil, no refined sugar, no highly processed ingredients.
Ingredients
Flax Egg Ingredients:
1 Tablespoon flaxseed meal
3 Tablespoons water
Ingredients
3 large ripe bananas, mashed
2 Tablespoons almond butter, unsweetened
¼ cup applesauce, unsweetened
1 teaspoon vanilla extract
½ cup unbleached flour (1:1 Gluten Free Baking Flour)
½ cup oat flour
½ cup cocoa, unsweetened
¾ cup maple sugar (dehydrated maple syrup)
1 teaspoon baking soda
1 teaspoon baking powder
½ teaspoon sea salt
1 Tablespoon instant coffee granules, dry (optional)
½ cup vegan chocolate chips
"Powdered Sugar" Topping Ingredients (optional)
1 Tablespoon maple sugar (dehydrated maple syrup)
1 Tablespoon organic cornstarch
Instructions
Preheat the oven to 350 F.
Prepare your flax egg by mixing the flax seed meal and water in a small bowl. Allow to sit for 10 minutes.
Add the following dry ingredients to a bowl: flours, cocoa, baking soda, baking powder, sea salt and instant coffee and whisk together. Do not add the chocolate chips yet.  Set aside.
In a separate bowl, add the bananas and mash really well with a potato masher or fork. Break them down as much as you can.  Add the maple sugar and mix well, then add the almond butter, flax egg, applesauce, and vanilla. Mix very well, you want a smooth consistency.
Add the dry ingredients to the banana mixture. Stir just until combined. Then add in the chocolate chips.
Place a silicone bread mold into a metal bread pan – this helps stabilize the silicone bread mold shape. Pour the batter into the silicone bread mold. 
Bake in the oven for 55 minutes. Do a toothpick test. The toothpick should come out semi-clean.  The melted chocolate chips may show on the toothpick, but you do not want the batter to show on the toothpick. If it does, bake an additional 5 minutes or longer, up to 65 minutes.
When the toothpick comes out clean, take it out of the oven and set on a wire rack to cool for 10 to 15 minutes, then gently loosen the silicone mold from the bread by gently pulling at it all the way around.
Then place the wire rack on the top of the bread and flip the bread out onto the cooling rack. Then flip it once again to get it upright. 
Allow the bread to cool.
If topping with "powdered sugar", make by combining 1 Tablespoon of maple sugar with 1 Tablespoon of organic cornstarch into a high-speed blender like a Ninja. Pulse on high for 30 to 45 seconds until the mixture is very light and has a powder-like consistency.  Sprinkle over the Fudgy Chocolate Banana bread and also on individual slices.
Use a serrated knife to slice through the bread. Clean the knife in between slices as the bread is very fudgy.
Notes
*Silicone Bread Molds:  We really like using silicone bread molds as we do not use any oils in the WFPB diet, so silicone molds work perfectly for baking.  If you do not have a silicone mold, then line a metal bread molds with parchment paper. 
*Silicone Bread Mold placed inside a Metal Bread Pan:  This gives the silicone bread mold stability.  Silicone molds are very flimsy, but if you have some metal bread pans on hand, this really helps stabilize the silicone mold.  This step isn't necessary, but it comes in handy if you happen to have any in kitchen.  Might as well put them to use. 
*Parchment Paper:  If you do not have a silicone bread mold, but you do have a metal bread pan, cut 2 pieces of parchment paper: one will go the length of the pan and the other will go the width of the pan.  You will still have to carefully loosen any parts of the bread that are not completely protected by the parchment paper that may stick to the metal pan. 
*Baking the Fudgy Chocolate Banana Bread:  This bread is very fudgy and moist. The "fudginess" is largely dependent upon how long you bake the bread.  Baking it 55 minutes will ensure a very fudgy bread, similar to a very fudgy, dense brownie.  Longer baking times will still result in a moist bread, but will be less fudgy. 
*Storage:  Cool completely, then cover in plastic wrap.  This bread freezes well.  To freeze, wrap tightly in plastic wrap and aluminum foil.  Use within one month.
Courses Dessert
Cuisine American
Storage:  Store in a plastic or glass container in the frig.  Eat within one week.