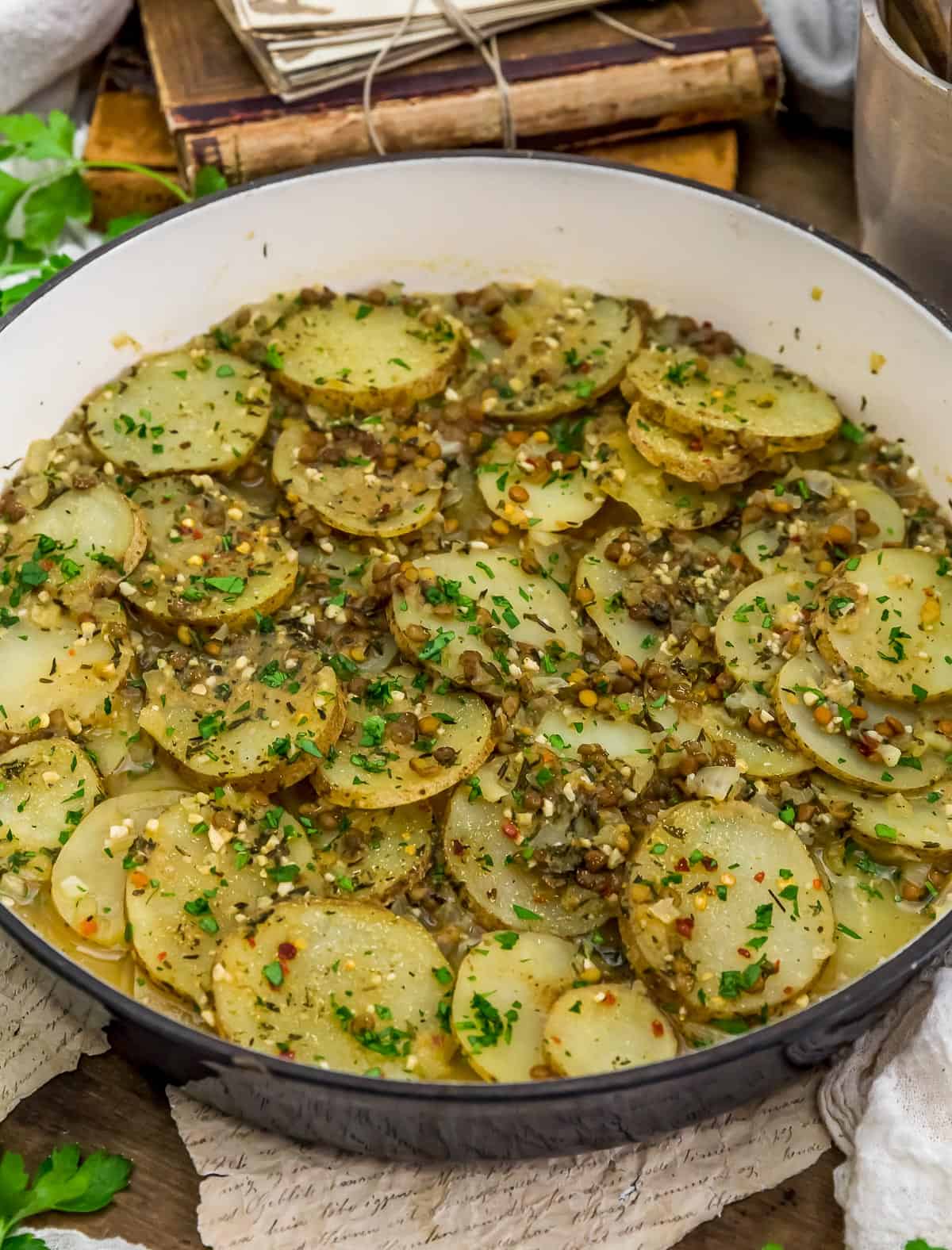 Easy Vegan "Sausage" and Potatoes Skillet! Hearty, warming, and ultra-comforting, you don't want to miss this delicious potato dish.
This Easy Vegan "Sausage" and Potatoes Skillet is a budget-friendly weeknight meal that is packed with flavor and simple to prepare.  Lentils and thin-sliced potatoes simmer in a low-fat broth seasoned with sausage seasonings that is a veg nod of pure deliciousness. Bonus, it makes for a delicious breakfast-style "hash" too.
Whole Food Plant Based, Vegan, plant based, oil free, refined sugar free, no highly processed ingredients and gluten free.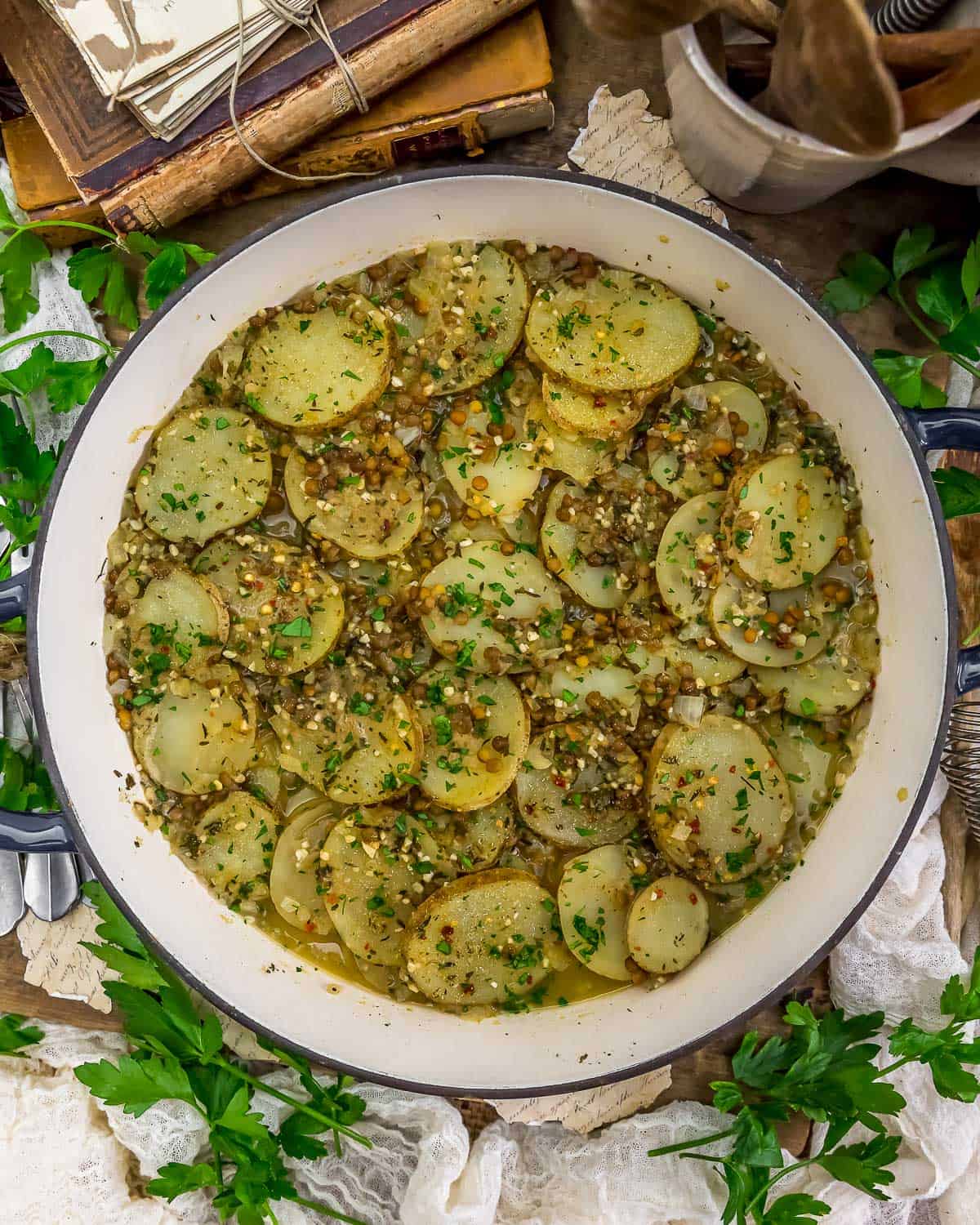 Hi there, Ameera here!
This dish is so yummy; we had it on repeat. Dad devoured it like a hungry hyena! So gosh-darned tasty!
If you enjoy a savory breakfast or brunch, this potato dish make a fantastic alternative.
You gotta give this one a try!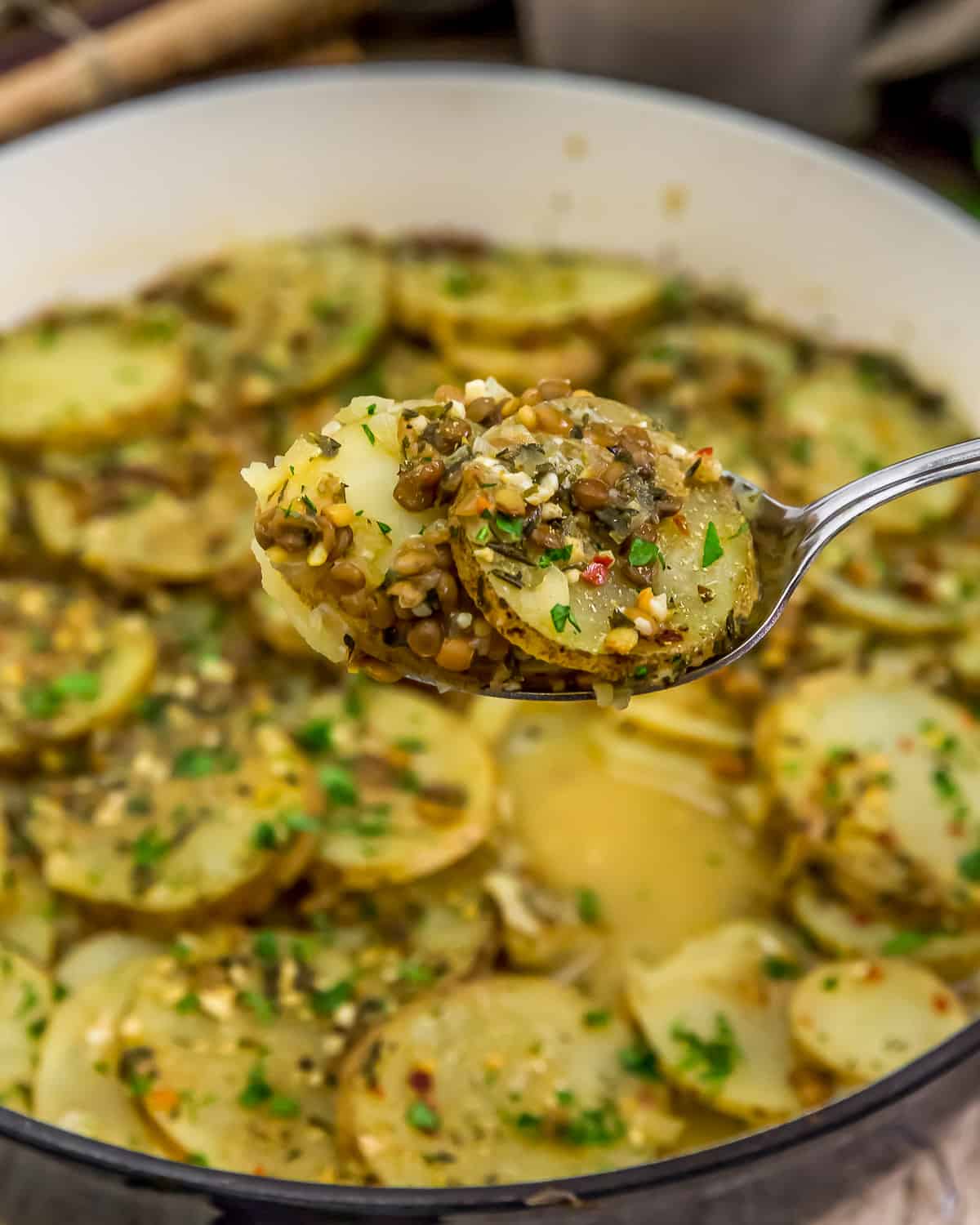 Tips for Success:
Flavor Profile: This Easy Vegan "Sausage" and Potatoes Skillet recipe is a nod to the spices that are typically used with sausage which is fennel-forward. The potatoes and lentils make the dish feel hearty and healthy.
Stirring the Dish: Once you add the raw sliced potatoes, stir them well to ensure they have become coated with the liquids, then arrange them so they are flat and then press everything down into the broth.  The broth will not typically cover all of the sliced potatoes, but the top layer of the potatoes will at least be in contact with the broth.  This is important!  The broth steams the potatoes.  After 15 minutes of simmering, remove the cover, sprinkle on the red pepper flakes, do not stir, then press lightly down on the potatoes, they should pretty much now be mostly covered by the broth, then return the cover and simmer for another 10 to 20 minutes until the potatoes are completely tender.  Do not stir this dish after the initial stirring of the raw sliced potatoes. If you do, the potatoes will break down making for a less appealing dish.
Potatoes: We tested both russet and red-skinned potatoes (both unpeeled) for this dish, both work well.  Feel free to use your favorite potato in this recipe.
Different Types of Potatoes: Some potatoes are more absorbent of flavor than others. We found that red-skinned potatoes are more absorbent which created a more flavorful potato dish.
Slicing the Potatoes: Slice the potatoes thinly to ensure they become tender within a reasonable amount of time.  We used 1/8-inch slices.  If you slice the potatoes too thick, then it will take longer to cook the potatoes until tender.  If you slice them too thin, then they will fall apart.
Amount of Sliced Potatoes: Do not use more than 1 ½ pounds of potatoes. You want to ensure that the top layer of sliced potatoes becomes tender within a reasonable amount of time.
How to Test for Potato Tenderness: Take a sharp knife and pierce several potatoes on top of the dish. If the knife slides in easily, then the potatoes are tender. If unsure, then pull off one potato off the top, place it on a plate, and taste test for tenderness.
Resting Period: Do not skip the 15 minutes undisturbed resting period off the stove. The potatoes will continue to cook a little, but as they slightly cool, they will absorb most of the flavorful broth.  The flavor will continue to develop during this 15-minute resting period.  The longer the dish sits, the more liquids are absorbed into the potatoes which then becomes more flavorful.
Texture of the Dish: This is a drier dish. In other words, the dish itself is a moist dish; however, most of the liquids will be absorbed into the potatoes.
Low-Fat Dish Expectations: This dish was designed to be low in fat. Because it is low in fat, you are not going to experience that endorphin rush associated with eating high-fat foods when eating this dish. It is very tasty for what it is, and that is a low-fat dish. We just want to make sure that our Readers recognize this when contemplating making this recipe.  If you wish to make it more indulgent, add the Vegan Parmesan Cheese on individual servings. The vegan parmesan cheese totally takes it over the top.
Lentil Substitutions: We used canned small brown lentils.  Feel free to use your favorite bean in this dish or substitute with mushrooms. If substitutions are used, you may need to adjust the liquids accordingly. Larger beans will create more of a challenge since they won't allow the potatoes to lay perfectly in the broth. If you don't enjoy lentils, then you can make this dish without any lentils (or beans).
Dried Crushed Thyme Leaves: If you can't find dried crushed thyme leaves, you can use ground thyme, but use half the amount.
Ground Fennel Seeds: We used a ground fennel seed powder.  One of the main seasonings for sausage is fennel. It is the prominent seasoning for this recipe. You can leave it out or substitute it with other seasonings with the understanding that substitutions will completely alter the flavor palate of this dish.
Maple Syrup: Using just a little bit of maple syrup gives this dish the hint of sweetness typically associated with sausage when coupled with the fennel.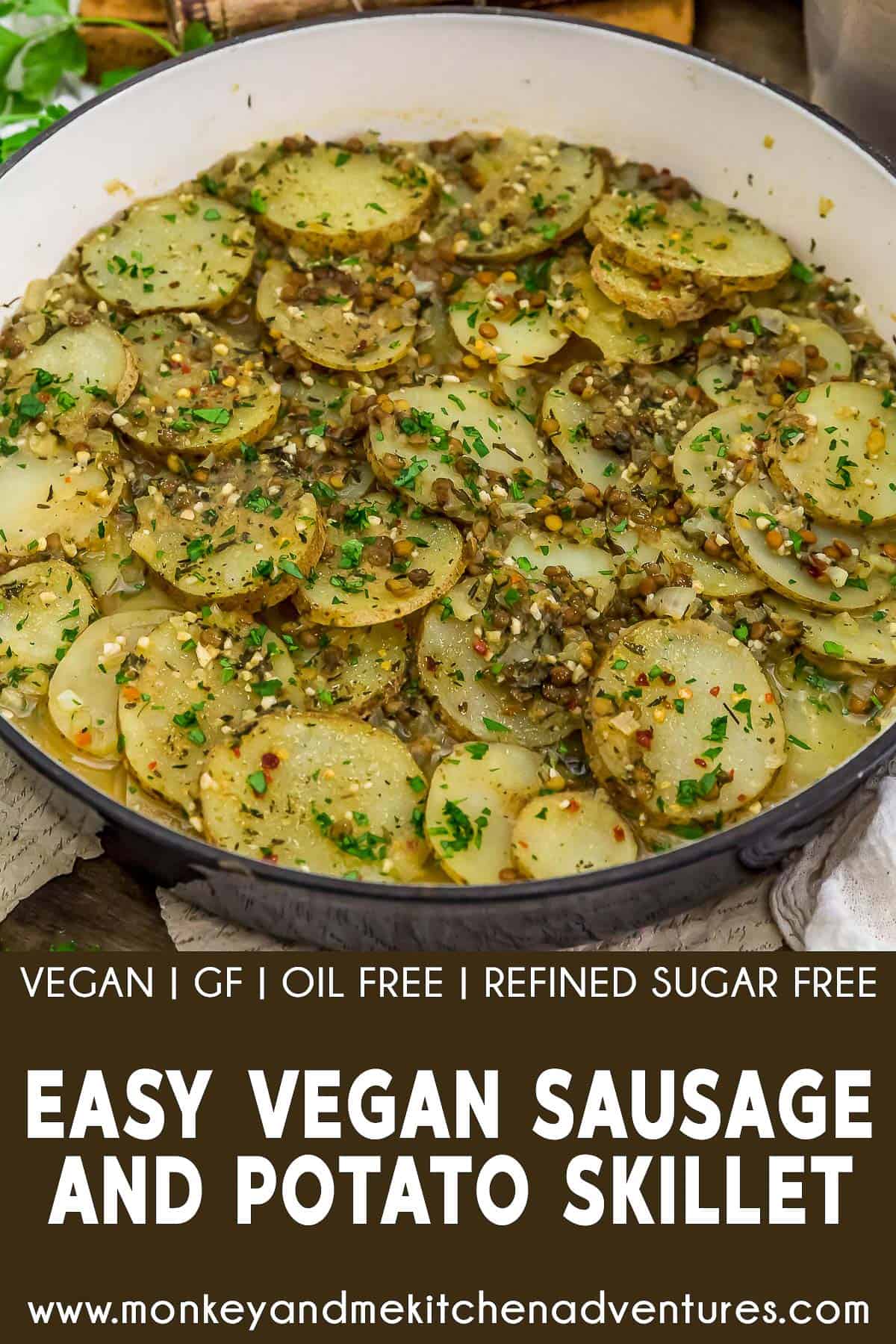 Leftovers and Freezing:
Leftovers will generally keep 5 days in the refrigerator.  Store in a covered container.
This dish can be frozen.
Pantry Products:
Vegetable Stock: We use Pacific Organic Low Sodium Vegetable Stock. We love this brand because it is Whole Food Plant Based compliant, as it does not contain MSG, has no oil, and does not contain any highly-processed ingredients.  Feel free to use your favorite vegetable broth.
Canned Lentils: We used Delallo Imported Italian Lentils.  They come in a 14 oz. can.  Most grocery stores carry them in the specialty aisles. If using dry lentils, select lentils that hold their shape after cooking like a brown lentil such as small brown lentils called Pardina lentils. Cook dry lentils separately, adjust time accordingly.  If cooking dry lentils, you want to end up with 1 2/3 cups of cooked
Sea Salt: Please adjust the sea salt based upon your family's sea salt preferences and/or based upon dietary needs.
Kitchen Products:
Large heavy skillet or similar skillet with a tight-fitting lid
If you try this flavorful dish, we would love to know if you enjoy it as much as we do! Please leave us a review! Post a picture on Facebook or Instagram and tag us! We would love to hear from you.
Print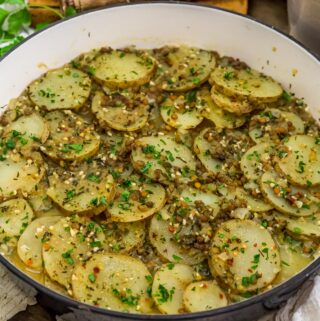 Easy Vegan "Sausage" and Potatoes Skillet
Author:

Prep Time:

15 Minutes

Cook Time:

45-55 Minutes

Total Time:

60 Minutes (+15 Minute Rest Time)

Yield:

4

-

5

Servings

1

x

Category:

Dinner, Breakfast

Method:

Stovetop

Diet:

Vegan
---
Description
This Easy Vegan "Sausage" and Potatoes Skillet is a budget-friendly weeknight meal that is packed with flavor and simple to prepare.
---
Skillet Ingredients:
1 cup

yellow onions, fine dice

2 Tablespoons

minced garlic

1 cup

low-sodium vegetable broth *

1 cup

water

2 Tablespoon

nutritional yeast

½ teaspoon

pure maple syrup

1

– [ 14.5 oz. can ] lentils, drained and rinsed *

1 ½

lbs. potatoes, unpeeled, thin slice * 
Spice/Herb Ingredients:
1 teaspoon

onion powder

1 teaspoon

garlic powder

1 Tablespoon

dried parsley

1 teaspoon

ground fennel seeds *

1 teaspoon

dried crushed thyme leaves *

¼ teaspoon

Italian Seasoning
Pinch to

¼ teaspoon

black pepper (+/-)

¼

to

1

teaspoon sea salt (+/-) *

¼ teaspoon

red pepper flakes (+/-) (optional)
Optional Toppings:
Freshly chopped parsley
Additional sprinkle ground fennel seeds
---
Instructions
Place the Spice/Herb Ingredients (except the red pepper flakes) in a small bowl, mix well, set aside.
In a large skillet, add the finely diced onions, sauté over medium-high heat for 7 to 9 minutes to soften, add a splash of water, if needed to avoid burning. Then lower the heat to medium, add the minced garlic, sauté, stir constantly for one minute.
Then add all the remaining Skillet Ingredients (except the sliced potatoes) and the Spice/Herb Mix to the skillet, stir to incorporate, bring the mixture to a boil, then immediately lower to a simmer. Add the sliced potatoes, stir to incorporate the potatoes and to coat them well. Make sure the potatoes are flat in the dish in layers.  Slightly press down on the mixture to ensure that the potatoes are in the liquids (not necessarily submerged but the top layer of potatoes should at least be touching the liquids). Cover with a tight-fitting lid, then simmer for 15 minutes.
After 15 minutes, remove the lid, sprinkle the red pepper flakes over top the mixture, then slightly press down on the mixture to ensure everything is covered by the liquids. Cover with the lid and simmer for 10 to 20 minutes or until the potatoes are perfectly tender.
Remove from the stove, allow to sit undisturbed for 15 minutes with the cover still on the skillet, then serve, and enjoy.
---
Notes
*Please reference the blog post for Tips for Success, Pantry Items Used, Storage and Freezing, and Kitchen Products Used. 
*Sea Salt:  Please adjust the sea salt based upon your family's sea salt preferences and/or based upon dietary needs.   
*Servings:  4-5

This post contains affiliate links, and we may receive a very small commission if you purchase through those links at no additional cost to you. Thank you for supporting Monkey and Me Kitchen Adventures! For more information, see our disclosures here.