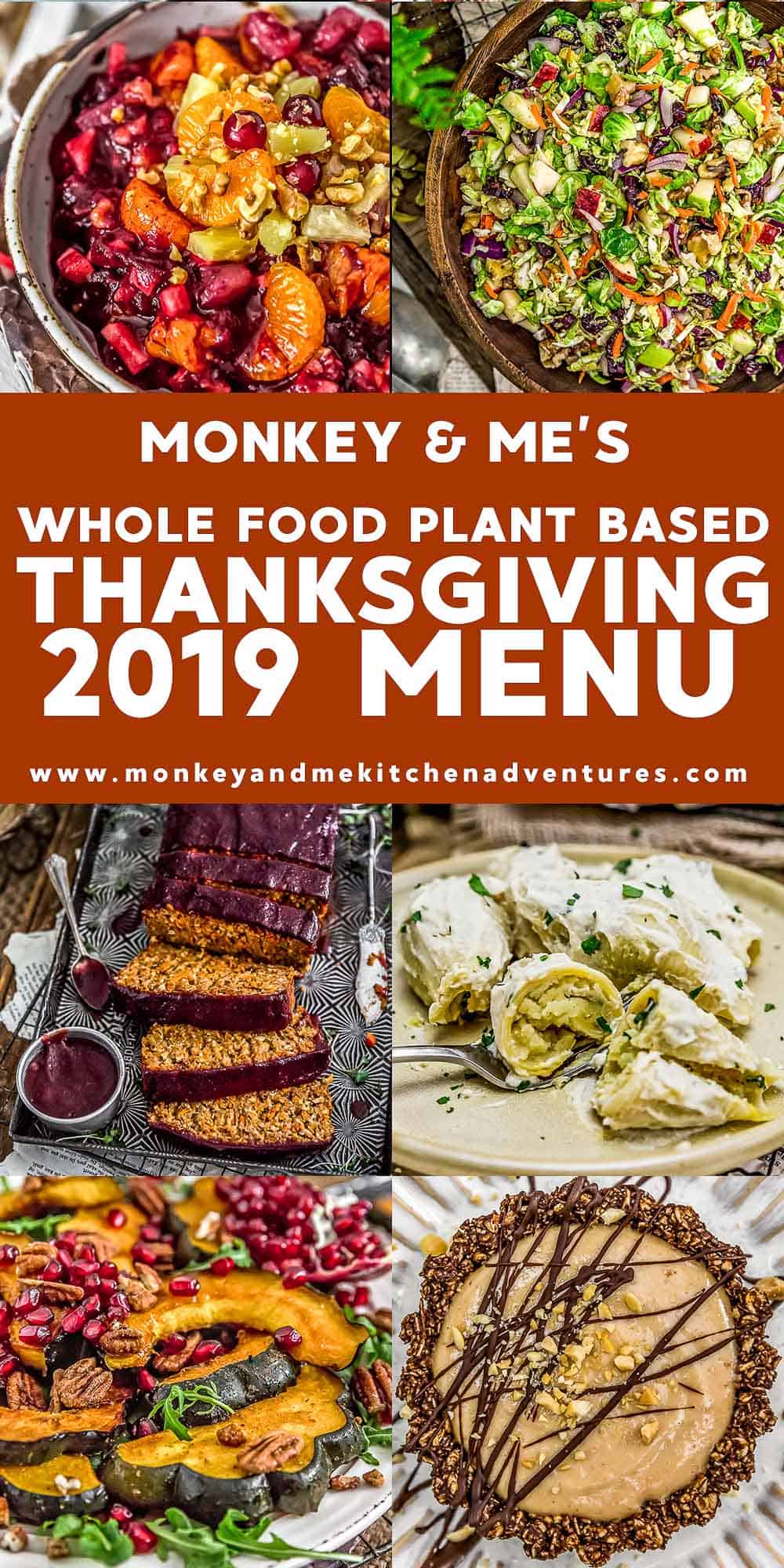 We are excited to share with you our 2019 Whole Food Plant Based Thanksgiving Menu. We are including all of our Whole Food Plant Based Thanksgiving classic dishes, as well as some fun, new delicious dishes.
This WFPB menu includes festive appetizers, hearty main entrees, must-have sides, refreshing salads, ultra-decadent desserts, and so much more.
All recipes are Whole Food Plant Based, vegan, plant based, vegetarian, oil free, dairy free, egg free, refined sugar free, gluten free, and contain no highly processed ingredients.


Earthy, tangy and full of flavor, this healthy Deli-Style Marinated Mushroom Salad is perfect for mushroom lovers everywhere.
---

Crunchy pecans coated in cinnamon-maple glazed goodness make for the perfect snack munching, plus a delicious topper for our Roasted Maple Glazed Acorn Squash.
---

The perfect hearty dip for crackers that is brimming with Thanksgiving flavors.


This vibrant dish has got some serious delicious salad action heading your way with all the must haves: flavor, texture, and wholesome goodness.


Brimming with feel-good ingredients, the perfect blend of Thanksgiving spices, and hearty texture, this comforting Harvest Veggie Loaf will have you running back for seconds.
---

A fun twist of stuffed shells filled with cheesy mashed potatoes, sweet onions, and earthy spinach and drenched in a tangy white sauce that feels indulgent without the guilt.


This vibrant holiday table centerpiece, is sure to be a must-have at every Thanksgiving dinner.
---

Wholesome green beans in a beautifully savory almond sauce sprinkled with toasty almonds makes for a perfect side dish.
---

Rich, creamy, and brimming with flavors, this Fast and Easy Vegan Gravy is everything you could want in a gravy and so much more.
---

Fluffly, creamy, flavorful mashed potatoes are the quintessential side dish that is loved by all.
---

Oh-so-satifying and beautiful, this fantastic dish features a maple syrup glaze, cinnamon spice sprinkle, crunchy pecans, and sweet pomegranates.
---

Classic creamed corn just got a whole lot more exciting AND healthier – YUM!


When velvety pumpkin pie and decadent crumble cake come together in the most delicious way, you get this irresistible beauty.
---

This beautifully soft, chewy, and wholesome cookie is what autumn cookie dreams are all about.
---

The whole family will be singing your praises while enjoying this delightful, wholesome sweet treat.
---
Wishing you all a very Happy Thanksgiving filled with lots of love, family, and friends!