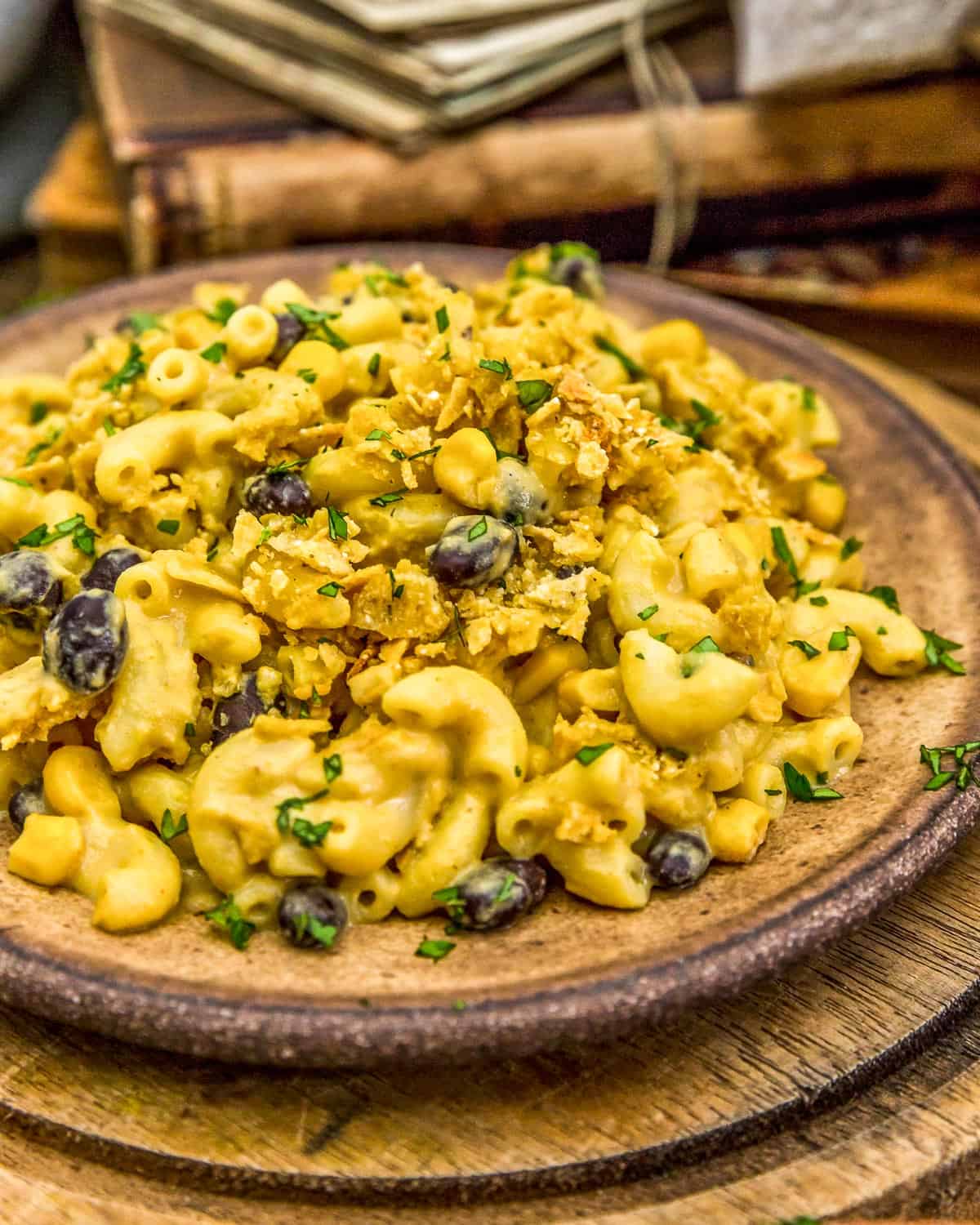 Vegan Chiles Rellenos Mac and Cheese! Nothing more cozy than a creamy bowl of vegan mac and cheese, and we giving it a fun, new twist.
Velvety, healthy, and comforting, this oil-free Vegan Chiles Rellenos Mac and Cheese will soon become a family favorite! Delicious goodness like mild green chiles, jalapeños, corn, black beans, and elbow macaroni all coated in a creamy southwestern cheese sauce.  Velvety mac and cheese topped with crushed tortilla chips and broiled to perfection makes for a flavorful and irresistible dish.
Whole Food Plant Based, Vegan, plant based, oil free, refined sugar free, no highly processed ingredients and gluten free.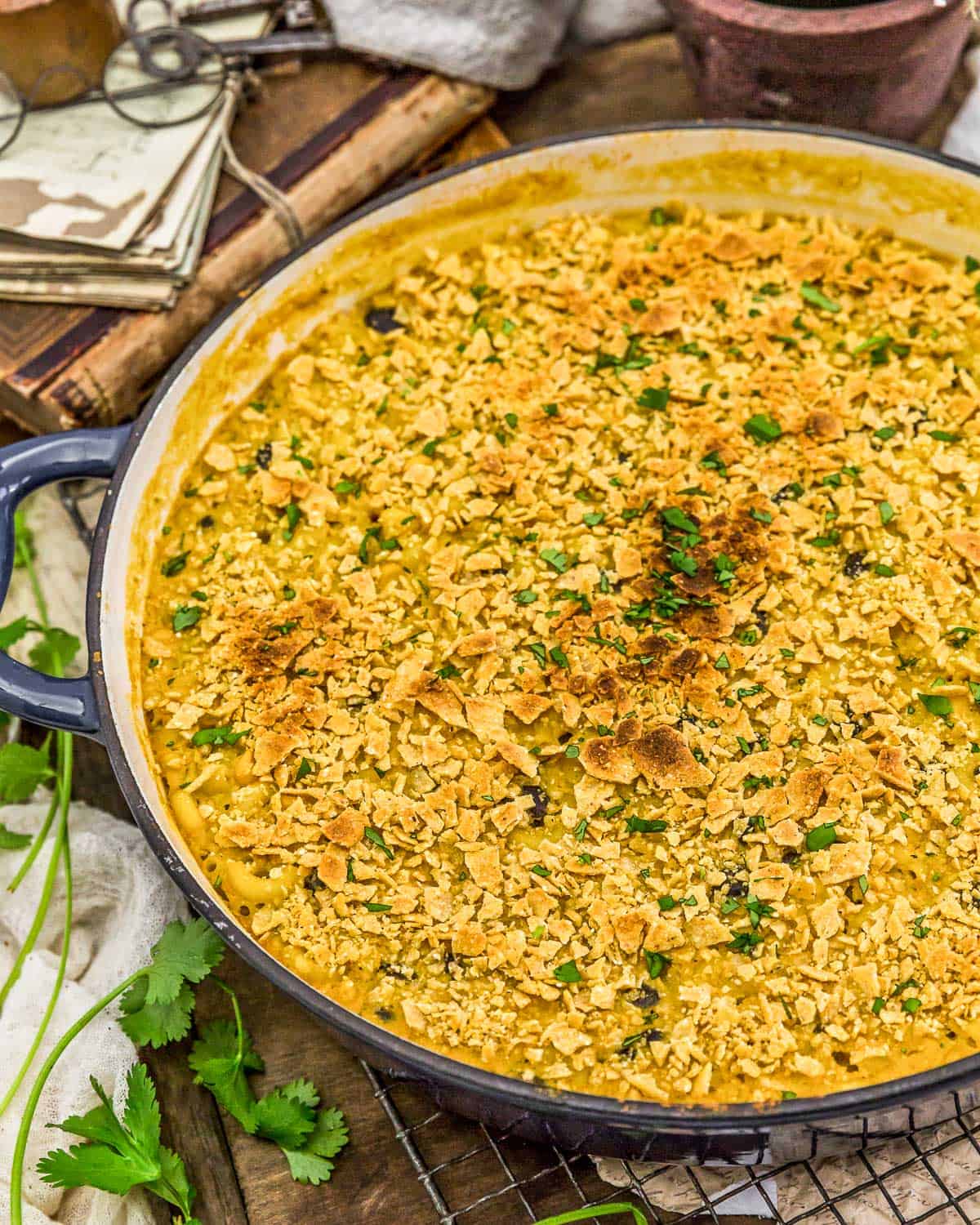 Hi there, Ameera here!
Oh boy!  Are you all in for a treat.  This dish is so SO tasty!  As our Readers know, Mom is a Southwestern, Tex-Mex food fanatic.  She is always up for anything even remotely related to Mexican food. She loves it!
Mom recently hurt her hip and knee, fluke accident, so she has been out of the kitchen for going on a week now. Send some good vibes her way because she is hurting.  She jokes that she is always tripping over "air pockets."
I made this dish for her recently as a test shoot and she said it was so good, that we needed to move it to the front of the line.
As you know, we typical work 4 to 5 months in advance, so moving it to the "front of the line" causing a lot of shuffling of recipes around to get it there. But it is here, and we are EXCITED!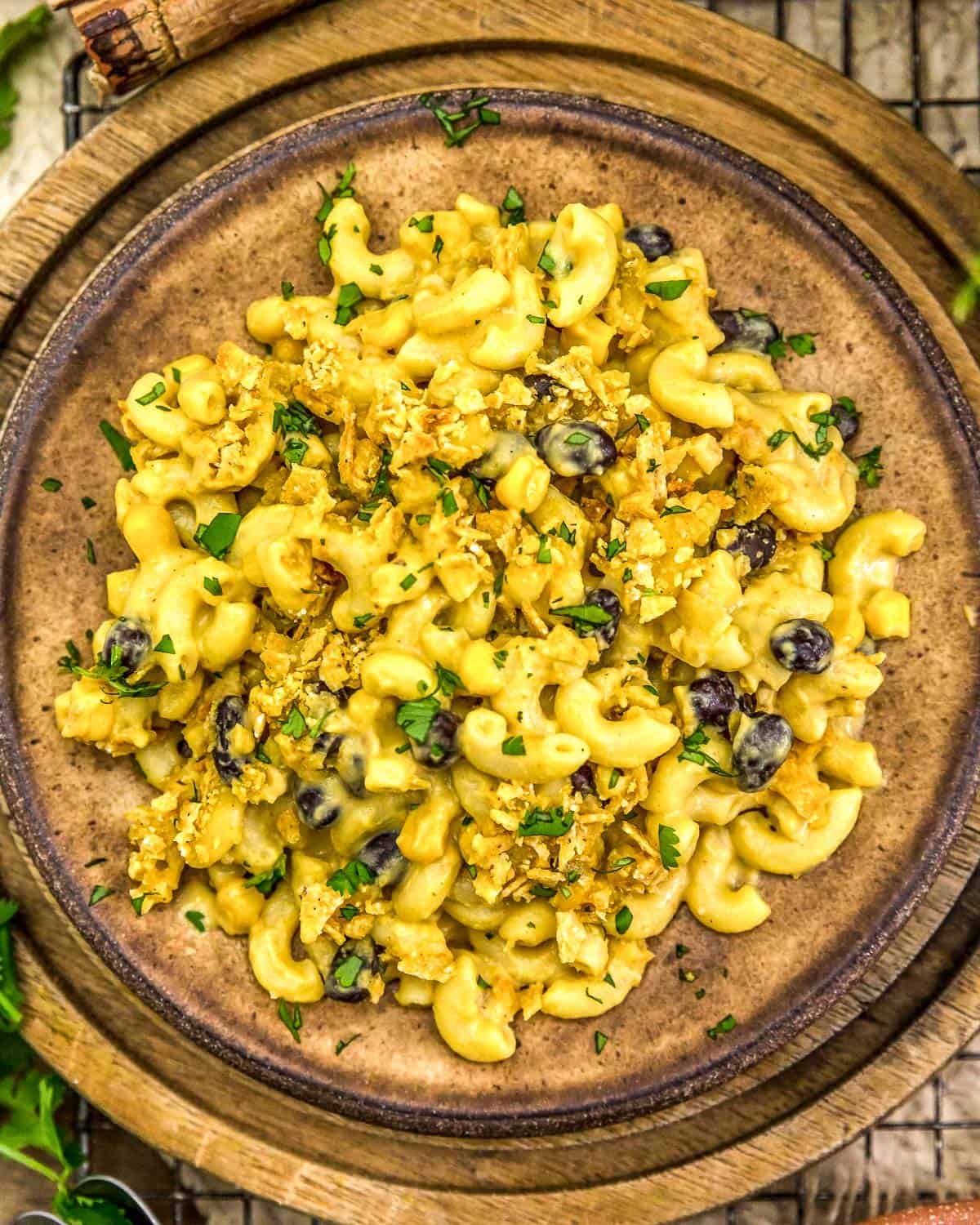 Balancing Flavors
We designed this dish to be lower fat. In other words, we typically try very hard to use a minimal amount of cashews in our recipes.  That of course makes it challenging as we all know that the more cashews in a recipe, the more "tasty" the dish is.  It's simply a brain trick.
Cashews boost the fat content and signals the brain that the dish is delicious!  I recently saw a WFPB mac and cheese recipe that used 4 cups of cashews!  Woo wee, that's a lot of cashews. :O
Don't get me wrong, we have dishes that include healthy whole food plant fats like cashews, avocados, coconuts, etc. There is nothing wrong with good healthy plant fats, but we typically try to keep things on the low-end of the fat spectrum. We think this dish fits on the lower to medium level of fat and boasts TONS of flavor 😀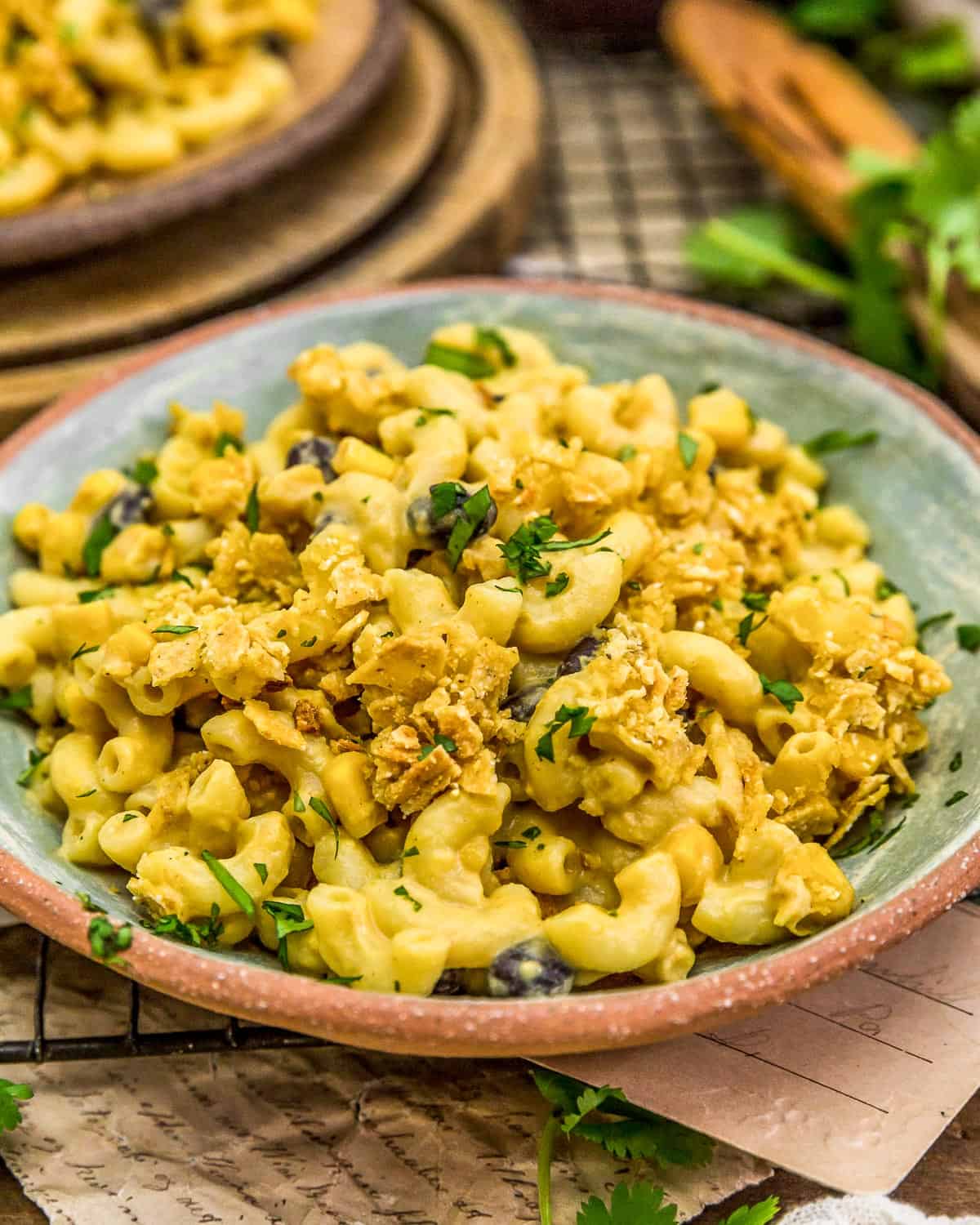 Spice Levels
This section is very important! We have had several Readers get upset because they felt a few of our dishes were too spicy to consume, only to find out that they accidentally used hot green chiles and hot chili powder.
We typically put notes in our recipe card section about making sure that when using green chiles, to select MILD green chiles. Also, when selecting a chili powder, it is important to use a mild (or regular) spiced chili powder.  If you accidentally use hot green chiles and/or a hot chili pepper, you are going to blow your socks off with too much heat!
Jalapeno Peppers
We have found that the jalapeño peppers that we purchase from our local grocery stores are on the mild side (very little to no heat). If you are concerned about the heat from a jalapeno pepper, slice off a tiny piece and taste it to determine if it is hot or not.
You can leave the jalapeño out, but we loved the extra flavor and depth the jalapeño peppers bring to the dish.
Mom wanted you to know that she LOVED, LOVED, LOVED this tasty mac and cheese.
We certainly hope you give this deliciousness a try.
If you try this fun and flavorful dish, we would love to know if you enjoy it as much as we do! Please leave us a review! Post a picture on Facebook or Instagram and tag us!  We would love to hear from you.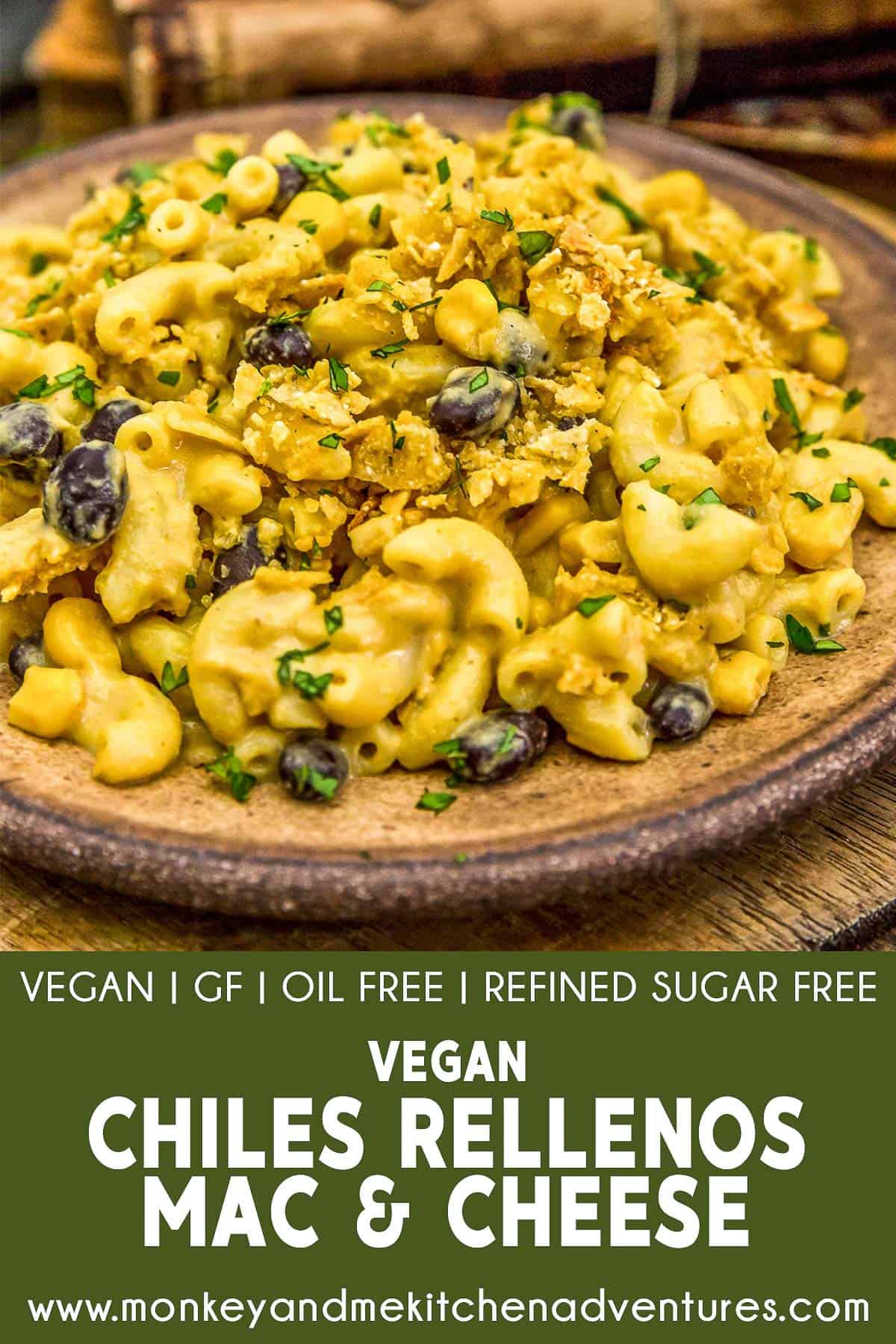 Products Used:
High-Speed Blender
Non-stick skillet (oven proof) or casserole dish
Stock pot to cook the macaroni
Print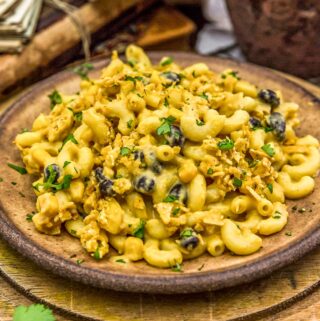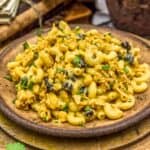 Vegan Chiles Rellenos Mac and Cheese
Author:

Prep Time:

20 Minutes

Cook Time:

20 Minutes

Total Time:

40 Minutes (+ Rest Time)

Yield:

6

Servings

1

x

Category:

Dinner

Method:

Stovetop, Oven

Cuisine:

Mexican

Diet:

Vegan
---
Description
Velvety, healthy, and comforting, this oil-free Vegan Chiles Rellenos Mac and Cheese is a fun and flavorful twist on an American classic.
---
Skillet Ingredients:
1

medium yellow onion, diced

1

jalapeno pepper, seeded, diced

1 Tablespoon

minced garlic

1 cup

low-sodium vegetable broth

1 ½ cups

water

¼ cup

nutritional yeast

1 Tablespoon

distilled white vinegar

2 teaspoons

lime juice

2

– [ 4 oz. cans ] chopped mild green chiles *
Spice/Herb Ingredients:
1 teaspoon

onion powder

1 teaspoon

garlic powder

2 Tablespoons

dried minced onions

1/8 teaspoon

cumin

¼

+

1/8 teaspoon

smoked paprika

¼ teaspoon

chili powder *

½

to

1

teaspoon sea salt (+/-) *
Other Ingredients:
12

to

16

oz. elbow pasta *

1

– [ 15 oz. can ] black beans, drained and rinsed

1

– [ 15 oz. can ] corn, drained
Topping Ingredients:
1 cup

crushed corn tortillas/tortilla chips (

6

– 6in tortillas)*
Other Topping Ingredients:
---
Instructions
Preheat the oven to 350 F (or broil).  See notes
Fill a large stock pot full of water. Add some sea salt to the water. Bring the water to a boil then add the elbow macaroni. Stir occasionally to prevent sticking. Boil the pasta until el dente, drain, shake well, set aside.
Place the raw cashews into a small bowl, cover with boiling water and let soak for 10 minutes. After 10 minutes, drain off the water and set aside until ready to use in Step 6.
Place all the Spice/Herb Ingredients into a small bowl, mix well, set aside.
Place all the diced onions and jalapeno peppers into an enamel-lined or similar non-stick skillet *. Sauté over medium-high heat for 7 to 9 minutes until the onions and jalapeno pepper are tender.  Add a splash of water if the veggies start to stick and/or to prevent burning.
Add the minced garlic and sauté for 30 seconds, then add all the remaining Skillet Ingredients and the Spice/Herb Mix. Bring to a boil, then immediately lower to a simmer.  Add the soaked raw cashews and simmer for 5 minutes over low heat, stirring occasionally.
Remove the skillet from the burner and allow to slightly cool, then place the skillet mixture into a high-speed blender. Blend until smooth and emulsified.  Then place the mixture back into the skillet.
Add the corn, black beans, and cooked elbow macaroni. Mix well. Simmer for a few minutes until heated through.  Remove from heat.
Place crisp corn tortillas into a plastic bag and crush them. Sprinkle the crushed tortillas over top of the macaroni and cheese skillet.
Broil for 2 to 4 minutes until the crushed tortillas are golden brown.
Remove from the oven, allow to set for 5 minutes, then sprinkle with freshly chopped cilantro.
---
Notes
*Tips for Success:
Sauciness: You can control the sauce to macaroni ratio by simply using less macaroni if you want a little more sauciness.  We used approximately 12 oz. of elbow macaroni.  If you decide to not add the corn or black beans, you can use 16 oz. It will appear very saucy at first (using 12 oz.); however, the pasta really drinks up the sauce.
Cooked Macaroni: Shake off any excess water and allow to drain for a few minutes, then shake the pasta again before adding to the bowl.  Elbow macaroni really tends to hold onto water inside the little tubes of pasta and you want to get as much of that out as possible. Any lingering water that hangs onto the pasta will water down your sauce.
Oven Proof Skillet: We used a deep oven proof skillet.  If you do not have an oven proof skillet, then transfer to a casserole dish when placing in the oven.
Corn Tortillas/Tortilla Chips: Use your favorite corn tortilla chips.  If you need to make corn tortilla chips, you can use your favorite compliant corn tortilla (or any other WFPB compliant flour tortilla, like almond flour, cashew flour (etc.).  We cut the tortillas into 6ths (triangles), place them on a parchment lined baking sheet, then bake them in a 350 F oven for approximately 6 to 10 minutes, flip them over about half-way through, bake until golden brown and crisp. The baking time is largely dependent upon the flour tortilla used. Once cooled, place them in a plastic bag and crush by hand or use a rolling pin to crush them up.  Note:  If you don't have the corn tortillas already baked and ready to go, do this prior to Step 1.
Green Chiles and Chili Powder: Make sure to get a can of mild chopped green chiles, and that the chili powder used is on the milder side.
Jalapeno Peppers: We have found that the jalapeno peppers that we purchase from our local grocery stores are on the mild side (very little heat).  If concerned about the heat from a jalapeno pepper, slice off a tiny piece and taste it to determine if it is hot or not.  You can leave it out, but we loved the extra dimension flavor profile coming from the jalapeño peppers.
*Notes Continued:                                                                                               
*Vegetable Stock:   We use Pacific Organic Low Sodium Vegetable Stock. We love this brand because it is Whole Food Plant Based compliant, as it does not contain MSG, has no oil, and does not contain any highly processed ingredients.
*Cashews Substitutes:  You can try the typical cashew substitutions, white beans, silken tofu, other nut and seeds with the understanding that the flavor and texture will change accordingly.  We have not tried any substitutions.
*Chili Powder:  We used Penzeys Regular Chili Powder.  Chili powders come in a variety of flavors and heat ranges, feel free to use your favorite chili powder; however, make sure the chili powder is on the milder side.
*Elbow Macaroni:  Feel free to use your favorite elbow macaroni or pasta of choice.
*Sea Salt:  Please adjust the sea salt based upon your family's sea salt preferences and/or based upon dietary needs.
*Serving:  6
*Storage:  Use within 5 days.

This post contains affiliate links, and we may receive a very small commission if you purchase through those links at no additional cost to you. Thank you for supporting Monkey and Me Kitchen Adventures! For more information, see our disclosures here.