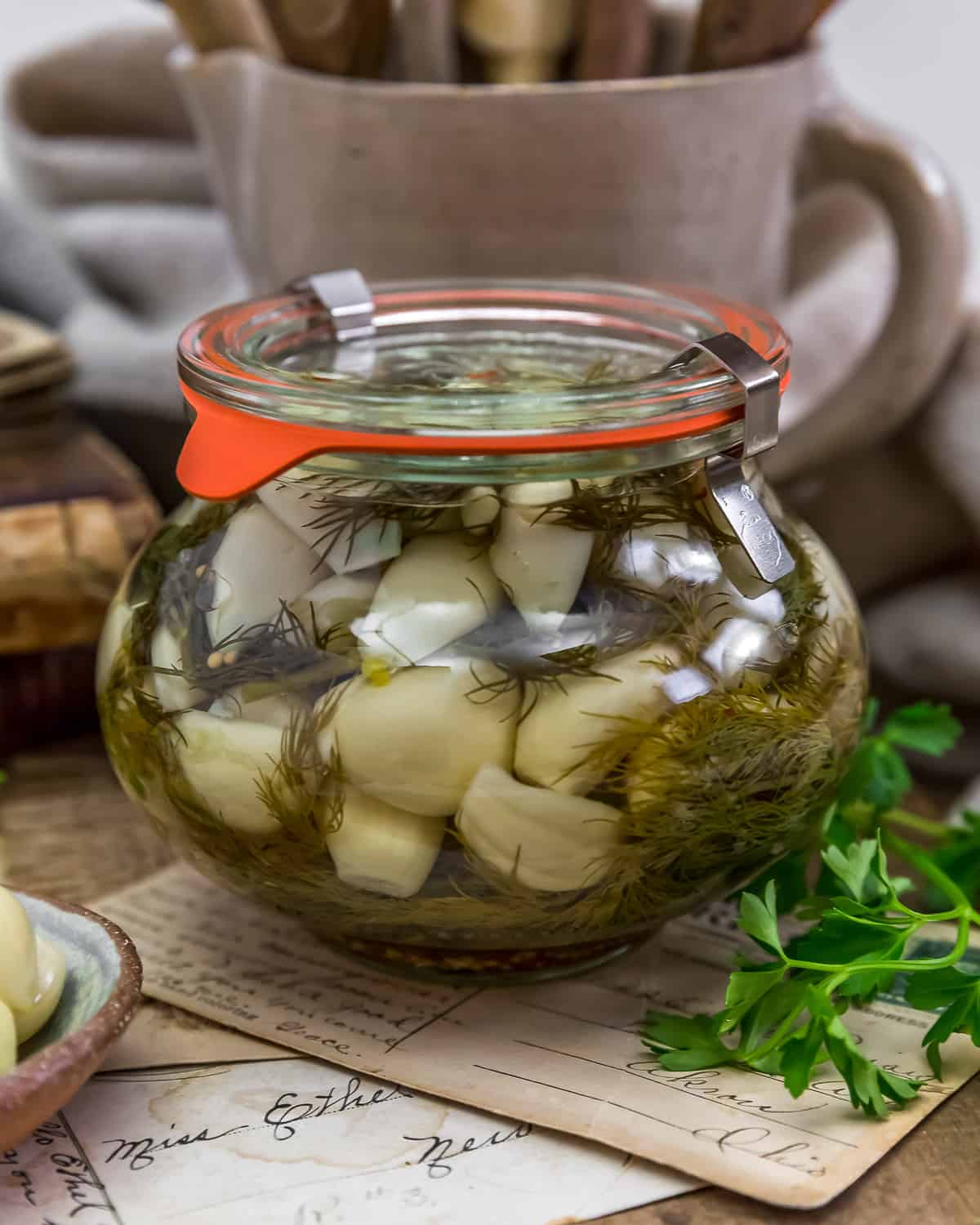 Refrigerator Pickled Garlic! For the serious garlic lover, this recipe is sure to satisfy with a pickled twist!
Simple, tangy, and bold, this Refrigerator Pickled Garlic recipe is full of crisp, garlic deliciousness. Easy to make and full of zestiness with hints of dill, this pickled garlic is brimming with healthy goodness.
Whole Food Plant Based, Vegan, plant based, oil free, refined sugar free, no highly processed ingredients and gluten free.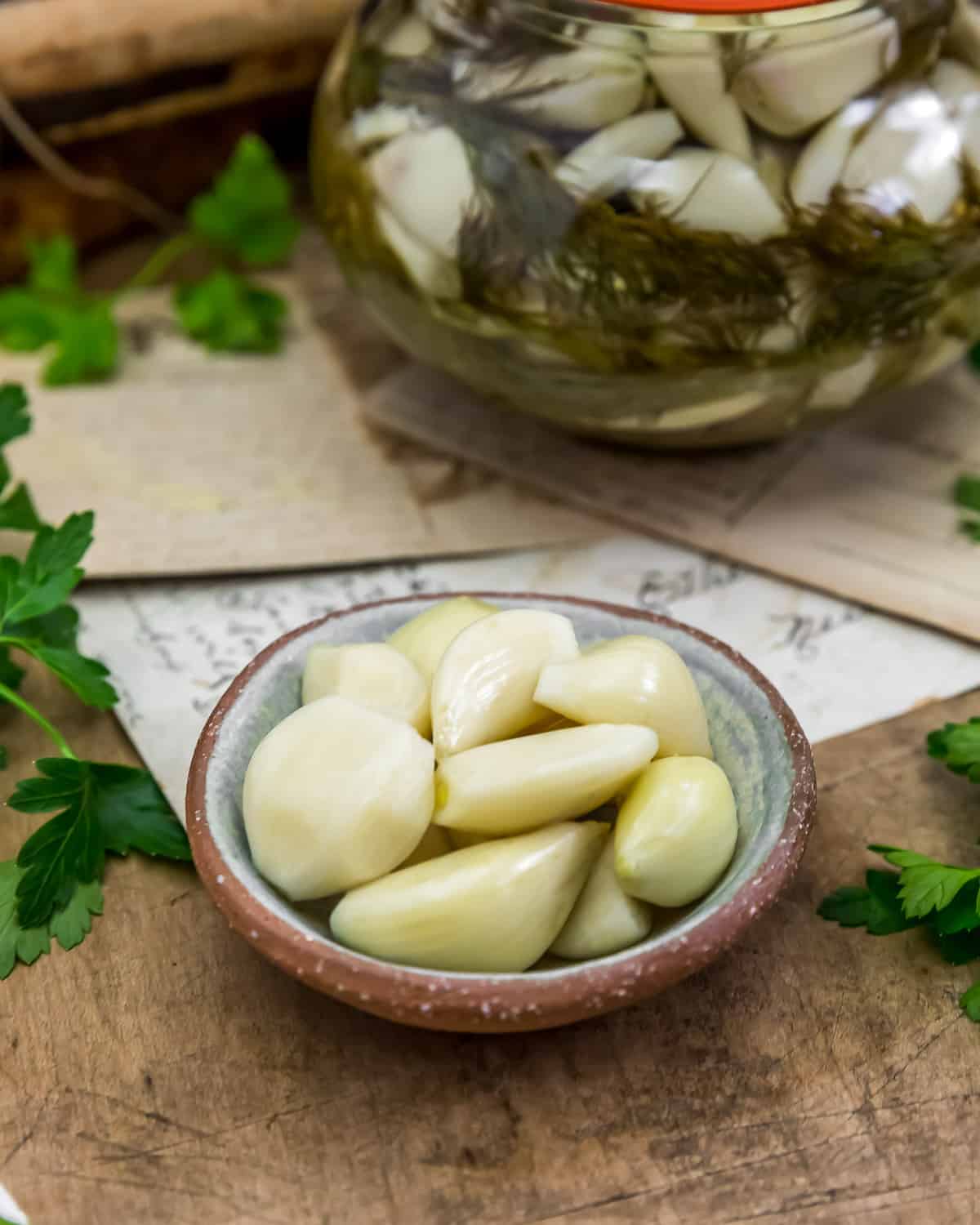 Hi there, Ameera here!
We are a garlic loving family. I have to say, this recipe is not for everyone who loves garlic.  You have to really love fresh garlic to enjoy this recipe. It's got a crispy, spicy, zesty quality that just can't be beat.
We love to add it to salads and make snacks out of it. One of our favorite combinations is sliced fresh red peppers, dollop of hummus, and topped with cloves of pickled garlic.
If you love zesty, bold garlic, you gotta give this one a try!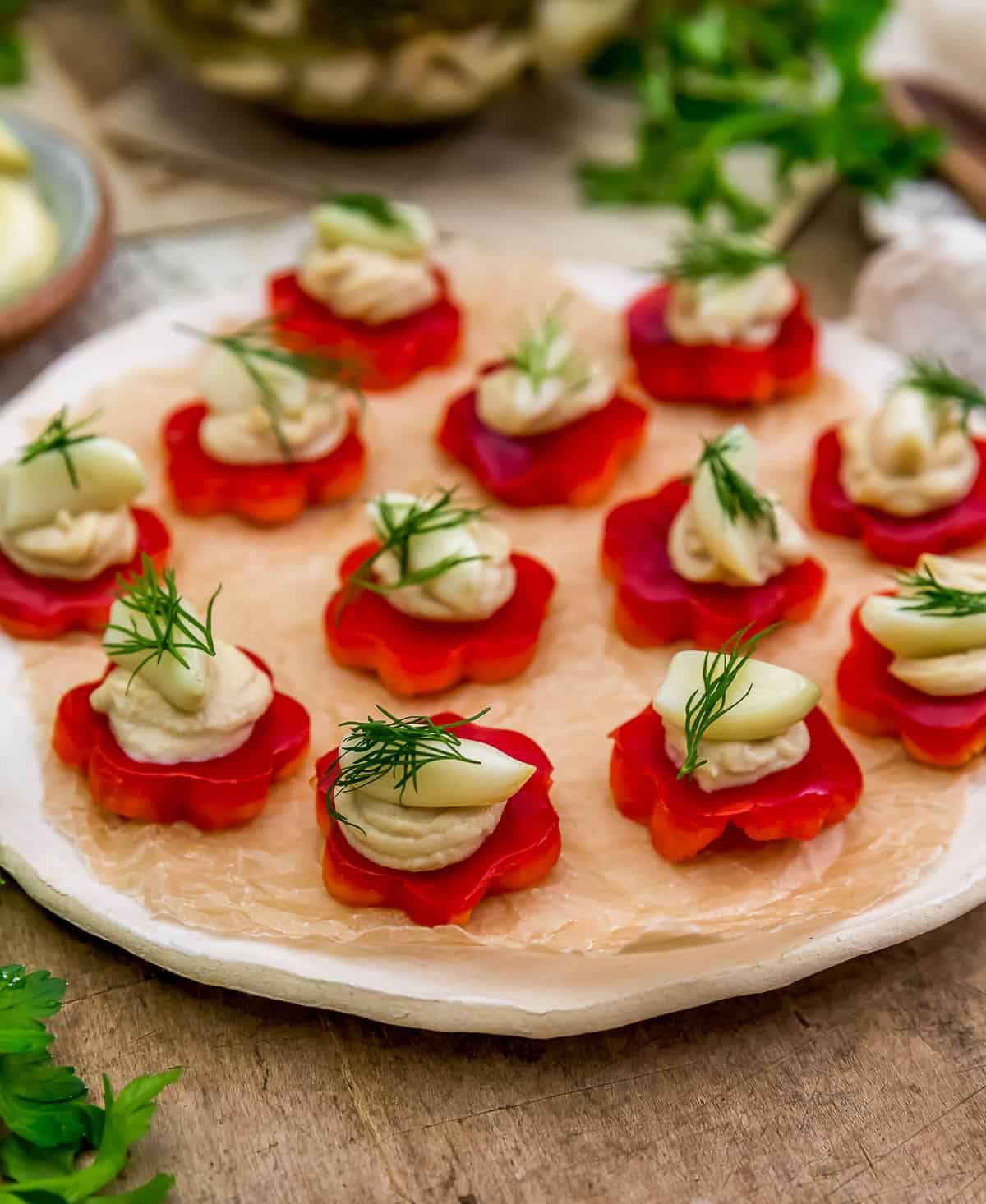 Tips for Success:
Flavor Profile: The pickled garlic is very zesty with hints of dill with a tiny bit of red pepper flake undertones. Pickled garlic is not for everyone. Just like raw garlic, it has a spicy bite to it. If you love zesty bites of garlic, then you will enjoy this recipe.
Taste: Raw garlic is very zesty and almost tastes salty and spicy.  It has a bite to it.  We love to eat raw garlic but have found it is even better with this recipe.
Sodium Content:  Like most pickled vegetables, the sodium content may be prohibative for individuals who need to watch their sodium intake.
Texture: It is very important to note that the garlic still retains its natural crunchiness. It is not processed so the garlic still has much of its raw characteristics which is what we love as it retains all the health benefits of natural raw garlic with a tiny twist of dill.
Peeled Garlic:  There are some stores like Sam's Club and Costco that sell already peeled raw garlic.  These raw peeled garlic can be used for this recipe.
Garlic: Discard any cloves that show signs of rotting, bruising, or spoilage.
Dill Weed: The dill weed will lose color over time.  We used mostly the fronds of the dill.  You can use the stems as well, just give them a rough chop.
Eating Pickled Garlic: We love to eat it as a snack, appetizer or an hors d'oeuvre.  We place some hummus on top of a wedge of fresh red bell pepper and top it off with the pickled raw garlic.  It tastes amazing.  You can fancy it up by cutting the red bell peppers into shapes and piping the hummus if you wish.
Waiting Period: Wait at least two to three weeks before consuming the pickled garlic.  This will allow some of the dill flavored brine to permeate the garlic.  Garlic is not a super absorbent vegetable.  It will take on some of the dilly brine flavor, but do not expect a strong influence.
Major Health Benefits of Eating Pickled Garlic: Pickled garlic (raw) retains the higher amounts of allicin than cooked garlic. It improves immunity, supports heart and brain health and has been shown to stabilize blood sugar levels.  Eating one to two pickled garlic cloves a day has been shown to have many health benefits.  We suggestion not consuming more than 2-3 cloves a day to avoid garlic-breath!  Eating too many can thin the blood.  People taking blood thinners should check with their doctor before consuming too much raw garlic or pickled raw garlic.
Pickled Garlic – Store Bought: This recipe is NOT  like the pickled garlic that you find at the grocery store where the garlic has been processed. For example, we love green olives stuffed with a clove of garlic.  That garlic clove has been processed and the garlic clove is softer and milder. If that is what you are looking for, then pass on this recipe.
Jars: We tested with a wide-mouth quart mason jar simply because we have tons of mason jars; however, feel free to use a thoroughly cleaned spaghetti sauce jar or really any type of glass jar with a lid.  We also used our Weck Canning Jars simply because they look awesome in the fridge.  This recipe used two Deco Weck canning jars.  If you are looking for the jar in the pictures click here: Weck Deco Canning Jars.
Sterilized Jars/Lids: The jars/lids used should be thoroughly cleaned in hot soapy water, then rinsed in very hot water and allowed to dry.
Contamination: When removing garlic cloves for consumption, use a fork or knife to remove the garlic cloves.  Do not use your fingers to avoid contaminating the jar.
Refrigerator Life: The pickled garlic will last approximately 4 months in the refrigerator.  Discard if you see any signs of mold, yeast growth, or contamination or if the smell has changed.
Smell of the Cooking Brine: Just sharing that we have found that some individuals are very sensitive to the smell of the simmering brine (vinegar) as it can quickly fill the room.  It doesn't bother us, but we have found that others find it a tad bit overpowering.
Vinegar: Use distilled white vinegar.  Do not substitute vinegars to expect the same results. Feel free to substitute knowing that the flavor will change.
Filling the Jar: Start with some dill on the bottom, then pack some garlic cloves on top of the dill, continue alternating garlic cloves and dill until you reach the top of the jar.  Place the pinch of red pepper flakes (per jar) somewhere in the middle when filling. If adding mustard seeds, add it with the red pepper flakes.
Fresh Dill: We used two of those prepackaged fresh dill that comes in a .5 oz. cellophane package in the refrigerated herb section of the grocery store. You can easily use one package and split it between the two jars. The fresh dill package measured into roughly ½ cup packed. We discarded the really large stems but kept the smaller stems with the dill fronds.
Pouring the Brine in the Jar: Slowly start pouring the brine into the jar until you are ½-inch from the top.  Then slide a plastic knife or chop stick along the edges to release any air bubbles.  If you don't have a plastic knife or chop stick, very gently pat the bottom of the jar (use caution as the jar and liquid are scalding hot).  We love using a wooden chop stick, it works perfectly to release air bubbles.
Brine Amount: There is enough brine to fill 2 packed one-quart jars.  You may have some brine leftover if you really packed the garlic tightly into the jars (which is the goal).  The amount of brine leftover is directly proportionate to the packing of the garlic.  In other words, more or less space for the brine to fill.
Canning Garlic: This recipe is not a canning recipe (hot water bath or pressure canner).  The pickled garlic must remain refrigerated. Garlic is a low-acid food and requires pressure canning. Again, this is not a canning recipe. The finished product is not shelf-stable.
Sea Salt: Use sea salt or kosher salt, avoid using iodinized salt or table salt.  The pickled garlic has a salty bite similar to a dill pickle.
Cookware: Use stainless steel or enamel cookware to boil the brine.  Avoid using copper, cast iron, tin, or aluminum cookware.
Blue Garlic: If you notice that your garlic has turned blue, this is normal and is still safe to eat. To reduce the chances of your garlic turning blue, follow the guidelines above on Sea Salt and Cookware.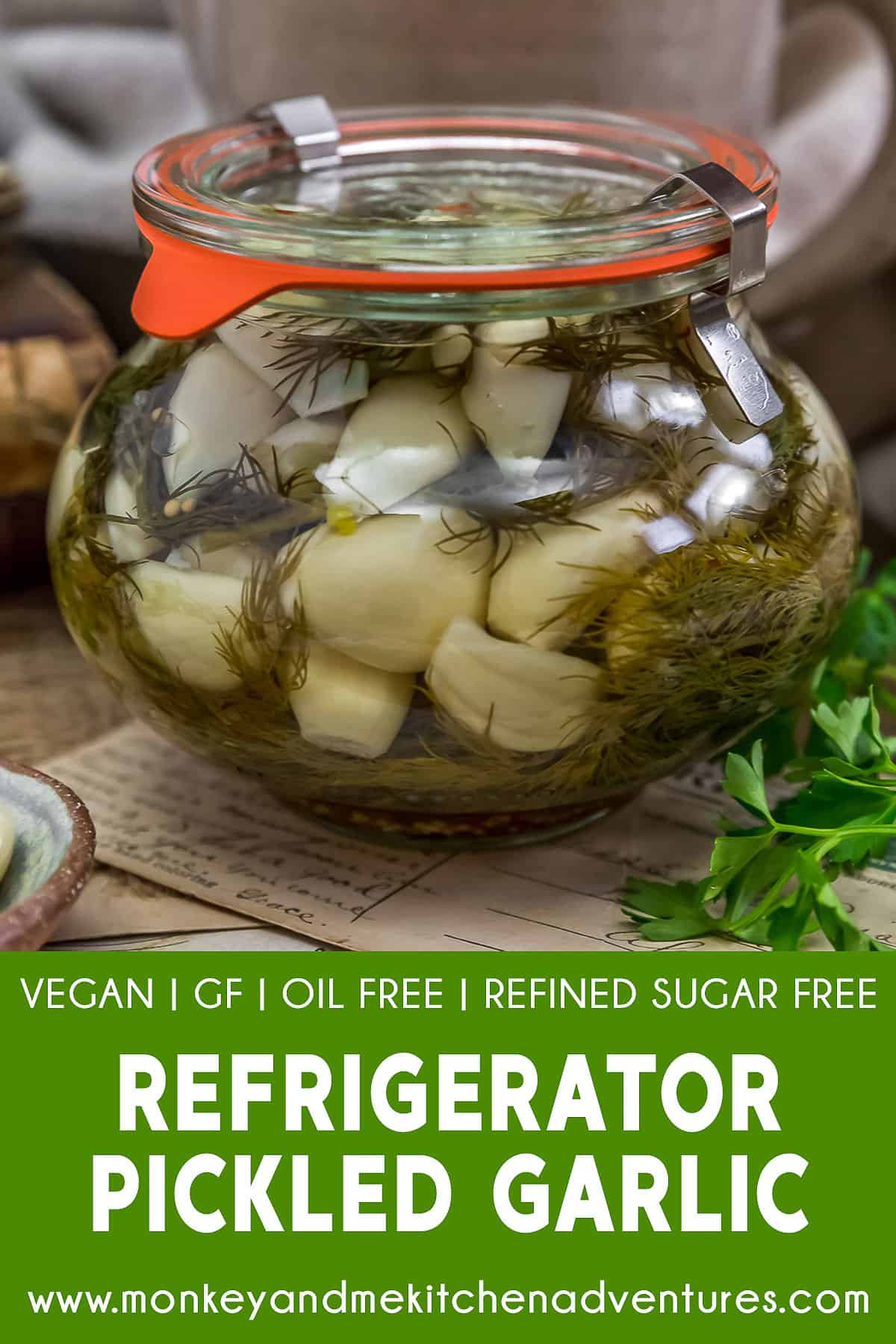 Leftovers and Freezing:
This recipe is a refrigerator recipe. The pickled garlic must remain refrigerated at all times except when removing some garlic cloves out of the jar for consumption, then should be placed back in the refrigerator.
This recipe is not for the freezer. It is a pickling brine recipe that is meant to be refrigerated.
Pantry Products:
Sea Salt:  Please adjust the sea salt based upon your family's sea salt preferences and/or based upon dietary needs.
Kitchen Products:
Stainless steel stock pot
If you try this zesty garlic, we would love to know if you enjoy it as much as we do! Please leave us a review! Post a picture on Facebook or Instagram and tag us! We would love to hear from you.
Print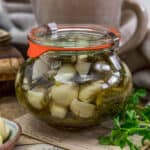 Refrigerator Pickled Garlic
Author:

Prep Time:

40 Minutes

Total Time:

40 Minutes (+Rest Time)

Yield:

2 Quarts

1

x

Category:

Condiments

Method:

Stovetop

Diet:

Vegan
---
Description
Simple, tangy, and bold, this Refrigerator Pickled Garlic recipe is full of crisp, garlic deliciousness.
---
Base Ingredients:
2

lbs. fresh garlic cloves, peeled

2

– [ .5 oz. packages ] fresh dill (+/-) *
Tiny pinch red pepper flakes (in each jar)
Brine Ingredients:
2 Tablespoons

+ 2 teaspoons sea salt (+/-) *

3 cups

distilled white vinegar *
Optional Ingredients:
½ teaspoon

mustard seeds (in each jar)
Pictured Serving Idea:
Serve with a wedge of fresh red bell pepper, a dollop of hummus, and a pickled garlic clove hors d'oeuvre.
---
Instructions
Pack the peeled garlic, dill, and red pepper flakes into clean jars, leaving about ½ inch from the top of the jar. See notes about packing the garlic and dill into the jars.
In the meantime, place all the Brine Ingredients into a small sauce pot, bring to a boil, then immediately lower to a low simmering boil, simmer at a low boil for 7 minutes. Remove from the stove.
Very carefully, using a ladle, pour the pickling brine into the jars over top of the garlic, dill, and red pepper flakes. Remove any air bubbles, wipe down the rim of the jar(s), place a lid on the jar, tighten, and allow to sit on the counter until they are no longer hot (about one hour), then place in the refrigerator for 2 to 3 weeks to brine. Will last up to 4 months in the refrigerator.  IMPORTANT NOTE:  This pickled garlic is not shelf stable; the pickled garlic must be refrigerated.
---
Notes
*Please reference the blog post for Tips for Success, Pantry Items Used, Storage and Freezing, and Kitchen Products Used. 
*Sea Salt:  Please adjust the sea salt based upon your family's sea salt preferences and/or based upon dietary needs.
*Serving:  Makes approximately 2 quarts of pickled garlic

This post contains affiliate links, and we may receive a very small commission if you purchase through those links at no additional cost to you. Thank you for supporting Monkey and Me Kitchen Adventures! For more information, see our disclosures here.