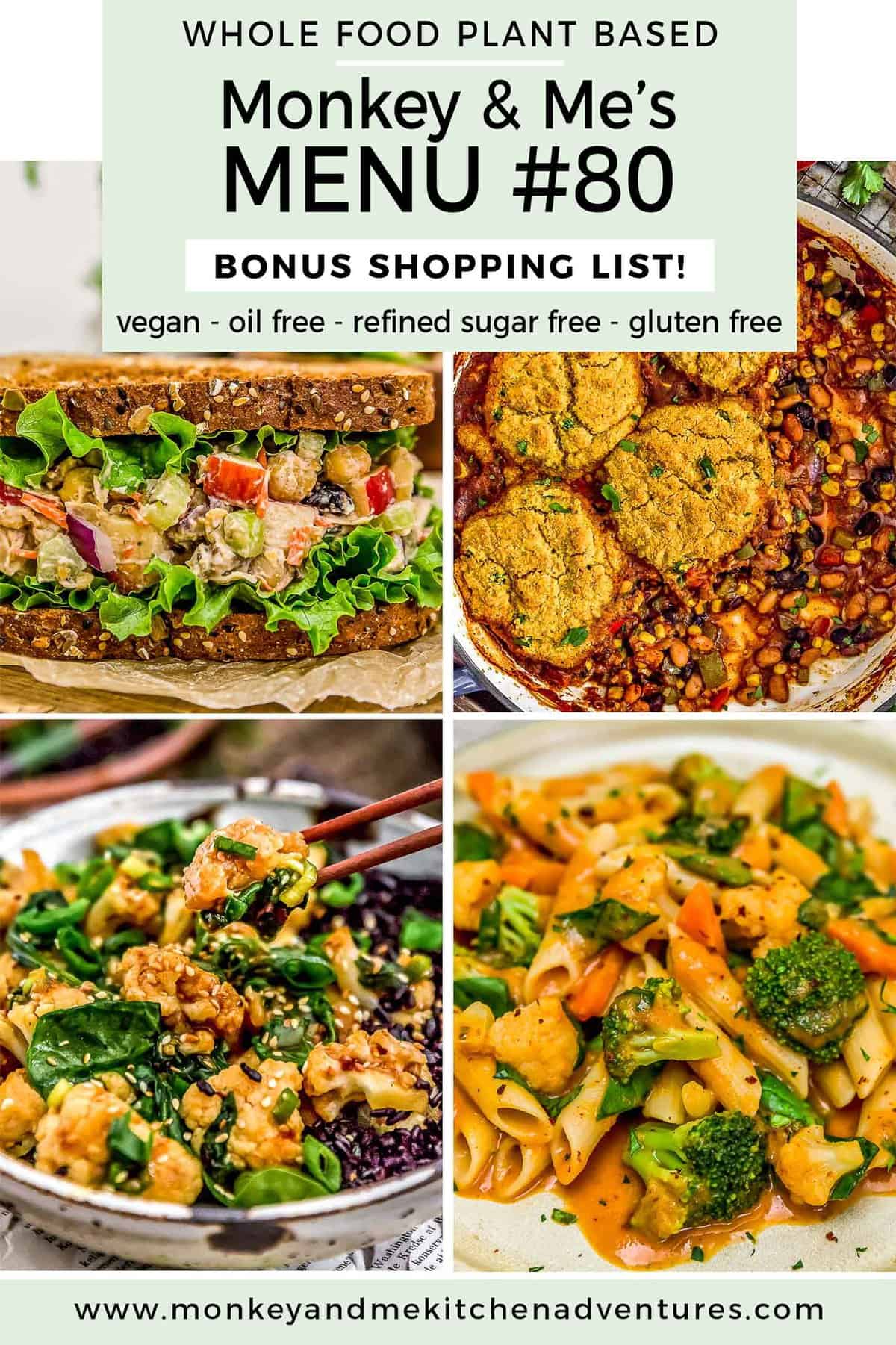 This week's Monkey and Me's Menu features some tasty recipes.  Menu #80 includes a FREE bonus shopping list.  All recipes are Whole Food Plant Based, vegan, plant based, oil free, refined sugar free, no highly processed ingredients, and gluten free.

Downloadable Menu which offers the following:

2 Breakfast ideas
2 Lunch ideas
2 Snack Ideas
5 Dinner Ideas, including a FREE downloaded shopping list (PDF – Below)

A comprehensive (downloadable) shopping list for the 5 Dinners

The shopping list is segmented into the common grocery store sections like "produce, spices, etc." making it easy to pick up these items from your local grocery store.
It also includes product suggestions that are Whole Food Plant Based compliant* for easy reference.  Note: These products are suggestions, please feel free to select your own favorite products.
Includes helpful codes so you can easily subtract items that you choose not to make.

Downloadable Instructions on how the meal plan work.
Note:  The term "Whole Food Plant Based compliant" is from a general standpoint.  There are Whole Food Plant Based diet branches that restrict certain food items.  Our recipes are all Whole Food Plant Based compliant based upon a high-level compliance standpoint. i.e. vegan, plant based, oil free, refined sugar free, minimally processed foods.
Some breakfast, lunch, and snack ideas are simple concepts that require no recipe.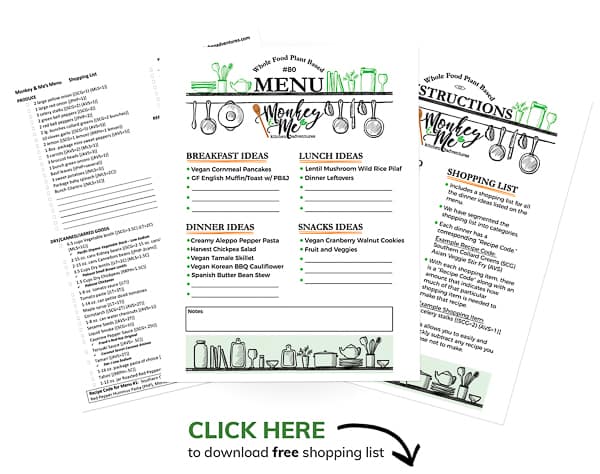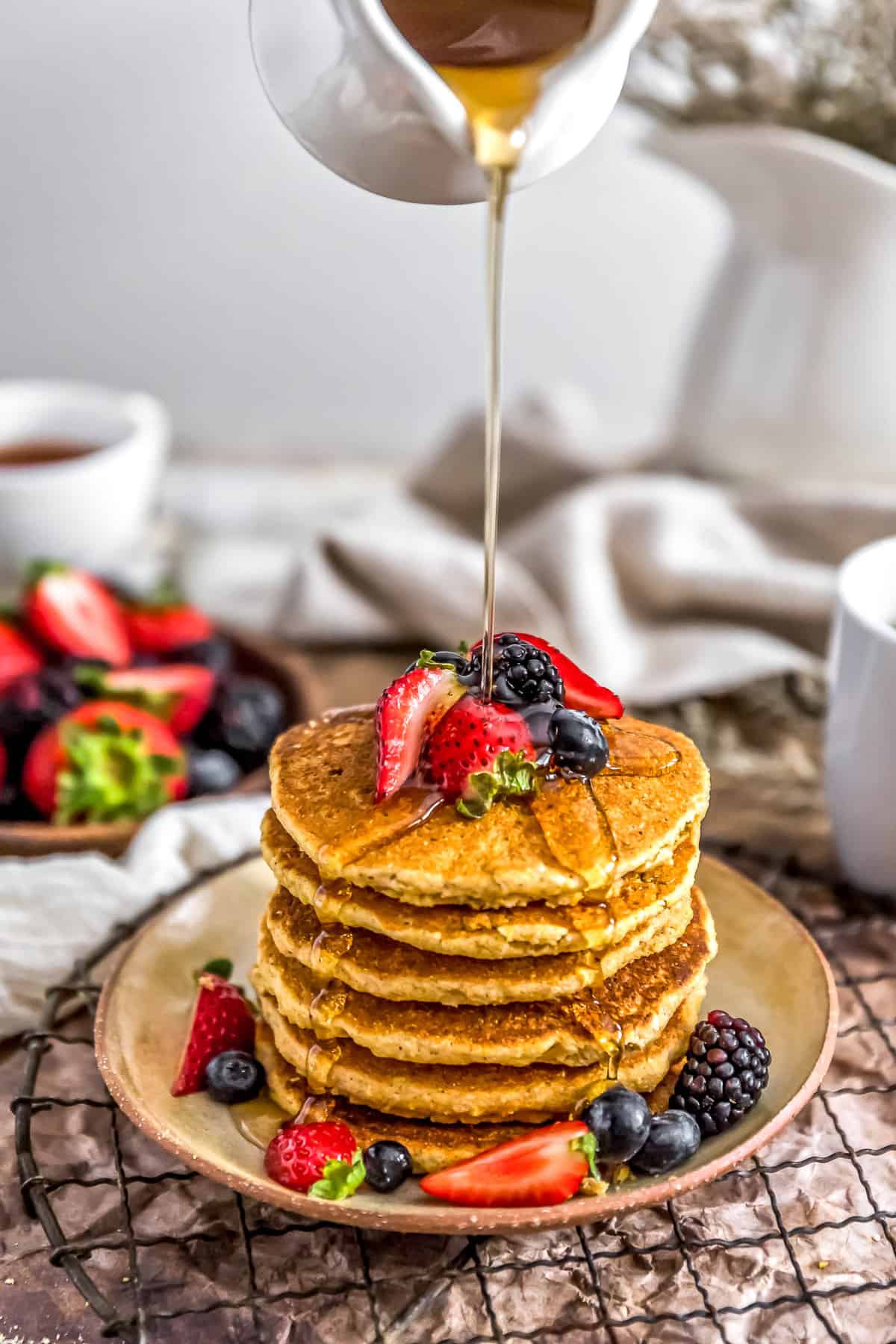 When comfort food and healthy come together for breakfast in the most delicious way, you get these perfectly light and fluffy Healthy Vegan Cornmeal Pancakes. Cornmeal pancakes also fondly known as Johnny cakes, corn cakes, or hoe cakes are hearty and satisfying, sure to keep your belly happy until lunch rolls around. Packed full of healthy, feel-good ingredients, you can be assured that every bite will be brimming with deliciousness.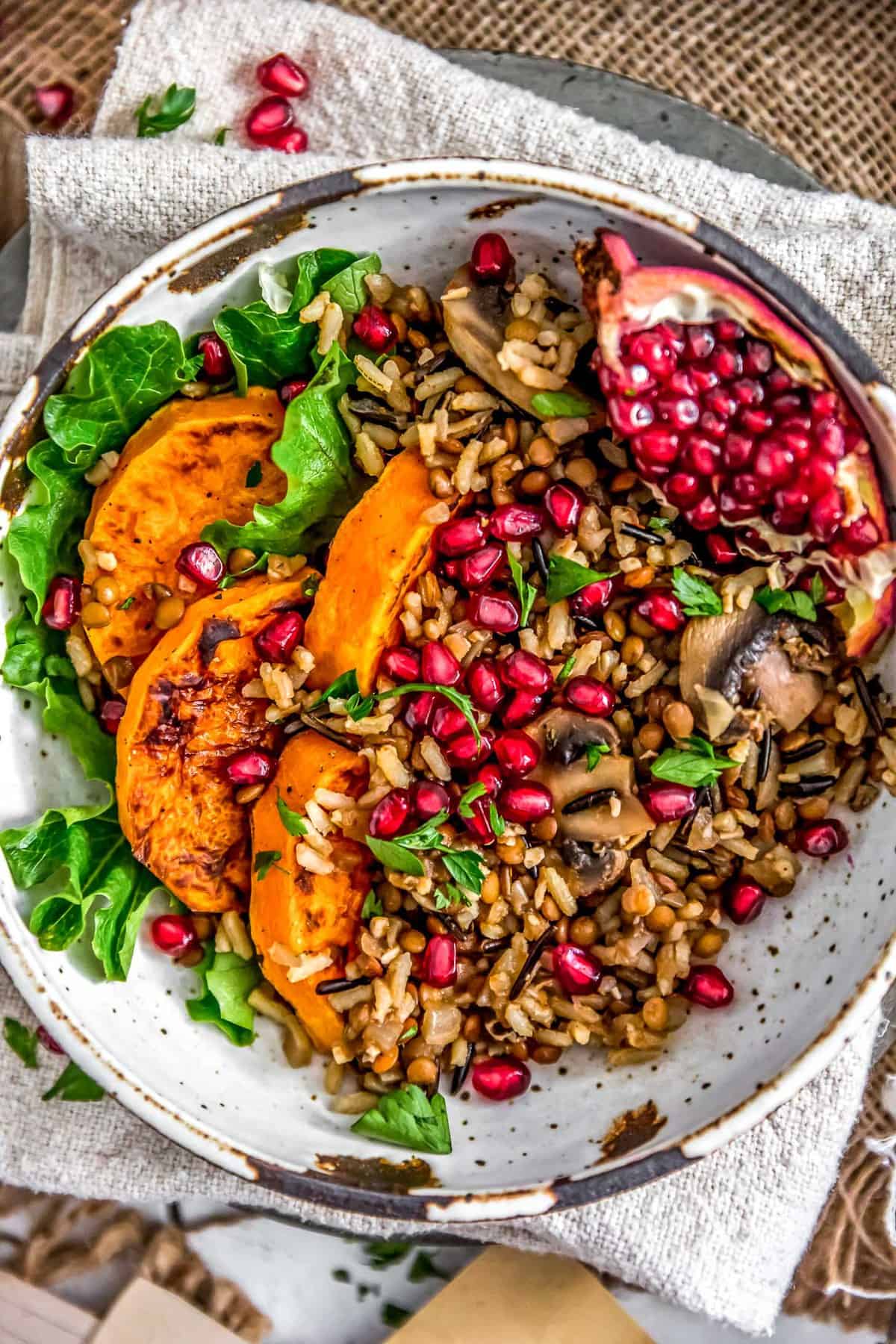 Healthy ingredients, aromatic spices, and cozy vibes come together in a magical way creating this beautiful Lentil Mushroom Wild Rice Pilaf! Not only is it the perfect side dish for holiday gatherings and simple dinners alike, but add some delicious roasted butternut squash and pomegranates for a hearty meal. Loaded with flavorful mushrooms, tender lentils, and nutty wild rice, this tasty dish is sure to be a real crowd pleaser.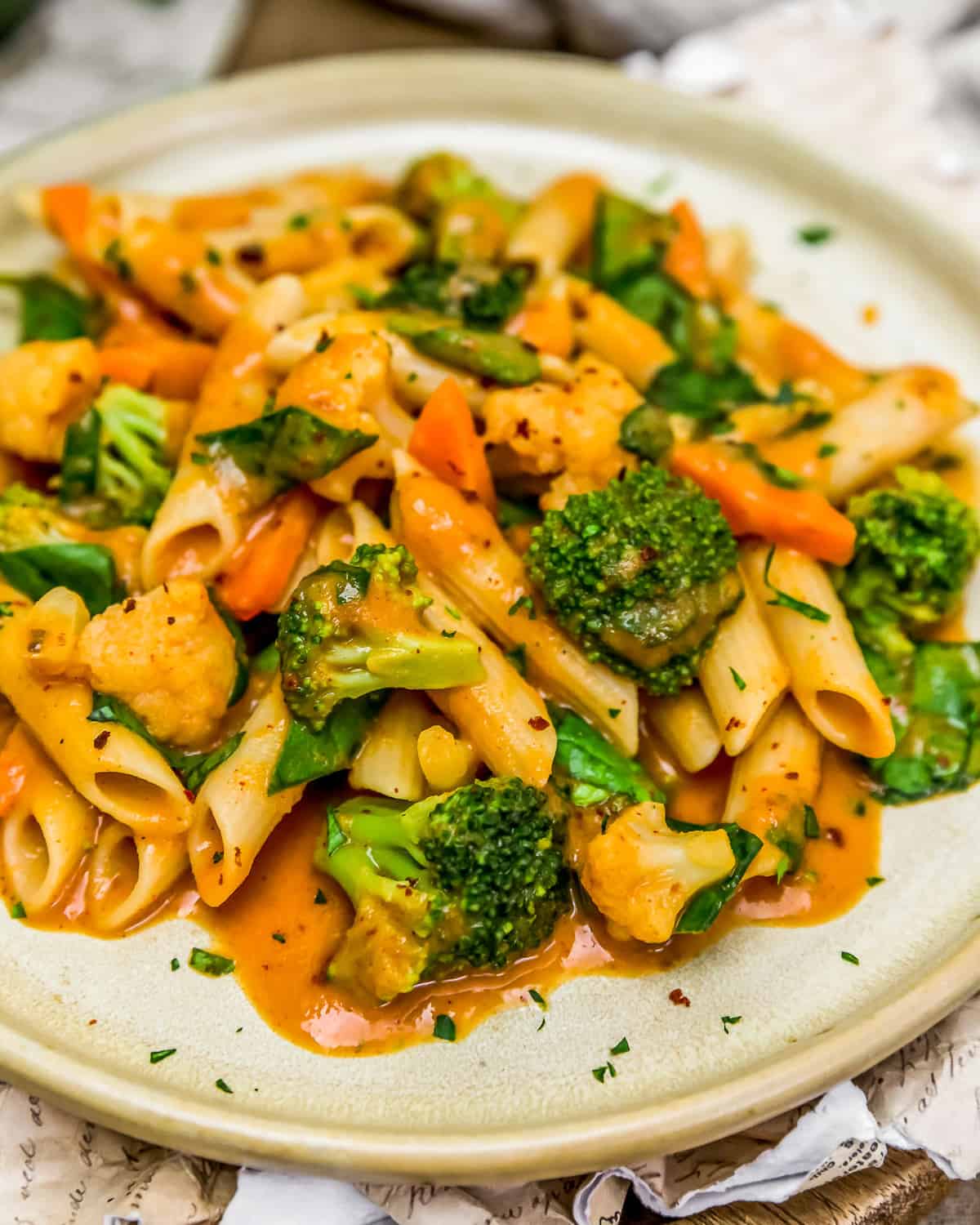 Calling all Aleppo pepper lovers!  This fast and easy Creamy Aleppo Pepper Pasta is a delicious and healthy Middle Eastern twist on comforting pasta. Nothing better than pasta drenched in a creamy roasted red pepper sauce deliciously spiced with Aleppo pepper flavors and heat.  Toss in a nourishing blend of vegetables for a healthy and hearty dish that is sure to please! Perfect for busy nights, this fantastic dish can be whipped up in about 20 minutes.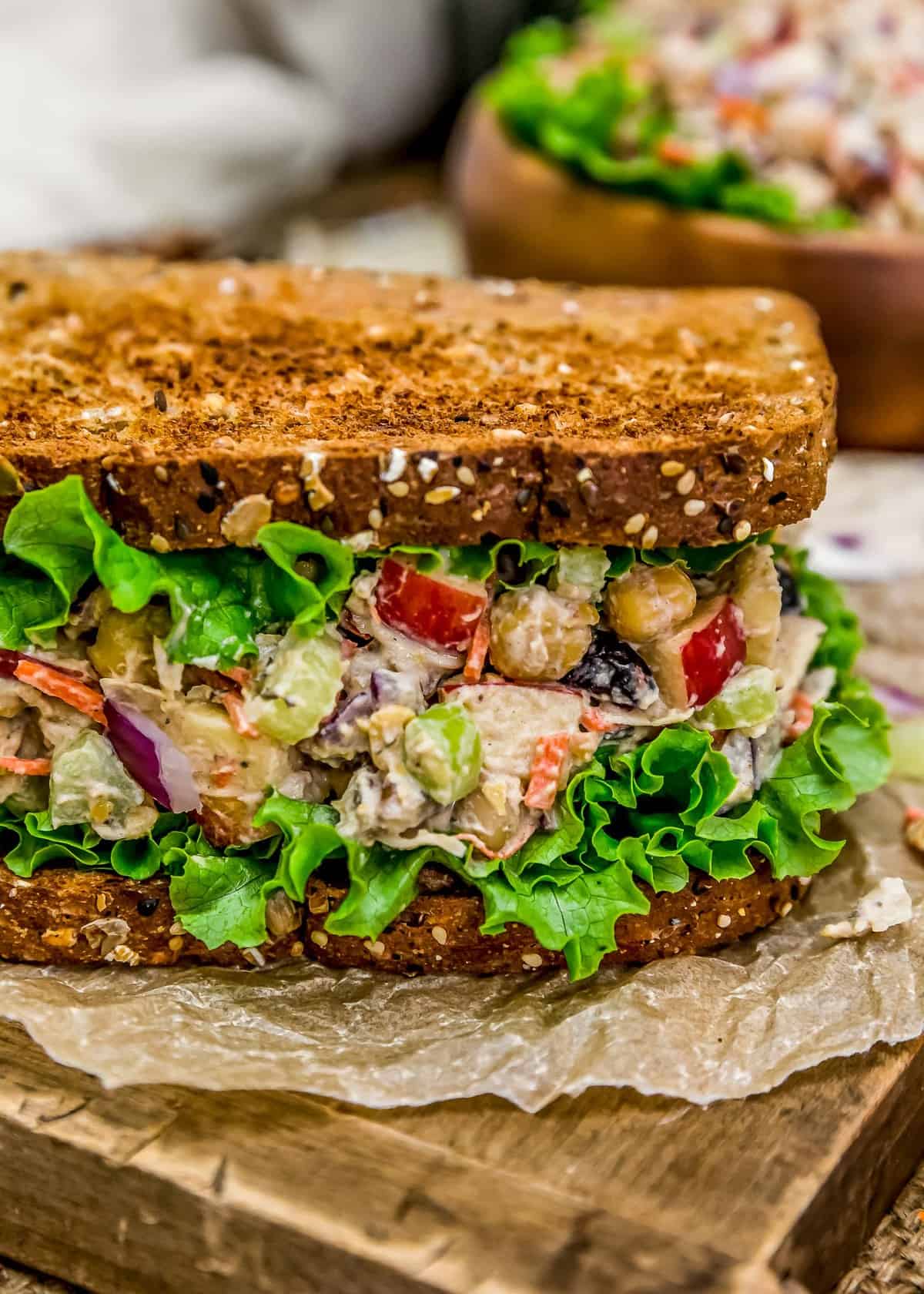 When you need an easy, flavorful, and healthy recipe that is easy to prepare and requires no cooking, look no further than our tasty Harvest Chickpea Salad; it's the perfect dish to put a smile on your face and make your belly happy. Hearty chickpeas, crisp celery, zesty red onions, sweet carrots, tart apples, chewy dried cranberries, and toasty pecans mixed with a creamy dressing bursting with harvest-flavored spices and herbs, really delivers a mouthful of flavor! Serve this hearty salad in sandwiches, wraps, lettuce cups, or as a salad topper – YUM!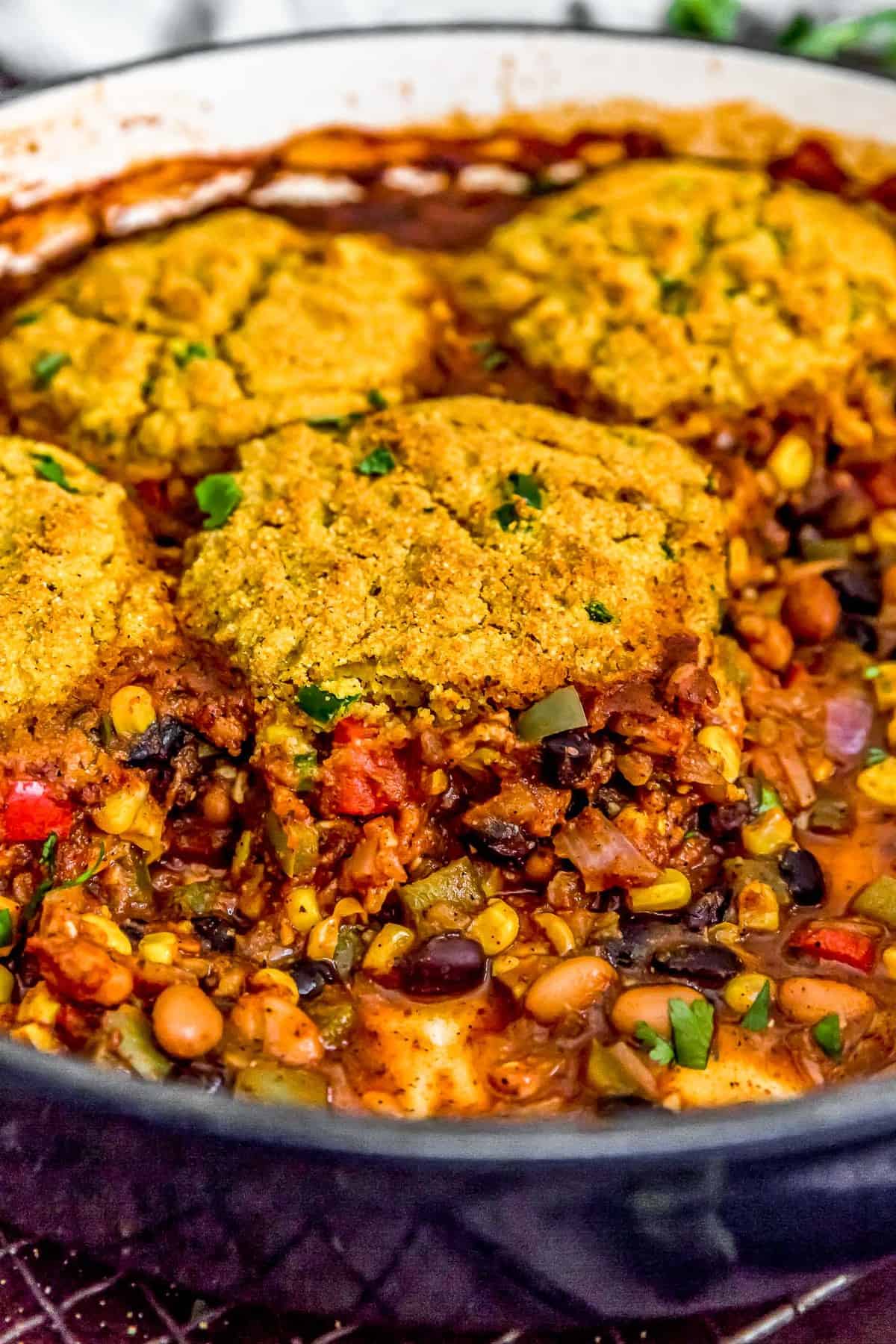 Southwestern spiced feel-good ingredients and dollops of flavorful golden cornbread come together creating comfort food at its best. This ultra satisfying and delicious Vegan Tamale Skillet is a fun twist on the traditional Mexican Tamale. Keeping all the flavors, but ramping up more of that tasty filling goodness in the form of hearty beans, nourishing veggies, and aromatic spices. A perfect dish for Cinco de Mayo celebrations or an everyday dinner, this tasty meal is bursting with flavor and will surely have the entire family running to the dinner table.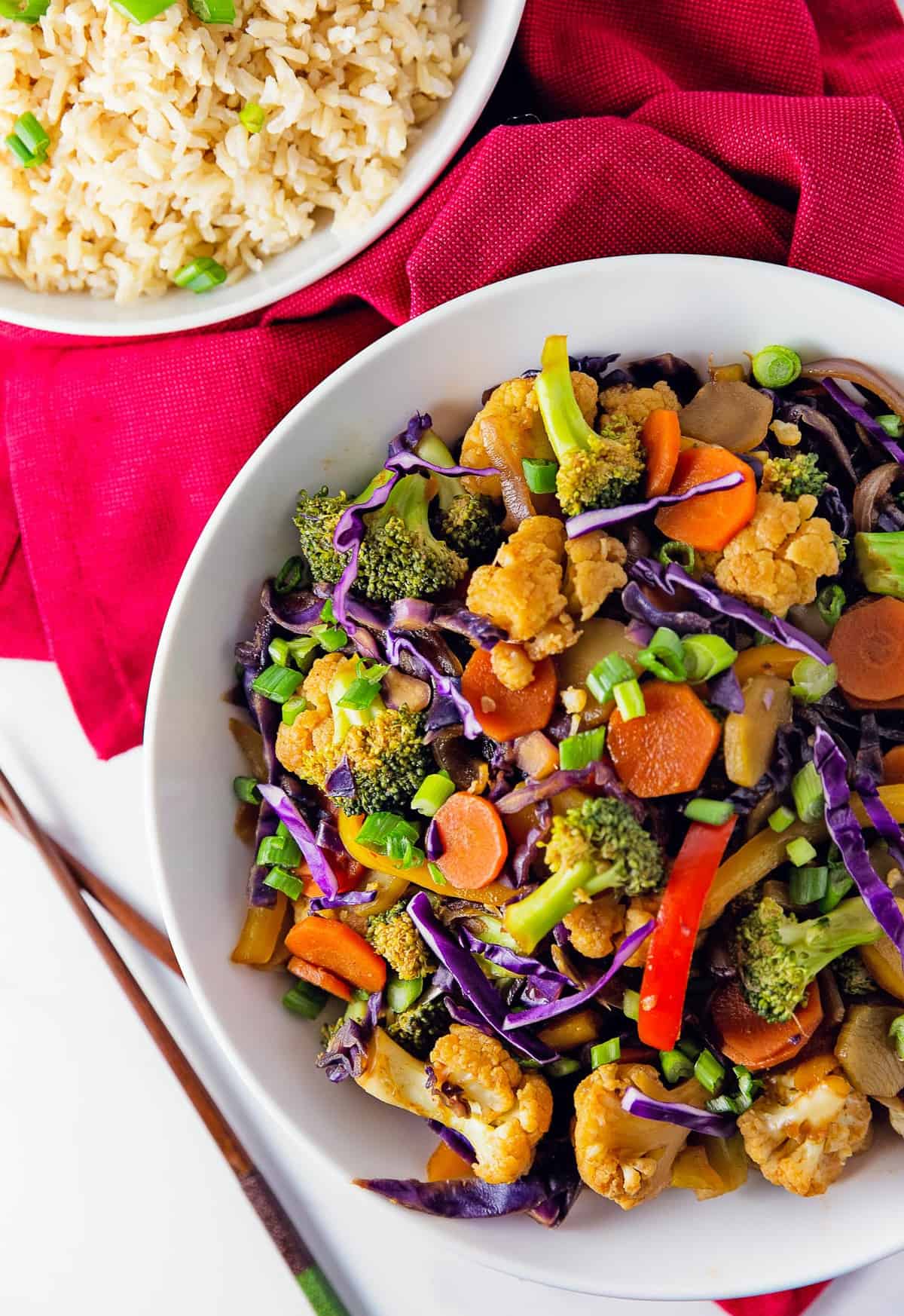 This easy to make, irresistible Vegan Korean BBQ Cauliflower checks off ALL the must haves of tender and crisp texture, sweet and tangy flavors, and *get in my belly* deliciousness. It is packed with nourishing healthy goodness. Serve this tasty cauliflower with your favorite rice for a wholesome and satisfying meal. We must warn you to plan on getting requests to add this dish into your regular weekly rotation of delicious foods, it's totally that good.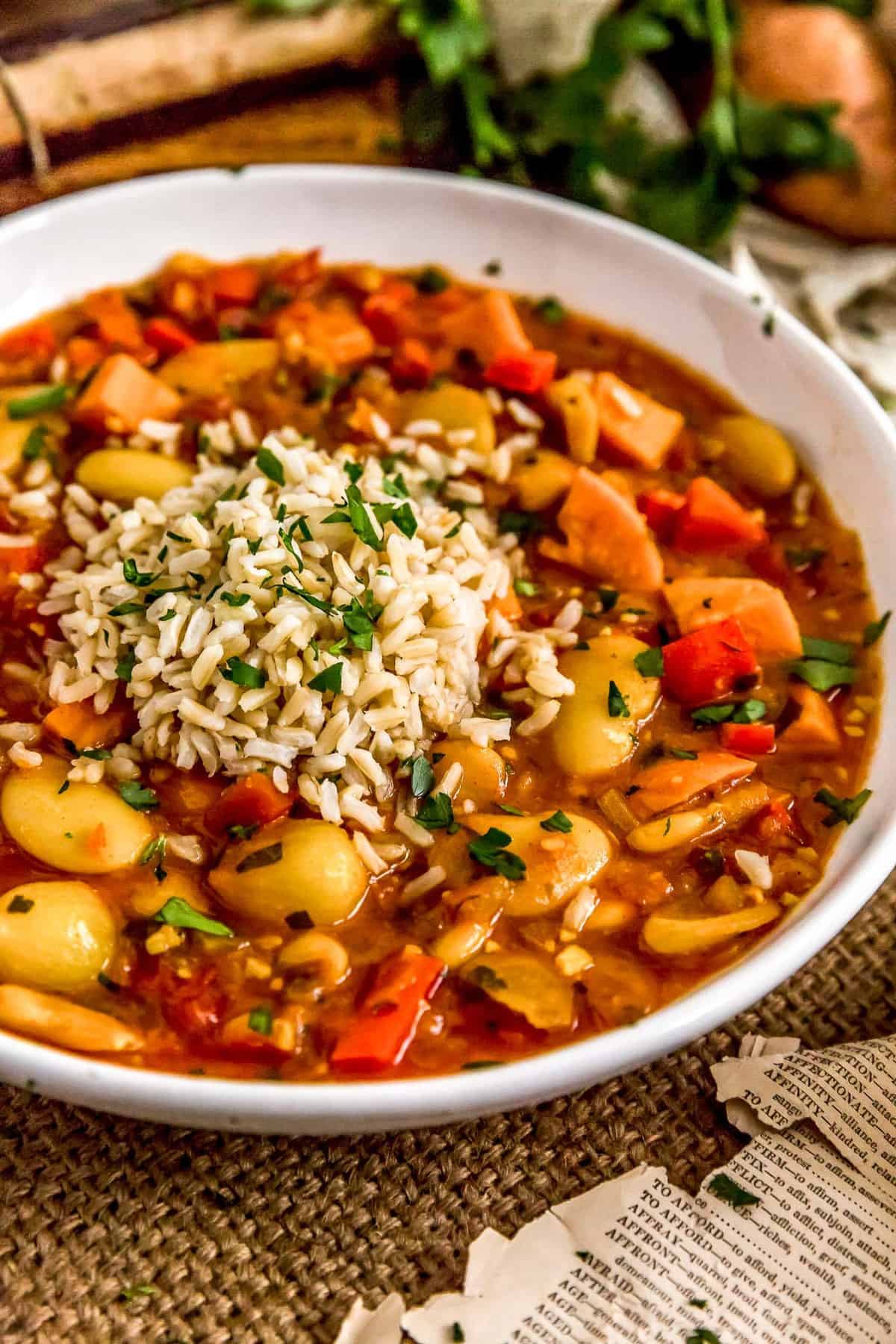 Nothing more comforting than a hearty, healthy, and flavorful pot of stew. This easy to make Spanish Butter Bean Sweet Potato Stew is calling our name with its ultra-satisfying and aromatic goodness.  Plump butter beans, nourishing sweet potatoes, and tasty pearl onions all bathed in a warming tomato broth makes for a perfect weeknight meal.  The butter beans melt into a rich and creamy texture that is a perfect base for the tender sweet potatoes to shine.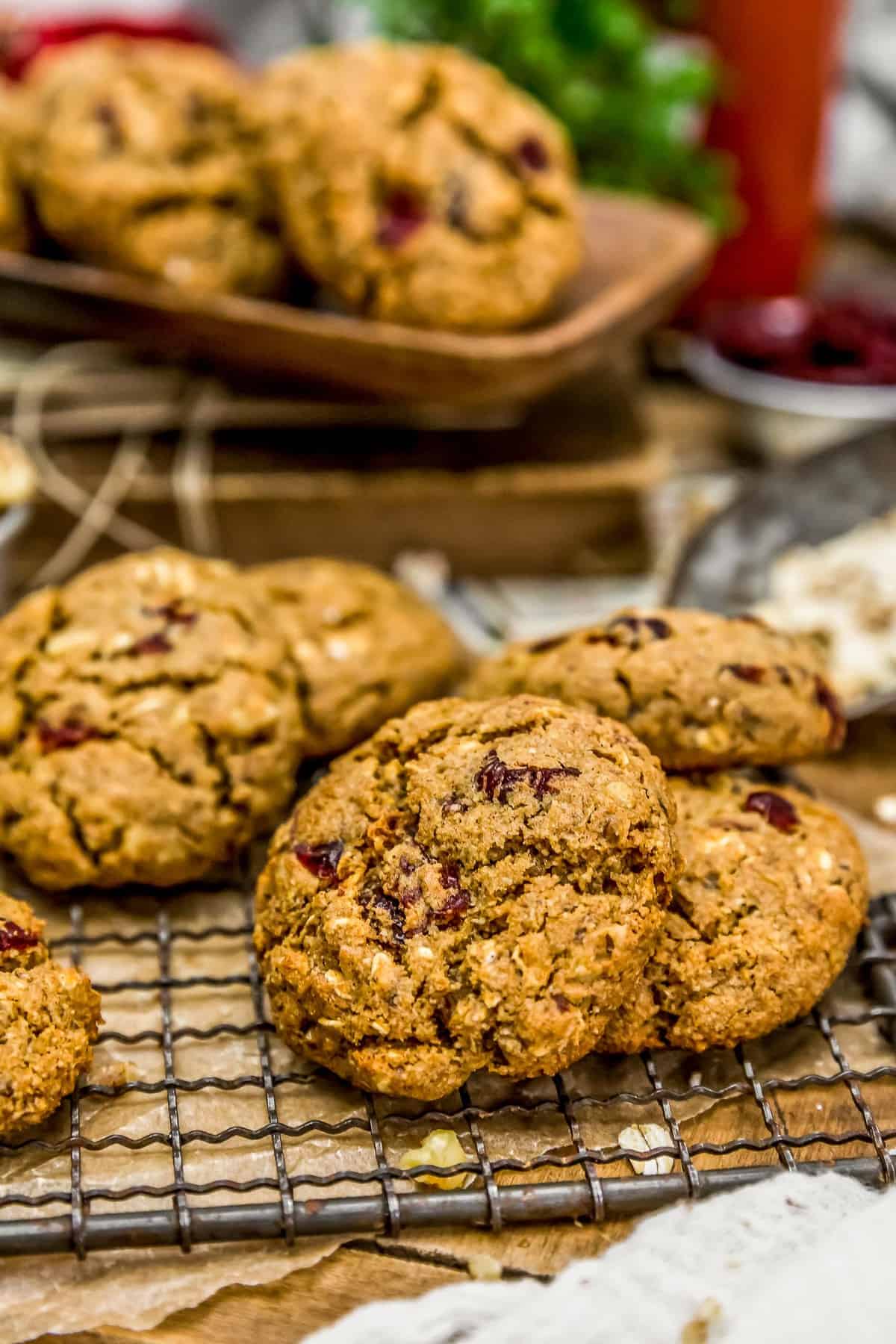 Looking for a great addition to your holiday baking or cookie collection? This beautifully soft, chewy, and wholesome cookie is what cookie dreams are all about. These Healthy Vegan Cranberry Walnut Cookies are absolutely irresistible and the perfect treat for the holiday season or anytime of the year. Tart cranberries, toasty walnuts, old-fashioned oats baked in a chewy cookie will have the whole family gobbling them all up in a flash!