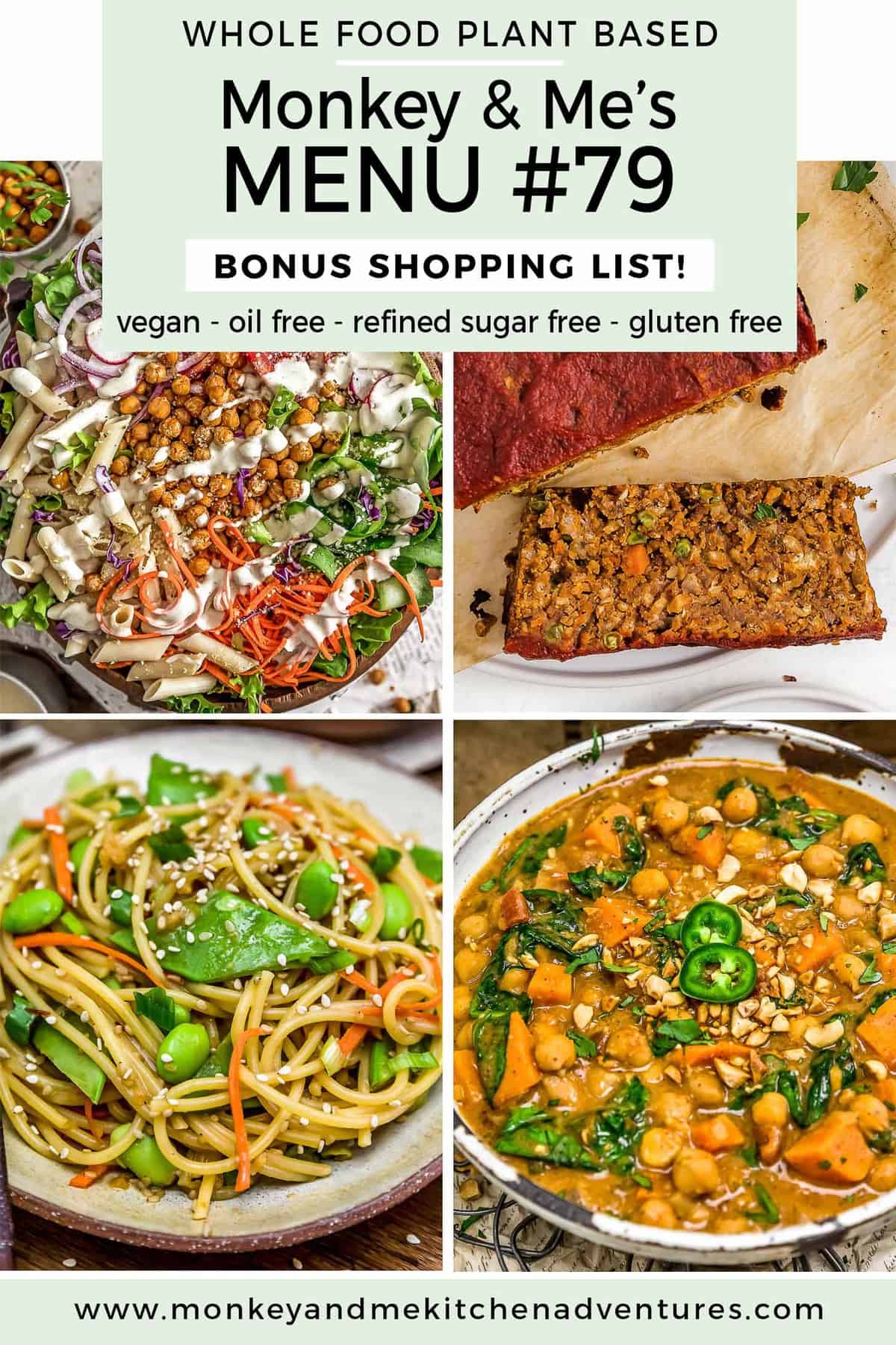 This week's Monkey and Me's Menu features some tasty recipes.  Menu #79 includes a FREE bonus shopping list.  All recipes are Whole Food Plant Based, vegan, plant based, oil free, refined sugar free, no highly processed ingredients, and gluten free.

Downloadable Menu which offers the following:

2 Breakfast ideas
2 Lunch ideas
2 Snack Ideas
5 Dinner Ideas, including a FREE downloaded shopping list (PDF – Below)

A comprehensive (downloadable) shopping list for the 5 Dinners

The shopping list is segmented into the common grocery store sections like "produce, spices, etc." making it easy to pick up these items from your local grocery store.
It also includes product suggestions that are Whole Food Plant Based compliant* for easy reference.  Note: These products are suggestions, please feel free to select your own favorite products.
Includes helpful codes so you can easily subtract items that you choose not to make.

Downloadable Instructions on how the meal plan work.
Note:  The term "Whole Food Plant Based compliant" is from a general standpoint.  There are Whole Food Plant Based diet branches that restrict certain food items.  Our recipes are all Whole Food Plant Based compliant based upon a high-level compliance standpoint. i.e. vegan, plant based, oil free, refined sugar free, minimally processed foods.
Some breakfast, lunch, and snack ideas are simple concepts that require no recipe.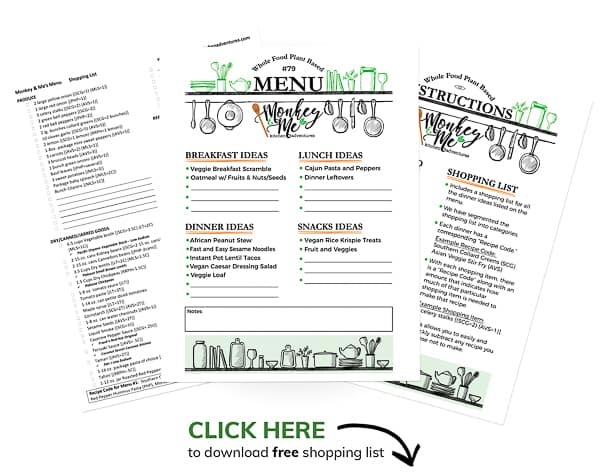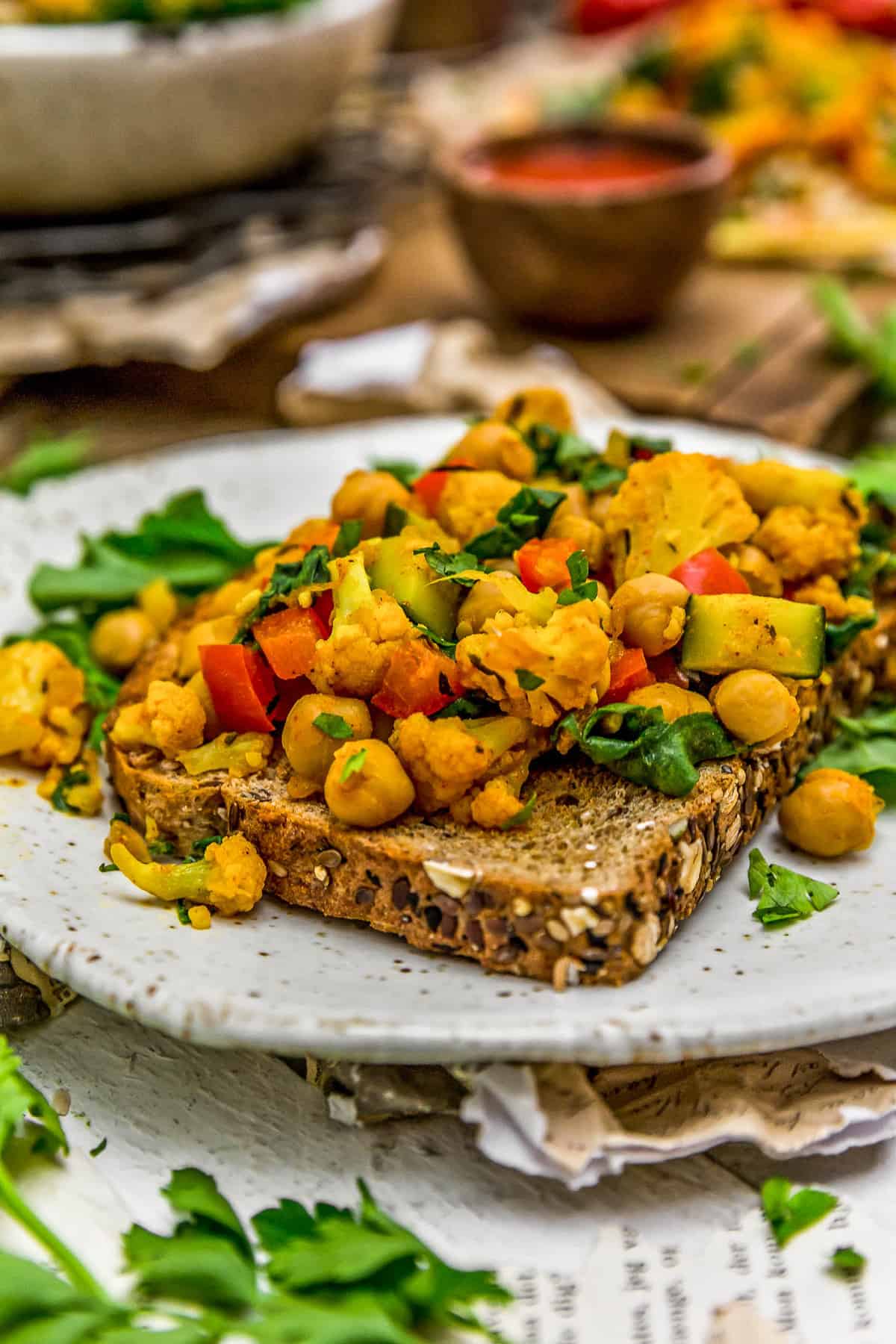 Start your day off right with this ultra-satisfying veggie packed sunshine in a bowl. Brimming with rainbow veggies, this savory Veggie Breakfast Scramble is flavorful, nourishing, and sure to put a smile on your face. Wholesome ingredients like sweet bell peppers, tasty zucchini, hearty cauliflower, zesty onions, aromatic garlic, protein-packed chickpeas, and earthy spinach come together in the most delightful way. Serve this healthy vegan scramble over toast, rice, potatoes or in a wrap for an amazing meal.
Why have just regular pasta, when you can have bold, rich, flavorful Cajun Pasta and Peppers? We have this comforting dish on repeat! Tasty bell peppers, nourishing collard greens, and hearty black-eyed peas come together in delicious Cajun saucy goodness then tossed with chewy pasta. A fantastic week night meal where the whole house smells of Cajun deliciousness and everyone is running to the dinner table.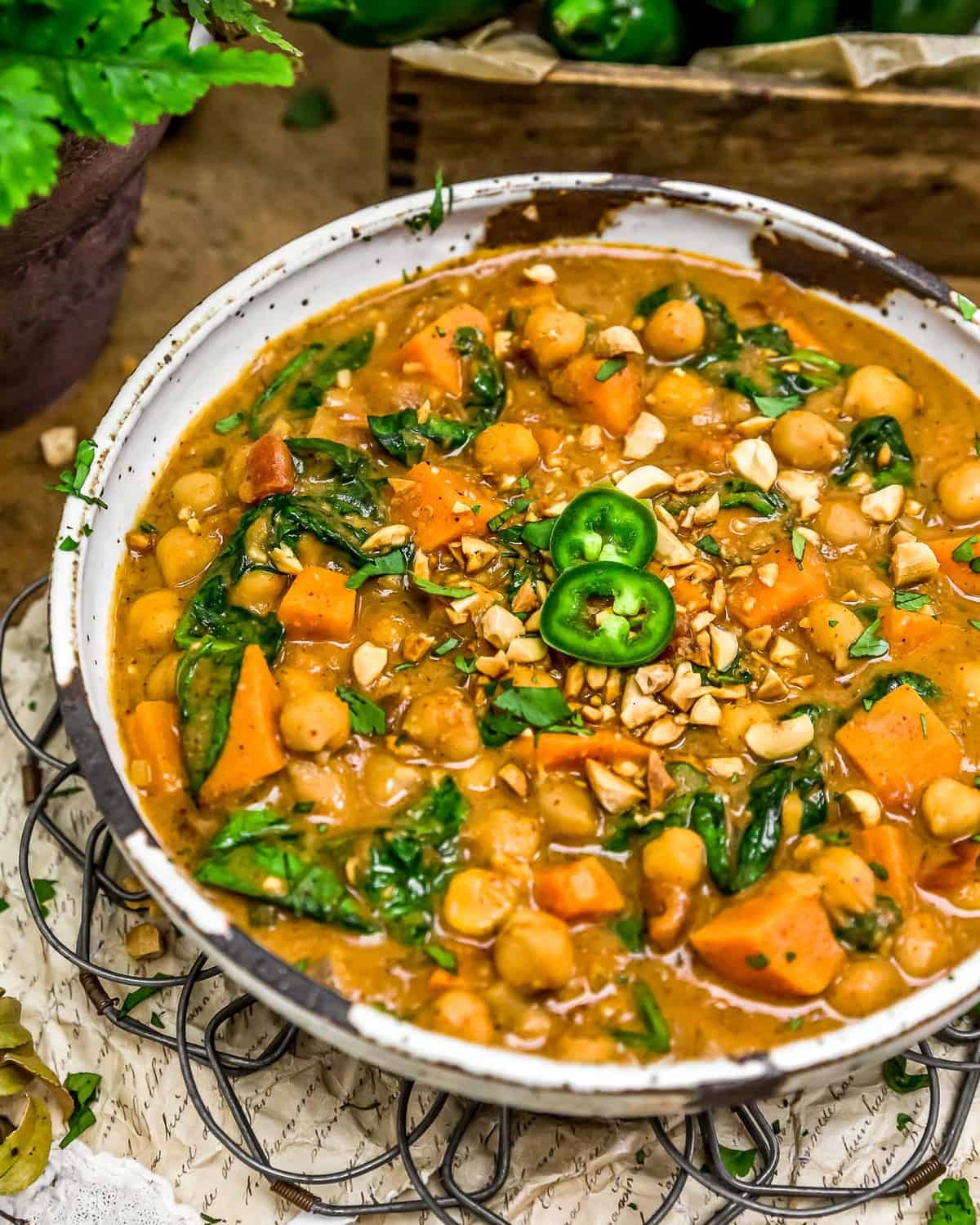 Fall just got a little more exciting with this fragrant, delicious, and soul-warming African Peanut Stew.  Bursting with tons of wholesome ingredients like hearty sweet potatoes, earthy kale, sweet onions, bold garlic, lively ginger, warming spices, and creamy peanut butter that all come together to create this ultra-satisfying, rich and creamy stew. A comforting dish that everyone in the family will run to the table for more.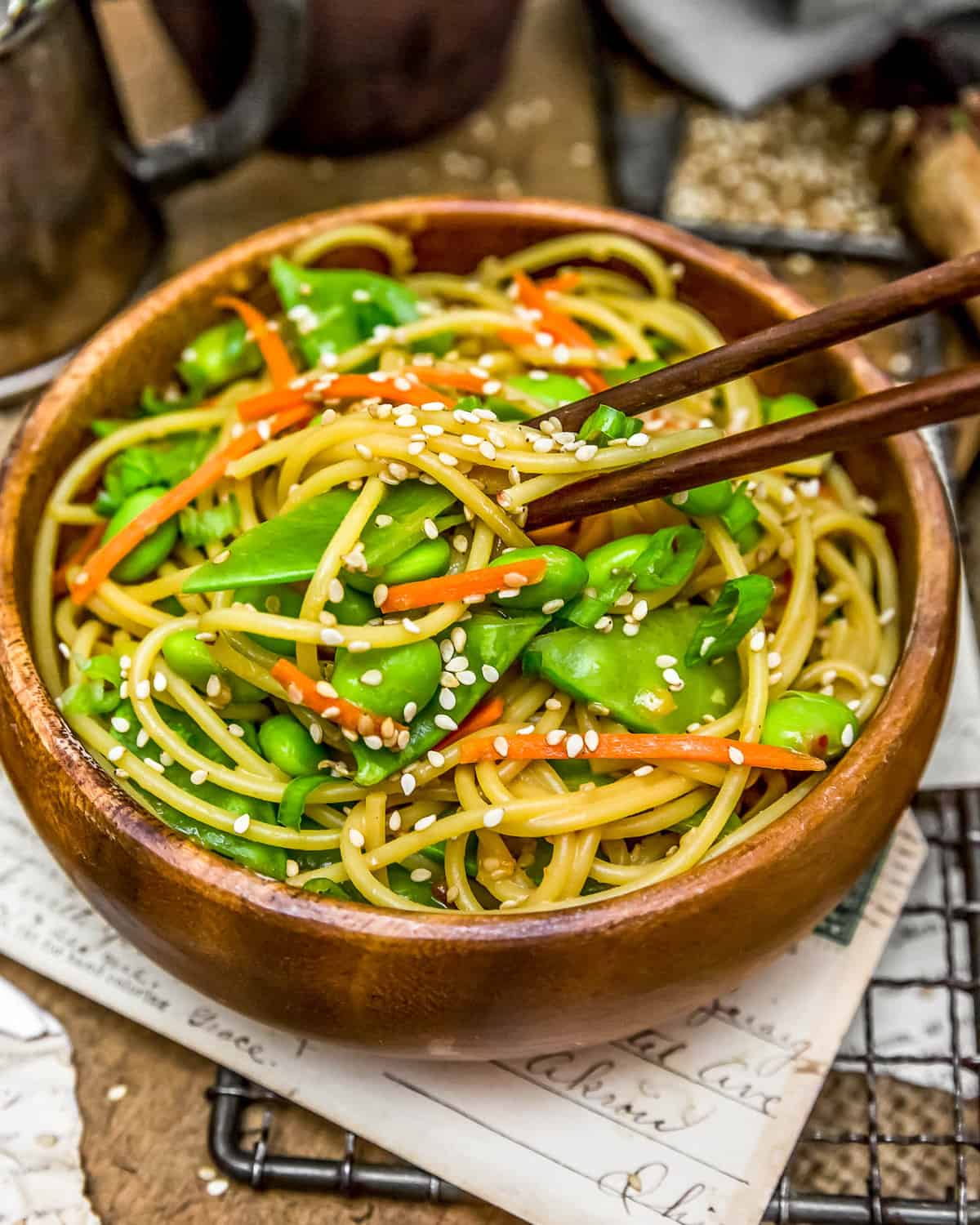 When hanger starts to set in, this delicious and comforting Fast and Easy Sesame Noodles is the perfect answer to your hunger needs with its simple, wholesome, and tasty ingredients – you won't believe how fast it comes together.  Hearty pasta, protein-packed edamame, sweet snow pea pods, nourishing carrots, and zesty green onions are coated in a sweet and spicy sauce that is pure magic to your taste buds.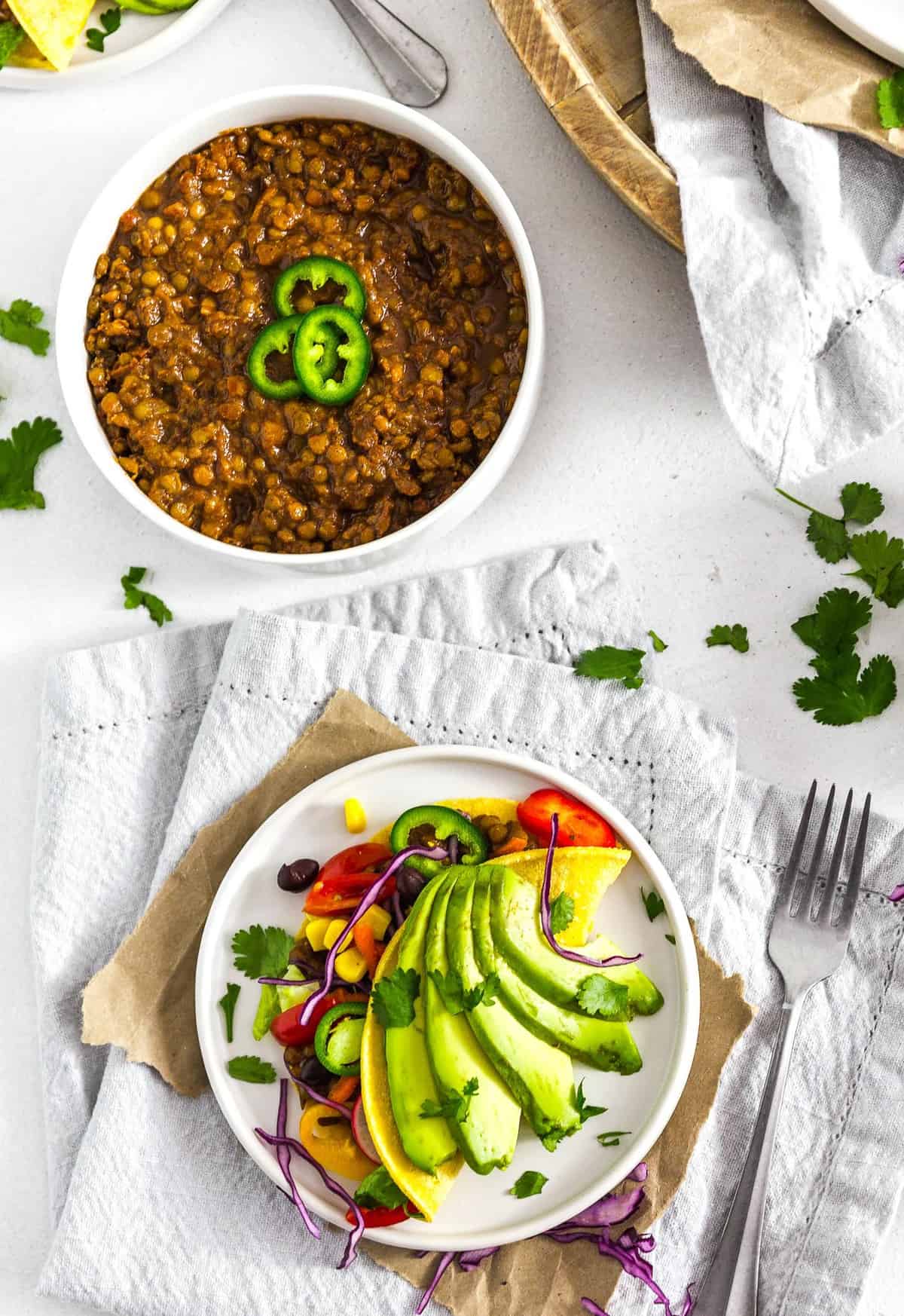 Incredibly flavorful and delicious, these lentil tacos couldn't be any easier.  Put all the ingredients into an Instant Pot set for 14 minutes, and you are ready for perfectly yummy taco-seasoned lentils that can be served in a variety of different dishes, keeping dinner preparation to under 20 minutes.  Perfectly seasoned just right, these taco lentils are great for Taco Tuesdays, taco salads, nachos, burritos, enchiladas, quesadillas, baked potato toppers, and Taco Joes, making them an ultimate Whole Food Plant Based "endless dish options" recipe!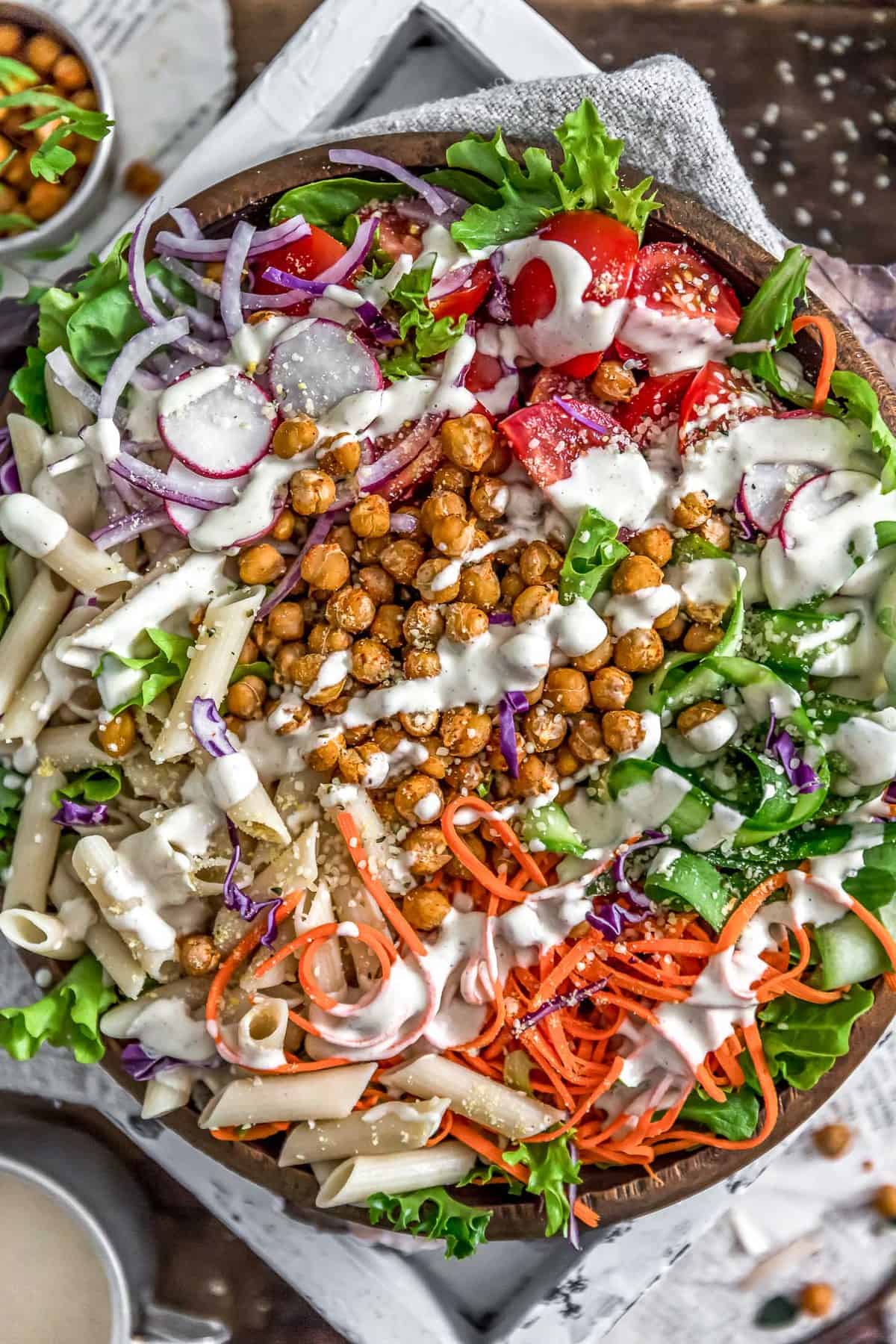 Creamy, tangy, full of flavor, this healthy Vegan Creamy Caesar Dressing is life changing deliciousness! Not only is it fast, easy and perfect for salads and dipping veggies, but it tastes just like the real deal. Deliciously punchy undertones of vinegar goodness with rich velvety flavors will hook you with the first bite. Take your favorite salads and veggie bowls to the next level with this fabulous dressing; it is sure to absolutely delight your taste buds.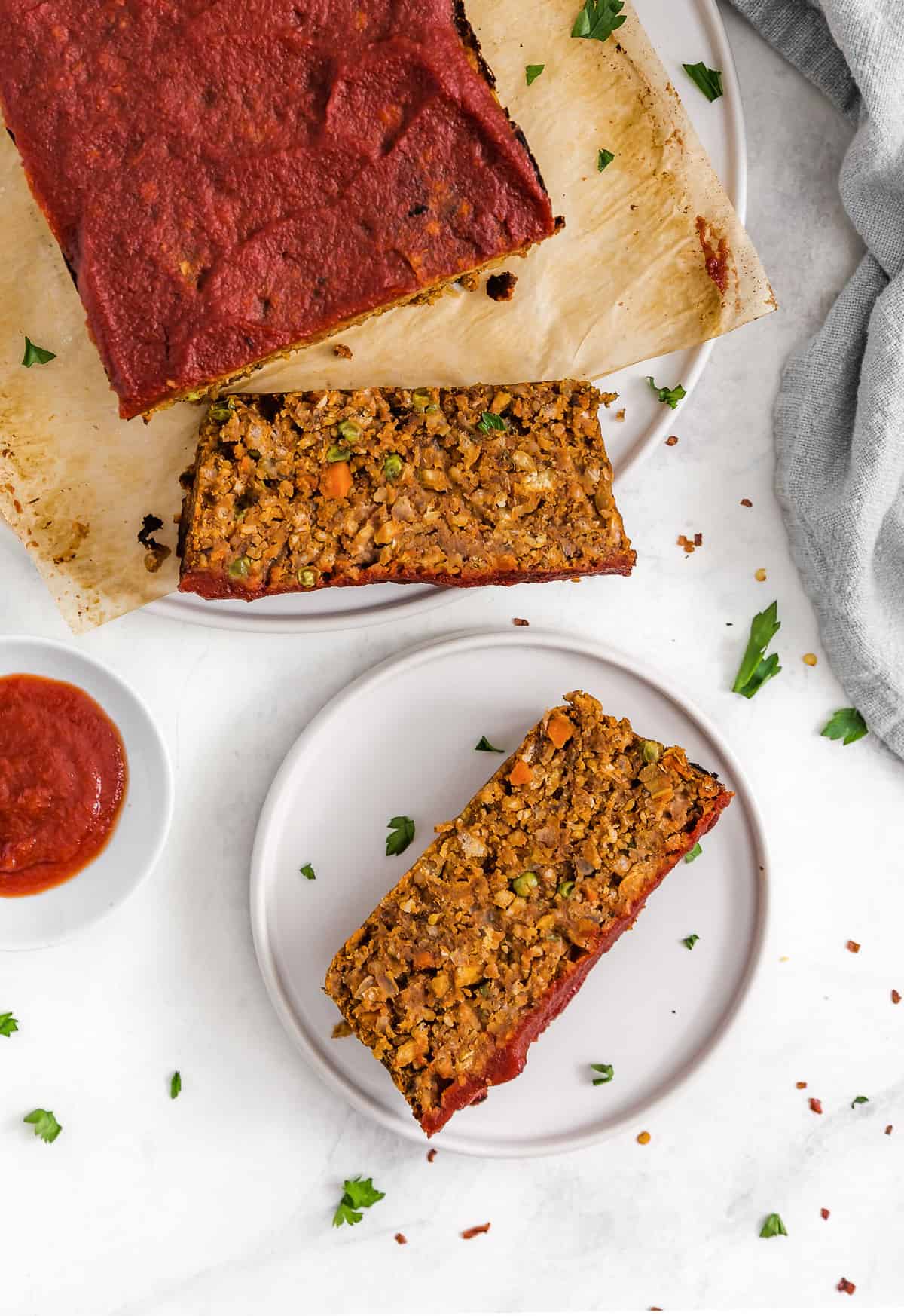 This incredibly flavorful, hearty and filling vegan Veggie Loaf is making our tastebuds do the happy dance! Healthy and delicious, perfectly seasoned, and amazing texture, you'll be coming back for seconds!  With this Whole Food Plant Based recipe in your arsenal, it's go time!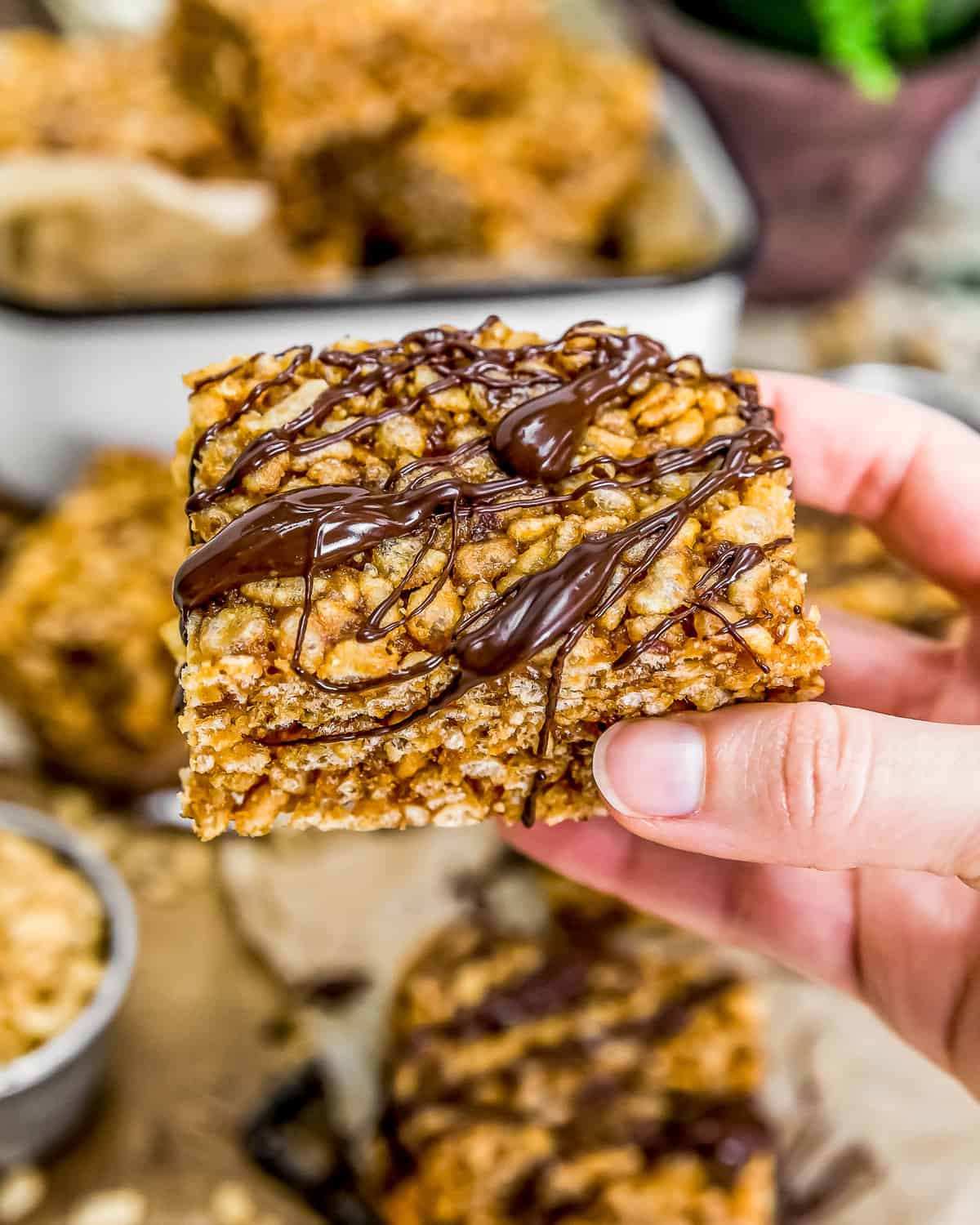 Got to love classic rice krispie treats, and we are flipping this nostalgic treat with a healthy and wholesome twist that is sure to have you doing your happy dance.  These delicious and comforting Healthy Vegan Rice Krispie Treats are brimming with chewy goodness that are perfect for school lunches, a quick snack at work, or for your next family holiday dessert table. They are sure to make your holiday dessert tray shine.