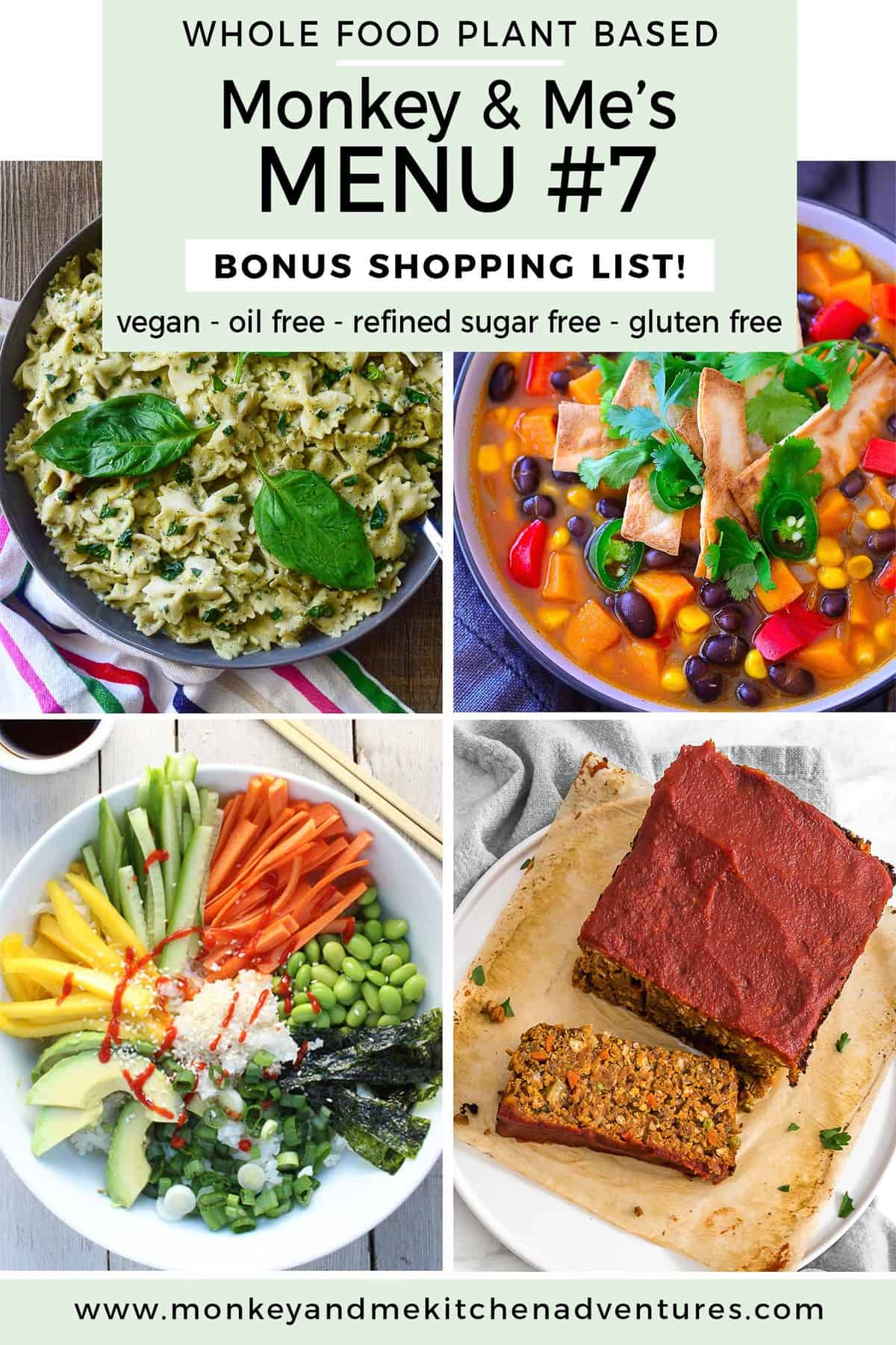 We are so happy to share with you that our Monkey and Me Weeknight Meal Menus have been huge hits.  We received a lot of excellent feedback.  This week we are very excited to feature some of our favorite foodie bloggers in Menu #7.  All recipes are Whole Food Plant Based, vegan, no oil, no refined sugar, no highly processed ingredients, and gluten free.
This super tasty menu features delicious dishes from Aria at The Yummy Plant, Sam at It Doesn't Taste Like Chicken, and Melissa at The Stingy Vegan, as well as featuring a few of our own dishes.  😉
Menu #7 meal plan features the following:
Downloadable Menu which offers the following:

2 Breakfast ideas
2 Lunch ideas
2 Snack Ideas
5 Dinner Ideas, including a shopping list

A comprehensive (downloadable) shopping list for the 5 Dinners

The shopping list is segmented into the common grocery store sections like "produce, spices, etc." making it easy to pick up these items from your local grocery store.
It also includes product suggestions that are Whole Food Plant Based compliant* for easy reference.  Note: These products are suggestions, please feel free to select your own favorite products.
Includes helpful codes so you can easily subtract items that you choose not to make.

Downloadable Instructions on how the meal plan work.
Note:  The term "Whole Food Plant Based compliant" is from a general standpoint.  There are Whole Food Plant Based diet branches that restrict certain food items.  Our recipes are all Whole Food Plant Based compliant based upon a high-level compliance standpoint. i.e. vegan, no oil, no refined sugar, minimally processed foods.
Some breakfast, lunch, and snack ideas are simple concepts that require no recipe.
Meal Plan #7 includes the following recipes: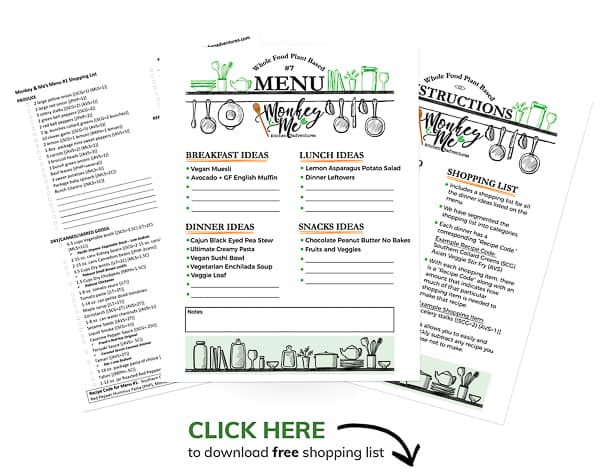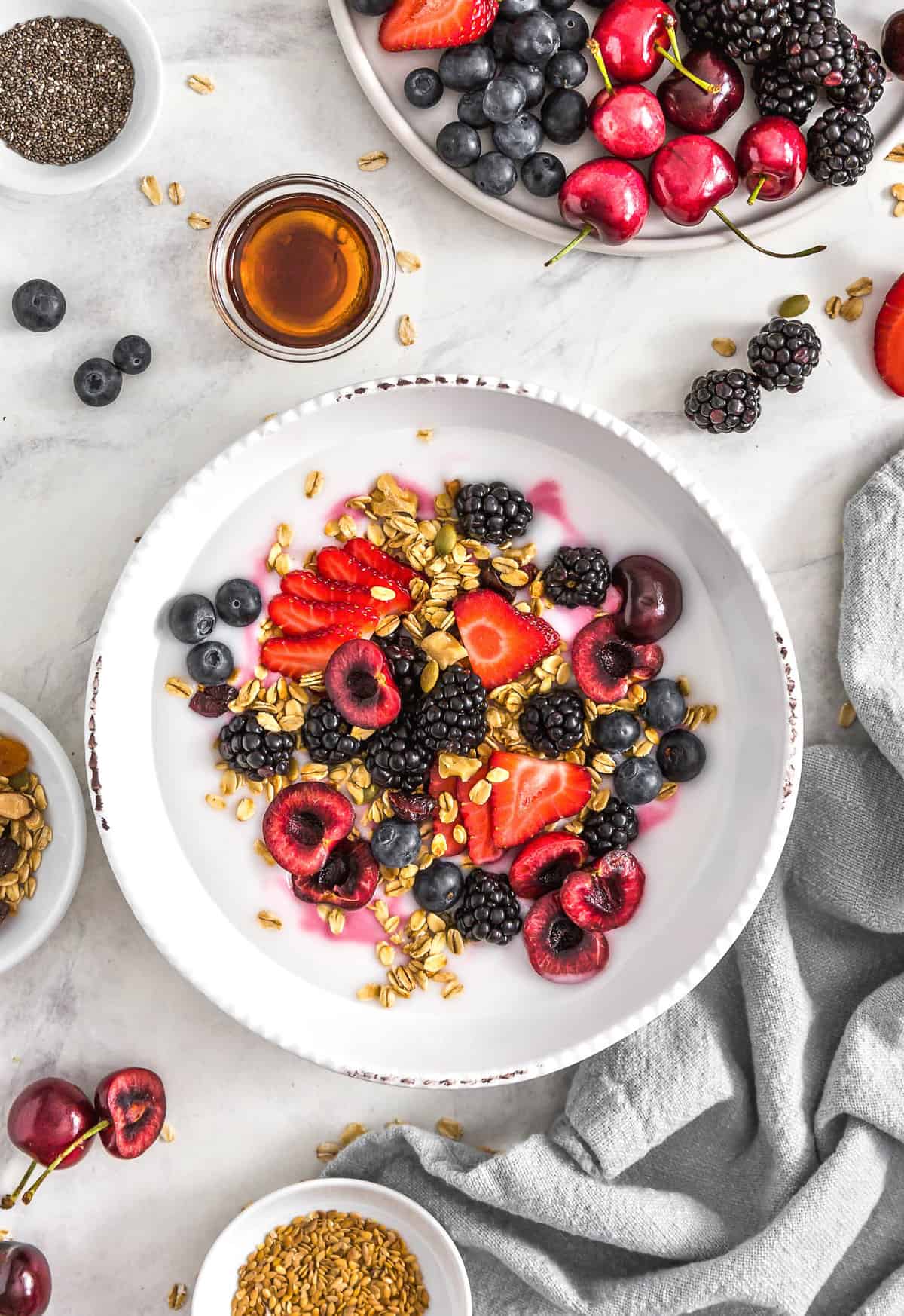 Easy, fast, and most importantly delicious, this vegan muesli will be changing your morning routine for the better! Wholesome, lightly sweetened rolled oats combined with nuts and seeds makes for a tasty healthy breakfast option. The crunchy and chewy oat texture works beautifully as a cereal with plant milk or mixed with your favorite plant yogurt. Add some of your favorite fruits, and you have a delicious dish that will keep you full and satisfied!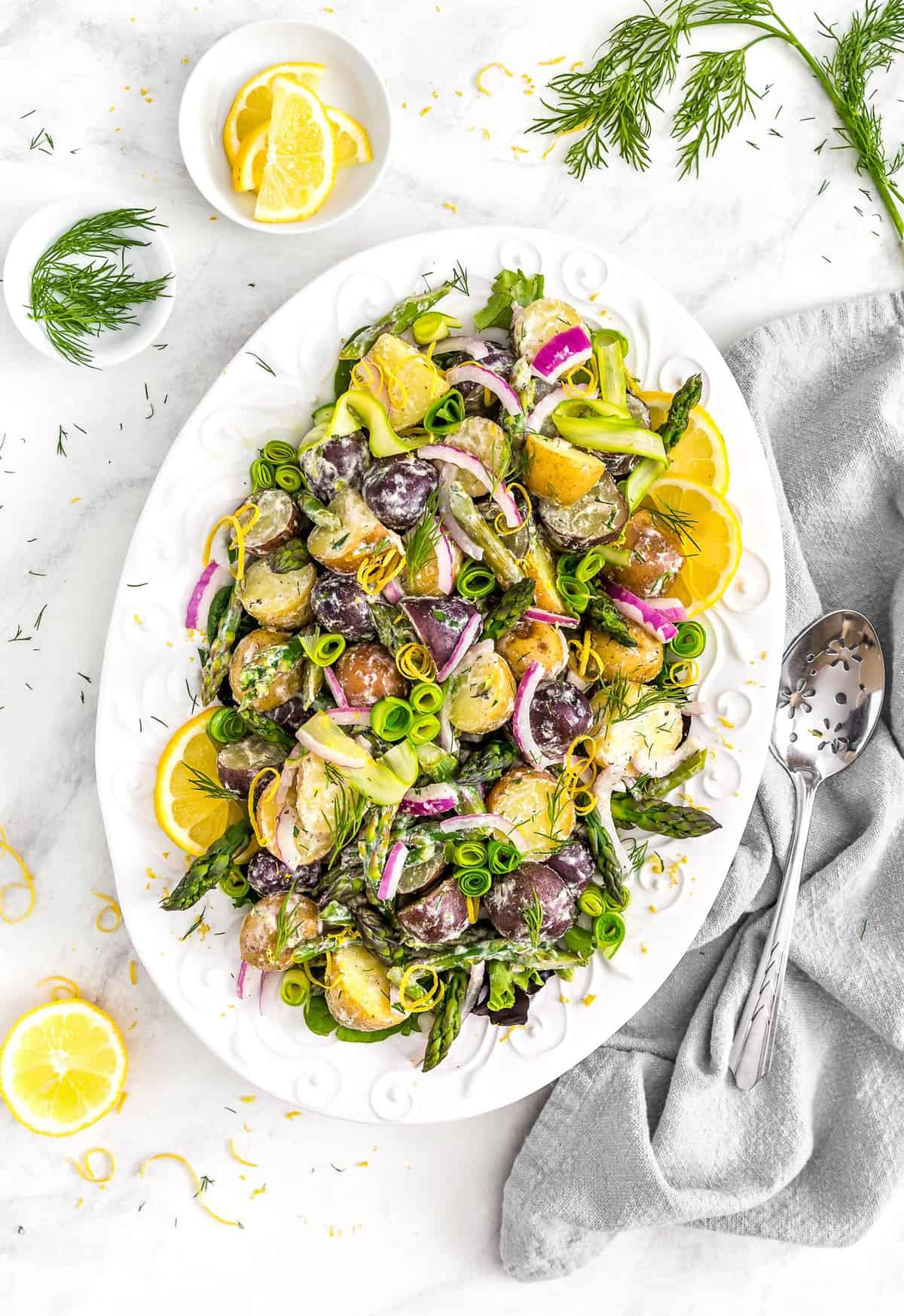 Hearty potatoes, bright earthy asparagus, and sweet red onions tossed in a luscious, lemony dressing is the "key to the mint!" This healthy vegan Lemon Herb Asparagus Potato Salad will quickly become a family favorite, perfect for picnics and parties!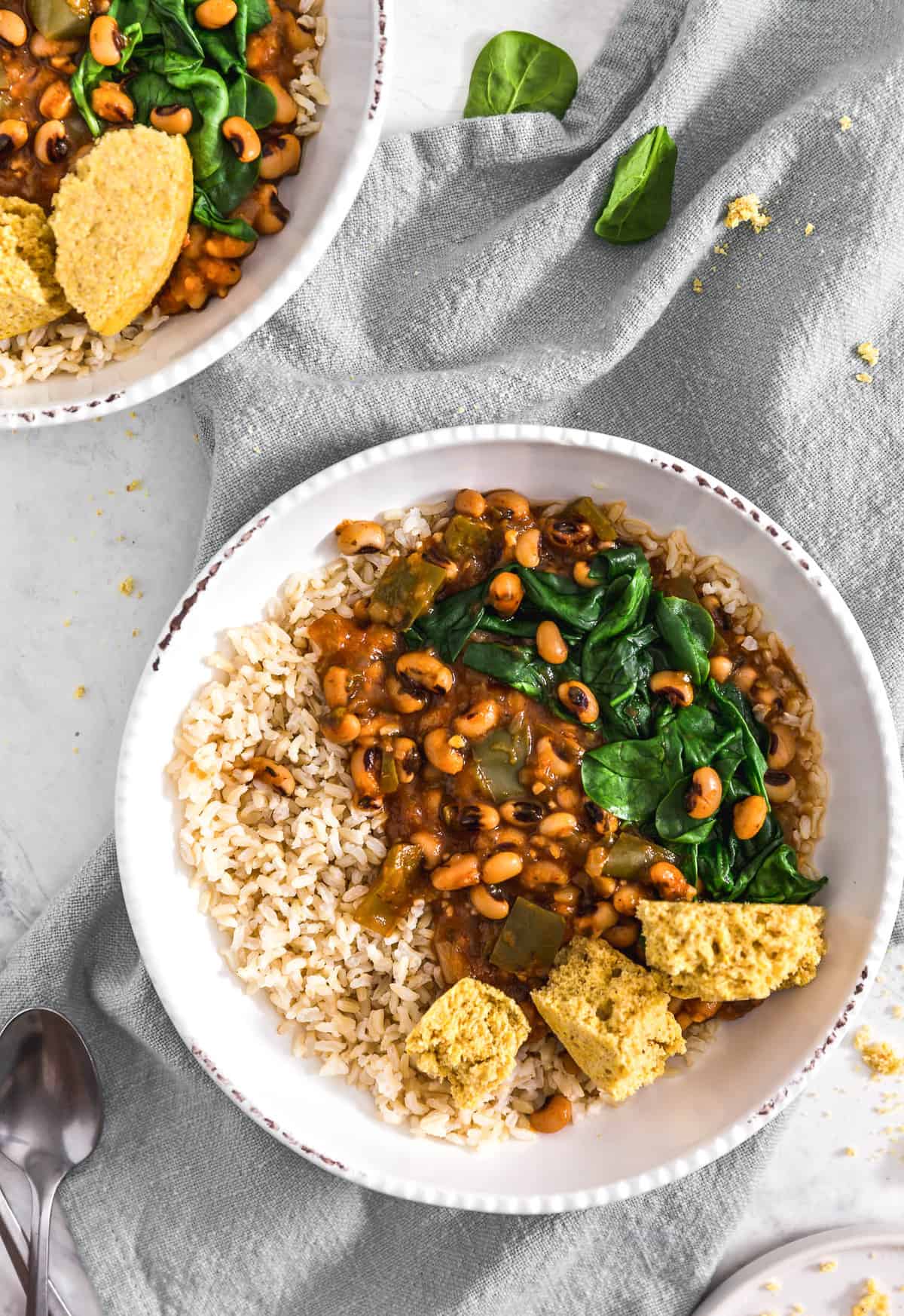 Flavorful, hearty, and yummy, this Instant Pot Cajun Black Eyed Pea Stew is as easy as it is delicious.  Perfectly seasoned with Cajun spices, this Whole Food Plant Based vegan stew is sure to become one of your favorite comfort foods making this dish a tasty Whole Food Plant Based recipe!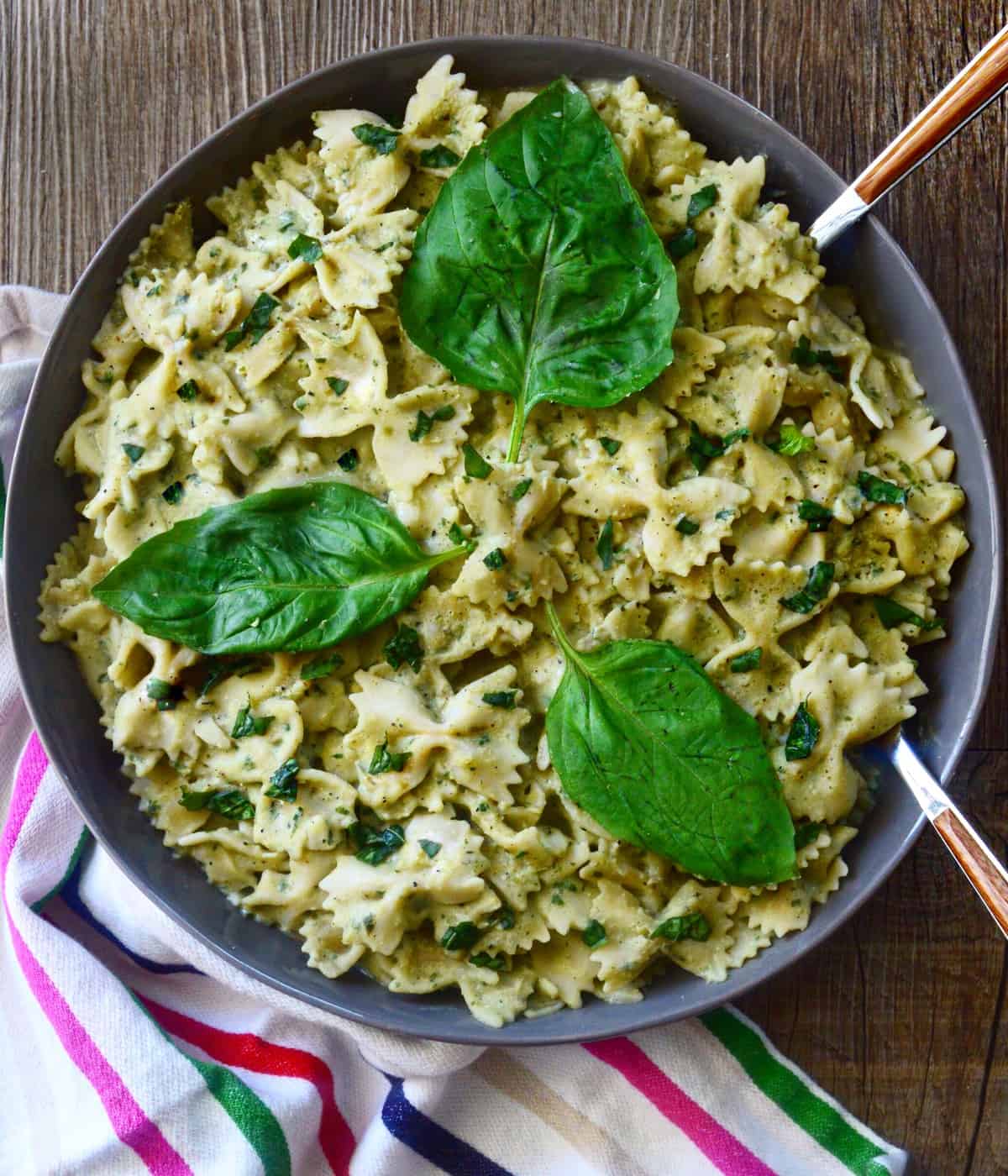 Beautiful big bowl of mouth-watering bowtie pasta drenched in a smooth and creamy white bean puree. Full of flavor and sprinkled with bright, vibrant basil, creating a comforting and satisfying meal the whole family will enjoy! Head on over and check it out!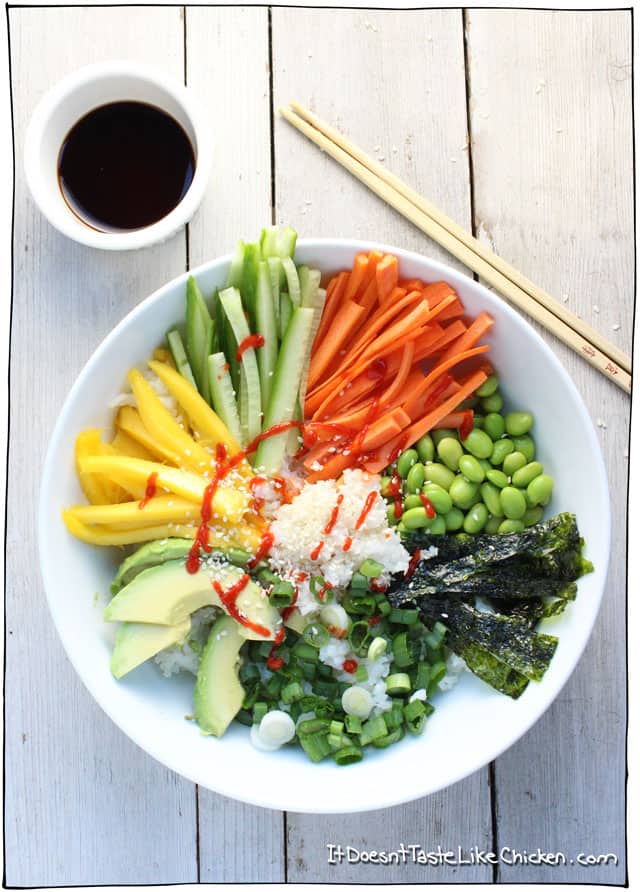 Beautiful and vibrant slices of fresh cucumbers, carrots, mangos, and avocados along with hearty edamame, zingy green onions, and nutrient packed seaweed all piled high over flavorful sushi rice. This wholesome, veggie packed bowl is a simple and satisfying dish that is sure to put a smile on your face. Head on over and check it out!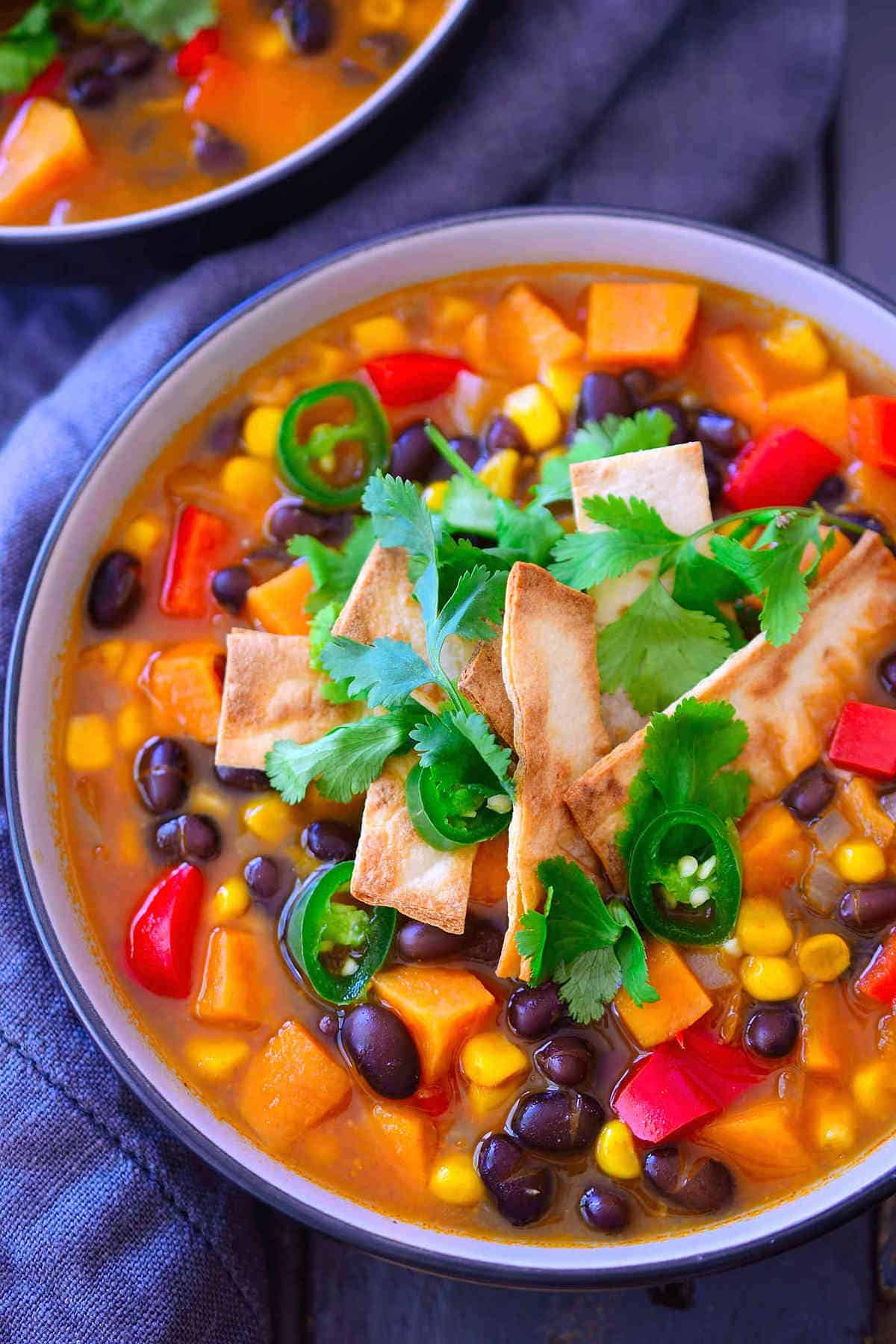 This gorgeous, bright, comforting soup is sure to pack a punch of yummy flavor! Made with wholesome, healthy ingredients including hearty beans, sweet potatoes, corn, and red pepper. A simple, fast, and delicious soup the whole family will fall in love with! Head on over and check it out!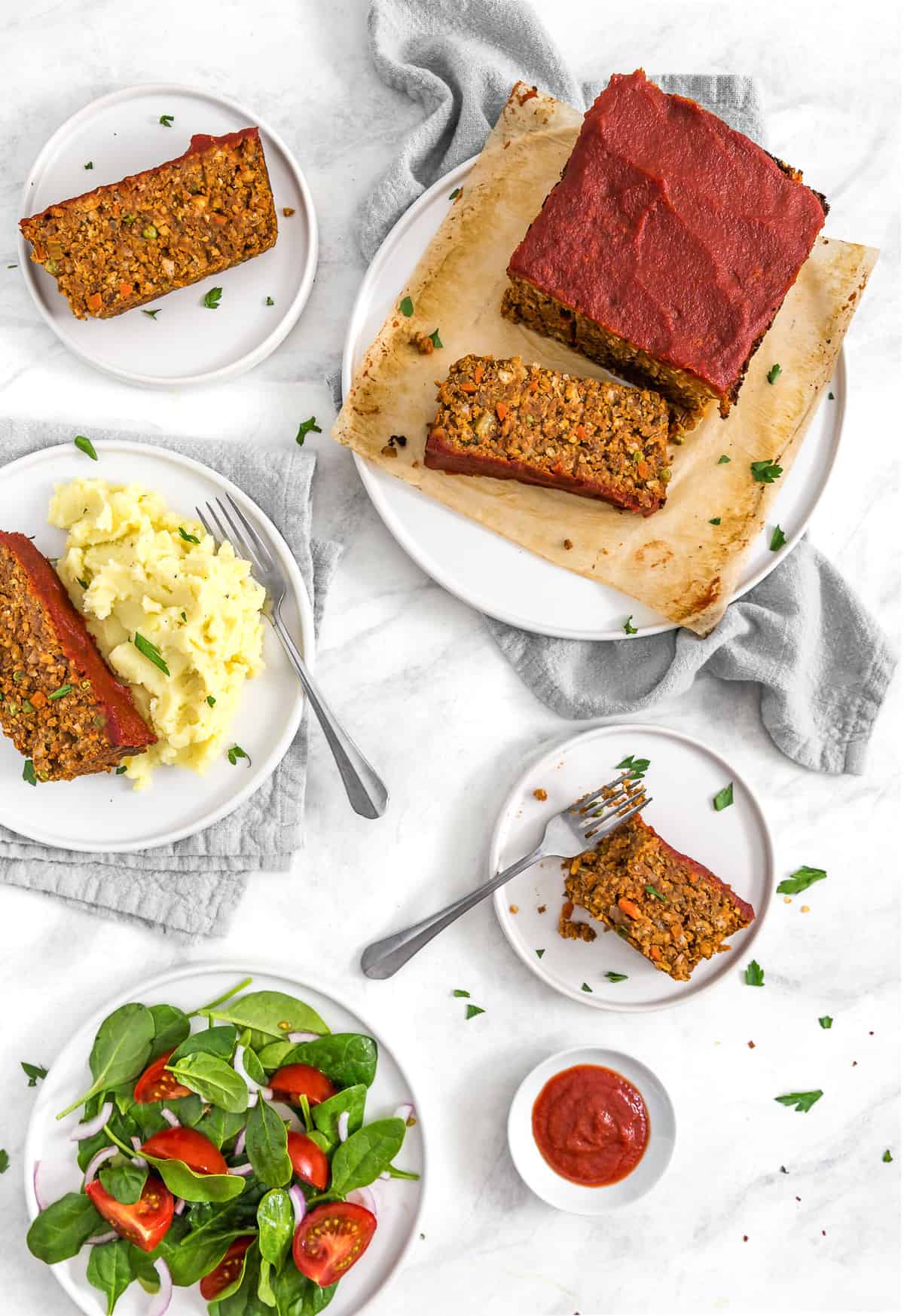 This incredibly flavorful, hearty and filling vegan Veggie Loaf is making our tastebuds do the happy dance! Healthy and delicious, perfectly seasoned, and amazing texture, you'll be coming back for seconds!  With this Whole Food Plant Based recipe in your arsenal, it's go time!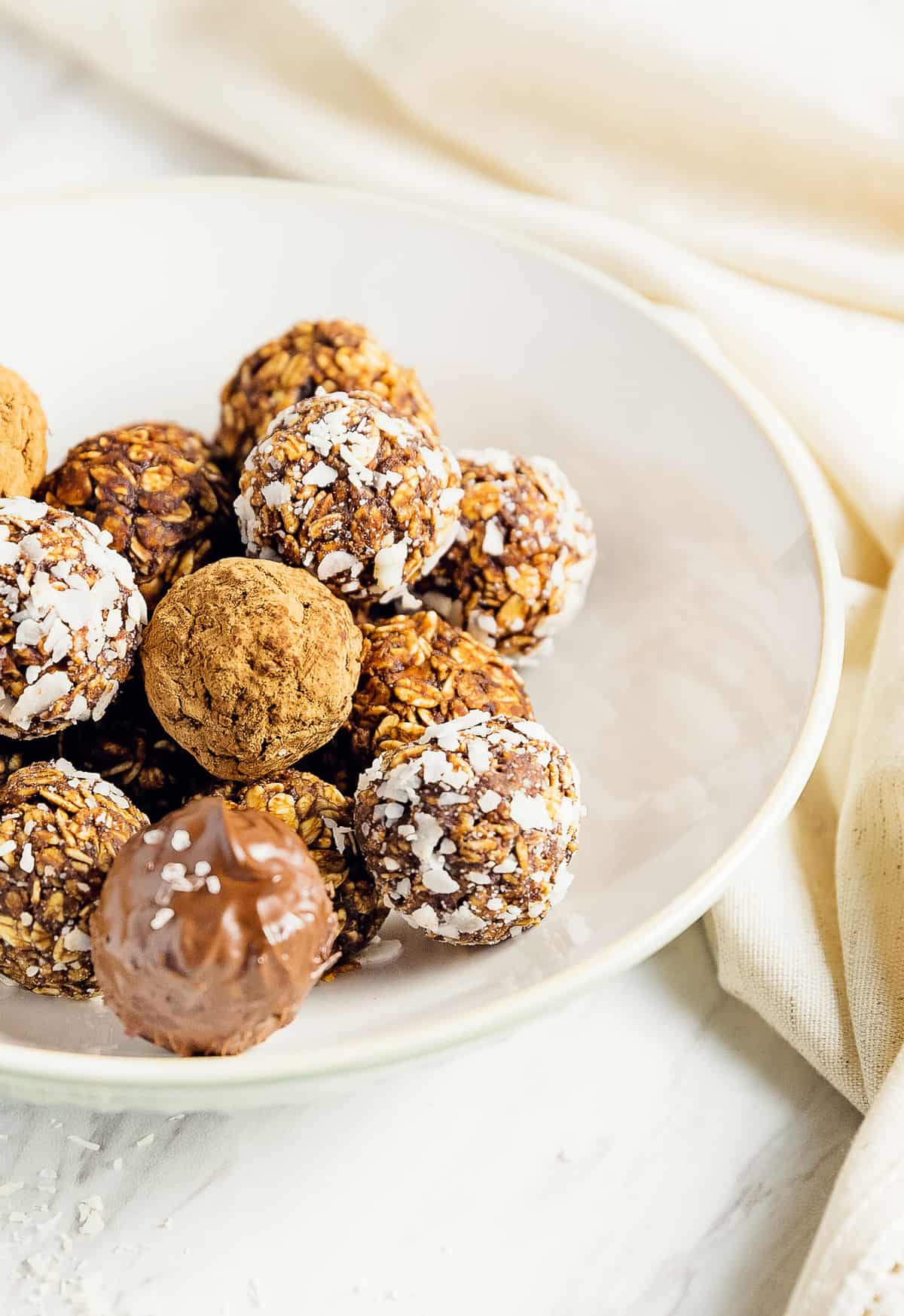 Dreamily healthy and delicious, these classic Chocolate Peanut Butter No Bake Cookies are the perfect after-school treat or pick-me-up after a long day at work.