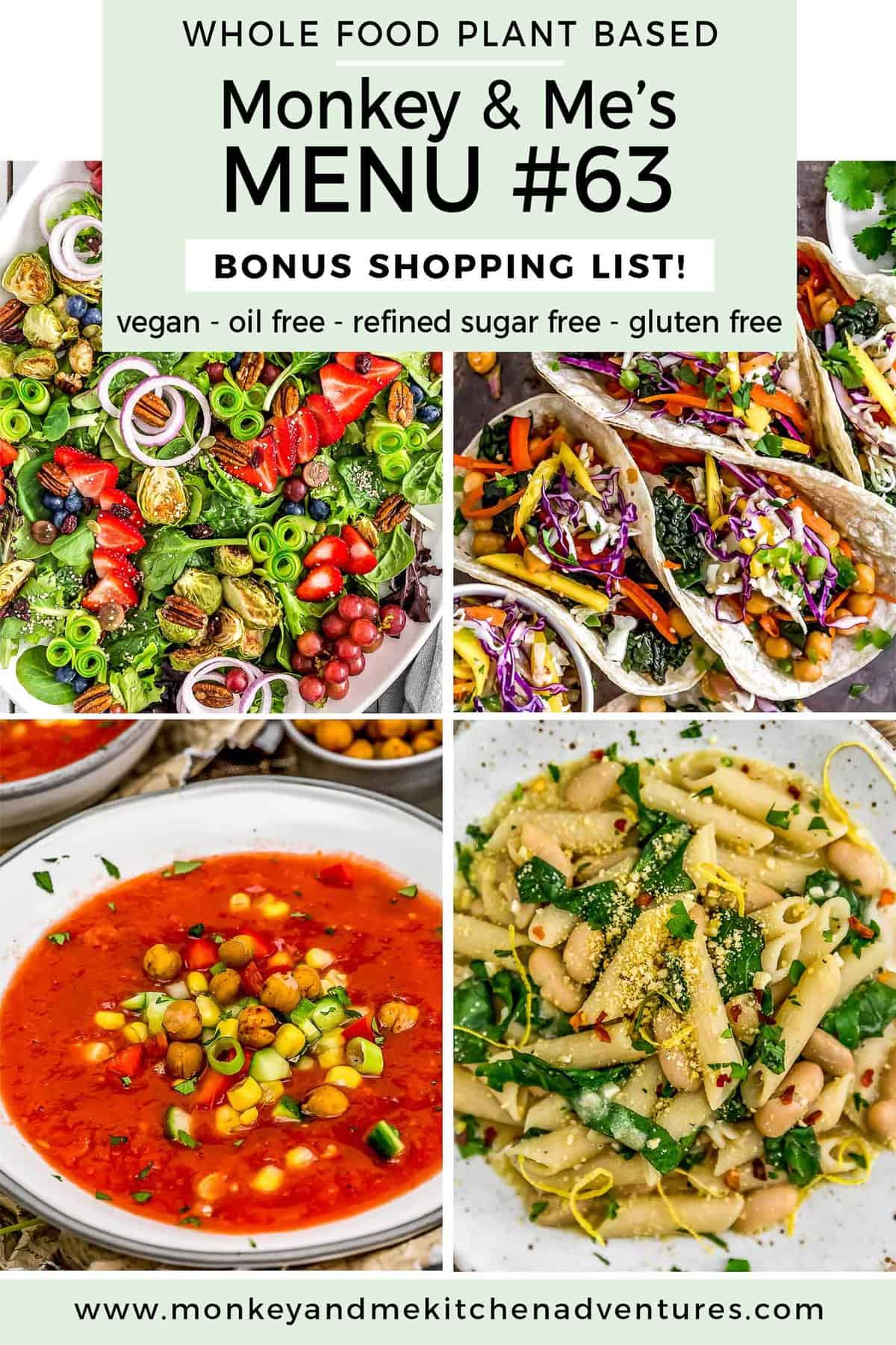 This week's Monkey and Me's Menu features some tasty recipes.  Menu #63 includes a FREE bonus shopping list.  All recipes are Whole Food Plant Based, vegan, plant based, oil free, refined sugar free, no highly processed ingredients, and gluten free.

Downloadable Menu which offers the following:

2 Breakfast ideas
2 Lunch ideas
2 Snack Ideas
5 Dinner Ideas, including a FREE downloaded shopping list (PDF – Below)

A comprehensive (downloadable) shopping list for the 5 Dinners

The shopping list is segmented into the common grocery store sections like "produce, spices, etc." making it easy to pick up these items from your local grocery store.
It also includes product suggestions that are Whole Food Plant Based compliant* for easy reference.  Note: These products are suggestions, please feel free to select your own favorite products.
Includes helpful codes so you can easily subtract items that you choose not to make.

Downloadable Instructions on how the meal plan work.
Note:  The term "Whole Food Plant Based compliant" is from a general standpoint.  There are Whole Food Plant Based diet branches that restrict certain food items.  Our recipes are all Whole Food Plant Based compliant based upon a high-level compliance standpoint. i.e. vegan, plant based, oil free, refined sugar free, minimally processed foods.
Some breakfast, lunch, and snack ideas are simple concepts that require no recipe.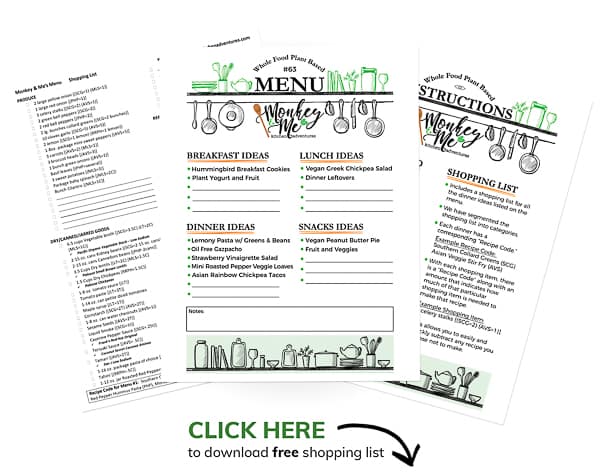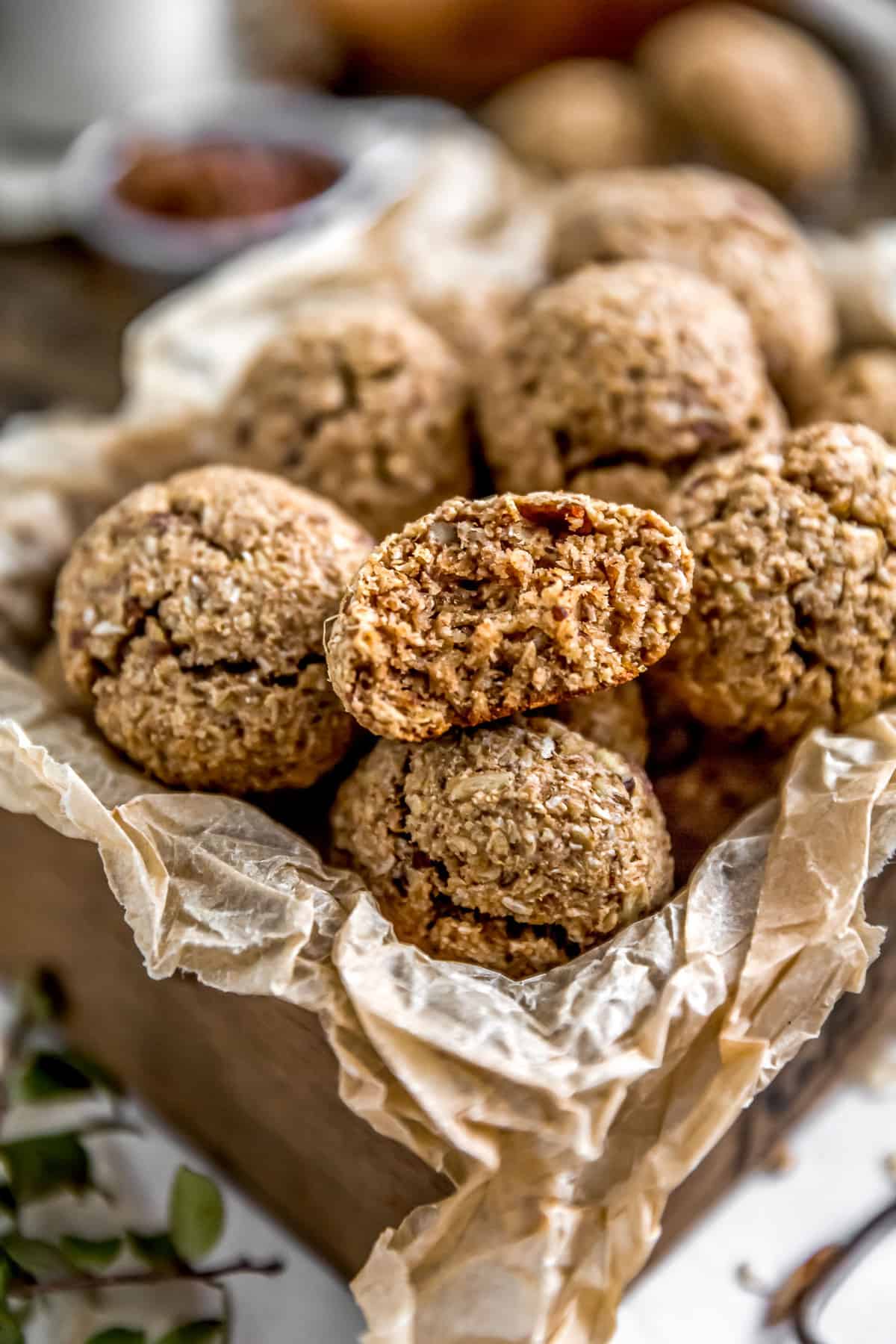 When cookies are for breakfast, you just know it's going to be a good day! We are coming in hot with these wholesome and delicious Vegan Hummingbird Breakfast Cookies that are a healthy twist on the southern classic hummingbird cake.  Sweet dates, juicy pineapple, rich coconut, hearty oats, and tasty pecans make for an amazing breakfast cookie that will delight kids and adults alike. These comforting cookies are not only for breakfast, they make fantastic snacks and treats for dessert – YUM!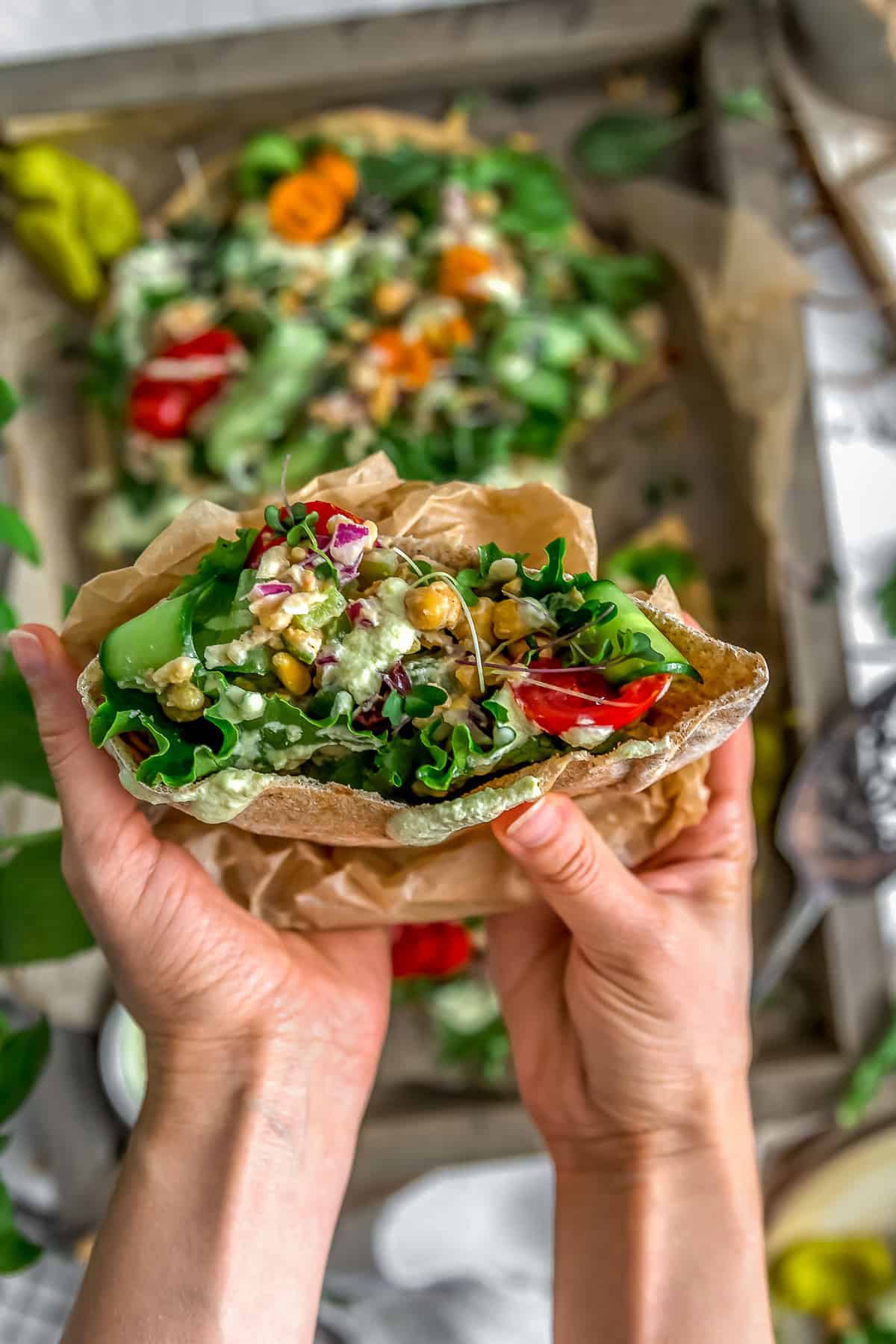 For those hangry days when you NEED something fast, but want it to taste ah-mazing like you worked super hard in the kitchen for hours putting together a flavor profile that is going knocking your socks off… This delicious Vegan Greek Chickpea Salad is that dish! Not only is it fast, easy, and bursting with flavor, but it's oh-so-healthy! Protein-Packed chickpeas, coupled with crisp green bell peppers, and diced red onions mixed with a tasty tahini-yogurt dressing is your ticket to flavor-town with the first bite. Add this hearty Vegan Greek Chickpea salads to a bed of nutritious greens, a quinoa flatbread, lettuce cups, pita pocket, and so much more!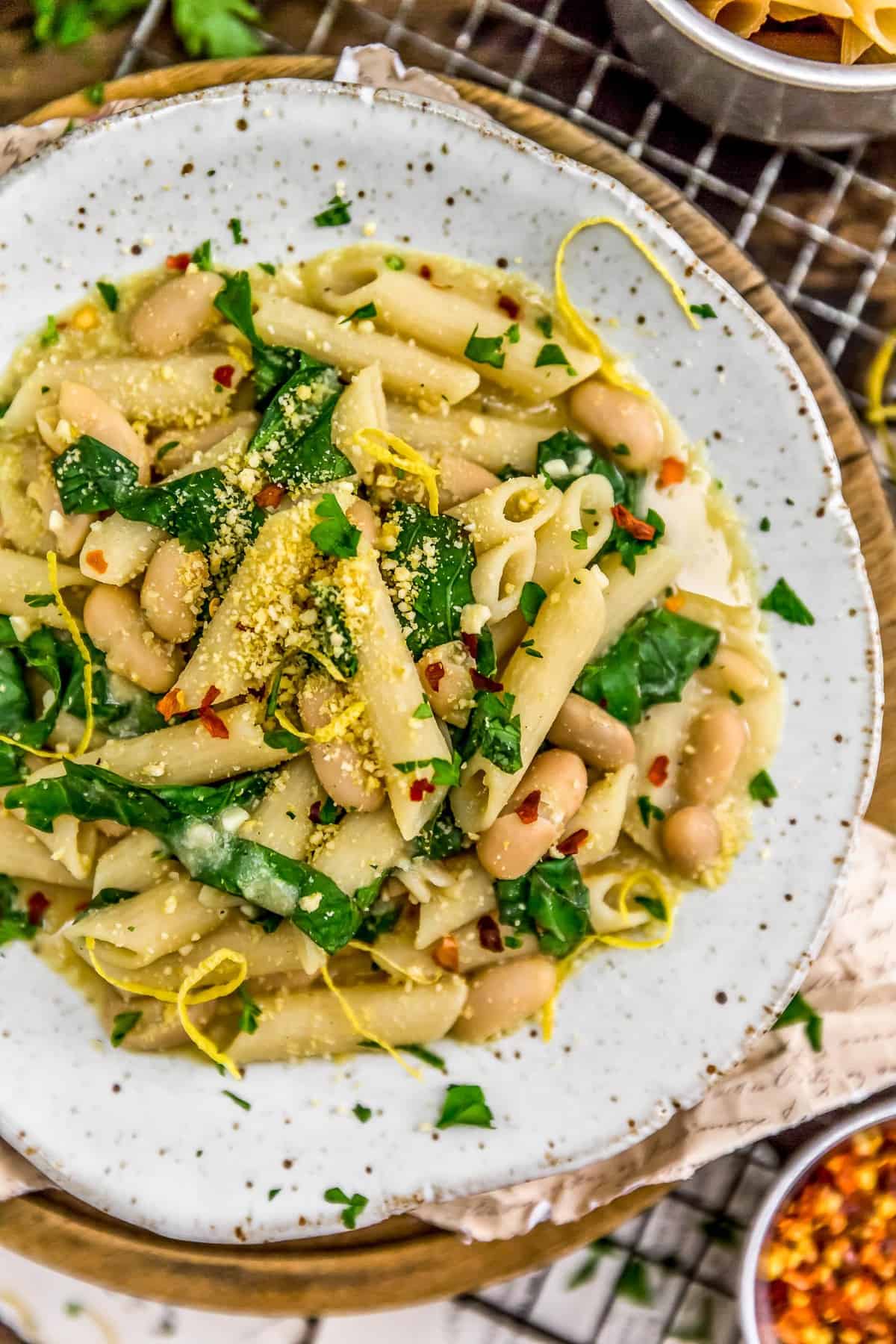 Lemon is shining like a beacon to flavor town in this quick and flavorful dish! Tangy and bursting with robust lemony goodness, this healthy Lemony Pasta with Greens and Beans is awesomely easy and perfect go-to for weeknight meals. Lemons plus greens equals a nutrient POW of wholesome yumminess. This delicious dish is sure to absolutely delight your taste buds!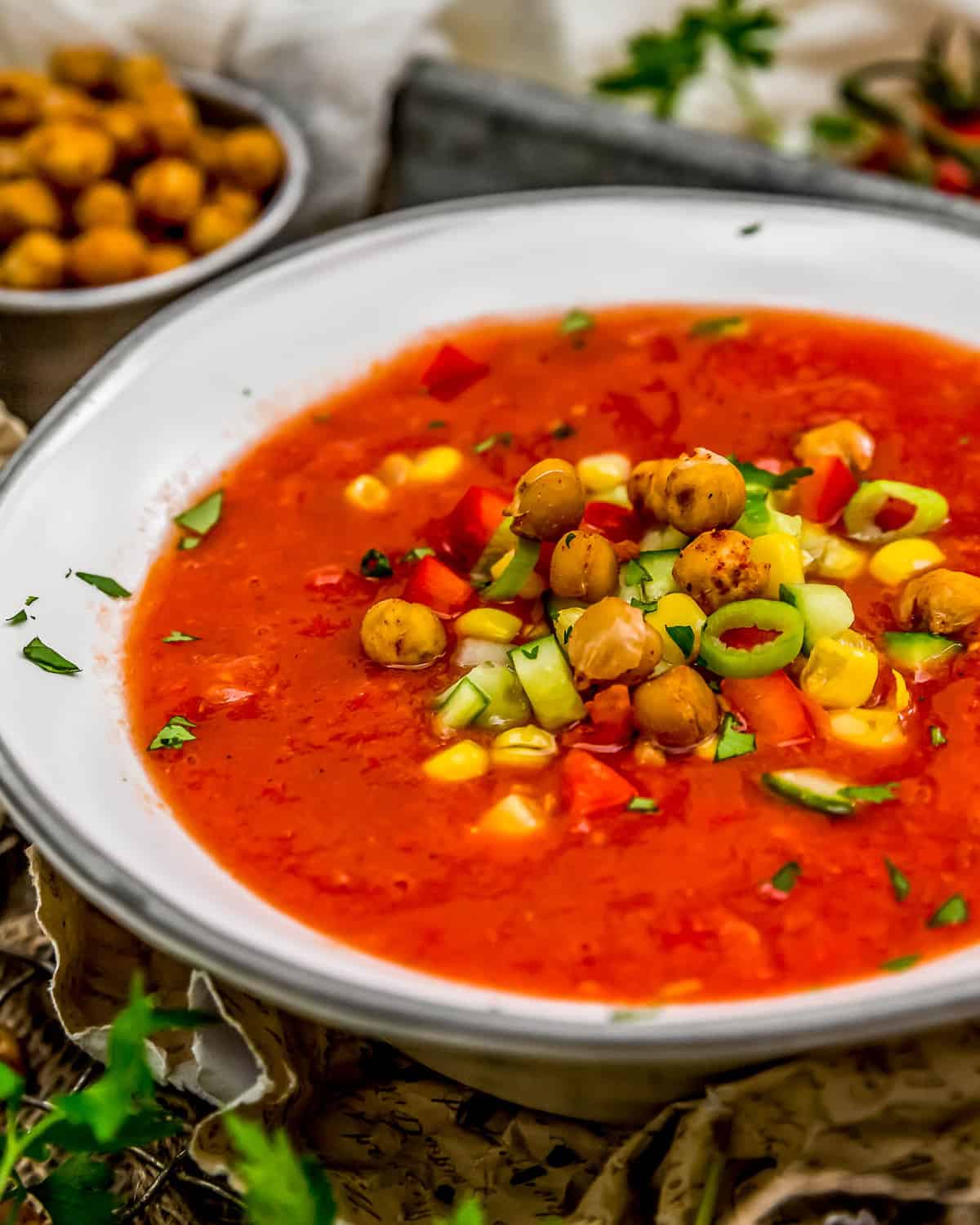 Summer's calling and we are answering with a refreshing, cooling, and utterly delicious soup! This beautifully fresh and vibrant Oil Free Gazpacho features a cold tomatoey soup filled with garden veggie nourishing goodness. Fresh red bell peppers, sweet Campari tomatoes, cooling cucumbers, crisp corn, zesty green onions, and topped with roasted chickpea croutons making it perfect for a tasty summertime soup or appetizer. It is totally delicious and satisfying.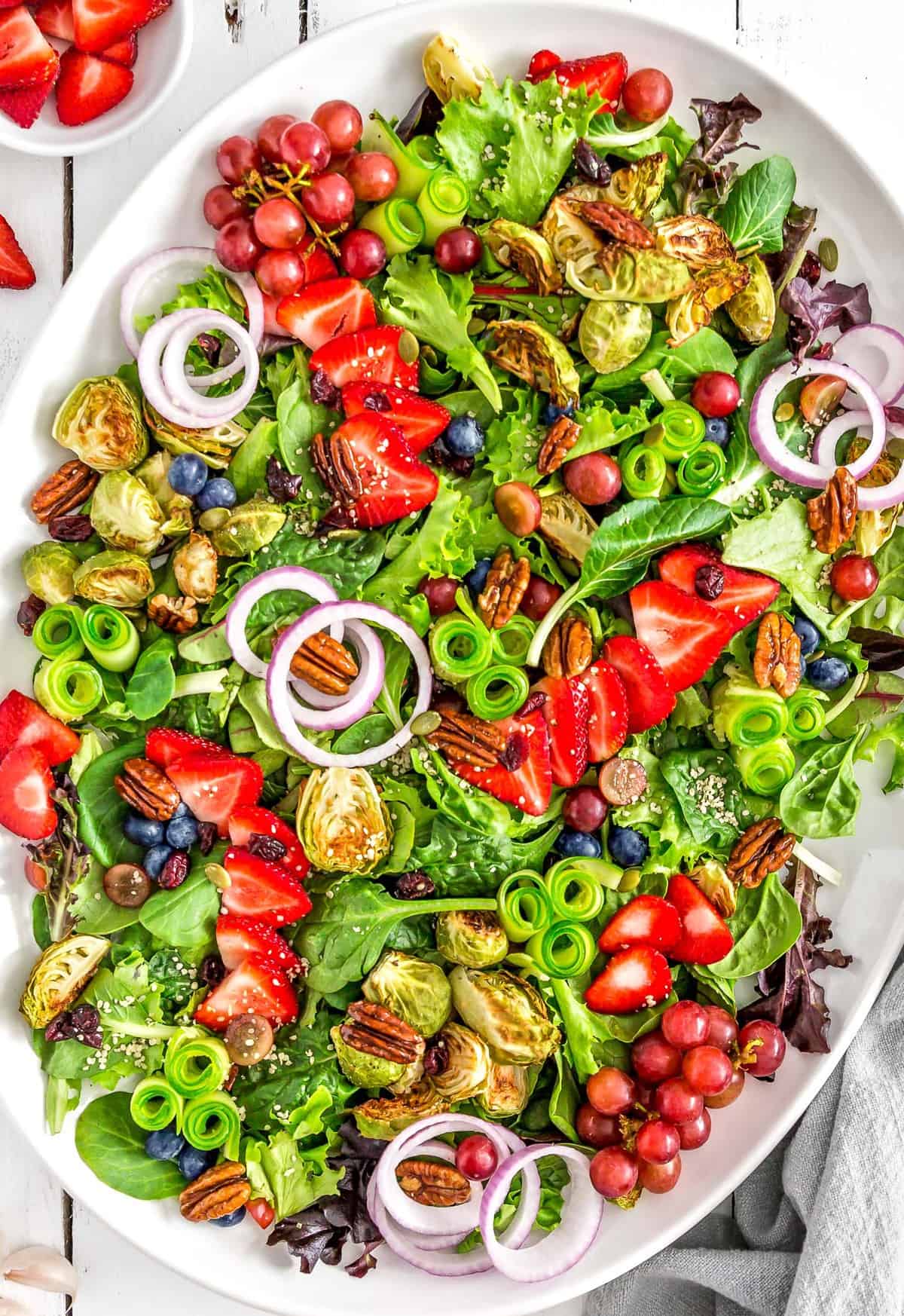 This epic Roasted Brussel Sprout Salad is summertime in a bowl! Fruits and veggies team up together to create this enchantingly delicious salad of sweet and savory flavors! Beautifully roasted Brussel sprouts, fresh veggies, and a tasty scattering of delectable fruit, seeds, and nuts, all combined together with a creamy and flavorful Strawberry Vinaigrette create delicious summer vibes in every bite.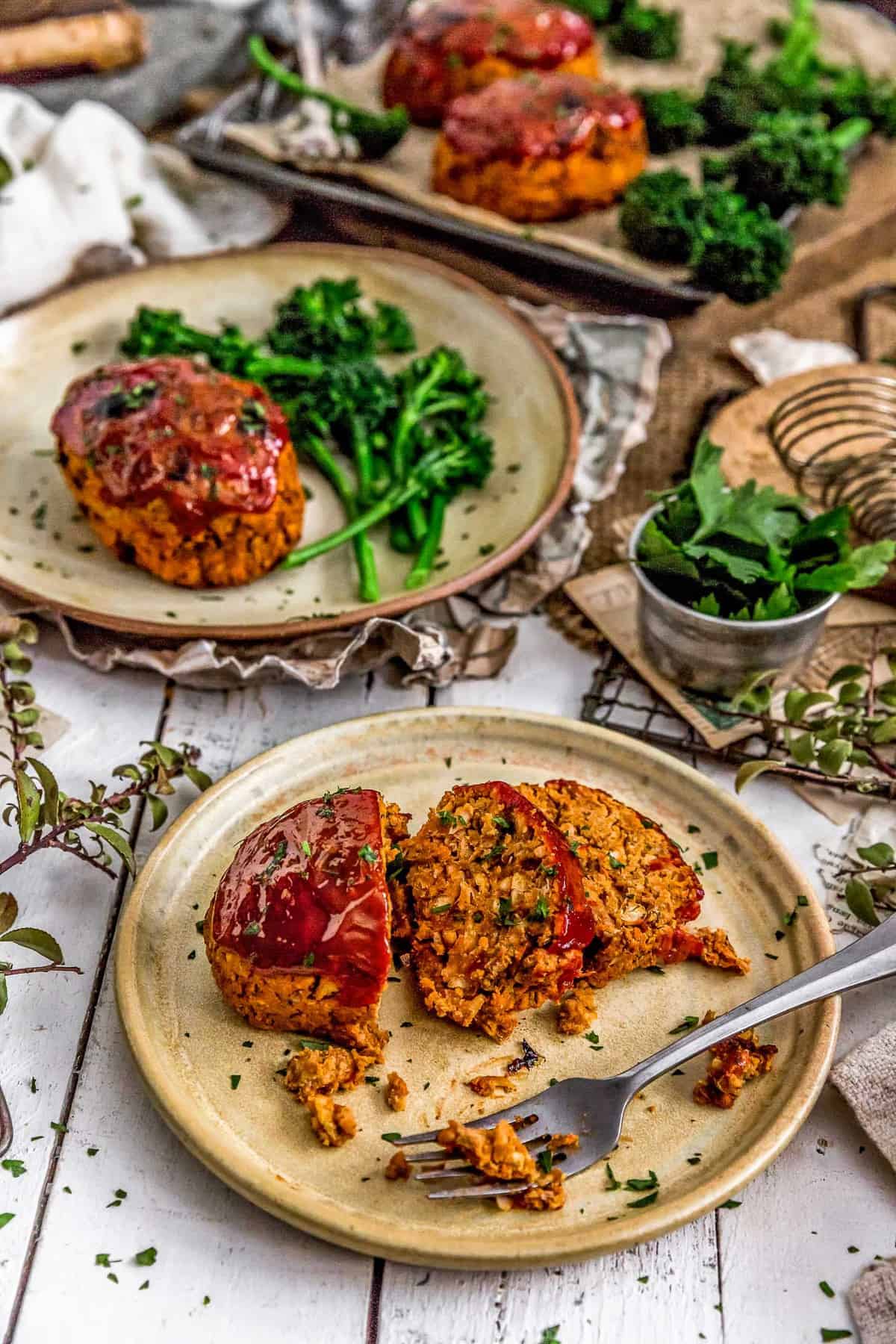 We are pulling out all the flavorlicious goodness of roasted peppers and sundried tomatoes in these irresistible mini veggie loaves. These ultra-comforting Mini Roasted Red Pepper Veggie Loaves are incredibly flavorful and filled with wholesome ingredients that are sure to knock your socks off. Healthy, oil-free, refined sugar free, plant based, and perfectly delicious, without the mushiness, these Mini Roasted Red Pepper Veggie Loaves are what veggie loaf dreams are made of.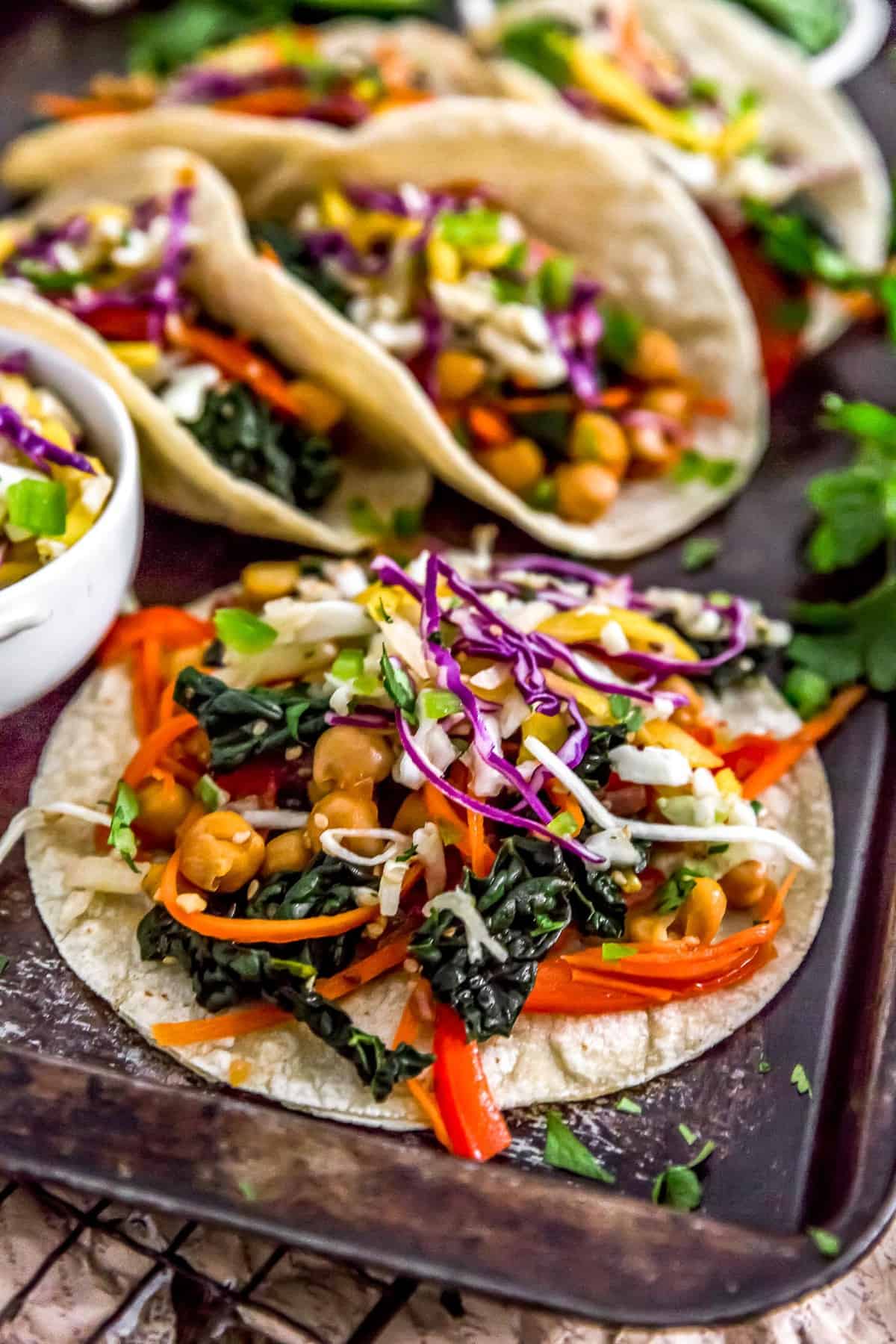 These are not your average tacos, we are blowing it up with an ultra-flavorful East meets West twist! These healthy Asian Rainbow Chickpea Tacos are so flippin' delicious with feel-good ingredients bathed in amazingly bold Asian sauce, all piled high on a tasty tortilla; it just can't be beat. Hearty chickpeas, zesty red onions, crisp red bell peppers, sweet carrots, and nourishing kale come together in the most flavorful way.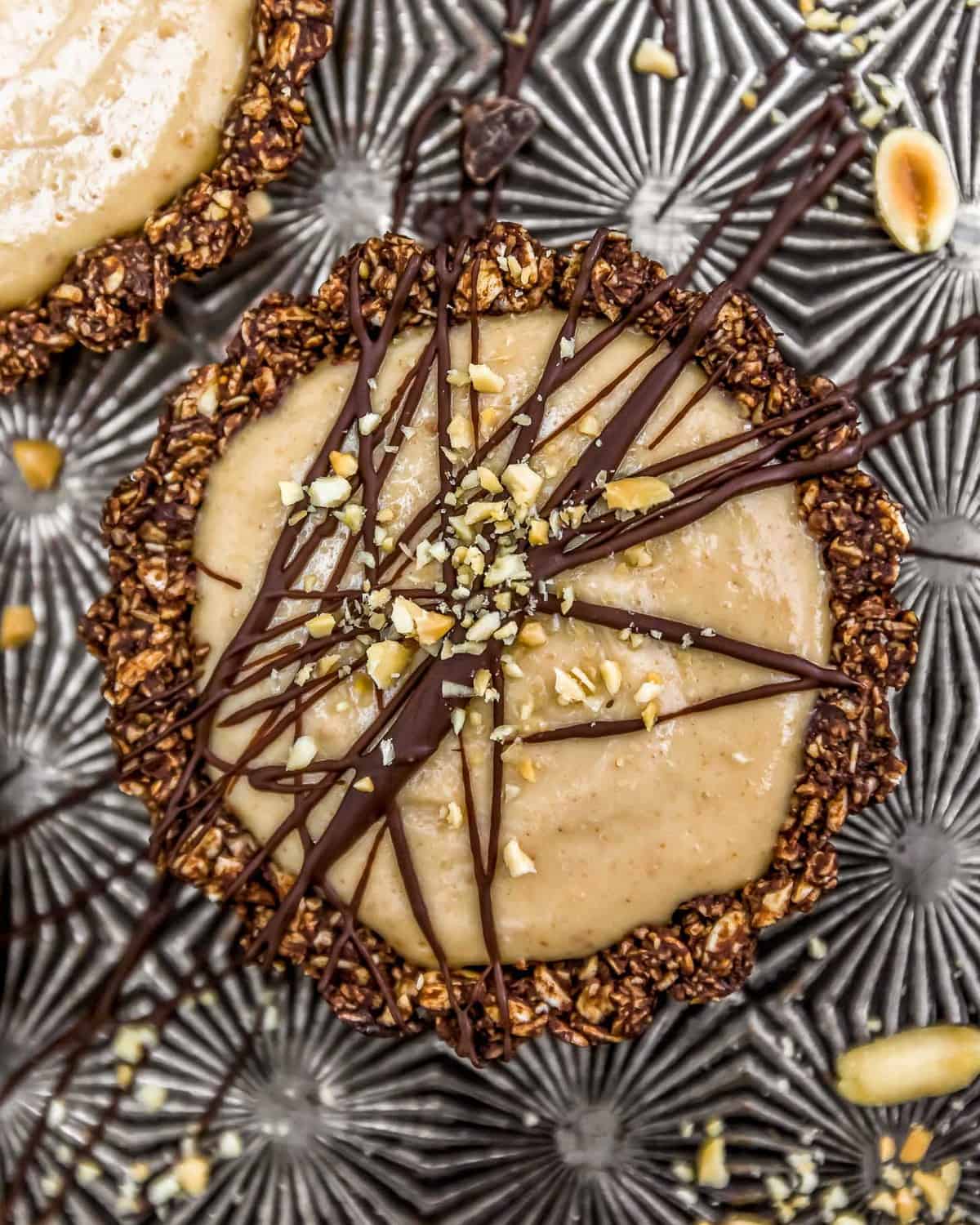 Outrageously delicious, completely decadent, our easy to make Vegan Peanut Butter Pie is perfect for holidays, special occasions, or simply any time!  This old-fashioned peanut butter pie is seriously dream worthy.  The chocolate oat crust is simple, yet perfectly complements the smooth and creamy peanut butter filling. Topped with a drizzle of melted chocolate and chopped peanuts makes for the perfect pièce de résistance.