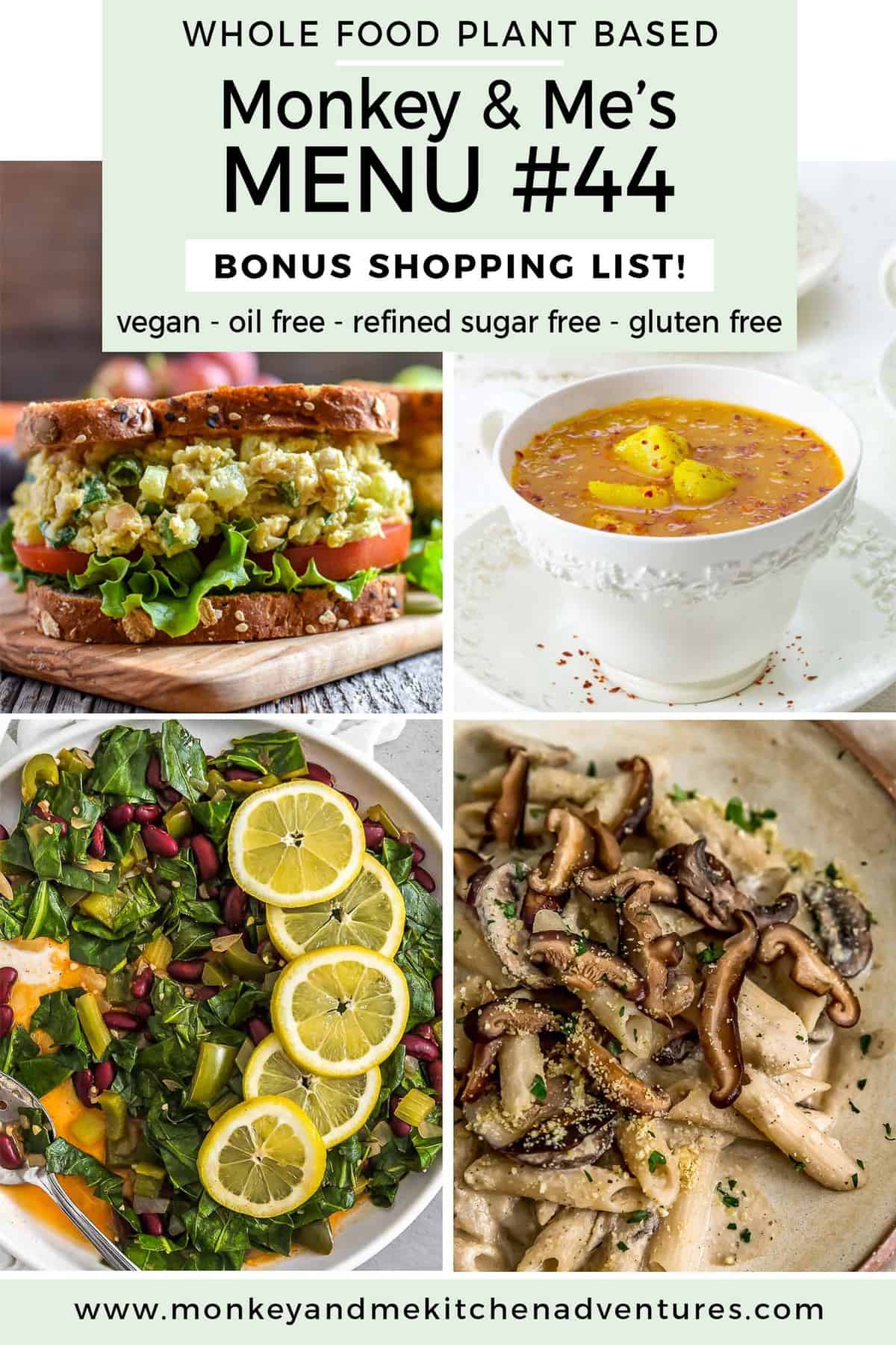 This week's Monkey and Me's Menu features some of our favorite foodie bloggers in menu #44 as well as a FREE bonus shopping list.  All recipes are Whole Food Plant Based, vegan, plant based, oil free, refined sugar free, no highly processed ingredients, and gluten free.
This super tasty menu features delicious dishes from Shane at Shane & Simple, Hana at Nirvana Cakery, and The Noil Kitchen, as well as featuring a few of our own dishes. 😉

Downloadable Menu which offers the following:

2 Breakfast ideas
2 Lunch ideas
2 Snack Ideas
5 Dinner Ideas, including a FREE downloaded shopping list (PDF – Below)

A comprehensive (downloadable) shopping list for the 5 Dinners

The shopping list is segmented into the common grocery store sections like "produce, spices, etc." making it easy to pick up these items from your local grocery store.
It also includes product suggestions that are Whole Food Plant Based compliant* for easy reference.  Note: These products are suggestions, please feel free to select your own favorite products.
Includes helpful codes so you can easily subtract items that you choose not to make.

Downloadable Instructions on how the meal plan work.
Note:  The term "Whole Food Plant Based compliant" is from a general standpoint.  There are Whole Food Plant Based diet branches that restrict certain food items.  Our recipes are all Whole Food Plant Based compliant based upon a high-level compliance standpoint. i.e. vegan, plant based, oil free, refined sugar free, minimally processed foods.
Some breakfast, lunch, and snack ideas are simple concepts that require no recipe.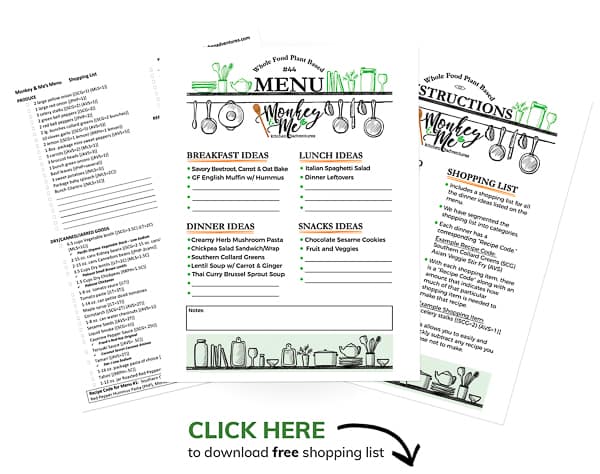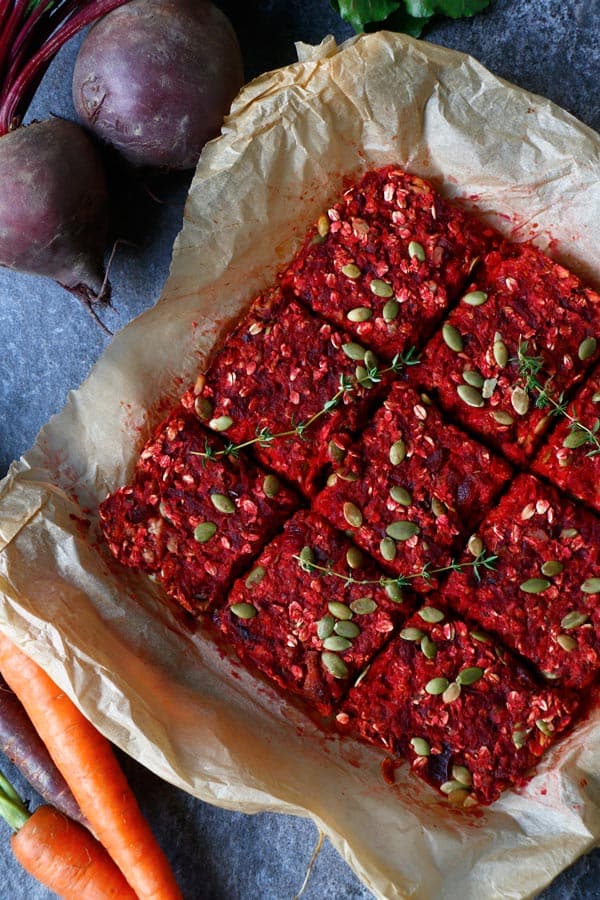 Vibrant and bursting with wholesome veggies, this Savory Beetroot, Carrot and Oat Bake takes savory breakfasts to a whole new level. Grated beets and carrots with hearty oats, aromatic spices, and rich walnuts combined with simple ingredients creates this tasty breakfast bake that is sure to please. Head on over and check it out on Nirvana Cakery!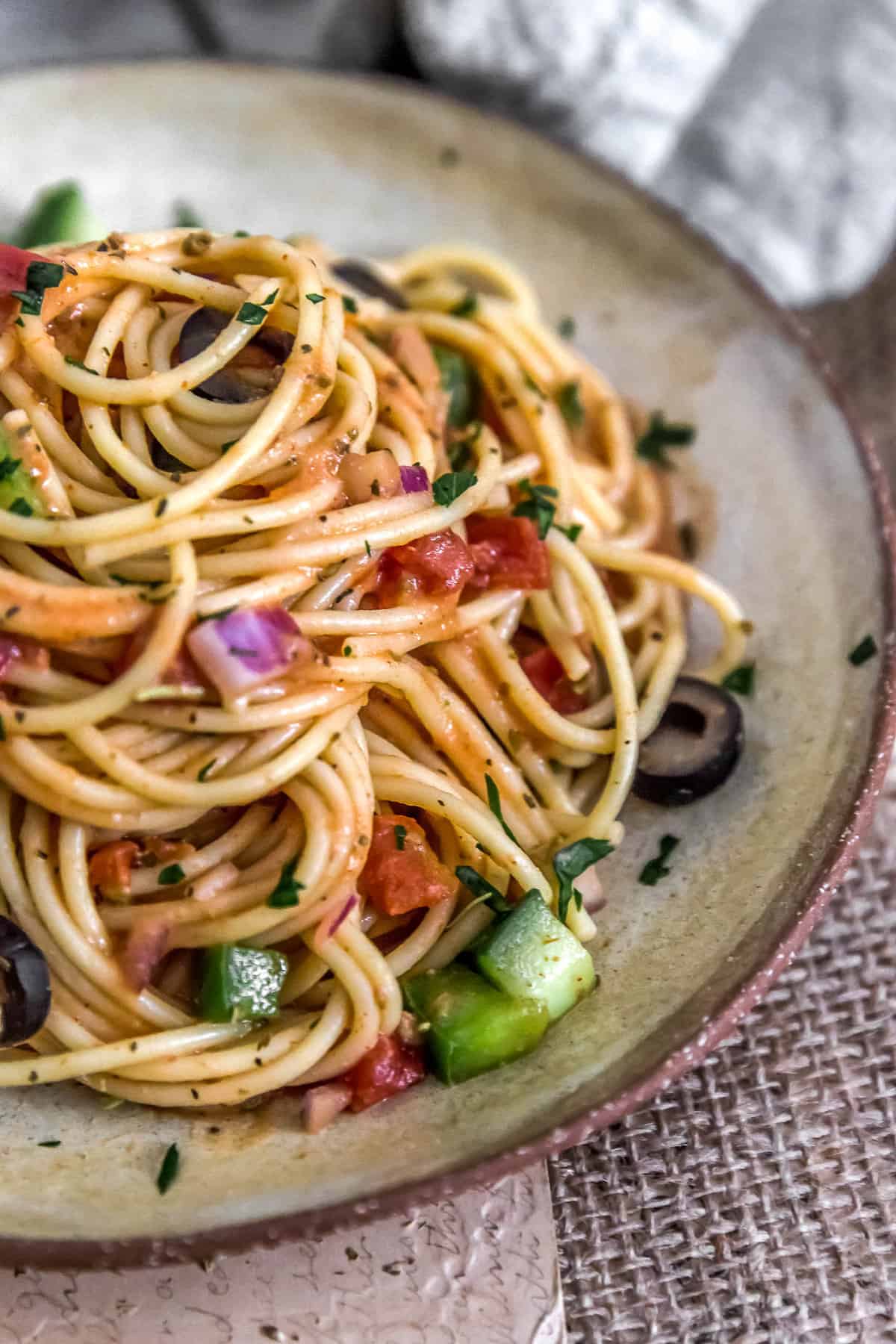 When chewy, slurpable pasta is involved you just know it's going to be a good day. This flavorful, nourishing, and oil free Healthy Italian Spaghetti Salad is what dreams are made of and sure to have you doing your happy dance.  Tasty pasta and veggies drenched in a tangy Italian herby sauce makes for a wholesome and delicious dish that's perfect for picnics, work lunches, or potlucks. Head on over and check it out on Monkey and Me Kitchen Adventures!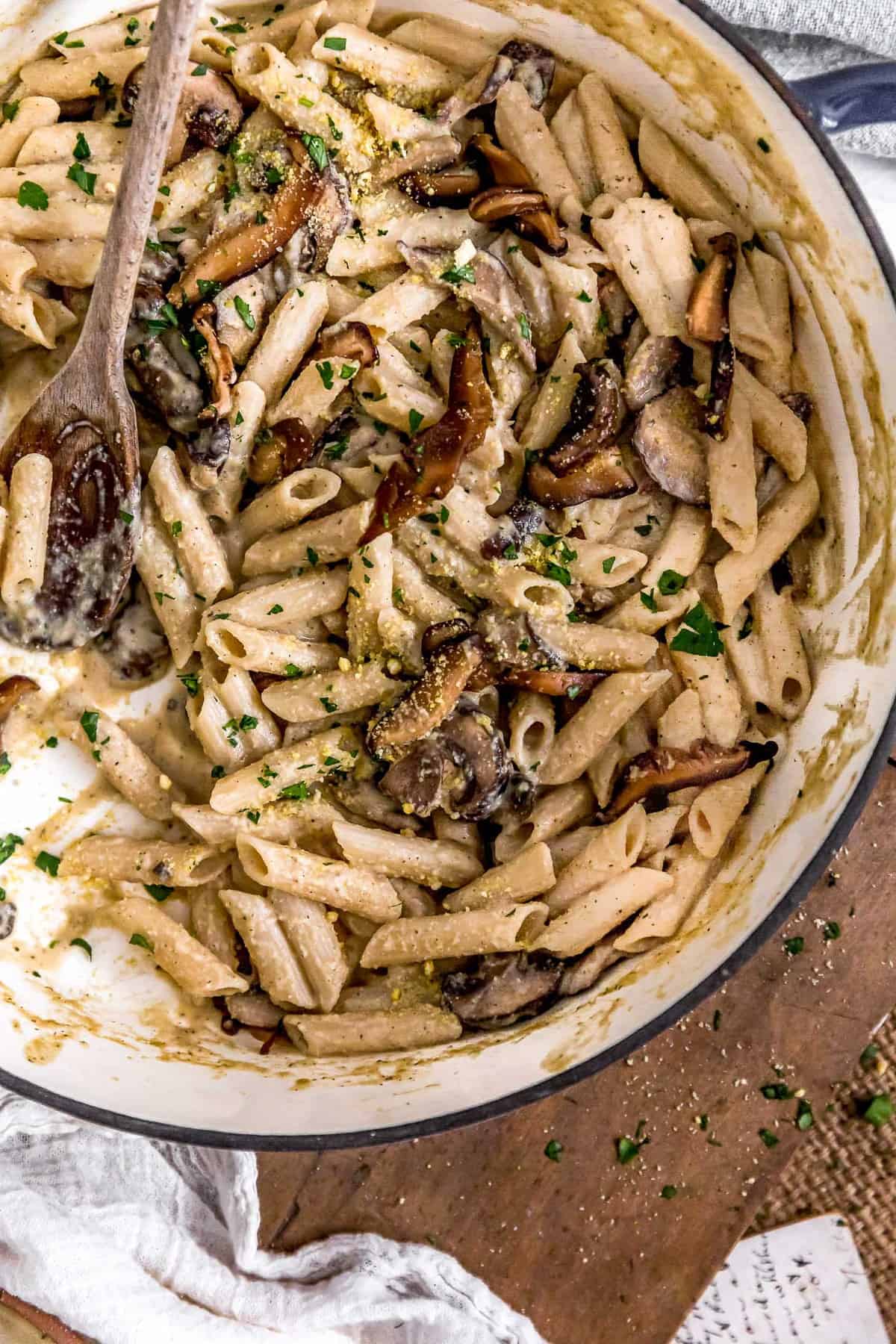 Simplicity in the most elegant way is the perfect way to describe this drool worthy dish! Rich, velvety, and bursting with flavor, this Creamy Herb Mushroom Pasta is total wholesome comfort food! Tasty, chewy pasta drenched in a decadent cashew herb sauce is topped with earthy sautéed mushrooms. Healthy, delicious, and ready in about 30 minutes, this luscious dish is perfect for a weeknight dinner with the family or elegant dinner parties alike. Head on over and check it out on Monkey and Me Kitchen Adventures!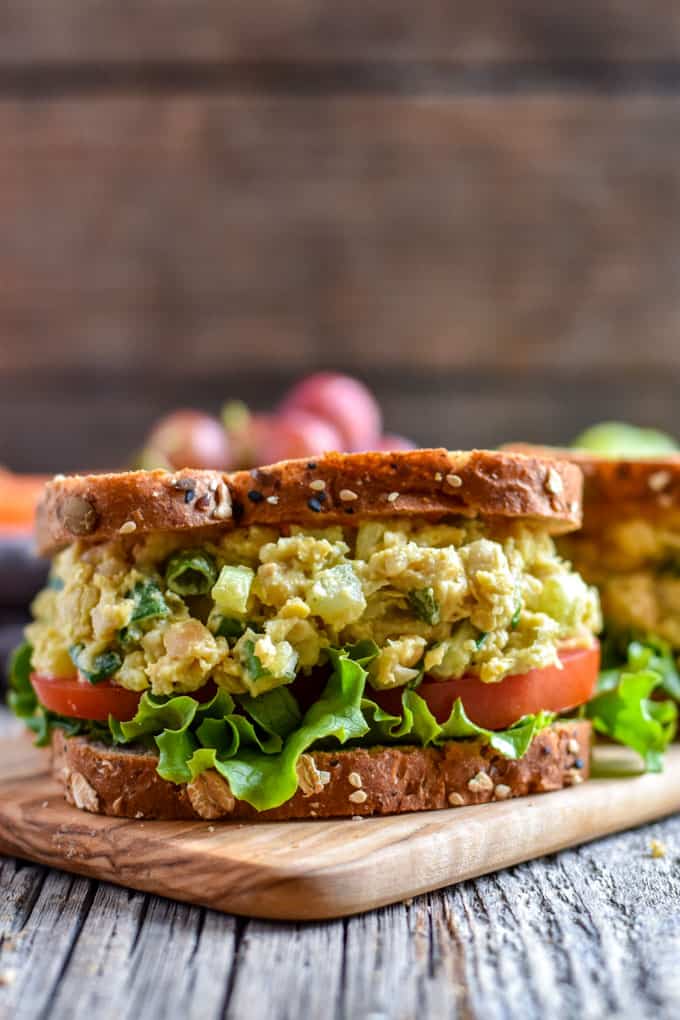 This big, beautiful, and tasty sandwich makes weeknight meals a breeze. Hearty Chickpeas, crunchy celery, zesty onions all coated in a rich and creamy maple dijon sauce and piled high in a sandwich (or GF wrap) with buttery lettuce and juicy tomatoes. This wholesome meal will make the whole family happy campers. Head on over and check it out on Shane & Simple!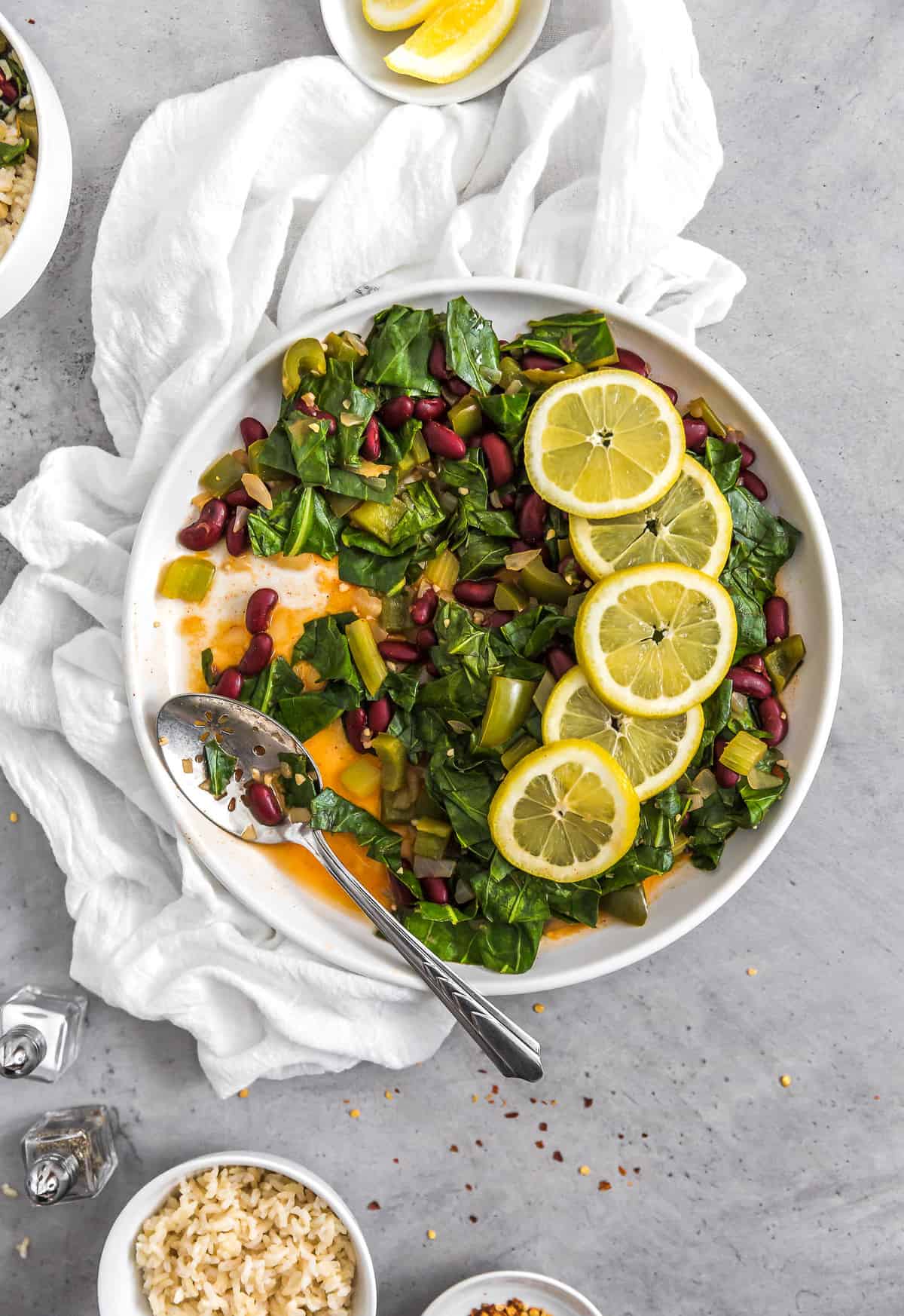 When you want to treat your taste buds to a totally rocking flavorful packed meal, this Southern Collard Greens recipe is just the ticket! Packed with veggies and healthy ingredients, this nod to Southern Collard Greens dish breaks the away from traditional Southern recipes with a *vegan high five* plus, it's so good for you!  Full of flavor, texture, vitamins, minerals, and yumminess, makes this dish an ah-mazing Whole Food Plant Based recipe! Head on over and check it out on Monkey and Me Kitchen Adventures!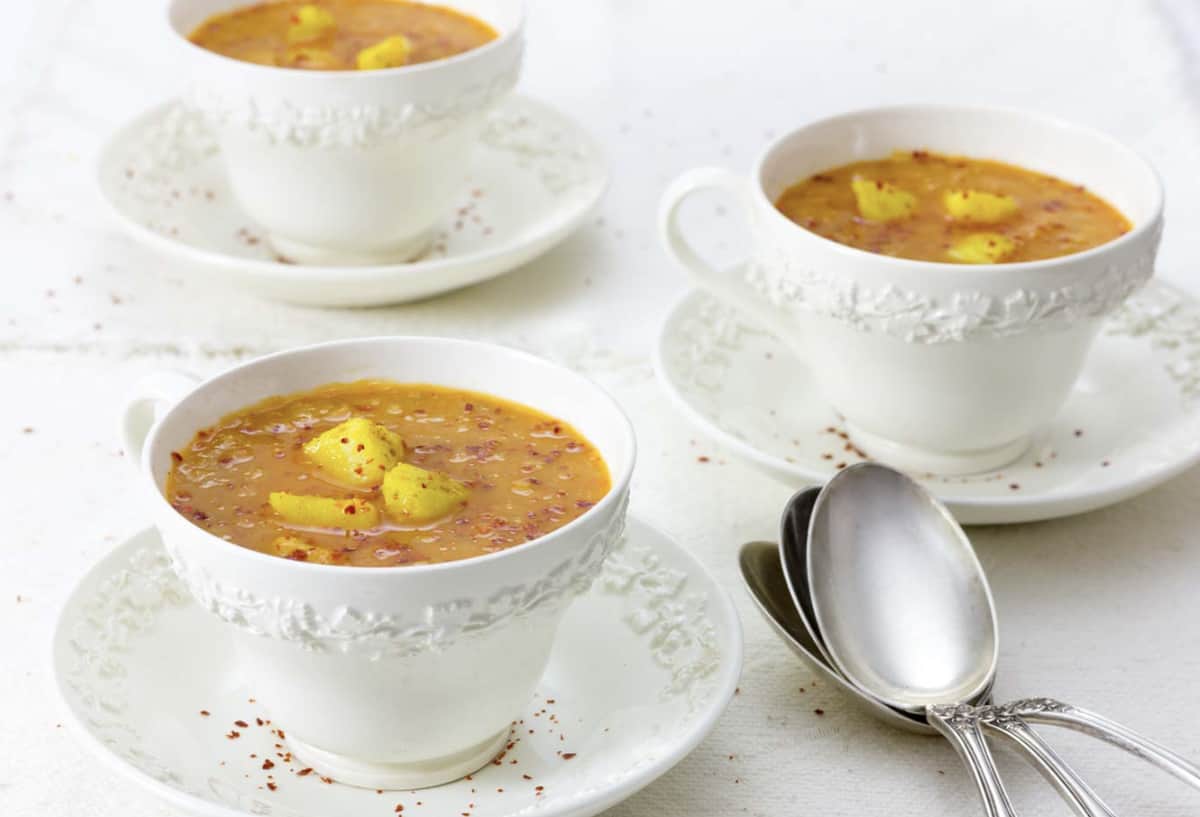 Bursting with warming flavors and wonderful simple to make, this Red Lentil Soup with Carrot Ginger is a hearty, nutrient-dense, and satisfying that comes together in just 45 minutes. Red lentils, carrots, and vibrant spices creates a beautiful orange color and sure to be a wonderful addition to your weeknight meals. Head on over and check it out on The Noil Kitchen!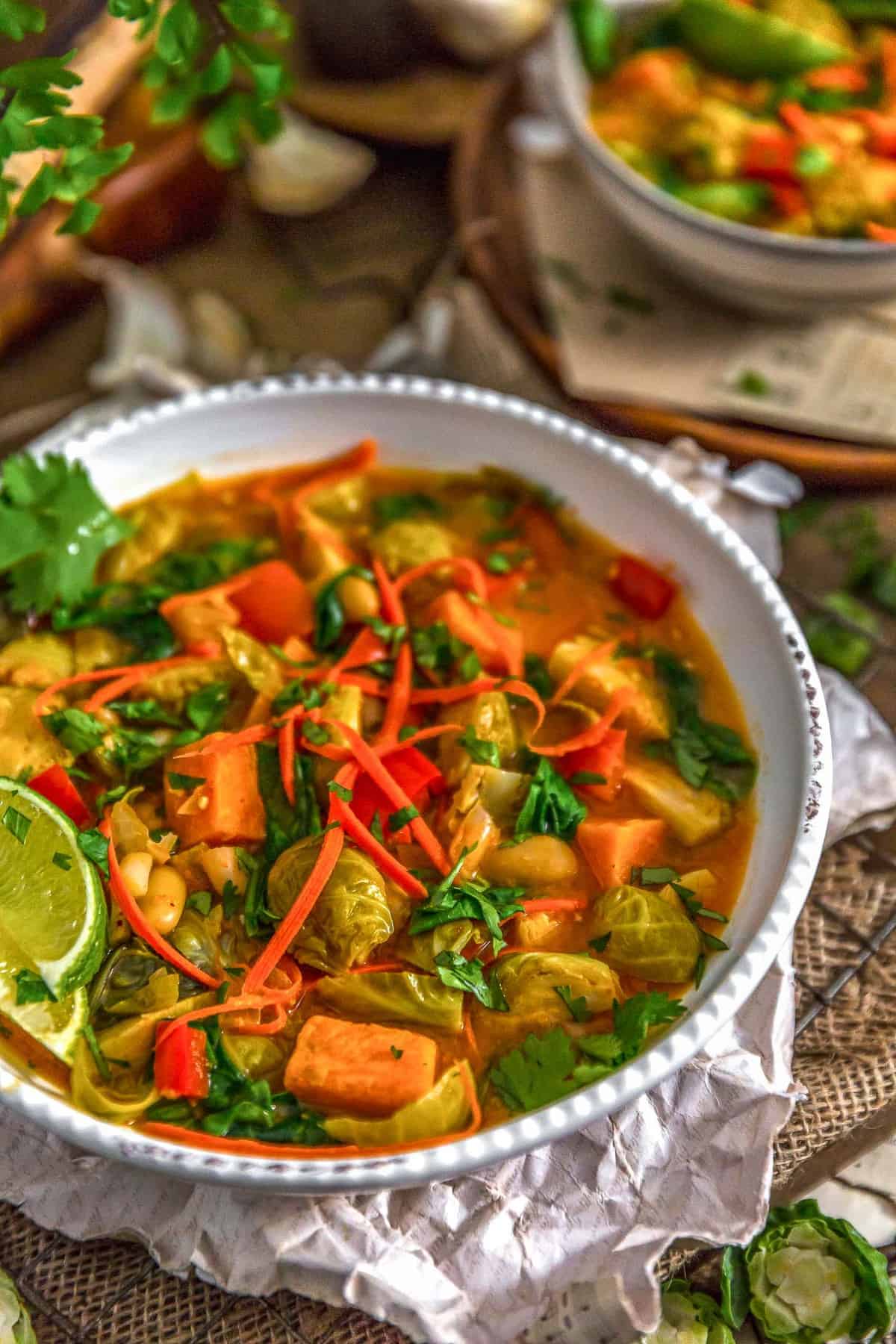 Red curry paste is that awesome, dependable friend that you can count on to make your day a little brighter, and it's on with this delicious Thai Curry Brussel Sprout Soup! Bold Thai curry flavors, coupled with creamy soothing lite coconut milk, all delightfully simmering together with nutritious Brussel Sprouts, hearty sweet potatoes, protein-packed beans in a wholesome and healthy soup! A fantastic, satisfying, and cozy soup that is sure to put a smile on your face. Head on over and check it out on Monkey and Me Kitchen Adventures!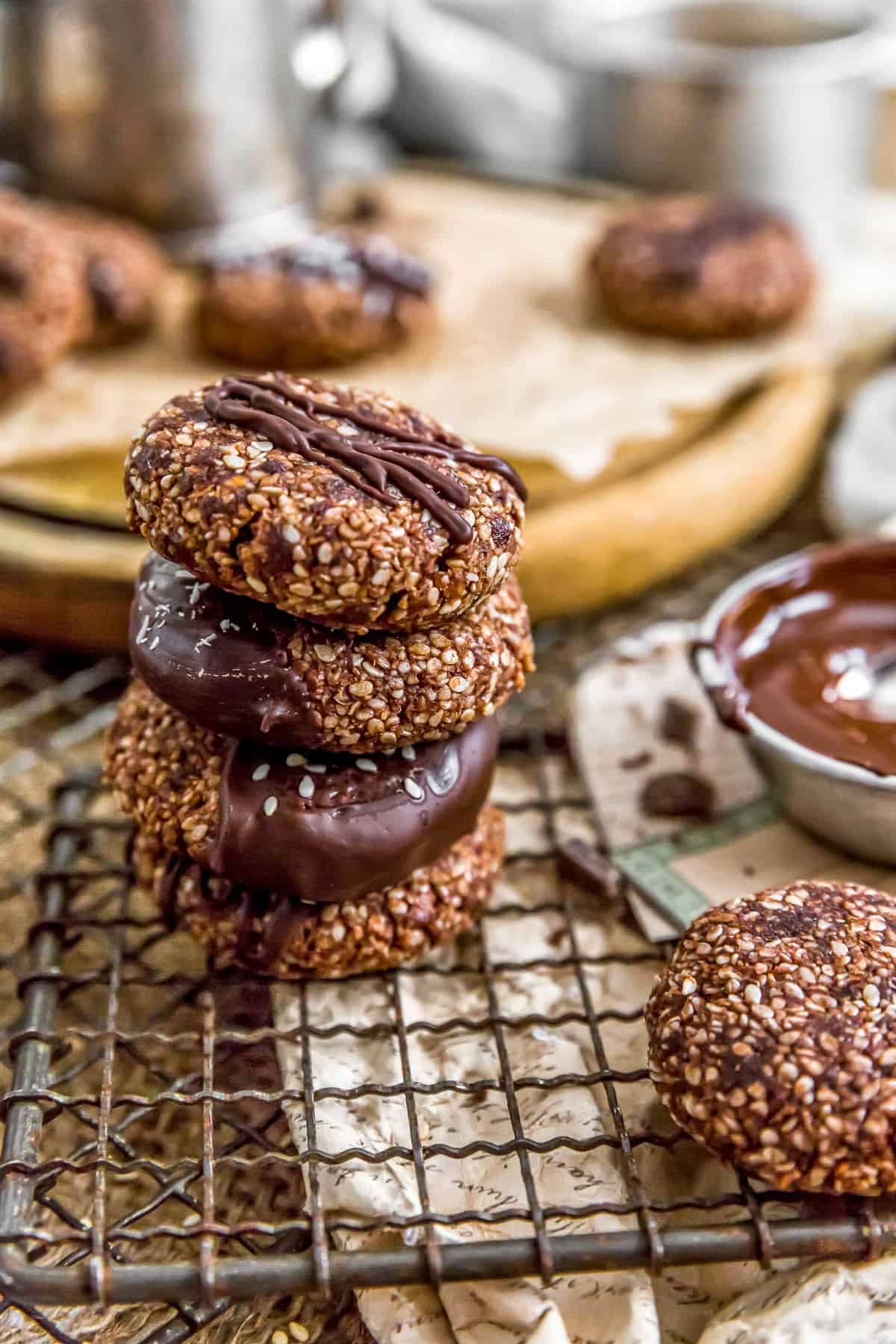 When rich chocolate, decadent coconut, nutty sesame seeds, and sweet dates come together to create a fabulous, wholesome cookie that is sure to please. These Healthy Chocolate Sesame Cookies are the perfect cookie when you are hankering from something sweet but want to stay on track with your health goals. Packed with feel-good ingredients and delicious flavors, these flourless cookies are dessert goodness.  These simple 4-ingredient cookies will quickly become your new "go-to" healthy treat! Head on over and check it out on Monkey and Me Kitchen Adventures!