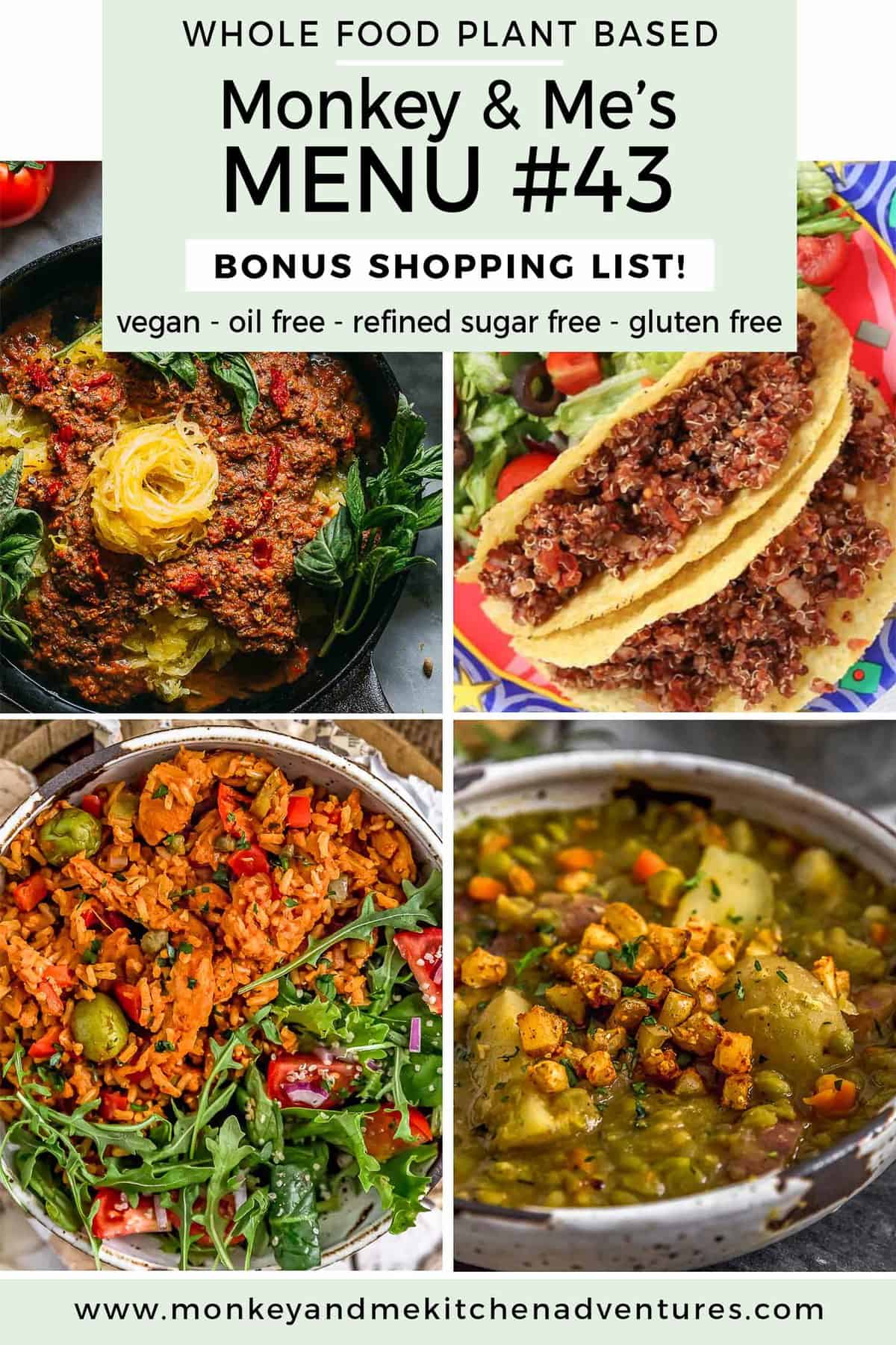 This week's Monkey and Me's Menu features some of our favorite foodie bloggers in menu #43 as well as a FREE bonus shopping list.  All recipes are Whole Food Plant Based, vegan, plant based, oil free, refined sugar free, no highly processed ingredients, and gluten free.
This super tasty menu features delicious dishes from Stacey at Stacey Homemaker, Renee and Mike at Veeg, Elizabeth at Healthy Midwestern Girl, and Camilla at Power Hungry, as well as featuring a few of our own dishes. 😉

Downloadable Menu which offers the following:

2 Breakfast ideas
2 Lunch ideas
2 Snack Ideas
5 Dinner Ideas, including a FREE downloaded shopping list (PDF – Below)

A comprehensive (downloadable) shopping list for the 5 Dinners

The shopping list is segmented into the common grocery store sections like "produce, spices, etc." making it easy to pick up these items from your local grocery store.
It also includes product suggestions that are Whole Food Plant Based compliant* for easy reference.  Note: These products are suggestions, please feel free to select your own favorite products.
Includes helpful codes so you can easily subtract items that you choose not to make.

Downloadable Instructions on how the meal plan work.
Note:  The term "Whole Food Plant Based compliant" is from a general standpoint.  There are Whole Food Plant Based diet branches that restrict certain food items.  Our recipes are all Whole Food Plant Based compliant based upon a high-level compliance standpoint. i.e. vegan, plant based, oil free, refined sugar free, minimally processed foods.
Some breakfast, lunch, and snack ideas are simple concepts that require no recipe.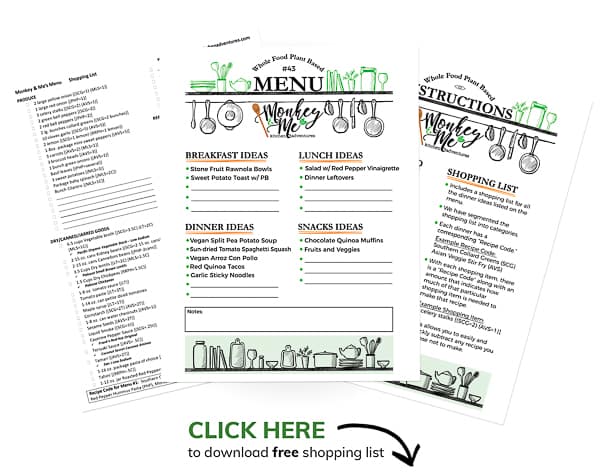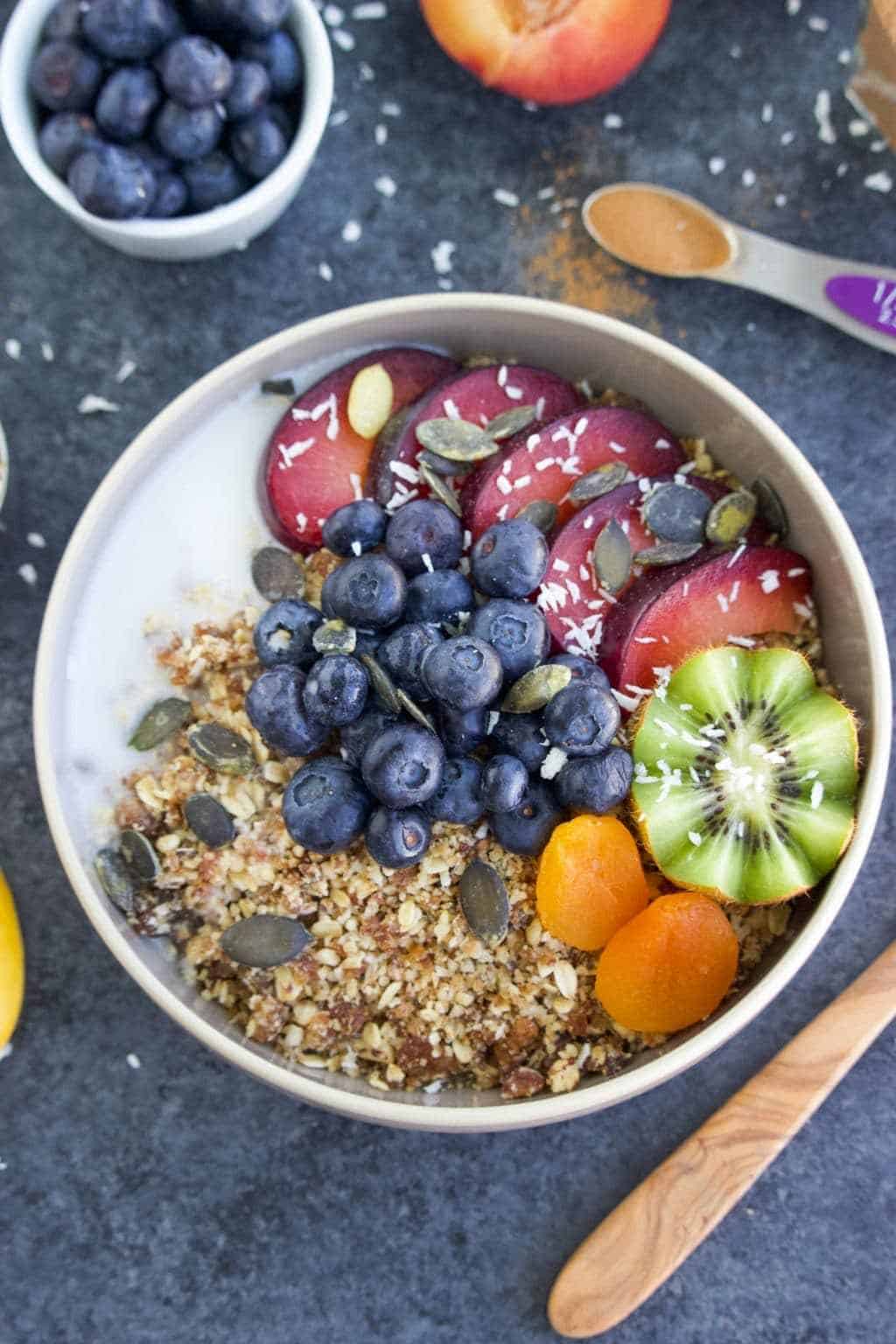 Grab a bowl and get ready to start the day with a healthy dose of deliciousness! Packed with protein, fiber, and antioxidants, this Superfood Stone Fruit Rawnola is created with sweet dried fruit, earthy nuts, rich seeds; pile fresh fruit on top, and plant milk for a tasty filling breakfast that is sure to please! Head on over and check it out on Stacey Homemaker!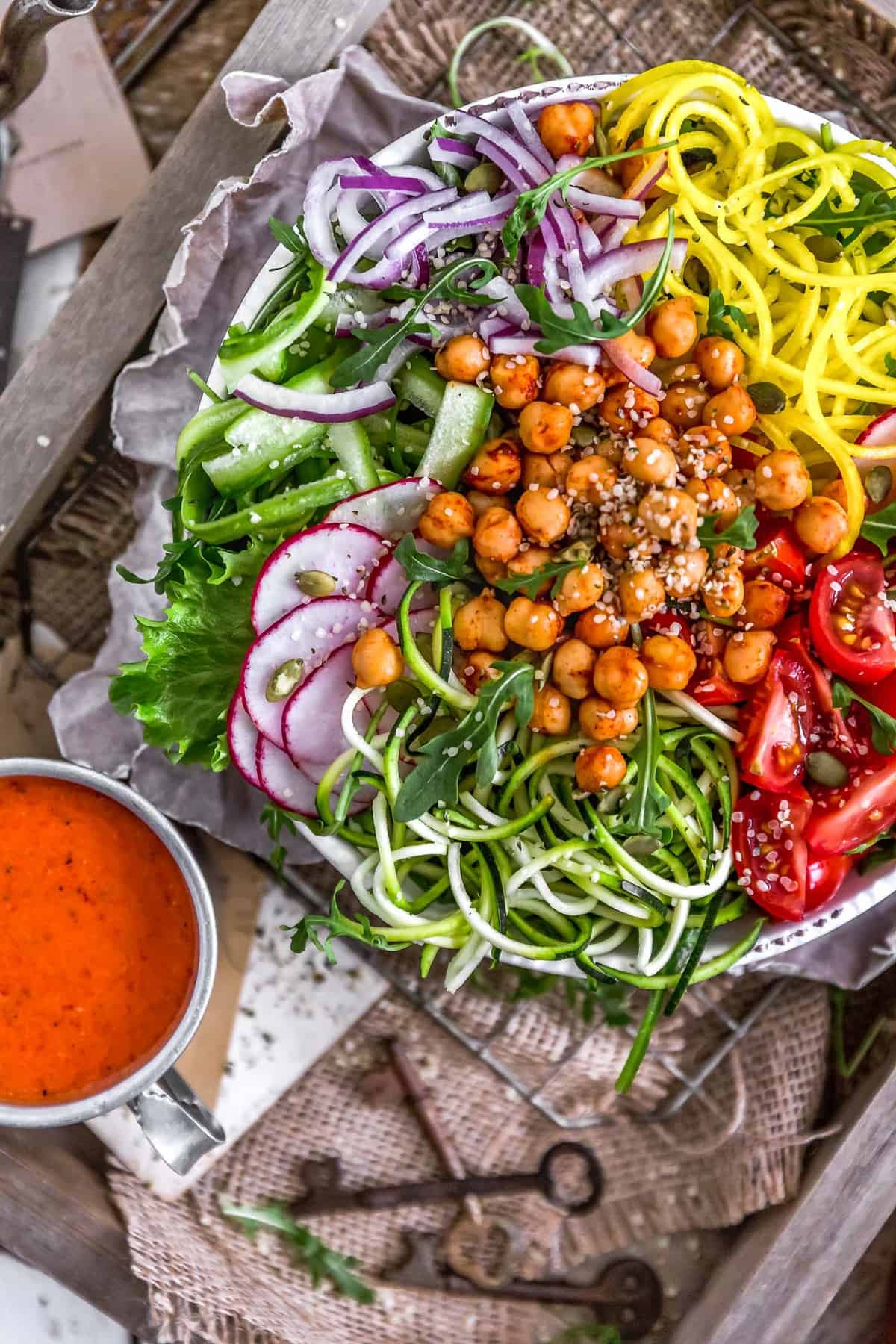 Salads make the world go round! Nothing like a refreshing, nourishing salad to brighten the day, and we've got a perfect, vibrant dressing that is going to knock your socks off. This healthy, homemade oil-free Roasted Red Pepper Vinaigrette is deliciously tangy, creamy, and a pow of sweet roasted red pepper flavor that is wholesome and super tasty! A perfect addition to veggie bowls and salads alike, it is sure to add sunshine to your bowl of veggie goodness. Head on over and check it out on Monkey and Me Kitchen Adventures!
When comfort food comes in soup form, nothing beats this tasty classic. Our healthy Vegan Split Pea Potato Soup is packed with a real flavor punch of rich, creamy deliciousness. Wrapping our hands around a hot bowl full of this soul warming goodness is the perfect way to get through wintery days. Packed with nourishing split peas, hearty potatoes, and warming spices, this comforting soup will leave your belly happy and satisfied. Head on over and check it out on Monkey and Me Kitchen Adventures!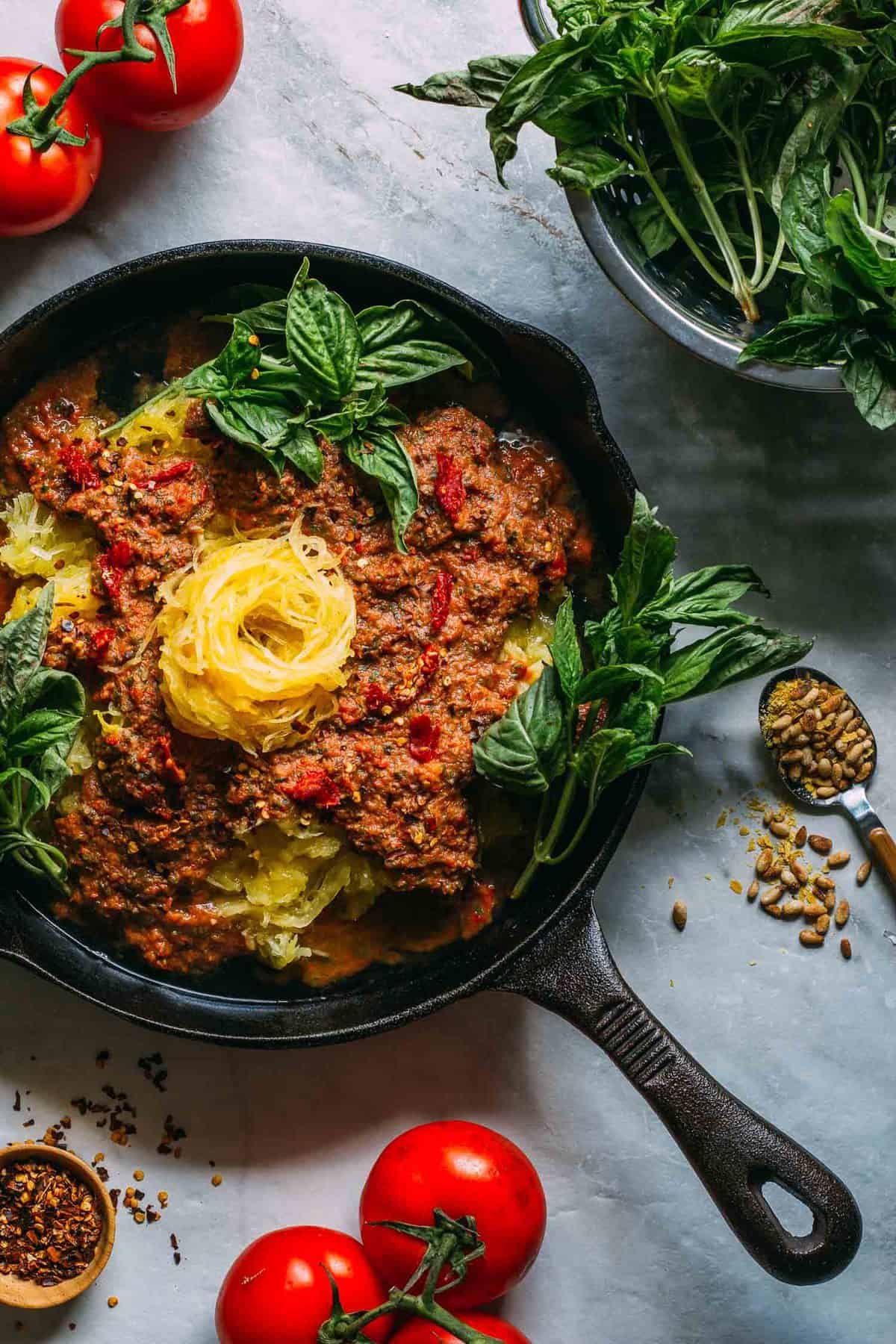 Breaking out the Instant Pot for a beautiful, simple, and flavorful dish that is sure to impress the family and satisfy the belly. This Instant Pot Sun-Dried Tomato Spaghetti Squash is packed with feel-good ingredients and aromatic spices. Tasty spaghetti squash is drenched in an amazing no-cook sauce and topped with rich, nutty vegan parmesan for a fantastic dish the whole family will love. Head on over and check it out on Veeg!
We've got this mouthwatering dish on repeat here, and we know you will too! It's rice heaven! This hearty, wholesome, and fragrant Vegan Arroz on Pollo is bursting with delicious flavor!  So simple to make with feel-good ingredients like: sweet bell peppers, zesty garlic, briny olives, satisfying rice, and protein-packed soy curls all simmering in a rich, warming red sauce; it's the perfect weeknight meal that the whole family will enjoy.  Grab a bowl and get ready to dig in – YUM! Head on over and check it out on Monkey and Me Kitchen Adventures!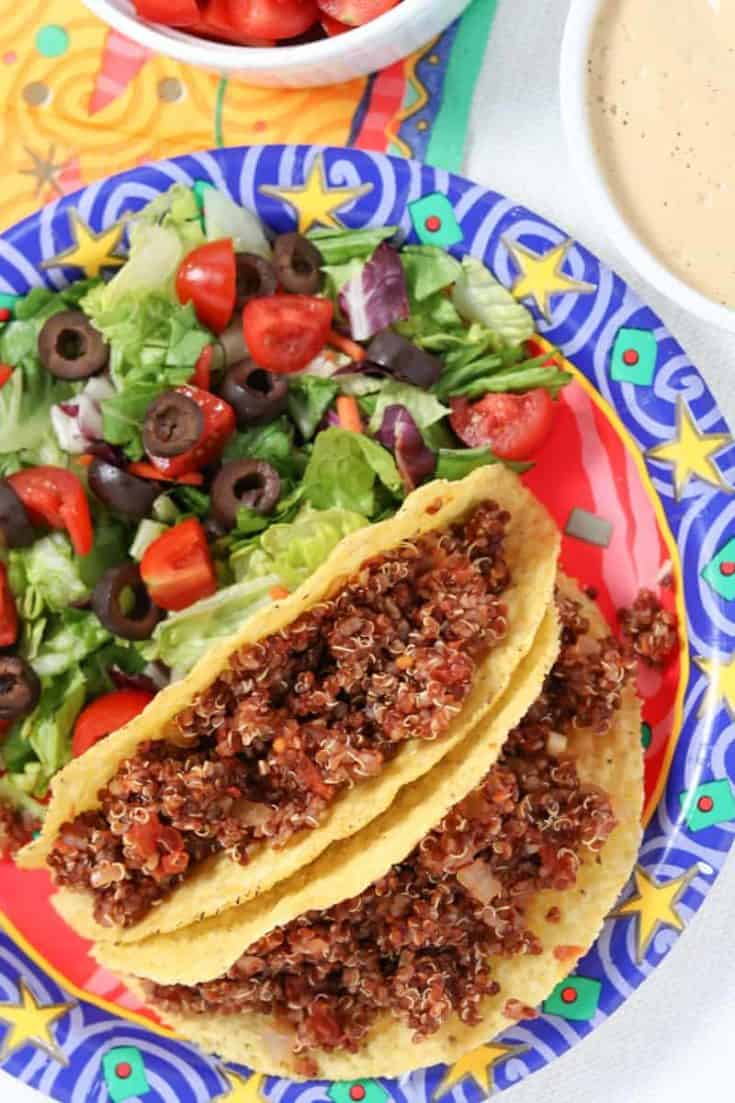 Tacos just put a smile on everyone's face, and these delicious, hearty, and flavorful Kid-Friendly Red Quinoa Tacos are sure to please!  Red quinoa, San Marzano tomatoes, veggies, and warming spices all come together in a perfect "meaty" taco texture. Top with crisp romaine, fresh tomatoes, sliced black olives, guacamole, and vegan cheese sauce for an over an ultra decadent taco experience! Head on over and check it out on Healthy Midwestern Girl!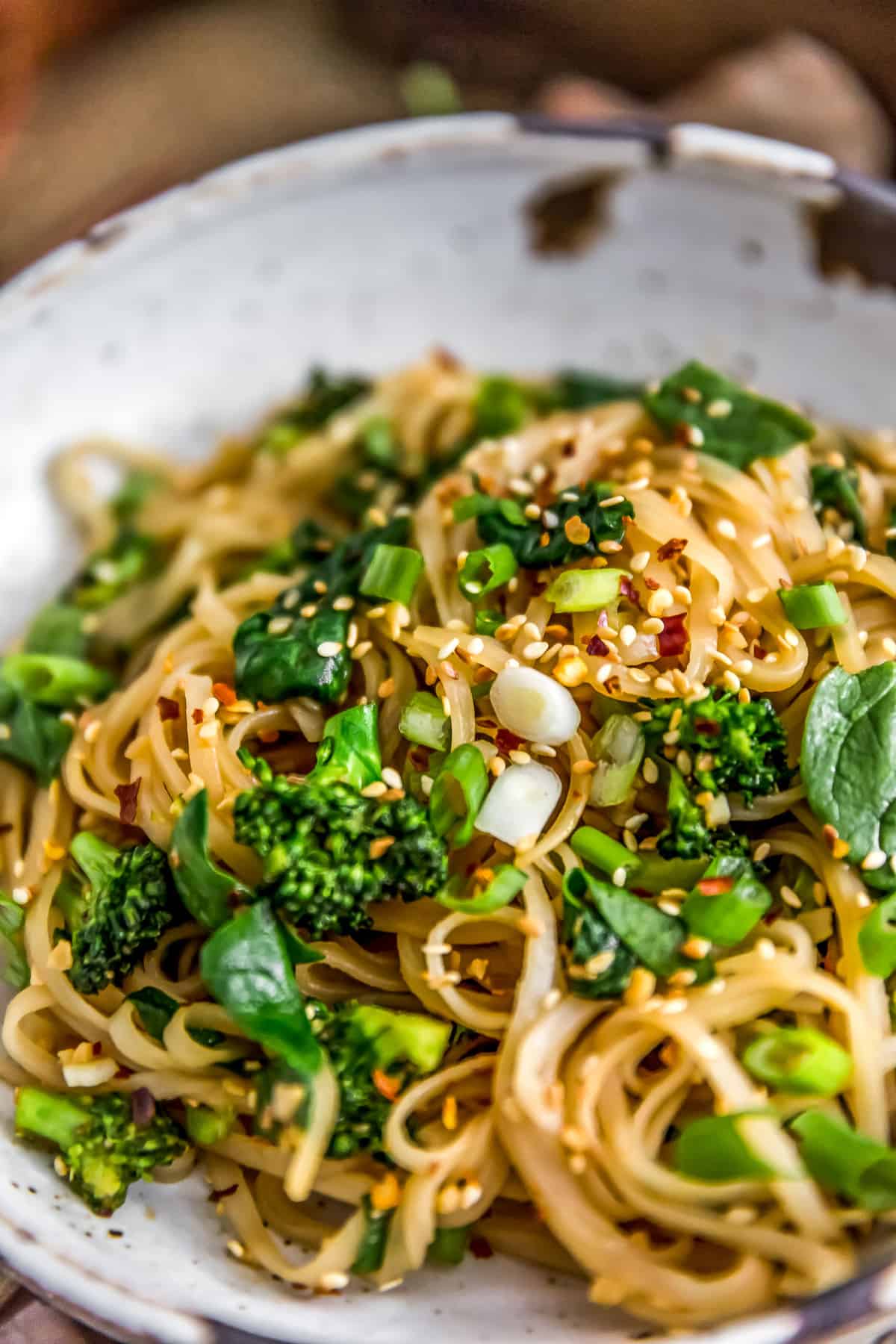 Anyone else all about them tasty, chewy, oh-so-delectable noodles? We just can't get enough, and this fast and easy noodle paradise dish is sure to please. Sweet, savory, and bursting with flavor, our Oil Free Garlic Sticky Noodles can be made in a flash and comes together in less than 20 minutes. Total win!  Perfect for weeknights when you need something fast, comforting, and delicious to feed a hungry family. Head on over and check it out on Monkey and Me Kitchen Adventures!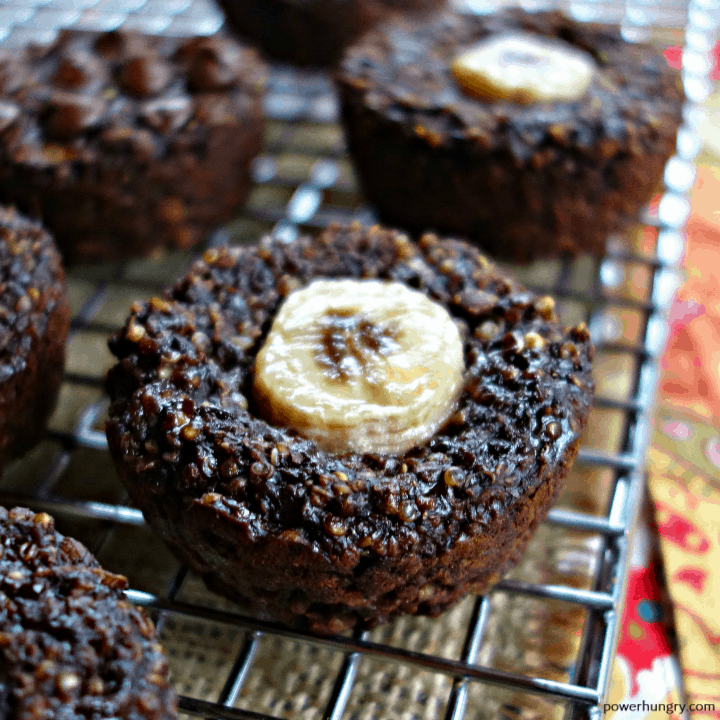 Only 4 simple ingredients come together to create these rich, fudgy, chocolaty muffins that are healthy enough for a comforting breakfast and decadent enough for a satisfying dessert.  These delicious 4-Ingredient Chocolate Quinoa Muffins are packed with sweet bananas, rich cocoa powder, hearty quinoa, and oats for a fantastic muffin that is sure to please. Head on over and check it out on Power Hungry!